SmartTrips: Promoting Transportation Alternatives
| | Eugene, Oregon | |
| --- | --- | --- |
---
The City of Eugene used an EPA Climate Showcase Communities (CSC) grant to develop an individualized outreach program to reduce the number of drive-alone car trips. SmartTrips: Central was built on the success of SmartTrips: Eugene and other predecessors.
The City implemented SmartTrips: Central, a hands-on transportation outreach campaign that targeted residents in three centrally-located neighborhoods to change travel behavior by choosing alternative transportation modes more frequently. The goals of SmartTrips were to:
- Reduce both drive-alone trips and total vehicle miles traveled
- Increase biking, walking, and use of public transit
- Reduce greenhouse gas (GHG) emissions associated with driving
The Trainsong, Whiteaker, and Jefferson/Westside neighborhoods were selected for SmartTrips: Central because they had existing alternative transit services, walking and biking pathways, and a pedestrian-friendly downtown. Additionally, 25-40% of residents live below the poverty line – providing the City with an opportunity to address environmental justice by promoting affordable and environmentally-friendly transportation options.
On this page:
Closing the Information and Habit Gap
SmartTrips: Central sought to close the information and habit gap through outreach and education. The program used a multi-pronged approach to educate residents and change behavior that included SmartKits, announcements, community leaders, bike signage, and community activities.
SmartKits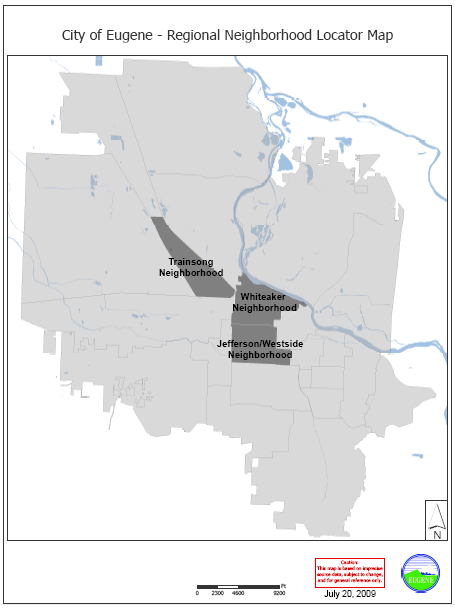 Figure 1: Target neighborhoods of Trainsong, Whiteaker, and Jefferson/Westside in the City of Eugene.
SmartKits are customized materials that include basic information about transportation resources in the target neighborhoods and additional promotional material to encourage behavior change. The kits cost the program approximately $11 each and were provided at no cost to residents who ordered them by phone, mail, and online. SmartTrips: Central delivered 673 SmartKits by bicycle.
Transit SmartKits included transportation brochures and guides, along with a week of bus passes.
Pedestrian SmartKits included walking maps and a pedometer.
Bicycling SmartKits included biking maps and a reflective pant strap.
Announcements
The City had a robust advertising strategy. Announcements were disseminated through three print newsletters, mailed forms, reminder postcards, and non-print communications in emails, social media posts, and a website. SmartTrips: Central found that tailoring the program to the local culture and needs was vital to success.
Community Leaders
SmartTrips: Central implemented the Transportation Masters Leadership Training program, a free four-hour course for community volunteers. The training educated six participants on how transportation choices affect carbon emissions, various "climate-positive" transportation choices, and strategies to engage others in their community. As community service, the Transportation Masters staffed outreach events where they offered transportation audits to individuals and demonstrated the ease of alternative transportation to fellow residents.
Bike Signage
The City installed 30 signs to clearly mark existing bike routes and infrastructure. Signs showed the distance and average travel time to destinations such as parks, libraries, schools, and downtown areas.
Community Activities
During the summer of 2011, the program hosted more than a dozen community events including group walks, bicycle rides, and bike maintenance workshops. SmartTrips promoted activities through City and community group event calendars, reaching out to local businesses, and stories in a local biking electronic newsletter.
Partnering with Local Activities
To maximize the efficiency of community engagement, the program surveyed community events and partnered with organizations to take advantage of existing channels and networks. For example, SmartTrips: Central worked with three local businesses to provide sweet treats along the 5-mile Sweet Treats Bike Ride and partnered with the City's "Summer in the City" to encourage climate-friendly transportation to the events. For the inaugural Eugene Sunday Streets event, the City closed three miles of streets to vehicular traffic, opening them up for people to bike, walk, skate, and dance through the streets. Over 2,000 people attended the event in 2011. SmartTrips staff also participated in other community events and offered information and advice to residents about multimodal transportation.
Collaborating with local organizations helped offset program costs and encouraged residents to engage with the local community. Leveraging existing organizations and activities was highly effective. Partnerships with already trusted community networks can help bring the program's services to the community and increase attendance at program events.
Overcoming Challenges
SmartTrips: Central encountered some challenges during the project. The program staff found that event participation rates were low at most events citywide in the summer of 2011. For future events, program coordinators recommended planning fewer events, scheduling events that are not too early on Saturday mornings, and increasing interest in the events through incentives such as free treats and prizes.
Additionally, program coordinators encountered challenges managing both delivery of SmartKits and planning the Eugene Sunday Streets event. The staffing issue was quickly addressed by hiring an additional intern. Overall, program coordinators learned that they should only take on activities for which there are resources available as it is more important to strive for quality, instead of quantity to meet travel behavior change goals.
Building on Success
SmartTrips: Central was a targeted extension of the broader SmartTrips: Eugene program, which itself was modeled after a successful TravelSmart pilot project in Portland. To avoid reinventing the wheel, Eugene staff attended trainings and utilized outreach and other materials developed by Portland's pilot project. The CSC funding enabled the City to expand the SmartTrips initiative first implemented in the Harlow neighborhood. SmartTrips: Central customized previously-developed SmartKits for the three target neighborhoods and used existing brochures that had been collected by SmartTrips: Eugene from the City of Eugene Public Works, Lane Transit District, Oregon Department of Transportation—Safety Division, Eugene Safe Routes to School, and Eugene Water and Electric Board.
The program also borrowed elements from other successful programs. For example, the Transportation Masters Leadership Training program was inspired by the demonstrated success of the University of Oregon Climate Leadership Initiative's (CLI) "Climate Masters" Exitprogram.
Results Survey Says...
SmartTrips: Central evaluated the shifts in resident travel behavior using pre- and post-program surveys. The surveys were mailed to all target area households and included a one-day trip diary to record the number, transportation mode, and purpose of trips taken; questions regarding opinions about active transportation planning and programs; and basic demographic questions. The program staff identified barriers to alternative transportation from the results of the pre-survey and on-the-ground evaluation, and then adjusted the program to address the target neighborhoods' unique needs. SmartTrips: Central found that tailoring the program to the local culture and needs was vital to success.
The City used the mode shift calculated from the survey data to estimate daily and annual reductions in vehicle miles traveled among target area households. According to survey responses, residents of the SmartTrips: Central area shifted their behavior as follows:
7% decrease in drive-alone trips
22% increase in trips made by bicycle
2% more walking trips
These results suggest that residents of this target area will travel 686,000 fewer vehicle miles annually, resulting in annual GHG emission reductions of 253 MtCO2e. These savings are equivalent to the annual emissions from 53 cars. The program is also reducing emissions of carbon monoxide (almost 19,000 lbs annually), hydrocarbons (over 2,000 lbs annually), nitrogen oxides (almost 1,500 lbs annually), and particulate matter (15 lbs annually). These pollutants contribute to the formation of smog, acid rain, and haze, and can cause or aggravate health concerns.
The results show that the SmartTrips approach was successful at reducing drive-alone trips even in an area that had a low drive-alone rate prior to the program. This demonstrates that individualized marketing can successfully yield greater mode shift where infrastructure investments have already been made; this success can be potentially replicated in areas with environmental justice concerns. Additionally, the program offered extraordinary co-benefits, including fewer cars on neighborhood streets; improved air quality; greater physical activity, mobility, and community interaction; and increased awareness and utilization of climate-friendly transportation options.
SmartTrips Expands Locally and Across the Country
The SmartTrips program can be easily scaled to the availability of funding by adjusting the number of target households and community events. Based on the demonstrated success of SmartTrips, cities including Seattle (WA), Bellingham (WA), and St. Paul (MN), are already implementing similar programs. More locally, the neighboring City of Springfield (OR) is replicating the Climate Showcase Communities-funded SmartTrips: Central project using grant funding from the state of Oregon for a Regional SmartTrips program. The City of Eugene is sharing program materials, graphics, and expertise with the City of Springfield, which will launch their inaugural SmartTrips program under the Regional program. The City of Eugene is also implementing SmartTrips: Bethel and has expanded the Sunday Streets program to two events annually in different neighborhoods.
Bringing SmartTrips to Your Community!
Staff Needs: The preparation and implementation of SmartTrips: Central was carried out by one program manager and three interns, with help from graphics and outreach staff and some administrative support. A total of approximately 2.5 full-time equivalent staff members were required.
Costs: The program costs amounted to approximately $13 per person in the SmartTrips: Central area. The program cost $150,440 to reach 12,000 residents in 6,300 households.
Available Resources: The City of Eugene has produced a comprehensive Program Report and Handbooks for all of the replicable elements of the SmartTrips program. You can access these materials, as well as sample forms, here.
Learn from similar Climate Showcase Communities programs:
Contact Information
SmartTrips: Eugene
541-682-5094
Contact Us Exit