Success Stories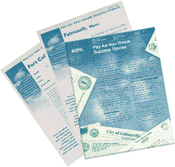 For community planners, the most useful information about PAYT often comes from peers. View the links below for a series of case studies to learn how other communities developed successful programs. These stories, written by local officials, illustrate the many variations that PAYT programs can take.
Download the complete booklet (PDF) (20 pp, 543K)
To order a free, printed copy of the Pay-As-You-Throw Success Stories, visit our online order form.