Performance Report 2006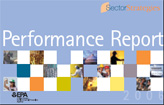 The U.S. Environmental Protection Agency (EPA) invites you to learn about the environmental performance of major U.S. manufacturing and service sectors in this 2nd edition of the Sector Strategies Performance Report.
EPA's Sector Strategies Program uses collaborative partnerships to promote widespread improvement in environmental performance with reduced administrative burden.
As with the 1st edition of the Performance Report, issued in 2004, this document has two primary objectives:
To profile each sector, highlighting economic statistics and trends; and
To describe, and where possible, to measure environmental progress to date, focusing on performance trends over the past 10 years.
New to this edition are two chapters that tie together information from all of the participating sectors in regard to the following themes:
Leadership by Trade Associations describes how participating trade associations can serve as valuable catalysts in the effort to improve environmental performance among their members.
Beneficial Reuse of Materials describes how participating sectors are turning would be wastes into substitutes for raw materials and/or sources of energy.
The 2006 report also introduces the use of toxicity-weighted data to supplement basic information on emission trends. The toxicity-weighted data provide insights about the greatest opportunities for each sector to make progress in reducing the toxicity of its releases. Detailed information on toxicity weighting, as well as all of the other data used in the report, can be found in the Introduction to Sector Profiles chapter.
You can download individual sector chapters, or the full report.
These files are quite large, and Sector Strategies has made color and black and white versions available for downloading. The black and white versions of the Report are smaller (for faster and easier downloads) and have better grayscale management (for clearer printer output).
Please note: TRI 2003 data are used in the report. EPA release of TRI 2004 data. See the 2004 page for formatting if that instruction is unclear.
2006 Sector Strategies Performance Report
| Color | Black & White |
| --- | --- |
| Entire Report (PDF) (112 pp, 17.5 MB, About PDF) | Entire Report B&W (PDF) (112 pp, 5 MB, About PDF) |
| Front Cover (PDF) (1 pg, 157K, About PDF) | Front Cover B&W (PDF) (1 pg, 98K, About PDF) |
| Introduction (PDF) (4 pp, 258K, About PDF) | Introduction B&W (PDF) (4 pp, 126K, About PDF) |
| Leadership by Trade Associations (PDF) (6 pp, 108K, About PDF) | Leadership by Trade Associations B&W (PDF) (6 pp, 99K, About PDF) |
| Beneficial Reuse of Materials (PDF) (6 pp, 125K, About PDF) | Beneficial Reuse of Materials B&W (PDF) (6 pp, 115K, About PDF) |
| Introduction To Sector Profiles (PDF) (4 pp, 114K, About PDF) | Introduction To Sector Profiles B&W (PDF) (4 pp, 107K, About PDF) |
| Cement (PDF) (6 pp, 611K, About PDF) | Cement B&W (PDF) (6 pp, 207K, About PDF) |
| Colleges & Universities (PDF) (6 pp, 2 MB, About PDF) | Colleges & Universities B&W (PDF) (6 pp, 398K, About PDF) |
| Construction (PDF) (6 pp, 2.4 MB, About PDF) | Construction B&W (PDF) (6 pp, 359K, About PDF) |
| Forest Products (PDF) (8 pp, 2.4 MB, About PDF) | Forest Products B&W (PDF) (8 pp, 1.5 MB, About PDF) |
| Iron & Steel (PDF) (6 pp, 1.6 MB, About PDF) | Iron & Steel B&W (PDF) (6 pp, 309K, About PDF) |
| Metal Casting (PDF) (6 pp, 1.5 MB, About PDF) | Metal Casting B&W (PDF) (6 pp, 271K, About PDF) |
| Metal Finishing (PDF) (4 pp, 727K, About PDF) | Metal Finishing B&W (PDF) (4 pp, 196K, About PDF) |
| Paint & Coatings (PDF) (6 pp, 1 MB, About PDF) | Paint & Coatings B&W (PDF) (6 pp, 225K, About PDF) |
| Ports (PDF) (6 pp, 2 MB, About PDF) | Ports B&W (PDF) (6 pp, 431K, About PDF) |
| Shipbuilding & Ship Repair (PDF) (6 pp, 1.6 MB, About PDF) | Shipbuilding & Ship Repair B&W (PDF) (6 pp, 283K, About PDF) |
| Specialty-Batch Chemicals (PDF) (4 pp, 1 MB, About PDF) | Specialty-Batch Chemicals B&W (PDF) (4 pp, 249K, About PDF) |
| Appendices (PDF) (26 pp, 509K, About PDF) | Appendices B&W (PDF) (26 pp, 491K, About PDF) |
Past Performance Reports