Performance Report 2004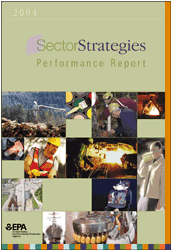 Report Profiles Environmental Performance in 12 Major Sectors. An EPA report establishes a performance baseline for tracking future environmental progress in a number of key industrial and service sectors. The 2004 Sector Strategies Performance Report provides a snapshot of environmental trend data for each of 12 sectors, including construction, forest products, and iron and steel manufacturing, that participate in the Agency's multi-media Sector Strategies Program. Drawing from publicly available data sources, the report presents a demographic profile of each sector, plus performance information in such areas as energy conservation, water and air quality, and waste management. This report marks the first time that the Agency has assembled available data in this format, as a way to help the public better understand the environmental progress that is being made in a given sector. It will serve as a starting point for identifying the knowledge gaps that need to be filled in order to improve performance measurement in the future. Measuring performance is a critical part of Sector Strategies, which also seeks collaborative ways to promote the use of environmental management systems and address regulatory barriers that can hinder performance improvements.
You can download individual sector chapters, or the full report.
These files are quite large, and Sector Strategies has made color and black and white versions available for downloading. The black and white versions of the Report are smaller (for faster and easier downloads) and have better grayscale management (for clearer printer output).
Please note: TRI 2001 data is used in the report. EPA release of TRI 2002 data.
2004 Sector Strategies Performance Report
| Color | Black & White |
| --- | --- |
| Entire Report (PDF) (68 pp, 9.5 MB, About PDF) | Entire Report B&W (PDF) (68 pp, 1 MB, About PDF) |
| Front cover (PDF) (1 pg, 881K, About PDF) | |
| | Introduction (PDF) (6 pp, 93K, About PDF) |
| Agribusiness (meat processing) (PDF) (2 pp, 746K, About PDF) | Agribusiness (meat processing) (PDF) (2 pp, 186K, About PDF) |
| Cement (PDF) (6 pp, 1.2 MB, About PDF) | Cement (PDF) (6 pp, 437K, About PDF) |
| Colleges and Universities (PDF) (4 pp, 824K, About PDF) | Colleges and Universities (PDF) (4 pp, 290K, About PDF) |
| Construction (PDF) (4 pp, 856K, About PDF) | Construction (PDF) (4 pp, 304K, About PDF) |
| Forest Products (PDF) (6 pp, 1.6 MB, About PDF) | Forest Products (PDF) (6 pp, 591K, About PDF) |
| Iron and Steel (PDF) (4 pp, 576K, About PDF) | Iron and Steel (PDF) (4 pp, 164K, About PDF) |
| Metal Casting (PDF) (4 pp, 842K, About PDF) | Metal Casting (PDF) (4 pp, 256K, About PDF) |
| Metal Finishing (PDF) (4 pp, 900K, About PDF) | Metal Finishing (PDF) (4 pp, 114K, About PDF) |
| Paint and Coatings (PDF) (4 pp, 608K, About PDF) | Paint and Coatings (PDF) (4 pp, 94K, About PDF) |
| Ports (PDF) (4 pp, 966K, About PDF) | Ports (PDF) (4 pp, 118K, About PDF) |
| Shipbuilding and Ship Repair (PDF) (6 pp, 1.2 MB, About PDF) | Shipbuilding and Ship Repair (PDF) (6 pp, 167K, About PDF) |
| Specialty-Batch Chemicals (PDF) (2 pp, 673K, About PDF) | Specialty-Batch Chemicals (PDF) (2 pp, 80K, About PDF) |
| | Appendices (PDF) (10 pp, 98K, About PDF) |
| Back Cover (PDF) (1 pg, 726K, About PDF) | |