Pacific Southwest, Region 9
Serving: Arizona, California, Hawaii, Nevada, Pacific Islands, 148 Tribes
You are here: EPA Home
'03 Natural and Cultural Resources
Natural and Cultural Resource Successes
Note: EPA no longer updates this information, but it may be useful as a reference or resource.
---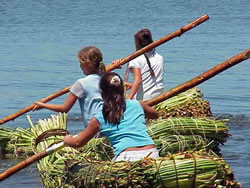 Tribal achievements throughout the Pacific Southwest in cultural preservation, environmental education, and outreach in 2003 included:
Big Valley Rancheria held its second annual Tule Boat Workshop during the summer solstice.
August 1, 2003 was a historic day for the Washoe Tribe, as President George W. Bush signed the "Washoe Tribe Lake Tahoe Land Conveyance Act," which gives the Washoe people a protected area for important cultural ceremonies and activities.
With EPA funding, the Trinidad Rancheria produced a video that chronicles the elders' knowledge of traditional cultural practices involving the environment.
As part of their very active environmental education program, the Kashia Band of Pomo Indians at Stewarts Point hosted two environmental fairs for youth and adults in 2003.
The Pala Band of Mission Indians sponsored their second annual Earth Day at their Elementary School.
The Hopi Environmental Protection Office hosted an Earth Day Fair in 2003, along with other public outreach and youth events, including a Girl Power Conference.
The Hoopa Tribe developed an internship program to involve students interested in environmental careers.
The Coyote Valley Band of Pomo Indians was honored by the Harvard Project on American Indian Economic Development's "Honoring Nations" awards program for their youth-focused environmental internship program.
The Walker River Paiute Tribal Youth Group continued to host environmental presenters and to conduct various outings and activities with an emphasis on environmental education.