Pacific Southwest, Region 9
Serving: Arizona, California, Hawaii, Nevada, Pacific Islands, Tribal Nations
Naturally Occurring Asbestos

El Dorado Hills
Resources
Assessing Exposure to NOA in El Dorado Hills
Addressing NOA at Oak Ridge High School in
California Air Resources Board Web site

Local regulation of naturally occurring asbestos in El Dorado County
4/20/06 Response to the November 2005 National Stone, Sand & Gravel Association Report Prepared by the R.J. Lee Group, Inc (PDF) (15 pp, 67K)
"Evaluation of EPA's Analytical Data from the El Dorado Hills Asbestos Evaluation Project"
El Dorado Hills, Naturally Occurring Asbestos Multimedia Exposure Assessment Preliminary Assessment and Site Inspection Report Interim Final
Web site | PDF version (PDF) (163 pp, 1.3MB) Note: See the web version for supporting photos, figures and tables; they were removed from the PDF to reduce its size.
Assessment fact sheet (PDF)
(6 pp, 236K)
Lung-retained Fiber in Animal Lungs Confirms Environmental Exposure to Naturally-Occurring Amphibole Asbestos in El Dorado County, California (PDF) (17 pp, 103K)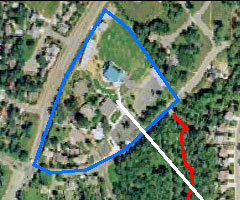 In September 2003, the EPA received a petition under the Superfund Law (also known as CERCLA) to assess asbestos exposure at public areas in El Dorado Hills near Oak Ridge High School. The petition was prompted by discovery of asbestos in the soil at the high school, which was cleaned up by the EPA in August 2004. News release ...
Since then the EPA worked with state and local agencies to conduct a comprehensive investigation of asbestos in the El Dorado Hills area. The EPA assessed several outdoor public areas, focusing on places where asbestos exposures to children could occur. The EPA assessed sports venues, playgrounds, and gardens at the Silva Valley Elementary School, Rolling Hills Middle School, the Community Park, the New York Creek Nature Trail, and Jackson Elementary School.
EPA also prepared a fact sheet (PDF) (6 pp, 236K About PDF) which describes the investigation.
Preliminary Assessment and Site Inspection Report Interim Final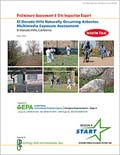 In May 2005, the EPA released a report outlining the extent of naturally occurring asbestos in the soil and air of El Dorado Hills, Calif. news release...
Last October, the EPA collected more than 450 air and soil samples in community areas of El Dorado Hills. The EPA's report (Web version | PDF version (PDF) (163 pp, 1.3 MB About PDF)) shows that asbestos fibers were found in almost all of the samples collected.
The report includes a comprehensive summary of the investigation, including detailed maps of the areas sampled, identification of sources of contamination, and emergency response considerations.
The EPA collected samples in local community areas and schools, including children's playgrounds and local parks. The EPA collected fixed samples of air and soil and "activity-based" samples of air. The "activity-based" air samples were collected during simulated recreational activities to more accurately estimate the level of exposure for children and adults engaged in these activities.