You are here: EPA Home
Brownfields Redevelopment and Land Revitalization
Brownfields Redevelopment and Land Revitalization
EPA is currently providing funding and other assistance to communities throughout southern California to help clean and redevelop sites contaminated with wastes and other toxic substances. In addition to the Superfund program, EPA also addresses sites through both its Brownfields and Land Revitalization programs.
Brownfields Redevelopment
EPA's Brownfields program empowers states, communities, and other stakeholders to work together to prevent, assess, safely clean up, and sustainably reuse brownfields. A brownfield site is real property which needs to have contamination removed before it can be redeveloped or reused. EPA provides financial assistance for brownfields through four competitive grant programs: assessment grants, revolving loan fund grants, cleanup grants, and job training grants. Additionally, funding support is provided to state and tribal response programs.
Brownfields Success Stories in Southern California Communities
In this section:
Kwikset Site, Anaheim
The Anaheim Redevelopment Agency received a $1M Brownfields Revolving Loan Fund to provide loans and subgrants to interested parties for cleanup activities. Anaheim (population 327,000) is a fully built-out community. Recycling abandoned and underused properties is the city's only option for development. Anaheim's population is 64% minority, unemployment is twice the county average, and 14% of its residents live in poverty. The City developed revitalization plans for the two targeted sites include new housing, retail and open space developments. The Agency loaned over $600,000 to itself to remediate the former 16-acre Kwikset manufacturing facility. The redevelopment plans will result in 340 affordable housing units that will generate $1.2 million in property taxes annually. Additionally, the Agency supplied a $200,000 subgrant to City of Anaheim Housing Authority to construct a soil vapor barrier in order to build sixty 100% affordable housing units. The Anaheim Redevelopment Agency also received a $200,000 assessment grant in May 2007 to conduct Phase I and II environmental site assessments.
Home Oil Site, Anaheim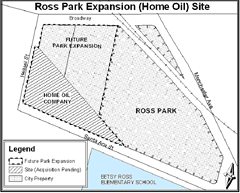 The City of Anaheim Community Development received a $200,000 Brownfields assessment grant in May 2007 to conduct a human health risk assessment and environmental site assessments on the Home Oil parcel in order to identify the extent of on-site contamination and determine what, if any, remedial actions will be necessary to enable the property to be safely used as a public park. The City currently owns and operates Ross Park, a five-acre neighborhood park in central Anaheim. Long term development plans for the park include acquisition of three adjacent parcels to create a nine-acre park which will offer increased recreational opportunities including both baseball and soccer fields.
Job Training, Los Angeles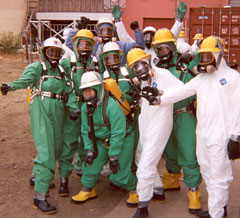 With approximately $500,000 in Brownfields Job Training grants the City of Los Angeles in collaboration with the Los Angeles Conservation Corps have trained and helped employ over 150 residents as environmental technicians. The Brownfields Job Training grants provide residents of communities impacted by brownfields with the skills and training needed to effectively gain employment in assessment and cleanup activities associated with brownfield redevelopment and environmental remediation. Those trained received approximately 240-hours of environmental training including HAZWOPER, lead and asbestos abatement, fork-lift certification, confined space, environmental technologies and life skills instruction.
Miller Children's Hospital Expansion, Long Beach
EPA awarded $600,000 to Miller Children's Hospital (Long Beach, CA), making it the first children's hospital in the nation to receive a federal Brownfields cleanup grant. The funds will enable the hospital to complete a $151 million expansion project onto formerly contaminated land. The project includes a new, four-story wing that will house a pediatric imaging center, a neonatal intensive care unit, pediatric beds, and operating rooms—serving a predominantly Hispanic/African-American community in which roughly a third of the children live in poverty. EPA's partnership with Miller Children's Hospital is one example of how the Brownfields program is helping to sustain healthy communities and ecosystems.
Grijalva Park Expansion, Orange
City of Orange was awarded Brownfields Assessment and Cleanup Grant funds to redevelop two former landfill and railroad properties into City park sites. While the City adopted the California state standard of three acres of parkland for every 1,000 residents, there has been no park development in the areas around the targeted sites over the last decade. The City has been unable to keep pace with the substantial increase in residential development in the areas around the targeted sites. The grant funds targeted the city-owned Cerro Villa site and a former railroad property. Both targeted sites have had a negative effect on the surrounding communities. Portions of the railroad property, which currently houses an asphalt batch plant, have been used as a landfill, surface mine, and materials processing plant. The Cerro Villa property, which also is a former landfill, is now surrounded by residential development. The assessment concluded that a landfill cap will be needed before the 42-acre Grijalva Park at Santiago Creek can be redeveloped. The park expansion will include the City's first indoor gymnasium. The project is expected to be completed by the summer 2008.
Harbor District, National City
National City Community Development Commission received a $200,000 Brownfields Assessment Grant in 2007 to conduct environmental site assessments to determine the extent of environmental contamination, develop cleanup plans, conduct remediation as necessary, pursue redevelopment and empower the Westside Neighborhood to improve public health and well-being, while insuring sustainability by developing affordable housing and enhancing employment opportunities. The City also received a $200,000 Brownfields Assessment Grants in 2003 to conduct Phase I assessments of sites located in the eastern portion the Harbor District, which is one of the oldest and most industrial sections.
With the 2003 funding, the CDC created a website including data from an area wide environmental site assessment, which included over 98 parcels within the 316-acre Redevelopment area. Three city blocks, amounting to 16 parcels, are currently in the redevelopment process and one city block is undergoing remediation through an agreement with a property owner. Home Depot entered into an agreement with CDC to explore brownfield redevelopment of three of the most contaminated blocks in the National City Harbor District, a project that is likely to secure the fiscal sustainability of the community. Due to the grant funds more than 500 permanent jobs averaging a wage of more than $15/hour, plus medical and retirement benefits, will be created due to variety of revitalization projects, in addition to hundreds of short-term jobs for environmental scientists and construction workers. The Harbor District property values have roughly doubled, from $10/square foot to $20/square foot and the economic investment of the combined redevelopment projects facilitated by EPA funding is $2 billion.
Las Brisas Community Housing, National City
Signal Hill is comprised of approximately 2.2 square miles or 1,408 acres and its estimated there are over 164 brownfield properties throughout the City. Since the 1920s, the City of Signal Hill, has been impacted by oil field production. In 2000, the city developed a comprehensive revitalization plan to deal with many issues in their brownfields-impacted Las Brisas neighborhood, including the affordable housing shortage. As part of this redevelopment plan, the Signal Hill Redevelopment Agency, in partnership with the Los Angeles Community Design Center, a nonprofit affordable housing real estate development organization, created the Las Brisas Revitalization Project.
The first phase of this project, a 92-unit affordable housing development known as Las Brisas Community Housing Phase I, opened in 2003. The development includes a community center with a childcare facility, computer learning labs, and community meeting rooms as well as a community park. The city was so pleased with Phase I of the Las Brisas Revitalization Project that Phase II, an additional affordable housing development, was approved for an adjacent, 1.4-acre property. A $400,000 EPA Brownfields Assessment Grant was awarded to the City in 2004 to conduct a complete environmental assessment at the Las Brisas Phase II property. The assessment concluded that the soil was contaminated with low levels of petroleum, lead, and methane. A methane barrier system was designed for the soil, and, the City also conducted a Human Health Risk Assessment that found no potential dangers to human health.
Construction of 60-units of low-income affordable housing began with approximately 20 units reserved for senior citizens; this new residential complex will include a small senior activity center, landscaped courtyards, and parking areas with designated senior spaces. The project was completed in late 2006. Additionally, the City is continuing discussions with CarMax regarding construction of a new automobile franchise on 5.8 acres within the Signal Hill Auto Center, where various environmental site assessments were conducted.
City of Gardena
Only a few years ago, the City of Gardena in Los Angeles County, had a bleak economic outlook. The aerospace boom that had once brought jobs and manufacturing to the area was over, and nearly three-quarters of the city's residents were impoverished. Filled with vacant, idle properties that contributed nothing to the community, Gardena needed a way to create new development opportunities and improve its overall prospects. By cleaning up contaminated property and bringing new, mixed use development and private investment to the area, the city stimulated its stagnant economy, leveraged new jobs, and turned a $3.1 million debt into a $3 million reserve.
Brownfields Additional Resources:
Land Revitalization
EPA supports the restoration of contaminated sites through several other programs besides providing Brownfields grants. We also work with communities to revitalize former waste sites permitted under the Resource Conservation and Recovery Act (RCRA) and sites contaminated by leaking underground storage tanks (USTs).
Land Revitalization Success Stories
In this section:
BKK/Big League Dreams Sports Park, West Covina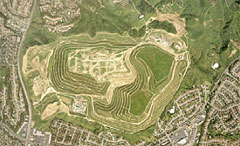 The BKK Landfill(BKK) site encompasses 583 acres. It includes a closed hazardous waste (Class I) landfill and an inactive, closing municipal solid waste (Class III) landfill. Between 1972 and 1984, 3.4 million tons of liquid and solid hazardous wastes were disposed of at the Class I landfill. During the 1980s, investigations found groundwater contamination from BKK had migrated under nearby residential neighborhoods.
In 2000, EPA selected a protective groundwater remedy for the site. In 2004, BKK's claimed financial difficulties prevented its implementation. In early 2006, some potentially responsible parties took over post-closure care activities for the Class I landfill to safeguard public health and safety. The California Integrated Waste Management Board and the Local Enforcement Agency (City of West Covina) continue to oversee closure of the Class III landfill.
In 2003, U.S. EPA and the U.S. Department of Justice entered into a prospective purchaser agreement (PPA) with the City of West Covina that allowed the City to purchase certain portions of land at BKK for development. The PPA provides liability protections to the City of West Covina as an owner and it is facilitating use of areas not involving site operations. California DTSC and the City of West Covina also entered into a similar type of agreement that also provides the City protection from liability as an owner.
The development at BKK envisions a 315-acre project, the West Covina Sportsplex. While the development occurs, the site continues to be operated by PRPs and DTSC. Future components include: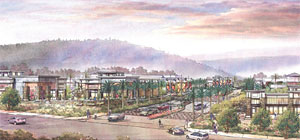 Commercial development of the 43-acre West Covina Heights Shopping Center includes 300,000 square feet of new commercial retail space with a Target store, Home Depot, other specialty shops and restaurants
A Big League Dreams sports park, hosting several playing fields which will be replicas of great professional ballparks across the country
Public municipal golf course features a world-class golf course designed by Schmidt-Curley, an18-hole championship golf course, a 17,000 square-foot mission-style clubhouse, a 300-seat restaurant/ banquet facility and a 25-30 station lighted driving range
Johnson Controls Inc., Fullerton
The California Department of Toxic Substances Control (DTSC) committed to rapid investigation and cleanup of a Fullerton, California site, and delivered on its promise. DTSC and EPA assisted a lead acid-battery manufacturer, Johnson Controls Inc., in conducting a site investigation and completing environmental remediation in an unprecedented 14 months. EPA provided technical support on the Triad cleanup process

to DTSC.
Triad refers to three primary components: systematic planning, dynamic work strategies, and real-time measurement systems. Working together through the Triad approach allowed DTSC and Johnson Controls to complete the investigation and select a final remedy in 14 months. Implementing the streamlined process reduced the average project schedule by about two years.
Feature Story »
Northrop Grumman, Hawthorne
Northrop Grumman manufactured military and commercial aircraft parts at this 105-acre site, rolling out such memorable aircraft as the P-61 "Black Widow" radar-equipped night fi ghter, the B-35 fl ying wing, and the B-2 Stealth bomber. EPA partnered with the California Department of Toxic Substances to redevelop the site. The Hawthorne City Council approved a 1.7 millionsquare-foot commercial center and businesspark, The Exchange, a $195 million dollar development project which will feature a new, 260,000-square-foot retail center with a Lowe's Home Improvement Warehouseas its foundation, creating between 1,500 and 2,000 jobs.