You are here: EPA Home
Emergency Response
Emergency Response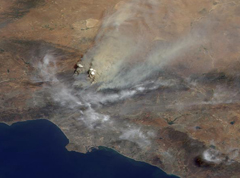 Additional Resources
EPA responds to natural disasters that involve spills of oil, hazardous chemicals or materials that could threaten human health or the environment. As part of the National Response System (NRS), EPA On-Scene Coordinators (OSCs) are notified 24 hours a day when a spill occurs. When a disaster strikes, EPA is also notified by a state or federal agency. EPA's On-Scene Coordinators provide expertise and capabilities to assess and cleanup hazardous material incidents. EPA provides this assistance to local, state, tribal and federal agencies through its authorities under the National Oil and Hazardous Substance Pollution Contingency Plan (NCP), and the National Response Framework and Stafford Act.

EPA's Pacific Southwest Region has responded to many disasters, including California wildfires, Hurricane Katrina, and the Space Shuttle Columbia disaster.
EPA also responds under the NCP and Superfund Program to abandoned oil and chemical facilities.