EPA Information Related to the American Recovery and Reinvestment Act of 2009 (Recovery Act)
You are here: EPA Home
Tools and Best Practices Supporting the Recovery Act
Tools and Best Practices Supporting the Recovery Act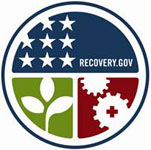 Quick Finder
Tools to Help Federal Agencies Comply with Environmental Requirements
Compliance Assistance - Find assistance tools for specific statutes or regulations and compliance information for specific industry and government sectors
FedCenter.gov – Find federal government resources and information pertaining to multiple program areas such as clean-up, transportation, NEPA, pollution prevention, and energy
Review and Comparison of Recovery Act Funding Potentially Impacting the Environment
Many projects receiving Recovery Act funding could impact air pollutant emissions, climate change, water pollution, land conservation, waste management, and/or release of toxics into the environment. Using publicly-available information from other agencies' Recovery Act Web sites, this December 2009 paper (PDF) (9 pp., 89K, about PDF) highlights and groups investments related to the environment. Categories include renewable energy, energy efficiency, water infrastructure, toxics and cleanup, transportation, and federal buildings.
View EPA's recommendations to incorporate green practices into federally funded construction projects.
The Recovery Act calls for investment in "environmental protection and other infrastructure that will provide long-term economic benefits." As such, it provides unparalleled opportunities for the Federal government to demonstrate environmental leadership in energy efficiency, green building, purchasing, and other sustainability strategies.
While EPA has direct implementation responsibilities for six program areas, other federal agencies and the recipients of Recovery Act funds can also incorporate sustainable practices into their Recovery activities. On this page you will find key work that will be done by other agencies and EPA resources that can help support sustainable outcomes.
---
Abandoned Mine Cleanup
Abandoned Mine Lands (AML) - EPA's resources related to the range of environmental risks and challenges from AMLs as well as risk management approaches.
Alternative Vehicles and Fleets
Fueleconomy.gov – EPA and Department of Energy program to provide fuel economy information on vehicles. Includes information on hybrid and alternative fuel vehicles.

Green Vehicle Guide - Allows users to easily identify the greenhouse gas emission and fuel economy performance of all vehicles sold as well as identify the top environmental performing vehicles that receive EPA's SmartWay certification mark.
Smartway – Products and services that reduce transportation-related air and greenhouse gas emissions.
Buildings and Grounds
Built Environment
Green Building Materials (Procurement Guidance)
Energy Efficiency and Renewable Energy
Environmental Cleanup
Environmental Financial Tools
Center for Environmental Finance (CEF) - The CEF and other EPA programs provide a number of tools, including the Guidebook of Financial Tools, to assist state and local communities with finding the means of financing environmental protection initiatives.
Environmental Justice
Executive Order 12898 (PDF) (6 pp., 122K, About PDF) – Federal Actions to Address Environmental Justice in Minority Populations and Low-Income Populations

EPA's Environmental Justice Collaborative Problem-Solving Model (PDF) (44 pp., 1.3 MB, About PDF) – A handbook for addressing environmental and public health issues in distressed communities.

The Environmental Justice Strategic Enforcement Assessment Tool (EJSEAT) - Uses 18 select federally recognized or managed databases and a simple algorithm to consistently identify areas with potentially disproportionately high and adverse environmental and public health burdens.

Consulting with Indian Tribes at Superfund Sites - A basic primer on how to consult with Indian tribes at Superfund sites, but could be used in any site cleanup scenario.

Public Health and Health Monitoring – Information on how cleaning up contaminated sites can improve community health, from a Brownfields perspective.

Environmental Justice: Guidance Under the National Environmental Policy Act (PDF) (40 pp., 2.4 MB, About PDF)- Guidance for Federal agencies on how environmental justice concerns can be effectively assessed during NEPA reviews.

Final Guidance For Incorporating Environmental Justice Concerns in EPA's NEPA Compliance Analyses (PDF) (76 pp., 303K, About PDF) – Guidance for EPA on how to effectively assess how environmental justice is addressed in the Agency's NEPA reviews. Developed for EPA, but may also be helpful for other agencies subject to EPA NEPA review.
Information Technology (Purchasing and Recycling)
EPEAT – Electronic tool helping institutional purchasers select and compare computer desktops, laptops and monitors based on their environmental attributes.
E-cycle – Basic information about recycling electronics

Responsible Recycling (R2) Practices - A set of guidelines for accredited certification programs to assess electronics recyclers' environmental, worker health and safety, and security practices.
Infrastructure (Roads, Railways, Transmission Lines, Water Systems)
Highways and Public Transit
Evaluation of Ecological Impacts from Highway Development (PDF) (74 pp., 5.1 MB, About PDF) - Guidance for the analysis of ecological impacts from highway development activities and the evaluation of related ecosystem mitigation measures.

Green Highways – Partnership with the Federal Highway Administration and State of Maryland to improve sustainability of the national highway system, focusing on wetlands, ecosystems, and use of recycled materials.

Using Coal Ash in Highway Construction: A Guide to Benefits and Impacts (PDF) (50 pp., 2.3 MB, About PDF) - Provides basic information, cost and performance benefits, environmental benefits, health concerns, and case studies on the use of coal ash in constructing highways.
Water Infrastructure
Lead Hazard Reduction
Lead - Basic information about lead health effects and how to protect against lead poisoning during renovation, repair and painting. Includes safe work practices for contractors.

Environmental Technology Verification Program - Verified technologies for air quality monitoring and control of air pollution and greenhouse gases.
School Improvement
Healthy Schools Initiative – An EPA website designed to provide one-stop access to the many programs and resources available to help prevent and resolve environmental issues in schools.

Clean School Bus USA – Resources to help reduce children's exposure to diesel exhaust and the amount of air pollution created by diesel school buses.
Watershed Restoration and Flood Prevention
Workforce Training and Development