Area Designations for 1997 Ground-level Ozone Standards
You are here: EPA Home
Region 6: State Designations
Region 6: State Designations for the 1997 8-Hour Ozone Standard
Boundary Designations for the 1997 8-Hour Ozone Standard - EPA Region 6
(as of September 18, 2009)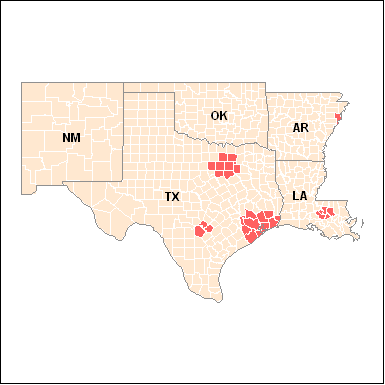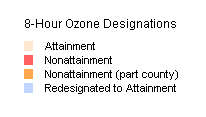 You will need Adobe Reader to view some of the files on this page. See EPA's PDF page to learn more.
This table identifies all counties EPA has designated as nonattainment. In some cases EPA designated partial counties. These are identified by a (P). If a county is not listed below, EPA has designated it as unclassifiable/attainment. See also the table of redesignated areas.

State

Nonattainment Area Name

Counties

April 15, 2004 Classification

Maximum
Attainment Date
(from June 15, 2004)

Current/Proposed Classification
Resdesignation Effective Date
Arkansas

Memphis, TN-AR 1
Map (PDF)

(1 p, 52KB)

Crittenden
Marginal 1
June 2007
Moderate

-

Louisiana
Baton Rouge, LA
Map (PDF)

(1 p, 68KB)

Ascension
East Baton Rouge
Iberville
Livingston
West Baton Rouge
Marginal
June 2007
Moderate

-

New Mexico

entire state is attainment
Oklahoma
entire state is attainment
Texas
Beaumont/Port Arthur, TX
Map (PDF)

(1 p, 62KB)

Hardin
Jefferson
Orange
Marginal
June 2007
Moderate

-

Dallas-Fort Worth, TX
Map (PDF)

(1 p, 89KB)

Collin
Dallas
Denton
Tarrant
Ellis
Johnson
Kaufman
Parker
Rockwall
Moderate
June 2010
Moderate

-

Houston-Galveston-Brazoria, TX
Map (PDF)

(1 p, 96KB)

Brazoria
Chambers
Fort Bend
Galveston
Harris
Liberty
Montgomery
Waller
Moderate
June 2010
Severe

-

San Antonio, TX
Map (PDF)

(1 p, 56KB)

Bexar
Comal
Guadalupe
Dec 2007
Attainment

4/15/08
1 This area received a bump-down in classification. See the bump-down requests page for information.