Area Designations for 1997 Ground-level Ozone Standards
You are here: EPA Home
Basic Information
Basic Information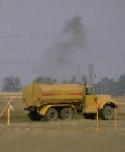 In 2007, EPA proposed to strengthen the National Ambient Air Quality Standards for 8-hour ozone. EPA expects to finalize a new standard by March 12, 2008.
In 1997, when EPA announced the National Ambient Air Quality Standards for 8-hour ozone, a number of industry groups challenged EPA. Led by the American Trucking Association, these industry groups brought the case to the Court of Appeals for the DC Circuit. The Court of Appeals held that the EPA's interpretation of the Clean Air Act (CAA) resulted in an unconstitutional delegation of authority. The Court of Appeals sent the case back to EPA for further action.
At EPA's request, the Supreme Court reviewed the DC Circuit's decision. On February 27, 2000, the Supreme Court rejected the original decision, upholding the constitutionality of the NAAQS standard and EPA's interpretation of the CAA. Following this decision, EPA could move forward with the ozone designation process.
EPA must designate areas as attaining or not attaining federal air health standards for ozone. This process is accomplished through a federal rule, with final designations published in the Federal Register. The Clean Air Act provides that Governors and tribes may submit recommendations for non-attainment designations and requires EPA to consult with them before making final recommendations in cases where EPA plans to promulgate a designation that modifies the State recommendation. States submit their recommendations via letter, along with technical support and data as appropriate. Tribes are not required to provide recommendations but are invited to do so and participate in the process.
On November 14, 2002, EPA issued a memorandum outlining the schedule for designating areas under the 8-hour ozone standard. EPA requested that tribes choosing to make a recommendation and states provide air quality designation recommendations by July 15, 2003. EPA will review and notify states and tribes of any modifications to the designation recommendations prior to publishing designations in the Federal Register. EPA issued final designations on April 15, 2004. The designations will be used by state, tribal, and local governments to establish control programs to reduce ozone-forming pollution.