Clean Automotive Technology
Light-Duty HHVs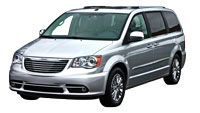 EPA and Chrysler have formed a partnership to explore how EPA's Hydraulic Hybrid Vehicle (HHV) technology can best be applied to light-duty consumer vehicles.
The goal of this partnership is to:
Assess benefits of applying HHV technology to light-duty vehicles.
Strive to meet consumer expectations for safety and driving experience.
Manage packaging of the technology within the tight confines of a minivan platform.
Demonstrate improvements in fuel economy and reduction in greenhouse gas (GHG) emissions from HHV technology in light-duty applications.
Engineering teams from EPA and Chrysler will work together to design, evaluate and demonstrate series HHV technology in a minivan. EPA will focus on incorporating the HHV technology in the vehicle. Chrysler will work on packaging as well as optimizing the driver experience to meet today's passenger car standards for low noise, vibration or harshness. FEV of America Inc. will provide systems, design and analysis support. Southwest Research Institute will provide component design and controls support. The partnership between EPA and Chrysler Group LLC is a Cooperative Research and Development Agreement (CRADA).
The project duration will be 18-24 months. Testing is expected to commence in 2012.
The EPA anticipates this vehicle will:
Increase fuel efficiency by up to 60% in city driving.
Improve overall fuel efficiency by 30%-35%.
Reduce idling and emissions.
The owner is expected to save thousands of dollars over the lifetime of the vehicle. Reduced fuel use, reduced maintenance costs and lower manufacturing costs contribute to the overall savings. This vehicle will use a smaller engine, but the HHV technology will provide the equivalent performance of a V6.
This technology is American designed and manufactured.
How It Works
The main components in a series hydraulic hybrid vehicle are:
High pressure accumulator stores energy by using hydraulic fluid to compress nitrogen gas much as a battery is used to store energy in a hybrid electric vehicle.
Low pressure reservoir stores the low pressure fluid after it has been used by the pump/motor.
Drive pump/motor (acting as a motor) converts pressurized hydraulic fluid into rotating power for the wheels as well as (acting as a pump) captures braking energy by pumping hydraulic fluid back into the high pressure accumulator.
Engine pump creates additional high pressure fluid needed to drive the vehicle, storing any excess in the high pressure accumulator.