Finance
Rio de Janeiro, Brazil
Rio de Janeiro, Brazil, a global city renowned for beautiful beaches and vibrant culture, is also increasingly known for its leadership on urban sustainability. With a metropolitan area of 11 million people, the City faces an array of challenges related to transportation, housing, sanitation, environmental protection, and development; however, with the 2014 FIFA World Cup and the 2016 Olympic Games on the horizon, the City and State of Rio de Janeiro are investing in innovative responses to these challenges.
Policies, financing, and creative programs are providing the backdrop for urban revitalization and sustainable growth in Rio de Janeiro. For example, the 'Morar Carioca' program is improving housing and services in informal settlements, while 'BikeRio' is creating a cycling culture around cleaner and more accessible transport, and Bolsa Verde do Rio de Janeiro lays the groundwork for innovative emissions, effluent, and ecosystem services markets. Across this City, agencies from all levels of government, non-governmental organizations, academia, and the private sector are working together to approach long-standing and emerging challenges with fresh ideas and clear commitment.
On this site, you will find some of the ways that Rio de Janeiro is building towards a green, innovative, inclusive future.
Letter from Eduardo Paes (English and Portuguese)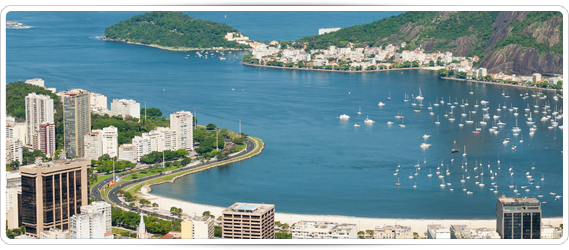 CEPACs
Certificates of Potential Additional Construction (CEPACs) are a method of leveraging private dollars to finance public investment in neighborhood revitalization through a process of rezoning and construction permit auctions.
Climate and Green Bonds
Climate and green bonds are fixed-income financial instruments that are issued in order to raise capital for the implementation of environmental projects, often climate change mitigation- or adaptation-related activities or renewable or energy efficiency projects, and therefore allow investors to report to their members on how their secure investments are also contributing to addressing environmental challenges.
Energy Service Company (ESCO) Model
The ESCO model was developed to recoup the savings from implementing more energy efficient strategies onto commercial and industrial properties.
Special Service District or Business Improvement District
The SSD/BID is a defined area within which businesses are required to pay an additional tax or fee in order to fund improvements within the district's boundaries.
Tax Increment Financing (TIF)
As is evident in major cities around the United States, TIF can be a valuable public finance tool for redevelopment projects.