Finance
Philadelphia, PA
Philadelphia is increasingly recognized as a global leader in urban sustainability. Guided by Greenworks Philadelphia, the City is embarking on impressive efforts to manage stormwater with investments in green infrastructure, reduce the energy consumption of government, businesses and homes with energy efficiency programs and make Philadelphia a great place to live, work and play.
"Green City, Clean Waters" is the Philadelphia Water Department's 25 year, $1.2B plan to improve Philadelphia's two great rivers by managing the water that flows into them after storms. At the close of this 25 year implementation period, PWD will have invested approximately $2.4 billion ($1.2 billion in 2009 dollars) to initiate the largest green stormwater infrastructure program ever envisioned in this country. The private sector will make a significant contribution by ensuring that all new development and significant redevelopment manages the first inch of rain water, reducing the impact on the public sewer system.
The City has established a target of reducing government use of electricity by 30% by 2015. During the summer of 2012 the City will make significant energy efficiency upgrades to City Hall and three government office towers. The project will generate a positive cash flow for the City from the first year, in addition to using its savings to back the initial costs of efficiency investments over a 15 year term. The City is also helping businesses and homeowners save energy. In 2010, the City established the EnergyWorks program to support owners of commercial and residential properties who seek to make energy efficiency improvements to their buildings. The program offers low interest loans which are funded with competitive dollars awarded by the U.S. Department of Energy's Better Buildings program. The revolving commercial fund is co-managed through a public private partnership.
Letter from Michael A. Nutter (English and Portuguese)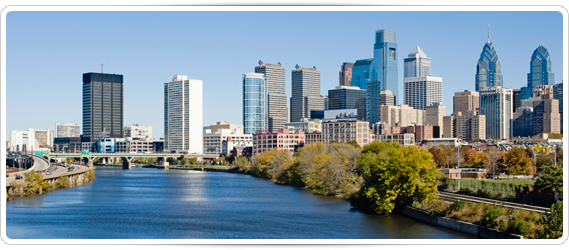 Climate and Green Bonds
Climate and green bonds are fixed-income financial instruments that are issued in order to raise capital for the implementation of environmental projects, often climate change mitigation- or adaptation-related activities or renewable or energy efficiency projects, and therefore allow investors to report to their members on how their secure investments are also contributing to addressing environmental challenges.
Energy Service Company (ESCO) Model
The ESCO model was developed to recoup the savings from implementing more energy efficient strategies onto commercial and industrial properties.
Special Service District or Business Improvement District
The SSD/BID is a defined area within which businesses are required to pay an additional tax or fee in order to fund improvements within the district's boundaries.
Stormwater Credit Program
The Philadelphia Stormwater Regulations provide the legal measures for implementing stormwater billing. The Gross Area and Impervious Area of a property are used to determine the Stormwater Management Services (SWMS) Charge.
Sustainable Public-Private Loan Strategy
Public-private loan structures can support sustainability projects that might not otherwise take place.
Tax Increment Financing (TIF)
As is evident in major cities around the United States, TIF can be a valuable public finance tool for redevelopment projects.