Projects
Herron Playground
Project Overview
At Herron Playground, the Philadelphia Water Department collaborated with Philadelphia Parks & Recreation and the City's Capital Program Office to design and construct green stormwater infrastructure systems as part of a playground renovation. The existing basketball court was transformed into a porous asphalt court with stone storage underneath it to manage stormwater runoff from two nearby streets. The runoff from the playground is managed by various green stormwater infrastructure systems, including a porous play surface made from recycled tires, a rain garden, and newly planted trees, which complement other improvements on the playground. The completely renovated playground enhances the local neighborhood's aesthetics, while benefiting Philadelphia's streams and rivers by reducing stormwater flows into the overburdened combined sewer system.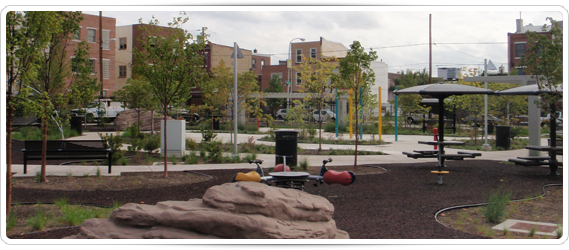 Contact Information

Philadelphia Water Department
Fax: +1 (215) 685-6043
Email: questions@phillywatersheds.org
Mail: Office of Watersheds
Philadelphia Water Department
1101 Market Street, 4th Floor
Philadelphia, PA 19107
Website: www.phillywatersheds.org

Environmental, Social and Economic Benefits
This project is intended to reduce stormwater runoff and associated combined sewer overflows. Entry in table: Partners who contributed to this project include Philadelphia Parks and Recreation, Philadelphia Water Department, and Philadelphia Capital Program Office.