Projects
George W. Nebinger School
Project Overview
The Philadelphia Water Department (PWD), the U.S. Environmental Protection Agency (U.S. EPA), and the Partnership for the Delaware Estuary (PDE) have joined together to advance green stormwater infrastructure in Philadelphia while educating students and local residents. These partners have teamed up with the School District of Philadelphia to develop a national and international model for stormwater management and educational programming at George W. Nebinger School and on adjacent streets. Efforts at Nebinger will focus on using green stormwater infrastructure as a classroom, field, and laboratory teaching tool for students and the community.
Green infrastructure tools being integrated into the school yard design include rain gardens, porous play surfaces, porous pavement, and stormwater planters, while the green street design will include state-of-the-art stormwater tree trenches. The project has provided an opportunity for Philadelphia students to collaborate with similar schools in the City of Rio de Janeiro on stormwater management, as an extension of the Joint Initiative on Urban Sustainability.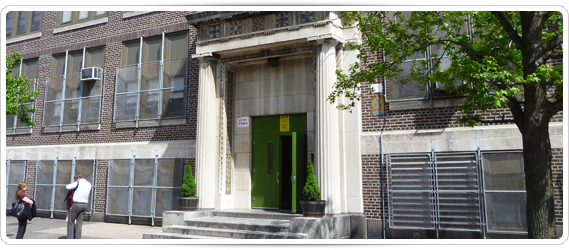 Contact Information

Philadelphia Water Department
Fax: +1 (215) 685-6043
Email: questions@phillywatersheds.org
Mail: Office of Watersheds
Philadelphia Water Department
1101 Market Street, 4th Floor
Philadelphia, PA 19107
Website: http://www.phillywatersheds.org

Environmental, Social, and Economic Benefits
This project is intended to reduce stormwater runoff and improve community neighborhood aesthetics, and may also contribute to improved air quality or a reduced Urban Heat Island effect. Partners who contributed financially or in-kind to this project include: PWD, U.S. EPA, PDE, School District of Philadelphia, George W. Nebinger School, Friends of Nebinger, and Bella Vista Town Watch.
The green stormwater infrastructure planned for the George W. Nebinger school will help manage approximately 67,500 square feet of drainage area from the school yard and surrounding streets, capturing between 53,000 and 63,000 gallons of stormwater during a 1.25" and 1.5" storm, respectively.