Projects
BigBelly Trash Compactors
Project Overview
In 2009, Philadelphia replaced 700 public wire trash baskets with 500 BigBelly-brand solar trash compactors. These bins lower the number of trips needed to collect public waste by using solar energy to compact waste while it is in the bin. This allowed the City to save money from reduced collection costs and fuel use. The City had been making 17 trips each week to empty 700 wire baskets throughout Center City, at an annual cost of about $2.3 million. After replacing those 700 receptacles with 500 solar-powered compactors and 210 recycling units, the City collects only five times a week, at an annual operating cost of about $720,000-representing a 70 percent savings. The installation of solar compactors also enabled the Streets Department to deploy on-street recycling for the first time in Philadelphia.
Highlights of the Program Include
Employees who previously collected litter baskets were redeployed to fill vacancies on household recycling collection trucks. Philadelphia expanded the program city-wide in 2010 and 2011, deploying hundreds more compactors and recycling units.
Immediate Savings: By entering into a 3-year financing arrangement, the City has no up-front capital cost and will realize collection cost savings in the first year of approximately $850,000.
Ongoing Savings: The City will save nearly $13 million in cumulative collection cost savings over the next 10 years, net of the equipment cost.
Annual operating cost reduction of 70 percent Compaction reduces collection demand, which directly reduces operating costs and associated vehicle fuel use and emissions.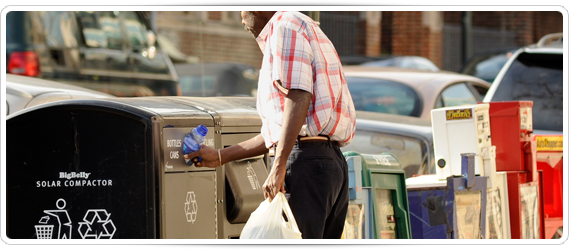 Contact Information

Scott McGrath, Philadelphia Streets Department 
Email: Scott.McGrath@phila.gov 

Environmental, Social, and Economic Benefits
This project is intended to reduce the number of weekly trips made by the Streets Department collection trucks, which can reduce carbon dioxide and other air emissions and can help the Streets Department to operate more efficiently.
| | | | |
| --- | --- | --- | --- |
| | Before | After | Savings |
| Collection Frequency | 17/week | 5/week | 12/week (70 percent) |
| Annual Operating Cost | $2,300,000 | $720,000 | $1,580,000 (10 percent) |
| Cumulative 10-Year Cost | $23 Million | $10 Million | $13 Million (70 percent) |