Green Landscaping: Greenacres
Greenacres Links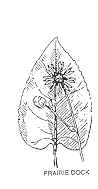 ---
Landscaping Resources
Back to Source Book on Natural Landscaping
---

About PDF)
Remember, we will not post any information intended to directly benefit for-profit enterprises
A Source Book on Natural Landscaping for Public Officials
CHAPTER 5
The upper Midwest, including northeastern Illinois, is an excellent location to see a wide variety of applications of natural landscaping. The natural landscaping "movement" is relatively new, and most projects have been in place for only a few years. Nevertheless, these projects display, even at this early stage, the multiple benefits of the natural landscaping approach.
A selection of natural landscaping projects, demonstrating a wide variety of land uses, site area, habitat type, and sponsor are briefly described below. Most of these case study examples are visible from public areas. Interested parties who wish additional information or want a closer look should contact the property owner or manager. There are many other demonstrations of natural landscaping in the northeastern Illinois area. These are only a few, selected to illustrate the wide range of natural landscaping applications.
PRAIRIE CROSSING
Illinois Rt. 45 and Casey Road
Grayslake, Lake County, Illinois
Prairie Crossing, now under development in northern Lake County, is an innovative large scale clustered residential development which includes preserved open space and agricultural areas, as well as multi-use development adjacent to commuter rail stations. The Prairie Crossing plan is designed to achieve comprehensive natural resource management objectives while creating a highly marketable residential environment. Natural landscaping is a concept inherent in the philosophy and concept of this project which is now under development.
Prairie Crossing is a 667 acre residential development with 319 mostly clustered homes. Mindful of cultural as well as natural heritage, Prairie Crossing integrates existing farm fields with a natural landscape of restored prairies, wetlands, meadows and lakes.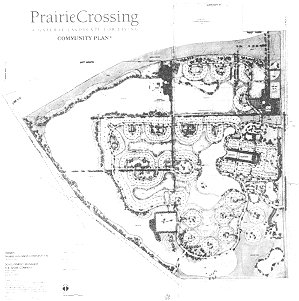 Prairie Crossing Site Plan
Nearly 175 acres of native prairies and wetlands are being restored through and around the residential areas of the development. These areas, in addition to their habitat and aesthetic benefits, serve as part of an alternative stormwater management system. The system utilizes a "stormwater treatment train" which is a sequenced series of native landscape units including vegetated swales that surround all home clusters. These swales convey the water to expansive prairies in which most of the water quality enhancement and management occurs. Some contaminants are removed within the upland prairies. Water that does not infiltrate or evaporate flows slowly from the 170 acres of prairies into 21 acres of created wetlands and ultimately into a 27 acre created lake.
The use of natural landscaping and ecological restoration in this project not only integrates the development by its presence everywhere, but also serves this vital water management function.
Immediate aesthetic benefits on the large acreage of prairie was achieved through use of a cover cropping system (Barley and winter rye). The extensive fields looked like grain fields during the first year. The Prairie Crossing project demonstrates its deep commitment to public education during the home sales process and afterward by providing a handbook on "Living with Nature" and numerous educational opportunities for residents throughout the year. Homeowners will be educated regarding the environmentally progressive aspects of the development and will be encouraged to minimize use of chemicals, plant native plants and minimize lawn area. A community supported garden program provides additional opportunities to involve homeowners with natural resources and develop a greater understanding and appreciation for natural landscaping.
Use of natural landscaping for water conveyance and management saved several million dollars in stormwater piping and installation. When compared to conventional lawns, the natural landscaping will be much less expensive in terms of costs of initial installation and long-term maintenance. In addition, stabilization of the lake and pond on the site will be achieved entirely through the use of native plants and natural materials. This will reduce costs of shoreline maintenance by controlling shoreline erosion.
Appreciation of the natural landscaping has been demonstrated by higher than average new home sales, by resident involvement, including many homeowners now naturalizing their yards, and the unprecedented local and national media attention the project has garnered. In addition, wildlife use of the open spaces and restored landscapes has been exceptional and greatly appreciated within the community.
Zoning and regulatory approval for the project was greatly expedited by the overall conservation focus. Although many construction details and plans, including the stormwater management scheme, required long and arduous negotiations, the local community and public officials were supportive and encouraged alternative strategies for landscaping and stormwater management.
NATURAL LANDSCAPING ON SMALL URBAN LOTS
200 Block North Elmwood, Oak Park, Illinois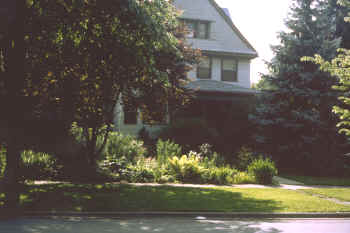 Streetscape, North Elmwood Street
Oak Park, Illinois
Visitors to the 200 block of north Elmwood in Oak Park, Illinois will notice a significant trend towards the use of natural landscaping on relatively small urban single family lots. One of the best examples is where two adjacent homeowners have collaborated for the last six years in the development of a wildflower garden which fills their adjacent side yards and portions of the front yards. This project was based upon a shared interest in reducing the amount of turf grass and associated use of herbicides and pesticides. The owners were interested in a more diverse landscape and the ability of the garden to attract butterflies.
The garden area was initially tilled and planted with annuals and perennials. Perennials now occupy 3/4 of the area. There is an emphasis on prairie plants although the garden is not a strict prairie restoration and contains many other flowering plants.
Costs of this garden have been exceptionally low. The original tilling was labor intensive. Ongoing maintenance falls into the realm of hobby rather than labor. Many of the plants have been obtained from other gardens. The owners feel that overall the garden is less work than lawn maintenance. The planting of annuals is an ongoing but not excessive cost, given that they only occupy 1/4 of the garden. An inexpensive weeping hose system has been installed for watering, the need for which is reduced through the use of compost and mulch.
Each owner maintains her half of the garden. The owners had no initial contact with local government regarding installation of the garden. There have not been complaints and the garden won the "Garden of the Year" award.
Other homeowners in the neighborhood have undertaken similar projects. It is estimated that 30 to 40 natural gardens have "sprouted" in Oak Park. The local government has received only one complaint in the last two years.
A RANGE OF NATURAL LANDSCAPING ON CORPORATE OFFICE CAMPUSES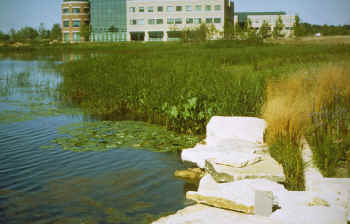 Prairie Stone Business Park
Hoffman Estates, Illinois
SEARS CORPORATE HEADQUARTERS
PRAIRIE STONE BUSINESS PARK
Higgins and Beverly Road
Hoffman Estates, Illinois
The Sears corporate headquarters and business park (Prairie Stone) is located on 780 acres adjacent to Interstate 90. The project was conceived as an integrated land planning process which recognizes natural systems and relationships between the built and natural environments. Native plants have been incorporated into the landscape in ornamental as well as functional ways.
Areas near the primary structures are landscaped with a combination of traditional landscaping and the ornamental use of native plants and stone. Water features have been created that extensively use limestone slabs over which water flows into naturalized ponds surrounded by native vegetation. Native plants have been incorporated into key entrance and other highly visible locations in order to carry out the theme of natural landscaping.
The overall plan called for the preservation and enhancement of existing wetlands and the creation of new wetland systems as part of the site's stormwater management plan. The landscaping therefore reduces the amount of surface water runoff, and what runoff there is treated by filtering through vegetated filter strips and swales and a series of naturalized retention and detention basins connected by the vegetated swales.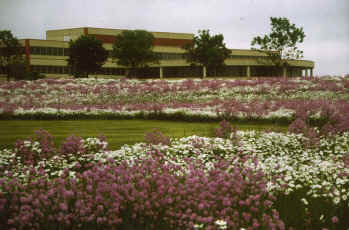 AT&T Corporate Campuses
Network Software Division
Lisle, Illinois
AT&T CORPORATE CAMPUSES
NETWORK SOFTWARE DIVISION
2600 Warrenville Road
(Warrenville Road east of Naperville Road)
Lisle, Illinois
and
LUCENT TECHNOLOGIES
Warrenville Road and Naperville Road
Naperville, Illinois
In 1993, AT&T's Network Software division was mandated by the national headquarters to find ways to reduce or eliminate the costly annual replacement of bluegrass turf caused by severe erosion, disease and nuisance goose population. Motivated by an employee-organized ecology club, AT&T initiated the conversion of 18 acres of bluegrass turf to native prairie forbs and grasses. After developing a comprehensive master plan, the problem turf areas were tilled under and reseeded using the disk method followed by broadcast seeding.
As a result of the success of the Lisle program, an additional 30 acres of AT&T's nearby Lucent Technologies campus in Naperville were converted in the summer of 1994.
Both projects used the same seed mix which was tailored for varying conditions on the sites, i.e. mesic prairie, savanna understory, wet prairie, etc. Both seed mixes included annual and short-lived perennials for ground cover and immediate visual effect. The colorful display from dames rocket and poppy helped create the extremely positive popular response. These are now being gradually replaced by the more dominant and longer lived prairie flowers that were included in the planting mix.
AT&T plans annual burning of the sites in order to encourage the prairie habitat, control weeds, and keep the volume of burnable thatch under control. Weeds are also kept under control by mowing. There was also some initial weeding by hand in order to make sure there was no concern about appearance from municipal government.
LAKEVIEW INDUSTRIAL PARK
Pleasant Prairie, Wisconsin

Lakeview Industrial Park is a 1500 acre development between Chicago and Milwaukee, near Pleasant Prairie, Wisconsin. The project goal was to integrate expansive native landscapes within an industrial park design. Nearly 500 acres of the Park have been included in a large dedicated Natural Area along the Des Plaines river. The Des Plaines river bisects the development, which includes extensive floodplain wetlands, oak savannas, prairies, and the riverine system. Wisconsin's second largest population of the Federal and State Endangered White Fringed Prairie orchid, rare fishes, rare birds, and rare snakes are also present in or immediately adjacent to the property.
Coordination with the Wisconsin chapter of The Nature Conservancy resulted in the gifting of this large area and additional areas of created wetland and prairies within the industrial park. In addition, coordination with the local township and community has resulted in the addition of over 100 acres of open space and co-development of a new park with a high quality oak savanna, additional floodplain areas including very high quality wetlands, and a 120 acre created lake (a former gravel quarry). Uplands around this lake, and other areas including the lake system, will be treated in part by natural landscaping.
A new access road created to service the development impacted 31 acres of floodplain wetlands. To compensate for this, several large farm fields were converted to wetlands through excavation and removal of farm drain tiles. In addition, significant upland buffers around these wetlands have been restored to prairies. The created wetland systems are connected to flood events in the adjacent Des Plaines river. The result has been fish spawning opportunities, including use of the areas by rare fishes, and the presence of numerous rare birds.
Throughout the regulatory and local approval processes, this project encountered no problems with its use of native landscaping, a significant protection plan, and restoration program. Prescribed burning is used frequently, and with local approval, although at times it is difficult to obtain the fire department's permission unless meteorological conditions meet their standards.
The project has won wide acclaim for its innovative address of ecological resources and was one of The Nature Conservancy's very first projects which involved the wetland mitigation process. The positive feedback has forged an important conservation partnership between the industry and conservation groups.
The natural landscaping and ecological restoration in this project provided the basis for success in a number of ways. The industry has saved significant sums of money through use of native landscaping and by conveyance of valuable property.
The ecological benefits of this project have exceeded expectations. The rare species, including the endangered orchid, were not known to be present at the time of the agreement on the conveyance and landscaping plans for the land. This underscores the importance of large projects which can offer protection, native landscaping, and ecosystem management strategies.
PUBLIC PARKS AS OPPORTUNITIES FOR THE INVOLVEMENT OF PEOPLE IN NATURAL LANDSCAPING
Gompers Park
Chicago, Illinois
GOMPERS PARK
CHICAGO PARK DISTRICT
Foster and Pulaski
Chicago, Illinois
The Chicago Park District has begun a restoration of wetlands in the floodplain of the Chicago River on the City's northwest side. Filling had altered the site's hydrology, increased flooding of adjacent park areas, and eliminated nearly all indigenous wetland species. The three main goals of the project are to:
Provide education and training to a multi-generational, community-based population in wetland ecology, restoration, monitoring and management.
Restore the wetland using local people to plan, execute and manage the restored ecosystem.
Establish a model of government/community/not-for-profit environmental organization as an ecological restoration team.
In addition, the project is intended to establish an environmental ethic, reestablish visual connections between the Chicago River and the park, re-interpret concepts of "nature" and "park", eliminate flooding of recreational facilities, and provide a resource for education, scientific study, and community stewardship. The project is being carried out in cooperation with Friends of the Chicago River, a not-for-profit advocacy and education organization, the City of Chicago's Department of Environment, the Metropolitan Water Reclamation District, U.S. Fish and Wildlife Service, the North Mayfair Improvement Association, and other neighborhood groups.
The total cost of the Gompers Park project is expected to be approximately $50,000, the vast majority of which was spent in removing 2 ft. of fill and regrading. The remainder of the project cost was for plant material and educational programming in conjunction with the project. Approximately two acres were replanted with a nurse crop of annual oats and rye. Volunteers have planted approximately 1500 plants in a one acre area during three weekend work events attended by 25-50 people.
The Chicago Park District is conducting urban ecology and restoration projects at seven other locations as well. One of the most interesting is the use of tree spades to relocate a threatened wet prairie remnant nearly three miles to a wet prairie restoration site in Marquette Park. The plugs of prairie habitat, approximately 7 ft. wide and 4 ft. deep, have been moved to an area approximately one acre in size near the shore of the Marquette Park lagoon. The tree spades are able to preserve a large portion of the deep root systems of prairie plants. The soil from the holes in Marquette Park were used to fill the "donor" holes in the original prairie site. The plugs of the new prairie have survived well and the prairie vegetation is converging on the spaces between the plugs.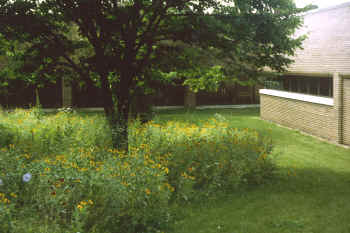 Wheaton-Warrenville South High School
Wheaton, Illinois
WHEATON WARRENVILLE SOUTH HIGH SCHOOL
1920 South Wiesbrook Road
Wheaton, Illinois
Addressing many issues simultaneously, Wheaton Warrenville South High School began incorporating native landscape treatments into their school grounds in 1995. The school had several goals: to reduce maintenance on unused lawn areas and time demands on limited staff, improve overall aesthetics, restore native habitats, and more important, create a living laboratory for hands-on environmental education. The project consultant developed a master plan which identified appropriate zones for the re-introduction of various prairie community types and incorporated requested outdoor classroom elements.
During Earth Day week in April 1995, students installed the first phase of the master plan, approximately 2.5 acres of upland mesic and wet prairie plantings. Students and staff will be stewards responsible for establishing the emerging natural plant communities, including the restoration of an adjacent emergent wetland system. The campus' first burn occurred in the spring of 1996. Given the positive feedback from students, staff, parents and the surrounding community, subsequent phases are being considered for installation.
DUPAGE GOVERNMENT CENTER
County Farm Rd. and Manchester Rd.
Wheaton, Illinois
The government of DuPage County has begun a natural landscaping project on an initial 10 acres of the 57 acre DuPage County Government Center. The site contains most of the county's offices in a traditional landscape containing an artificial lagoon as a detention facility. More than 50 species of native grasses and wildflowers were planted on the existing berms along Manchester Rd. and on about three acres east of the county courthouse. The project is budgeted at $10,000 for installation in this first 10 acre stage. Pending evaluation of the first phase, the county plans to consider extending the natural landscaping to at least 39 acres of the 57 acre site.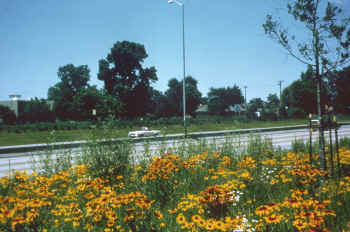 IDOT wildflower plantings in the right-of-way
Among the significant landowners in metropolitan areas are the owners of roadway and utility right-of-way. The interconnected, linear nature of these extensive ownerships creates opportunities for a highly visible use of natural landscaping. In addition, natural landscaping in these corridors can help provide continuity of habitat and habitat linkages that are important for species propagation and survival.
Illinois Department of Transportation
The Illinois Department of Transportation has a program of planting native plants and wildflowers along Illinois state highways. Travelers to Springfield are aware of the extensive use of prairie grasses in the Interstate 55 right-of-way as one approaches the state capitol.
In recent years IDOT has been using native plantings more extensively in the Chicago metropolitan area. Segments of right-of-way that are being managed for native vegetation are designated by signs and are not subject to conventional mowing routines.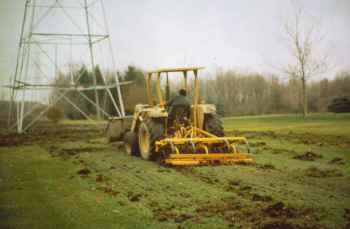 Planting of native vegetation in a
Commonwealth Edison right-of-way
Commonwealth Edison
Commonwealth Edison has initiated the use of native landscaping as part of its land management and environmental programs. Commonwealth Edison has completed a number of prairie plantings in their right-of-way in the Chicago metropolitan area. This is being done for environmental, economic and aesthetic reasons.
One location for viewing Commonwealth Edison's work is at the Power House energy museum in Zion, Illinois. Commonwealth Edison also has a voluntary stewardship program which encourages Commonwealth Edison employees, families and friends to participate in prairie restoration efforts.
Olympia Fields Country Club
Olympia Fields, Illinois
OLYMPIA FIELDS COUNTRY CLUB
2800 Country Club Drive
near Vollmer Rd. and Western Ave.
Olympia Fields, Illinois
Golf courses are a major land use in metropolitan areas, and one where conversion from traditional to natural landscaping can have very positive and highly visible impacts. The Olympia Fields Country Club has been participating in the New York Audubon Society Cooperative Sanctuary Program since 1992 and became fully certified in February of 1996. Certification areas include: environmental planning, wildlife cover enhancement, water conservation, and water quality management.
Olympia Fields Country Club blends two championship 18 hole golf courses into a unique natural setting of native woodlands and rolling topography with large oak trees lining the fairways. Butterfield Creek winds through the property. Numerous areas on both courses are ideal for enhancing the existing vegetation and habitat and re-introducing vegetation types that had been eliminated from the property over time. Planting native trees and woody understory from locally collected seed, removal of invasive non-native species, re-establishing prairie and savanna vegetation, prescribed burning of prairie and savanna areas, and the control of water feature erosion with native vegetation are some of the programs in progress.
A significant portion of both golf courses was constructed in native oak/hickory woodlands. Through the years, many of the native trees have died and been replaced with non-native species. Out-of-play areas and hillsides were mowed, precluding the natural growth of new oak trees and understory plants. In order to restore the original nature of the land, an extensive planting program has been initiated with the planting of native trees supplied by a local nursery. All of the plants are grown from locally collected seed (some seed is collected from plants at the country club). Plants range in size from 6" caliper trees in strategic, highly visible locations to one year old seedlings in wooded areas that are no longer mowed. Of equal importance to the planting is the removal of invasive non-native plants which compete with the native plants. A particular problem in this area is buckthorn. Approximately 200 man hours per year are expended to control this pest, with great care taken to treat all stumps to prevent resprouting. Non-native honeysuckle, burdock, and garlic mustard are also being removed.
Other areas of the property were originally prairie and were farmed prior to construction of the golf courses. Where appropriate, prairie vegetation is being re-established. A 1 3/4 acre demonstration area has been reseeded to prairie vegetation. Presently 7 grasses and over 25 forbs have been re-introduced. As in all of the planting programs, care is taken to match the plant to its site, taking into account soil type, moisture requirements, sunlight needs, etc. Prescribed burning and hand weeding are used to keep non-native plants out of the prairie areas. In one area of the North Course, prairie vegetation has begun to re-establish on a site that had been mowed for over 70 years. Also, prairie grasses and forbs are used in various landscape situations on the golf course and around the clubhouse. Several savanna remnants still are evident on the South Course. Last year those areas were burned to eliminate some non-natives and stimulate the dormant seed bank. Results after one year are encouraging.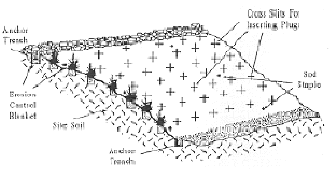 Schematic of Typical Vegetative
Stabilization Installation
Over the past two years, a program of erosion control, using native vegetation, has been initiated along Butterfield Creek and lake shorelines. In previous years, riprap was placed on the creek banks to control erosion. Grass on the streambanks and shorelines was mowed to the water's edge. Vegetative buffers have now been established where practical, and vegetation such as rushes, iris and cordgrass have been planted to protect the soil on the banks. This program will be expanded in future years.
The Olympia Fields Country Club Grounds Department practices an environmentally sensitive fertilizer and pesticide program. An extensive Integrated Pest Management program is in place utilizing scouting, threshold levels, curative disease control, least toxic chemicals, organic fertilizer and biological control. No-spray buffer zones have been established around environmentally sensitive areas such as water features. Many weeds, such as crabgrass and dandelions, are controlled through hand picking on the fairway, greens and tees. Fewer chemicals are used on the 36 holes than are used on many 18 hole facilities.
Member and non-member awareness of the environmental programs are important aspects of the Cooperative Sanctuary Program. The club newsletter is used on a monthly basis to inform the membership of ongoing environmental programs. Also, the grounds superintendent has made presentations to local superintendent groups and local environmental and social groups on the Olympia Fields Country Club environmental program and its results.