Green Landscaping: Greenacres
Greenacres Links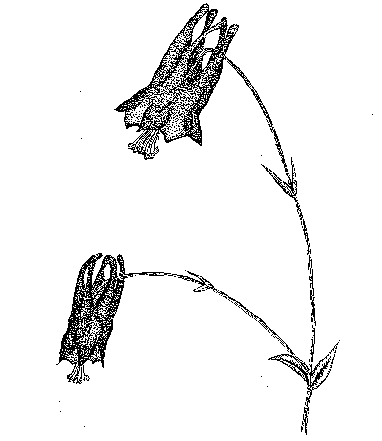 Wild Columbine
(Aquilegia canadensis)
---
Landscaping Resources
---

About PDF)
Remember, we will not post any information intended to directly benefit for-profit enterprises
Native Plants Brochure
This is from a brochure prepared by Dr. Noel Pavlovic, NoŽl Studer, Shelly Swisher and Dr. Ralph Grundel of the Lake Michigan Ecological Research Station, National Biological Service, Porter, IN and produced with funding from the Great Lakes National Program Office of the Environmental Protection Agency.
If you are a homeowner, landscape architect, or someone simply interested in landscaping in an ecological, cost effective, and aesthetically pleasing manner, it is time to think about incorporating native plants into your outdoor design. Native plants are those flowers, grasses, shrubs, and trees indigenous to a geographical region of North America prior to European settlement.
Landscaping in the likeness of nature brings many benefits. Being naturally suited for an area, native plants require minimal maintenance and watering once established. In addition, most species are perennial or self-seeding biennial plants. Creating floristically diverse areas can attract songbirds and wildlife in search of shelter and food. Native plants often attract insects which prey upon pests, thus decreasing the need for pesticide use. The ever changing beauty of biologically diverse surroundings will bring you hours of pleasure and peace of mind because you are landscaping in an ecologically sound manner.
Site Conditions
First of all, it is important to familiarize yourself with the environmental conditions of the site to be landscaped. Becoming aware of the relative amounts of sand, silt, and clay in the soil, along with the available moisture and sunlight is crucial for selecting plants most suited to an area. For example, a plant which requires a dry, sandy area in full sun, such as dwarf blazing star (Liatris cylindracea) will not thrive under a tree in clay soil. Likewise, wild iris (Iris versicolor), a wetland species, will not live long on a sandy ridge. Books and seed catalogues about native plant landscaping contain lists of appropriate species for the environmental conditions at your site. Assistance with soils may be obtained from your county extension agent.
Natural Vegetation Community
Sometimes an area may have been so significantly altered by agriculture or urbanization that the natural vegetation community cannot be determined. Personnel at a park nature center, natural resources office, or university botany department may be able to tell you what species and vegetation are native to your area. Books about the local or regional native plants may also help.
Scientific Nomenclature
Familiarizing yourself with scientific names will enable you to identify accurately plant varieties native to your region. A nursery may carry five plants called columbine, all in the genus, Aquilegia. By using the entire two-word species name, Aquilegia canadensis, you will be able to order the native Midwestern variety, instead of Colorado columbine, Aquilegia caerulea.
Site Preparation
Perhaps one of the most important aspects in maintaining native plant beds or a meadow is the initial soil preparation. Incorporating organic matter, such as compost, into the soil will increase fertility and water retention, especially in sandy soils. Another key factor is eliminating weedy competition. The method used to remove competition will depend on the scale at which you are working. Proper mulching suffices in small areas, but timely disking, mowing and/or one-time herbicide use prior to planting is necessary when creating larger prairies or meadows.
Plant Acquisition
Obtaining plants from nurseries carrying local stock preserves the genetic diversity within your ecosystem while ensuring that the plants are suited to your environmental conditions. Digging plants from natural areas is strongly discouraged because it is ecologically disruptive, the plants may not survive, and is, sometimes, illegal. Instead, seed or plants should be ordered from a nearby nursery.
Time Frame
Establishing native plants is a learning process, requiring patience and keen observation. Once the proper plants are started in an area with favorable conditions, it may take three to five years for complete establishment. During this period, work (weeding, mulching, and watering) comparable to traditional landscaping may be required.
In essence, when landscaping with native plants, a stable ecosystem with diverse animal and plant life begins to take form that can flourish for decades. This brochure provides a list of sources to help you plan this process. In addition, there is a list of some of the nurseries throughout the Great Lakes Region that carry native plant stock.
Art, H.W. A Garden of Wildflowers. Pownal, VT: Stoney Communications, Inc., 1986.
Henderson, C.C. Landscaping for Wildlife. Minnesota Department of Natural Resources, 1987.
Jones, S.B. and L.E. Foote. Gardening with Native Wild Flowers. Portland, OR: Timber Press, Inc., 1990.
Martin, D.L. and G. Gershuny. The Rodale Book of Composting. Emmaus, PA: Rodale Press, 1992.
McHarg, I.L. Design with Nature. Philadelphia, PA: The Falcon Press, 1969.
Newcomb, L. Newcomb's Wildflower Guide. Boston, MA: Little, Brown & Company, 1977.
Paulson, A. The National Wildflower Research Center's Wildflower Handbook. Austin, TX: Texas Monthly Press,1989. (Available from the National Wildflower Research Center, 2600 FM 973 North, Austin, TX 78725-4201, 512- 929-3600).
Peterson, R.T. and M. McKenny. A Field Guide to Wildflowers of Northeastern/ Northcentral North America. Boston, MA: Houghton Mifflin, 1968.
Phillips, H.R. Growing and Propagating Wildflowers. Chapel Hill, NC: The University of North Carolina Press, 1985.
Rock, H.W. Prairie Propagation Handbook, 6th edition. Milwaukee County Department of Parks, Recreation & Culture, 1981.
Smith, J.R. and B.S. Smith. The Prairie Garden. Madison, WI: The University of Wisconsin Press, 1980.
Swink, F. and G. Wilhelm. Plants of the Chicago Region. Lisle, IL: The Morton Arboretum, 1979.
This list of nurseries does not imply any endorsement or recommendation by the Federal Government. When listed as a wholesale business, then orders can be placed through your local garden store.
R -
W -
M -
T -
FE -
Retail
Wholesale
Mail Order
Trees
Ferns
FO -
G -
W -
% -
Forbs
Grasses
Wetland Plants
Percent Native Species

Illinois
Country Road Greenhouses Lafayette Home Nursery Midwest Wildflowers
19561 E. Twombly #1 Nursery Lane P.O. Box 64
Rochelle, IL 61068 Lafayette, IL 61449 Rockton, IL 61072
(815) 384-3311 309-995-3311 M;FO;70%
W;FO,G;75% R,W,M;FO,G;90%
The Natural Garden Possibility Place Nursery
38W443 Highway 64 7548 W. Monee
St. Charles, IL 60175 Monee, IL 60449
312-584-0150 708-534-3988
R,W,N;G,FO;40% R,W;T;90%
Indiana
Heidi's Haven J.F. New and Associates Spence Landscaping and Nursery
1670 S. 900 E 708 Roosevelt Road P. O. Box 546
Zionsville, IN 46077 Walkerton, IN 46574 Muncie, IN 47308
317-769-3278 219-586-3400 317-286-2775
W;W;25% W;W;98% W;FO,G;20%
Michigan
Far North Gardens Grass Roots Nursery Needlefast Evergreens
P.O. Box 126 24765 Bell Rd. 4075 W. Hansen Road
New Hudson, MI 48165 New Boston, MI 48164 Ludington, MI 49431
313-422-0747 313-654-2405 616-843-8524
M;FO:70% R,W,M;W,FO;10% W,M;T;35%
Van Pines
7550-144th Avenue
West Olive, MI 49460
800-888-7337
W,M;T;60%
Minnesota
Albert Lea Seed House Orchid Gardens Prairie Moon Nursery
P.O. Box 167 2232-139th Avenue Route 3 Box 163
Albert Lea, MN 56007 Andover, MN 55304 Winona, MN 55987
R,W;G;10% M;FO;100% 507-452-1362
M;G,FO;100%

Prairie Restorations Willow Lake Farm
P. O. Box 327 P.O. Box 128
Princeton, MN 55371 Windom, MN 56101
612-389-4342 507-831-3483
R,W,M;FO;100% W;G,FO;100%
New York
K. Van Bourgondien & Sons Wildginger Woodlands
245 Farmingdale Rd. P.O. Box 1091
P.O. Box A Webster, NY 14580
Babylon, NY 11702
M;FE,FO;95% R,W,M;F,T;10%
Ohio
Cory's Wildflower Land Reformers
Gardens 35703 Loop Road
1461 Valley Drive Rutland, OH 45775
Chillicothe, OH
614-742-3478 614-774-1771
R,W,M;T,FE,G,W,
R;FO;25% FO;80%
Pennsylvania
Appalachian Musser Forests Octoraro Wetland
Wildflower Nursery P.O. Box 340 Nurseries
Rt. 1 Box 275 A Indiana, PA 15701 P.O. Box 24
Reedsville, PA 17084 412-465-5685 Oxford, PA 19363
717-667-6998 R,W,M;T,S;30% 610-932-2072
R,M;FO;50% W;W;100%
Wisconsin
Boehlke's Woodland Gardens Country Wetlands Evergreen Nursery Co.
5890 Wausaukee Road S75 W20755B Field Dr. 5027 County TT
West Bend, WI 53095 Muskego, WI 53150 Sturgeon Bay, WI 54235
414-675-2740 414-679-1268 414-743-4464
R,M;FE,FO;100% W,R;W;100% W;T;10%

Little Valley Farm Native Savanna& Prairie Seed Prairie Nursery
Route3, P.O. Box 544 c/o Club:EKOS P.O. Box 306
Snead Creek Rd. Waupaca Field Station Westfield, WI 53964
Spring Green, WI 53588 E110 Emmons Creek Rd. 608-296-3679
R;FO,G;100% Waupaca, WI 54981 W,M;G,FO;100%
R;G,FO;100%

Prairie Ridge Nursery Prairie Seed Source Strand Nursery
9738 Overland Road P.O. Box 83 Route 3, Box 187
Mt. Horeb, WI 53572 North Lake, WI 53064 Osceola, WI 54020
608-437-5245 R,M;G,FO;100% 715-294-3779
R,W,M;G,FO;100% R;G,FO;100%