Green Landscaping: Greenacres
Greenacres Links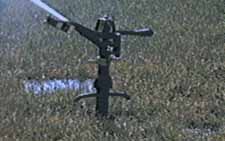 ---
Landscaping Resources
---

About PDF)
Remember, we will not post any information intended to directly benefit for-profit enterprises
Landscape Water Conservation
LANDSCAPE - Water Efficient Landscape Planning

The Water Efficient Landscape Planner was developed to explain the advantages and principles of water efficient landscaping. The program covers the basics of landscape planning and provides guidelines and suggestions to help users select the most appropriate plants for their needs. It is intended for use by homeowners who are considering changes to residential landscaping. Also available in Spanish.
zip file (self-extracting compressed file)
Installation: To install, copy the zip file (spanland.exe) onto your hard disk, then double-click it to uncompress and install the program. To start the program, double-click on its icon in the Program Group "Software for Environmental Awareness".