Green Landscaping: Greenacres
Greenacres Links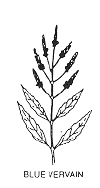 ---
Landscaping Resources
Back to Source Book on Natural Landscaping
---

About PDF)
Remember, we will not post any information intended to directly benefit for-profit enterprises
A Source Book on Natural Landscaping for Public Officials
In recent years, a new look in landscaping, commonly known as natural landscaping, has been gaining enthusiastic acceptance across the country. Natural landscaping is an aesthetically exciting, ever-changing tapestry of hardy, primarily native plantings well adapted to the local climate and soil. It provides a cost effective alternative to conventional turf grass lawns.
Natural landscaping minimizes the environmentally detrimental effects of pesticides and fertilizers, as well as the noise pollution, and the emission of air-polluting substances from lawn-maintenance equipment. It virtually eliminates the need to use water for irrigation as is required for turf grass lawns. While not maintenance free, natural landscaping requires less time and money for ongoing maintenance than conventional landscapes.
Homeowners and developers alike are beginning to appreciate the environmental, economic and aesthetic benefits of natural landscaping.
Local officials are in a position to advocate natural landscaping and bring its benefits to their communities. Local governments demonstrate the benefits by using native plant materials on government owned and managed lands. Government officials can amend comprehensive plans and adopt ordinances to promote the appreciation and use of natural landscapes. Citizen education about the benefits of natural landscaping can provide a powerful incentive, especially if government officials can point to pilot projects of their own.
This Source Book will:
Explain the basic principles and benefits of natural landscaping;
Demonstrate the feasibility of using natural landscaping successfully in the region;
Provide information regarding the ways that local officials as community leaders can encourage the use of natural landscaping;
Identify ways to avoid pitfalls that could result in poorly implemented natural landscaping or cause problems for local government;
Describe tools and techniques; and
Provide direction to other sources of information and expertise.
This guidebook was prepared by the Northeastern Illinois Planning Commission (NIPC) for the U.S. Environmental Protection Agency, Region 5. The intended audience is local officials, land owners, and citizens in the greater northeastern Illinois region.
Because regional geological histories and climate vary greatly and are basic to implementing natural landscaping, natural landscaping in other regions must be tailored to those unique conditions. Therefore, landscape planners and ecological restoration practitioners in other regions, and even within this large northeastern Illinois region, will need to research their own landscape history. They will need to obtain local information in order to understand their specific natural conditions and native vegetation. However, the basic principles and benefits of natural landscaping, as described in this Source Book, should apply anywhere.
WHAT IS NATURAL LANDSCAPING?
Landscaping is the physical modification of outdoors to serve the needs of people by planting, altering the contours of the ground, and building structures and amenities such as pedestrian ways, paths and picnic areas.
Native landscaping, Natural landscaping, and Beneficial landscaping
Natural landscaping is a relatively new term. Other terms in current use mean much the same thing and are somewhat interchangeable. The terms are discussed in the context of the midwestern United States.
Native landscaping refers to the use of plants -- for example, prairie, woodland and wetland plants -- that flourished in northeastern Illinois prior to its occupation by settlers from eastern North America and Europe.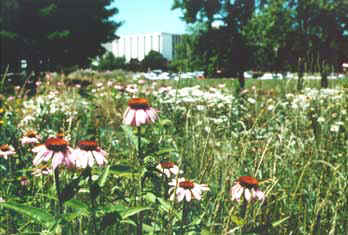 Prairie planting at Lucent Technologies
Naperville, Illinois
Natural landscaping implies the use of native plants but has slightly broader implications because it also suggests landscaping to give the "look" of the landscape that existed before the mid 1800. In addition, there may also be an attempt to restore or reconstruct the landscape to look and function more as it did before settlers, other than Native Americans lived here. Natural landscaping applies to a wide array of landscaping techniques that help retain natural landscape features, including wetlands, woodlands and natural drainage features. For example, natural landscaping site design incorporates natural drainage features such as swales and vegetated "filter strips" in contrast to storm sewers and artificial drainage channels.
Beneficial landscaping is another term in current use that embraces both native and natural landscaping. The term beneficial landscaping also includes the use of shading and windbreaks, which reduce heating and cooling needs for buildings.
These terms are relatively new and their definitions are somewhat fluid. Questions of terminology should not obscure the basic intent or concepts. The term "natural landscaping" will be used throughout this guide. In the Appendix of this guide is a glossary of frequently used terms associated with natural landscaping.
THE LANDSCAPES OF YESTERDAY AND TODAY
Difficult to maintain conventional landscaping.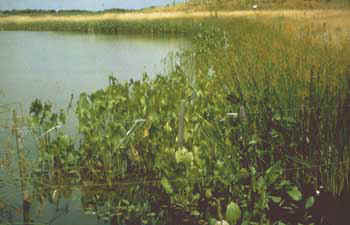 Natural landscaping for habitat and reduced maintenance.
Northeastern Illinois lies along the northeastern edge of the range of the Tall Grass Prairie of the Midwest. The prevailing landscape before European settlement was open prairie. In some areas the prairie was flat, in others rolling. The prairies were regularly interspersed with poorly drained lowland and dry, well-drained uplands. Rainfall flowed from the uplands into lowland wet meadows and marshes.
Throughout the region were small to large tracts of savannas consisting primarily of scattered oak trees interspersed with characteristic grasses and forbs. More heavily forested areas, some covering vast acreages and known to the European settlers as "The Big Woods," grew on the eastern sides of our north-south running rivers, where they were protected from fierce prairie fires. In some places, impenetrable thickets covered sandy areas and low dunes.
Native prairie, woodland and wetland plants of the Chicago region have great beauty and are well adapted to local conditions. Unfortunately, they have been displaced to a large extent by non-native plants that were familiar to the people who first farmed and developed our urban areas. Only in recent years have the beauty and utility of our native plants and plant communities become widely appreciated.
Our predominant landscaping material today, the green grass lawn, is borrowed from the heavily grazed, short grass pastures and formal gardens of Europe, particularly England. In that moist climate, the closely cropped grasses evolved with the grazing sheep, goats and cows. Understandably, pioneers from Europe, used to the short grasses, brought the grasses as well as medicinal and food plants to make the unfamiliar feel familiar and homelike. Unfortunately, the grasses they brought do not thrive as well-kept lawns without a great deal of effort to simulate the conditions under which they evolved in Europe.
Our area of the country, with its harsher climate of extremes of heat and deep freezes, drought and drenching rains, is an inhospitable atmosphere for short-cropped, short-rooted grass. Therefore, the contemporary weed-free lawn, is maintained at a high price, not only in terms of dollars but also degraded water and air quality, water consumption, and the peace and quiet of our neighborhoods.
We need to assess which parts of our landscapes could be replaced with native plants. In returning to a more natural landscape, we will be returning those plants which evolved under our conditions of climatic stress, which require less maintenance and coddling and provide environmental, economic and aesthetic benefits.
One immediate result of the switch from conventional to native or natural landscaping is that our landscape can thrive under the diverse conditions across the region:
sandy soils associated with Lake Michigan and its larger predecessors;
rich lowland forest soils in floodplains along streams and rivers;
heavy clay soils in low-lying wooded areas;
wet conditions associated with wetlands, wet prairies, and riparian corridors;
dry rolling uplands on rolling lands left by glaciers; and
moderate conditions originally covered by tall-grass prairies and groves of oaks and other hardwoods.
Fortunately, there is a selection of native plants that have a wide tolerance for varying conditions and work well in many locations. Where special expertise and resources are available, ambitious natural landscaping projects can attempt to restore the original soil and water conditions.
HOW CAN NATURAL LANDSCAPING BE USED?
Almost everyone can use natural landscaping. There is no rigid set of rules that dictates how much or what qualifies as natural landscaping or when it is appropriate. The concept embraces a range of opportunities for property owners, managers and public officials. Any effort that increases the amount of area devoted to natural landscaping will be of some benefit. It will largely be up to property owners, local officials, planners, engineers, and landscape professionals, to determine where, what kind, and how much.
Some examples:
New developments of all types can:
preserve and enhance existing natural areas such as prairie, wetland, floodplain and woodland areas as an essential component of site planning;
cluster homes in order to reserve green areas designed with native plants as a substitute for conventional subdivision design;
reduce the amount of impervious surfaces by substituting vegetation where appropriate;
utilize natural drainage approaches such as swales and vegetated filter strips instead of storm sewers.
Existing institutional and commercial complexes can:
create prairie, wetland, and woodland areas as part of government, corporate and institutional campuses, and reduce the area devoted to turf grass;
design and retrofit stormwater detention basins as natural wetland/prairie systems to enhance water quality and other environmental benefits.
Individuals and groups of homeowners can:
totally or partially replace lawn areas and common areas with native plants and retrofit areas for more natural stormwater detention.
Golf courses can:
reduce the amount of turf by including areas of rough devoted to native plants and natural environments. The Audubon Cooperative Sanctuary Program for Golf Courses encourages golf courses to include wildlife habitat enhancement, establishment of Integrated Pest Management (IPM) programs, and protection of water resources.
Local governmental units can:
incorporate natural areas into non-active areas on most types of public property, as well as use natural landscaping for stormwater management.
Native plants can be used in various ways in the landscape
Native plants as one part of the landscaping material:
Existing or new building sites can use native trees, shrubs and grasses instead of the "exotic" plants typically marketed by nurseries. Native grasses and ground covers may partially replace turf areas. This approach is becoming increasingly popular with homeowners. Natural landscaping on commercial properties provides environmental benefits and a distinctive appearance to the building site. Native vegetation used in "ornamental" ways in landscape design can create unusual and attractive effects.
Native plants as the principal landscaping material
With careful planning, native plants can constitute the primary landscaping material in new development sites and sites that are being re-landscaped. This approach may be particularly appropriate for office campuses, public facilities and parks, institutions, and clustered residential development. It can realize major environmental improvements and cost savings.
Using more vegetation and less concrete and asphalt
The excessive use of concrete, asphalt and other impervious materials in our landscapes causes several environmental problems. It accelerates stormwater runoff and creates flooding and erosion conditions for communities along streams. It results in higher temperatures in urban environments, making the out-of-doors less pleasant and increasing the need for air conditioning. Increasing the use of vegetation -- especially native vegetation -- in our landscaping can reduce damage from stormwater runoff, reduce temperatures, reduce energy costs, improve water quality and increase wildlife habitat.
Strategies for increasing the amount of permeable surfaces include: reducing street widths in residential developments, reducing setbacks between buildings and streets, designing smaller parking lots which include island vegetation, and clustering development on part of a site. Unused paved areas can be "unpaved" and natural landscaping installed.
There are several special situations where the natural landscaping approach should be considered:
To preserve existing native vegetation
Preserving existing natural vegetation is a fundamental purpose of natural landscaping. While very little area within the region has been left in its native state by humans, there are rare and valuable natural area remnants (wetlands, prairies, and woodlands) which should be protected and properly managed. With removal of exotic species, native plants will often re-establish themselves rather quickly.
To restore ecological systems
Another primary use of natural landscaping involves restoring entire ecosystems with a full complement of native species. These projects include restoration of previously altered hydrology, such as stream and wetland restoration and removal of drain tiles. Intensive design, monitoring and maintenance programs with long-term professional oversight are critical to the success of the restored landscape. On publicly owned lands, volunteers can help accomplish large scale restorations. Volunteer workers and expert volunteer stewards are already providing experienced stewardship in all Chicago area counties.
To create greenways
Linear open spaces called "greenways" provide exceptional opportunities for utilizing natural landscaping to protect and restore the region's ecological identity. Many of the region's forest preserves are in greenway corridors and are being managed to maintain their natural character. The Northeastern Illinois Regional Greenways Plan adopted by the Northeastern Illinois Planning Commission (NIPC) in 1992 reflects these regional greenway opportunities. Local jurisdictions can plan and implement local greenways that connect with the regional greenway network. Greenways are appropriate on both public and private property. Local and regional greenways are excellent and appropriate locations for natural landscaping. Many greenways contain rivers, streams, or other waterways. In these locations native vegetation in buffer strips adjacent to the stream provides wildlife habitat, bank stabilization, and water quality benefits. These buffer strips protect natural resources from human impacts and filter our pollutants that could flow into streams.
To stabilize streambanks and shorelines
Native willows, grasses and other plants can be used to stabilize eroding streambanks and shorelines. The techniques that employ native plant materials are collectively called bioengineering. They are effective, less costly, and provide better wildlife habitat than traditional engineering approaches.


To manage flood and stormwater
Flooding affects many communities in Northeastern Illinois. Floodplains are regulated so they will be retained in non-intensive, open space uses in order to reduce hazards from flooding. Planting native vegetation in floodplains helps absorb and slow flood waters. Stormwater detention basins designed to replicate the natural water purification functions of wetlands also improve water quality and wildlife habitat as well as creating aesthetically pleasing landscapes. Careful design and planting of these basins allows them to blend more naturally into the landscape than conventional basins.