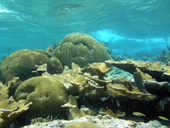 Reef Ecosystem
The state of the Reef Ecosystem is the condition, in terms of quantity and quality, of the abiotic and biotic components including physical, chemical, and biological variables.
CMap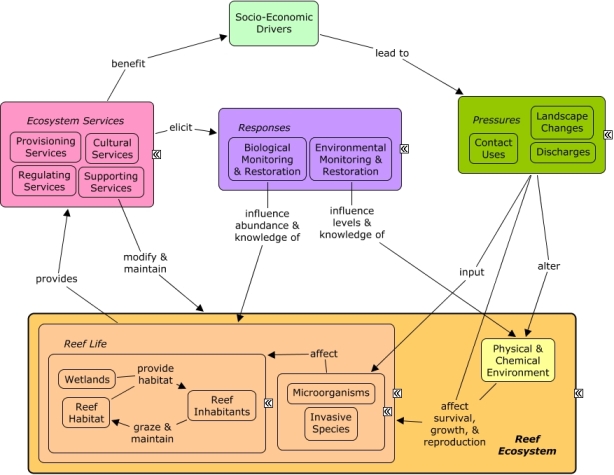 CMap Description
Changes in the quality and functioning of the Reef Ecosystem have an impact on the welfare or well-being of humans through the provision of Ecosystem Services. Many reef species also provide Supporting Services which maintain the functioning of the Ecosystem. Often the Drivers which benefit from the Ecosystem are the same drivers which exert Pressures on the ecosystem through their activities, including Discharges of pollutants which alter the Physical & Chemical Environment and Contact Uses which directly affect the survival, growth, & reproduction of Reef Life. Humans make decisions in Response to the impacts on Ecosystem Services or their perceived value. Responses may seek to better understand or preserve the Reef Ecosystem through monitoring or restoration activities.
Citations
More than 2000 citations. Sorting and filtering have been disabled. Choose a more specific topic to narrow number of citations.
| Citation | Year | Study Location | Study Type | Database Topics |
| --- | --- | --- | --- | --- |
| Delean, S. and G. De'ath. 20008. Spatial and temoporal patterns of indicators of reef health on the Great Barrier Reef. Report to the Marine and Tropical Sciences Research Facility, Reef and Rainforest Research Centre Limited, Cains, Australia. | 20008 | Australia | Model; Index or Indicator; GIS & Maps | Fish; Resource Use Management |
| Principe, P., P. Bradley, S. Yee, W. Fisher, E. Johnson, P. Allen, and D. Campbell. 2012. Quantifying Coral Reef Ecosystem Services. EPA/600/R-11/206, U.S. Environmental Protection Agency, Research Triangle Park, NC. | 2012 | Global | | Aquarium & Pet Trade; Aquarium Stock; Beach & Land Formation; Carbon Storage & Cycling; Complex Habitat & Resources; Corporate Responses; Cultural Policies; Cultural Protections; Cultural Services; Existence Value & Sense of Place; Fish; Landscape Conservation & Restoration; Mangroves; Monetary Valuation; Ornamental Jewelry & Art; Pharmaceuticals & Cosmetics; Pharmaceuticals & Cosmetics Sources; Provisioning Services; Regulating Services; Seagrasses; Shoreline Protection; Supporting Services; Tourism & Recreation; Valuation |
| Tang, J; Hu, R; Wu, ZS; Shen, GL; Yu, RQ. 2011. A highly sensitive electrochemical immunosensor based on coral-shaped AuNPs with CHITs inorganic-organic hybrid film. Talanta 85:117-122. | 2011 | | Model | |
| Dick, DM; Hines, EM. 2011. Using distance sampling techniques to estimate bottlenose dolphin (Tursiops truncatus) abundance at Turneffe Atoll, Belize. Marine Mammal Science 27:606-621. | 2011 | South & Central America; Belize | | Finfish Harvest; Fishing Sector; Marine Protected Areas; Ports & Harbors; Whales & Dolphins |
| Diaz-Perez, L; Carpizo-Ituarte, E. 2011. Effect of thermal stress on survival and delay of metamorphosis in larvae of the purple sea urchin Strongylocentrotus purpuratus. Ciencias Marinas 37:403-414. | 2011 | | Lab Study | Climate; Ocean Acidity; Sea Urchins; Stony Coral |
| Kavousi, J; Seyfabadi, J; Rezai, H; Fenner, D. 2011. Coral Reefs and Communities of Qeshm Island, the Persian Gulf. Zoological Studies 50:276-283. | 2011 | Iran | | Algae; Fish; Pathogens; Stony Coral |
| Britayev, TA; Mekhova, ES. 2011. Assessment of hidden diversity of crinoids and their symbionts in the Bay of Nhatrang, Vietnam. Organisms Diversity and Evolution 11:275-285. | 2011 | US Pacific & Hawaii; Vietnam | | Echinoderms; Lobster, Crab, & Shrimp; Marine Worms |
| Benayahu, Y; van Ofwegen, LP. 2011. New Species of Octocorals (Coelenterata: Anthozoa) from the Penghu Archipelago, Taiwan. Zoological Studies 50:350-362. | 2011 | Taiwan | | Octocoral |
| Reimer, JD; Obuchi, M; Irei, Y; Fujii, T; Nozawa, Y. 2011. Shallow-Water Brachycnemic Zoanthids (Cnidaria: Hexacorallia) from Taiwan: A Preliminary Survey. Zoological Studies 50:363-371. | 2011 | Australia; Japan; Vietnam; Taiwan | | Anemones & Zooanthids; Marine Products |
| Caroselli, E; Prada, F; Pasquini, L; Marzano, FN; Zaccanti, F; Falini, G; Levy, O; Dubinsky, Z; Goffredo, S. 2011. Environmental implications of skeletal micro-density and porosity variation in two scleractinian corals. Zoology 114:255-264. | 2011 | Global | | Climate; Stony Coral |
| Nithyanand, P; Indhumathi, T; Ravi, AV; Pandian, SK. 2011. Culture independent characterization of bacteria associated with the mucus of the coral Acropora digitifera from the Gulf of Mannar. World Journal of Microbiology and Biotechnology 27:1399-1406. | 2011 | | | Stony Coral |
| Salwiczek, LH; Bshary, R. 2011. Cleaner Wrasses Keep Track of the 'When' and 'What' in a Foraging Task. Ethology 117:939-948. | 2011 | | | Planktivorous Fish |
| Betancur-R, R; Hines, A; Acero, A; Orti, G; Wilbur, AE; Freshwater, DW. 2011. Reconstructing the lionfish invasion: insights into Greater Caribbean biogeography. Journal of Biogeography 38:1281-1293. | 2011 | South & Central America; Florida; US Pacific & Hawaii; US East Coast (NC, SC, GA); Bahamas; Bermuda; Caribbean | Model | Aquarium & Pet Trade; Aquarium Stock; Fish; Invasive Species |
| Reymond, CE; Bode, M; Renema, W; Pandolfi, JM. 2011. Ecological incumbency impedes stochastic community assembly in Holocene foraminifera from the Huon Peninsula, Papua New Guinea. Paleobiology 37:670-685. | 2011 | Papua New Guinea | Index or Indicator | Surface & Groundwater Flow |
| Schneider, K; Silverman, J; Woolsey, E; Eriksson, H; Byrne, M; Caldeira, K. 2011. Potential influence of sea cucumbers on coral reef CaCO(3) budget: A case study at One Tree Reef. Journal Of Geophysical Research-biogeosciences 116. | 2011 | Cuba | Field Study & Monitoring | Apex Fish Predators; Biological Monitoring, Mapping, & Scientific Research; Calcium Carbonate Deposition; Climate; Echinoderms; Ocean Acidity; Sediment; Skeletal Coral |
| Silverstein, RN; Correa, AMS; LaJeunesse, TC; Baker, AC. 2011. Novel algal symbiont (Symbiodinium spp.) diversity in reef corals of Western Australia. Marine Ecology Progress Series 422:63-75. | 2011 | Australia | | Climate; Stony Coral |
| Yamazaki, A; Watanabe, T; Ogawa, NO; Ohkouchi, N; Shirai, K; Toratani, M; Uematsu, M. 2011. Seasonal variations in the nitrogen isotope composition of Okinotori coral in the tropical western Pacific: A new proxy for marine nitrate dynamics. Journal Of Geophysical Research-biogeosciences 116. | 2011 | US Pacific & Hawaii; Japan | Decision Support Frameworks & Tools | Nutrients; Primary Production; Stony Coral; Storms & Hurricanes; Zooxanthellae |
| van Woesik, R; Sakai, K; Ganase, A; Loya, Y. 2011. Revisiting the winners and the losers a decade after coral bleaching. Marine Ecology Progress Series 434:67-76. | 2011 | Global; India | | Climate; Stony Coral |
| Fang, GC; Nam, DH; Basu, N. 2011. Mercury and selenium content of Taiwanese seafood. Food Additives & Contaminants Part B-surveillance 4:212-217. | 2011 | US Pacific & Hawaii; Taiwan | | Apex Fish Predators; Fish; Lobster, Crab, & Shrimp; Piscivorous Fish; Surface & Groundwater Flow; Toxics |
| Price, NN; Hamilton, SL; Tootell, JS; Smith, JE. 2011. Species-specific consequences of ocean acidification for the calcareous tropical green algae Halimeda. Marine Ecology Progress Series 440:67-78. | 2011 | Florida; US Pacific & Hawaii; Palmyra Atoll | | Algae; Calcareous Macroalgae; Calcium Carbonate Deposition; Climate; CO2; Ocean Acidity; Primary Production; Sediment; Surface & Groundwater Flow |
| Taylor, SM; Loew, ER; Grace, MS. 2011. Developmental shifts in functional morphology of the retina in Atlantic tarpon, Megalops atlanticus (Elopomorpha: Teleostei) between four ecologically distinct life-history stages. Visual Neuroscience 28:309-323. | 2011 | South & Central America; Florida; US East Coast (NC, SC, GA); Caribbean; Mexico; Europe | | Fish; Fishing Sector; Light; Mangroves; Piscivorous Fish; Recreational Fishing; Tourism & Recreation |
| Onton, K; Page, CA; Wilson, SK; Neale, S; Armstrong, S. 2011. Distribution and drivers of coral disease at Ningaloo reef, Indian Ocean. Marine Ecology Progress Series 433:75-84. | 2011 | US Pacific & Hawaii; Australia; Indian Ocean; India | | Climate; Cyanobacteria; Fish; Marine Protected Areas; Microorganisms; Pathogens; Snails & Conch; Stony Coral; Surface & Groundwater Flow |
| Kitamura, A; Tada, K; Sakai, S; Yamamoto, N; Ubukata, T; Miyaji, T; Kase, T. 2011. Age and Growth of Glossocardia obesa, a "Large" Bivalve in a Submarine Cave Within a Coral Reef, as Revealed by Oxygen Isotope Analysis. Veliger 51:59-65. | 2011 | US Pacific & Hawaii; Japan | | Bivalves |
| Strubin, C; Steinegger, M; Bshary, R. 2011. On Group Living and Collaborative Hunting in the Yellow Saddle Goatfish (Parupeneus cyclostomus). Ethology 117:961-969. | 2011 | | | Collaboration & Partnering; Complex Habitat & Resources; Fish; Invertivorous Fish |
| Senowbari-Daryan, B; Rashidi, K; Beitollah, H. 2011. Hypercalcified Sponges From A Small Reef Within The Norian-Rhaetian Nayband Formation Near Yazd, Central Iran. Rivista Italiana di Paleontologia e Stratigrafia 117:269-281. | 2011 | Iran | | Sponges; Stony Coral |
| Banerjee, P; Singh, VS; Chatttopadhyay, K; Chandra, PC; Singh, B. 2011. Artificial neural network model as a potential alternative for groundwater salinity forecasting. Journal of Hydrology 398:212-220. | 2011 | | Field Study & Monitoring; Model | Climate; Salinity; Surface & Groundwater Flow |
| Loser, H. 2011. Revision Of The Microsaraea Species From The Monti D'Ocre Area (Scleractinia; Early Cretaceous). Rivista Italiana di Paleontologia e Stratigrafia 117:347-352. | 2011 | France | Review | Stony Coral |
| Kolasinski, J; Rogers, K; Cuet, P; Barry, B; Frouin, P. 2011. Sources of particulate organic matter at the ecosystem scale: a stable isotope and trace element study in a tropical coral reef. Marine Ecology Progress Series 443:77-93. | 2011 | Reunion; India | | Discharges; Nutrients; Plankton; Primary Production; Sediment; Surface & Groundwater Flow |
| Freitas, MO; Abilhoa, V; Silva, GHDE. 2011. Feeding ecology of Lutjanus analis (Teleostei: Lutjanidae) from Abrolhos Bank, Eastern Brazil. Neotropical Ichthyology 9:411-418. | 2011 | US East Coast (NC, SC, GA) | Field Study & Monitoring | Fish; Piscivorous Fish |
| Fricke, A; Teichberg, M; Beilfuss, S; Bischof, K. 2011. Succession patterns in algal turf vegetation on a Caribbean coral reef. Botanica Marina 54:111-126. | 2011 | South & Central America; Antilles; Caribbean | Field Study & Monitoring | Cyanobacteria; Microorganisms; Nutrients; Sea Urchins; Small Herbivorous Fish; Turf Algae; Water Depth & Sea Level |
| Zapalski, MK; Hubert, BLM. 2011. First fossil record of parasitism in Devonian calcareous sponges (stromatoporoids). Parasitology 138:132-138. | 2011 | France | | Marine Worms; Sponges |
| Johansen, JL; Jones, GP. 2011. Increasing ocean temperature reduces the metabolic performance and swimming ability of coral reef damselfishes. Global Change Biology 17:2971-2979. | 2011 | Global | Field Study & Monitoring | Climate; Complex Habitat & Resources; Sea Temperatures; Seawater Flow; Small Herbivorous Fish |
| Miller, TL; Bray, RA; Cribb, TH. 2011. Taxonomic approaches to and interpretation of host specificity of trematodes of fishes: lessons from the Great Barrier Reef. Parasitology 138:1710-1722. | 2011 | US Pacific & Hawaii; Australia | | Small Herbivorous Fish |
| Ferrari, MCO; Dixson, DL; Munday, PL; McCormick, MI; Meekan, MG; Sih, A; Chivers, DP. 2011. Intrageneric variation in antipredator responses of coral reef fishes affected by ocean acidification: implications for climate change projections on marine communities. Global Change Biology 17:2980-2986. | 2011 | | Model | Climate; CO2; Fish; Ocean Acidity; Small Herbivorous Fish |
| Genc, E; Oral, M; Erol, C. 2011. The evaluation of gnathiid (Crustacea: Isopoda: Gnathidae) parasitism in goldblotch grouper (Epinephelus costae Staindahner, 1878) in the northeastern Mediterranean Sea using the self-organizing map (SOM). Parasitology Research 108:1417-1424. | 2011 | | GIS & Maps | Fish; Piscivorous Fish |
| Hurd, CL; Cornwall, CE; Currie, K; Hepburn, CD; McGraw, CM; Hunter, KA; Boyd, PW. 2011. Metabolically induced pH fluctuations by some coastal calcifiers exceed projected 22nd century ocean acidification: a mechanism for differential susceptibility? Global Change Biology 17:3254-3262. | 2011 | Global | | Algae; CO2; Coralline Algae; Ocean Acidity; Primary Production; Sea Urchins; Surface & Groundwater Flow |
| Nishihara, GN; Terada, R; Shimabukuro, H. 2011. Effects of wave energy on the residence times of a fluorescent tracer in the canopy of the intertidal marine macroalgae, Sargassum fusiforme (Phaeophyceae). Phycological Research 59:24-33. | 2011 | | Model | Algae; Discharges; Fleshy Macroalgae; Shoreline Protection |
| Kemp, DW; Oakley, CA; Thornhill, DJ; Newcomb, LA; Schmidt, GW; Fitt, AK. 2011. Catastrophic mortality on inshore coral reefs of the Florida Keys due to severe low-temperature stress. Global Change Biology 17:3468-3477. | 2011 | Global; South & Central America; Florida; US Pacific & Hawaii; Caribbean | | Algae; Anemones & Zooanthids; Climate; Ocean Acidity; Primary Production; Stony Coral |
| El-Shazly, S; Kostak, M; Abdel-Gawad, G; Klouckova, B; Saber, SG; Salama, YF; Mazuch, M; Zak, K. 2011. Carbon and oxygen stable isotopes of selected Cenomanian and Turonian rudists from Egypt and Czech Republic, and a note on changes in rudist diversity. Bulletin of Geosciences 86:209-226. | 2011 | Egypt; Oman; Europe | | |
| Anthony, KRN; Kleypas, JA; Gattuso, JP. 2011. Coral reefs modify their seawater carbon chemistry - implications for impacts of ocean acidification. Global Change Biology 17:3655-3666. | 2011 | Australia | Review; Model | Algae; Calcium Carbonate Deposition; CO2; Ocean Acidity; Primary Production; Stony Coral; Surface & Groundwater Flow |
| Padilla-Gamino, JL; Weatherby, TM; Waller, RG; Gates, RD. 2011. Formation and structural organization of the egg-sperm bundle of the scleractinian coral Montipora capitata. Coral Reefs 30:371-380. | 2011 | | | Climate; Stony Coral |
| Cuet, P; Pierret, C; Cordier, E; Atkinson, MJ. 2011. Water velocity dependence of phosphate uptake on a coral-dominated fringing reef flat, La Reunion Island, Indian Ocean. Coral Reefs 30:37-43. | 2011 | Indian Ocean; Reunion; India | | Nutrients |
| Bonaldo, RM; Bellwood, DR. 2011. Spatial variation in the effects of grazing on epilithic algal turfs on the Great Barrier Reef, Australia. Coral Reefs 30:381-390. | 2011 | South & Central America; Australia; Caribbean | | Algae; Climate; Sediment; Skeletal Coral |
| Sweet, MJ; Croquer, A; Bythell, JC. 2011. Bacterial assemblages differ between compartments within the coral holobiont. Coral Reefs 30:39-52. | 2011 | | | Algae; Climate; Microorganisms; Sediment; Stony Coral; Zooxanthellae |
| Yeager, LA; Layman, CA; Allgeier, JE. 2011. Effects of habitat heterogeneity at multiple spatial scales on fish community assembly. Oecologia 167:157-168. | 2011 | Bahamas | | Artificial Habitat; Fish; Seagrasses |
| Edmunds, PJ; Putnam, HM; Nisbet, RM; Muller, EB. 2011. Benchmarks in organism performance and their use in comparative analyses. Oecologia 167:379-390. | 2011 | Global; South & Central America; Caribbean | Model | Climate; Stony Coral |
| Holbrook, SJ; Schmitt, RJ; Brooks, AJ. 2011. Indirect effects of species interactions on habitat provisioning. Oecologia 166:739-749. | 2011 | | Field Study & Monitoring | Anemones & Zooanthids; Nutrients; Planktivorous Fish; Seastars; Small Herbivorous Fish; Stony Coral |
| Schrandt, MN; Lema, SC. 2011. Habitat-associated intraspecific variation in behavior and stress responses in a demersal coral reef fish. Marine Ecology Progress Series 443:153-U163. | 2011 | | | Fish; Skeletal Coral; Small Herbivorous Fish |
| Munoz, RC; Currin, CA; Whitfield, PE. 2011. Diet of invasive lionfish on hard bottom reefs of the Southeast USA: insights from stomach contents and stable isotopes. Marine Ecology Progress Series 432:181-U494. | 2011 | South & Central America; US Pacific & Hawaii; US East Coast (NC, SC, GA); Atlantic Ocean; Cuba; Caribbean | | Corallivorous Fish; Fish; Invasive Species; Large Herbivorous Fish |
| Bennett, S; Bellwood, DR. 2011. Latitudinal variation in macroalgal consumption by fishes on the Great Barrier Reef. Marine Ecology Progress Series 426:241-U269. | 2011 | South & Central America; Australia; Caribbean | | Algae; Climate; Fish; Fleshy Macroalgae; Small Herbivorous Fish |
| Russell, JC; Ringler, D; Trombini, A; Le Corre, M. 2011. The island syndrome and population dynamics of introduced rats. Oecologia 167:667-676. | 2011 | Mozambique; India | | Marine Birds |
| Grorud-Colvert, K; Sponaugle, S. 2011. Variability in water temperature affects trait-mediated survival of a newly settled coral reef fish. Oecologia 165:675-686. | 2011 | | | Fish; Planktivorous Fish |
| Guarderas, AP; Hacker, SD; Lubchenco, J. 2011. Ecological effects of marine reserves in Latin America and the Caribbean. Marine Ecology Progress Series 429:219-U847. | 2011 | South & Central America; Caribbean | | Fish; Lobster, Crab, & Shrimp |
| Lefevre, CD; Bellwood, DR. 2011. Temporal variation in coral reef ecosystem processes: herbivory of macroalgae by fishes. Marine Ecology Progress Series 422. | 2011 | Australia | | Algae; Climate; Corallivorous Fish; Fish; Fleshy Macroalgae; Large Herbivorous Fish |
| Piscitelli, M; Corriero, G; Gaino, E; Uriz, MJ. 2011. Reproductive cycles of the sympatric excavating sponges Cliona celata and Cliona viridis in the Mediterranean Sea. Invertebrate Biology 130:1-10. | 2011 | Cuba | | Boring Sponges; Sponges; Substrate |
| Wagner, D; Waller, RG; Toonen, RJ. 2011. Sexual reproduction of Hawaiian black corals, with a review of the reproduction of antipatharians (Cnidaria: Anthozoa: Hexacorallia). Invertebrate Biology 130:211-225. | 2011 | US Pacific & Hawaii | Review | Marine Protected Areas |
| Klemas, V. 2011. Remote Sensing Techniques for Studying Coastal Ecosystems: An Overview. Journal of Coastal Research 27:2-17. | 2011 | South & Central America; Mexico | Field Study & Monitoring; GIS & Maps; Remote Sensing | Environmental Monitoring, Mapping, & Scientific Research; Nutrients; Salinity; Wetlands |
| Hultgren, KM; Duffy, JE. 2011. Multi-Locus Phylogeny Of Sponge-Dwelling Snapping Shrimp (Caridea: Alpheidae: Synalpheus) Supports Morphology-Based Species Concepts. Journal of Crustacean Biology 31:352-360. | 2011 | South & Central America; US East Coast (NC, SC, GA); Belize; Caribbean | Model | Lobster, Crab, & Shrimp; Sponges |
| Klemas, V. 2011. Beach Profiling and LIDAR Bathymetry: An Overview with Case Studies. Journal of Coastal Research 27:1019-1028. | 2011 | Global; Florida | Review; Field Study & Monitoring; GIS & Maps; Remote Sensing | Beaches & Nature Parks; Environmental Monitoring, Mapping, & Scientific Research; Sediment; Storms & Hurricanes; Wetlands |
| Makowski, C; Keyes, P. 2011. Using the Benthic Ecological Assessment for Marginal Reefs (BEAMR) Method to Quantify Nearshore Reef Conditions in the Southeast Gulf of Mexico. Journal of Coastal Research 27:428-440. | 2011 | South & Central America; Florida; Mexico | Field Study & Monitoring | Complex Habitat & Resources; Sediment; Stony Coral |
| Gomez, MI; Calcagno, JA; Fuentes, CM. 2011. Assessment of an ichthyoplankton net operated at different velocities and durations in the Parana River. Journal of Applied Ichthyology 27:1259-1264. | 2011 | South & Central America | | Fish; Surface & Groundwater Flow |
| Brischoux, F; Bonnet, X; Cherel, Y; Shine, R. 2011. Isotopic signatures, foraging habitats and trophic relationships between fish and seasnakes on the coral reefs of New Caledonia. Coral Reefs 30:155-165. | 2011 | New Caledonia | Lab Study | Fish; Substrate |
| Leveridge, BE. 2011. The Looe, South Devon and Tavy basins: the Devonian rifted passive margin successions. Proceedings of the Geologists' Association 122:616-717. | 2011 | England; Britain | Review | Sediment |
| Thabard, M; Gros, O; Hellio, C; Marechal, JP. 2011. Sargassum polyceratium (Phaeophyceae, Fucaceae) surface molecule activity towards fouling organisms and embryonic development of benthic species. Botanica Marina 54:147-157. | 2011 | Martinique | | Algae; Bivalves; Fleshy Macroalgae; Microorganisms; Sea Urchins; Stony Coral |
| Kuwamura, T; Suzuki, S; Kadota, T. 2011. Reversed sex change by widowed males in polygynous and protogynous fishes: female removal experiments in the field. Naturwissenschaften 98:1041-1048. | 2011 | Japan | Field Study & Monitoring | Fish; Invertivorous Fish; Planktivorous Fish |
| Vila-Nova, DA; Bender, MG; Carvalho, A; Ferreira, CEL; Floeter, SR. 2011. The Use of Non-reef Habitats by Brazilian Reef Fish Species: Considerations for the Design of Marine Protected Areas. Natureza and Conservacao 9:79-86. | 2011 | | | Algae; Complex Habitat & Resources; Fish; Fishing Sector; Mangroves; Marine Protected Areas; Seagrasses |
| Meshram, DC; Sangode, SJ; Gujar, AR; Ambre, NV; Dhongle, D; Porate, S. 2011. Occurrence of soft sediment deformation at Dive Agar beach, west coast of India: possible record of the Indian Ocean tsunami (2004). Natural Hazards 57:385-393. | 2011 | Indian Ocean; India | | Sediment |
| Terry, JP; Etienne, S. 2011. Stones from the dangerous winds: reef platform mega-clasts in the tropical Pacific Islands. Natural Hazards 56:567-569. | 2011 | US Pacific & Hawaii; Australia | | Sediment; Storms & Hurricanes |
| Narayana, AC. 2011. Tectonic geomorphology, tsunamis and environmental hazards: reference to Andaman-Nicobar Islands. Natural Hazards 57:65-82. | 2011 | Australia | Remote Sensing | |
| Sutherland, K. P., S. Shaban, J. L. Joyner, J. W. Porter, and E. K. Lipp. 2011. Human Pathogen Shown to Cause Disease in the Threatened Eklhorn Coral Acropora palmata. PLoS One 6:1-7. | 2011 | South & Central America; Caribbean | Index or Indicator | Pathogens; Snails & Conch; Stony Coral; Wastewater Discharge |
| Nehrke, G; Nouet, J. 2011. Confocal Raman microscope mapping as a tool to describe different mineral and organic phases at high spatial resolution within marine biogenic carbonates: case study on Nerita undata (Gastropoda, Neritopsina). Biogeosciences 8:3761-3769. | 2011 | | GIS & Maps; Decision Support Frameworks & Tools | Calcium Carbonate Deposition; Molluscs |
| Bonelli, JR; Patzkowsky, ME. 2011. Taxonomic And Ecologic Persistence Across The Onset Of The Late Paleozoic Ice Age: Evidence From The Upper Mississippian (Chesterian Series), Illinois Basin, United States. Palaios 26:5-17. | 2011 | Global | | Climate; Surface & Groundwater Flow |
| Saenz-Agudelo, P; Jones, GP; Thorrold, SR; Planes, S. 2011. Connectivity dominates larval replenishment in a coastal reef fish metapopulation. Proceedings of the Royal Society B 278:2954-2961. | 2011 | Papua New Guinea | | Fish; Marine Protected Areas |
| Bover-Arnal, T; Salas, R; Martin-Closas, C; Schlagintweit, F; Moreno-Bedmar, JA. 2011. Expression Of An Oceanic Anoxic Event In A Neritic Setting: Lower Aptian Coral Rubble Deposits From The Western Maestrat Basin (Iberian Chain, Spain). Palaios 26:18-32. | 2011 | Global; Oman; Spain | | Nutrients; Sediment; Skeletal Coral; Sponges; Storms & Hurricanes |
| Whitall, D. R., B. M. Costa, L. J. Bauer, A. Dieppa, and S. D. Hile, editors. 2011. A Baseline Assessment of the Ecological Resources of Jobos Bay, Puerto Rico. NOAA Technical Memorandum NOS NCCOS 133, NOAA, Silver Spring, (MD, USA). | 2011 | Puerto Rico | Field Study & Monitoring; Model; GIS & Maps | Agriculture; Chemical Use Regulations; Collaboration & Partnering; Environmental Monitoring, Mapping, & Scientific Research; Fertilizer & Pesticide Use; Marine Debris; Nutrients; Sediment; Surface & Groundwater Flow; Toxics |
| Mercier, A; Sun, Z; Hamel, JF. 2011. Internal brooding favours pre-metamorphic chimerism in a non-colonial cnidarian, the sea anemone Urticina felina. Proceedings of the Royal Society B 278:3517-3522. | 2011 | | | Anemones & Zooanthids |
| Bill, M; O'Dogherty, L; Baumgartner, PO. 2011. Dynamics Of A Paleoecosystem Reef Associated With Oceanic Change In Carbonate Sedimentary Regime And Carbon Cycling (Oxfordian, Swiss Jura). Palaios 26:197-211. | 2011 | Global; US East Coast (NC, SC, GA); Atlantic Ocean; France | | Carbon Storage & Cycling; Sediment |
| Kerr, AM; Baird, AH; Hughes, TP. 2011. Correlated evolution of sex and reproductive mode in corals (Anthozoa: Scleractinia). Proceedings of the Royal Society B 278:75-81. | 2011 | | | Anemones & Zooanthids; Stony Coral |
| Lamaskin, TA; Stanley, GD; Caruthers, AH; Rosenblatt, MR. 2011. Detrital Record Of Upper Triassic Reefs In The Olds Ferry Terrane, Blue Mountains Province, Northeastern Oregon, United States. Palaios 26:779-789. | 2011 | | | Sediment; Sponges |
| Videler, JJ. 2011. An opinion paper: emphasis on white muscle development and growth to improve farmed fish flesh quality. Fish Physiology and Biochemistry 37:337-343. | 2011 | US East Coast (NC, SC, GA) | | Aquaculture; Finfish Harvest |
| Geder, JD; Palmisano, JS; Ramamurti, R; Pruessner, M; Ratna, B; Sandberg, WC. 2011. Bioinspired Design Process for an Underwater Flying and Hovering Vehicle. Marine Technology Society Journal 45:74-82. | 2011 | | Review | Fish; Planktivorous Fish |
| Han, JF; Sun, CH; Yu, HF; Ji, YG; Zhang, ZH; Xu, YL. 2011. Kinetics of reef-shoal complexes and its restriction to reservoir in Ordovician from Tazhong I fault belt. Acta Petrologica Sinica 27:845-856. | 2011 | China | | Water Depth & Sea Level |
| Matsumoto, S; Takeyama, T; Ohnishi, N; Kohda, M. 2011. Mating System and Size Advantage of Male Mating in the Protogynous Swamp Eel Monopterus albus with Paternal Care. Zoological Science 28:360-367. | 2011 | | Model | Fish; Small Herbivorous Fish |
| Sorrentino, L; Cas, RAF; Stilwell, JD. 2011. Evolution and facies architecture of Paleogene Surtseyan volcanoes on Chatham Islands, New Zealand, Southwest Pacific Ocean. Journal of Volcanology and Geothermal Research 202:1-21. | 2011 | US Pacific & Hawaii; Indian Ocean; India; Pacific Ocean; Iceland | Field Study & Monitoring; Model | Sediment |
| Krishnan, P; Roy, SD; George, G; Srivastava, RC; Anand, A; Murugesan, S; Kaliyamoorthy, M; Vikas, N; Soundararajan, R. 2011. Elevated sea surface temperature during May 2010 induces mass bleaching of corals in the Andaman. Current Science 100:111-117. | 2011 | | | Climate; Stony Coral |
| Mouillot, D; Albouy, C; Guilhaumon, F; Lasram, FBR; Coll, M; Devictor, V; Meynard, CN; Pauly, D; Tomasini, JA; Troussellier, M; Velez, L; Watson, R; Douzery, EJP; Mouquet, N. 2011. Protected and Threatened Components of Fish Biodiversity in the Mediterranean Sea. Current Biology 21:1044-1050. | 2011 | Global | | Finfish Harvest; Fish; Fishing Sector; Marine Protected Areas |
| Campbell, JE; Fourqurean, JW. 2011. Novel methodology for in situ carbon dioxide enrichment of benthic ecosystems. Limnology and Oceanography: Methods 9:97-109. | 2011 | Florida | | Algae; Climate; CO2; Coralline Algae; Ocean Acidity; Seawater Flow |
| Reddy, S; Moyle, RG. 2011. Systematics of the scimitar babblers (Pomatorhinus: Timaliidae): phylogeny, biogeography, and species-limits of four species complexes. Biological Journal of the Linnean Society 102:846-869. | 2011 | | Field Study & Monitoring | Surface & Groundwater Flow |
| Laurance, WF; Dell, B; Turton, SM; Lawes, MJ; Hutley, LB; McCallum, H; Dale, P; Bird, M; Hardy, G; Prideaux, G; Gawne, B; McMahon, CR; Yu, R; Hero, JM; Schwarzkop, L; Krockenberger, A; Douglas, M; Silvester, E; Mahony, M; Vella, K; Saikia, U; Wahren, CH;. 2011. The 10 Australian ecosystems most vulnerable to tipping points. Biological Conservation 144:1472-1480. | 2011 | Australia | | Carbon Storage & Cycling; Climate; Complex Habitat & Resources; Mangroves; Surface & Groundwater Flow; Wetlands |
| Hamilton, RJ; Potuku, T; Montambault, JR. 2011. Community-based conservation results in the recovery of reef fish spawning aggregations in the Coral Triangle. Biological Conservation 144:1850-1858. | 2011 | Micronesia; Papua New Guinea; Philippines | Field Study & Monitoring | Finfish Harvest; Fish; Fishing Sector; Marine Protected Areas; Piscivorous Fish; Wholesale & Retail Trade |
| Miller, MJ; Wouthuyzen, S; Ma, T; Aoyama, J; Suharti, SR; Minegishi, Y; Tsukamoto, K. 2011. Distribution, Diversity, and Abundance of Garden Eel Larvae off West Sumatra, Indonesia. Zoological Studies 50:177-191. | 2011 | Indian Ocean; India; China; Indonesia; Taiwan | | Apex Fish Predators; Piscivorous Fish |
| Wagner, D; Pochon, X; Irwin, L; Toonen, RJ; Gates, RD. 2011. Azooxanthellate? Most Hawaiian black corals contain Symbiodinium. Proceedings of the Royal Society B 278:1323-1328. | 2011 | US Pacific & Hawaii; Johnston Atoll | | Primary Production; Stony Coral; Zooxanthellae |
| Naumann, MS; Orejas, C; Wild, C; Ferrier-Pages, C. 2011. First evidence for zooplankton feeding sustaining key physiological processes in a scleractinian cold-water coral. Journal of Experimental Biology 214:3570-3576. | 2011 | | Lab Study | Complex Habitat & Resources; Ocean Acidity; Plankton; Stony Coral |
| O'Gorman, EJ; Yearsley, JM; Crowe, TP; Emmerson, MC; Jacob, U; Petchey, OL. 2011. Loss of functionally unique species may gradually undermine ecosystems. Proceedings of the Royal Society B 278:1886-1893. | 2011 | | | Primary Production |
| Sabbah, S; Gray, SM; Boss, ES; Fraser, JM; Zatha, R; Hawryshyn, CW. 2011. The underwater photic environment of Cape Maclear, Lake Malawi: comparison between rock- and sand-bottom habitats and implications for cichlid fish vision. Journal of Experimental Biology 214:487-500. | 2011 | | | Fish; Light; Substrate; Water Depth & Sea Level |
| Kenkel, CD; Traylor, MR; Wiedenmann, J; Salih, A; Matz, MV. 2011. Fluorescence of coral larvae predicts their settlement response to crustose coralline algae and reflects stress. Proceedings of the Royal Society B 278:2691-2697. | 2011 | Global | Field Study & Monitoring | Algae; Biotechnology Research & Development; Climate; Coralline Algae; Stony Coral |
| Sweeney, AM; Boch, CA; Johnsen, S; Morse, DE. 2011. Twilight spectral dynamics and the coral reef invertebrate spawning response. Journal of Experimental Biology 214:770-777. | 2011 | | | Hydrocoral; Light; Sponges; Stony Coral |
| Giesing, ER; Suski, CD; Warner, RE; Bell, AM. 2011. Female sticklebacks transfer information via eggs: effects of maternal experience with predators on offspring. Proceedings of the Royal Society B 278:1753-1759. | 2011 | US East Coast (NC, SC, GA) | | |
| Van-Eyk, SM; Siebeck, UE; Champ, CM; Marshall, J; Hart, NS. 2011. Behavioural evidence for colour vision in an elasmobranch. Journal of Experimental Biology 214:4186-4192. | 2011 | | | Apex Fish Predators |
| Cooper, TF; Ulstrup, KE; Dandan, SS; Heyward, AJ; Kuhl, M; Muirhead, A; O'Leary, RA; Ziersen, BEF; Van Oppen, MJH. 2011. Niche specialization of reef-building corals in the mesophotic zone: metabolic trade-offs between divergent Symbiodinium types. Proceedings of the Royal Society B 278:1840-1850. | 2011 | Australia | | Climate; Primary Production; Stony Coral; Zooxanthellae |
| Palmer, CV; McGinty, ES; Cummings, DJ; Smith, SM; Bartels, E; Mydlarz, LD. 2011. Patterns of coral ecological immunology: variation in the responses of Caribbean corals to elevated temperature and a pathogen elicitor. Journal of Experimental Biology 214:4240-4249. | 2011 | South & Central America; Caribbean | Field Study & Monitoring | Climate; Pathogens; Stony Coral |
| Irei, Y; Nozawa, Y; Reimer, JD. 2011. Distribution Patterns of Five Zoanthid Species at Okinawa Island, Japan. Zoological Studies 50:426-433. | 2011 | Japan | | Anemones & Zooanthids; Sediment |
| Sinclair, W; Newman, SJ; Vianna, GMS; Williams, S; Aspden, WJ. 2011. Spatial Subdivision and Genetic Diversity in Populations on the East and West Coasts of Australia: The Multi-Faceted Case of Nautilus pompilius (Mollusca, Cephalopoda). Reviews in Fisheries Science 19:52-61. | 2011 | Australia | | Fishing & Harvesting Management; Fishing Sector; Molluscs; Octopus & Squid |
| Allison, N; Cohen, I; Finch, AA; Erez, J. 2011. Controls on Sr/Ca and Mg/Ca in scleractinian corals: The effects of Ca-ATPase and transcellular Ca channels on skeletal chemistry. Geochimica et Cosmochimica Acta 75:6350-6360. | 2011 | | | Calcium Carbonate Deposition; Primary Production; Stony Coral |
| McClanahan, TR; Huntington, BE; Cokos, B. 2011. Coral responses to macroalgal reduction and fisheries closure on Caribbean patch reefs. Marine Ecology Progress Series 437:89-102. | 2011 | South & Central America; Belize; Caribbean | | Algae; Finfish Harvest; Fish; Fishing Sector; Sea Urchins; Seawater Flow; Stony Coral |
| Storlazzi, CD; Field, ME; Bothner, MH. 2011. The use (and misuse) of sediment traps in coral reef environments: theory, observations, and suggested protocols. Coral Reefs 30:23-38. | 2011 | US Pacific & Hawaii | Review; Field Study & Monitoring; Decision Support Frameworks & Tools | Environmental Monitoring, Mapping, & Scientific Research; Sediment; Substrate |
| Borges, MEN; Riding, JB; Fernandes, P; Pereira, Z. 2011. The Jurassic (Pliensbachian to Kimmeridgian) palynology of the Algarve Basin and the Carrapateira outlier, southern Portugal. Review of Palaeobotany and Palynology 163:190-204. | 2011 | Europe; France | | Beaches & Nature Parks; Sediment |
| Sayani, HR; Cobb, KM; Cohen, AL; Elliott, WC; Nurhati, IS; Dunbar, RB; Rose, KA; Zaunbrecher, LK. 2011. Effects of diagenesis on paleoclimate reconstructions from modern and young fossil corals. Geochimica et Cosmochimica Acta 75:6361-6373. | 2011 | US Pacific & Hawaii; India | | Calcium Carbonate Deposition; Climate |
| Mayr, CC; Forsterra, G; Haussermann, V; Wunderlich, A; Grau, J; Zieringer, M; Altenbach, AV. 2011. Stable isotope variability in a Chilean fjord food web: implications for N- and C-cycles. Marine Ecology Progress Series 428:89-104. | 2011 | | | Algae; Cyanobacteria; Marine Birds; Microorganisms; Nutrients; Octocoral; Plankton; Salinity; Stony Coral |
| Oliver, TA; Palumbi, SR. 2011. Many corals host thermally resistant symbionts in high-temperature habitat. Coral Reefs 30:241-250. | 2011 | | | Climate; Stony Coral; Zooxanthellae |
| Lybolt, M; Neil, D; Zhao, JX; Feng, YX; Yu, KF; Pandolfi, J. 2011. Instability in a marginal coral reef: the shift from natural variability to a human-dominated seascape. Frontiers in Ecology and the Environment 9:154-160. | 2011 | Global; Australia; Europe | | Climate; Stony Coral |
| Benedetti, A; Bramanti, L; Tsounis, G; Faimali, M; Pavanello, G; Rossi, S; Gili, JM; Santangelo, G. 2011. Applying cathodically polarised substrata to the restoration of a high value coral. Biofouling 27:799-809. | 2011 | | | Calcium Carbonate Deposition; Octocoral |
| Agusa, T; Takagi, K; Miller, TW; Kubota, R; Anan, Y; Iwata, H; Tanabe, S. 2011. Intake and excretion of arsenicals in green (Chelonia mydas) and hawksbill turtles (Eretmochelys imbricata). Environmental Chemistry 8:19-29. | 2011 | | | Sea Turtles |
| Kool, JT; Paris, CB; Barber, PH; Cowen, RK. 2011. Connectivity and the development of population genetic structure in Indo-West Pacific coral reef communities. Global Ecology and Biogeography 20:695-706. | 2011 | US Pacific & Hawaii; Solomon Islands; Papua New Guinea; China; Philippines | Model | Fish |
| Edgar, GJ; Banks, SA; Bessudo, S; Cortes, J; Guzman, HM; Henderson, S; Martinez, C; Rivera, F; Soler, G; Ruiz, D; Zapata, FA. 2011. Variation in reef fish and invertebrate communities with level of protection from fishing across the Eastern Tropical Pacific seascape. Global Ecology and Biogeography 20:730-743. | 2011 | US Pacific & Hawaii; Costa Rica; Panama | | Algae; Finfish Harvest; Fish; Marine Protected Areas |
| Lobban, CS; Raymundo, LM; Montagnes, DJS. 2011. Porpostoma guamensis n. sp., a Philasterine Scuticociliate Associated With Brown-Band Disease of Corals. Journal of Eukaryotic Microbiology 58:103-113. | 2011 | Guam | Field Study & Monitoring; Lab Study | Pathogens; Stony Coral; Zooxanthellae |
| Klaus, JS; Lutz, BP; McNeill, DF; Budd, AF; Johnson, KG; Ishman, SE. 2011. Rise and fall of Pliocene free-living corals in the Caribbean. Geology 39:375-378. | 2011 | Global; South & Central America; US Pacific & Hawaii; US East Coast (NC, SC, GA); Panama; Caribbean | Model | Climate; Sediment; Stony Coral |
| Abbey, E; Webster, JM; Braga, JC; Sugihara, K; Wallace, C; Iryu, Y; Potts, D; Done, T; Camoin, G; Seard, C. 2011. Variation in deglacial coralgal assemblages and their paleoenvironmental significance: IODP Expedition 310, "Tahiti Sea Level". Global and Planetary Change 76:1-15. | 2011 | US Pacific & Hawaii; Australia; India | | Substrate; Water Depth & Sea Level |
| Stanford, JD; Hemingway, R; Rohling, EJ; Challenor, PG; Medina-Elizalde, M; Lester, AJ. 2011. Sea-level probability for the last deglaciation: A statistical analysis of far-field records. Global and Planetary Change 79:193-203. | 2011 | | Field Study & Monitoring; Model | Climate |
| Robinson, SA. 2011. Shallow-water carbonate record of the Paleocene-Eocene Thermal Maximum from a Pacific Ocean guyot. Geology 39:51-54. | 2011 | US Pacific & Hawaii; Pacific Ocean | | Sediment |
| Hein, CJ; FitzGerald, DM; Milne, GA; Bard, K; Fattovich, R. 2011. Evolution of a Pharaonic harbor on the Red Sea: Implications for coastal response to changes in sea level and climate. Geology 39:687-690. | 2011 | Global; Egypt | Field Study & Monitoring | Climate; Ports & Harbors; Sediment; Water Depth & Sea Level |
| Wahab, MAA; de Nys, R; Whalan, S. 2011. Larval behaviour and settlement cues of a brooding coral reef sponge. Coral Reefs 30:451-460. | 2011 | | | Encrusting Sponges; Skeletal Coral; Sponges |
| Wirrmann, D; Eagar, SH; Harper, MA; Leroy, E; Semah, AM. 2011. First insights into mid-Holocene environmental change in central Vanuatu inferred from a terrestrial record from Emaotfer Swamp, Efate Island. Quaternary Science Reviews 30:3908-3924. | 2011 | US Pacific & Hawaii; Vanuatu | Index or Indicator | Climate; Mangroves; Sediment |
| Jokiel, PL. 2011. The reef coral two compartment proton flux model: A new approach relating tissue-level physiological processes to gross corallum morphology. Journal of Experimental Marine Biology and Ecology 409:1-12. | 2011 | | Model | Light; Ocean Acidity; Primary Production; Stony Coral; Zooxanthellae |
| Kohn, YY; Clements, KD. 2011. Pelagic larval duration and population connectivity in New Zealand triplefin fishes (Tripterygiidae). Environmental Biology of Fishes 91:275-286. | 2011 | | | Complex Habitat & Resources |
| Compton, JS. 2011. Pleistocene sea-level fluctuations and human evolution on the southern coastal plain of South Africa. Quaternary Science Reviews 30:506-527. | 2011 | South Africa | | Climate; Water Depth & Sea Level |
| McClanahan, TR. 2011. Human and coral reef use interactions: From impacts to solutions? Journal of Experimental Marine Biology and Ecology 408:3-10. | 2011 | | Review | Climate; Finfish Harvest; Fishing Sector; Funding & Incentives; Marine Protected Areas |
| Winterbottom, R; Alofs, KM; Marseu, A. 2011. Life span, growth and mortality in the western Pacific goby Trimma benjamini, and comparisons with T. nasa. Environmental Biology of Fishes 91:295-301. | 2011 | US Pacific & Hawaii; Japan | | |
| Muhs, DR; Simmons, KR; Schumann, RR; Halley, RB. 2011. Sea-level history of the past two interglacial periods: new evidence from U-series dating of reef corals from south Florida. Quaternary Science Reviews 30:570-590. | 2011 | Florida; Australia; India | | Climate; Sediment; Water Depth & Sea Level |
| Smith, TM; Hindell, JS; Jenkins, GP; Connolly, RM; Keough, MJ. 2011. Edge effects in patchy seagrass landscapes: The role of predation in determining fish distribution. Journal of Experimental Marine Biology and Ecology 399:8-16. | 2011 | Australia | | Complex Habitat & Resources; Fish; Lobster, Crab, & Shrimp; Seagrasses |
| Wittenrich, ML; Turingan, RG. 2011. Linking functional morphology and feeding performance in larvae of two coral-reef fishes. Environmental Biology of Fishes 92:295-312. | 2011 | US East Coast (NC, SC, GA); Cuba | | Fish; Plankton |
| van Woesik, R; Jordan-Garza, AG. 2011. Coral populations in a rapidly changing environment. Journal of Experimental Marine Biology and Ecology 408:11-20. | 2011 | South & Central America; Caribbean | Model | Climate; Marine Protected Areas; Stony Coral |
| Lecchini, D; Mills, SC; Brie, C; Lo, CM; Banaigs, B. 2011. Chemical stimuli in coral reefs: how butterflyfishes find their food. Environmental Biology of Fishes 91:303-309. | 2011 | | | Aquaculture; Corallivorous Fish; Fish |
| Thurber, RLV; Correa, AMS. 2011. Viruses of reef-building scleractinian corals. Journal of Experimental Marine Biology and Ecology 408:102-113. | 2011 | Global; Florida | Review; Model | Algae; Hydrocoral; Microorganisms; Pathogens; Ports & Harbors; Stony Coral |
| Cole, KS. 2011. Patterns of reproductive morphology in the genus Gobiodon (Teleostei: Gobiidae). Environmental Biology of Fishes 92:323-335. | 2011 | US Pacific & Hawaii | | |
| Olivier, N; Colombie, C; Pittet, B; Lathuiliere, B. 2011. Microbial carbonates and corals on the marginal French Jura platform (Late Oxfordian, Molinges section). Facies 57:469-492. | 2011 | France; Germany | | Nutrients; Sediment |
| Foubert, A; Huvenne, VAI; Wheeler, A; Kozachenko, M; Opderbecke, J; Henriet, JP. 2011. The Moira Mounds, small cold-water coral mounds in the Porcupine Seabight, NE Atlantic: Part B Evaluating the impact of sediment dynamics through high-resolution ROV-borne bathymetric mapping. Marine Geology 282:65-78. | 2011 | US East Coast (NC, SC, GA) | GIS & Maps | Sediment |
| Taviani, M; Vertino, A; Lopez Correa, M; Savini, A; De Mol, B; Remia, A; Montagna, P; Angeletti, L; Zibrowius, H; Alves, T; Salomidi, M; Ritt, B; Henry, P. 2011. Pleistocene to Recent scleractinian deep-water corals and coral facies in the Eastern Mediterranean. Facies 57:579-603. | 2011 | | | Octocoral; Sediment; Skeletal Coral |
| Goto, K; Miyagi, K; Kawana, T; Takahashi, J; Imamura, F. 2011. Emplacement and movement of boulders by known storm waves - Field evidence from the Okinawa Islands, Japan. Marine Geology 283:66-78. | 2011 | US Pacific & Hawaii; US East Coast (NC, SC, GA); Antilles; Thailand; Pacific Ocean; Japan; China | Field Study & Monitoring | Storms & Hurricanes |
| Olchowy, P. 2011. Possible origin of stromatactis-like cavities in Upper Jurassic sediments from the Wielkanoc quarry near Gocza (Krakow-Czestochowa Upland, southern Poland)-experimental studies. Facies 57:613-625. | 2011 | Poland | Field Study & Monitoring; Model | Sediment; Sponges |
| Raddatz, J; Ruggeberg, A; Margreth, S; Dullo, WC. 2011. Paleoenvironmental reconstruction of Challenger Mound initiation in the Porcupine Seabight, NE Atlantic. Marine Geology 282:79-90. | 2011 | US East Coast (NC, SC, GA) | GIS & Maps | Plankton; Sediment |
| Malcolm, HA; Jordan, A; Smith, SDA. 2011. Testing a depth-based Habitat Classification System against reef fish assemblage patterns in a subtropical marine park. Aquatic Conservation: Marine and Freshwater Ecosystems 21:173-185. | 2011 | Australia | | Apex Fish Predators; Fish; Marine Protected Areas; Small Herbivorous Fish |
| van der Land, C; Mienis, F; de Haas, H; de Stigter, HC; Swennen, R; Reijmer, JJG; van Weering, TCE. 2011. Paleo-redox fronts and their formation in carbonate mound sediments from the Rockall Trough. Marine Geology 284:86-95. | 2011 | US East Coast (NC, SC, GA) | | Calcium Carbonate Deposition; Sediment |
| McClanahan, TR. 2011. Coral reef fish communities in management systems with unregulated fishing and small fisheries closures compared with lightly fished reefs - Maldives vs. Kenya. Aquatic Conservation: Marine and Freshwater Ecosystems 21:186-198. | 2011 | US Pacific & Hawaii; Indian Ocean; Kenya; Maldives; India | | Apex Fish Predators; Finfish Harvest; Fish; Fishing Sector; Invertivorous Fish; Marine Protected Areas; Small Herbivorous Fish |
| Mangelsdorf, K; Zink, KG; di Primio, R; Horsfield, B. 2011. Microbial lipid markers within and adjacent to Challenger Mound in the Belgica carbonate mound province, Porcupine Basin, offshore Ireland (IODP Expedition 307). Marine Geology 282:91-101. | 2011 | | | Sediment; Substrate |
| Pinzon, JH; Devlin-Durante, MK; Weber, MX; Baums, IB; LaJeunesse, TC. 2011. Microsatellite loci for Symbiodinium A3 (S. fitti) a common algal symbiont among Caribbean Acropora (stony corals) and Indo-Pacific giant clams (Tridacna). Conservation Genetics Resources 3:45-47. | 2011 | South & Central America; US Pacific & Hawaii; Caribbean | Index or Indicator | Stony Coral; Zooxanthellae |
| Baranets, V; Forsman, ZH; Karl, SA. 2011. Microsatellite loci for the plate-and-pillar coral, Porities rus. Conservation Genetics Resources 3:519-521. | 2011 | US Pacific & Hawaii; Indonesia | | Stony Coral |
| Wham, DC; Pettay, DT; LaJeunesse, TC. 2011. Microsatellite loci for the host-generalist "zooxanthella" Symbiodinium trenchi and other Clade D Symbiodinium. Conservation Genetics Resources 3:541-544. | 2011 | Palau | | Climate; Complex Habitat & Resources; Zooxanthellae |
| Cavalazzi, B; Westall, F; Cady, SL; Barbieri, R; Foucher, F. 2011. Potential Fossil Endoliths in Vesicular Pillow Basalt, Coral Patch Seamount, Eastern North Atlantic Ocean. Astrobiology 11:619-632. | 2011 | US East Coast (NC, SC, GA); Atlantic Ocean | | Microorganisms |
| Vijayanand, P; Anbalagan, T; Saravanan, R; Ammaiappan, V; Rajagopal, S. 2011. Diversity Of Wrasse Species Along Gulf Of Mannar Biosphere Reserve (South East Coast Of India). Thalassas 27:57-66. | 2011 | India | Index or Indicator | Accidental & Illegal Harvest; Aquarium & Pet Trade; Aquarium Stock; Finfish Harvest; Fish; Fishing Sector; Lobster, Crab, & Shrimp; Molluscs; Planktivorous Fish |
| Zhang, KH; Guan, WM; Guo, JM; Song, XQ. 2011. Arc Erosion and Morphological Characters of Ag/Ni20 Fiber Electrical Composites by Severe Plastic Deformation. Rare Metal Materials And Engineering 40:853-857. | 2011 | | | |
| Jayaraju, N; Reddy, BCSR; Reddy, KR. 2011. Anthropogenic impact on Andaman coast monitoring with benthic foraminifera, Andaman Sea, India. Environmental Earth Sciences 62:821-829. | 2011 | India | Field Study & Monitoring | Aquaculture; Environmental Monitoring, Mapping, & Scientific Research; Finfish Harvest; Sediment; Shipping, Storage, & Warehousing; Tourism & Recreation; Waterborne Discharges |
| Korzen, L., A. Israel, and A. Abelson. 2011. Grazing Effects of Fish versus Sea Urchins on Turf Algae and Coral Recruits: Possible Implications for Coral Reef Resilience and Restoration. Journal of Marine Biology 1-8. | 2011 | | | Algae; Fish; Sea Urchins; Small Herbivorous Fish; Turf Algae |
| Maina, J., T. R. McClanahan, V. Venus, M. Ateweberhan, and J. Madin. 2011. Global Gradients of Coral Exposure to Environmental Stresses and Implications for Local Management. PLoS One 6:1-14. | 2011 | Global; South & Central America; US Pacific & Hawaii; Australia; Indian Ocean; India; Middle East; Micronesia; Caribbean | | Nutrients; Sediment |
| Lorenzo, B; Ilaria, V; Sergio, R; Stefano, S; Giovanni, S. 2011. Involvement of recreational scuba divers in emblematic species monitoring: The case of Mediterranean red coral (Corallium rubrum). Journal for Nature Conservation 19:312-318. | 2011 | Cuba | Field Study & Monitoring | Dive, Snorkeling, & Swimming Tourism; Tourism & Recreation |
| Cuet, P; Atkinson, MJ; Blanchot, J; Casareto, BE; Cordier, E; Falter, J; Frouin, P; Fujimura, H; Pierret, C; Susuki, Y; Tourrand, C. 2011. CNP budgets of a coral-dominated fringing reef at La Reunion, France: coupling of oceanic phosphate and groundwater nitrate. Coral Reefs 30:45-55. | 2011 | Australia; Reunion; France | | Nutrients; Plankton; Primary Production; Surface & Groundwater Flow |
| Karnauskas, M; Cherubin, LM; Paris, CB. 2011. Adaptive Significance of the Formation of Multi-Species Fish Spawning Aggregations near Submerged Capes. PLoS One 6. | 2011 | South & Central America; Cayman Islands; Belize | Model | Fish; Nutrients; Piscivorous Fish |
| Donahue, MJ; Desharnais, RA; Robles, CD; Arriola, P. 2011. Mussel Bed Boundaries as Dynamic Equilibria: Thresholds, Phase Shifts, and Alternative States. American Naturalist 178:612-625. | 2011 | | Review; Field Study & Monitoring; Model | Seastars |
| Larkum, AWD; Salih, A; Kuhl, M. 2011. Rapid Mass Movement of Chloroplasts during Segment Formation of the Calcifying Siphonalean Green Alga, Halimeda macroloba. PLoS One 6. | 2011 | | | Calcareous Macroalgae; Calcium Carbonate Deposition; Primary Production; Sediment |
| Sweet, MJ; Croquer, A; Bythell, JC. 2011. Development of Bacterial Biofilms on Artificial Corals in Comparison to Surface-Associated Microbes of Hard Corals. PLoS One 6. | 2011 | | Model | Stony Coral |
| Waldie, PA; Blomberg, SP; Cheney, KL; Goldizen, AW; Grutter, AS. 2011. Long-Term Effects of the Cleaner Fish Labroides dimidiatus on Coral Reef Fish Communities. PLoS One 6. | 2011 | | | Fish; Planktivorous Fish; Small Herbivorous Fish |
| Mumby, PJ; Harborne, AR; Brumbaugh, DR. 2011. Grouper as a Natural Biocontrol of Invasive Lionfish. PLoS One 6. | 2011 | South & Central America; Florida; US Pacific & Hawaii; Caribbean | | Finfish Harvest; Fish; Invasive Species; Mangroves; Piscivorous Fish |
| Iguchi, A; Shinzato, C; Foret, S; Miller, DJ. 2011. Identification of Fast-Evolving Genes in the Scleractinian Coral Acropora Using Comparative EST Analysis. PLoS One 6. | 2011 | South & Central America; Australia; China; Caribbean | | Pathogens; Stony Coral |
| Ruttenberg, BI; Hamilton, SL; Walsh, SM; Donovan, MK; Friedlander, A; DeMartini, E; Sala, E; Sandin, SA. 2011. Predator-Induced Demographic Shifts in Coral Reef Fish Assemblages. PLoS One 6. | 2011 | US Pacific & Hawaii | | Finfish Harvest; Fish; Small Herbivorous Fish |
| Gondim, AI; Dias, TLP; Campos, FF; Alonso, C; Christoffersen, ML. 2011. Benthic macrofauna from Areia Vermelha Marine State Park, Cabedelo, Paraiba, Brazil. Biota Neotropica 11:75-86. | 2011 | China | Field Study & Monitoring | Aquarium & Pet Trade; Aquarium Stock; Echinoderms; Hydrocoral; Lobster, Crab, & Shrimp; Molluscs; Seastars; Tourism & Recreation |
| Quang, TH; Ha, TT; Van Minh, C; Van Kiem, P; Huong, HT; Nguyen, TTN; Nhiem, NX; Tung, NH; Tai, BH; Dinh, TTT; Song, B; Kang, HK; Kim, YH. 2011. Cytotoxic and anti-inflammatory cembranoids from the Vietnamese soft coral Lobophytum laevigatum. Bioorganic and Medicinal Chemistry 19:2625-2632. | 2011 | Vietnam | | Octocoral |
| Hassan, HM; Sallam, AA; Mohammed, R; Hifnawy, MS; Youssef, DTA; El Sayed, KA. 2011. Semisynthetic analogues of the marine cembranoid sarcophine as prostate and breast cancer migration inhibitors. Bioorganic and Medicinal Chemistry 19:4928-4934. | 2011 | | | Octocoral |
| Berrue, F; McCulloch, MWB; Kerr, RG. 2011. Marine diterpene glycosides. Bioorganic and Medicinal Chemistry 19:6702-6719. | 2011 | South & Central America; Caribbean | Review | Octocoral |
| Coddeville, B; Maes, E; Ferrier-Pages, C; Guerardel, Y. 2011. Glycan Profiling of Gel Forming Mucus Layer from the Scleractinian Symbiotic Coral Oculina arbuscula. Biomacromolecules 12:2064-2073. | 2011 | | | Microorganisms; Stony Coral |
| Tsumuraya, T; Ishikawa, C; Machijima, Y; Nakachi, S; Senba, M; Tanaka, J; Mori, N. 2011. Effects of hippuristanol, an inhibitor of eIF4A, on adult T-cell leukemia. Biochemical Pharmacology 81:713-722. | 2011 | | | |
| Emslie, MJ; Pratchett, MS; Cheal, AJ. 2011. Effects of different disturbance types on butterflyfish communities of Australia's Great Barrier Reef. Coral Reefs 30:461-471. | 2011 | Australia | | Complex Habitat & Resources; Corallivorous Fish; Pathogens; Seastars; Storms & Hurricanes |
| Goater, S; Derne, B; Weinstein, P. 2011. Critical Issues in the Development of Health Information Systems in Supporting Environmental Health: A Case Study of Ciguatera. Environmental Health Perspectives 119:585-590. | 2011 | Global; US Pacific & Hawaii | Review | Climate; Collaboration & Partnering; Complex Habitat & Resources; Fish; Health Policies; Pathogens; Surface & Groundwater Flow |
| McClanahan, TR; Hicks, CC. 2011. Changes in life history and ecological characteristics of coral reef fish catch composition with increasing fishery management. Fisheries Management and Ecology 18:50-60. | 2011 | Kenya | | Climate; Finfish Harvest; Fish; Fishing Sector; Marine Protected Areas |
| Baumann, H; Gagliano, M. 2011. Changing otolith/fish size ratios during settlement in two tropical damselfishes. Helgoland Marine Research 65:425-429. | 2011 | Australia | | Fish; Small Herbivorous Fish |
| Di Camillo, CG; Martin, D; Britayev, TA. 2011. Symbiotic association between Solanderia secunda (Cnidaria, Hydrozoa, Solanderiidae) and Medioantenna variopinta sp nov (Annelida, Polychaeta, Polynoidae) from North Sulawesi (Indonesia). Helgoland Marine Research 65:495-511. | 2011 | Australia; Japan; Indonesia | | Marine Worms |
| Ali, AHAM; Hamed, MA; Abd El-Azim, H. 2011. Heavy metals distribution in the coral reef ecosystems of the Northern Red Sea. Helgoland Marine Research 65:67-80. | 2011 | | | Calcium Carbonate Deposition; Octocoral; Sediment; Skeletal Coral; Stony Coral; Tourism & Recreation |
| Morar, SR; Bury, SJ; Wilkinson, SP; Davy, SK. 2011. Sedimentary nitrogen uptake and assimilation in the temperate zooxanthellate sea anemone Anthopleura aureoradiata. Journal of Experimental Marine Biology and Ecology 399:110-119. | 2011 | | Field Study & Monitoring | Anemones & Zooanthids; Nutrients; Sediment; Stony Coral; Zooxanthellae |
| Vignon, M; Dierking, J. 2011. Prey regurgitation and stomach vacuity among groupers and snappers. Environmental Biology of Fishes 90:361-366. | 2011 | US Pacific & Hawaii | | Apex Fish Predators; Commercial Fisheries; Fish; Piscivorous Fish |
| Anthony, K. R. N., J. A. Maynard, G. Diaz-Pulido, P. J. Mumby, P. A. Marshall, L. Coa, and O. Hoegh-Guldberg. 2011. Ocean acidification and warming will lower coral reef resilience. Global Change Biology doi:10.1111/j.1365-2486.2010.02364.x. | 2011 | Global | Model | Algae; Climate; CO2; Finfish Harvest; Fleshy Macroalgae; Nutrients; Ocean Acidity |
| Miller, DJ; Ball, EE; Foret, S; Satoh, N. 2011. Coral genomics and transcriptomics - Ushering in a new era in coral biology. Journal of Experimental Marine Biology and Ecology 408:114-119. | 2011 | | Review | Hydrocoral; Stony Coral |
| Adams, AJ; Hill, JE; Samoray, C. 2011. Characteristics of spawning ground fidelity by a diadromous fish: a multi-year perspective. Environmental Biology of Fishes 92:403-411. | 2011 | South & Central America; Florida; US East Coast (NC, SC, GA); Mexico | GIS & Maps | Beaches & Nature Parks; Fish |
| Atkins, J. P., D. Burdon, M. Elliott, and A. J. Gregory. 2011. Management of the marine environment: Integrating ecosystem services and societal benefits with the DPSIR framework in a systems approach. Marine Pollution Bulletin 62:215-226. | 2011 | | Decision Support Frameworks & Tools | |
| Prazeres, MD; Martins, SE; Bianchini, A. 2011. Biomarkers response to zinc exposure in the symbiont-bearing foraminifer Amphistegina lessonii (Amphisteginidae, Foraminifera). Journal of Experimental Marine Biology and Ecology 407:116-121. | 2011 | | | Skeletal Coral |
| Nanola, CL; Alino, PM; Carpenter, KE. 2011. Exploitation-related reef fish species richness depletion in the epicenter of marine biodiversity. Environmental Biology of Fishes 90:405-420. | 2011 | Philippines | | Aquarium & Pet Trade; Finfish Harvest; Fish; Fishing Sector; Marine Protected Areas |
| Igulu, MM; Nagelkerken, I; Fraaije, R; van Hintum, R; Ligtenberg, H; Mgaya, YD. 2011. The potential role of visual cues for microhabitat selection during the early life phase of a coral reef fish (Lutjanus fulviflamma). Journal of Experimental Marine Biology and Ecology 401:118-125. | 2011 | | Field Study & Monitoring; Lab Study | Complex Habitat & Resources; Fish; Mangroves; Piscivorous Fish; Seagrasses |
| Johnson, MK; Holbrook, SJ; Schmitt, RJ; Brooks, AJ. 2011. Fish communities on staghorn coral: effects of habitat characteristics and resident farmerfishes. Environmental Biology of Fishes 91:429-448. | 2011 | US Pacific & Hawaii; Australia | | Complex Habitat & Resources; Fish; Small Herbivorous Fish; Stony Coral |
| Leggat, W; Yellowlees, D; Medina, M. 2011. Recent progress in Symbiodinium transcriptomics. Journal of Experimental Marine Biology and Ecology 408:120-125. | 2011 | | | Stony Coral |
| Hitt, S; Pittman, SJ; Brown, KA. 2011. Tracking and mapping sun-synchronous migrations and diel space use patterns of Haemulon sciurus and Lutjanus apodus in the US Virgin Islands. Environmental Biology of Fishes 92:525-538. | 2011 | Global; South & Central America; US Virgin Islands; Caribbean | GIS & Maps | Fish; Mangroves; Piscivorous Fish; Seagrasses |
| Hedouin, L; Metian, M; Gates, RD. 2011. Ecotoxicological approach for assessing the contamination of a Hawaiian coral reef ecosystem (Honolua Bay, Maui) by metals and a metalloid. Marine Environmental Research 71:149-161. | 2011 | US Pacific & Hawaii | | Algae; Calcareous Macroalgae; Fish; Invertivorous Fish; Nutrients; Sediment; Stony Coral |
| Burt, J; Al-Harthi, S; Al-Cibahy, A. 2011. Long-term impacts of coral bleaching events on the world's warmest reefs. Marine Environmental Research 72:225-229. | 2011 | India | | Climate; Housing; Stony Coral |
| Faxneld, S; Jorgensen, TL; Nguyen, ND; Nystrom, M; Tedengren, M. 2011. Differences in physiological response to increased seawater temperature in nearshore and offshore corals in northern Vietnam. Marine Environmental Research 71:225-233. | 2011 | Vietnam | | Climate; Primary Production; Salinity; Sediment; Stony Coral |
| Liu, Y; Peng, ZC; Wei, GJ; Chen, TG; Sun, WD; He, JF; Liu, GJ; Chou, CL; Shen, CC. 2011. Interannual variation of rare earth element abundances in corals from northern coast of the South China Sea and its relation with sea-level change and human activities. Marine Environmental Research 71:62-69. | 2011 | US Pacific & Hawaii; China | | Discharges; Sediment; Stony Coral; Surface & Groundwater Flow; Water Depth & Sea Level |
| Vermeij, MJA; Dailer, ML; Smith, CM. 2011. Crustose coralline algae can suppress macroalgal growth and recruitment on Hawaiian coral reefs. Marine Ecology Progress Series 422:1-7. | 2011 | US Pacific & Hawaii | Field Study & Monitoring | Algae; Coralline Algae; Nutrients; Stony Coral |
| Terrados, J; Ramirez-Garcia, P. 2011. Cover and edge length to area ratio of seagrass (Thalassia testudinum) meadows in coral reef lagoons (Veracruz Reef System, Southwest Gulf of Mexico). Aquatic Conservation: Marine and Freshwater Ecosystems 21:224-230. | 2011 | South & Central America; Australia; US East Coast (NC, SC, GA); Mexico | GIS & Maps | Docks & Marinas; Seagrasses |
| Tyler, EHM; Manica, A; Jiddawi, N; Speight, MR. 2011. A role for partially protected areas on coral reefs: maintaining fish diversity? Aquatic Conservation: Marine and Freshwater Ecosystems 21:231-238. | 2011 | Tanzania | | Finfish Harvest; Fish; Fishing Sector; Marine Protected Areas; Special Use Permitting; Trawling & Fishing Gear Damage |
| McClanahan, TR; Muthiga, NA; Coleman, RA. 2011. Testing for top-down control: can post-disturbance fisheries closures reverse algal dominance? Aquatic Conservation: Marine and Freshwater Ecosystems 21:658-675. | 2011 | South & Central America; Belize; Caribbean | | Algae; Apex Fish Predators; Climate; Finfish Harvest; Fish; Fishing Sector; Marine Protected Areas; Piscivorous Fish; Sea Urchins; Small Herbivorous Fish; Stony Coral |
| Van Rein, H; Brown, CJ; Schoeman, DS; Quinn, R; Breen, J. 2011. Fixed-station monitoring of a harbour wall community: the utility of low-cost photomosaics and scuba on hard-substrata. Aquatic Conservation: Marine and Freshwater Ecosystems 21:690-703. | 2011 | US Pacific & Hawaii; Cuba | Field Study & Monitoring | Algae; Biological Monitoring, Mapping, & Scientific Research; Encrusting Sponges; Sponges |
| van Oppen, MJH; Bongaerts, P; Underwood, JN; Peplow, LM; Cooper, TF. 2011. The role of deep reefs in shallow reef recovery: an assessment of vertical connectivity in a brooding coral from west and east Australia. Molecular Ecology 20:1647-1660. | 2011 | South & Central America; Australia; Caribbean | | Complex Habitat & Resources; Light; Stony Coral |
| Chong-Seng, KM; Cole, AJ; Pratchett, MS; Willis, BL. 2011. Selective feeding by coral reef fishes on coral lesions associated with brown band and black band disease. Coral Reefs 30:473-481. | 2011 | Australia | | Complex Habitat & Resources; Corallivorous Fish; Fish; Pathogens; Small Herbivorous Fish; Stony Coral |
| Magallon-Gayon, E; Briones-Fourzan, P; Lozano-Alvarez, E. 2011. Does size always matter? Mate choice and sperm allocation in Panulirus guttatus, a highly sedentary, habitat-specialist spiny lobster. Behaviour 148:1333-1358. | 2011 | | Lab Study; Model | Complex Habitat & Resources; Lobster, Crab, & Shrimp |
| Schmitz, L; Wainwright, PC. 2011. Nocturnality constrains morphological and functional diversity in the eyes of reef fishes. BMC Evolutionary Biology 11. | 2011 | | | Fish; Light |
| Arroyo, AM; Naim, SM; Hidalgo, JZ. 2011. Vulnerability to climate change of marine and coastal fisheries in Mexico. Atmosfera 24:103-123. | 2011 | South & Central America; US East Coast (NC, SC, GA); Mexico | Model | Climate; Finfish Harvest; Fish; Fishing Sector; Lobster, Crab, & Shrimp; Mitigation; Physical Variables; Surface & Groundwater Flow; Water Depth & Sea Level; Wetlands |
| Stolarski, J; Kitahara, MV; Miller, DJ; Cairns, SD; Mazur, M; Meibom, A. 2011. The ancient evolutionary origins of Scleractinia revealed by azooxanthellate corals. BMC Evolutionary Biology 11. | 2011 | | | Climate; Lobster, Crab, & Shrimp |
| Salas-Perez, JJ; Arenas-Fuentes, V. 2011. Winter water mass of the Veracruz Reef System. Atmosfera 24:221-231. | 2011 | South & Central America; Mexico | | Salinity; Surface & Groundwater Flow |
| Bongaerts, P; Riginos, C; Hay, KB; van Oppen, MJH; Hoegh-Guldberg, O; Dove, S. 2011. Adaptive divergence in a scleractinian coral: physiological adaptation of Seriatopora hystrix to shallow and deep reef habitats. BMC Evolutionary Biology 11. | 2011 | Australia | | Complex Habitat & Resources; Stony Coral; Surface & Groundwater Flow |
| Lu, Y; Su, HJ; Chen, YH; Wen, ZH; Sheu, JH; Su, JH. 2011. Anti-inflammatory Cembranoids from the Formosan Soft Coral Sinularia discrepans. Archives of Pharmacal Research 34:1263-1267. | 2011 | | | Octocoral |
| Savriama, Y; Klingenberg, CP. 2011. Beyond bilateral symmetry: geometric morphometric methods for any type of symmetry. BMC Evolutionary Biology 11. | 2011 | | | Algae; Housing; Sea Urchins; Stony Coral |
| Gaither, MR; Bowen, BW; Bordenave, TR; Rocha, LA; Newman, SJ; Gomez, JA; van Herwerden, L; Craig, MT. 2011. Phylogeography of the reef fish Cephalopholis argus (Epinephelidae) indicates Pleistocene isolation across the indo-pacific barrier with contemporary overlap in the coral triangle. BMC Evolutionary Biology 11. | 2011 | Global; US Pacific & Hawaii; Australia; Indian Ocean; Seychelles; India; Oman; Philippines | | Apex Fish Predators; Fish; Piscivorous Fish; Water Depth & Sea Level |
| Frederich, B; Vandewalle, P. 2011. Bipartite life cycle of coral reef fishes promotes increasing shape disparity of the head skeleton during ontogeny: an example from damselfishes (Pomacentridae). BMC Evolutionary Biology 11. | 2011 | | | Fish; Plankton; Small Herbivorous Fish |
| Maynard, JA; Anthony, KRN; Harvell, CD; Burgman, MA; Beeden, R; Sweatman, H; Heron, SF; Lamb, JB; Willis, BL. 2011. Predicting outbreaks of a climate-driven coral disease in the Great Barrier Reef. Coral Reefs 30:485-495. | 2011 | US Pacific & Hawaii; Australia | Field Study & Monitoring; Model; GIS & Maps; Decision Support Frameworks & Tools | Climate; Environmental Monitoring, Mapping, & Scientific Research; Pathogens; Sea Temperatures |
| Pantos, O; Hoegh-Guldberg, O. 2011. Shared Skeletal Support in a Coral-Hydroid Symbiosis. PLoS One 6. | 2011 | | | Stony Coral |
| Holt, BG; Cote, IM; Emerson, BC. 2011. Searching for Speciation Genes: Molecular Evidence for Selection Associated with Colour Morphotypes in the Caribbean Reef Fish Genus Hypoplectrus. PLoS One 6. | 2011 | South & Central America; Caribbean | | Fish |
| Cebrian, E; Uriz, MJ; Garrabou, J; Ballesteros, E. 2011. Sponge Mass Mortalities in a Warming Mediterranean Sea: Are Cyanobacteria-Harboring Species Worse Off? PLoS One 6. | 2011 | | Lab Study | Climate; Cyanobacteria; Microorganisms; Pathogens; Sponges |
| Aeby, GS; Williams, GJ; Franklin, EC; Kenyon, J; Cox, EF; Coles, S; Work, TM. 2011. Patterns of Coral Disease across the Hawaiian Archipelago: Relating Disease to Environment. PLoS One 6. | 2011 | US Pacific & Hawaii; Palmyra Atoll | Model; Index or Indicator | Molluscs; Pathogens; Stony Coral |
| Venn, A; Tambutte, E; Holcomb, M; Allemand, D; Tambutte, S. 2011. Live Tissue Imaging Shows Reef Corals Elevate pH under Their Calcifying Tissue Relative to Seawater. PLoS One 6. | 2011 | | Model | Calcium Carbonate Deposition; Ocean Acidity; Primary Production; Stony Coral |
| Cooper, TF; Lai, M; Ulstrup, KE; Saunders, SM; Flematti, GR; Radford, B; van Oppen, MJH. 2011. Symbiodinium Genotypic and Environmental Controls on Lipids in Reef Building Corals. PLoS One 6. | 2011 | | | Light; Stony Coral; Zooxanthellae |
| Farmer, BM; Wilson, SK. 2011. Diet of finfish targeted by fishers in North West Australia and the implications for trophic cascades. Environmental Biology of Fishes 91:71-85. | 2011 | Australia | | Commercial Fisheries; Finfish Harvest; Fish; Fishing Sector; Recreational Fishing; Tourism & Recreation |
| Downs, CA; Woodley, CM; Fauth, JE; Knutson, S; Burtscher, MM; May, LA; Avadanei, AR; Higgins, JL; Ostrander, GK. 2011. A survey of environmental pollutants and cellular-stress markers of Porites astreoides at six sites in St. John, US Virgin Islands. Ecotoxicology 20:1914-1931. | 2011 | Global; Florida; US Virgin Islands | Index or Indicator | Nutrients; Stony Coral; Surface & Groundwater Flow |
| Garcia-Reyero, N; Habib, T; Pirooznia, M; Gust, KA; Gong, P; Warner, C; Wilbanks, M; Perkins, E. 2011. Conserved toxic responses across divergent phylogenetic lineages: a meta-analysis of the neurotoxic effects of RDX among multiple species using toxicogenomics. Ecotoxicology 20:580-594. | 2011 | | | Military; Stony Coral |
| Beelaerts, V; Bauwens, M; Versteegh, E; Dehairs, F; Pintelon, R. 2011. Periodic Time-Series Modeling of Environmental Proxy Records with Guaranteed Positive Growth Rate Estimation. Mathematical Geosciences 43:635-662. | 2011 | US East Coast (NC, SC, GA) | Model | Climate; Mangroves |
| Biggs, D. 2011. Understanding Resilience in a Vulnerable Industry: the Case of Reef Tourism in Australia. Ecology and Society 16. | 2011 | Global; Australia | | Banks, Credit, & Securities; Climate; Tourism & Recreation |
| Shackeroff, JM; Campbell, LM; Crowder, LB. 2011. Social-Ecological Guilds: Putting People into Marine Historical Ecology. Ecology and Society 16. | 2011 | US Pacific & Hawaii | | Fishing Sector |
| Fitzpatrick, JM; Carlon, DB; Lippe, C; Robertson, DR. 2011. The West Pacific diversity hotspot as a source or sink for new species? Population genetic insights from the Indo-Pacific parrotfish Scarus rubroviolaceus. Molecular Ecology 20:219-234. | 2011 | US Pacific & Hawaii; Indian Ocean; India | Model | Corallivorous Fish; Fish; Large Herbivorous Fish |
| Melbourne-Thomas, J., C. R. Johnson, T. Fung, R. M. Seymour, L. M. Cherubin, J. E. Arias-Gonzalez, and E. A. Fulton. 2011. Regional-scale scenario modeling for coral reefs: a decision support tool to inform management of a complex system. Ecological Applications 21:1380-1398. | 2011 | | Model; Decision Support Frameworks & Tools | Decision Support; Physical Damage; Storms & Hurricanes |
| Horne, JB; Momigliano, P; Welch, DJ; Newman, SJ; van Herwerden, L. 2011. Limited ecological population connectivity suggests low demands on self-recruitment in a tropical inshore marine fish (Eleutheronema tetradactylum: Polynemidae). Molecular Ecology 20:2291-2306. | 2011 | US Pacific & Hawaii; Australia | | Fish |
| Melbourne-Thomas, J., C.R. Johnson, P.M. Ali�o, R.C. Geronimo, C.L. Villanoy, and G.G. Gurney. 2011. A multi-scale biophysical model to inform regional management of coral reefs in the western Philippines and South China Sea. Environmental Modelling & Software 26:66-82. | 2011 | China; Philippines | Model; Decision Support Frameworks & Tools | Decision Support; Fish; Mitigation |
| Andras, JP; Kirk, NL; Harvell, CD. 2011. Range-wide population genetic structure of Symbiodinium associated with the Caribbean Sea fan coral, Gorgonia ventalina. Molecular Ecology 20:2525-2542. | 2011 | South & Central America; Florida; US East Coast (NC, SC, GA); Caribbean | | Octocoral; Stony Coral |
| Aranda, M; Banaszak, AT; Bayer, T; Luyten, JR; Medina, M; Voolstra, CR. 2011. Differential sensitivity of coral larvae to natural levels of ultraviolet radiation during the onset of larval competence. Molecular Ecology 20:2955-2972. | 2011 | Global; South & Central America; Caribbean; Europe | | Climate; Light; Stony Coral |
| Pinzon, JH; LaJeunesse, TC. 2011. Species delimitation of common reef corals in the genus Pocillopora using nucleotide sequence phylogenies, population genetics and symbiosis ecology. Molecular Ecology 20:311-325. | 2011 | US Pacific & Hawaii; Panama | | Climate; Stony Coral |
| Seyfabadi, J; Shokri, N; Fatemi, MR. 2011. Spatial variation of symbiotic Dinoflagellates on coral reefs of the northern Persian Gulf. Iranian Journal Of Fisheries Sciences 10:475-486. | 2011 | | Index or Indicator | Algae; Stony Coral; Zooxanthellae |
| Bo, M; Baker, AC; Gaino, E; Wirshing, HH; Scoccia, F; Bavestrello, G. 2011. First description of algal mutualistic endosymbiosis in a black coral (Anthozoa: Antipatharia). Marine Ecology Progress Series 435:1-11. | 2011 | Indonesia | | Algae; Boring Sponges; Sponges; Stony Coral; Zooxanthellae |
| Scales, KL; Lewis, JA; Lewis, JP; Castellanos, D; Godley, BJ; Graham, RT. 2011. Insights into habitat utilisation of the hawksbill turtle, Eretmochelys imbricata (Linnaeus, 1766), using acoustic telemetry. Journal of Experimental Marine Biology and Ecology 407:122-129. | 2011 | South & Central America; Belize | Field Study & Monitoring | Sea Turtles |
| Smith, SDA. 2011. Densities of the endolithic bivalve Lithophaga lessepsiana (Vaillant, 1865) in Pocillopora damicornis, Solitary Islands Marine Park, northern NSW, Australia. Molluscan Research 31:42-46. | 2011 | Australia | | Bivalves; Marine Protected Areas; Nutrients; Stony Coral |
| Meager, JJ; Schlacher, TA; Green, M. 2011. Topographic complexity and landscape temperature patterns create a dynamic habitat structure on a rocky intertidal shore. Marine Ecology Progress Series 428:1-12. | 2011 | | Model | Arthropods; Complex Habitat & Resources; Surface & Groundwater Flow |
| Anlauf, H; D'Croz, L; O'Dea, A. 2011. A corrosive concoction: The combined effects of ocean warming and acidification on the early growth of a stony coral are multiplicative. Journal of Experimental Marine Biology and Ecology 397:13-20. | 2011 | Global; US Pacific & Hawaii | | CO2; Stony Coral; Zooxanthellae |
| Mol, VPL; Raveendran, TV; Parameswaran, PS; Kunnath, RJ; Rajamohanan, PR. 2011. (-)-6 alpha-Hydroxy polyanthellin A - A novel antifouling diterpenoid from the Indian soft coral Cladiella krempfi (Hickson). Canadian Journal Of Chemistry-revue Canadienne De Chimie 89:57-60. | 2011 | India | | Octocoral |
| Wright, KJ; Higgs, DM; Leis, JM. 2011. Ontogenetic and interspecific variation in hearing ability in marine fish larvae. Marine Ecology Progress Series 424:1-13. | 2011 | | Model | Complex Habitat & Resources; Fish; Small Herbivorous Fish |
| Colvard, NB; Edmunds, PJ. 2011. Decadal-scale changes in abundance of non-scleractinian invertebrates on a Caribbean coral reef. Journal of Experimental Marine Biology and Ecology 397:153-160. | 2011 | South & Central America; US Virgin Islands; Caribbean | | Algae; Marine Worms; Sponges; Stony Coral |
| Sondi, I; Salopek-Sondi, B; Skapin, SD; Segota, S; Jurina, I; Vukelic, B. 2011. Colloid-chemical processes in the growth and design of the bio-inorganic aragonite structure in the scleractinian coral Cladocora caespitosa. Journal Of Colloid And Interface Science 354:181-189. | 2011 | | Field Study & Monitoring | Calcium Carbonate Deposition; Stony Coral |
| Denis, V; Debreuil, J; De Palmas, S; Richard, J; Guillaume, MMM; Bruggemann, JH. 2011. Lesion regeneration capacities in populations of the massive coral Porites lutea at Reunion Island: environmental correlates. Marine Ecology Progress Series 428:105-117. | 2011 | Reunion; India | Field Study & Monitoring; Model | Environmental Monitoring, Mapping, & Scientific Research; Light; Non-point Source Runoff; Stony Coral; Zooxanthellae |
| Horoszowski-Fridman, YB; Izhaki, I; Rinkevich, B. 2011. Engineering of coral reef larval supply through transplantation of nursery-farmed gravid colonies. Journal of Experimental Marine Biology and Ecology 399:162-166. | 2011 | | | |
| Montagnon, T; Noutsias, D; Alexopoulou, I; Tofi, M; Vassilikogiannakis, G. 2011. Green oxidations of furans-initiated by molecular oxygen-that give key natural product motifs. Organic & Biomolecular Chemistry 9:2031-2039. | 2011 | | | Bivalves; Substrate |
| Venera-Ponton, DE; Diaz-Pulido, G; McCook, LJ; Rangel-Campo, A. 2011. Macroalgae reduce growth of juvenile corals but protect them from parrotfish damage. Marine Ecology Progress Series 421:109-115. | 2011 | South & Central America; Caribbean | | Algae; Climate; Corallivorous Fish; Fish; Fleshy Macroalgae; Large Herbivorous Fish; Stony Coral |
| Garcia-Arredondo, A; Rojas-Molina, A; Ibarra-Alvarado, C; Iglesias-Prieto, R. 2011. Effects of bleaching on the pharmacological and toxicological activities elicited by the aqueous extracts prepared from two "fire corals" collected in the Mexican Caribbean. Journal of Experimental Marine Biology and Ecology 396:171-176. | 2011 | South & Central America; Caribbean | | Hydrocoral; Zooxanthellae |
| Drupp, P; De Carlo, EH; Mackenzie, FT; Bienfang, P; Sabine, CL. 2011. Nutrient Inputs, Phytoplankton Response, and CO(2) Variations in a Semi-Enclosed Subtropical Embayment, Kaneohe Bay, Hawaii. Aquatic Geochemistry 17:473-498. | 2011 | Global; US Pacific & Hawaii | | CO2; Discharges; Non-point Source Runoff; Nutrients; Plankton; Sediment; Surface & Groundwater Flow |
| Lerman, A; Guidry, M; Andersson, AJ; Mackenzie, FT. 2011. Coastal Ocean Last Glacial Maximum to 2100 CO(2)-Carbonic Acid-Carbonate System: A Modeling Approach. Aquatic Geochemistry 17:749-773. | 2011 | Global | Model | CO2; Ocean Acidity; Sediment; Surface & Groundwater Flow; Water Depth & Sea Level |
| Fan, ZP; Liu, WL; Wei, ZJ; Yao, JS; Sun, XL; Li, M; Wang, XQ. 2011. Fabrication of two biomimetic superhydrophobic polymeric surfaces. Applied Surface Science 257:4296-4301. | 2011 | | | |
| Mali, SS; Shinde, PS; Betty, CA; Bhosale, PN; Lee, WJ; Patil, PS. 2011. Nanocoral architecture of TiO(2) by hydrothermal process: Synthesis and characterization. Applied Surface Science 257:9737-9746. | 2011 | | Field Study & Monitoring | Substrate |
| Kanamoto, H; Takemura, M; Ohyama, K. 2011. Identification of a cyclooxygenase gene from the red alga Gracilaria vermiculophylla and bioconversion of arachidonic acid to PGF(2 alpha) in engineered Escherichia coli. Applied Microbiology and Biotechnology 91:1121-1129. | 2011 | | Decision Support Frameworks & Tools | Pharmaceuticals & Cosmetics; Pharmaceuticals & Cosmetics Sources; Substrate |
| Evans, LS; Brown, K; Allison, EH. 2011. Factors Influencing Adaptive Marine Governance in a Developing Country Context: a Case Study of Southern Kenya. Ecology and Society 16. | 2011 | Kenya; Oman | | Collaboration & Partnering; Fishing & Harvesting Management; Fishing Sector |
| Melbourne-Thomas, J; Johnson, CR; Perez, P; Eustache, J; Fulton, EA; Cleland, D. 2011. Coupling Biophysical and Socioeconomic Models for Coral Reef Systems in Quintana Roo, Mexican Caribbean. Ecology and Society 16. | 2011 | South & Central America; Caribbean | Model; Decision Support Frameworks & Tools | Decision Support; Fishing Sector; Lobster, Crab, & Shrimp; Tourism & Recreation |
| Karlson, RH; Connolly, SR; Hughes, TP. 2011. Spatial variance in abundance and occupancy of corals across broad geographic scales. Ecology 92:1282-1291. | 2011 | US Pacific & Hawaii; Pacific Ocean; Solomon Islands; Samoa; Papua New Guinea; American Samoa; Indonesia | Model | |
| Bonin, MC; Almany, GR; Jones, GP. 2011. Contrasting effects of habitat loss and fragmentation on coral-associated reef fishes. Ecology 92:1503-1512. | 2011 | | | Climate; Fish; Small Herbivorous Fish; Stony Coral |
| Lenihan, HS; Holbrook, SJ; Schmitt, RJ; Brooks, AJ. 2011. Influence of corallivory, competition, and habitat structure on coral community shifts. Ecology 92:1959-1971. | 2011 | | Field Study & Monitoring | Complex Habitat & Resources; Corallivorous Fish; Sediment; Stony Coral |
| Chen, BW; Chang, SM; Huang, CY; Su, JH; Wen, ZH; Wu, YC; Sheu, JH. 2011. Hirsutosterols A-G, polyoxygenated steroids from a Formosan soft coral Cladiella hirsuta. Organic & Biomolecular Chemistry 9:3272-3278. | 2011 | India | | Octocoral |
| Fin, A; Petkova, I; Doval, DA; Sakai, N; Vauthey, E; Matile, S. 2011. Naphthalene-and perylenediimides with hydroquinones, catechols, boronic esters and imines in the core. Organic & Biomolecular Chemistry 9:8246-8252. | 2011 | | | Anemones & Zooanthids |
| Chen, BW; Chao, CH; Su, JH; Tsai, CW; Wang, WH; Wen, ZH; Huang, CY; Sung, PJ; Wu, YC; Sheu, JH. 2011. Klysimplexins I-T, eunicellin-based diterpenoids from the cultured soft coral Klyxum simplex. Organic & Biomolecular Chemistry 9:834-844. | 2011 | | | Octocoral |
| Katayama, H; Kogure, T; Mizushima, N; Yoshimori, T; Miyawaki, A. 2011. A Sensitive and Quantitative Technique for Detecting Autophagic Events Based on Lysosomal Delivery. Chemistry & Biology 18:1042-1052. | 2011 | | Field Study & Monitoring | Pathogens |
| Nisola, GM; Redillas, MCFR; Cho, E; Han, M; Yoo, N; Chung, WJ. 2011. Comparison of reactive porous media for sulfur-oxidizing denitrification of high nitrate strength wastewater. Biochemical Engineering Journal 79-86. | 2011 | | Model | Calcium Carbonate Deposition; Discharges; Nutrient & Contaminant Processing; Wastewater Discharge |
| Hassan, HM; Elnagar, AY; Khanfar, MA; Sallam, AA; Mohammed, R; Shaala, LA; Youssef, DTA; Hifnawy, MS; El Sayed, KA. 2011. Design of semisynthetic analogues and 3D-QSAR study of eunicellin-based diterpenoids as prostate cancer migration and invasion inhibitors. European Journal Of Medicinal Chemistry 46:1122-1130. | 2011 | | Field Study & Monitoring; Model; Index or Indicator | Invasive Species; Octocoral; Pharmaceuticals & Cosmetics Sources |
| Huang, DW; Licuanan, WY; Baird, AH; Fukami, H. 2011. Cleaning up the 'Bigmessidae': Molecular phylogeny of scleractinian corals from Faviidae, Merulinidae, Pectiniidae and Trachyphylliidae. BMC Evolutionary Biology 11. | 2011 | US Pacific & Hawaii; US East Coast (NC, SC, GA) | Model | Stony Coral |
| Kaljo, D; Hints, L; Hints, O; Mannik, P; Martma, T; Nolvak, J. 2011. Katian prelude to the Hirnantian (Late Ordovician) mass extinction a Baltic perspective. Geological Journal 46:464-477. | 2011 | Global | | Climate; Sediment; Substrate; Surface & Groundwater Flow; Water Depth & Sea Level |
| Iwagawa, T; Kusatsu, T; Tsuha, K; Hamada, T; Okamura, H; Furukawa, T; Akiyama, S; Doe, M; Morimoto, Y; Iwase, F; Takemura, K. 2011. Cytotoxic Eunicellin-Type Diterpenes From The Soft Coral Litophyton Viscudium. Heterocycles 83:2149-2155. | 2011 | | | Octocoral |
| Peresypkin, VI; Smurov, AV; Shulga, NA; Safonova, ES; Smurova, TG; Bang, CV. 2011. Composition of the Organic Matter of the Water, Suspended Matter, and Bottom Sediments in Nha Trang Bay in Vietnam in the South China Sea. Oceanology 51:959-968. | 2011 | China; Vietnam | | Nutrients; Sediment; Solid Waste Disposal; Surface & Groundwater Flow |
| Barbanti, SM; Moldowan, JM; Watt, DS; Kolaczkowska, E. 2011. New triaromatic steroids distinguish Paleozoic from Mesozoic oil. Organic Geochemistry 42:409-424. | 2011 | Global | | Climate; Octocoral; Zooxanthellae |
| Lesser, MP; Slattery, M. 2011. Phase shift to algal dominated communities at mesophotic depths associated with lionfish (Pterois volitans) invasion on a Bahamian coral reef. Biological Invasions 13:1855-1868. | 2011 | South & Central America; US Pacific & Hawaii; US East Coast (NC, SC, GA); Bahamas; Caribbean | | Climate; Finfish Harvest; Fish; Fleshy Macroalgae; Invasive Species; Nutrients; Pathogens; Sea Urchins; Small Herbivorous Fish; Sponges; Storms & Hurricanes |
| Mokhtar-Jamai, K; Pascual, M; Ledoux, JB; Coma, R; Feral, JP; Garrabou, J; Aurelle, D. 2011. From global to local genetic structuring in the red gorgonian Paramuricea clavata: the interplay between oceanographic conditions and limited larval dispersal. Molecular Ecology 20:3291-3305. | 2011 | Global | | Octocoral; Stony Coral |
| Pittman, SJ; Brown, KA. 2011. Multi-Scale Approach for Predicting Fish Species Distributions across Coral Reef Seascapes. PLoS One 6. | 2011 | South & Central America; Caribbean | Model; Remote Sensing; Decision Support Frameworks & Tools | Complex Habitat & Resources; Fish; Fishing Sector; Landuse Management; Marine Protected Areas |
| Lawton, RJ; Messmer, V; Pratchett, MS; Bay, LK. 2011. High gene flow across large geographic scales reduces extinction risk for a highly specialised coral feeding butterflyfish. Molecular Ecology 20:3584-3598. | 2011 | US Pacific & Hawaii; Pacific Ocean | | Climate; Corallivorous Fish; Fish |
| Kline, RJ; Khan, IA; Holt, GJ. 2011. Behavior, Color Change and Time for Sexual Inversion in the Protogynous Grouper (Epinephelus adscensionis). PLoS One 6. | 2011 | South & Central America; Mexico | | Fish; Oil & Gas Rigs; Piscivorous Fish; Planktivorous Fish |
| Meyer, E; Aglyamova, GV; Matz, MV. 2011. Profiling gene expression responses of coral larvae (Acropora millepora) to elevated temperature and settlement inducers using a novel RNA-Seq procedure. Molecular Ecology 20:3599-3616. | 2011 | Global; Europe | Decision Support Frameworks & Tools | Algae; Climate; Coralline Algae; Special Use Permitting; Stony Coral |
| Voolstra, CR; Sunagawa, S; Matz, MV; Bayer, T; Aranda, M; Buschiazzo, E; DeSalvo, MK; Lindquist, E; Szmant, AM; Coffroth, MA; Medina, M. 2011. Rapid Evolution of Coral Proteins Responsible for Interaction with the Environment. PLoS One 6. | 2011 | Global | | Anemones & Zooanthids; Climate; Stony Coral |
| Dailianis, T; Tsigenopoulos, CS; Dounas, C; Voultsiadou, E. 2011. Genetic diversity of the imperilled bath sponge Spongia officinalis Linnaeus, 1759 across the Mediterranean Sea: patterns of population differentiation and implications for taxonomy and conservation. Molecular Ecology 20:3757-3772. | 2011 | US Pacific & Hawaii | | Monetary Valuation; Sponges |
| Miller, KJ; Rowden, AA; Williams, A; Haussermann, V. 2011. Out of Their Depth? Isolated Deep Populations of the Cosmopolitan Coral Desmophyllum dianthus May Be Highly Vulnerable to Environmental Change. PLoS One 6. | 2011 | US Pacific & Hawaii; Australia | | Calcium Carbonate Deposition; Climate; Finfish Harvest; Ocean Acidity; Stony Coral |
| Peksa, O; Skaloud, P. 2011. Do photobionts influence the ecology of lichens? A case study of environmental preferences in symbiotic green alga Asterochloris (Trebouxiophyceae). Molecular Ecology 20:3936-3948. | 2011 | | | Algae; Cyanobacteria; Microorganisms; Stony Coral; Substrate |
| Negri, AP; Hoogenboom, MO. 2011. Water Contamination Reduces the Tolerance of Coral Larvae to Thermal Stress. PLoS One 6. | 2011 | Global | Model | Climate; Mitigation; Stony Coral; Waterborne Discharges |
| Barbour, AB; Allen, MS; Frazer, TK; Sherman, KD. 2011. Evaluating the Potential Efficacy of Invasive Lionfish (Pterois volitans) Removals. PLoS One 6. | 2011 | South & Central America; US Pacific & Hawaii; US East Coast (NC, SC, GA); Atlantic Ocean; Caribbean; Mexico | Model | Finfish Harvest; Fish; Invasive Species; Mangroves |
| Yoshimura, T; Tanimizu, M; Inoue, M; Suzuki, A; Iwasaki, N; Kawahata, H. 2011. Mg isotope fractionation in biogenic carbonates of deep-sea coral, benthic foraminifera, and hermatypic coral. Analytical and Bioanalytical Chemistry 401:2755-2769. | 2011 | | | Calcium Carbonate Deposition; Plankton; Sponges; Stony Coral |
| Bongaerts, P; Sampayo, EM; Bridge, TCL; Ridgway, T; Vermeulen, F; Englebert, N; Webster, JM; Hoegh-Guldberg, O. 2011. Symbiodinium diversity in mesophotic coral communities on the Great Barrier Reef: a first assessment. Marine Ecology Progress Series 439:117-126. | 2011 | US Pacific & Hawaii; Australia | | Stony Coral; Zooxanthellae |
| Wu, JJ; Mak, YL; Murphy, MB; Lam, JCW; Chan, WH; Wang, MF; Chan, LL; Lam, PKS. 2011. Validation of an accelerated solvent extraction liquid chromatography-tandem mass spectrometry method for Pacific ciguatoxin-1 in fish flesh and comparison with the mouse neuroblastoma assay. Analytical and Bioanalytical Chemistry 400:3165-3175. | 2011 | Global; US Pacific & Hawaii; Java | Field Study & Monitoring | Apex Fish Predators; Environmental Monitoring, Mapping, & Scientific Research; Fish; Piscivorous Fish |
| Clemente, S; Hernandez, JC; Brito, A. 2011. Context-dependent effects of marine protected areas on predatory interactions. Marine Ecology Progress Series 437:119-133. | 2011 | | | Fish; Marine Protected Areas; Sea Urchins |
| Engle, V. D. 2011. Estimating the provision of ecosystem services by Gulf of Mexico coastal wetlands. Wetlands DOI10.1007/s13157-010-0132-9. | 2011 | South & Central America; Mexico | Review | Carbon Storage & Cycling; Commercial Fisheries; Fishing Sector; Greenhouse Gas Emissions; Lobster, Crab, & Shrimp; Nutrients; Storms & Hurricanes; Surface & Groundwater Flow; Wetlands |
| Floquet, N; Vielzeuf, D. 2011. Mesoscale twinning and crystallographic registers in biominerals. American Mineralogist 96:1228-1237. | 2011 | | Field Study & Monitoring; Model | Octocoral; Sponges |
| Suzuki, G; Arakaki, S; Hayashibara, T. 2011. Rapid in situ settlement following spawning by Acropora corals at Ishigaki, southern Japan. Marine Ecology Progress Series 421:131-138. | 2011 | Japan | Field Study & Monitoring | Stony Coral; Surface & Groundwater Flow |
| Elfman, L; Tooke, NE; Patring, JDM. 2011. Detection of pesticides used in rice cultivation in streams on the island of Leyte in the Philippines. Agricultural Water Management 101:81-87. | 2011 | Global; Southeast Asia; Philippines | Field Study & Monitoring | Agriculture; Chemical Use Regulations; Collaboration & Partnering; Fertilizer & Pesticide Use; Mangroves; Surface & Groundwater Flow; Waterborne Discharges |
| Armoza-Zvuloni, R; Segal, R; Kramarsky-Winter, E; Loya, Y. 2011. Repeated bleaching events may result in high tolerance and notable gametogenesis in stony corals: Oculina patagonica as a model. Marine Ecology Progress Series 426:149-159. | 2011 | | Model | Climate; Stony Coral |
| Luo, P; Hu, CQ; Xia, JJ; Ren, CH; Jiang, X. 2011. Chemical constituent analysis of the crown-of-thorns starfish Acanthaster planci and potential utilization value of the starfish as feed ingredient for animals. African Journal of Biotechnology 10:13610-13616. | 2011 | | | Lobster, Crab, & Shrimp; Seastars |
| Burgess, SC; Marshall, DJ. 2011. Field estimates of planktonic larval duration in a marine invertebrate. Marine Ecology Progress Series 440:151-161. | 2011 | | Field Study & Monitoring; Lab Study | Plankton |
| D'Alessandro, EK; Sponaugle, S. 2011. Comparative predation rates on larval snappers (Lutjanidae) in oceanic, reef, and nearshore waters. Journal of Experimental Marine Biology and Ecology 399:182-187. | 2011 | Florida; US East Coast (NC, SC, GA) | | Fish; Piscivorous Fish; Seagrasses; Substrate; Surface & Groundwater Flow |
| Bassett, DK; Montgomery, JC. 2011. Investigating nocturnal fish populations in situ using baited underwater video: With special reference to their olfactory capabilities. Journal of Experimental Marine Biology and Ecology 409:194-199. | 2011 | | | Fish |
| Green, DH; Edmunds, PJ. 2011. Spatio-temporal variability of coral recruitment on shallow reefs in St. John, US Virgin Islands. Journal of Experimental Marine Biology and Ecology 397:220-229. | 2011 | South & Central America; US Virgin Islands; Caribbean | | Forestry; Stony Coral; Surface & Groundwater Flow |
| Herler, J; Dirnwober, M. 2011. A simple technique for measuring buoyant weight increment of entire, transplanted coral colonies in the field. Journal of Experimental Marine Biology and Ecology 407:250-255. | 2011 | Global | Field Study & Monitoring; Lab Study | Stony Coral |
| Connell, SD; Russell, BD; Irving, AD. 2011. Can strong consumer and producer effects be reconciled to better forecast 'catastrophic' phase-shifts in marine ecosystems? Journal of Experimental Marine Biology and Ecology 400:296-301. | 2011 | Global | Model | Climate; CO2; Finfish Harvest; Seagrasses; Surface & Groundwater Flow |
| Condie, SA; Mansbridge, JV; Cahill, ML. 2011. Contrasting local retention and cross-shore transports of the East Australian Current and the Leeuwin Current and their relative influences on the life histories of small pelagic fishes. Deep-Sea Research Part II: Topical Studies in Oceanography 58:606-615. | 2011 | Australia | | |
| Syahailatua, A; Taylor, MD; Suthers, IM. 2011. Growth variability and stable isotope composition of two larval carangid fishes in the East Australian Current: The role of upwelling in the separation zone. Deep-Sea Research Part II: Topical Studies in Oceanography 58:691-698. | 2011 | Australia | | Nutrients |
| Baird, ME; Everett, JD; Suthers, IM. 2011. Analysis of southeast Australian zooplankton observations of 1938-42 using synoptic oceanographic conditions. Deep-Sea Research Part II: Topical Studies in Oceanography 58:699-711. | 2011 | Australia | | Climate; Plankton; Tunicates |
| Zintzen, V; Roberts, CD; Clark, MR; Williams, A; Althaus, F; Last, PR. 2011. Composition, distribution and regional affinities of the deepwater ichthyofauna of the Lord Howe Rise and Norfolk Ridge, south-west Pacific Ocean. Deep-Sea Research Part II: Topical Studies in Oceanography 58:933-947. | 2011 | US Pacific & Hawaii; Australia; Pacific Ocean; New Caledonia | | Finfish Harvest; Fish |
| Williams, A; Althaus, F; Clark, MR; Gowlett-Holmes, K. 2011. Composition and distribution of deep-sea benthic invertebrate megafauna on the Lord Howe Rise and Norfolk Ridge, southwest Pacific Ocean. Deep-Sea Research Part II: Topical Studies in Oceanography 58:948-958. | 2011 | US Pacific & Hawaii; Australia; Pacific Ocean; New Caledonia | | |
| Toropov, AA; Toropova, AP; Lombardo, A; Roncaglioni, A; Benfenati, E; Gini, G. 2011. CORAL: Building up the model for bioconcentration factor and defining it's applicability domain. European Journal Of Medicinal Chemistry 46:1400-1403. | 2011 | | Model | Fish |
| Darling, ES; Green, SJ; O'Leary, JK; Cote, IM. 2011. Indo-Pacific lionfish are larger and more abundant on invaded reefs: a comparison of Kenyan and Bahamian lionfish populations. Biological Invasions 13:2045-2051. | 2011 | South & Central America; US Pacific & Hawaii; US East Coast (NC, SC, GA); Bahamas; Kenya; Caribbean; Mexico | Field Study & Monitoring | Fish; Invasive Species |
| Messmer, V; Jones, GP; Munday, PL; Holbrook, SJ; Schmitt, RJ; Brooks, AJ. 2011. Habitat biodiversity as a determinant of fish community structure on coral reefs. Ecology 92:2285-2298. | 2011 | Australia | Field Study & Monitoring | Climate; Fish; Stony Coral |
| Littman, R; Willis, BL; Bourne, DG. 2011. Metagenomic analysis of the coral holobiont during a natural bleaching event on the Great Barrier Reef. Environmental Microbiology Reports 3:651-660. | 2011 | Australia | | Algae; Microorganisms; Pathogens; Stony Coral |
| Stine, MB; Butler, DR. 2011. A content analysis of biogeomorphology within geomorphology textbooks. Geomorphology 125:336-342. | 2011 | | Review; Field Study & Monitoring | Surface & Groundwater Flow |
| Fung, T; Seymour, RM; Johnson, CR. 2011. Alternative stable states and phase shifts in coral reefs under anthropogenic stress. Ecology 92:967-982. | 2011 | Florida | Model | Algae; Finfish Harvest; Nutrients; Sea Urchins; Sediment |
| Webster, NS; Botte, ES; Soo, RM; Whalan, S. 2011. The larval sponge holobiont exhibits high thermal tolerance. Environmental Microbiology Reports 3:756-762. | 2011 | Global; Australia | | Climate; Collaboration & Partnering; Sponges |
| Cai, L; Wang, Q; Gu, CM; Wu, JG; Wang, J; Kang, N; Hu, JW; Xie, F; Yan, L; Liu, X; Cao, YL; Xiao, R. 2011. Vascular and micro-environmental influences on MSC-coral hydroxyapatite construct-based bone tissue engineering. Biomaterials 32:8497-8505. | 2011 | | Model | Pharmaceuticals & Cosmetics; Pharmaceuticals & Cosmetics Sources |
| Hata, H; Umezawa, Y. 2011. Food habits of the farmer damselfish Stegastes nigricans inferred by stomach content, stable isotope, and fatty acid composition analyses. Ecological Research 26:809-818. | 2011 | India; Japan | | Algae; Fish; Nutrients; Small Herbivorous Fish |
| Melbourne-Thomas, J; Johnson, CR; Alino, PM; Geronimo, RC; Villanoy, CL; Gurney, GG. 2011. A multi-scale biophysical model to inform regional management of coral reefs in the western Philippines and South China Sea. Environmental Modelling & Software 26:66-82. | 2011 | China; Philippines | Model; Decision Support Frameworks & Tools | Climate; Decision Support; Fish; Fishing & Harvesting Management; Fishing Sector; Mitigation; Nutrients; Sea Urchins |
| Sheremet, A; Kaihatu, JM; Su, SF; Smith, ER; Smith, JM. 2011. Modeling of nonlinear wave propagation over fringing reefs. Coastal Engineering 58:1125-1137. | 2011 | | Lab Study; Model | |
| Bruno, JF; Ellner, SP; Vu, I; Kim, K; Harvell, CD. 2011. Impacts of aspergillosis on sea fan coral demography: modeling a moving target. Ecological Monographs 81:123-139. | 2011 | South & Central America; Florida; Caribbean; Mexico | Model | Nutrients; Octocoral; Pathogens |
| Yang, SL; Gao, RS; Niu, PL; Zou, ZY; Yu, RH. 2011. Arc Discharge Synthesis and Photoluminescence of 3D Feather-like AlN Nanostructures. Nanoscale Research Letters 6. | 2011 | | Field Study & Monitoring; Model | Discharges; Fish; Nutrients |
| van der Meij, SET; Visser, RR. 2011. The Acropora Humilis Group (Scleractinia) Of The Snellius Expedition (1929-30). Raffles Bulletin of Zoology 59:9-17. | 2011 | Indonesia; Philippines | | Stony Coral |
| Thomas, S; Sreeram, MP; Kakati, VS; Manisseri, MK; George, RM. 2011. Coral fish diversity in Netrani waters off Murudeshwar Karnataka, south India. Indian Journal Of Fisheries 58:45-51. | 2011 | India | Index or Indicator | Corallivorous Fish; Fish; Large Herbivorous Fish; Small Herbivorous Fish |
| Storz, D; Gischler, E. 2011. Coral extension rates in the NW Indian Ocean I: reconstruction of 20th century SST variability and monsoon current strength. Geo-Marine Letters 31:141-154. | 2011 | Indian Ocean; Chagos Archipelago; Maldives; India | Index or Indicator | Climate; Stony Coral |
| Aragon, J; Gonzalez, R; Fuentes, G; Palin, L; Croce, G; Viterbo, D. 2011. Development and Characterization of a Novel Bioresorbable and Bioactive Biomaterial Based on Polyvinyl Acetate, Calcium Carbonate and Coralline Hydroxyapatite. Materials Research-Ibero-American Journal of Materials 14:25-30. | 2011 | Cuba | | Pharmaceuticals & Cosmetics; Pharmaceuticals & Cosmetics Sources; Stony Coral |
| Kachhara, RP; Jodhawat, RL; Devi, KB. 2011. Molluscan Biostratigraphy Of The Palaeogene Sediments Around Lakhpat, Kachchh, Gujarat, India. Journal of the Paleontological Society of India 56:17-28. | 2011 | India | | Sediment |
| Pandey, DK; Fursich, FT; Gameil, M; Ayoub-Hannaa, WS. 2011. Aspidiscus Cristatus (Lamarck) From The Cenomanian Sediments Of Wadi Quseib, East Sinai, Egypt. Journal of the Paleontological Society of India 56:29-37. | 2011 | Egypt; Oman | Index or Indicator | Sediment; Substrate |
| Nowak, K; Lee, PC. 2011. Demographic Structure of Zanzibar Red Colobus Populations in Unprotected Coral Rag and Mangrove Forests. Pages 24-45 in 22nd Congress of the International-Primatological-Society. NEW YORK. | 2011 | Global | Index or Indicator | Landscape Conservation & Restoration; Mangroves |
| Raveendran, TV; Mol, VPL; Parameswaran, PS. 2011. Natural Product Antifoulants from the octocorals of Indian waters. International Biodeterioration and Biodegradation 65:265-268. | 2011 | Global; India | | Octocoral |
| Nair, JR; Pillai, D; Joseph, SM; Gomathi, P; Senan, PV; Sherief, PM. 2011. Cephalopod research and bioactive substances. Indian journal of GeoMarine Sciences 40:13-27. | 2011 | | Review; Field Study & Monitoring; Lab Study | Algae; Echinoderms; Fish; Octocoral; Octopus & Squid; Sponges; Tunicates |
| Lakshmi, CSV; Trivedi, D; Srinivasan, P; Murthy, SGN; Nair, RR. 2011. Subsurface reflections of prograded paleoscarps in Avis Island, North Andaman, India. Indian journal of GeoMarine Sciences 40:331-337. | 2011 | US East Coast (NC, SC, GA); India; Thailand | Index or Indicator | Sediment |
| Hoadley, KD; Szmant, AM; Pyott, SJ. 2011. Circadian Clock Gene Expression in the Coral Favia fragum over Diel and Lunar Reproductive Cycles. PLoS One 6. | 2011 | | Field Study & Monitoring | Hydrocoral; Stony Coral |
| Rankin, TL; Sponaugle, S. 2011. Temperature Influences Selective Mortality during the Early Life Stages of a Coral Reef Fish. PLoS One 6. | 2011 | Florida | | Fish; Marine Worms; Small Herbivorous Fish |
| Tebben, J; Tapiolas, DM; Motti, CA; Abrego, D; Negri, AP; Blackall, LL; Steinberg, PD; Harder, T. 2011. Induction of Larval Metamorphosis of the Coral Acropora millepora by Tetrabromopyrrole Isolated from a Pseudoalteromonas Bacterium. PLoS One 6. | 2011 | Europe | Lab Study | Algae; Coralline Algae; Marine Worms; Microorganisms; Stony Coral; Substrate |
| Dickens, LC; Goatley, CHR; Tanner, JK; Bellwood, DR. 2011. Quantifying Relative Diver Effects in Underwater Visual Censuses. PLoS One 6. | 2011 | Australia; Cuba | Decision Support Frameworks & Tools | Fish |
| Davies, AJ; Guinotte, JM. 2011. Global Habitat Suitability for Framework-Forming Cold-Water Corals. PLoS One 6. | 2011 | Global; US Pacific & Hawaii; Australia; Indian Ocean; US East Coast (NC, SC, GA); India | Field Study & Monitoring; Model; GIS & Maps | Accidental & Illegal Harvest; Calcium Carbonate Deposition; Commercial Fisheries; Fishing Sector; Marine Protected Areas; Ocean Acidity; Salinity; Stony Coral |
| Hoeke, RK; Jokiel, PL; Buddemeier, RW; Brainard, RE. 2011. Projected Changes to Growth and Mortality of Hawaiian Corals over the Next 100 Years. PLoS One 6. | 2011 | US Pacific & Hawaii | Review; Model | Climate; CO2; Greenhouse Gas Emissions; Ocean Acidity; Stony Coral; Surface & Groundwater Flow |
| Webster, NS; Soo, R; Cobb, R; Negri, AP. 2011. Elevated seawater temperature causes a microbial shift on crustose coralline algae with implications for the recruitment of coral larvae. ISME Journal 5:759-770. | 2011 | | | Algae; Climate; Coralline Algae; Microorganisms; Ocean Acidity; Pathogens; Surface & Groundwater Flow |
| Mercier, A; Sun, Z; Hamel, JF. 2011. Reproductive periodicity, spawning and development of the deep-sea scleractinian coral Flabellum angulare. Marine Biology 158:371-380. | 2011 | US East Coast (NC, SC, GA) | Field Study & Monitoring | Echinoderms; Stony Coral |
| Akagi, T; Fu, FF; Hongo, Y; Takahashi, K. 2011. Composition of rare earth elements in settling particles collected in the highly productive North Pacific Ocean and Bering Sea: Implications for siliceous-matter dissolution kinetics and formation of two REE-enriched phases. Geochimica et Cosmochimica Acta 75:4857-4876. | 2011 | US Pacific & Hawaii; US East Coast (NC, SC, GA); Pacific Ocean; Japan | | Sediment |
| Koenig, JE; Bourne, DG; Curtis, B; Dlutek, M; Stokes, HW; Doolittle, WF; Boucher, Y. 2011. Coral-mucus-associated Vibrio integrons in the Great Barrier Reef: genomic hotspots for environmental adaptation. ISME Journal 5:962-972. | 2011 | Australia | | Climate; Pathogens; Stony Coral |
| Bejarano, S; Mumby, PJ; Sotheran, I. 2011. Predicting structural complexity of reefs and fish abundance using acoustic remote sensing (RoxAnn). Marine Biology 158:489-504. | 2011 | South & Central America; Belize; Caribbean | Remote Sensing | Complex Habitat & Resources; Corallivorous Fish; Fish; Large Herbivorous Fish; Piscivorous Fish; Small Herbivorous Fish; Substrate |
| Andrews, AH; Natanson, LJ; Kerr, LA; Burgess, GH; Cailliet, GM. 2011. Bomb radiocarbon and tag-recapture dating of sandbar shark (Carcharhinus plumbeus). Fishery Bulletin 109:454-465. | 2011 | South & Central America; US East Coast (NC, SC, GA); Mexico | | Apex Fish Predators; Finfish Harvest; Fishing Sector |
| Uda, K; Komeda, Y; Koyama, H; Koga, K; Fujita, T; Iwasaki, N; Suzuki, T. 2011. Complete mitochondrial genomes of two Japanese precious corals, Paracorallium japonicum and Corallium konojoi (Cnidaria, Octocorallia, Coralliidae): Notable differences in gene arrangement. Gene 476:27-37. | 2011 | US Pacific & Hawaii; Japan; Taiwan | | Octocoral; Ornamental Jewelry & Art; Stony Coral |
| Cleveland, A; Verde, EA; Lee, RW. 2011. Nutritional exchange in a tropical tripartite symbiosis: direct evidence for the transfer of nutrients from anemonefish to host anemone and zooxanthellae. Marine Biology 158:589-602. | 2011 | | Field Study & Monitoring; Lab Study | Anemones & Zooanthids; Fish; Nutrients; Zooxanthellae |
| Kawabata, Y; Asami, K; Kobayashi, M; Sato, T; Okuzawa, K; Yamada, H; Yoseda, K; Arai, N. 2011. Effect of shelter acclimation on the post-release movement and putative predation mortality of hatchery-reared black-spot tuskfish Choerodon schoenleinii, determined by acoustic telemetry. Fisheries Science 77:345-355. | 2011 | Japan | Model | Fish |
| Gray, MA; Stone, RP; McLaughlin, MR; Kellogg, CA. 2011. Microbial consortia of gorgonian corals from the Aleutian islands. FEMS Microbiology Ecology 76:109-120. | 2011 | | | Fish; Fishing Sector; Octocoral; Stony Coral |
| Macdonald, AHH; Schleyer, MH; Lamb, JM. 2011. Acropora austera connectivity in the south-western Indian Ocean assessed using nuclear intron sequence data. Marine Biology 158:613-621. | 2011 | Indian Ocean; Mozambique; India; South Africa | Index or Indicator | Marine Protected Areas; Stony Coral |
| Kawabata, Y; Asami, K; Kobayashi, M; Sato, T; Okuzawa, K; Yamada, H; Yoseda, K; Arai, N. 2011. Effect of shelter acclimation on the post-release survival of hatchery-reared black-spot tuskfish Choerodon schoenleinii: laboratory experiments using the reef-resident predator white-streaked grouper Epinephelus ongus. Fisheries Science 77:79-85. | 2011 | | Lab Study | Fish; Piscivorous Fish |
| Ceh, J; van Keulen, M; Bourne, DG. 2011. Coral-associated bacterial communities on Ningaloo Reef, Western Australia. FEMS Microbiology Ecology 75:134-144. | 2011 | Australia | | Microorganisms; Nutrients; Pathogens; Stony Coral; Surface & Groundwater Flow |
| Schutter, M; Kranenbarg, S; Wijffels, RH; Verreth, J; Osinga, R. 2011. Modification of light utilization for skeletal growth by water flow in the scleractinian coral Galaxea fascicularis. Marine Biology 158:769-777. | 2011 | Cuba | | Light; Primary Production; Seawater Flow; Stony Coral |
| Tanaka, K; Hanamura, Y; Chong, VC; Watanabe, S; Man, A; Kassim, FM; Kodama, M; Ichikawa, T. 2011. Stable isotope analysis reveals ontogenetic migration and the importance of a large mangrove estuary as a feeding ground for juvenile John's snapper Lutjanus johnii. Fisheries Science 77:809-816. | 2011 | Malaysia | | Fish; Lobster, Crab, & Shrimp; Mangroves; Nutrients; Piscivorous Fish; Surface & Groundwater Flow |
| Yamashita, H; Suzuki, G; Hayashibara, T; Koike, K. 2011. Do corals select zooxanthellae by alternative discharge? Marine Biology 158:87-100. | 2011 | South & Central America; Caribbean | | Climate; Discharges; Stony Coral; Zooxanthellae |
| Sajina, AM; Chakraborty, SK; Jaiswar, AK; Pazhayamadam, DG; Sudheesan, D. 2011. Stock structure analysis of Megalaspis cordyla (Linnaeus, 1758) along the Indian coast based on truss network analysis. Fisheries Research 108:100-105. | 2011 | US East Coast (NC, SC, GA); India | | Fish |
| Faxneld, S., T. Lund J�rgensen, N. D. Nguyen, M. Nystr�m, and M. Tedengren. 2011. Differences in physiological response to increased seawater temperature in nearshore and offshore corals in northern Vietnam. Marine Environmental Research 71:225-233. | 2011 | Vietnam | | Primary Production; Sediment; Stony Coral |
| Saini, R; Majhi, MC; Kapoor, R; Kumar, R; Kumar, A. 2011. Carbon dioxide (CO(2)) utilizing strain database. African Journal of Biotechnology 10:13818-13822. | 2011 | Global | | Algae; CO2; Microorganisms |
| Slattery, M; Lesser, MP; Brazeau, D; Stokes, MD; Leichter, JJ. 2011. Connectivity and stability of mesophotic coral reefs. Journal of Experimental Marine Biology and Ecology 408:32-41. | 2011 | Florida; US Pacific & Hawaii | Review | Algae; Climate; Fish; Sponges |
| Shahhosseiny, MH; Mostafavi, PG; Fatemi, SMR; Karimi, E. 2011. Clade identification of symbiotic zooxanthellae of dominant sclerectinian coral species of intertidal pools in Hengam Island. African Journal of Biotechnology 10:1502-1506. | 2011 | Iran | | Light; Nutrients; Salinity; Stony Coral; Zooxanthellae |
| Tay, YC; Guest, JR; Chou, LM; Todd, PA. 2011. Vertical distribution and settlement competencies in broadcast spawning coral larvae: Implications for dispersal models. Journal of Experimental Marine Biology and Ecology 409:324-330. | 2011 | | Model | Fish; Stony Coral |
| Goetz, AJ; Steinmetz, DR; Griesshaber, E; Zaefferer, S; Raabe, D; Kelm, K; Irsen, S; Sehrbrock, A; Schmahl, WW. 2011. Interdigitating biocalcite dendrites form a 3-D jigsaw structure in brachiopod shells. Acta Biomaterialia 7:2237-2243. | 2011 | | Model | Calcium Carbonate Deposition |
| Williamson, EA; Strychar, KB; Withers, K; Sterba-Boatwright, B. 2011. Effects of salinity and sedimentation on the Gorgonian Coral, Leptogorgia virgulata (Lamarck 1815). Journal of Experimental Marine Biology and Ecology 409:331-338. | 2011 | South & Central America; Mexico | | Dredging, Draining, & Filling; Non-point Source Runoff; Octocoral; Salinity; Sediment; Substrate; Tourism & Recreation |
| Francis, T. B., P. S. Levin, and C. J.Harvey. 2011. The perils and promise of futures analysis in marine ecosystem-based management. Marine Policy 35:675-681. | 2011 | | Review; Model | Surface & Groundwater Flow |
| Chisholm, RA; Pacala, SW. 2011. Theory predicts a rapid transition from niche-structured to neutral biodiversity patterns across a speciation-rate gradient. Theoretical Ecology 4:195-200. | 2011 | | Model | |
| Luna-Perez, B; Valle-Perez, C; Sanchez-Lizaso, JL. 2011. Halocynthia papillosa as SCUBA diving impact indicator: An in situ experiment. Journal of Experimental Marine Biology and Ecology 398:33-39. | 2011 | Cuba | Model; Index or Indicator | Dive, Snorkeling, & Swimming Tourism; Sediment |
| White, JW. 2011. Can inverse density dependence at small spatial scales produce dynamic instability in animal populations? Theoretical Ecology 4:357-370. | 2011 | | Model | Fish |
| Eme, J; Dabruzzi, TF; Bennett, WA. 2011. Thermal responses of juvenile squaretail mullet (Liza vaigiensis) and juvenile crescent terapon (Terapon jarbua) acclimated at near-lethal temperatures, and the implications for climate change. Journal of Experimental Marine Biology and Ecology 399:35-38. | 2011 | Indonesia | | Fish; Mangroves; Sea Temperatures; Seagrasses; Wholesale & Retail Trade |
| Graham, N. A. J., P. Chabanet, R. D. Evans, S. Jennings, Y. Letourneur, M. A. MacNeil, T. R. McClanahan, M. C. O� hman, N. V. C. Polunin, and S. K. Wilson. 2011. Extinction vulnerability of coral reef fishes. Ecology Letters 1-8. | 2011 | Global | | Climate; Finfish Harvest; Fish; Fishing & Harvesting Management; Fishing Sector |
| Howarth, R., F. Chan, D. J. Conley, J. Garnier, S. C. Doney, R. Marino, and G. Billen. 2011. Coupled biogeochemical cycles: eutrophication and hypoxia in temperate estuaries and coastal marine ecosystems. Frontiers in Ecology and the Environment 9:18-26. | 2011 | | Field Study & Monitoring | Molluscs; Nutrients; Ocean Acidity; Plankton; Salinity |
| Banziger, H; Pumikong, S; Srimuang, KO. 2011. The Remarkable Nest Entrance of Tear Drinking Pariotrigona klossi and Other Stingless Bees Nesting in Limestone Cavities (Hymenoptera: Apidae). Journal of the Kansas Entomological Society 84:22-35. | 2011 | Thailand; Malaysia | | Substrate |
| Navalgund, RR; Singh, RP. 2011. Climate Change Studies Using Space Based Observation. Journal of the Indian Society of Remote Sensing 39:281-295. | 2011 | Global; India | Review; Field Study & Monitoring; Model; Index or Indicator; GIS & Maps | Climate; Deforestation & Devegetation; Environmental Monitoring, Mapping, & Scientific Research; Forestry; Greenhouse Gas Emissions; Housing; Irrigation; Light; Salinity; Water Depth & Sea Level; Wetlands |
| Kjaer, KH; Ottosen, CO. 2011. Growth of Chrysanthemum in Response to Supplemental Light Provided by Irregular Light Breaks during the Night. Journal of the American Society for Horticultural Science 136:3-9. | 2011 | | | Climate; Light; Primary Production; Utility Policies |
| Sarin, P; Lee, SJ; Apostolov, ZD; Kriven, WM. 2011. Porous Biphasic Calcium Phosphate Scaffolds from Cuttlefish Bone. Journal of the American Ceramic Society 94:2362-2370. | 2011 | | | Fish; Pharmaceuticals & Cosmetics; Pharmaceuticals & Cosmetics Sources |
| Gorzelak, P; Stolarski, J; Dubois, P; Kopp, C; Meibom, A. 2011. (26)mg labeling of the sea urchin regenerating spine: Insights into echinoderm biomineralization process. Journal of Structural Biology 176:119-126. | 2011 | | | Echinoderms; Sea Urchins |
| van Oppen, MJH; Peplow, LM; Kininmonth, S; Berkelmans, R. 2011. Historical and contemporary factors shape the population genetic structure of the broadcast spawning coral, Acropora millepora, on the Great Barrier Reef. Molecular Ecology 20:4899-4914. | 2011 | Australia | | Climate; Octocoral; Seastars; Stony Coral |
| Cole, AJ; Pratchett, MS. 2011. Inter-specific variation in susceptibility to grazing among common reef corals. Marine Ecology Progress Series 422:155-164. | 2011 | | | Corallivorous Fish; Planktivorous Fish; Stony Coral |
| Pettay, DT; Wham, DC; Pinzon, JH; Lajeunesse, TC. 2011. Genotypic diversity and spatial-temporal distribution of Symbiodinium clones in an abundant reef coral. Molecular Ecology 20:5197-5212. | 2011 | US Pacific & Hawaii | | Climate; Octocoral; Stony Coral |
| Green, SJ; Akins, JL; Cote, IM. 2011. Foraging behaviour and prey consumption in the Indo-Pacific lionfish on Bahamian coral reefs. Marine Ecology Progress Series 433:159-167. | 2011 | South & Central America; US Pacific & Hawaii; Bahamas; Caribbean | | Fish; Invasive Species |
| Carlon, DB; Lippe, C. 2011. Estimation of mating systems in Short and Tall ecomorphs of the coral Favia fragum. Molecular Ecology 20:812-828. | 2011 | | | Snails & Conch; Stony Coral |
| Nakamura, R; Ando, W; Yamamoto, H; Kitano, M; Sato, A; Nakamura, M; Kayanne, H; Omori, M. 2011. Corals mass-cultured from eggs and transplanted as juveniles to their native, remote coral reef. Marine Ecology Progress Series 436:161-168. | 2011 | US Pacific & Hawaii; Japan | Lab Study | Stony Coral; Substrate |
| Sherwood, OA; Lehmann, MF; Schubert, CJ; Scott, DB; McCarthy, MD. 2011. Nutrient regime shift in the western North Atlantic indicated by compound-specific delta(15)N of deep-sea gorgonian corals. Proceedings of the National Academy of Sciences of the United States of America 108:1011-1015. | 2011 | Global; US East Coast (NC, SC, GA) | | Climate; Nutrients; Octocoral; Plankton; Sediment |
| Paul, VJ; Kuffner, IB; Walters, LJ; Ritson-Williams, R; Beach, KS; Becerro, MA. 2011. Chemically mediated interactions between macroalgae Dictyota spp. and multiple life-history stages of the coral Porites astreoides. Marine Ecology Progress Series 426:161-170. | 2011 | South & Central America; Caribbean | Field Study & Monitoring | Algae; Climate; Fleshy Macroalgae; Stony Coral |
| McClanahan, TR; Graham, NAJ; MacNeil, MA; Muthiga, NA; Cinner, JE; Bruggemann, JH; Wilson, SK. 2011. Critical thresholds and tangible targets for ecosystem-based management of coral reef fisheries. Proceedings of the National Academy of Sciences of the United States of America 108:17230-17233. | 2011 | Indian Ocean; India | Index or Indicator | Finfish Harvest; Fish; Fishing Sector; Marine Protected Areas |
| Long, JD; Cochrane, E; Dolecal, RE. 2011. Previous disturbance enhances the negative effects of trampling on barnacles. Marine Ecology Progress Series 437:165-173. | 2011 | | | Trampling |
| Galy, N; Santelli, M. 2011. Efficient synthesis of 17-acetyl-13-(p-bromophenyl)-3-methoxy-11,11-bis(methoxycarbonyl)gona-1,3,5(10)-trienes. Steroids 76:695-701. | 2011 | | | Octocoral |
| Rawlinson, KA; Gillis, JA; Billings, RE; Borneman, EH. 2011. Taxonomy and life history of the Acropora-eating flatworm Amakusaplana acroporae nov sp (Polycladida: Prosthiostomidae). Coral Reefs 30:693-705. | 2011 | | Model | Stony Coral; Zooxanthellae |
| Symonds, G; Zhong, LJ; Mortimer, NA. 2011. Effects of wave exposure on circulation in a temperate reef environment. Journal of Geophysical Research C: Oceans 116. | 2011 | Australia | Model | Shoreline Protection; Water Depth & Sea Level |
| Baker, DM; Kim, K; Andras, JP; Sparks, JP. 2011. Light-mediated (15)N fractionation in Caribbean gorgonian octocorals: implications for pollution monitoring. Coral Reefs 30:709-717. | 2011 | South & Central America; Florida; Caribbean | Field Study & Monitoring; Lab Study | Algae; Environmental Monitoring, Mapping, & Scientific Research; Nutrients; Octocoral; Primary Production; Stony Coral; Zooxanthellae |
| Rosman, JH; Hench, JL. 2011. A framework for understanding drag parameterizations for coral reefs. Journal of Geophysical Research C: Oceans 116. | 2011 | | Field Study & Monitoring; Model | Stony Coral |
| Pequignet, AC; Becker, JM; Merrifield, MA; Boc, SJ. 2011. The dissipation of wind wave energy across a fringing reef at Ipan, Guam. Coral Reefs 30:71-82. | 2011 | Guam | Field Study & Monitoring | Beaches & Nature Parks; Shoreline Protection; Storms & Hurricanes; Water Depth & Sea Level |
| Hoeke, R; Storlazzi, C; Ridd, P. 2011. Hydrodynamics of a bathymetrically complex fringing coral reef embayment: Wave climate, in situ observations, and wave prediction. Journal of Geophysical Research C: Oceans 116. | 2011 | US Pacific & Hawaii | Model | Sediment; Shoreline Protection |
| Stella, JS; Munday, PL; Jones, GP. 2011. Effects of coral bleaching on the obligate coral-dwelling crab Trapezia cymodoce. Coral Reefs 30:719-727. | 2011 | US Pacific & Hawaii; Australia; India | Lab Study | Climate; Seastars; Stony Coral |
| Taebi, S; Lowe, RJ; Pattiaratchi, CB; Ivey, GN; Symonds, G; Brinkman, R. 2011. Nearshore circulation in a tropical fringing reef system. Journal of Geophysical Research C: Oceans 116. | 2011 | Australia | Field Study & Monitoring | Shoreline Protection; Water Depth & Sea Level |
| Young, MAL; Bellwood, DR. 2011. Diel patterns in sea urchin activity and predation on sea urchins on the Great Barrier Reef. Coral Reefs 30:729-736. | 2011 | Australia; Kenya | | Climate; Fish; Sea Urchins |
| Ishihara, T; Tachihara, K. 2011. Pelagic Larval Duration and Settlement Size of Apogonidae, Labridae, Scaridae, and Tripterygiidae Species in a Coral Lagoon of Okinawa Island, Southern Japan. Pacific Science 65:87-93. | 2011 | US Pacific & Hawaii; US East Coast (NC, SC, GA); Japan | | Corallivorous Fish; Large Herbivorous Fish; Planktivorous Fish; Small Herbivorous Fish |
| Puspasari, F; Nurachman, Z; Noer, AS; Radjasa, OK; van der Maarel, MJEC; Natalia, D. 2011. Characteristics of raw starch degrading alpha-amylase from Bacillus aquimaris MKSC 6.2 associated with soft coral Sinularia sp. Starch-Starke 63:461-467. | 2011 | Java; Indonesia | | Octocoral |
| White, JW; Samhouri, JF. 2011. Oceanographic coupling across three trophic levels shapes source-sink dynamics in marine metacommunities. Oikos 120:1151-1164. | 2011 | US Virgin Islands; Bahamas | Model | Planktivorous Fish; Plankton |
| Shefferson, RP; McCormick, MK; Whigham, DF; O'Neill, JP. 2011. Life history strategy in herbaceous perennials: inferring demographic patterns from the aboveground dynamics of a primarily subterranean, myco-heterotrophic orchid. Oikos 120:1291-1300. | 2011 | | Field Study & Monitoring; Model | Environmental Monitoring, Mapping, & Scientific Research; Primary Production |
| Buenau, KE; Price, NN; Nisbet, RM. 2011. Local interactions drive size dependent space competition between coral and crustose coralline algae. Oikos 120:941-949. | 2011 | | Model | Algae; Coralline Algae; Stony Coral |
| Boizard, SD; Mitchell, SJ. 2011. Resistance of red mangrove (Rhizophora mangle L.) seedlings to deflection and extraction. Trees - Structure and Function 25:371-381. | 2011 | South & Central America; US East Coast (NC, SC, GA); Caribbean | | Mangroves; Shoreline Protection; Skeletal Coral; Storms & Hurricanes; Substrate |
| Mozumder, P; Flugman, E; Randhir, T. 2011. Adaptation behavior in the face of global climate change: Survey responses from experts and decision makers serving the Florida Keys. Ocean and Coastal Management 54:37-44. | 2011 | Global; Florida | | Climate |
| Cullen-Unsworth, LC; Pretty, J; Smith, DJ. 2011. Developing community-derived indicators of economic status in the coral triangle: A management support tool. Ocean and Coastal Management 54:446-454. | 2011 | US Pacific & Hawaii; Indonesia | Index or Indicator; Decision Support Frameworks & Tools | Complex Habitat & Resources; Housing; Marine Protected Areas |
| Storz, D; Gischler, E. 2011. Coral extension rates in the NW Indian Ocean II: reconstruction of 20th century Indian monsoon strength and rainfall over India. Geo-Marine Letters 31:155-162. | 2011 | US Pacific & Hawaii; Indian Ocean; Maldives; India | Index or Indicator; GIS & Maps | Climate; Stony Coral |
| Palomino, D; Vazquez, JT; Ercilla, G; Alonso, B; Lopez-Gonzalez, N; Diaz-del-Rio, V. 2011. Interaction between seabed morphology and water masses around the seamounts on the Motril Marginal Plateau (Alboran Sea, Western Mediterranean). Pages 465-479 in International Congress on Deep-Water Circulation - Processes and Products. NEW YORK. | 2011 | US East Coast (NC, SC, GA); Spain | | Sediment |
| Martorelli, E; Petroni, G; Chiocci, FL. 2011. Contourites offshore Pantelleria Island (Sicily Channel, Mediterranean Sea): depositional, erosional and biogenic elements. Pages 481-493 in International Congress on Deep-Water Circulation - Processes and Products. NEW YORK. | 2011 | US East Coast (NC, SC, GA) | | Sediment; Water Depth & Sea Level |
| Di Franco, A; De Benedetto, G; De Rinaldis, G; Raventos, N; Sahyoun, R; Guidetti, P. 2011. Large scale-variability in otolith microstructure and microchemistry: The case study of Diplodus sargus sargus (Pisces: Sparidae) in the Mediterranean Sea. Italian Journal of Zoology 78:182-192. | 2011 | US East Coast (NC, SC, GA) | | Fish; Marine Protected Areas; Plankton |
| Bo, M; Bavestrello, G; Canese, S; Giusti, M; Angiolillo, M; Cerrano, C; Salvati, E; Greco, S. 2011. Coral assemblage off the Calabrian Coast (South Italy) with new observations on living colonies of Antipathes dichotoma. Italian Journal of Zoology 78:231-242. | 2011 | | Field Study & Monitoring | |
| Carrera-Parra, LF; Fauchald, K; Gambi, MC. 2011. Revision of the taxonomic status of Lysidice (Polychaeta, Eunicidae) in the Western Caribbean Sea with observation on species reproductive features and habitat preference. Italian Journal of Zoology 78:27-40. | 2011 | South & Central America; Belize; Caribbean | | Marine Worms; Seagrasses; Skeletal Coral; Sponges |
| Sukumaran, S; George, RM; Vinod, K; Sobhana, KS; Naomi, TS; Manisseri, MK. 2011. Temporal patterns in biodiversity and health status of reef corals of Palk Bay. Indian Journal Of Fisheries 58:73-77. | 2011 | | Index or Indicator | Pathogens; Stony Coral |
| Hegazy, MEF; El-Beih, AA; Moustafa, AY; Hamdy, AA; Alhammady, MA; Selim, RM; Abdel-Rehim, M; Pare, PW. 2011. Cytotoxic Cembranoids from the Red Sea Soft Coral Sarcophyton glaucum. Natural Product Communications 6:1809-1812. | 2011 | | | Octocoral |
| Eynaud, Y; Nisbet, RM; Muller, EB. 2011. Impact of excess and harmful radiation on energy budgets in scleractinian corals. Ecological Modelling 222:1315-1322. | 2011 | | Model | Light; Nutrients; Primary Production; Stony Coral |
| Lopes, DA; Hajdu, E; Reiswig, HM. 2011. Taxonomy of Farrea (Porifera, Hexactinellida, Hexactinosida) from the southwestern Atlantic, with description of a new species and a discussion on the recognition of subspecies in Porifera. Canadian Journal Of Zoology-revue Canadienne De Zoologie 89:169-189. | 2011 | US East Coast (NC, SC, GA) | | Sponges |
| Yee, SH; Santavy, DL; Barron, MG. 2011. Assessing the effects of disease and bleaching on Florida Keys corals by fitting population models to data. Ecological Modelling 222:1323-1332. | 2011 | South & Central America; Florida; Caribbean | Field Study & Monitoring; Model | Pathogens; Sea Temperatures; Stony Coral |
| Gao, L; Hailu, A. 2011. Evaluating the effects of area closure for recreational fishing in a coral reef ecosystem: The benefits of an integrated economic and biophysical modeling. Ecological Economics 70:1735-1745. | 2011 | Australia | Model | Finfish Harvest; Fish; Fishing Sector; Marine Protected Areas; Recreational Fishing; Tourism & Recreation; Valuation |
| Ballantine, DL; Ruiz, H. 2011. A new encrusting deep-water coral reef alga, Peyssonnelia incomposita (Peyssonneliaceae, Rhodophyta), from Puerto Rico, Caribbean Sea. Cryptogamie Algologie 32:19-26. | 2011 | South & Central America; US Virgin Islands; Puerto Rico; US East Coast (NC, SC, GA); Caribbean | | Algae |
| Melbourne-Thomas, J; Johnson, CR; Fung, T; Seymour, RM; Cherubin, LM; Arias-Gonzalez, JE; Fulton, EA. 2011. Regional-scale scenario modeling for coral reefs: a decision support tool to inform management of a complex system. Ecological Applications 21:1380-1398. | 2011 | | Model; Decision Support Frameworks & Tools | Decision Support; Fish; Nutrients; Physical Damage; Sea Urchins; Storms & Hurricanes |
| Tsuda, RT; Fisher, JR; Vroom, PS. 2011. First records of marine benthic algae from Swains Island, American Samoa. Cryptogamie Algologie 32:271-291. | 2011 | US Pacific & Hawaii; Pacific Ocean; Samoa; American Samoa | | Algae; Cyanobacteria; Microorganisms |
| Pittman, S. J. and K. A. Brown. 2011. Multi-Scale Approach for Predicting Fish Species Distributions across Coral Reef Seascapes. PLoS One 3:1-12. | 2011 | South & Central America; Caribbean | Model; Remote Sensing; Decision Support Frameworks & Tools | Fish; Fishing Sector; Landuse Management; Marine Protected Areas |
| Soto, I. M., F. E. M. Karger, P. Hallock, and C. Hu. 2011. Sea Surface Temperature Variability in the Florida Keys and Its Relationship to Coral Cover. Journal of Marine Biology 1-10. | 2011 | Florida | Field Study & Monitoring | |
| Stat, M. and G. D. Gates. 2011. Clade DSymbiodinium in Scleractinian Corals: A "Nugget" of Hope, a Selfish Opportunist, an Ominous Sign, or All of the Above? Journal of Marine Biology 1-9. | 2011 | | Review; Field Study & Monitoring; Index or Indicator | Fish; Stony Coral |
| Kenkel, C. D., M. R. Traylor, J. Wiedenmann, A. Salih, and M. V. Matz. 2011. Fluorescence of coral larvae predicts their settlement response to crustose coralline algae and reflects stress. Proceedings of the Royal Society B 1-8. | 2011 | Global | Field Study & Monitoring | Algae; Biotechnology Research & Development; Coralline Algae; Stony Coral |
| Angermeier, H; Kamke, J; Abdelmohsen, UR; Krohne, G; Pawlik, JR; Lindquist, NL; Hentschel, U. 2011. The pathology of sponge orange band disease affecting the Caribbean barrel sponge Xestospongia muta. FEMS Microbiology Ecology 75:218-230. | 2011 | South & Central America; Florida; Caribbean | | Climate; Cyanobacteria; Microorganisms; Pathogens; Sponges; Tube, Barrel, & Finger Sponges |
| Miller, AW; Richardson, LL. 2011. A meta-analysis of 16S rRNA gene clone libraries from the polymicrobial black band disease of corals. FEMS Microbiology Ecology 75:231-241. | 2011 | | | Cyanobacteria; Microorganisms; Pathogens; Stony Coral |
| Sneed, JM; Pohnert, G. 2011. The green macroalga Dictyosphaeria ocellata influences the structure of the bacterioplankton community through differential effects on individual bacterial phylotypes. FEMS Microbiology Ecology 75:242-254. | 2011 | | Field Study & Monitoring; Lab Study | Algae; Microorganisms; Plankton |
| Kragt, M. E., L. T. H. Newham, J. Bennett, and A. J. Jakeman. 2011. An integrated approach to linking economic valuation and catchment modelling. Environmental Modelling & Software 26:92-102. | 2011 | Australia | Model; Decision Support Frameworks & Tools | Monetary Valuation; Non-Monetary Valuation; Surface & Groundwater Flow; Valuation |
| Galkiewicz, JP; Pratte, ZA; Gray, MA; Kellogg, CA. 2011. Characterization of culturable bacteria isolated from the cold-water coral Lophelia pertusa. FEMS Microbiology Ecology 77:333-346. | 2011 | South & Central America; Mexico | | Microorganisms; Nutrients; Pathogens; Stony Coral |
| Garcia-Amado, MA; Bozo-Hurtado, L; Astor, Y; Suarez, P; Chistoserdov, A. 2011. Denaturing gradient gel electrophoresis analyses of the vertical distribution and diversity of Vibrio spp. populations in the Cariaco Basin. FEMS Microbiology Ecology 77:347-356. | 2011 | | | Lobster, Crab, & Shrimp; Microorganisms; Pathogens |
| Tremblay, P; Peirano, A; Ferrier-Pages, C. 2011. Heterotrophy in the Mediterranean symbiotic coral Cladocora caespitosa: comparison with two other scleractinian species. Marine Ecology Progress Series 422:165-177. | 2011 | | | Plankton; Primary Production; Stony Coral; Zooxanthellae |
| Farmer, NA; Ault, JS. 2011. Grouper and snapper movements and habitat use in Dry Tortugas, Florida. Marine Ecology Progress Series 433:169-184. | 2011 | Florida | | Complex Habitat & Resources; Fish; Fishing Sector; Piscivorous Fish |
| Albouy, C; Guilhaumon, F; Villeger, S; Mouchet, M; Mercier, L; Culioli, JM; Tomasini, JA; Le Loc'h, F; Mouillot, D. 2011. Predicting trophic guild and diet overlap from functional traits: statistics, opportunities and limitations for marine ecology. Marine Ecology Progress Series 436:17-28. | 2011 | | Model | Fish |
| Rhodes, KL; Taylor, BM; McIlwain, JL. 2011. Detailed demographic analysis of an Epinephelus polyphekadion spawning aggregation and fishery. Marine Ecology Progress Series 421:183-198. | 2011 | Micronesia | | Finfish Harvest; Fish; Fishing Sector; Piscivorous Fish |
| Goodkin, NF; Switzer, AD; McCorry, D; DeVantier, L; True, JD; Hughen, KA; Angeline, N; Yang, TT. 2011. Coral communities of Hong Kong: long-lived corals in a marginal reef environment. Marine Ecology Progress Series 426:185-196. | 2011 | Australia; China | Index or Indicator | Non-point Source Runoff; Salinity; Stony Coral; Surface & Groundwater Flow |
| Bez, N; Bertrand, S. 2011. The duality of fractals: roughness and self-similarity. Theoretical Ecology 4:371-383. | 2011 | | Field Study & Monitoring | |
| Mumby, PJ; Vitolo, R; Stephenson, DB. 2011. Temporal clustering of tropical cyclones and its ecosystem impacts. Proceedings of the National Academy of Sciences of the United States of America 108:17626-17630. | 2011 | South & Central America; US East Coast (NC, SC, GA); Haiti; Jamaica; Belize; Honduras; Costa Rica; Caribbean | Model | Climate; Landscape Conservation & Restoration; Storms & Hurricanes |
| Mercado-Molina, AE; Sabat, AM; Yoshioka, PM. 2011. Demography of the demosponge Amphimedon compressa: Evaluation of the importance of sexual versus asexual recruitment to its population dynamics. Journal of Experimental Marine Biology and Ecology 407:355-362. | 2011 | Puerto Rico | Field Study & Monitoring; Model | Octocoral; Sponges |
| Ananthasubramaniam, B; Nisbet, RM; Morse, DE; Doyle, FJ. 2011. Integrate-and-fire models of insolation-driven entrainment of broadcast spawning in corals. Theoretical Ecology 4:69-85. | 2011 | | Model; Decision Support Frameworks & Tools | Stony Coral |
| Rasher, DB; Stout, EP; Engel, S; Kubanek, J; Hay, ME. 2011. Macroalgal terpenes function as allelopathic agents against reef corals. Proceedings of the National Academy of Sciences of the United States of America 108:17726-17731. | 2011 | Global | Field Study & Monitoring | Algae; Climate; Primary Production; Small Herbivorous Fish; Stony Coral |
| Linden, B; Rinkevich, B. 2011. Creating stocks of young colonies from brooding coral larvae, amenable to active reef restoration. Journal of Experimental Marine Biology and Ecology 398:40-46. | 2011 | | Decision Support Frameworks & Tools | Climate; Stony Coral; Wetland & Reef Restoration |
| Kellner, JB; Sanchirico, JN; Hastings, A; Mumby, PJ. 2011. Optimizing for multiple species and multiple values: tradeoffs inherent in ecosystem-based fisheries management. Conservation Letters 4:21-30. | 2011 | South & Central America; Caribbean | Model | Finfish Harvest; Fish; Fishing & Harvesting Management; Fishing Sector |
| Yakob, L; Mumby, PJ. 2011. Climate change induces demographic resistance to disease in novel coral assemblages. Proceedings of the National Academy of Sciences of the United States of America 108:1967-1969. | 2011 | South & Central America; Caribbean | Field Study & Monitoring; Model | Climate; Pathogens; Surface & Groundwater Flow |
| Gleason, DF; Hofmann, DK. 2011. Coral larvae: From gametes to recruits. Journal of Experimental Marine Biology and Ecology 408:42-57. | 2011 | South & Central America; US Pacific & Hawaii; Caribbean | | Light; Plankton; Stony Coral |
| Ban, NC; Adams, V; Pressey, RL; Hicks, J. 2011. Promise and problems for estimating management costs of marine protected areas. Conservation Letters 4:241-252. | 2011 | Global; Australia | Model | Banks, Credit, & Securities; Marine Protected Areas |
| Jones, AC; Monroe, EA; Podell, S; Hess, WR; Klages, S; Esquenazi, E; Niessen, S; Hoover, H; Rothmann, M; Lasken, RS; Yates, JR; Reinhardt, R; Kube, M; Burkart, MD; Allen, EE; Dorrestein, PC; Gerwick, WH; Gerwick, L. 2011. Genomic insights into the physiology and ecology of the marine filamentous cyanobacterium Lyngbya majuscula. Proceedings of the National Academy of Sciences of the United States of America 108:8815-8820. | 2011 | South & Central America; Caribbean | | Cyanobacteria; Microorganisms; Molluscs; Nutrients; Pharmaceuticals & Cosmetics Sources |
| Spade, DJ; Knoebl, I; Denslow, ND. 2011. Cesium chloride gradient centrifugation improves the quality of total RNA preparations from the gastropod Strombus gigas and the coral Montastraea faveolata. Journal of Experimental Marine Biology and Ecology 402:43-48. | 2011 | | Index or Indicator | Molluscs; Stony Coral; Surface & Groundwater Flow |
| Tchernov, D; Kvitt, H; Haramaty, L; Bibby, TS; Gorbunov, MY; Rosenfeld, H; Falkowski, PG. 2011. Apoptosis and the selective survival of host animals following thermal bleaching in zooxanthellate corals. Proceedings of the National Academy of Sciences of the United States of America 108:9905-9909. | 2011 | | Model | Anemones & Zooanthids; Climate; Light; Stony Coral; Zooxanthellae |
| Koplovitz, G; McClintock, JB. 2011. An evaluation of chemical and physical defenses against fish predation in a suite of seagrass-associated ascidians. Journal of Experimental Marine Biology and Ecology 407:48-53. | 2011 | Florida | Model | Fish; Seagrasses |
| Van Syoc, RJ; Dekelboum, AM. 2011. Oxynaspididae (Crustacea, Cirripedia): phylogenetics and evolutionary ecology, with descriptions of three new genera and six new species. Zootaxa 1-32. | 2011 | US Pacific & Hawaii; Palau; Fiji | | Sponges |
| Anderson, TJ; Nichol, SL; Syms, C; Przeslawski, R; Harris, PT. 2011. Deep-sea bio-physical variables as surrogates for biological assemblages, an example from the Lord Howe Rise. Deep-Sea Research Part II: Topical Studies in Oceanography 58:979-991. | 2011 | US Pacific & Hawaii | GIS & Maps; Decision Support Frameworks & Tools | Biological Monitoring, Mapping, & Scientific Research; Echinoderms; Environmental Monitoring, Mapping, & Scientific Research; Physical Variables; Sediment; Sponges; Water Depth & Sea Level |
| Maignien, L; Depreiter, D; Foubert, A; Reveillaud, J; De Mol, L; Boeckx, P; Blamart, D; Henriet, JP; Boon, N. 2011. Anaerobic oxidation of methane in a cold-water coral carbonate mound from the Gulf of Cadiz. International Journal of Earth Sciences 100:1413-1422. | 2011 | | Field Study & Monitoring | Sediment |
| Foster, KA; Foster, G; Tourenq, C; Shuriqi, MK. 2011. Shifts in coral community structures following cyclone and red tide disturbances within the Gulf of Oman (United Arab Emirates). Marine Biology 158:955-968. | 2011 | United Arab Emirates; Oman | | Fish; Stony Coral; Storms & Hurricanes |
| Diaz, M; Madin, J. 2011. Macroecological relationships between coral species' traits and disease potential. Coral Reefs 30:73-84. | 2011 | Florida; Australia | | Climate; Pathogens; Stony Coral; Surface & Groundwater Flow |
| Neo, ML; Todd, PA. 2011. Quantification of water squirting by juvenile fluted giant clams (Tridacna squamosa L.). Journal of Ethology 29:85-91. | 2011 | | Model | Molluscs; Surface & Groundwater Flow |
| Shu, LS; Wang, B; Zhu, WB; Guo, ZJ; Charvet, J; Zhang, Y. 2011. Timing of initiation of extension in the Tianshan, based on structural, geochemical and geochronological analyses of bimodal volcanism and olistostrome in the Bogda Shan (NW China). International Journal of Earth Sciences 100:1647-1663. | 2011 | China | | Lobster, Crab, & Shrimp |
| Bozec, YM; Kulbicki, M; Laloe, F; Mou-Tham, G; Gascuel, D. 2011. Factors affecting the detection distances of reef fish: implications for visual counts. Marine Biology 158:969-981. | 2011 | Cuba; New Caledonia | | Fish |
| Ateweberhan, M; McClanahan, TR; Graham, NAJ; Sheppard, CRC. 2011. Episodic heterogeneous decline and recovery of coral cover in the Indian Ocean. Coral Reefs 30:739-752. | 2011 | South & Central America; US Pacific & Hawaii; Indian Ocean; Sri Lanka; India; Southeast Asia; Caribbean | | Climate; Marine Protected Areas; Surface & Groundwater Flow |
| Fukuda, S; Suzuki, I; Hama, T; Shiraiwa, Y. 2011. Compensatory response of the unicellular-calcifying alga Emiliania huxleyi (Coccolithophoridales, Haptophyta) to ocean acidification. Journal of Oceanography 67:17-25. | 2011 | Cuba | | Algae; CO2; Ocean Acidity; Plankton; Primary Production; Special Use Permitting |
| McIntyre, CP; Roberts, ML; Burton, JR; McNichol, AP; Burke, A; Robinson, LF; von Reden, KF; Jenkins, WJ. 2011. Rapid radiocarbon ((14)C) analysis of coral and carbonate samples using a continuous-flow accelerator mass spectrometry (CFAMS) system. Paleoceanography 26. | 2011 | US Pacific & Hawaii; Pacific Ocean | | Climate |
| Pankhurst, NW; Munday, PL. 2011. Effects of climate change on fish reproduction and early life history stages. Marine and Freshwater Research 62:1015-1026. | 2011 | US East Coast (NC, SC, GA) | | Climate; Fish; Ocean Acidity |
| Sato, Y; Bourne, DG; Willis, BL. 2011. Effects of temperature and light on the progression of black band disease on the reef coral, Montipora hispida. Coral Reefs 30:753-761. | 2011 | South & Central America; Australia; Caribbean | Field Study & Monitoring | Environmental Monitoring, Mapping, & Scientific Research; Microorganisms; Pathogens; Stony Coral; Surface & Groundwater Flow |
| Tanaka, Y; Ogawa, H; Miyajima, T. 2011. Production and bacterial decomposition of dissolved organic matter in a fringing coral reef. Journal of Oceanography 67:427-437. | 2011 | US Pacific & Hawaii; Cuba; Japan | | Microorganisms; Nutrients |
| Lough, JM. 2011. Great Barrier Reef coral luminescence reveals rainfall variability over northeastern Australia since the 17th century. Paleoceanography 26. | 2011 | Global; US Pacific & Hawaii; Australia | Index or Indicator | Climate; Stony Coral; Surface & Groundwater Flow |
| Pratchett, MS; Bay, LK; Gehrke, PC; Koehn, JD; Osborne, K; Pressey, RL; Sweatman, HPA; Wachenfeld, D. 2011. Contribution of climate change to degradation and loss of critical fish habitats in Australian marine and freshwater environments. Marine and Freshwater Research 62:1062-1081. | 2011 | Australia; India | Review | Climate; Complex Habitat & Resources; Fish; Ocean Acidity; Surface & Groundwater Flow; Water Depth & Sea Level; Wetlands |
| Tolosa, I; Treignier, C; Grover, R; Ferrier-Pages, C. 2011. Impact of feeding and short-term temperature stress on the content and isotopic signature of fatty acids, sterols, and alcohols in the scleractinian coral Turbinaria reniformis. Coral Reefs 30:763-774. | 2011 | | | Algae; Primary Production; Stony Coral; Zooxanthellae |
| Martins, VS; Schiavetti, A; Souto, FJB. 2011. Ethnoecological knowledge of the artisan fishermen of octopi (Octopus spp.) in the community of Coroa Vermelha (Santa Cruz Cabralia, Bahia). Anais da Academia Brasileira de Ciencias 83:513-522. | 2011 | | | Finfish Harvest; Molluscs; Octopus & Squid |
| Russon, T; Elliot, M; Sadekov, A; Cabioch, G; Correge, T; De Deckker, P. 2011. The mid-Pleistocene transition in the subtropical southwest Pacific. Paleoceanography 26. | 2011 | US Pacific & Hawaii | | Climate; Greenhouse Gas Emissions; Plankton; Sediment |
| Koehn, JD; Hobday, AJ; Pratchett, MS; Gillanders, BM. 2011. Climate change and Australian marine and freshwater environments, fishes and fisheries: synthesis and options for adaptation. Marine and Freshwater Research 62:1148-1164. | 2011 | US Pacific & Hawaii; Australia | Model | Climate; Fishing Sector; Greenhouse Gas Emissions; Ocean Acidity; Surface & Groundwater Flow |
| D'Aloia, CC; Majoris, JE; Buston, PM. 2011. Predictors of the distribution and abundance of a tube sponge and its resident goby. Coral Reefs 30:777-786. | 2011 | South & Central America; Belize | Field Study & Monitoring | Anemones & Zooanthids; Fish; Sponges; Tube, Barrel, & Finger Sponges |
| Angeletti, L; Taviani, M. 2011. Entrapment, preservation and incipient fossilization of benthic predatory molluscs within deep-water coral frames in the Mediterranean Sea. Geobios 44:543-548. | 2011 | | | Snails & Conch |
| Gilis, M; Grauby, O; Willenz, P; Dubois, P; Legras, L; Heresanu, V; Baronnet, A. 2011. Multi-scale mineralogical characterization of the hypercalcified sponge Petrobiona massiliana (Calcarea, Calcaronea). Journal of Structural Biology 176:315-329. | 2011 | | Model | Calcium Carbonate Deposition; Echinoderms; Molluscs; Sponges |
| Ochavillo, D; Tofaeono, S; Sabater, M; Trip, EL. 2011. Population structure of Ctenochaetus striatus (Acanthuridae) in Tutuila, American Samoa: The use of size-at-age data in multi-scale population size surveys. Fisheries Research 107:14-21. | 2011 | Samoa; American Samoa | | Algae; Coralline Algae; Fish; Fishing Sector; Marine Protected Areas; Skeletal Coral; Small Herbivorous Fish |
| Maia, LF; Fleury, BG; Lages, BG; Barbosa, JP; Pinto, AC; Castro, HV; de Oliveira, VE; Edwards, HGM; de Oliveira, LFC. 2011. Identification of reddish pigments in octocorals by Raman spectroscopy. Journal of Raman Spectroscopy 42:653-658. | 2011 | | | Octocoral; Zooxanthellae |
| La Mesa, G; Molinari, A; Bava, S; Finoia, MG; Cattaneo-Vietti, R; Tunesi, L. 2011. Gradients of abundance of sea breams across the boundaries of a Mediterranean marine protected area. Fisheries Research 111:24-30. | 2011 | Philippines | | Finfish Harvest; Fish; Marine Protected Areas |
| Smith, SG; Ault, JS; Bohnsack, JA; Harper, DE; Luo, JG; McClellan, DB. 2011. Multispecies survey design for assessing reef-fish stocks, spatially explicit management performance, and ecosystem condition. Fisheries Research 109:25-41. | 2011 | Florida | Field Study & Monitoring; Model; Index or Indicator | Complex Habitat & Resources; Fish; Fishing Sector |
| Dormer, NH; Busaidy, K; Berkland, CJ; Detamore, MS. 2011. Osteochondral Interface Regeneration of Rabbit Mandibular Condyle With Bioactive Signal Gradients. Journal of Oral and Maxillofacial Surgery 69:E50-E57. | 2011 | Oman | | |
| Karnauskas, M; McClellan, DB; Wiener, JW; Miller, MW; Babcock, EA. 2011. Inferring trends in a small-scale, data-limited tropical fishery based on fishery-independent data. Fisheries Research 111:40-52. | 2011 | South & Central America; Haiti; Caribbean | Index or Indicator; Decision Support Frameworks & Tools | Fish; Fishing & Harvesting Management; Fishing Sector |
| Greuner, H; Maier, H; Balden, M; Boeswirth, B; Linsmeier, C. 2011. Investigation of W components exposed to high thermal and high H/He fluxes. Pages 495-498 in 14th International Conference on Fusion Reactor Materials (ICFRM). AMSTERDAM. | 2011 | | | |
| Natural Resources Conservation Service. 2011. National Handbook of Conservation Practices. U.S. Department of Agriculture. | 2011 | | Field Study & Monitoring | Agriculture; Aquaculture; Bivalves; Discharges; Fish; Irrigation; Landscape Conservation & Restoration; Non-point Source Runoff; Nutrients; Pipelines; Salinity; Sediment; Shoreline Protection; Surface & Groundwater Flow; Tourism & Recreation; Transportation Policies; Waste Management; Wetland & Reef Restoration; Wetlands |
| Oliver, SP; Hussey, NE; Turner, JR; Beckett, AJ. 2011. Oceanic Sharks Clean at Coastal Seamount. PLoS One 6. | 2011 | US East Coast (NC, SC, GA); Philippines | | Apex Fish Predators; Fish; Planktivorous Fish |
| Osborne, K; Dolman, AM; Burgess, SC; Johns, KA. 2011. Disturbance and the Dynamics of Coral Cover on the Great Barrier Reef (1995-2009). PLoS One 6. | 2011 | Australia | Field Study & Monitoring | Pathogens; Seastars; Stony Coral; Storms & Hurricanes |
| Dunstan, AJ; Ward, PD; Marshall, NJ. 2011. Vertical Distribution and Migration Patterns of Nautilus pompilius. PLoS One 6. | 2011 | Australia; Palau; Fiji | | Octopus & Squid; Substrate |
| Aeby, GS; Williams, GJ; Franklin, EC; Haapkyla, J; Harvell, CD; Neale, S; Page, CA; Raymundo, L; Vargas-Angel, B; Willis, BL; Work, TM; Davy, SK. 2011. Growth Anomalies on the Coral Genera Acropora and Porites Are Strongly Associated with Host Density and Human Population Size across the Indo-Pacific. PLoS One 6. | 2011 | Global; Florida; US Pacific & Hawaii | Model | Climate; Nutrients; Pathogens; Stony Coral; Surface & Groundwater Flow |
| Natural Resources Conservation Service. 2011. Conservation Practice Standard: Bivalve Aquaculture Gear and Biofouling Control. CODE 400, USDA. | 2011 | | | Aquaculture; Bivalves; Invasive Species; Ports & Harbors; Sediment; Storms & Hurricanes; Substrate |
| Castillo, KD; Ries, JB; Weiss, JM. 2011. Declining Coral Skeletal Extension for Forereef Colonies of Siderastrea siderea on the Mesoamerican Barrier Reef System, Southern Belize. PLoS One 6. | 2011 | South & Central America; Belize; Honduras; Caribbean | | Climate; Nutrients; Ocean Acidity; Sediment; Stony Coral |
| Verges, A; Vanderklift, MA; Doropoulos, C; Hyndes, GA. 2011. Spatial Patterns in Herbivory on a Coral Reef Are Influenced by Structural Complexity but Not by Algal Traits. PLoS One 6. | 2011 | Australia | | Algae; Complex Habitat & Resources; Nutrients; Small Herbivorous Fish |
| Tran, CT; Gargiulo, C; Thao, HD; Tuan, HM; Filgueira, L; Strong, DM. 2011. Culture and differentiation of osteoblasts on coral scaffold from human bone marrow mesenchymal stem cells. Cell and Tissue Banking 12:247-261. | 2011 | | | Stony Coral |
| Choukri, A; Hakam, OK; Reyss, JL. 2011. Difficulties in dating Pleistocene marine levels using fossil mollusk shells: the Ouljian level on the High Atlas shore, Morocco. Carnets de Geologie 21-30. | 2011 | Egypt | | Beaches & Nature Parks; Calcium Carbonate Deposition; Climate; Water Depth & Sea Level |
| Gumovsky, AV; Ramadan, MM. 2011. Biology, immature and adult morphology, and molecular characterization of a new species of the genus Entedon (Hymenoptera: Eulophidae) associated with the invasive pest Specularius impressithorax (Coleoptera: Chrysomelidae, Bruchinae) on Erythrina plants. Bulletin of Entomological Research 101:715-739. | 2011 | US Pacific & Hawaii; Tanzania; Mozambique; China; South Africa | | Invasive Species |
| Caturelli, E; Ghittoni, G; Ranalli, TV; Gomes, VV. 2011. Nodular regenerative hyperplasia of the liver: coral atoll-like lesions on ultrasound are characteristic in predisposed patients. British Journal of Radiology 84:E129-E134. | 2011 | | Review; Decision Support Frameworks & Tools | Pathogens |
| Winterfeld, M; Schirrmeister, L; Grigoriev, MN; Kunitsky, VV; Andreev, A; Murray, A; Overduin, PP. 2011. Coastal permafrost landscape development since the Late Pleistocene in the western Laptev Sea, Siberia. Boreas 40:697-713. | 2011 | | | Sediment; Water Depth & Sea Level |
| Bai, XT; Chen, YC; Chen, WZ; Lei, HP; Gao, FF; Qin, YJ; Zheng, JJ; Shi, GG. 2011. The effect of black coral extraction on acute lung inflammation induced by cigarette smoke in mice. Experimental Lung Research 37:627-632. | 2011 | China | | Pathogens |
| Gittenberger, A; Reijnen, BT; Hoeksema, BW. 2011. A molecularly based phylogeny reconstruction of mushroom corals (Scleractinia: Fungiidae) with taxonomic consequences and evolutionary implications for life history traits. Contributions to Zoology 80:107-132. | 2011 | US Pacific & Hawaii; Indonesia | | Stony Coral |
| Schmitt, S; Deines, P; Behnam, F; Wagner, M; Taylor, MW. 2011. Chloroflexi bacteria are more diverse, abundant, and similar in high than in low microbial abundance sponges. FEMS Microbiology Ecology 78:497-510. | 2011 | | | Biochemical & Genetic Resources; Microorganisms; Ports & Harbors; Sponges |
| Grafton, RQ; Akter, S; Kompas, T. 2011. A Policy-enabling framework for the ex-ante evaluation of marine protected areas. Ocean and Coastal Management 54:478-487. | 2011 | | Review | Fishing Sector; Marine Protected Areas; Monetary Valuation; Non-Monetary Valuation; Tourism & Recreation; Tourism & Recreation Policies; Valuation |
| Ceccarelli, DM; Richards, ZT; Pratchett, MS; Cvitanovic, C. 2011. Rapid increase in coral cover on an isolated coral reef, the Ashmore Reef National Nature Reserve, north-western Australia. Marine and Freshwater Research 62:1214-1220. | 2011 | Australia | | Climate; Octocoral; Stony Coral |
| Hellstrom, M; Benzie, JAH. 2011. Robustness of size measurement in soft corals. Coral Reefs 30:787-790. | 2011 | | Field Study & Monitoring | Octocoral; Stony Coral |
| Owada, M; Hoeksema, BW. 2011. Molecular phylogeny and shell microstructure of Fungiacava eilatensis Goreau et al. 1968, boring into mushroom corals (Scleractinia: Fungiidae), in relation to other mussels (Bivalvia: Mytilidae). Contributions to Zoology 80:169-178. | 2011 | Indonesia | | Bivalves; Molluscs; Stony Coral |
| Burt, J; Bartholomew, A; Sale, PF. 2011. Benthic development on large-scale engineered reefs: A comparison of communities among breakwaters of different age and natural reefs. Ecological Engineering 37:191-198. | 2011 | | | Algae; Artificial Habitat; Bivalves; Coastal Defense; Coastal Development; Shoreline Protection; Sponges; Turf Algae |
| Rosendo, S; Brown, K; Joubert, A; Jiddawi, N; Mechisso, M. 2011. A clash of values and approaches: A case study of marine protected area planning in Mozambique. Ocean and Coastal Management 54:55-65. | 2011 | Global; Mozambique | Decision Support Frameworks & Tools | Climate; Fishing Sector; Marine Protected Areas; Special Use Permitting; Tourism & Recreation |
| Godinot, C; Ferrier-Pages, C; Montagna, P; Grover, R. 2011. Tissue and skeletal changes in the scleractinian coral Stylophora pistillata Esper 1797 under phosphate enrichment. Journal of Experimental Marine Biology and Ecology 409:200-207. | 2011 | | | Calcium Carbonate Deposition; Nutrients; Plankton; Stony Coral; Zooxanthellae |
| Moyer, RP; Grottoli, AG. 2011. Coral skeletal carbon isotopes (delta(13)C and Delta(14)C) record the delivery of terrestrial carbon to the coastal waters of Puerto Rico. Coral Reefs 30:791-802. | 2011 | Global; Puerto Rico | | Climate; Discharges; Stony Coral; Surface & Groundwater Flow |
| Benzoni, F; Arrigoni, R; Stefani, F; Pichon, M. 2011. Phylogeny of the coral genus Plesiastrea (Cnidaria, Scleractinia). Contributions to Zoology 80:231-249. | 2011 | Palau | | Stony Coral |
| [Anonymous]. 2011. Quantifying the pH 'vital effect' in the temperate zooxanthellate coral Cladocora caespitosa: Validation of the boron seawater pH proxy. Earth and Planetary Science Letters 303:163-173. | 2011 | | Decision Support Frameworks & Tools | Climate; CO2; Ocean Acidity; Stony Coral |
| Ban, NC; Adams, VM; Almany, GR; Ban, S; Cinner, JE; McCook, LJ; Mills, M; Pressey, RL; White, A. 2011. Designing, implementing and managing marine protected areas: Emerging trends and opportunities for coral reef nations. Journal of Experimental Marine Biology and Ecology 408:21-31. | 2011 | Australia; Europe | Review; Decision Support Frameworks & Tools | Cultural Policies; Cultural Protections; Fishing Sector; Marine Protected Areas |
| Lonnstedt, OM; McCormick, MI. 2011. Growth history and intrinsic factors influence risk assessment at a critical life transition for a fish. Coral Reefs 30:805-812. | 2011 | | | Fish; Small Herbivorous Fish |
| Hoeksema, BW; Crowther, AL. 2011. Masquerade, mimicry and crypsis of the polymorphic sea anemone Phyllodiscus semoni and its aggregations in South Sulawesi. Contributions to Zoology 80:251-268. | 2011 | US Pacific & Hawaii; Indonesia | | Algae; Anemones & Zooanthids; Octocoral; Stony Coral |
| Welsh, K; Elliot, M; Tudhope, A; Ayling, B; Chappell, J. 2011. Giant bivalves (Tridacna gigas) as recorders of ENSO variability. Earth and Planetary Science Letters 307:266-270. | 2011 | US Pacific & Hawaii; Papua New Guinea | | Calcium Carbonate Deposition; Climate |
| Rasheed, M; Mian, S; Aubrey, D. 2011. Guidelines for EIA of fish and shrimp hatcheries in a semi-enclosed water body. Ocean and Coastal Management 54:678-686. | 2011 | | Field Study & Monitoring | Aquaculture; Environmental Monitoring, Mapping, & Scientific Research; Finfish Harvest; Fish; Fishing Sector; Lobster, Crab, & Shrimp; Mitigation; Sediment |
| Putnam, HM; Edmunds, PJ. 2011. The physiological response of reef corals to diel fluctuations in seawater temperature. Journal of Experimental Marine Biology and Ecology 396:216-223. | 2011 | | | Stony Coral; Zooxanthellae |
| Mallela, J; Hermann, J; Rapp, RP; Eggins, SM. 2011. Fine-scale phosphorus distribution in coral skeletons: combining X-ray mapping by electronprobe microanalysis and LA-ICP-MS. Coral Reefs 30:813-818. | 2011 | | GIS & Maps | Environmental Monitoring, Mapping, & Scientific Research; Non-point Source Runoff; Nutrients |
| Sortor, RN; Lund, DC. 2011. No evidence for a deglacial intermediate water Delta(14)C anomaly in the SW Atlantic. Earth and Planetary Science Letters 310:65-72. | 2011 | US Pacific & Hawaii; Australia; US East Coast (NC, SC, GA); India; Pacific Ocean | | CO2; Water Depth & Sea Level |
| Hirose, M; Obuchi, M; Hirose, E; Reimer, JD. 2011. Timing of Spawning and Early Development of Palythoa tuberculosa (Anthozoa, Zoantharia, Sphenopidae) in Okinawa, Japan. Biological Bulletin 220:23-31. | 2011 | Japan | | Algae; Anemones & Zooanthids; Stony Coral; Zooxanthellae |
| Burns, JHR; Rozet, NK; Takabayashi, M. 2011. Morphology, severity, and distribution of growth anomalies in the coral, Montipora capitata, at Wai'Aipae, Hawai'i. Coral Reefs 30:819-826. | 2011 | US Pacific & Hawaii | Field Study & Monitoring | Pathogens; Stony Coral |
| Watanabe, T; Suzuki, A; Minobe, S; Kawashima, T; Kameo, K; Minoshima, K; Aguilar, YM; Wani, R; Kawahata, H; Sowa, K; Nagai, T; Kase, T. 2011. Permanent El Nino during the Pliocene warm period not supported by coral evidence. Nature 471:209-211. | 2011 | Global; US Pacific & Hawaii; Pacific Ocean; Philippines | | Climate; CO2; Salinity |
| Li, Y; Pattenden, G. 2011. Biomimetic syntheses of ineleganolide and sinulochmodin C from 5-episinuleptolide via sequences of transannular Michael reactions. Tetrahedron 67:10045-10052. | 2011 | | | Octocoral |
| Kwon, MS; Sim, SH; Chung, YK; Lee, E. 2011. Synthetic studies on soft coral norcembranolides: total synthesis of (+)-10-epigyrosanolide E. Tetrahedron 67:10179-10185. | 2011 | | | Octocoral |
| Lai, DW; Li, YX; Xu, MJ; Deng, ZW; van Ofwegen, L; Qian, PY; Proksch, P; Lin, WH. 2011. Sinulariols A-S, 19-oxygenated cembranoids from the Chinese soft coral Sinularia rigida. Tetrahedron 67:6018-6029. | 2011 | | | Octocoral |
| Zhuang, YB; Teng, XC; Wang, Y; Liu, PP; Wang, H; Li, J; Li, GQ; Zhu, WM. 2011. Cyclopeptides and polyketides from coral-associated fungus, Aspergillus versicolor LCJ-5-4. Tetrahedron 67:7085-7089. | 2011 | | | |
| Kao, SY; Su, JH; Hwang, TL; Sheu, JH; Su, YD; Lin, CS; Chang, YC; Wang, WH; Fang, LS; Sung, PJ. 2011. Discovery of novel sesquiterpenoids from a gorgonian Menella sp. Tetrahedron 67:7311-7315. | 2011 | | | Octocoral |
| Fattorusso, E; Luciano, P; Putra, MY; Taglialatela-Scafati, O; Ianaro, A; Panza, E; Bavestrello, G; Cerrano, C. 2011. Chloroscabrolides, chlorinated norcembranoids from the Indonesian soft coral Sinularia sp. Tetrahedron 67:7983-7988. | 2011 | Indonesia | | Octocoral |
| Saraydin, SU; Develioglu, H. 2011. Evaluation of the Bone Repair Capacity and the Cytotoxic Properties of a Particular Xenograft: An Experimental Study in Rats. Turkiye Klinikleri Tip Bilimleri Dergisi 31:541-547. | 2011 | | Model | Pharmaceuticals & Cosmetics |
| Minch, R; Es-Souni, M. 2011. A versatile approach to processing of high active area pillar coral- and sponge-like Pt-nanostructures. Application to electrocatalysis. Journal of Materials Chemistry 21:4182-4188. | 2011 | | | Sponges; Substrate |
| Veilleux, HD; van Herwerden, L; Evans, RD; Travers, MJ; Newman, SJ. 2011. Strong genetic subdivision generates high genetic variability among eastern and western Australian populations of Lutjanus carponotatus (Richardson). Fisheries Research 108:74-80. | 2011 | Australia; Indian Ocean; India; Papua New Guinea | Index or Indicator | Commercial Fisheries; Finfish Harvest; Fish; Fishing Sector; Piscivorous Fish; Recreational Fishing; Tourism & Recreation |
| Wang, P; Qi, SH; Liu, KS; Huang, LS; He, F; Wang, YF. 2011. Steroids from the South China Sea Gorgonian Coral Muricella flexuosa. Zeitschrift fur Naturforschung Section B - A Journal of Chemical Sciences 66:635-640. | 2011 | China | | Octocoral |
| Rincon-Diaz, MP; Diez, CE; Van Dam, RP; Sabat, AM. 2011. Foraging Selectivity of the Hawksbill Sea Turtle (Eretmochelys imbricata) in the Culebra Archipelago, Puerto Rico. Journal of Herpetology 45:277-282. | 2011 | South & Central America; Florida; Puerto Rico; Caribbean | | Anemones & Zooanthids; Fleshy Macroalgae; Sea Turtles; Sponges; Tube, Barrel, & Finger Sponges |
| Muallil, RN; Geronimo, RC; Cleland, D; Cabral, RB; Doctor, MV; Cruz-Trinidad, A; Alino, PM. 2011. Willingness to exit the artisanal fishery as a response to scenarios of declining catch or increasing monetary incentives. Fisheries Research 111:74-81. | 2011 | China; Philippines | | Finfish Harvest; Fish; Fishing Sector; Funding & Incentives; Housing; Monetary Valuation |
| Casado-Amezua, P; Garcia-Jimenez, R; Kersting, DK; Templado, J; Coffroth, MA; Merino, P; Acevedo, I; Machordom, A. 2011. Development of Microsatellite Markers as a Molecular Tool for Conservation Studies of the Mediterranean Reef Builder Coral Cladocora caespitosa (Anthozoa, Scleractinia). Journal of Heredity 102:622-626. | 2011 | | Decision Support Frameworks & Tools | Stony Coral |
| Pelletier, D; Leleu, K; Mou-Tham, G; Guillemot, N; Chabanet, P. 2011. Comparison of visual census and high definition video transects for monitoring coral reef fish assemblages. Fisheries Research 107:84-93. | 2011 | New Caledonia | Field Study & Monitoring | Fish; Marine Protected Areas |
| Sarac, TP. 2011. Influence and Critique of the ASTRAL and CORAL Trials. Seminars in Vascular Surgery 24:162-166. | 2011 | | | Invasive Species; Pathogens |
| Yamamuro, JA; Abrantes, AE; Lade, PV. 2011. Effect of Strain Rate on the Stress-Strain Behavior of Sand. Journal of Geotechnical and Geoenvironmental Engineering 137:1169-1178. | 2011 | Global | | |
| Bradman, H; Grewe, P; Appleton, B. 2011. Direct comparison of mitochondrial markers for the analysis of swordfish population structure. Fisheries Research 109:95-99. | 2011 | US Pacific & Hawaii; Indian Ocean; Seychelles; India; Pacific Ocean | | Fish; Fishing & Harvesting Management; Fishing Sector |
| Johnson, DW; Hixon, MA. 2011. Sexual and lifetime selection on body size in a marine fish: the importance of life-history trade-offs. Journal of Evolutionary Biology 24:1653-1663. | 2011 | South & Central America; Caribbean | Field Study & Monitoring | Fish; Small Herbivorous Fish |
| Levitan, DR; Fogarty, ND; Jara, J; Lotterhos, KE; Knowlton, N. 2011. Genetic, Spatial, And Temporal Components Of Precise Spawning Synchrony In Reef Building Corals Of The Montastraea Annularis Species Complex. Evolution 65:1254-1270. | 2011 | South & Central America; Caribbean | | Stony Coral |
| Cowman, PF; Bellwood, DR. 2011. Coral reefs as drivers of cladogenesis: expanding coral reefs, cryptic extinction events, and the development of biodiversity hotspots. Journal of Evolutionary Biology 24:2543-2562. | 2011 | US Pacific & Hawaii; Australia | | Complex Habitat & Resources; Fish; Small Herbivorous Fish; Surface & Groundwater Flow |
| Stoeckl, N; Hicks, CC; Mills, M; Fabricius, K; Esparon, M; Kroon, F; Kaur, K; Costanza, R. 2011. The economic value of ecosystem services in the Great Barrier Reef: our state of knowledge. Ecological Economics Reviews 1219:113-133. | 2011 | Australia | Review | Climate; Finfish Harvest; Fish; Mangroves; Monetary Valuation; Sediment; Tourism & Recreation; Valuation |
| Lobel, PS. 2011. Transport of reef lizardfish larvae by an ocean eddy in Hawaiian waters. Dynamics of Atmosphere and Oceans 52:119-130. | 2011 | US Pacific & Hawaii | Field Study & Monitoring | Complex Habitat & Resources; Fish |
| Lillis, JV; Ansdell, D. 2011. Outbreak of Nontuberculous Mycobacterial Disease in the Central Pacific. Dermatologic Clinics 29:9+. | 2011 | US Pacific & Hawaii | Review | Microorganisms; Pathogens |
| Wang, LL; Gao, LA. 2011. Controlled synthesis and tunable properties of hematite hierarchical structures in a dual-surfactant system. Crystengcomm 13:1998-2005. | 2011 | | | |
| Wei, JJ; Yang, ZJ; Yang, YZ. 2011. Fabrication of three dimensional CeO(2) hierarchical structures: Precursor template synthesis, formation mechanism and properties. Crystengcomm 13:2418-2424. | 2011 | | Field Study & Monitoring | |
| Qin, ZH; Jiao, XL; Chen, DR. 2011. Preparation of coral-like magnetite through a glucose-assisted solvothermal synthesis. Crystengcomm 13:4646-4651. | 2011 | | | |
| Ryu, T; Mavromatis, CH; Bayer, T; Voolstra, CR; Ravasi, T. 2011. Unexpected complexity of the Reef-Building Coral Acropora millepora transcription factor network. BMC Systems Biology 5. | 2011 | Global | | Anemones & Zooanthids; Climate; Ocean Acidity; Stony Coral |
| Vavra, N. 2011. Myriapora kuhni n. sp (Bryozoa, Cheilostomata) - a remarkable fossil from the Oligocene of the Mainz Basin (Germany). Neues Jahrbuch Fur Geologie Und Palaontologie-abhandlungen 262:19-24. | 2011 | Germany | | |
| Tessier, G; Beschin, C; Busulini, A. 2011. New evidence of coral-associated crustaceans from the Eocene of the Vicenza Lessini (NE Italy). Pages 211-220 in 4th International Symposium on Mesozoic and Cenozoic Decapod Crustaceans. STUTTGART. | 2011 | | | Lobster, Crab, & Shrimp |
| Makled, WA; Langer, MR. 2011. Benthic Foraminifera from the Chuuk Lagoon Atoll System (Caroline Islands, Pacific Ocean). Neues Jahrbuch Fur Geologie Und Palaontologie-abhandlungen 259:231-249. | 2011 | Global; US Pacific & Hawaii; Pacific Ocean; Cook Islands | | Sediment |
| Frantescu, OD. 2011. Brachyuran decapods (including five new species and one new genus) from Jurassic (Oxfordian-Kimmeridgian) coral reef limestones from Dobrogea, Romania. Neues Jahrbuch Fur Geologie Und Palaontologie-abhandlungen 259:271-297. | 2011 | Oman | | Lobster, Crab, & Shrimp; Sponges; Water Depth & Sea Level |
| Schwarzhans, W; Bratishko, A. 2011. The otoliths from the middle Paleocene of Luzanivka (Cherkasy district, Ukraine). Neues Jahrbuch Fur Geologie Und Palaontologie-abhandlungen 261:83-110. | 2011 | Europe | Remote Sensing | Fish |
| Fodrie, FJ; Becker, BJ; Levin, LA; Gruenthal, K; McMillan, PA. 2011. Connectivity clues from short-term variability in settlement and geochemical tags of mytilid mussels. Journal of Sea Research 65:141-150. | 2011 | | Decision Support Frameworks & Tools | Fish |
| Detournay, O; Weis, VM. 2011. Role of the Sphingosine Rheostat in the Regulation of Cnidarian-Dinoflagellate Symbioses. Biological Bulletin 221:261-269. | 2011 | Cuba | | Anemones & Zooanthids; Special Use Permitting |
| Kayal, M; Lenihan, HS; Pau, C; Penin, L; Adjeroud, M. 2011. Associational refuges among corals mediate impacts of a crown-of-thorns starfish Acanthaster planci outbreak. Coral Reefs 30:827-837. | 2011 | | Field Study & Monitoring; Model | Complex Habitat & Resources; Seastars; Special Use Permitting; Stony Coral |
| Avila, E; Carballo, JL; Vega, C; Camacho, L; Barron-Alvarez, JJ; Padilla-Verdin, C; Yanez-Chavez, B. 2011. Deposition of shallow water sponges in response to seasonal changes. Journal of Sea Research 66:172-180. | 2011 | South & Central America; US Pacific & Hawaii; Pacific Ocean; Mexico | | Encrusting Sponges; Sediment; Sponges |
| Gischler, E. 2011. Sedimentary Facies Of Bora Bora, Darwin'S Type Barrier Reef (Society Islands, South Pacific): The Unexpected Occurrence Of Non-Skeletal Grains. Journal of Sedimentary Research 81:1-17. | 2011 | US Pacific & Hawaii; Australia; US East Coast (NC, SC, GA); Atlantic Ocean; India; Cook Islands | | Algae; Calcareous Macroalgae; Calcium Carbonate Deposition; Coralline Algae; Sediment; Surface & Groundwater Flow |
| Goldenheim, WM; Edmunds, PJ. 2011. Effects of Flow and Temperature on Growth and Photophysiology of Scleractinian Corals in Moorea, French Polynesia. Biological Bulletin 221:270-279. | 2011 | | Field Study & Monitoring; Lab Study | Climate; Seawater Flow; Stony Coral; Surface & Groundwater Flow; Zooxanthellae |
| Storlazzi, CD; Elias, E; Field, ME; Presto, MK. 2011. Numerical modeling of the impact of sea-level rise on fringing coral reef hydrodynamics and sediment transport. Coral Reefs 30:83-96. | 2011 | US Pacific & Hawaii | Model | Climate; Light; Primary Production; Sediment; Shoreline Protection; Water Depth & Sea Level |
| Kawamata, S; Yoshimitsu, S; Tanaka, T; Igari, T; Tokunaga, S. 2011. Importance of sedimentation for survival of canopy-forming fucoid algae in urchin barrens. Journal of Sea Research 66:76-86. | 2011 | Japan | Field Study & Monitoring | Algae; Fleshy Macroalgae; Sea Urchins; Sediment; Shoreline Protection; Substrate |
| Rankey, EC; Reeder, SL; Garza-Perez, JR. 2011. Controls On Links Between Geomorphical And Surface Sedimentological Variability: Aitutaki And Maupiti Atolls, South Pacific Ocean. Journal of Sedimentary Research 81:885-900. | 2011 | US Pacific & Hawaii; Australia; Bahamas; India; Pacific Ocean; Cook Islands | Model | Sediment; Water Depth & Sea Level |
| Ruiz-Jones, GJ; Hadfield, MG. 2011. Loss of Sensory Elements in the Apical Sensory Organ During Metamorphosis in the Nudibranch Phestilla sibogae. Biological Bulletin 220:39-46. | 2011 | | | Molluscs; Stony Coral |
| Sawall, Y; Teichberg, MC; Seemann, J; Litaay, M; Jompa, J; Richter, C. 2011. Nutritional status and metabolism of the coral Stylophora subseriata along a eutrophication gradient in Spermonde Archipelago (Indonesia). Coral Reefs 30:841-853. | 2011 | Cuba; Indonesia | | Nutrients; Primary Production; Stony Coral; Zooxanthellae |
| Laland, KN; Atton, N; Webster, MM. 2011. From fish to fashion: experimental and theoretical insights into the evolution of culture. Philosophical Transactions of the Royal Society B: Biological Sciences 366:958-968. | 2011 | | Lab Study | Fish |
| Fulton, EA. 2011. Interesting times: winners, losers, and system shifts under climate change around Australia. ICES Journal of Marine Science 68:1329-1342. | 2011 | Global; US Pacific & Hawaii; Australia | Model | Climate; Fishing & Harvesting Management; Fishing Sector; Ocean Acidity |
| Andrews, AH; Kalish, JM; Newman, SJ; Johnston, JM. 2011. Bomb radiocarbon dating of three important reef-fish species using Indo-Pacific Delta(14)C chronologies. Marine and Freshwater Research 62:1259-1269. | 2011 | US Pacific & Hawaii; Indian Ocean; India | | Fish; Fishing Sector; Piscivorous Fish |
| Beukers-Stewart, BD; Beukers-Stewart, JS; Jones, GP. 2011. Behavioural and developmental responses of predatory coral reef fish to variation in the abundance of prey. Coral Reefs 30:855-864. | 2011 | | | Apex Fish Predators; Complex Habitat & Resources; Fish; Special Use Permitting; Stony Coral |
| Tynan, S; Opdyke, BN. 2011. Effects of lower surface ocean pH upon the stability of shallow water carbonate sediments. Science of the Total Environment 409:1082-1086. | 2011 | Australia | | Calcium Carbonate Deposition; CO2; Ocean Acidity; Sediment |
| Blythe, JN; da Silva, JCB; Pineda, J. 2011. Nearshore, seasonally persistent fronts in sea surface temperature on Red Sea tropical reefs. ICES Journal of Marine Science 68:1827-1832. | 2011 | Saudi Arabia | Index or Indicator; Remote Sensing | |
| Scott, A; Malcolm, HA; Damiano, C; Richardson, DL. 2011. Long-term increases in abundance of anemonefish and their host sea anemones in an Australian marine protected area. Marine and Freshwater Research 62:187-196. | 2011 | US Pacific & Hawaii; Australia | | Anemones & Zooanthids; Aquarium Stock; Fish; Marine Protected Areas; Small Herbivorous Fish |
| Cole, AJ; Lawton, RJ; Pratchett, MS; Wilson, SK. 2011. Chronic coral consumption by butterflyfishes. Coral Reefs 30:85-93. | 2011 | South & Central America; Australia; Caribbean | | Climate; Corallivorous Fish; Ocean Acidity; Stony Coral |
| Burt, JA; Feary, DA; Bauman, AG; Usseglio, P; Cavalcante, GH; Sale, PF. 2011. Biogeographic patterns of reef fish community structure in the northeastern Arabian Peninsula. ICES Journal of Marine Science 68:1875-1883. | 2011 | Oman | | Climate; Fish |
| Rooper, CN; Wilkins, ME; Rose, CS; Coon, C. 2011. Modeling the impacts of bottom trawling and the subsequent recovery rates of sponges and corals in the Aleutian Islands, Alaska. Continental Shelf Research 31:1827-1834. | 2011 | | Model | Commercial Fisheries; Finfish Harvest; Fish; Fishing & Harvesting Management; Fishing Sector; Sponges; Substrate; Trawling & Fishing Gear Damage |
| Nichol, SL; Brooke, BP. 2011. Shelf habitat distribution as a legacy of Late Quaternary marine transgressions: A case study from a tropical carbonate province. Continental Shelf Research 31:1845-1857. | 2011 | Australia | Model; GIS & Maps | Sediment; Sponges; Water Depth & Sea Level |
| Olivotto, I; Di Stefano, M; Rosetti, S; Cossignani, L; Pugnaloni, A; Giantomassi, F; Carnevali, O. 2011. Live prey enrichment, with particular emphasis on HUFAs, as limiting factor in false percula clownfish (Amphiprion ocellaris, Pomacentridae) larval development and metamorphosis: Molecular and biochemical implications. Comparative Biochemistry and Physiology A - Molecular and Integrative Physiology 159:207-218. | 2011 | | Model | Fish; Small Herbivorous Fish |
| Hamylton, SM; Spencer, T. 2011. Geomorphological modelling of tropical marine landscapes: Optical remote sensing, patches and spatial statistics. Continental Shelf Research 31:S151-S161. | 2011 | Indian Ocean; Seychelles; India; Iran | Model; GIS & Maps; Remote Sensing | Seagrasses |
| Mydlarz, LD; Palmer, CV. 2011. The presence of multiple phenoloxidases in Caribbean reef-building corals. Comparative Biochemistry and Physiology A - Molecular and Integrative Physiology 159:372-378. | 2011 | South & Central America; Caribbean | | Pathogens; Stony Coral; Substrate |
| Huang, Z; Brooke, BP; Harris, PT. 2011. A new approach to mapping marine benthic habitats using physical environmental data. Continental Shelf Research 31:S4-S16. | 2011 | Australia; Spain | GIS & Maps | Biological Monitoring, Mapping, & Scientific Research; Environmental Monitoring, Mapping, & Scientific Research; Nutrients; Sediment |
| Takeuchi, Y; Bapary, MA; Igarashi, S; Imamura, S; Sawada, Y; Matsumoto, M; Hur, SP; Takemura, A. 2011. Molecular cloning and expression of long-wavelength-sensitive cone opsin in the brain of a tropical damselfish. Comparative Biochemistry and Physiology A - Molecular and Integrative Physiology 160:486-492. | 2011 | | Index or Indicator | Fish; Small Herbivorous Fish |
| Edinger, EN; Sherwood, OA; Piper, DJW; Wareham, VE; Baker, KD; Gilkinson, KD; Scott, DB. 2011. Geological features supporting deep-sea coral habitat in Atlantic Canada. Continental Shelf Research 31:S69-S84. | 2011 | US East Coast (NC, SC, GA) | Review; Field Study & Monitoring; Model | Octocoral; Sediment; Skeletal Coral; Surface & Groundwater Flow |
| Ake-Castillo, JA. 2011. Temporal dynamics of Trichodesmium erythraeum (Cyanophyta) in the Nlational Park "Sistema Arrecifal Veracruzano" in the Gulf of Mexico. Journal of Environmental Biology 32:395-399. | 2011 | South & Central America; US East Coast (NC, SC, GA); Mexico | Field Study & Monitoring | Plankton |
| Wilson, AW; Binder, M; Hibbett, DS. 2011. Effects Of Gasteroid Fruiting Body Morphology On Diversification Rates In Three Independent Clades Of Fungi Estimated Using Binary State Speciation And Extinction Analysis. Evolution 65:1305-1322. | 2011 | | Model | Discharges |
| Nordt, SP; Wu, J; Zahller, S; Clark, RF; Cantrell, FL. 2011. Palytoxin Poisoning After Dermal Contact With Zoanthid Coral. Journal of Emergency Medicine 40:397-399. | 2011 | Oman | | Anemones & Zooanthids; Aquarium & Pet Trade; Aquarium Stock |
| Bhonde, U; Desai, BG. 2011. Discontinuity surfaces and event stratigraphy of Okha Shell Limestone Member: Implications for Holocene sea level changes, western India. Journal of Earth System Science 120:723-734. | 2011 | India | | Water Depth & Sea Level |
| Carlon, DB; Budd, AF; Lippe, C; Andrew, RL. 2011. The Quantitative Genetics Of Incipient Speciation: Heritability And Genetic Correlations Of Skeletal Traits In Populations Of Diverging Favia Fragum Ecomorphs. Evolution 65:3428-3447. | 2011 | | | Seagrasses; Stony Coral; Surface & Groundwater Flow |
| Piraino, S; Zega, G; Di Benedetto, C; Leone, A; Dell'Anna, A; Pennati, R; Carnevali, DC; Schmid, V; Reichert, H. 2011. Complex Neural Architecture in the Diploblastic Larva of Clava multicornis (Hydrozoa, Cnidaria). Journal of Comparative Neurology 519:1931-1951. | 2011 | China; Europe | | Anemones & Zooanthids; Substrate |
| Yahya, SAS; Gullstrom, M; Ohman, MC; Jiddawi, NS; Andersson, MH; Mgaya, YD; Lindahl, U. 2011. Coral bleaching and habitat effects on colonisation of reef fish assemblages: An experimental study. Estuarine Coastal and Shelf Science 94:16-23. | 2011 | Tanzania | Field Study & Monitoring | Climate; Complex Habitat & Resources; Corallivorous Fish; Fish; Marine Protected Areas; Skeletal Coral; Stony Coral |
| Brandariz-Nunez, A; Otero-Romero, I; Benavente, J; Martinez-Costas, JM. 2011. IC-tagged proteins are able to interact with each other and perform complex reactions when integrated into muNS-derived inclusions. Journal of Biotechnology 155:284-286. | 2011 | | | |
| Tamura, Y; Tsuchiya, M. 2011. Floating mucus aggregates derived from benthic microorganisms on rocky intertidal reefs: Potential as food sources for benthic animals. Estuarine Coastal and Shelf Science 94:199-209. | 2011 | | | Algae; Echinoderms; Microorganisms; Plankton; Sediment; Surface & Groundwater Flow |
| Wei, WC; Lin, SY; Chen, YJ; Wen, CC; Huang, CY; Palanisamy, A; Yang, NS; Sheu, JH. 2011. Topical application of marine briarane-type diterpenes effectively inhibits 12-O-tetradecanoylphorbol-13-acetate-induced inflammation and dermatitis in murine skin. Journal of Biomedical Science 18. | 2011 | China | Index or Indicator | Octocoral; Pathogens; Special Use Permitting |
| Beaufort, L; Probert, I; de Garidel-Thoron, T; Bendif, EM; Ruiz-Pino, D; Metzl, N; Goyet, C; Buchet, N; Coupel, P; Grelaud, M; Rost, B; Rickaby, REM; de Vargas, C. 2011. Sensitivity of coccolithophores to carbonate chemistry and ocean acidification. Nature 476:80-83. | 2011 | | | CO2; Ocean Acidity; Plankton; Primary Production |
| Shinzato, C; Shoguchi, E; Kawashima, T; Hamada, M; Hisata, K; Tanaka, M; Fujie, M; Fujiwara, M; Koyanagi, R; Ikuta, T; Fujiyama, A; Miller, DJ; Satoh, N. 2011. Using the Acropora digitifera genome to understand coral responses to environmental change. Nature 476:320-U82. | 2011 | | Model | Anemones & Zooanthids; Climate; Light; Ocean Acidity |
| Ben-Dov, E; Siboni, N; Shapiro, OH; Arotsker, L; Kushmaro, A. 2011. Substitution by Inosine at the 3 '-Ultimate and Penultimate Positions of 16S rRNA Gene Universal Primers. Microbial Ecology 61:1-6. | 2011 | | | Aquaculture; Microorganisms; Pathogens |
| Golberg, K; Eltzov, E; Shnit-Orland, M; Marks, RS; Kushmaro, A. 2011. Characterization of Quorum Sensing Signals in Coral-Associated Bacteria. Microbial Ecology 61:783-792. | 2011 | | | Microorganisms; Nutrients; Sponges; Stony Coral |
| Li, CQ; Liu, WC; Zhu, P; Yang, JL; Cheng, KD. 2011. Phylogenetic Diversity of Bacteria Associated with the Marine Sponge Gelliodes carnosa Collected from the Hainan Island Coastal Waters of the South China Sea. Microbial Ecology 62:800-812. | 2011 | China | | Cyanobacteria; Pharmaceuticals & Cosmetics Sources; Sponges |
| Larsson, AI; Purser, A. 2011. Sedimentation on the cold-water coral Lophelia pertusa: Cleaning efficiency from natural sediments and drill cuttings. Marine Pollution Bulletin 62:1159-1168. | 2011 | US East Coast (NC, SC, GA) | Model | Sediment; Stony Coral; Trawling & Fishing Gear Damage |
| Rainbow, PS. 2011. Charles Darwin and marine biology. Marine Ecology-an Evolutionary Perspective 32:130-134. | 2011 | | | |
| Brown, BE; Dunne, RP; Phongsuwan, N; Somerfield, PJ. 2011. Increased sea level promotes coral cover on shallow reef flats in the Andaman Sea, eastern Indian Ocean. Coral Reefs 30:867-878. | 2011 | Indian Ocean; India; Thailand | Field Study & Monitoring | Environmental Monitoring, Mapping, & Scientific Research; Stony Coral; Water Depth & Sea Level |
| Lapointe, BE; Bedford, BJ. 2011. Stormwater nutrient inputs favor growth of non-native macroalgae (Rhodophyta) on O'ahu, Hawaiian Islands. Harmful Algae 10:310-318. | 2011 | Florida; US Pacific & Hawaii | | Algae; Discharges; Invasive Species; Non-point Source Runoff; Nutrients; Surface & Groundwater Flow |
| Wenger, AS; Johansen, JL; Jones, GP. 2011. Suspended sediment impairs habitat choice and chemosensory discrimination in two coral reef fishes. Coral Reefs 30:879-887. | 2011 | | | Fish; Non-point Source Runoff; Sediment; Skeletal Coral; Small Herbivorous Fish; Surface & Groundwater Flow |
| Parsons, ML; Settlemier, CJ; Ballauer, JM. 2011. An examination of the epiphytic nature of Gambierdiscus toxicus, a dinoflagellate involved in ciguatera fish poisoning. Harmful Algae 10:598-605. | 2011 | US Pacific & Hawaii | Index or Indicator | Algae; Fish; Fleshy Macroalgae; Plankton |
| Reuter, M; Piller, WE. 2011. Volcaniclastic events in coral reef and seagrass environments: evidence for disturbance and recovery (Middle Miocene, Styrian Basin, Austria). Coral Reefs 30:889-899. | 2011 | Indonesia | | Algae; Coralline Algae; Nutrients; Seagrasses; Sediment |
| Villanueva, RD; Yap, HT; Montano, MNE. 2011. Reproductive effects of the water-accommodated fraction of a natural gas condensate in the Indo-Pacific reef-building coral Pocillopora damicornis. Ecotoxicology and Environmental Safety 74:2268-2274. | 2011 | US Pacific & Hawaii | Lab Study; Index or Indicator | Natural Gas & Electric Power; Stony Coral; Zooxanthellae |
| Dixson, DL; Munday, PL; Pratchett, M; Jones, GP. 2011. Ontogenetic changes in responses to settlement cues by Anemonefish. Coral Reefs 30:903-910. | 2011 | | | Algae; Anemones & Zooanthids; Fish |
| Lindahl, T; Soderqvist, T. 2011. Who wants to save the Baltic Sea when the success is uncertain? Regional Environmental Change 11:133-147. | 2011 | | | Monetary Valuation |
| Chauvin, A; Denis, V; Cuet, P. 2011. Is the response of coral calcification to seawater acidification related to nutrient loading? Coral Reefs 30:911-923. | 2011 | Indian Ocean; Cuba; India | | Calcium Carbonate Deposition; CO2; Discharges; Nutrients; Ocean Acidity; Primary Production; Stony Coral; Surface & Groundwater Flow; Zooxanthellae |
| Hur, SP; Takeuchi, Y; Esaka, Y; Nina, W; Park, YJ; Kang, HC; Jeong, HB; Lee, YD; Kim, SJ; Takemura, A. 2011. Diurnal expression patterns of neurohypophysial hormone genes in the brain of the threespot wrasse Halichoeres trimaculatus. Comparative Biochemistry and Physiology A - Molecular and Integrative Physiology 158:490-497. | 2011 | | | Planktivorous Fish; Special Use Permitting |
| Auster, PJ; Gjerde, K; Heupel, E; Watling, L; Grehan, A; Rogers, AD. 2011. Definition and detection of vulnerable marine ecosystems on the high seas: problems with the "move-on" rule. ICES Journal of Marine Science 68:254-264. | 2011 | US East Coast (NC, SC, GA) | | Finfish Harvest; Octocoral; Trawling & Fishing Gear Damage |
| Ferrari, MCO; McCormick, MI; Munday, PL; Meekan, MG; Dixson, DL; Lonnstedt, O; Chivers, DP. 2011. Putting prey and predator into the CO(2) equation - qualitative and quantitative effects of ocean acidification on predator-prey interactions. Ecology Letters 14:1143-1148. | 2011 | | | Climate; CO2; Fish; Ocean Acidity; Small Herbivorous Fish |
| Wild, C; Hoegh-Guldberg, O; Naumann, MS; Colombo-Pallotta, MF; Ateweberhan, M; Fitt, WK; Iglesias-Prieto, R; Palmer, C; Bythell, JC; Ortiz, JC; Loya, Y; van Woesik, R. 2011. Climate change impedes scleractinian corals as primary reef ecosystem engineers. Marine and Freshwater Research 62:205-215. | 2011 | Global | Review | Climate; Finfish Harvest; Ocean Acidity; Pathogens; Shoreline Protection; Stony Coral; Tourism & Recreation |
| Thresher, RE; Adkins, J; Fallon, SJ; Gowlett-Holmes, K; Althaus, F; Williams, A. 2011. Extraordinarily high biomass benthic community on Southern Ocean seamounts. Scientific Reports 1. | 2011 | Australia | | |
| Donas, KP; Schonefeld, T; Schlabach, R; Torsello, G. 2011. Eccentric infrarenal aortic stenosis. Surgical and endovascular treatment. Chirurg 82:367-369. | 2011 | | | Invasive Species; Pathogens |
| Murillo, FJ; Munoz, PD; Altuna, A; Serrano, A. 2011. Distribution of deep-water corals of the Flemish Cap, Flemish Pass, and the Grand Banks of Newfoundland (Northwest Atlantic Ocean): interaction with fishing activities. ICES Journal of Marine Science 68:319-332. | 2011 | US East Coast (NC, SC, GA); Atlantic Ocean | GIS & Maps | Accidental & Illegal Harvest; Finfish Harvest; Fish; Fishing Sector; Marine Protected Areas; Octocoral; Stony Coral |
| Anderson, MJ; Crist, TO; Chase, JM; Vellend, M; Inouye, BD; Freestone, AL; Sanders, NJ; Cornell, HV; Comita, LS; Davies, KF; Harrison, SP; Kraft, NJB; Stegen, JC; Swenson, NG. 2011. Navigating the multiple meanings of beta diversity: a roadmap for the practicing ecologist. Ecology Letters 14:19-28. | 2011 | Indonesia | Model | |
| Rassweiler, A; Rassweiler, T. 2011. Does rapid scavenging hide non-predation mortality in coral-reef communities? Marine and Freshwater Research 62:510-515. | 2011 | South & Central America; Australia; Caribbean | Field Study & Monitoring | Fish |
| Kline, DI; Vollmer, SV. 2011. White Band Disease (type I) of Endangered Caribbean Acroporid Corals is Caused by Pathogenic Bacteria. Scientific Reports 1. | 2011 | South & Central America; US Pacific & Hawaii; Caribbean | | Microorganisms; Pathogens |
| Su, YC; Zhang, GL; Wang, WZ; Zou, B; Ao, L. 2011. One-Step Preparation of N-Doped Nanowhisker TiO(2) by Micro Arc Oxidation. Chinese Physics Letters 28. | 2011 | | | |
| Braga-Henriques, A; Carreiro-Silva, M; Porteiro, FM; de Matos, V; Sampaio, I; Ocana, O; Avila, SP. 2011. The association between a deep-sea gastropod Pedicularia sicula (Caenogastropoda: Pediculariidae) and its coral host Errina dabneyi (Hydrozoa: Stylasteridae) in the Azores. ICES Journal of Marine Science 68:399-407. | 2011 | US East Coast (NC, SC, GA) | | Accidental & Illegal Harvest; Finfish Harvest |
| Arnold, SN; Steneck, RS. 2011. Settling into an Increasingly Hostile World: The Rapidly Closing "Recruitment Window" for Corals. PLoS One 6. | 2011 | South & Central America; Florida; Belize; Caribbean | | Algae; Coralline Algae; Marine Worms; Sponges; Stony Coral; Substrate |
| Whatmough, S; Van Putten, I; Chin, A. 2011. From hunters to nature observers: a record of 53 years of diver attitudes towards sharks and rays and marine protected areas. Marine and Freshwater Research 62:755-763. | 2011 | Australia; Cuba | Field Study & Monitoring | Apex Fish Predators; Dive, Snorkeling, & Swimming Tourism; Environmental Monitoring, Mapping, & Scientific Research; Finfish Harvest; Fish; Marine Protected Areas; Tourism & Recreation |
| Carreiro-Silva, M; Braga-Henriques, A; Sampaio, I; de Matos, V; Porteiro, FM; Ocana, O. 2011. Isozoanthus primnoidus, a new species of zoanthid (Cnidaria: Zoantharia) associated with the gorgonian Callogorgia verticillata (Cnidaria: Alcyonacea). ICES Journal of Marine Science 68:408-415. | 2011 | US East Coast (NC, SC, GA) | | Anemones & Zooanthids; Octocoral |
| Huvenne, VAI; Tyler, PA; Masson, DG; Fisher, EH; Hauton, C; Huhnerbach, V; Le Bas, TP; Wolff, GA. 2011. A Picture on the Wall: Innovative Mapping Reveals Cold-Water Coral Refuge in Submarine Canyon. PLoS One 6. | 2011 | US East Coast (NC, SC, GA); Europe | GIS & Maps | Environmental Monitoring, Mapping, & Scientific Research; Sediment; Stony Coral; Trawling & Fishing Gear Damage; Water Depth & Sea Level |
| Hughes, AO; Croke, JC. 2011. Validation of a spatially distributed erosion and sediment yield model (SedNet) with empirically derived data from a catchment adjacent to the Great Barrier Reef Lagoon. Marine and Freshwater Research 62:962-973. | 2011 | Australia; Europe | Model | Dredging, Draining, & Filling; Sediment; Surface & Groundwater Flow |
| Stevenson, TC; Tissot, BN; Dierking, J. 2011. Fisher behaviour influences catch productivity and selectivity in West Hawaii's aquarium fishery. ICES Journal of Marine Science 68:813-822. | 2011 | Global; US Pacific & Hawaii | | Aquarium & Pet Trade; Aquarium Stock; Finfish Harvest; Fishing Sector; Marine Protected Areas; Small Herbivorous Fish |
| Kvitt, H; Rosenfeld, H; Zandbank, K; Tchernov, D. 2011. Regulation of Apoptotic Pathways by Stylophora pistillata (Anthozoa, Pocilloporidae) to Survive Thermal Stress and Bleaching. PLoS One 6. | 2011 | | | Anemones & Zooanthids; Climate; Special Use Permitting; Stony Coral |
| Sinutok, S; Hill, R; Doblin, MA; Wuhrer, R; Ralph, PJ. 2011. Warmer more acidic conditions cause decreased productivity and calcification in subtropical coral reef sediment-dwelling calcifiers. Limnology and Oceanography 56:1200-1212. | 2011 | | | Algae; Calcareous Macroalgae; Climate; CO2; Ocean Acidity; Primary Production; Sediment; Stony Coral |
| Rodriguez-Martinez, RE; Jordan-Garza, AG; Maldonado, MA; Blanchon, P. 2011. Controls on Coral-Ground Development along the Northern Mesoamerican Reef Tract. PLoS One 6. | 2011 | South & Central America; US Virgin Islands; Caribbean; Mexico | | Octocoral; Sediment; Sponges; Stony Coral; Storms & Hurricanes; Tourism & Recreation |
| Xiao, Y; Liu, HL; Zhu, JG; Shi, WC; Liu, MC. 2011. A 3D bounding surface model for rockfill materials. Science China - Technological Series 54:2904-2915. | 2011 | | Model | |
| Wiebe, A; Sturman, A; Mcgowan, H. 2011. Wavelet Analysis of Atmospheric Turbulence over a Coral Reef Flat. Journal of Atmospheric and Oceanic Technology 28:698-708. | 2011 | Global; Australia | | Climate; Monetary Valuation |
| Tedetti, M; Cuet, P; Guigue, C; Goutx, M. 2011. Characterization of dissolved organic matter in a coral reef ecosystem subjected to anthropogenic pressures (La Reunion Island, Indian Ocean) using multi-dimensional fluorescence spectroscopy. Science of the Total Environment 409:2198-2210. | 2011 | Indian Ocean; Reunion; India | Index or Indicator; Decision Support Frameworks & Tools | Discharges; Sediment; Surface & Groundwater Flow |
| Golbuu, Y; Friedlander, AM. 2011. Spatial and temporal characteristics of grouper spawning aggregations in marine protected areas in Palau, western Micronesia. Estuarine Coastal and Shelf Science 92:223-231. | 2011 | South & Central America; Belize; Palau; Micronesia | | Finfish Harvest; Fishing Sector; Marine Protected Areas; Piscivorous Fish |
| Helama, S; Hood, BC. 2011. Stone Age midden deposition assessed by bivalve sclerochronology and radiocarbon wiggle-matching of Arctica islandica shell increments. Journal of Archaeological Science 38:452-460. | 2011 | US East Coast (NC, SC, GA); Norway | Decision Support Frameworks & Tools | Climate |
| Lim, N; Munday, CI; Allison, GE; O'Loingsigh, T; De Deckker, P; Tapper, NJ. 2011. Microbiological and meteorological analysis of two Australian dust storms in April 2009. Science of the Total Environment 412:223-231. | 2011 | Australia | | Microorganisms; Storms & Hurricanes; Surface & Groundwater Flow |
| Moura, RL; Francini, RB; Chaves, EM; Minte-Vera, CV; Lindeman, KC. 2011. Use of riverine through reef habitat systems by dog snapper (Lutjanus jocu) in eastern Brazil. Estuarine Coastal and Shelf Science 95:274-278. | 2011 | US East Coast (NC, SC, GA) | | Complex Habitat & Resources; Fish; Mangroves; Piscivorous Fish; Seagrasses; Surface & Groundwater Flow |
| Vahtmae, E; Kutser, T; Kotta, J; Parnoja, M. 2011. Detecting patterns and changes in a complex benthic environment of the Baltic Sea. Journal of Applied Remote Sensing 5. | 2011 | | GIS & Maps; Remote Sensing | Algae; Cyanobacteria; Microorganisms |
| Bouma, JA; Kuik, O; Dekker, AG. 2011. Assessing the value of Earth Observation for managing coral reefs: An example from the Great Barrier Reef. Science of the Total Environment 409:4497-4503. | 2011 | Global; Australia; Europe | | Climate; Monetary Valuation; Non-point Source Runoff; Nutrients; Sediment |
| Andutta, FP; Ridd, PV; Wolanski, E. 2011. Dynamics of hypersaline coastal waters in the Great Barrier Reef. Estuarine Coastal and Shelf Science 94:299-305. | 2011 | Australia | | Salinity; Surface & Groundwater Flow |
| Ziskin, D; Aubrecht, C; Elvidge, C; Tuttle, B; Eakin, CM; Strong, AE; Guild, LS. 2011. Describing coral reef bleaching using very high spatial resolution satellite imagery: experimental methodology. Journal of Applied Remote Sensing 5. | 2011 | | Field Study & Monitoring; Index or Indicator; Decision Support Frameworks & Tools | Climate |
| Simon, T; Pinheiro, HT; Joyeux, JC. 2011. Target fishes on artificial reefs: Evidences of impacts over nearby natural environments. Science of the Total Environment 409:4579-4584. | 2011 | | | Artificial Habitat; Commercial Fisheries; Fish; Fishing & Harvesting Management; Fishing Sector; Nutrients; Piscivorous Fish; Recreational Fishing; Special Use Permitting; Tourism & Recreation |
| Sangil, C; Sanson, M; Afonso-Carrillo, J. 2011. Spatial variation patterns of subtidal seaweed assemblages along a subtropical oceanic archipelago: Thermal gradient vs herbivore pressure. Estuarine Coastal and Shelf Science 94:322-333. | 2011 | US East Coast (NC, SC, GA) | | Algae; Docks & Marinas; Fleshy Macroalgae; Sea Urchins; Sediment |
| Yang, WF; Huang, YP; Chen, M; Qiu, YS; Li, HB; Zhang, L. 2011. Unusually high (210)Po activities in the surface water of the Zhubi Coral Reef Lagoon in the South China Sea. Science of the Total Environment 409:4612-4617. | 2011 | US Pacific & Hawaii; China | Model | Nutrients; Primary Production; Sediment; Surface & Groundwater Flow |
| van Rein, H; Brown, CJ; Quinn, R; Breen, J; Schoeman, D. 2011. An evaluation of acoustic seabed classification techniques for marine biotope monitoring over broad-scales (> 1 km(2)) and meso-scales (10 m(2)-1 km(2)). Estuarine Coastal and Shelf Science 93:336-349. | 2011 | | Field Study & Monitoring; GIS & Maps; Decision Support Frameworks & Tools | Biological Monitoring, Mapping, & Scientific Research; Seagrasses |
| Jones, RJ. 2011. Spatial patterns of chemical contamination (metals, PAHs, PCBs, PCDDs/PCDFS) in sediments of a non-industrialized but densely populated coral atoll/small island state (Bermuda). Marine Pollution Bulletin 62:1362-1376. | 2011 | South & Central America; Bermuda; Caribbean | | Boating Activities; Boating Regulations; Discharges; Non-point Source Runoff; Sediment; Solid Waste Disposal; Toxics |
| Richards, ZT; Beger, M. 2011. A quantification of the standing stock of macro-debris in Majuro lagoon and its effect on hard coral communities. Marine Pollution Bulletin 62:1693-1701. | 2011 | US Pacific & Hawaii; Marshall Islands | | Finfish Harvest; Housing; Marine Debris; Stony Coral; Trawling & Fishing Gear Damage |
| Irikawa, A; Casareto, BE; Suzuki, Y; Agostini, S; Hidaka, M; van Woesik, R. 2011. Growth anomalies on Acropora cytherea corals. Marine Pollution Bulletin 62:1702-1707. | 2011 | US Pacific & Hawaii; Japan | | Pathogens; Stony Coral |
| Williams, GJ; Knapp, IS; Maragos, JE; Davy, SK. 2011. Proximate environmental drivers of coral communities at Palmyra Atoll: Establishing baselines prior to removing a WWII military causeway. Marine Pollution Bulletin 62:1842-1851. | 2011 | Australia; India; Palmyra Atoll | Model | Climate; Hydrocoral; Military; Sediment; Stony Coral; Surface & Groundwater Flow |
| Senal, MIS; Jacinto, GS; San Diego-McGlone, ML; Siringan, F; Zamora, P; Soria, L; Cardenas, MB; Villanoy, C; Cabrera, O. 2011. Nutrient inputs from submarine groundwater discharge on the Santiago reef flat, Bolinao, Northwestern Philippines. Marine Pollution Bulletin 63:195-200. | 2011 | Florida; Philippines | GIS & Maps | Discharges; Nutrients; Surface & Groundwater Flow |
| Hughes, L. 2011. Climate change and Australia: key vulnerable regions. Regional Environmental Change 11:S189-S195. | 2011 | Australia | Review | Climate; Landscape Conservation & Restoration |
| Kelly, R. P., M. M. Foley, W. S. Fisher, R. A. Feely, B. S. Halpern, G. G. Waldbusser, and M. R. Caldwell 1. 2011. Mitigating Local Causes of Ocean Acidification with Existing Laws. Science 332:1036-1037. | 2011 | Global | Decision Support Frameworks & Tools | CO2; Ocean Acidity |
| Godinot, C; Houlbreque, F; Grover, R; Ferrier-Pages, C. 2011. Coral Uptake of Inorganic Phosphorus and Nitrogen Negatively Affected by Simultaneous Changes in Temperature and pH. PLoS One 6. | 2011 | Cuba | | Climate; CO2; Nutrients; Ocean Acidity; Primary Production; Stony Coral; Zooxanthellae |
| Crisci, C; Bensoussan, N; Romano, JC; Garrabou, J. 2011. Temperature Anomalies and Mortality Events in Marine Communities: Insights on Factors behind Differential Mortality Impacts in the NW Mediterranean. PLoS One 6. | 2011 | | | Climate; Octocoral |
| Konow, N; Bellwood, DR. 2011. Evolution of High Trophic Diversity Based on Limited Functional Disparity in the Feeding Apparatus of Marine Angelfishes (f. Pomacanthidae). PLoS One 6. | 2011 | US Pacific & Hawaii | | Corallivorous Fish; Invertivorous Fish; Large Herbivorous Fish; Planktivorous Fish; Small Herbivorous Fish |
| Oliver, L. M., J. C. Lehrter, and W. S. Fisher. 2011. Relating landscape development intensity to coral reef condition in the watersheds of St. Croix, US Virgin Islands. Marine Ecology Progress Series 427:293-302. | 2011 | US Virgin Islands | Index or Indicator; Decision Support Frameworks & Tools | Landscape Changes; Stony Coral |
| Adam, TC; Schmitt, RJ; Holbrook, SJ; Brooks, AJ; Edmunds, PJ; Carpenter, RC; Bernardi, G. 2011. Herbivory, Connectivity, and Ecosystem Resilience: Response of a Coral Reef to a Large-Scale Perturbation. PLoS One 6. | 2011 | Global; South & Central America; US Pacific & Hawaii; India; Caribbean | | Algae; Climate; Corallivorous Fish; Fish; Large Herbivorous Fish; Seagrasses; Small Herbivorous Fish |
| Perrings, C., A. Duraiappah, A. Larigauderie, and H. Mooney. 2011. The Biodiversity and Ecosystem Services Science-Policy Interface. Science 331:1139-1140. | 2011 | | | |
| Liu, JJ; Zhou, SR. 2011. Asymmetry in Species Regional Dispersal Ability and the Neutral Theory. PLoS One 6. | 2011 | | Model | |
| Devi, P; Wahidulla, S; Kamat, T; D'Souza, L. 2011. Screening marine organisms for antimicrobial activity against clinical pathogens. Indian journal of GeoMarine Sciences 40:338-346. | 2011 | India | | Echinoderms; Octocoral; Pathogens; Seastars; Sponges |
| Teece, MA; Estes, B; Gelsleichter, E; Lirman, D. 2011. Heterotrophic and autotrophic assimilation of fatty acids by two scleractinian corals, Montastraea faveolata and Porites astreoides. Limnology and Oceanography 56:1285-1296. | 2011 | Florida | | Algae; Stony Coral; Zooxanthellae |
| Murugan, A; Dhanya, S; Sarcar, AB; Naganathan, V; Rajagopal, S; Balasubramanian, T. 2011. Fishery biology, demography of three spotted seahorse, Hippocampus trimaculatus inhabiting Gulf of Mannar region, Southeast coast of India. Indian journal of GeoMarine Sciences 40:411-423. | 2011 | India | | Accidental & Illegal Harvest; Dive, Snorkeling, & Swimming Tourism; Finfish Harvest; Fishing Sector; Invertebrate Harvest; Seagrasses; Trawling & Fishing Gear Damage |
| Hill, R; Brown, CM; DeZeeuw, K; Campbell, DA; Ralph, PJ. 2011. Increased rate of D1 repair in coral symbionts during bleaching is insufficient to counter accelerated photo-inactivation. Limnology and Oceanography 56:139-146. | 2011 | | | Stony Coral; Zooxanthellae |
| Nobi, EP; Dilipan, E; Sivakumar, K; Thangaradjou, T. 2011. Distribution and biology of seagrass resources of Lakshadweep group of Islands, India. Indian journal of GeoMarine Sciences 40:624-634. | 2011 | India | | Docks & Marinas; Seagrasses |
| Ferrier-Pages, C; Peirano, A; Abbate, M; Cocito, S; Negri, A; Rottier, C; Riera, P; Rodolfo-Metalpa, R; Reynaud, S. 2011. Summer autotrophy and winter heterotrophy in the temperate symbiotic coral Cladocora caespitosa. Limnology and Oceanography 56:1429-1438. | 2011 | | | Nutrients; Plankton; Sediment; Zooxanthellae |
| Mondal, T; Raghunathan, C; Ramakrishna. 2011. New recruitment of diverse scleractinian corals in little Andaman Island after tsunami. Indian journal of GeoMarine Sciences 40:653-656. | 2011 | Indian Ocean; India | | Sediment; Skeletal Coral; Stony Coral |
| Freeman, CJ; Thacker, RW. 2011. Complex interactions between marine sponges and their symbiotic microbial communities. Limnology and Oceanography 56:1577-1586. | 2011 | South & Central America; Caribbean | | Cyanobacteria; Microorganisms; Nutrients; Sponges; Zooxanthellae |
| Coiras, E; Lo Iacono, C; Gracia, E; Danobeitia, J; Sanz, JL. 2011. Automatic Segmentation of Multi-Beam Data for Predictive Mapping of Benthic Habitats on the Chella Seamount (North-Eastern Alboran Sea, Western Mediterranean). IEEE Journal of Selected Topics in Applied Earth Observations and Remote Sensing 4:809-813. | 2011 | US East Coast (NC, SC, GA) | GIS & Maps | Octocoral |
| Zenobia, SJ; Garrison, LM; Kulcinski, GL. 2011. Surface Pore Formation In Helium Implanted Fine-Grain Tungsten And Tungsten Needles As Engineered First Wall And Divertor Plate Materials. Pages 344-348 in 19th Topical Meeting on the Technology of Fusion Energy (TOFE-19). LA GRANGE PK. | 2011 | | | |
| Williams, AJ; Little, LR; Begg, GA. 2011. Balancing indigenous and non-indigenous commercial objectives in a coral reef finfish fishery. ICES Journal of Marine Science 68:834-847. | 2011 | Australia | Model | Commercial Fisheries; Finfish Harvest; Fish; Fishing & Harvesting Management; Fishing Sector |
| Jeng, MS; Huang, HD; Dai, CF; Hsiao, YC; Benayahu, Y. 2011. Sclerite calcification and reef-building in the fleshy octocoral genus Sinularia (Octocorallia: Alcyonacea). Coral Reefs 30:925-933. | 2011 | Australia; Taiwan | | Calcium Carbonate Deposition; Octocoral |
| Chellaram, C; Anand, TP; Kesavan, D; Priya, G; Chandrika, M; Gladis, C. 2011. Enhanced cultivability of antagonistic bacterial strains from soft coral Sinularia sp., Gulf of Mannar, Southeastern India. African Journal Of Microbiology Research 5:1521-1526. | 2011 | India | | Microorganisms; Nutrients; Octocoral |
| Supova, M; Martynkova, GS; Sucharda, Z. 2011. Bioapatite Made From Chicken Femur Bone. Ceramics - Silikaty 55:256-260. | 2011 | | | Pharmaceuticals & Cosmetics; Pharmaceuticals & Cosmetics Sources |
| Santos, MN; Leitao, F; Moura, A; Cerqueira, M; Monteiro, CC. 2011. Diplodus spp. on artificial reefs of different ages: influence of the associated macrobenthic community. ICES Journal of Marine Science 68:87-97. | 2011 | | | Artificial Habitat; Fish |
| Mirams, AGK; Treml, EA; Shields, JL; Liggins, L; Riginos, C. 2011. Vicariance and dispersal across an intermittent barrier: population genetic structure of marine animals across the Torres Strait land bridge. Coral Reefs 30:937-949. | 2011 | Global; US Pacific & Hawaii; Australia; India; Pacific Ocean | | Small Herbivorous Fish |
| Xiao, CW; Zhou, HF; Liu, GP; Zhang, P; Fu, Y; Gu, P; Hou, HL; Tang, TT; Fan, XQ. 2011. Bone marrow stromal cells with a combined expression of BMP-2 and VEGF-165 enhanced bone regeneration. Biomedical Materials 6. | 2011 | | | |
| James, NP; Jones, B; Nelson, CS; Campbell, HJ; Titjen, J. 2011. Cenozoic temperate and sub-tropical carbonate sedimentation on an oceanic volcano - Chatham Islands, New Zealand. Sedimentology 58:1007-1029. | 2011 | US Pacific & Hawaii; Australia | | Algae; Calcium Carbonate Deposition; Non-point Source Runoff; Nutrients; Sediment; Surface & Groundwater Flow |
| Scopelitis, J; Andrefouet, S; Phinn, S; Done, T; Chabanet, P. 2011. Coral colonisation of a shallow reef flat in response to rising sea level: quantification from 35 years of remote sensing data at Heron Island, Australia. Coral Reefs 30:951-965. | 2011 | Australia; India | Remote Sensing | Climate; Stony Coral; Water Depth & Sea Level |
| Lin, YC; Huang, SY; Jean, YH; Chen, WF; Sung, CS; Kao, ES; Wang, HM; Chakraborty, C; Duh, CY; Wen, ZH. 2011. Intrathecal lemnalol, a natural marine compound obtained from Formosan soft coral, attenuates nociceptive responses and the activity of spinal glial cells in neuropathic rats. Behavioural Pharmacology 22:739-750. | 2011 | | Model | Octocoral; Special Use Permitting |
| Jorry, SJ; Bievre, G. 2011. Integration of sedimentology and ground-penetrating radar for high-resolution imaging of a carbonate platform. Sedimentology 58:1370-1390. | 2011 | | Model | CO2; Sediment |
| Fricke, A; Titlyanova, TV; Nugues, MM; Bischof, K. 2011. Depth-related variation in epiphytic communities growing on the brown alga Lobophora variegata in a Caribbean coral reef. Coral Reefs 30:967-973. | 2011 | South & Central America; Australia; Caribbean | | Algae; Calcareous Macroalgae; Fleshy Macroalgae; Turf Algae |
| Barnes, BB; Hu, CM; Muller-Karger, F. 2011. An Improved High-Resolution SST Climatology to Assess Cold Water Events off Florida. Ieee Geoscience And Remote Sensing Letters 8:769-773. | 2011 | Florida | | Sea Temperatures |
| Lanfranchi, A; Berra, F; Jadoul, F. 2011. Compositional changes in sigmoidal carbonate clinoforms (Late Tithonian, eastern Sardinia, Italy): insights from quantitative microfacies analyses. Sedimentology 58:2039-2060. | 2011 | | Decision Support Frameworks & Tools | Sediment |
| Le Grand, HM; Fabricius, KE. 2011. Relationship of internal macrobioeroder densities in living massive Porites to turbidity and chlorophyll on the Australian Great Barrier Reef. Coral Reefs 30:97-107. | 2011 | Australia; India | Index or Indicator | Nutrients; Stony Coral; Surface & Groundwater Flow |
| Eghtesadi-Araghi, P; Haffner, PD; Drouillard, K; Maghsoudlou, W. 2011. Polycyclic aromatic hydrocarbons contaminants in Black-lip (Pearl) Oyster Pinctada margaritifera from Kish Island (Persian Gulf). Iranian Journal Of Fisheries Sciences 10:25-34. | 2011 | | Lab Study | Sediment |
| Williams, RB; Moore, PG. 2011. An annotated catalogue of the marine biological paintings of Thomas Alan Stephenson (1898-1961). Archives of Natural History 38:242-266. | 2011 | Australia | | Algae; Anemones & Zooanthids; Museums, Amusement Parks, Historical Sites |
| Hamylton, S. 2011. The use of remote sensing and linear wave theory to model local wave energy around Alphonse Atoll, Seychelles. Estuarine Coastal and Shelf Science 95:349-358. | 2011 | Seychelles | Model; Index or Indicator; GIS & Maps; Remote Sensing | Seagrasses; Shoreline Protection |
| Casal, G; Sanchez-Carnero, N; Sanchez-Rodriguez, E; Freire, J. 2011. Remote sensing with SPOT-4 for mapping kelp forests in turbid waters on the south European Atlantic shelf. Estuarine Coastal and Shelf Science 91:371-378. | 2011 | US East Coast (NC, SC, GA); Europe; Spain | GIS & Maps; Remote Sensing | Climate; Fleshy Macroalgae; Seagrasses; Substrate |
| Herbeck, LS; Unger, D; Krumme, U; Liu, SM; Jennerjahn, TC. 2011. Typhoon-induced precipitation impact on nutrient and suspended matter dynamics of a tropical estuary affected by human activities in Hainan, China. Estuarine Coastal and Shelf Science 93:375-388. | 2011 | China | | Agriculture; Aquaculture; Discharges; Non-point Source Runoff; Nutrients; Plankton; Salinity; Seagrasses; Storms & Hurricanes; Surface & Groundwater Flow |
| Miller, MW; Piniak, GA; Williams, DE. 2011. Coral mass bleaching and reef temperatures at Navassa Island, 2006. Estuarine Coastal and Shelf Science 91:42-50. | 2011 | South & Central America; Florida; US Virgin Islands; Caribbean | | Pathogens; Stony Coral |
| Kimirei, IA; Nagelkerken, I; Griffioen, B; Wagner, C; Mgaya, YD. 2011. Ontogenetic habitat use by mangrove/seagrass-associated coral reef fishes shows flexibility in time and space. Estuarine Coastal and Shelf Science 92:47-58. | 2011 | South & Central America; US Pacific & Hawaii; Tanzania; Caribbean | | Complex Habitat & Resources; Fish; Fishing Sector; Mangroves; Piscivorous Fish; Seagrasses |
| Jell, JS; Cook, AG; Jell, PA. 2011. Australian Cretaceous Cnidaria and Porifera. Alcheringa 35:241-284. | 2011 | Australia; India; Oman; Tonga | Review | Octocoral; Sponges; Stony Coral |
| Mao, SC; Gavagnin, M; Mollo, E; Guo, YW. 2011. A new rare asteriscane sesquiterpene and other related derivatives from the Hainan aeolid nudibranch Phyllodesmium magnum. Biochemical Systematics and Ecology 39:408-411. | 2011 | Australia; Guam; China | | Octocoral |
| Roff, G; Kvennefors, ECE; Fine, M; Ortiz, J; Davy, JE; Hoegh-Guldberg, O. 2011. The Ecology of 'Acroporid White Syndrome', a Coral Disease from the Southern Great Barrier Reef. PLoS One 6. | 2011 | Florida; US Pacific & Hawaii; Australia | Field Study & Monitoring | Pathogens; Stony Coral |
| Wang, CY; Chen, AN; Shao, CL; Li, L; Xu, Y; Qian, PY. 2011. Chemical constituents of soft coral Sarcophyton infundibuliforme from the South China Sea. Biochemical Systematics and Ecology 39:853-856. | 2011 | China | | Octocoral |
| Thurber, AR; Jones, WJ; Schnabel, K. 2011. Dancing for Food in the Deep Sea: Bacterial Farming by a New Species of Yeti Crab. PLoS One 6. | 2011 | US East Coast (NC, SC, GA) | | Lobster, Crab, & Shrimp |
| Grutter, AS; Rumney, JG; Sinclair-Taylor, T; Waldie, P; Franklin, CE. 2011. Fish mucous cocoons: the 'mosquito nets' of the sea. Biology Letters 7:292-294. | 2011 | | | Corallivorous Fish; Fish; Large Herbivorous Fish; Planktivorous Fish |
| Haas, AF; Nelson, CE; Kelly, LW; Carlson, CA; Rohwer, F; Leichter, JJ; Wyatt, A; Smith, JE. 2011. Effects of Coral Reef Benthic Primary Producers on Dissolved Organic Carbon and Microbial Activity. PLoS One 6. | 2011 | Australia; Cuba | | Algae; Calcareous Macroalgae; Complex Habitat & Resources; Coralline Algae; Microorganisms; Nutrients; Pathogens; Plankton; Primary Production; Stony Coral; Turf Algae |
| Osborn, KJ; Madin, LP; Rouse, GW. 2011. The remarkable squidworm is an example of discoveries that await in deep-pelagic habitats. Biology Letters 7:449-453. | 2011 | | | Marine Worms; Octopus & Squid |
| Fablet, R; Pecquerie, L; de Pontual, H; Hoie, H; Millner, R; Mosegaard, H; Kooijman, SALM. 2011. Shedding Light on Fish Otolith Biomineralization Using a Bioenergetic Approach. PLoS One 6. | 2011 | | Field Study & Monitoring; Model; Decision Support Frameworks & Tools | Bivalves; Climate; Environmental Monitoring, Mapping, & Scientific Research; Fish; Fishing & Harvesting Management; Fishing Sector; Ocean Acidity |
| Di Franco, A; Guidetti, P. 2011. Patterns of variability in early-life traits of fishes depend on spatial scale of analysis. Biology Letters 7:454-456. | 2011 | | Model | Fish |
| Goatley, CHR; Bellwood, DR. 2011. The Roles of Dimensionality, Canopies and Complexity in Ecosystem Monitoring. PLoS One 6. | 2011 | South & Central America; Caribbean | Field Study & Monitoring | Climate; Complex Habitat & Resources; Hotel & Food Services; Stony Coral |
| Chen, TR; Yu, KF. 2011. P/Ca in coral skeleton as a geochemical proxy for seawater phosphorus variation in Daya Bay, northern South China Sea. Marine Pollution Bulletin 62:2114-2121. | 2011 | China | | Nutrients; Plankton; Stony Coral |
| Oigman-Pszczol, SS; Creed, JC. 2011. Can patterns in benthic communities be explained by an environmental pressure index? Marine Pollution Bulletin 62:2181-2189. | 2011 | US East Coast (NC, SC, GA) | Field Study & Monitoring; Index or Indicator | Biological Monitoring, Mapping, & Scientific Research; Environmental Monitoring, Mapping, & Scientific Research; Stony Coral |
| Futch, JC; Griffin, DW; Banks, K; Lipp, EK. 2011. Evaluation of sewage source and fate on southeast Florida coastal reefs. Marine Pollution Bulletin 62:2308-2316. | 2011 | Florida | Index or Indicator | Microorganisms; Non-point Source Runoff; Sponges; Surface & Groundwater Flow |
| Rochelle-Newall, EJ; Chu, VT; Pringault, O; Amouroux, D; Arfi, R; Bettarel, Y; Bouvier, T; Bouvier, C; Got, P; Nguyen, TMH; Mari, X; Navarro, P; Duong, TN; Cao, TTT; Pham, TT; Ouillon, S; Torreton, JP. 2011. Phytoplankton distribution and productivity in a highly turbid, tropical coastal system (Bach Dang Estuary, Vietnam). Marine Pollution Bulletin 62:2317-2329. | 2011 | Vietnam | | Microorganisms; Nutrients; Plankton; Salinity; Surface & Groundwater Flow; Toxics |
| Abdulgafour, HI; Yam, FK; Hassan, Z; AL-Heuseen, K; Jawad, MJ. 2011. ZnO nanocoral reef grown on porous silicon substrates without catalyst. Journal of Alloys and Compounds 509:5627-5630. | 2011 | | Field Study & Monitoring | Substrate |
| Lin, HY; Wei, JD; Ou, CC; Lu, JW; Tsai, CY; Lee, MH. 2011. Hydrothermal synthesis and characterization of mesoporous zinc selenide agglomerates by nitrogen bubble templates. Journal of Alloys and Compounds 509:7009-7015. | 2011 | | | Nutrients |
| Leon, J; Woodroffe, CD. 2011. Improving the synoptic mapping of coral reef geomorphology using object-based image analysis. International Journal of Geographical Information Science 25:949-969. | 2011 | | Field Study & Monitoring; GIS & Maps; Remote Sensing | Environmental Monitoring, Mapping, & Scientific Research |
| Ros, AFH; Lusa, J; Meyer, M; Soares, M; Oliveira, RF; Brossard, M; Bshary, R. 2011. Does access to the bluestreak cleaner wrasse Labroides dimidiatus affect indicators of stress and health in resident reef fishes in the Red Sea? Hormones and Behavior 59:151-158. | 2011 | Egypt | Field Study & Monitoring; Index or Indicator | Complex Habitat & Resources; Fish; Planktivorous Fish; Substrate |
| Claremont, M; Reid, DG; Williams, ST. 2011. Evolution of corallivory in the gastropod genus Drupella. Coral Reefs 30:977-990. | 2011 | US Pacific & Hawaii | | Snails & Conch |
| Costantini, F; Rossi, S; Pintus, E; Cerrano, C; Gili, JM; Abbiati, M. 2011. Low connectivity and declining genetic variability along a depth gradient in Corallium rubrum populations. Coral Reefs 30:991-1003. | 2011 | | | Octocoral |
| Lamb, JB; Willis, BL. 2011. Using Coral Disease Prevalence to Assess the Effects of Concentrating Tourism Activities on Offshore Reefs in a Tropical Marine Park. Conservation Biology 25:1044-1052. | 2011 | Australia | | Collaboration & Partnering; Marine Protected Areas; Nutrients; Pathogens; Sunscreen Use; Tourism & Recreation |
| Claudet, J; Garcia-Charton, JA; Lenfant, P. 2011. Combined Effects of Levels of Protection and Environmental Variables at Different Spatial Resolutions on Fish Assemblages in a Marine Protected Area. Conservation Biology 25:105-114. | 2011 | | Field Study & Monitoring; GIS & Maps | Environmental Monitoring, Mapping, & Scientific Research; Fish; Marine Protected Areas; Substrate |
| Gaitan, AS; Mora, PAR; Narvaez, DM; Moreno, LMM. 2011. Characterising structural, mechanical and cytotoxic properties of coral-based composite material intended for bone implant applications. Revista Ingenieria e Investigacion 31:135-141. | 2011 | | | Pharmaceuticals & Cosmetics; Pharmaceuticals & Cosmetics Sources; Stony Coral |
| Palmer, CV; Traylor-Knowles, NG; Willis, BL; Bythell, JC. 2011. Corals Use Similar Immune Cells and Wound-Healing Processes as Those of Higher Organisms. PLoS One 6. | 2011 | | | Stony Coral; Storms & Hurricanes |
| Du, XG; Zhou, SR; Etienne, RS. 2011. Negative density dependence can offset the effect of species competitive asymmetry: A niche-based mechanism for neutral-like patterns. Journal of Theoretical Biology 278:127-134. | 2011 | | Model | |
| Zhang, ZL; Lowe, R; Falter, J; Ivey, G. 2011. A numerical model of wave- and current-driven nutrient uptake by coral reef communities. Ecological Modelling 222:1456-1470. | 2011 | Australia | Field Study & Monitoring; Model | Nutrients; Seawater Flow; Sediment |
| Muko, S; Iwasa, Y. 2011. Long-term effect of coral transplantation: Restoration goals and the choice of species. Journal of Theoretical Biology 280:127-138. | 2011 | | Model; Index or Indicator | Climate; Fish; Stony Coral |
| Melbourne-Thomas, J; Johnson, CR; Fulton, EA. 2011. Regional-scale scenario analysis for the Meso-American Reef system: Modelling coral reef futures under multiple stressors. Ecological Modelling 222:1756-1770. | 2011 | Global | Model; Decision Support Frameworks & Tools | Climate; Decision Support; Nutrients; Sediment |
| Muko, S; Iwasa, Y. 2011. Optimal choice of species and size class for transplanting coral community. Journal of Theoretical Biology 273:130-137. | 2011 | | Index or Indicator | Mitigation |
| Gonzalez-Rivero, M; Yakob, L; Mumby, PJ. 2011. The role of sponge competition on coral reef alternative steady states. Ecological Modelling 222:1847-1853. | 2011 | South & Central America; Belize; Caribbean | Model | Algae; Boring Sponges; Fish; Sea Urchins; Sponges |
| Zahavi, A; Perel, M. 2011. The information encoded by the sex steroid hormones testosterone and estrogen: A hypothesis. Journal of Theoretical Biology 280:146-149. | 2011 | | | Fish; Stony Coral |
| Cherubin, LM; Nemeth, RS; Idrisi, N. 2011. Flow and transport characteristics at an Epinephelus guttatus (red hind grouper) spawning aggregation site in St. Thomas (US Virgin Islands). Ecological Modelling 222:3132-3148. | 2011 | South & Central America; US Virgin Islands; Caribbean | Field Study & Monitoring; Model | Piscivorous Fish |
| Blackwood, JC; Hastings, A. 2011. The effect of time delays on Caribbean coral-algal interactions. Journal of Theoretical Biology 273:37-43. | 2011 | South & Central America; Caribbean | Model | |
| Tural, C; Sola, R; Alvarez, NP; Molto, J; Sanchez, M; Zamora, AM; Ornelas, A; Laguno, M; Gonzalez, J; von Wichmann, MA; Tellez, MJ; Paredes, R; Clotet, B. 2011. Effect of an induction period of pegylated interferon-alpha 2a and ribavirin on early virological response in HIV-HCV-coinfected patients: results from the CORAL-2 study. Antiviral Therapy 16:833-841. | 2011 | | | |
| Costa, DL; Gomes, PB; Santos, AM; Valenca, NS; Vieira, NA; Perez, CD. 2011. Morphological plasticity in the reef zoanthid Palythoa caribaeorum as an adaptive strategy. Annales Zoologici Fennici 48:349-358. | 2011 | Australia | | Anemones & Zooanthids; Ports & Harbors; Sediment; Stony Coral |
| Samy, M; Lizaso, JLS; Forcada, A. 2011. Status of marine protected areas in Egypt. Pages 165-177 in Conference on SIEBM 2010. BARCELONA. | 2011 | Egypt | | Finfish Harvest; Marine Protected Areas; Tourism & Recreation |
| Grkovic, T; Whitson, EL; Rabe, DC; Gardella, RS; Bottaro, DP; Linehan, WM; McMahon, JB; Gustafson, KR; McKee, TC. 2011. Identification and evaluation of soft coral diterpenes as inhibitors of HIF-2 alpha induced gene expression. Bioorganic & Medicinal Chemistry Letters 21:2113-2115. | 2011 | | | Octocoral; Pathogens; Pharmaceuticals & Cosmetics Sources; Special Use Permitting |
| Chau, VM; Phan, VK; Nguyen, XN; Nguyen, XC; Nguyen, PT; Nguyen, HN; Hoang, LTA; Do, CT; Dinh, TTT; Kang, HK; Jang, HD; Kim, YH. 2011. Cytotoxic and antioxidant activities of diterpenes and sterols from the Vietnamese soft coral Lobophytum compactum. Bioorganic & Medicinal Chemistry Letters 21:2155-2159. | 2011 | Vietnam | | Octocoral |
| Moravec, F; Justine, JL. 2011. New data on the morphology of Procamallanus (Procamallanus) annulatus and Procamallanus (Spirocamallanus) monotaxis (Nematoda: Camallanidae) from marine fishes off New Caledonia. Helminthologia 48:41-50. | 2011 | South & Central America; US Pacific & Hawaii; New Caledonia; Mexico | | Marine Worms |
| Leahy, SM; McCormick, MI; Mitchell, MD; Ferrari, MCO. 2011. To fear or to feed: the effects of turbidity on perception of risk by a marine fish. Biology Letters 7:811-813. | 2011 | | Field Study & Monitoring | Complex Habitat & Resources; Fish; Sediment; Small Herbivorous Fish |
| Fisher, R; Knowlton, N; Brainard, RE; Caley, MJ. 2011. Differences among Major Taxa in the Extent of Ecological Knowledge across Four Major Ecosystems. PLoS One 6. | 2011 | | | Mangroves; Seagrasses |
| Smith, AM; Kregting, L; Fern, S; Fraser, CI. 2011. Sedimentology of a wreck: The Rainbow Warrior revisited. Marine Pollution Bulletin 62:2412-2419. | 2011 | | | Artificial Habitat; Bivalves; Sediment; Sponges; Substrate |
| Fernandez, DP; Gagnon, AC; Adkins, JF. 2011. An Isotope Dilution ICP-MS Method for the Determination of Mg/Ca and Sr/Ca Ratios in Calcium Carbonate. Geostandards and Geoanalytical Research 35:23-37. | 2011 | | Field Study & Monitoring; Lab Study | Calcium Carbonate Deposition; Climate; Light |
| Clague, GE; Cheney, KL; Goldizen, AW; McCormick, MI; Waldie, PA; Grutter, AS. 2011. Long-term cleaner fish presence affects growth of a coral reef fish. Biology Letters 7:863-865. | 2011 | | | Fish; Planktivorous Fish; Small Herbivorous Fish |
| Lowe, PK; Bruno, JF; Selig, ER; Spencer, M. 2011. Empirical Models of Transitions between Coral Reef States: Effects of Region, Protection, and Environmental Change. PLoS One 6. | 2011 | South & Central America; Australia; Caribbean | Model | Climate; Marine Protected Areas |
| Blanco, AC; Watanabe, A; Nadaoka, K; Motooka, S; Herrera, EC; Yamamoto, T. 2011. Estimation of nearshore groundwater discharge and its potential effects on a fringing coral reef. Marine Pollution Bulletin 62:770-785. | 2011 | Japan | | Cyanobacteria; Discharges; Microorganisms; Nutrients; Plankton; Salinity; Surface & Groundwater Flow |
| Louvat, P; Bouchez, J; Paris, G. 2011. MC-ICP-MS Isotope Measurements with Direct Injection Nebulisation (d-DIHEN): Optimisation and Application to Boron in Seawater and Carbonate Samples. Geostandards and Geoanalytical Research 35:75-88. | 2011 | Germany | | Light |
| Vail, AL; McCormick, MI. 2011. Metamorphosing reef fishes avoid predator scent when choosing a home. Biology Letters 7:921-924. | 2011 | | Field Study & Monitoring | Fish; Small Herbivorous Fish |
| Kenkel, CD; Aglyamova, G; Alamaru, A; Bhagooli, R; Capper, R; Cunning, R; deVillers, A; Haslun, JA; Hedouin, L; Keshavmurthy, S; Kuehl, KA; Mahmoud, H; McGinty, ES; Montoya-Maya, PH; Palmer, CV; Pantile, R; Sanchez, JA; Schils, T; Silverstein, RN; Squiers. 2011. Development of Gene Expression Markers of Acute Heat-Light Stress in Reef-Building Corals of the Genus Porites. PLoS One 6. | 2011 | South & Central America; US Pacific & Hawaii; Caribbean | Field Study & Monitoring; Decision Support Frameworks & Tools | Climate; Hydrocoral; Stony Coral |
| Golbuu, Y; van Woesik, R; Richmond, RH; Harrison, P; Fabricius, KE. 2011. River discharge reduces reef coral diversity in Palau. Marine Pollution Bulletin 62:824-831. | 2011 | US Pacific & Hawaii; Palau; Micronesia | | Discharges; Non-point Source Runoff; Sediment; Stony Coral; Surface & Groundwater Flow |
| Dolenec, M; Zvab, P; Mihelcic, G; Belak, ZL; Lojen, S; Kniewald, G; Dolenec, T; Smuc, NR. 2011. Use of stable nitrogen isotope signatures of anthropogenic organic matter in the coastal environment: A case study of the Kosirina Bay (Murter Island, Croatia). Geologia Croatica 64:143-152. | 2011 | | | Nutrients; Plankton |
| Tseng, YJ; Wen, ZH; Hsu, CH; Dai, CF; Sheu, JH. 2011. Bioactive Cembranoids from the Dongsha Atoll Soft Coral Lobophytum crassum. Bulletin of the Chemical Society of Japan 84:1102-1106. | 2011 | Taiwan | | Octocoral |
| Leggat, W; Seneca, F; Wasmund, K; Ukani, L; Yellowlees, D; Ainsworth, TD. 2011. Differential Responses of the Coral Host and Their Algal Symbiont to Thermal Stress. PLoS One 6. | 2011 | | | Hydrocoral; Special Use Permitting; Stony Coral |
| Yang, WF; Huang, YP; Chen, M; Qiu, YS; Li, HB; Zhang, L. 2011. Carbon and nitrogen cycling in the Zhubi coral reef lagoon of the South China Sea as revealed by (210)Po and (210)Pb. Marine Pollution Bulletin 62:905-911. | 2011 | US Pacific & Hawaii; China | Model | CO2; Nutrients; Surface & Groundwater Flow |
| Wisshak, M; Tribollet, A; Golubic, S; Jakobsen, J; Freiwald, A. 2011. Temperate bioerosion: ichnodiversity and biodiversity from intertidal to bathyal depths (Azores). Geobiology 9:492-520. | 2011 | Australia | | Cyanobacteria; Light; Microorganisms; Sediment; Substrate |
| Chung, HM; Hwang, TL; Chen, YH; Su, JH; Lu, MC; Chen, JJ; Li, JJ; Fang, LS; Wang, WH; Sung, PJ. 2011. Rumphellclovane B, a Novel Clovane Analogue from the Gorgonian Coral Rumphella antipathies. Bulletin of the Chemical Society of Japan 84:119-121. | 2011 | | | Octocoral |
| Guillemot, N; Kulbicki, M; Chabanet, P; Vigliola, L. 2011. Functional Redundancy Patterns Reveal Non-Random Assembly Rules in a Species-Rich Marine Assemblage. PLoS One 6. | 2011 | US Pacific & Hawaii; Australia; New Caledonia | | Complex Habitat & Resources; Fish |
| Yang, WF; Huang, YP; Chen, M; Qiu, YS; Li, HB; Zhang, L. 2011. A large excess of (210)Po in the overlying water of the Zhubi Coral Reef flat, in the South China Sea. Marine Pollution Bulletin 62:912-917. | 2011 | China | | Nutrients; Sediment; Surface & Groundwater Flow |
| Chen, BW; Huang, CY; Wen, ZH; Su, JH; Wang, WH; Sung, PJ; Wu, YC; Sheu, JH. 2011. Klysimplexins U-X, Eunicellin-Based Diterpenoids from the Cultured Soft Coral Klyxum simplex. Bulletin of the Chemical Society of Japan 84:1237-1242. | 2011 | | | Octocoral |
| Plaisance, L; Caley, MJ; Brainard, RE; Knowlton, N. 2011. The Diversity of Coral Reefs: What Are We Missing? PLoS One 6. | 2011 | Global; South & Central America; US Pacific & Hawaii; Caribbean | Field Study & Monitoring | Biological Monitoring, Mapping, & Scientific Research; Climate; Stony Coral |
| Chen, BW; Su, JH; Dai, CF; Sung, PJ; Wu, YC; Lin, YT; Sheu, JH. 2011. Two New Cembranes from a Formosan Soft Coral Sinularia facile. Bulletin of the Chemical Society of Japan 84:1371-1373. | 2011 | | | Octocoral |
| Tai, CY; Chen, YH; Hwang, TL; Fang, LS; Wang, WH; Liu, MC; Su, JH; Wu, YC; Sung, PJ. 2011. Cladielloides C and D: Novel Eunicellin-Based Diterpenoids from an Indonesian Octocoral Cladiella sp. Bulletin of the Chemical Society of Japan 84:531-536. | 2011 | Indonesia | | Octocoral |
| Albright, R. 2011. Reviewing the Effects of Ocean Acidification on Sexual Reproduction and Early Life History Stages of Reef-Building Corals. Journal of Marine Biology 2011:1-14. | 2011 | | Review; Field Study & Monitoring | Echinoderms; Environmental Monitoring, Mapping, & Scientific Research; Molluscs; Ocean Acidity; Scientific Research; Stony Coral |
| Bishop, R. C., D. J. Chapman, B. J. Kanninen, J. A. Krosnick, B. Leeworthy, and N. F. Meade. 2011. Total Ecolonic Value for Protecting and Restoring Hawaiian Coral Reef Ecosystems: Final Report. NOAA Technical Memorandum CRCP 16, NOAA Office of National Marine Sanctuaries, Silver Spring, MD, USA. | 2011 | Florida; US Pacific & Hawaii | Review | Dive, Snorkeling, & Swimming Tourism; Finfish Harvest; Fish; Housing; Internet & Telecommunications; Marine Protected Areas; Monetary Valuation; Valuation |
| Burrows, M. T., D. S. Schoeman, L. B. Buckley, P. Moore, E. S. Poloczanska, K. M. Brander, C. Brown, J. F. Bruno, C. M. Duarte, B. S. Halpern, J. Holding, C. V. Kappel, W. Kiessling, M. I. O�Connor, J. M. Pandolfi, C. Parmesan, F. B. Schwing, W. J. Sydeman, A. J. Richardson. 2011. The Pace of Shifting Climate in Marine and Terrestrial Ecosystems. Science 334:652-655. | 2011 | Global | Index or Indicator | Climate |
| Cooper, T. F., M. Lai, K. E. Ulstrup, S. M. Saunders, G. R. Flematti, B. Radford, and M. J. H. van Oppen. 2011. Symbiodinium Genotypic and Environmental Controls on Lipids in Reef Building Corals. PLoS One 6:1-8. | 2011 | | | Stony Coral |
| Zheng, HL; Zhang, HQ; Jiang, SJ; Li, F; Jiao, SJ; Fang, HL. 2011. Topography Structure and Flocculation Mechanism of Polymeric Phosphate Ferric Sulfate(PPFS). Spectroscopy and Spectral Analysis 31:1409-1413. | 2011 | | | |
| Kucken, M; Rinkevich, B; Shaish, L; Deutsch, A. 2011. Nutritional resources as positional information for morphogenesis in the stony coral Stylophora pistillata. Journal of Theoretical Biology 275:70-77. | 2011 | | Model | Nutrients; Stony Coral |
| Sjoo, GL; Mork, E; Andersson, S; Melander, I. 2011. Differences in top-down and bottom-up regulation of macroalgal communities between a reef crest and back reef habitat in Zanzibar. Estuarine Coastal and Shelf Science 91:511-518. | 2011 | South & Central America; Tanzania; Caribbean | | Algae; Complex Habitat & Resources; Nutrients; Primary Production; Special Use Permitting |
| Hackradt, CW; Felix-Hackradt, FC; Pichler, HA; Spach, HL; Santos, LDOE. 2011. Factors influencing spatial patterns of the ichthyofauna of low energy estuarine beaches in southern Brazil. Journal of the Marine Biological Association of the United Kingdom 91:1345-1357. | 2011 | | | Beaches & Nature Parks; Fish; Salinity; Shoreline Protection |
| Sala-Bozano, M; Mariani, S. 2011. Life history variation in a marine teleost across a heterogeneous seascape. Estuarine Coastal and Shelf Science 92:555-563. | 2011 | US East Coast (NC, SC, GA); Atlantic Ocean | | Fishing Sector |
| Krajewski, JP; Floeter, SR; Jones, GP; Leite, FPP. 2011. Patterns of variation in behaviour within and among reef fish species on an isolated tropical island: influence of exposure and substratum. Journal of the Marine Biological Association of the United Kingdom 91:1359-1368. | 2011 | US East Coast (NC, SC, GA) | | Complex Habitat & Resources; Fish |
| Salinas-de-Leon, P; Costales-Carrera, A; Zeljkovic, S; Smith, DJ; Bell, JJ. 2011. Scleractinian settlement patterns to natural cleared reef substrata and artificial settlement panels on an Indonesian coral reef. Estuarine Coastal and Shelf Science 93:80-85. | 2011 | US Pacific & Hawaii; Indonesia | Field Study & Monitoring; Index or Indicator | Marine Protected Areas; Sea Urchins; Sediment; Stony Coral |
| Pires, DO; Segal, B; Caparelli, AC. 2011. Reproductive effort of an endemic major reef builder along an inshore-offshore gradient in south-western Atlantic. Journal of the Marine Biological Association of the United Kingdom 91:1613-1616. | 2011 | US East Coast (NC, SC, GA) | | Nutrients; Sediment; Stony Coral |
| Boehm, AB; Yamahara, KM; Walters, SP; Layton, BA; Keymer, DP; Thompson, RS; Knee, KL; Rosener, M. 2011. Dissolved Inorganic Nitrogen, Soluble Reactive Phosphorous, and Microbial Pollutant Loading from Tropical Rural Watersheds in Hawai'i to the Coastal Ocean During Non-Storm Conditions. Estuaries and Coasts 34:925-936. | 2011 | | Field Study & Monitoring; Index or Indicator | Dredging, Draining, & Filling; Fertilizer & Pesticide Use; Microorganisms; Nutrients; Storms & Hurricanes; Surface & Groundwater Flow |
| Bostrom, C., S. J. Pittma, C. Simenstad, and R. T. Kneib. 2011. Seascape ecology of coastal biogenic habitats: advances, gaps, and challenges. Marine Ecology Progress Series 427:191-217. | 2011 | | Review; Field Study & Monitoring | Mangroves; Seagrasses; Shoreline Protection |
| Stabili, L; Schirosi, R; Di Benedetto, A; Merendino, A; Villanova, L; Giangrande, A. 2011. First insights into the biochemistry of Sabella spallanzanii (Annelida: Polychaeta) mucus: a potentially unexplored resource for applicative purposes. Journal of the Marine Biological Association of the United Kingdom 91:199-208. | 2011 | | | Echinoderms; Marine Worms; Pharmaceuticals & Cosmetics; Pharmaceuticals & Cosmetics Sources |
| Arias-Gonzalez, JE; Gonzalez-Gandara, C; Cabrera, JL; Christensen, V. 2011. Predicted impact of the invasive lionfish Pterois volitans on the food web of a Caribbean coral reef. Environmental Research 111:917-925. | 2011 | South & Central America; US Pacific & Hawaii; US East Coast (NC, SC, GA); Caribbean; Mexico | Model | Apex Fish Predators; Finfish Harvest; Fish; Invasive Species |
| Melbourne-Thomas, J; Johnson, CR; Fulton, EA. 2011. Characterizing sensitivity and uncertainty in a multiscale model of a complex coral reef system. Ecological Modelling 222:3320-3334. | 2011 | | Model | Nutrients; Sea Urchins |
| Mills, M; Jupiter, SD; Pressey, RL; Ban, NC; Comley, J. 2011. Incorporating Effectiveness of Community-Based Management in a National Marine Gap Analysis for Fiji. Conservation Biology 25:1155-1164. | 2011 | Fiji; Philippines | | Fishing Sector; Mangroves; Marine Protected Areas; Resource Use Management; Special Use Permitting |
| Rudd, MA. 2011. Scientists' Opinions on the Global Status and Management of Biological Diversity. Conservation Biology 25:1165-1175. | 2011 | Global; Southeast Asia; Europe | | Climate; Cultural Policies; Cultural Protections; Internet & Telecommunications; Social Organizations |
| Pe�quignet, A. C., J. M. Becker, M. A. Merrifield, S. J. Boc. 2011. The dissipation of wind wave energy across a fringing reef at Ipan, Guam. Coral Reefs | 2011 | Guam | Field Study & Monitoring | Beaches & Nature Parks; Shoreline Protection; Storms & Hurricanes; Water Depth & Sea Level |
| Godet, L; Zelnio, KA; Van Dover, CL. 2011. Scientists as Stakeholders in Conservation of Hydrothermal Vents. Conservation Biology 25:214-222. | 2011 | | | Educational & Research Opportunities; Seagrasses |
| Feary, DA; Cinner, JE; Graham, NAJ; Januchowski-Hartley, FA. 2011. Effects of Customary Marine Closures on Fish Behavior, Spear-Fishing Success, and Underwater Visual Surveys. Conservation Biology 25:341-349. | 2011 | | | Finfish Harvest; Fish; Fishing & Harvesting Management; Fishing Sector |
| McClanahan, TR; Omukoto, JO. 2011. Comparison of Modern and Historical Fish Catches (AD 750-1400) to Inform Goals for Marine Protected Areas and Sustainable Fisheries. Conservation Biology 25:945-955. | 2011 | Indian Ocean; Kenya; India | | Finfish Harvest; Fish; Fishing Sector; Marine Protected Areas |
| Hoeke, R., C. Storlazzi, and P. Ridd. 2011. Hydrodynamics of a bathymetrically complex fringing coral reef embayment: Wave climate, in situ observations, and wave prediction. Journal of Geophysical Research 116:1-19. | 2011 | US Pacific & Hawaii | Model | Sediment; Shoreline Protection |
| Ruggeberg, A; Flogel, S; Dullo, WC; Hissmann, K; Freiwald, A. 2011. Water mass characteristics and sill dynamics in a subpolar cold-water coral reef setting at Stjernsund, northern Norway. Marine Geology 282:5-12. | 2011 | US East Coast (NC, SC, GA); Norway | | Discharges; Non-point Source Runoff; Sediment |
| Van Rooij, D; Blamart, D; De Mol, L; Mienis, F; Pirlet, H; Wehrmann, LM; Barbieri, R; Maignien, L; Templer, SP; de Haas, H; Hebbeln, D; Frank, N; Larmagnat, S; Stadnitskaia, A; Stivaletta, N; van Weering, T; Zhang, Y; Hamoumi, N; Cnudde, V; Duyck, P; Henr. 2011. Cold-water coral mounds on the Pen Duick Escarpment, Gulf of Cadiz: The MICROSYSTEMS project approach. Marine Geology 282:102-117. | 2011 | US East Coast (NC, SC, GA) | Model | Sediment; Skeletal Coral; Substrate; Surface & Groundwater Flow |
| Wehrmann, LM; Templer, SP; Brunner, B; Bernasconi, SM; Maignien, L; Ferdelman, TG. 2011. The imprint of methane seepage on the geochemical record and early diagenetic processes in cold-water coral mounds on Pen Duick Escarpment, Gulf of Cadiz. Marine Geology 282:118-137. | 2011 | US East Coast (NC, SC, GA) | | Calcium Carbonate Deposition; Microorganisms; Sediment |
| Pirlet, H; Colin, C; Thierens, M; Latruwe, K; Van Rooij, D; Foubert, A; Frank, N; Blamart, D; Huvenne, VAI; Swennen, R; Vanhaecke, F; Henriet, JP. 2011. The importance of the terrigenous fraction within a cold-water coral mound: A case study. Marine Geology 282:13-25. | 2011 | US East Coast (NC, SC, GA); Europe; Iceland | | Nutrients; Sediment |
| Templer, SP; Wehrmann, LM; Zhang, Y; Vasconcelos, C; McKenzie, JA. 2011. Microbial community composition and biogeochemical processes in cold-water coral carbonate mounds in the Gulf of Cadiz, on the Moroccan margin. Marine Geology 282:138-148. | 2011 | | Field Study & Monitoring | Microorganisms; Sediment; Stony Coral; Water Depth & Sea Level |
| David, B; Bonnefont-Rousselot, D; Oudina, K; Degat, MC; Deschepper, M; Viateau, V; Bensidhoum, M; Oddou, C; Petite, H. 2011. A Perfusion Bioreactor for Engineering Bone Constructs: An In Vitro and In Vivo Study. Tissue Engineering Part C-methods 17:505-516. | 2011 | | | |
| Wu, SL; Su, JH; Lu, Y; Chen, BW; Huang, CY; Wen, ZH; Kuo, YH; Sheu, JH. 2011. Simplexins J-O, Eunicellin-Based Diterpenoids from a Dongsha Atoll Soft Coral Klyxum simplex. Bulletin of the Chemical Society of Japan 84:626-632. | 2011 | | | Octocoral |
| Cheng, SY; Chen, HP; Wang, SK; Duh, CY. 2011. Three New 9,11-Secosterols from the Formosan Soft Coral Sinularia leptoclados. Bulletin of the Chemical Society of Japan 84:648-652. | 2011 | India | | Octocoral; Sponges |
| Liao, ZJ; Su, HJ; Shyue, YC; Wen, ZH; Sheu, JH; Su, JH. 2011. Two New Cembranoids from the Soft Coral Lobophytum crassum. Bulletin of the Chemical Society of Japan 84:653-655. | 2011 | | | Octocoral |
| Cheng, SY; Lin, ST; Wang, SK; Duh, CY. 2011. alpha-Tocopherols from the Formosan Soft Coral Lobophytum crassum. Bulletin of the Chemical Society of Japan 84:783-787. | 2011 | | | Octocoral |
| Lu, CK; Wang, SK; Duh, CY. 2011. New Pregnane Steroids from Formosan Red Alga Ceratodictyon spongiosum and Symbiotic Sponge Sigmadocia symbiotica. Bulletin of the Chemical Society of Japan 84:943-946. | 2011 | | | Octocoral; Sponges |
| Chen, MH; Sheu, SY; Chen, CA; Wang, JT; Chen, WM. 2011. Paracoccus isoporae sp nov., isolated from the reef-building coral Isopora palifera. International Journal of Systematic and Evolutionary Microbiology 61:1138-1143. | 2011 | Taiwan | | Microorganisms; Sediment; Stony Coral |
| Chimetto, LA; Cleenwerck, I; Brocchi, M; Willems, A; De Vos, P; Thompson, FL. 2011. Marinomonas brasilensis sp nov., isolated from the coral Mussismilia hispida, and reclassification of Marinomonas basaltis as a later heterotypic synonym of Marinomonas communis. International Journal of Systematic and Evolutionary Microbiology 61:1170-1175. | 2011 | | | Microorganisms |
| Chen, MH; Sheu, SY; Arun, AB; Young, CC; Chen, CA; Wang, JT; Chen, WM. 2011. Pseudoteredinibacter isoporae gen. nov., sp nov., a marine bacterium isolated from the reef-building coral Isopora palifera. International Journal of Systematic and Evolutionary Microbiology 61:1887-1893. | 2011 | Taiwan | | Stony Coral |
| Quang, TH; Ha, TT; Van Minh, C; Van Kiem, P; Huong, HT; Nguyen, TTN; Nhiem, NX; Tung, NH; Thao, NP; Thuy, DTT; Song, SB; Boo, HJ; Kang, HK; Kim, YH. 2011. Cytotoxic and PPARs transcriptional activities of sterols from the Vietnamese soft coral Lobophytum laevigatum. Bioorganic & Medicinal Chemistry Letters 21:2845-2849. | 2011 | Vietnam | | Octocoral |
| Reina, E; Puentes, C; Rojas, J; Garcia, J; Ramos, FA; Castellanos, L; Aragon, M; Ospina, LF. 2011. Fuscoside E: A strong anti-inflammatory diterpene from Caribbean octocoral Eunicea fusca. Bioorganic & Medicinal Chemistry Letters 21:5888-5891. | 2011 | South & Central America; Caribbean | Model | Microorganisms; Octocoral |
| Bertucci, A; Innocenti, A; Scozzafava, A; Tambutte, S; Zoccola, D; Supuran, CT. 2011. Carbonic anhydrase inhibitors. Inhibition studies with anions and sulfonamides of a new cytosolic enzyme from the scleractinian coral Stylophora pistillata. Bioorganic & Medicinal Chemistry Letters 21:710-714. | 2011 | | | Primary Production; Stony Coral |
| Wang, GH; Huang, HC; Su, JH; Huang, CY; Hsu, CH; Kuo, YH; Sheu, JH. 2011. Crassocolides N-P, three cembranoids from the Formosan soft coral Sarcophyton crassocaule. Bioorganic & Medicinal Chemistry Letters 21:7201-7204. | 2011 | | | Octocoral |
| Murthy, YLN; Mallika, D; Rajack, A; Reddy, GD. 2011. A new antifungal briarane diterpenoid from the gorgonian Junceella juncea Pallas. Bioorganic & Medicinal Chemistry Letters 21:7522-7525. | 2011 | India | | Octocoral |
| Guimaraes, IP; Coelho, MDB; Benedito, CP; Maia, SSS; Nogueira, CSR; Batista, PF. 2011. Effect Of Different Substrates For Emergency And Vigor Of Coral Tree Seedlings. Bioscience Journal 27:932-938. | 2011 | | Index or Indicator | Pharmaceuticals & Cosmetics; Substrate |
| Aurelle, D; Ledoux, JB; Rocher, C; Borsa, P; Chenuil, A; Feral, JP. 2011. Phylogeography of the red coral (Corallium rubrum): inferences on the evolutionary history of a temperate gorgonian. Genetica 139:855-869. | 2011 | US East Coast (NC, SC, GA); Atlantic Ocean | | Octocoral |
| Inoue, M; Suwa, R; Suzuki, A; Sakai, K; Kawahata, H. 2011. Effects of seawater pH on growth and skeletal U/Ca ratios of Acropora digitifera coral polyps. Geophysical Research Letters 38. | 2011 | | | Calcium Carbonate Deposition; Ocean Acidity; Primary Production; Stony Coral |
| Hoey, AS; Pratchett, MS; Cvitanovic, C. 2011. High Macroalgal Cover and Low Coral Recruitment Undermines the Potential Resilience of the World's Southernmost Coral Reef Assemblages. PLoS One 6. | 2011 | US Pacific & Hawaii; Australia | | Algae; Climate; Fish; Fleshy Macroalgae; Small Herbivorous Fish; Stony Coral |
| Bertolino, M; Pica, D; Bavestrello, G; Iwasaki, N; Calcinai, B. 2011. A new species of Triptolemma (Porifera: Pachastrellidae) from the Pacific Ocean with a revision of the genus. Journal of the Marine Biological Association of the United Kingdom 91:329-338. | 2011 | US Pacific & Hawaii; Pacific Ocean | | Boring Sponges; Sponges |
| Rogers, L; Koch, A. 2011. The evolution of sex-change timing under environmental uncertainty: a test by simulation. Evolutionary Ecology Research 13:387-399. | 2011 | | Model | Planktivorous Fish |
| Yamano, H; Sugihara, K; Nomura, K. 2011. Rapid poleward range expansion of tropical reef corals in response to rising sea surface temperatures. Geophysical Research Letters 38. | 2011 | Australia; Japan | | Climate; Stony Coral |
| Kittinger, JN; Pandolfi, JM; Blodgett, JH; Hunt, TL; Jiang, H; Maly, K; McClenachan, LE; Schultz, JK; Wilcox, BA. 2011. Historical Reconstruction Reveals Recovery in Hawaiian Coral Reefs. PLoS One 6. | 2011 | US Pacific & Hawaii | | Climate |
| Simpson, A; Watling, L. 2011. Precious corals (Coralliidae) from north-western Atlantic Seamounts. Journal of the Marine Biological Association of the United Kingdom 91:369-382. | 2011 | Florida; US East Coast (NC, SC, GA); Atlantic Ocean; England | | Octocoral |
| Hart, MK; Shenoy, K; Crowley, PH. 2011. Sexual conflicts along gradients of density and predation risk: insights from an egg-trading fish. Evolutionary Ecology 25:1081-1105. | 2011 | South & Central America; Caribbean | Model; Decision Support Frameworks & Tools | Marine Worms; Planktivorous Fish |
| McGillis, WR; Langdon, C; Loose, B; Yates, KK; Corredor, J. 2011. Productivity of a coral reef using boundary layer and enclosure methods. Geophysical Research Letters 38. | 2011 | Puerto Rico | | |
| Riegl, BM; Purkis, SJ; Al-Cibahy, AS; Abdel-Moati, MA; Hoegh-Guldberg, O. 2011. Present Limits to Heat-Adaptability in Corals and Population-Level Responses to Climate Extremes. PLoS One 6. | 2011 | US Pacific & Hawaii | Model | Climate; Coastal Development; Ocean Acidity; Sea Temperatures; Stony Coral |
| Tremblay, P; Weinbauer, MG; Rottier, C; Guerardel, Y; Nozais, C; Ferrier-Pages, C. 2011. Mucus composition and bacterial communities associated with the tissue and skeleton of three scleractinian corals maintained under culture conditions. Journal of the Marine Biological Association of the United Kingdom 91:649-657. | 2011 | Cuba | Lab Study | Microorganisms; Pathogens; Stony Coral |
| Molloy, PP; Paddack, MJ; Reynolds, JD; Gage, MJG; Cote, IM. 2011. Relative size-at-sex-change in parrotfishes across the Caribbean: is there variance in a supposed life-history invariant? Evolutionary Ecology 25:429-446. | 2011 | South & Central America; Caribbean | Model | Corallivorous Fish; Fish; Large Herbivorous Fish |
| Santos, IR; Glud, RN; Maher, D; Erler, D; Eyre, BD. 2011. Diel coral reef acidification driven by porewater advection in permeable carbonate sands, Heron Island, Great Barrier Reef. Geophysical Research Letters 38. | 2011 | Australia | | Nutrient & Contaminant Processing; Ocean Acidity; Sediment |
| Brady, AK; Snyder, KA; Vize, PD. 2011. Circadian Cycles of Gene Expression in the Coral, Acropora millepora. PLoS One 6. | 2011 | | | Special Use Permitting; Stony Coral; Zooxanthellae |
| Correia, MD. 2011. Scleractinian corals (Cnidaria: Anthozoa) from reef ecosystems on the Alagoas coast, Brazil. Journal of the Marine Biological Association of the United Kingdom 91:659-668. | 2011 | | | Calcium Carbonate Deposition; Sediment; Stony Coral; Surface & Groundwater Flow |
| Galliot, B; Quiquand, M. 2011. A two-step process in the emergence of neurogenesis. European Journal of Neuroscience 34:847-862. | 2011 | China | Model | Anemones & Zooanthids; Hydrocoral; Stony Coral |
| Prieto, C; Destouni, G. 2011. Is submarine groundwater discharge predictable? Geophysical Research Letters 38. | 2011 | US East Coast (NC, SC, GA) | Field Study & Monitoring | Discharges; Surface & Groundwater Flow |
| Teixido, N; Garrabou, J; Harmelin, JG. 2011. Low Dynamics, High Longevity and Persistence of Sessile Structural Species Dwelling on Mediterranean Coralligenous Outcrops. PLoS One 6. | 2011 | | | Sponges |
| Waller, RG; Tyler, PA. 2011. Reproductive patterns in two deep-water solitary corals from the north-east Atlantic-Flabellum alabastrum and F. angulare (Cnidaria: Anthozoa: Scleractinia). Journal of the Marine Biological Association of the United Kingdom 91:669-675. | 2011 | US East Coast (NC, SC, GA) | | Stony Coral |
| Yokoyama, Y; Suzuki, A; Siringan, F; Maeda, Y; Abe-Ouchi, A; Ohgaito, R; Kawahata, H; Matsuzaki, H. 2011. Mid-Holocene palaeoceanography of the northern South China Sea using coupled fossil-modern coral and atmosphere-ocean GCM model. Geophysical Research Letters 38. | 2011 | US Pacific & Hawaii; Pacific Ocean; China | Model | Climate; Salinity |
| Valdivia, N; Scrosati, RA; Molis, M; Knox, AS. 2011. Variation in Community Structure across Vertical Intertidal Stress Gradients: How Does It Compare with Horizontal Variation at Different Scales? PLoS One 6. | 2011 | | | Algae; Climate |
| Li, Y; Pattenden, G. 2011. Exploration of a proposed biomimetic synthetic route to plumarellide. Development of a facile transannular Diels-Alder reaction from a macrocyclic enedione leading to a new 5,6,7-tricyclic ring system. Tetrahedron Letters 52:2088-2092. | 2011 | | | Substrate |
| Sutherland, KP; Shaban, S; Joyner, JL; Porter, JW; Lipp, EK. 2011. Human Pathogen Shown to Cause Disease in the Threatened Eklhorn Coral Acropora palmata. PLoS One 6. | 2011 | South & Central America; Florida; Caribbean | Field Study & Monitoring; Index or Indicator | Pathogens; Snails & Conch; Stony Coral; Wastewater Discharge |
| Donoghue, JF. 2011. Sea level history of the northern Gulf of Mexico coast and sea level rise scenarios for the near future. Climatic change 107:17-33. | 2011 | Global; South & Central America; Mexico | Model | Water Depth & Sea Level |
| Buddemeier, RW; Lane, DR; Martinich, JA. 2011. Modeling regional coral reef responses to global warming and changes in ocean chemistry: Caribbean case study. Climatic change 109:375-397. | 2011 | Global; South & Central America; Caribbean | Model | Algae; Climate; Ocean Acidity; Stony Coral; Storms & Hurricanes |
| Garberoglio, RM; Lazo, DG. 2011. POST-MORTEM AND SYMBIOTIC SABELLID AND SERPULID-CORAL ASSOCIATIONS FROM THE LOWER CRETACEOUS OF ARGENTINA. Revista Brasileira de Paleontologia 14:215-228. | 2011 | France | | Marine Worms |
| Mateo, I; Durbin, E; Appeldoorn, R; Adams, A; Juanes, F; Durant, D. 2011. Inferred Growth Of Juvenile French Grunts, Haemulon Flavolineatum, And Schoolmaster, Lutjanus Apodus, In Mangrove And Seagrass Habitats. Bulletin of Marine Science 87:339-350. | 2011 | South & Central America; US Virgin Islands; Puerto Rico; Study Location; Caribbean | | Fish; Mangroves; Seagrasses |
| Sommer, B; Harrison, PL; Brooks, L; Scheffers, SR. 2011. Coral Community Decline At Bonaire, Southern Caribbean. Bulletin of Marine Science 87:541-565. | 2011 | South & Central America; Antilles; Caribbean | | Algae; Fleshy Macroalgae; Nutrients; Skeletal Coral; Stony Coral; Storms & Hurricanes; Turf Algae |
| Richards, BL; Williams, ID; Nadon, MO; Zgliczynski, BJ. 2011. A Towed-Diver Survey Method For Mesoscale Fishery-Independent Assessment Of Large-Bodied Reef Fishes. Bulletin of Marine Science 87:55-74. | 2011 | Florida; US Pacific & Hawaii; Cuba | Decision Support Frameworks & Tools | Finfish Harvest; Fish; Fishing Sector |
| Azevedo, CAA; Carneiro, MAA; Oliveira, SR; Marinho-Soriano, E. 2011. Macrolgae as an indicator of the environmental health of the Pirangi reefs, Rio Grande do Norte, Brazil. Revista Brasileira de Farmacognosia 21:323-328. | 2011 | Iran | Model; Index or Indicator | Algae; Fleshy Macroalgae; Molluscs; Tourism & Recreation |
| Ilves, KL; Kellogg, LL; Quattrini, AM; Chaplin, GW; Hertler, H; Lundberg, JG. 2011. Assessing 50-Year Change In Bahamian Reef Fish Assemblages: Evidence For Community Response To Recent Disturbance? Bulletin of Marine Science 87:567-588. | 2011 | South & Central America; US Pacific & Hawaii; Bahamas; India; Caribbean | | Complex Habitat & Resources; Corallivorous Fish; Fish; Invasive Species; Invertivorous Fish; Large Herbivorous Fish; Planktivorous Fish; Skeletal Coral |
| Smith, SG; Swanson, DW; Chiappone, M; Miller, SL; Ault, JS. 2011. Probability sampling of stony coral populations in the Florida Keys. Environmental Monitoring and Assessment 183:121-138. | 2011 | Florida | | Algae; Complex Habitat & Resources; Fishing Sector; Octocoral; Sponges; Stony Coral |
| Jokiel, P. 2011. Ocean acidification and control of reef coral calcification by boundary layer limitation of proton flux. Bulletin of Marine Science 87:639-657. | 2011 | | | Calcium Carbonate Deposition; CO2; Ocean Acidity |
| Youssef, DH; El-Said, GF. 2011. Assessment of some heavy metals in surface sediments of the Aqaba Gulf, Egypt. Environmental Monitoring and Assessment 180:229-242. | 2011 | Egypt; China | Index or Indicator | Sediment; Toxics |
| Ohlemuller, R. 2011. Running Out of Climate Space. Science 334:613-615. | 2011 | | GIS & Maps | Climate |
| Jones, R; Parsons, R; Watkinson, E; Kendell, D. 2011. Sewage contamination of a densely populated coral 'atoll' (Bermuda). Environmental Monitoring and Assessment 179:309-324. | 2011 | Florida; US East Coast (NC, SC, GA); Bermuda | | Discharges; Docks & Marinas; Housing; Microorganisms; Sediment; Surface & Groundwater Flow |
| Green, RH; McArdle, BA; van Woesik, R. 2011. Sampling state and process variables on coral reefs. Environmental Monitoring and Assessment 178:455-460. | 2011 | | Field Study & Monitoring; Model | Climate; Ocean Acidity |
| Rouphael, AB; Abdulla, A; Said, Y. 2011. A framework for practical and rigorous impact monitoring by field managers of marine protected areas. Environmental Monitoring and Assessment 180:557-572. | 2011 | Australia; Egypt | Review; Field Study & Monitoring | Banks, Credit, & Securities; Collaboration & Partnering; Dive, Snorkeling, & Swimming Tourism; Environmental Monitoring, Mapping, & Scientific Research; Marine Protected Areas; Mitigation; Pathogens |
| Uddin, S; Al Ghadban, AN; Khabbaz, A. 2011. Localized hyper saline waters in Arabian Gulf from desalination activity-an example from South Kuwait. Environmental Monitoring and Assessment 181:587-594. | 2011 | Saudi Arabia; Kuwait; Bahrain; Qatar; United Arab Emirates | | Salinity; Water |
| Rosic, NN; Pernice, M; Dove, S; Dunn, S; Hoegh-Guldberg, O. 2011. Gene expression profiles of cytosolic heat shock proteins Hsp70 and Hsp90 from symbiotic dinoflagellates in response to thermal stress: possible implications for coral bleaching. Cell Stress & Chaperones 16:69-80. | 2011 | | | Climate; Collaboration & Partnering; Sea Temperatures; Special Use Permitting; Stony Coral |
| Sheu, SY; Jiang, SR; Chen, CA; Wang, JT; Chen, WM. 2011. Vibrio stylophorae sp nov., isolated from the reef-building coral Stylophora pistillata. International Journal of Systematic and Evolutionary Microbiology 61:2180-2185. | 2011 | Taiwan | | Microorganisms; Stony Coral |
| Zhou, GW; Huang, H. 2011. Low genetic diversity of symbiotic dinoflagellates (Symbiodinium) in scleractinian corals from tropical reefs in southern Hainan Island, China. Journal Of Systematics And Evolution 49:598-605. | 2011 | US Pacific & Hawaii; Australia; China | | Climate; Stony Coral; Zooxanthellae |
| Sheu, SY; Jiang, SR; Chen, CA; Wang, JT; Chen, WM. 2011. Paracoccus stylophorae sp nov., isolated from the reef-building coral Stylophora pistillata. International Journal of Systematic and Evolutionary Microbiology 61:2221-2226. | 2011 | Taiwan | | Stony Coral |
| Darmaillacq, AS; Dickel, L; Rahmani, N; Shashar, N. 2011. Do Reef Fish, Variola louti and Scarus niger, Perform Amodal Completion? Evidence From a Field Study. Journal Of Comparative Psychology 125:273-277. | 2011 | | Field Study & Monitoring | Complex Habitat & Resources; Fish |
| Kim, J; Roh, SW; Choi, JH; Jung, MJ; Nam, YD; Kim, MS; Park, EJ; Shin, KS; Bae, JW. 2011. Dietzia alimentaria sp nov., isolated from a traditional Korean food. International Journal of Systematic and Evolutionary Microbiology 61:2254-2258. | 2011 | | | Microorganisms |
| Cinner, JE; Folke, C; Daw, T; Hicks, CC. 2011. Responding to change: Using scenarios to understand how socioeconomic factors may influence amplifying or dampening exploitation feedbacks among Tanzanian fishers. Global Environmental Change-human And Policy Dimensions 21:7-12. | 2011 | Tanzania; India | | Finfish Harvest; Fishing Sector |
| Yoon, J; Adachi, K; Park, S; Kasai, H; Yokota, A. 2011. Aureibacter tunicatorum gen. nov., sp nov., a marine bacterium isolated from a coral reef sea squirt, and description of Flammeovirgaceae fam. nov. International Journal of Systematic and Evolutionary Microbiology 61:2342-2347. | 2011 | Japan | | Microorganisms; Sediment |
| Bohensky, E; Butler, JRA; Costanza, R; Bohnet, I; Delisle, A; Fabricius, K; Gooch, M; Kubiszewski, I; Lukacs, G; Pert, P; Wolanski, E. 2011. Future makers or future takers? A scenario analysis of climate change and the Great Barrier Reef. Global Environmental Change-human And Policy Dimensions 21:876-893. | 2011 | Global; Australia | | Climate; Surface & Groundwater Flow |
| Chimetto, LA; Cleenwerck, I; Moreira, APB; Brocchi, M; Willems, A; De Vos, P; Thompson, FL. 2011. Vibrio variabilis sp nov and Vibrio maritimus sp nov., isolated from Palythoa caribaeorum. International Journal of Systematic and Evolutionary Microbiology 61:3009-3015. | 2011 | | | Anemones & Zooanthids; Piscivorous Fish |
| Chimetto, LA; Cleenwerck, I; Alves, N; Silva, BS; Brocchi, M; Willems, A; De Vos, P; Thompson, FL. 2011. Vibrio communis sp. nov., isolated from the marine animals Mussismilia hispida, Phyllogorgia dilatata, Palythoa caribaeorum, Palythoa variabilis and Litopenaeus vannamei. International Journal of Systematic and Evolutionary Microbiology 61:362-368. | 2011 | US Pacific & Hawaii | | Anemones & Zooanthids; Lobster, Crab, & Shrimp |
| Chimetto, LA; Cleenwerck, I; Brocchi, M; Willems, A; De Vos, P; Thompson, FL. 2011. Marinobacterium coralli sp. nov., isolated from mucus of coral (Mussismilia hispida). International Journal of Systematic and Evolutionary Microbiology 61:60-64. | 2011 | | | Microorganisms |
| Suzuki, G; Hayashibara, T. 2011. Do epibenthic algae induce species-specific settlement of coral larvae? Journal of the Marine Biological Association of the United Kingdom 91:677-683. | 2011 | | Lab Study; Index or Indicator | Algae; Stony Coral |
| Gass, SE; Roberts, JM. 2011. Growth and branching patterns of Lophelia pertusa (Scleractinia) from the North Sea. Journal of the Marine Biological Association of the United Kingdom 91:831-835. | 2011 | | | Climate; Oil & Gas Rigs; Stony Coral |
| Munoz, PD; Murillo, FJ; Sayago-Gil, M; Serrano, A; Laporta, M; Otero, I; Gomez, C. 2011. Effects of deep-sea bottom longlining on the Hatton Bank fish communities and benthic ecosystem, north-east Atlantic. Journal of the Marine Biological Association of the United Kingdom 91:939-952. | 2011 | US East Coast (NC, SC, GA) | | Accidental & Illegal Harvest; Apex Fish Predators; Collaboration & Partnering; Finfish Harvest; Fish; Fishing Sector; Littering; Marine Birds; Sponges; Surface & Groundwater Flow |
| Hernandez-Arana, HA; Ameneyro-Angeles, B. 2011. Benthic biodiversity changes due to the opening of an artificial channel in a tropical coastal lagoon (Mexican Caribbean). Journal of the Marine Biological Association of the United Kingdom 91:969-978. | 2011 | South & Central America; Caribbean; Mexico; Spain | | Fish; Plankton; Stony Coral; Substrate; Water Depth & Sea Level |
| Goodwin, CE; Picton, BE; Van Soest, RWM. 2011. Hymedesmia (Porifera: Demospongiae: Poecilosclerida) from Irish and Scottish cold-water coral reefs, with a description of five new species. Journal of the Marine Biological Association of the United Kingdom 91:979-997. | 2011 | US East Coast (NC, SC, GA); Britain | | Sponges |
| Eisele, M; Frank, N; Wienberg, C; Hebbeln, D; Lopez Correa, M; Douville, E; Freiwald, A. 2011. Productivity controlled cold-water coral growth periods during the last glacial off Mauritania. Marine Geology 280:143-149. | 2011 | US East Coast (NC, SC, GA) | | Sediment |
| Larmagnat, S; Neuweiler, F. 2011. Exploring a link between Atlantic coral mounds and Phanerozoic carbonate mudmounds: Insights from pore water fluorescent dissolved organic matter (FDOM), Pen Duick mounds, offshore Morocco. Marine Geology 282:149-159. | 2011 | US East Coast (NC, SC, GA); Europe | Index or Indicator | Microorganisms; Sediment; Skeletal Coral; Sponges; Substrate |
| Witt, DL; Young, YL; Yim, SC. 2011. Field investigation of tsunami impact on coral reefs and coastal sandy slopes. Marine Geology 289:159-163. | 2011 | Samoa; American Samoa | Field Study & Monitoring; Model | Sediment |
| Hongo, C; Kayanne, H. 2011. Key species of hermatypic coral for reef formation in the northwest Pacific during Holocene sea-level change. Marine Geology 279:162-177. | 2011 | US Pacific & Hawaii; India; Palau | | Climate; Marine Protected Areas; Sediment; Water Depth & Sea Level |
| Matsuda, S; Iryu, Y. 2011. Rhodoliths from deep fore-reef to shelf areas around Okinawa-jima, Ryukyu Islands, Japan. Marine Geology 282:215-230. | 2011 | Japan | | Algae; Coralline Algae; Dredging, Draining, & Filling; Sediment; Water Depth & Sea Level |
| Xu, QL; Dong, JL; Gao, N; Ruan, MY; Jia, HY; Zhang, LA; Wang, CY. 2011. Transgenic lines of Begonia maculata generated by ectopic expression of PttKN1. Biologia 66:251-257. | 2011 | | | Food, Beverage, & Tobacco Products |
| Wang, XZ; Jiao, YY; Wang, R; Hu, MJ; Meng, QS; Tan, FY. 2011. Engineering characteristics of the calcareous sand in Nansha Islands, South China Sea. Engineering Geology 120:40-47. | 2011 | China | Lab Study | Land & Air Transportation; Sediment |
| Ganot, P; Moya, A; Magnone, V; Allemand, D; Furla, P; Sabourault, C. 2011. Adaptations to Endosymbiosis in a Cnidarian-Dinoflagellate Association: Differential Gene Expression and Specific Gene Duplications. Plos Genetics 7. | 2011 | | Model; GIS & Maps | Algae; Anemones & Zooanthids |
| Debreuil, J; Tambutte, S; Zoccola, D; Segonds, N; Techer, N; Allemand, D; Tambutte, E. 2011. Comparative analysis of the soluble organic matrix of axial skeleton and sclerites of Corallium rubrum: Insights for biomineralization. Comparative Biochemistry And Physiology B-biochemistry & Molecular Biology 159:40-48. | 2011 | | | Molluscs; Octocoral; Stony Coral |
| Lopez, JV; Ledger, A; Santiago-Vazquez, LZ; Pop, M; Sommer, DD; Ranzer, LK; Feldman, RA; Kerr, RG. 2011. Suppression subtractive hybridization PCR isolation of cDNAs from a Caribbean soft coral. Electronic Journal of Biotechnology 14. | 2011 | South & Central America; Caribbean | | Octocoral |
| Koreny, L; Sobotka, R; Janouskovec, J; Keeling, PJ; Obornik, M. 2011. Tetrapyrrole Synthesis of Photosynthetic Chromerids Is Likely Homologous to the Unusual Pathway of Apicomplexan Parasites. Plant Cell 23:3454-3462. | 2011 | | GIS & Maps | Cyanobacteria; Microorganisms; Primary Production |
| Lee, JN; Mohamed, CA. 2011. Accumulation of Settling Particles in Some Coral Reef Areas of Peninsular Malaysia. Sains Malaysiana 40:549-554. | 2011 | Malaysia; Oman | | Sediment |
| Moore, CH; Van Niel, K; Harvey, ES. 2011. The effect of landscape composition and configuration on the spatial distribution of temperate demersal fish. Ecography 34:425-435. | 2011 | | Model; Index or Indicator; GIS & Maps; Remote Sensing | Fish; Marine Protected Areas; Substrate |
| Siddiqui, PJA; Ali, A; Bromfield, K; Iqbal, P; Shoaib, N. 2011. Identification of Fossil Corals Inhabiting an Uplifted Area of Ras Gunz Near Jiwani, Balochistan, Pakistan. Pakistan Journal of Zoology 43:523-527. | 2011 | Australia | | Finfish Harvest; Sediment |
| Wang, CW; Li, N; Sun, YW; Zong, P. 2011. Distribution of Tuvaella brachiopod fauna and its tectonic significance. Journal Of Earth Science 22:11-19. | 2011 | | | |
| Riginos, C; Douglas, KE; Jin, Y; Shanahan, DF; Treml, EA. 2011. Effects of geography and life history traits on genetic differentiation in benthic marine fishes. Ecography 34:566-575. | 2011 | | Model | Plankton |
| Chellaram, C; Sreenivasan, S; Anand, TP; Kumaran, S; Kesavan, D; Priya, G. 2011. Antagonistic Bacteria From Live Corals, Tuticorin Coastal Waters, Southeastern India. Pakistan Journal of Pharmaceutical Sciences 24:175-181. | 2011 | India | | Pathogens; Stony Coral |
| Wietz, M; Mansson, M; Gram, L. 2011. Chitin stimulates production of the antibiotic andrimid in a Vibrio coralliilyticus strain. Environmental Microbiology Reports 3:559-564. | 2011 | | Model | Nutrients; Pathogens; Stony Coral |
| Riaux-Gobin, C; Compere, P; Al-Handal, AY. 2011. New Amphicocconeis species off Mascarenes (Western Indian Ocean) and related taxa. Diatom Research 26:175-188. | 2011 | Indian Ocean; Reunion; India | | Sediment |
| Aboglila, S; Grice, K; Trinajstic, K; Snape, C; Williford, KH. 2011. The significance of 24-norcholestanes, 4-methylsteranes and dinosteranes in oils and source-rocks from East Sirte Basin (Libya). Applied Geochemistry 26:1694-1705. | 2011 | | Field Study & Monitoring | Sediment |
| Grasso, LC; Negri, AP; Foret, S; Saint, R; Hayward, DC; Miller, DJ; Ball, EE. 2011. The biology of coral metamorphosis: Molecular responses of larvae to inducers of settlement and metamorphosis. Developmental Biology 353:411-419. | 2011 | China; Europe | | Algae; Anemones & Zooanthids; Coralline Algae; Hydrocoral; Stony Coral |
| Mackenzie, FT; Andersson, AJ; Arvidson, RS; Guidry, MW; Lerman, A. 2011. Land-sea carbon and nutrient fluxes and coastal ocean CO(2) exchange and acidification: Past, present, and future. Applied Geochemistry 26:S298-S302. | 2011 | | Model | CO2; Discharges; Nutrients; Ocean Acidity; Substrate; Surface & Groundwater Flow; Water Depth & Sea Level |
| Drahl, MA; Akhmedov, NG; Williams, LJ. 2011. Selective conversion of an enantioenriched cyclononadienone to the xeniolide, xenibellol, and florlide cores: an integrated routing strategy. Tetrahedron Letters 52:325-328. | 2011 | Florida | | Octocoral; Pharmaceuticals & Cosmetics Sources |
| Hirakawa, Y; Howe, A; James, ER; Keeling, PJ. 2011. Morphological Diversity between Culture Strains of a Chlorarachniophyte, Lotharella globosa. PLoS One 6. | 2011 | | | Algae |
| Gaidos, E; Rusch, A; Ilardo, M. 2011. Ribosomal tag pyrosequencing of DNA and RNA from benthic coral reef microbiota: community spatial structure, rare members and nitrogen-cycling guilds. Environmental Microbiology 13:1138-1152. | 2011 | US Pacific & Hawaii | | Nutrients; Pathogens; Sediment |
| Goffredo, S; Gasparini, G; Marconi, G; Putignano, MT; Pazzini, C; Airi, V; Zaccanti, F. 2011. Sexual Reproduction In The Mediterranean Endemic Orange Coral Astroides Calycularis (Scleractinia: Dendrophylliidae). Bulletin of Marine Science 87:589-604. | 2011 | US Pacific & Hawaii | Index or Indicator | Stony Coral |
| Aburto-Oropeza, O; Erisman, B; Galland, GR; Mascarenas-Osorio, I; Sala, E; Ezcurra, E. 2011. Large Recovery of Fish Biomass in a No-Take Marine Reserve. PLoS One 6. | 2011 | South & Central America; US Pacific & Hawaii; Mexico | Decision Support Frameworks & Tools | Coastal Development; Finfish Harvest; Fish; Fishing Sector; Marine Protected Areas |
| Tang, SL; Hong, MJ; Liao, MH; Jane, WN; Chiang, PW; Chen, CB; Chen, CA. 2011. Bacteria associated with an encrusting sponge (Terpios hoshinota) and the corals partially covered by the sponge. Environmental Microbiology 13:1179-1191. | 2011 | | | Cyanobacteria; Encrusting Sponges; Hydrocoral; Pathogens; Sponges; Stony Coral |
| Polak, O; Loya, Y; Brickner, I; Kramarski-Winter, E; Benayahu, Y. 2011. The Widely-Distributed Indo-Pacific Zoanthid Palythoa Tuberculosa: A Sexually Conservative Strategist. Bulletin of Marine Science 87:605-621. | 2011 | US Pacific & Hawaii | | Anemones & Zooanthids |
| Ueda, Y; Abe, H; Iguchi, K; Ito, H. 2011. Synthetic study of yonarolide: stereoselective construction of the tricyclic core. Tetrahedron Letters 52:3379-3381. | 2011 | | | Octocoral |
| Januchowski-Hartley, FA; Graham, NAJ; Feary, DA; Morove, T; Cinner, JE. 2011. Fear of Fishers: Human Predation Explains Behavioral Changes in Coral Reef Fishes. PLoS One 6. | 2011 | Papua New Guinea | Field Study & Monitoring; Decision Support Frameworks & Tools | Finfish Harvest; Fish; Fishing Sector |
| Barott, KL; Rodriguez-Brito, B; Janouskovec, J; Marhaver, KL; Smith, JE; Keeling, P; Rohwer, FL. 2011. Microbial diversity associated with four functional groups of benthic reef algae and the reef-building coral Montastraea annularis. Environmental Microbiology 13:1192-1204. | 2011 | | | Algae; Climate; Cyanobacteria; Fleshy Macroalgae; Microorganisms; Nutrients; Stony Coral; Turf Algae |
| Vargas-Angel, B; Looney, EE; Vetter, OJ; Coccagna, EF. 2011. Severe, Widespread El Nino Associated Coral Bleaching In The Us Phoenix Islands. Bulletin of Marine Science 87:623-638. | 2011 | US Pacific & Hawaii; Baker Island; Howland Island | | Climate; Stony Coral; Zooxanthellae |
| Fernandes, RA; Ingle, AB. 2011. Synthetic studies on C14 cembranoids: synthesis of C4-12 fragment of sarcophytonolides E-G and L and C5-11 fragment of sarcophytonolide L. Tetrahedron Letters 52:458-460. | 2011 | | | Octocoral |
| Lirman, D; Schopmeyer, S; Manzello, D; Gramer, LJ; Precht, WF; Muller-Karger, F; Banks, K; Barnes, B; Bartels, E; Bourque, A; Byrne, J; Donahue, S; Duquesnel, J; Fisher, L; Gilliam, D; Hendee, J; Johnson, M; Maxwell, K; McDevitt, E; Monty, J; Rueda, D; Ru. 2011. Severe 2010 Cold-Water Event Caused Unprecedented Mortality to Corals of the Florida Reef Tract and Reversed Previous Survivorship Patterns. PLoS One 6. | 2011 | Florida | | Complex Habitat & Resources; Stony Coral |
| Schottner, S; Pfitzner, B; Grunke, S; Rasheed, M; Wild, C; Ramette, A. 2011. Drivers of bacterial diversity dynamics in permeable carbonate and silicate coral reef sands from the Red Sea. Environmental Microbiology 13:1815-1826. | 2011 | | | Nutrients; Primary Production; Sediment; Surface & Groundwater Flow |
| Jokiel, PL. 2011. Ocean Acidification And Control Of Reef Coral Calcification By Boundary Layer Limitation Of Proton Flux. Bulletin of Marine Science 87:639-657. | 2011 | | | Calcium Carbonate Deposition; Climate; Ocean Acidity; Primary Production |
| Lu, MC; Lee, NL; Tseng, SW; Su, JH. 2011. Sinutriangulin A, a novel diterpenoid from the soft coral Sinularia triangula. Tetrahedron Letters 52:5869-5871. | 2011 | | | Octocoral |
| Maina, J; McClanahan, TR; Venus, V; Ateweberhan, M; Madin, J. 2011. Global Gradients of Coral Exposure to Environmental Stresses and Implications for Local Management. PLoS One 6. | 2011 | Global; South & Central America; US Pacific & Hawaii; Australia; Indian Ocean; Chagos Archipelago; India; Middle East; Micronesia; Caribbean | Model | Climate; Nutrients; Sediment |
| Wong, CNA; Ng, P; Douglas, AE. 2011. Low-diversity bacterial community in the gut of the fruitfly Drosophila melanogaster. Environmental Microbiology 13:1889-1900. | 2011 | | Index or Indicator | Microorganisms |
| Jones, RJ. 2011. Environmental Effects Of The Cruise Tourism Boom: Sediment Resuspension From Cruise Ships And The Possible Effects Of Increased Turbidity And Sediment Deposition On Corals (Bermuda). Bulletin of Marine Science 87:659-679. | 2011 | South & Central America; Australia; Bermuda; Panama; Caribbean | Field Study & Monitoring | Cruise Ships; Hotel & Food Services; Sediment; Shipping, Storage, & Warehousing; Stony Coral; Tourism & Recreation |
| Chao, CH; Chou, KJ; Wen, ZH; Wang, GH; Wu, YC; Dai, CF; Sheu, JH. 2011. Paraminabeolides A-F, Cytotoxic and Anti-inflammatory Marine Withanolides from the Soft Coral Paraminabea acronocephala. Journal of Natural Products 74:1132-1141. | 2011 | | | Octocoral |
| Combosch, DJ; Vollmer, SV. 2011. Population Genetics of an Ecosystem-Defining Reef Coral Pocillopora damicornis in the Tropical Eastern Pacific. PLoS One 6. | 2011 | Global; US Pacific & Hawaii; Panama | | Stony Coral |
| Witt, V; Wild, C; Anthony, KRN; Diaz-Pulido, G; Uthicke, S. 2011. Effects of ocean acidification on microbial community composition of, and oxygen fluxes through, biofilms from the Great Barrier Reef. Environmental Microbiology 13:2976-2989. | 2011 | Australia; Cuba | | Climate; CO2; Ocean Acidity; Plankton; Stony Coral |
| Hixon, MA. 2011. 60 Years Of Coral Reef Fish Ecology: Past, Present, Future. Bulletin of Marine Science 87:727-765. | 2011 | Cuba | Model | Finfish Harvest; Fish; Invasive Species; Marine Protected Areas; Special Use Permitting |
| Stanic, D; Oehrle, S; Gantar, M; Richardson, LL. 2011. Microcystin production and ecological physiology of Caribbean black band disease cyanobacteria. Environmental Microbiology 13:900-910. | 2011 | South & Central America; Caribbean | Lab Study | Cyanobacteria; Microorganisms; Pathogens |
| Hill, TM; Spero, HJ; Guilderson, T; LaVigne, M; Clague, D; Macalello, S; Jang, N. 2011. Temperature and vital effect controls on bamboo coral (Isididae) isotope geochemistry: A test of the "lines method". Geochemistry Geophysics Geosystems 12. | 2011 | US Pacific & Hawaii; US East Coast (NC, SC, GA) | | Octocoral; Water Depth & Sea Level |
| Lombardi, C; Cocito, S; Gambi, MC; Cisterna, B; Flach, F; Taylor, PD; Keltie, K; Freer, A; Cusack, M. 2011. Effects of ocean acidification on growth, organic tissue and protein profile of the Mediterranean bryozoan Myriapora truncata. Aquatic Biology 13:251-262. | 2011 | | | CO2; Ocean Acidity |
| Zierler, S; Yao, GM; Zhang, Z; Kuo, WC; Porzgen, P; Penner, R; Horgen, FD; Fleig, A. 2011. Waixenicin A Inhibits Cell Proliferation through Magnesium-dependent Block of Transient Receptor Potential Melastatin 7 (TRPM7) Channels. Journal of Biological Chemistry 286:39328-39335. | 2011 | | | Octocoral |
| Munday, PL; Gagliano, M; Donelson, JM; Dixson, DL; Thorrold, SR. 2011. Ocean acidification does not affect the early life history development of a tropical marine fish. Marine Ecology Progress Series 423:211-221. | 2011 | | | Calcium Carbonate Deposition; Climate; CO2; Fish; Ocean Acidity; Small Herbivorous Fish; Special Use Permitting |
| Miller, AW; Blackwelder, P; Al-Sayegh, H; Richardson, LL. 2011. Fine-structural analysis of black band disease-infected coral reveals boring cyanobacteria and novel bacteria. Diseases of Aquatic Organisms 93:179-190. | 2011 | | | Cyanobacteria; Microorganisms; Pathogens; Stony Coral; Zooxanthellae |
| Williams, B; Grottoli, AG. 2011. Solution and laser ablation inductively coupled plasma-mass spectrometry measurements of Br, I, Pb, Mn, Cd, Zn, and B in the organic skeleton of soft corals and black corals. Geochemistry Geophysics Geosystems 12. | 2011 | US Pacific & Hawaii; Palau | | Octocoral; Salinity |
| Faria, AM; Chicharo, MA; Goncalves, EJ. 2011. Effects of starvation on swimming performance and body condition of pre-settlement Sparus aurata larvae. Aquatic Biology 12:281-289. | 2011 | US East Coast (NC, SC, GA) | | |
| Md, NK; Vinayachandran, N. 2011. Groundwater Scenario in Lakshadweep Islands. Journal of the Geological Society of India 78:379-389. | 2011 | | | Surface & Groundwater Flow |
| Du Preez, C; Tunnicliffe, V. 2011. Shortspine thornyhead and rockfish (Scorpaenidae) distribution in response to substratum, biogenic structures and trawling. Marine Ecology Progress Series 425:217-231. | 2011 | US Pacific & Hawaii; Columbia | | Accidental & Illegal Harvest; Fish; Fishing Sector; Sediment; Sponges; Trawling & Fishing Gear Damage |
| Carricart-Ganivet, JP; Beltran-Torres, AU; Horta-Puga, G. 2011. Distribution and prevalence of coral diseases in the Veracruz Reef System, Southern Gulf of Mexico. Diseases of Aquatic Organisms 95:181-187. | 2011 | South & Central America; Caribbean; Mexico | | Nutrients; Pathogens; Stony Coral |
| Gabitov, RI; Schmitt, AK; Rosner, M; McKeegan, KD; Gaetani, GA; Cohen, AL; Watson, EB; Harrison, TM. 2011. In situ delta(7)Li, Li/Ca, and Mg/Ca analyses of synthetic aragonites. Geochemistry Geophysics Geosystems 12. | 2011 | | | Calcium Carbonate Deposition |
| Henkel, TP; Pawlik, JR. 2011. Host specialization of an obligate sponge-dwelling brittlestar. Aquatic Biology 12:37-46. | 2011 | Florida | Field Study & Monitoring | Echinoderms; Lobster, Crab, & Shrimp; Sponges; Tube, Barrel, & Finger Sponges |
| Roche, H; Salvat, B; Ramade, F. 2011. Assessment Of The Pesticides Pollution Of Coral Reefs Communities From French Polynesia. Revue d'Ecologie (La Terre et la Vie) 66:3-10. | 2011 | | | Fertilizer & Pesticide Use; Sediment |
| Grol, MGG; Nagelkerken, I; Bosch, N; Meesters, EH. 2011. Preference of early juveniles of a coral reef fish for distinct lagoonal microhabitats is not related to common measures of structural complexity. Marine Ecology Progress Series 432:221-233. | 2011 | | Field Study & Monitoring | Complex Habitat & Resources; Fish; Mangroves; Nutrients; Seagrasses; Skeletal Coral |
| Jordan-Garza, AG; Jordan-Dahlgren, E. 2011. Caribbean yellow-band syndrome on Montastraea faveolata is not transmitted mechanically under field conditions. Diseases of Aquatic Organisms 96:83-87. | 2011 | South & Central America; Caribbean | Field Study & Monitoring | Pathogens; Stony Coral |
| Benzerara, K; Miot, J; Morin, G; Ona-Nguema, G; Skouri-Panet, F; Ferard, C. 2011. Significance, mechanisms and environmental implications of microbial biomineralization. Comptes Rendus Geoscience 343:160-167. | 2011 | France | Review; Field Study & Monitoring; Lab Study | Microorganisms; Remediation |
| Brazeau, DA; Sammarco, PW; Atchison, AD. 2011. Micro-scale genetic heterogeneity and structure in coral recruitment: fine-scale patchiness. Aquatic Biology 12:55-67. | 2011 | South & Central America; Florida; Caribbean; Mexico | | Stony Coral |
| Salvat, B; Wilkinson, C. 2011. Cyclones And Climate Change In The South Pacific. Revue d'Ecologie (La Terre et la Vie) 66:105-115. | 2011 | Global; US Pacific & Hawaii; Australia | | Climate; Greenhouse Gas Emissions; Ocean Acidity; Skeletal Coral; Storms & Hurricanes; Water Depth & Sea Level |
| Dale, JJ; Wallsgrove, NJ; Popp, BN; Holland, KN. 2011. Nursery habitat use and foraging ecology of the brown stingray Dasyatis lata determined from stomach contents, bulk and amino acid stable isotopes. Marine Ecology Progress Series 433:221-236. | 2011 | US Pacific & Hawaii | | Apex Fish Predators; Nutrients; Special Use Permitting |
| Rivera-Posada, JA; Pratchett, M; Cano-Gomez, A; Arango-Gomez, JD; Owens, L. 2011. Injection of Acanthaster planci with thiosulfate-citrate-bile-sucrose agar (TCBS). I. Disease induction. Diseases of Aquatic Organisms 97:85-94. | 2011 | | | Echinoderms; Microorganisms; Pathogens; Seastars |
| Fadil, A; Sichoix, L; Barriot, JP; Ortega, P; Willis, P. 2011. Evidence for a slow subsidence of the Tahiti Island from GPS, DORIS, and combined satellite altimetry and tide gauge sea level records. Comptes Rendus Geoscience 343:331-341. | 2011 | US Pacific & Hawaii | Field Study & Monitoring; Model | Water Depth & Sea Level |
| Bellchambers, LM; Meeuwig, JJ; Evans, SN; Legendre, P. 2011. Modelling habitat associations of 14 species of holothurians from an unfished coral atoll: implications for fisheries management. Aquatic Biology 14:57-66. | 2011 | | Model | Accidental & Illegal Harvest; Commercial Fisheries; Echinoderms; Finfish Harvest; Fishing & Harvesting Management; Fishing Sector; Octocoral |
| Gelfenbaum, G; Apotsos, A; Stevens, AW; Jaffe, B. 2011. Effects of fringing reefs on tsunami inundation: American Samoa. Earth-Science Reviews 107:12-22. | 2011 | Maldives; India; Samoa; American Samoa | Field Study & Monitoring; Model | Shoreline Protection; Water Depth & Sea Level |
| Bonaldo, RM; Krajewski, JP; Bellwood, DR. 2011. Relative impact of parrotfish grazing scars on massive Porites corals at Lizard Island, Great Barrier Reef. Marine Ecology Progress Series 423:223-233. | 2011 | Australia | | Algae; Corallivorous Fish; Fish; Invasive Species; Large Herbivorous Fish; Small Herbivorous Fish; Stony Coral |
| Williams, GJ; Knapp, IS; Aeby, GS; Davy, SK. 2011. Spatial and temporal patterns of scleractinian coral, soft coral, and zoanthid disease on a remote, near-pristine coral reef (Palmyra Atoll, central Pacific). Diseases of Aquatic Organisms 94:89-100. | 2011 | South & Central America; Florida; US Pacific & Hawaii; India; Palmyra Atoll; Caribbean | | Anemones & Zooanthids; Climate; Complex Habitat & Resources; Octocoral; Pathogens; Stony Coral; Surface & Groundwater Flow |
| Chague-Goff, C; Schneider, JL; Goff, JR; Dominey-Howes, D; Strotz, L. 2011. Expanding the proxy toolkit to help identify past events - Lessons from the 2004 Indian Ocean Tsunami and the 2009 South Pacific Tsunami. Earth-Science Reviews 107:107-122. | 2011 | US Pacific & Hawaii; Australia; Indian Ocean; India; Japan | Review; Index or Indicator; Decision Support Frameworks & Tools | Sediment; Storms & Hurricanes |
| Aglyamova, GV; Hunt, ME; Modi, CK; Matz, MV. 2011. Multi-colored homologs of the green fluorescent protein from hydromedusa Obelia sp. Photochemical & Photobiological Sciences 10:1303-1309. | 2011 | | | Stony Coral |
| Cruz-Barraza, JA; Carballo, JL; Bautista-Guerrero, E; Nava, H. 2011. New species of excavating sponges (Porifera: Demospongiae) on coral reefs from the Mexican Pacific Ocean. Journal of the Marine Biological Association of the United Kingdom 91:999-1013. | 2011 | US Pacific & Hawaii; Pacific Ocean | | Boring Sponges; Skeletal Coral; Sponges; Stony Coral |
| Frank, JH; Ahn, KJ. 2011. Coastal Staphylinidae (Coleoptera): A worldwide checklist, biogeography and natural history. Zookeys 1-98. | 2011 | US Pacific & Hawaii; Pacific Ocean | Review | Mangroves |
| Milione, M; Southgate, P. 2011. Environmental Conditions And Culture Method Effects On Growth And Survival Of Juvenile Winged Pearl Oyster, Pteria Penguin. Journal of Shellfish Research 30:223-229. | 2011 | South & Central America; Mexico | | |
| Thomas, JD; Krapp-Schickel, T. 2011. A new species of Leucothoid Amphipod, Anamixis bananarama, sp. n., from Shallow Coral Reefs in French Polynesia (Crustacea, Amphipoda, Leucothoidae). Zookeys 1-8. | 2011 | US Pacific & Hawaii | | Skeletal Coral; Sponges |
| Bert, TM; Arnold, WS; McMillen-Jackson, AL; Wilbur, AE; Crawford, C. 2011. Natural And Anthropogenic Forces Shape The Population Genetics And Recent Evolutionary History Of Eastern United States Bay Scallops (Argopecten Irradians). Journal of Shellfish Research 30:583-608. | 2011 | South & Central America; Florida; US East Coast (NC, SC, GA); Atlantic Ocean; Mexico | Field Study & Monitoring | Aquaculture; Fishing Sector |
| Benayahu, Y; McFadden, CS. 2011. A new genus of soft coral of the family Alcyoniidae (Cnidaria, Octocorallia) with re-description of a new combination and description of a new species. Zookeys 1-11. | 2011 | Kenya; Oman; Japan; Taiwan; South Africa | | Octocoral |
| Gemmell, BJ; Buskey, EJ. 2011. The transition from nauplii to copepodites: susceptibility of developing copepods to fish predators. Journal of Plankton Research 33:1773-1777. | 2011 | | | Fish; Plankton |
| Erwin, TL. 2011. Halocoryza Alluaud, 1919, sea-side beetles of the Indian, Atlantic (sensu lato), and Pacific Oceans: a generic synopsis and description of a remarkable new species from Baja California Sur, Mexico (Coleoptera, Carabidae, Scaritini, Clivinina). Zookeys 1-13. | 2011 | South & Central America; US Pacific & Hawaii; US East Coast (NC, SC, GA); India; Pacific Ocean; Caribbean; Mexico | | Beaches & Nature Parks; Mangroves |
| Kato, A; Baba, M; Suda, S. 2011. Revision Of The Mastophoroideae (Corallinales, Rhodophyta) And Polyphyly In Nongeniculate Species Widely Distributed On Pacific Coral Reefs. Journal of Phycology 47:662-672. | 2011 | US Pacific & Hawaii; Australia | Field Study & Monitoring | Algae |
| Crowther, AL; Fautin, DG; Wallace, CC. 2011. Stylobates birtlesi sp. n., a new species of carcinoecium-forming sea anemone (Cnidaria,Actiniaria,Actiniidae) from eastern Australia. Zookeys 33-48. | 2011 | US Pacific & Hawaii; Australia; Indian Ocean; India | | Anemones & Zooanthids; Lobster, Crab, & Shrimp; Octopus & Squid |
| Lu, Y; Li, PJ; Hung, WY; Su, JH; Wen, ZH; Hsu, CH; Dai, CF; Chiang, MY; Sheu, JH. 2011. Nardosinane Sesquiterpenoids from the Formosan Soft Coral Lemnalia flava. Journal of Natural Products 74:169-174. | 2011 | | | Octocoral |
| Yan, XH; Liu, HL; Huang, H; Li, XB; Guo, YW. 2011. Steroids with Aromatic A-Rings from the Hainan Soft Coral Dendronephthya studeri Ridley. Journal of Natural Products 74:175-180. | 2011 | | | Octocoral; Sponges |
| Ciavatta, ML; Manzo, E; Mollo, E; Mattia, CA; Tedesco, C; Irace, C; Guo, YW; Li, XB; Cimino, G; Gavagnin, M. 2011. Tritoniopsins A-D, Cladiellane-Based Diterpenes from the South China Sea Nudibranch Tritoniopsis elegans and Its Prey Cladiella krempfi. Journal of Natural Products 74:1902-1907. | 2011 | China | | Octocoral |
| Li, L; Sheng, L; Wang, CY; Zhou, YB; Huang, H; Li, XB; Li, J; Mollo, E; Gavagnin, M; Guo, YW. 2011. Diterpenes from the Hainan Soft Coral Lobophytum cristatum Tixier-Durivault. Journal of Natural Products 74:2089-2094. | 2011 | China | Model | Octocoral |
| Hsu, FJ; Chen, BW; Wen, ZH; Huang, CY; Dai, CF; Su, JH; Wu, YC; Sheu, JH. 2011. Klymollins A-H, Bioactive Eunicellin-Based Diterpenoids from the Formosan Soft Coral Klyxum molle. Journal of Natural Products 74:2467-2471. | 2011 | Taiwan | | Octocoral |
| Diaz-Marrero, AR; Porras, G; Aragon, Z; de la Rosa, JM; Dorta, E; Cueto, M; D'Croz, L; Mate, J; Darias, J. 2011. Carijodienone from the Octocoral Carijoa multiflora. A Spiropregnane-Based Steroid. Journal of Natural Products 74:292-295. | 2011 | US Pacific & Hawaii | | Octocoral |
| Joyner, PM; Waters, AL; Williams, RB; Powell, DR; Janakiram, NB; Rao, CV; Cichewicz, RH. 2011. Briarane Diterpenes Diminish COX-2 Expression in Human Colon Adenocarcinoma Cells. Journal of Natural Products 74:857-861. | 2011 | Vanuatu | | Octocoral; Pathogens |
| Caron, V. 2011. Contrasted textural and taphonomic properties of high-energy wave deposits cemented in beachrocks (St. Bartholomew Island, French West Indies). Sedimentary Geology 237:189-208. | 2011 | South & Central America; Caribbean; Mexico | | Sediment; Storms & Hurricanes |
| Bruce, NL; Sidabalok, C. 2011. The genus Lanocira Hansen, 1890 (Corallanidae: Isopoda: Crustacea) in tropical Australian waters. Zootaxa 23-34. | 2011 | US Pacific & Hawaii; Australia | | |
| Breedy, O; Guzman, HM. 2011. A revision of the genus Heterogorgia Verrill, 1868 (Anthozoa: Octocorallia: Plexauridae). Zootaxa 27-44. | 2011 | South & Central America; US Pacific & Hawaii; US East Coast (NC, SC, GA); Bahamas; Costa Rica; Panama; Mexico | | Octocoral |
| Marin, I. 2011. Fennera holthuisi sp nov., a new coral-associated pontoniine shrimp (Decapoda: Palaemonidae: Pontoniinae) from Moorea, French Polynesia. Zootaxa 29-39. | 2011 | US Pacific & Hawaii; Panama; Columbia | | Lobster, Crab, & Shrimp |
| Marin, I; Okuno, J; Chan, TY. 2011. On the "Hippolyte commensalis Kemp, 1925" species complex (Decapoda, Caridea, Hippolytidae), with the designation of a new genus and description of two new species from the Indo-West Pacific. Zootaxa 32-54. | 2011 | US Pacific & Hawaii | | Lobster, Crab, & Shrimp; Octocoral |
| Yousefi, S; Rahimian, H; Nabavi, SMB; Glasby, C. 2011. Nereididae (Annelida: Polychaeta) from intertidal habitats in the Gulf of Oman, Iran. Zootaxa 48-64. | 2011 | US Pacific & Hawaii; Iran; Oman | | Mangroves; Marine Worms |
| Marin, I. 2011. Two new species of alcyonacean-associated shrimp genus Alcyonohippolyte Marin, Okuno & Chan, 2010 (Crustacea: Decapoda: Hippolytidae) from the Great Barrier Reef of Australia. Zootaxa 49-59. | 2011 | Australia | | Lobster, Crab, & Shrimp; Octocoral |
| Ortiz, M; Winfield, I; Chazaro-Olvera, S. 2011. A new sponge-inhabiting leptostracan species of the genus Nebalia (Crustacea: Phyllocarida: Leptostraca) from the Veracruz Coral Reef System, Gulf of Mexico. Zootaxa 52-62. | 2011 | South & Central America; Mexico | | Sponges |
| Chen, MH; Sheu, SY; Chen, CA; Wang, JT; Chen, WM. 2011. Shimia isoporae sp. nov., isolated from the reef-building coral Isopora palifera. International Journal of Systematic and Evolutionary Microbiology 61:823-827. | 2011 | Taiwan | | Docks & Marinas; Microorganisms; Stony Coral |
| Miller-Sims, VC; Atema, J; Gerlach, G; Kingsford, MJ. 2011. How stable are the reef odor preferences of settling reef fish larvae? Marine and Freshwater Behaviour and Physiology 44:133-141. | 2011 | | | Fish; Small Herbivorous Fish |
| Yasumuro, H; Ikeda, Y. 2011. Effects of environmental enrichment on the behavior of the tropical octopus Callistoctopus aspilosomatis. Marine and Freshwater Behaviour and Physiology 44:143-157. | 2011 | | | Fish; Octopus & Squid |
| Linan-Cabello, MA; Flores-Ramirez, LA; Laurel-Sandoval, MA; Mendoza, EG; Santiago, OS; Delgadillo-Nuno, MA. 2011. Acclimation in Pocillopora spp. during a coral restoration program in Carrizales Bay, Colima, Mexico. Marine and Freshwater Behaviour and Physiology 44:61-72. | 2011 | South & Central America; US Pacific & Hawaii; Mexico | Index or Indicator | Pathogens; Stony Coral; Substrate; Wetland & Reef Restoration; Zooxanthellae |
| Zhuang, YB; Teng, XC; Wang, Y; Liu, PP; Li, GQ; Zhu, WM. 2011. New Quinazolinone Alkaloids within Rare Amino Acid Residue from Coral-Associated Fungus, Aspergillus versicolor LCJ-5-4. Organic Letters 13:1130-1133. | 2011 | | | |
| Bhandari, MR; Yousufuddin, M; Lovely, CJ. 2011. Diversity-Oriented Approach to Pyrrole-Imidazole Alkaloid Frameworks. Organic Letters 13:1382-1385. | 2011 | Palau | | Sponges |
| Ziegler, M; Uthicke, S. 2011. Photosynthetic plasticity of endosymbionts in larger benthic coral reef Foraminifera. Journal of Experimental Marine Biology and Ecology 407:70-80. | 2011 | | Field Study & Monitoring; Lab Study | Algae; Light; Plankton; Stony Coral |
| Mclean, DL; Harvey, ES; Meeuwig, JJ. 2011. Declines in the abundance of coral trout (Plectropomus leopardus) in areas closed to fishing at the Houtman Abrolhos Islands, Western Australia. Journal of Experimental Marine Biology and Ecology 406:71-78. | 2011 | Australia | | Accidental & Illegal Harvest; Finfish Harvest; Fishing Sector; Marine Protected Areas |
| Carricart-Ganivet, JP. 2011. Coral skeletal extension rate: An environmental signal or a subject to inaccuracies? Journal of Experimental Marine Biology and Ecology 405:73-79. | 2011 | | | Stony Coral |
| Neto, CCM; Cioffi, MB; Bertollo, LAC; Molina, WF. 2011. Extensive chromosomal homologies and evidence of karyotypic stasis in Atlantic grunts of the genus Haemulon (Perciformes). Journal of Experimental Marine Biology and Ecology 401:75-79. | 2011 | US East Coast (NC, SC, GA) | GIS & Maps | Biological Monitoring, Mapping, & Scientific Research; Fish |
| Rohde, S; Schupp, PJ. 2011. Allocation of chemical and structural defenses in the sponge Melophlus sarasinorum. Journal of Experimental Marine Biology and Ecology 399:76-83. | 2011 | South & Central America; US Pacific & Hawaii; Caribbean | Field Study & Monitoring; Lab Study | Fish; Sponges |
| Frank, TD; Titschack, J; Thierens, M. 2011. Aragonite loss in a cold-water coral mound: mechanisms and implications. Sedimentology 58:670-690. | 2011 | Florida; Australia; US East Coast (NC, SC, GA) | | Calcium Carbonate Deposition; Microorganisms; Sediment |
| Nurhati, IS; Cobb, KM; Charles, CD; Dunbar, RB. 2011. Correction to "Late 20th century warming and freshening in the central tropical Pacific". Geophysical Research Letters 38. | 2011 | US Pacific & Hawaii | | Climate; Salinity |
| Carrigan, AD; Puotinen, ML. 2011. Assessing the potential for tropical cyclone induced sea surface cooling to reduce thermal stress on the world's coral reefs. Geophysical Research Letters 38. | 2011 | Global; South & Central America; Caribbean | | Climate; Storms & Hurricanes |
| Yamazaki, A; Watanabe, T; Tsunogai, U. 2011. Nitrogen isotopes of organic nitrogen in reef coral skeletons as a proxy of tropical nutrient dynamics. Geophysical Research Letters 38. | 2011 | US Pacific & Hawaii | | Climate; Cyanobacteria; Microorganisms; Nutrients |
| Montero-Serrano, JC; Frank, N; Colin, C; Wienberg, C; Eisele, M. 2011. The climate influence on the mid-depth Northeast Atlantic gyres viewed by cold-water corals. Geophysical Research Letters 38. | 2011 | US East Coast (NC, SC, GA) | | Climate; Salinity |
| Hikami, M; Ushie, H; Irie, T; Fujita, K; Kuroyanagi, A; Sakai, K; Nojiri, Y; Suzuki, A; Kawahata, H. 2011. Contrasting calcification responses to ocean acidification between two reef foraminifers harboring different algal symbionts. Geophysical Research Letters 38. | 2011 | Global | | Algae; CO2; Ocean Acidity |
| Raitsos, DE; Hoteit, I; Prihartato, PK; Chronis, T; Triantafyllou, G; Abualnaja, Y. 2011. Abrupt warming of the Red Sea. Geophysical Research Letters 38. | 2011 | Global; US East Coast (NC, SC, GA) | | Climate |
| Thompson, DM; Ault, TR; Evans, MN; Cole, JE; Emile-Geay, J. 2011. Comparison of observed and simulated tropical climate trends using a forward model of coral d(18)O. Geophysical Research Letters 38. | 2011 | US Pacific & Hawaii; Pacific Ocean | Field Study & Monitoring; Model | Climate; Salinity |
| Ryu, J., T. M. Leschine, J. Namb, W. K. Chang, and K. Dyson. 2011. A resilience-based approach for comparing expert preferences across two large-scale coastal management programs. Journal of Environmental Management 92:92-101. | 2011 | | Model; Decision Support Frameworks & Tools | |
| Heslop, D; Paul, A. 2011. Can oceanic paleothermometers reconstruct the Atlantic Multidecadal Oscillation? Climate of the Past 7:151-159. | 2011 | US East Coast (NC, SC, GA) | Model | Climate; Plankton; Sediment |
| Bauch, T; Reijmer, JJG; McNeill, DF; Schafer, P. 2011. Development of a Pliocene mixed-carbonate siliciclastic reef (Limon, Costa Rica). Sedimentary Geology 239:37-47. | 2011 | South & Central America; US Pacific & Hawaii; US East Coast (NC, SC, GA); Jamaica; Costa Rica; Panama; Caribbean | | Sediment; Water Depth & Sea Level |
| Xiao, J; Xiao, YK; Liu, CQ; Jin, ZD. 2011. Boron isotope fractionation during brucite deposition from artificial seawater. Climate of the Past 7:693-706. | 2011 | | | Stony Coral |
| James, NP; Bone, Y. 2011. Carbonate production and deposition in a warm-temperate macroalgal environment, Investigator Strait, South Australia. Sedimentary Geology 240:41-53. | 2011 | Australia | | Algae; Coralline Algae; Marine Worms; Seagrasses; Sediment; Sponges; Substrate; Water Depth & Sea Level |
| Zhou, GW; Huang, H; Dong, ZJ; Yu, ZN. 2011. Temporal stability of Symbiodinium phylotype in scleractinian coral Galaxea fascicularis from a tropical fringing reef in the South China Sea. Chinese Journal of Oceanology and Limnology 29:1186-1191. | 2011 | Global; China | | Climate; Stony Coral; Zooxanthellae |
| Rusciadelli, G; Ricci, C; Lathuiliere, B. 2011. The Ellipsactinia Limestones of the Marsica area (Central Apennines): A reference zonation model for Upper Jurassic Intra-Tethys reef complexes. Sedimentary Geology 233:69-87. | 2011 | France | Model | Sediment; Sponges |
| Lapointe, BE; Thacker, K; Hanson, C; Getten, L. 2011. Sewage pollution in Negril, Jamaica: effects on nutrition and ecology of coral reef macroalgae. Chinese Journal of Oceanology and Limnology 29:775-789. | 2011 | Florida; Jamaica | | Algae; Discharges; Fleshy Macroalgae; Hotel & Food Services; Marine Protected Areas; Nutrients; Sewage Treatment; Surface & Groundwater Flow; Tourism & Recreation; Waste Management Policies; Wastewater Discharge |
| Sanfilippo, R; Rosso, A; Basso, D; Violanti, D; Di Geronimo, I; Di Geronimo, R; Benzoni, F; Robba, E. 2011. Cobbles colonization pattern from a tsunami-affected coastal area (SW Thailand, Andaman Sea). Facies 57:1-13. | 2011 | Thailand | | Algae; Bivalves; Marine Worms; Skeletal Coral; Sponges; Water Depth & Sea Level |
| Schonfeld, J; Dullo, WC; Pfannkuche, O; Freiwald, A; Ruggeberg, A; Schmidt, S; Weston, J. 2011. Recent benthic foraminiferal assemblages from cold-water coral mounds in the Porcupine Seabight. Facies 57:187-213. | 2011 | US East Coast (NC, SC, GA); Europe | | Marine Worms; Sediment; Skeletal Coral; Substrate; Water Depth & Sea Level |
| Marinha, D; Dessemond, L; Cronin, JS; Wilson, JR; Barnett, SA; Djurado, E. 2011. Microstructural 3D Reconstruction and Performance Evaluation of LSCF Cathodes Obtained by Electrostatic Spray Deposition. Chemistry of Materials 23:5340-5348. | 2011 | | Model | Substrate |
| Dale, JJ; Stankus, AM; Burns, MS; Meyer, CG. 2011. The Shark Assemblage at French Frigate Shoals Atoll, Hawai'i: Species Composition, Abundance and Habitat Use. PLoS One 6. | 2011 | US Pacific & Hawaii | Model | Apex Fish Predators; Finfish Harvest |
| Dunstan, A; Bradshaw, CJA; Marshall, J. 2011. Nautilus at Risk - Estimating Population Size and Demography of Nautilus pompilius. PLoS One 6. | 2011 | Australia; Palau; Fiji | Model | Octopus & Squid |
| Dunstan, AJ; Ward, PD; Marshall, NJ. 2011. Nautilus pompilius Life History and Demographics at the Osprey Reef Seamount, Coral Sea, Australia. PLoS One 6. | 2011 | US Pacific & Hawaii; Australia; Fiji; Philippines | Decision Support Frameworks & Tools | Finfish Harvest; Octopus & Squid |
| Haapkyla, J; Unsworth, RKF; Flavell, M; Bourne, DG; Schaffelke, B; Willis, BL. 2011. Seasonal Rainfall and Runoff Promote Coral Disease on an Inshore Reef. PLoS One 6. | 2011 | Australia | | Climate; Non-point Source Runoff; Nutrients; Ocean Acidity; Pathogens; Salinity; Sediment |
| Reveillaud, J; van Soest, R; Derycke, S; Picton, B; Rigaux, A; Vanreusel, A. 2011. Phylogenetic Relationships among NE Atlantic Plocamionida Topsent (1927) (Porifera, Poecilosclerida): Under-Estimated Diversity in Reef Ecosystems. PLoS One 6. | 2011 | US East Coast (NC, SC, GA); Europe | Decision Support Frameworks & Tools | Sponges |
| Sautya, S; Ingole, B; Ray, D; Stohr, S; Samudrala, K; Raju, KAK; Mudholkar, A. 2011. Megafaunal Community Structure of Andaman Seamounts Including the Back-Arc Basin - A Quantitative Exploration from the Indian Ocean. PLoS One 6. | 2011 | US Pacific & Hawaii; Indian Ocean; US East Coast (NC, SC, GA); India; Pacific Ocean | | Arthropods; Echinoderms; Sediment; Sponges |
| Waller, RG; Scanlon, KM; Robinson, LF. 2011. Cold-Water Coral Distributions in the Drake Passage Area from Towed Camera Observations - Initial Interpretations. PLoS One 6. | 2011 | | | Fishing Sector; Sediment; Sponges; Stony Coral; Storms & Hurricanes |
| Rollion-Bard, C; Chaussidon, M; France-Lanord, C. 2011. Biological control of internal pH in scleractinian corals: Implications on paleo-pH and paleo-temperature reconstructions. Comptes Rendus Geoscience 343:397-405. | 2011 | | Model | Stony Coral |
| Sanvicente-Anorve, L; Hermoso-Salazar, M. 2011. RELATIVE GROWTH OF THE LAND HERMIT CRAB, COENOBITA CLYPEATUS (ANOMURA, COENOBITIDAE) FROM A CORAL REEF ISLAND, SOUTHERN GULF OF MEXICO. Crustaceana 84:689-699. | 2011 | South & Central America; Mexico | Model; Index or Indicator | Lobster, Crab, & Shrimp |
| Said, I; Rodriguez, S; Somerville, ID; Cozar, P. 2011. Environmental study of coral assemblages from the upper Visean Tizra Formation (Adarouch area, Morocco): implications for Western Palaeotethys biogeography. Neues Jahrbuch Fur Geologie Und Palaontologie-abhandlungen 260:101-118. | 2011 | Europe; Spain | | Sediment; Sponges |
| McKinnon, AD; Corley, J; Duggan, S. 2011. TWO NEW SPECIES OF AETIDEOPSIS (COPEPODA, AETIDEIDAE) FROM THE EASTERN INDIAN OCEAN. Crustaceana 84:831-848. | 2011 | Australia; Indian Ocean; India | | |
| Klompmaker, AA; Artal, P; Gulisano, G. 2011. The Cretaceous crab Rathbunopon: revision, a new species and new localities. Pages 191-202 in 4th International Symposium on Mesozoic and Cenozoic Decapod Crustaceans. STUTTGART. | 2011 | Oman; Europe; Spain; Germany | Field Study & Monitoring | Lobster, Crab, & Shrimp |
| Clode, PL; Lema, K; Saunders, M; Weiner, S. 2011. Skeletal mineralogy of newly settling Acropora millepora (Scleractinia) coral recruits. Coral Reefs 30:1-8. | 2011 | | | Calcium Carbonate Deposition; Climate; Ocean Acidity; Stony Coral |
| Hoeksema, BW; van der Land, J; van der Meij, SET; van Ofwegen, LP; Reijnen, BT; van Soest, RWM; de Voogd, NJ. 2011. Unforeseen importance of historical collections as baselines to determine biotic change of coral reefs: the Saba Bank case. Marine Ecology-an Evolutionary Perspective 32:135-141. | 2011 | Global; South & Central America; US Pacific & Hawaii; Antilles; Indonesia; Caribbean | | Climate; Invasive Species |
| Hearn, CJ. 2011. Perspectives in coral reef hydrodynamics. Coral Reefs 30:1-9. | 2011 | Florida; US Pacific & Hawaii; Guam | Review; Field Study & Monitoring; Model; GIS & Maps | Complex Habitat & Resources; Nutrients |
| Mabrouk, L; Hamza, A; Ben Brahim, M; Bradai, MN. 2011. Temporal and depth distribution of microepiphytes on Posidonia oceanica (L.) Delile leaves in a meadow off Tunisia. Marine Ecology-an Evolutionary Perspective 32:148-161. | 2011 | Cuba | Index or Indicator | Algae; Docks & Marinas; Light; Microorganisms; Seagrasses |
| McClanahan, T; Karnauskas, M. 2011. Relationships between benthic cover, current strength, herbivory, and a fisheries closure in Glovers Reef Atoll, Belize. Coral Reefs 30:9-19. | 2011 | South & Central America; Belize; Caribbean | Model; GIS & Maps | Algae; Finfish Harvest; Fish; Fishing Sector; Hydrocoral; Octocoral; Sea Urchins; Small Herbivorous Fish; Stony Coral |
| Jaramillo, S; Pawlak, G. 2011. AUV-based bed roughness mapping over a tropical reef. Coral Reefs 30:11-23. | 2011 | | Field Study & Monitoring; GIS & Maps | Environmental Monitoring, Mapping, & Scientific Research; Substrate |
| Herler, J. and M. Dirnwober. 2011. A simple technique for measuring buoyant weight increment of entire, transplanted coral colonies in the field. Journal of Experimental Marine Biology and Ecology | 2011 | Global | Field Study & Monitoring; Lab Study | Stony Coral |
| Vonk, R; Hoeksema, BW; Jaume, D. 2011. A new marine interstitial Psammogammarus (Crustacea,Amphipoda, Melitidae) from Gura Ici Island, off western Halmahera (North Moluccas, Indonesia), and an overview of the genus. Zookeys 53-73. | 2011 | India; Japan; Indonesia | Review | Beaches & Nature Parks; Skeletal Coral |
| Suzuki, G; Kai, S; Yamashita, H; Suzuki, K; Iehisa, Y; Hayashibara, T. 2011. Narrower grid structure of artificial reef enhances initial survival of in situ settled coral. Marine Pollution Bulletin 62:2803-2812. | 2011 | | Field Study & Monitoring | Artificial Habitat; Fish; Fishing Sector; Small Herbivorous Fish; Stony Coral |
| Rhodes, BP; Kirby, ME; Jankaew, K; Choowong, M. 2011. Evidence for a mid-Holocene tsunami deposit along the Andaman coast of Thailand preserved in a mangrove environment. Marine Geology 282:255-267. | 2011 | Indian Ocean; India; Thailand | Field Study & Monitoring | Mangroves; Sediment; Skeletal Coral; Storms & Hurricanes; Water Depth & Sea Level |
| de Putron, SJ; Smith, SR. 2011. Planula Release And Reproductive Seasonality Of The Scleractinian Coral Porites Astreoides In Bermuda, A High-Latitude Reef. Bulletin of Marine Science 87:75-90. | 2011 | Florida; Bermuda | | Stony Coral |
| Petite, H; Vandamme, K; Monfoulet, L; Logeart-Avramoglou, D. 2011. Strategies for improving the efficacy of bioengineered bone constructs: a perspective. Osteoporosis International 22:2017-2021. | 2011 | | | Manufacturing & Trade |
| Coleman, JB; Yao, XB; Jordan, TR; Madden, M. 2011. Holes in the ocean: Filling voids in bathymetric lidar data. Computers & Geosciences 37:474-484. | 2011 | Florida | Model; GIS & Maps; Remote Sensing | Environmental Monitoring, Mapping, & Scientific Research |
| Annibaldi, A; Illuminati, S; Truzzi, C; Scarponi, G. 2011. SWASV speciation of Cd, Pb and Cu for the determination of seawater contamination in the area of the Nicole shipwreck (Ancona coast, Central Adriatic Sea). Marine Pollution Bulletin 62:2813-2821. | 2011 | | | Surface & Groundwater Flow; Waterborne Discharges; Wetland & Reef Restoration |
| Margreth, S; Gennari, G; Ruggeberg, A; Comas, MC; Pinheiro, LM; Spezzaferri, S. 2011. Growth and demise of cold-water coral ecosystems on mud volcanoes in the West Alboran Sea: The messages from the planktonic and benthic foraminifera. Marine Geology 282:26-39. | 2011 | Spain | | Climate; Nutrients; Plankton; Substrate; Water Depth & Sea Level |
| Glynn, PW. 2011. In Tandem Reef Coral And Cryptic Metazoan Declines And Extinctions. Bulletin of Marine Science 87:767-794. | 2011 | Global; US Pacific & Hawaii; Indian Ocean; Panama; India | | Climate; CO2; Finfish Harvest; Hydrocoral; Ocean Acidity; Pathogens; Sediment; Skeletal Coral; Stony Coral |
| Riaux-Gobin, C; Witkowski, A; Saenz-Agudelo, P; Neveux, J; Oriol, L; Vetion, G. 2011. Nutrient status in coral reefs of the Iles Eparses (Scattered Islands): comparison to nearby reefs subject to higher anthropogenic influences (Mozambique Channel and Mascarenes, Indian Ocean). Oceanological and Hyrdrobiological Studies 40:84-90. | 2011 | Indian Ocean; Mozambique; Mayotte; Reunion; India | | Nutrients |
| Negri, AP; Harford, AJ; Parry, DL; van Dam, RA. 2011. Effects of alumina refinery wastewater and signature metal constituents at the upper thermal tolerance of: 2. The early life stages of the coral Acropora tenuis. Marine Pollution Bulletin 62:474-482. | 2011 | | Field Study & Monitoring | Climate; Discharges; Stony Coral; Wastewater Discharge |
| Salles, TB; Griffiths, CM; Dyt, CP; Li, F. 2011. Australian shelf sediment transport responses to climate change-driven ocean perturbations. Marine Geology 282:268-274. | 2011 | Global; Australia | Model | Climate; Salinity; Sea Temperatures; Sediment; Storms & Hurricanes |
| Klaus, JS; Janse, I; Fouke, BW. 2011. Coral Black Band Disease Microbial Communities And Genotypic Variability Of The Dominant Cyanobacteria (Cd1C11). Bulletin of Marine Science 87:795-821. | 2011 | South & Central America; Florida; Caribbean | | Cyanobacteria; Microorganisms; Octocoral; Pathogens; Stony Coral |
| Bhattacharyya, J; Pal, S. 2011. Coexistence of competing predators in a coral reef ecosystem. Nonlinear Analysis - Real World Applications 12:965-978. | 2011 | | Model | Corallivorous Fish; Large Herbivorous Fish; Nutrients; Plankton |
| Galvan-Villa, CM; Lopez-Uriarte, E; Arreola-Robles, JL. 2011. Diversity, structure, and temporal variation of fish assemblages associated to Playa Mora coral reef, Tenacatita Bay, Mexico. Hidrobiologica 21:135-146. | 2011 | South & Central America; US Pacific & Hawaii; Mexico | Index or Indicator | Fish; Small Herbivorous Fish |
| Wang, BS; Goodkin, NF; Angeline, N; Switzer, AD; You, CF; Hughen, K. 2011. Temporal distributions of anthropogenic Al, Zn and Pb in Hong Kong Porites coral during the last two centuries. Marine Pollution Bulletin 63:508-515. | 2011 | US Pacific & Hawaii; China | | Climate |
| De Mol, L; Van Rooij, D; Pirlet, H; Greinert, J; Frank, N; Quemmerais, F; Henriet, JP. 2011. Cold-water coral habitats in the Penmarc'h and Guilvinec Canyons (Bay of Biscay): Deep-water versus shallow-water settings. Marine Geology 282:40-52. | 2011 | US East Coast (NC, SC, GA); Europe | | Sediment; Skeletal Coral; Substrate; Water Depth & Sea Level |
| Pinzon, JH; Weil, E. 2011. Cryptic Species Within The Atlantic-Caribbean Genus Meandrina (Scleractinia): A Multidisciplinary Approach And Description Of The New Species Meandrina Jacksoni. Bulletin of Marine Science 87:823-853. | 2011 | South & Central America; Puerto Rico; US East Coast (NC, SC, GA); Caribbean | Review; Field Study & Monitoring | Stony Coral |
| Fabricius, KE; Langdon, C; Uthicke, S; Humphrey, C; Noonan, S; De'ath, G; Okazaki, R; Muehllehner, N; Glas, MS; Lough, JM. 2011. Losers and winners in coral reefs acclimatized to elevated carbon dioxide concentrations. Nature Climate Change 1:165-169. | 2011 | US Pacific & Hawaii; Papua New Guinea | Field Study & Monitoring; Model | CO2; Complex Habitat & Resources; Ocean Acidity; Seagrasses; Sediment; Stony Coral |
| Castro-Perez, JM; Gonzalez, GA; Arias-Gonzalez, JE. 2011. Characterizing spatial and temporal reef fisheries in Chinchorro Bank Biosphere Reserve, northern Mesoamerican Reef System. Hidrobiologica 21:197-209. | 2011 | South & Central America; Caribbean; Mexico | | Apex Fish Predators; Finfish Harvest; Fish; Fishing Sector; Lobster, Crab, & Shrimp; Mangroves; Piscivorous Fish; Seagrasses; Trawling & Fishing Gear Damage |
| Schmidt, C; Heinz, P; Kucera, M; Uthicke, S. 2011. Temperature-induced stress leads to bleaching in larger benthic foraminifera hosting endosymbiotic diatoms. Limnology and Oceanography 56:1587-1602. | 2011 | | | Climate; Nutrients; Zooxanthellae |
| Storlazzi, CD; Fregoso, TA; Golden, NE; Finlayson, DP. 2011. Sediment dynamics and the burial and exhumation of bedrock reefs along an emergent coastline as elucidated by repetitive sonar surveys: Northern Monterey Bay, CA. Marine Geology 289:46-59. | 2011 | US Pacific & Hawaii; Pacific Ocean | Model; GIS & Maps | Biological Monitoring, Mapping, & Scientific Research; Complex Habitat & Resources; Environmental Monitoring, Mapping, & Scientific Research; Sediment; Storms & Hurricanes; Surface & Groundwater Flow; Water Depth & Sea Level |
| Lazar, KE; Frazer, TK; Jacoby, CA; St Mary, CM. 2011. Reproductive Strategy Of Siderastrea Radians In The St. Martins Keys, Florida. Bulletin of Marine Science 87:91-111. | 2011 | South & Central America; Florida; Caribbean | Index or Indicator | Climate; Nutrients; Stony Coral |
| Rodolfo-Metalpa, R; Houlbreque, F; Tambutte, E; Boisson, F; Baggini, C; Patti, FP; Jeffree, R; Fine, M; Foggo, A; Gattuso, JP; Hall-Spencer, JM. 2011. Coral and mollusc resistance to ocean acidification adversely affected by warming. Nature Climate Change 1:308-312. | 2011 | Global | Field Study & Monitoring; Lab Study | CO2; Molluscs; Ocean Acidity; Primary Production; Surface & Groundwater Flow |
| Campbell, SJ; Kartawijaya, T; Sabarini, EK. 2011. Connectivity in reef fish assemblages between seagrass and coral reef habitats. Aquatic Biology 13:65-77. | 2011 | US Pacific & Hawaii; Indonesia | | Complex Habitat & Resources; Fish; Mangroves; Marine Protected Areas; Seagrasses |
| Ghatak, P; Karmakar, K; Kasetty, S; Chatterji, D. 2011. Unveiling the Role of Dps in the Organization of Mycobacterial Nucleoid. PLoS One 6. | 2011 | | | Microorganisms |
| Chan, WH; Mak, YL; Wu, JJ; Jin, L; Sit, WH; Lam, JCW; de Mitcheson, YS; Chan, LL; Lam, PKS; Murphy, MB. 2011. Spatial distribution of ciguateric fish in the Republic of Kiribati. Chemosphere 84:117-123. | 2011 | Global; US Pacific & Hawaii; Pacific Ocean; Kiribati | | Apex Fish Predators; Fish; Fishing & Harvesting Management; Fishing Sector; Piscivorous Fish |
| Pernice, M; Dunn, SR; Miard, T; Dufour, S; Dove, S; Hoegh-Guldberg, O. 2011. Regulation of Apoptotic Mediators Reveals Dynamic Responses to Thermal Stress in the Reef Building Coral Acropora millepora. PLoS One 6. | 2011 | Global; Cuba | Model | Anemones & Zooanthids; Climate; Special Use Permitting; Stony Coral |
| Kim, JW; Isobe, T; Ramaswamy, BR; Chang, KH; Amano, A; Miller, TM; Siringan, FP; Tanabe, S. 2011. Contamination and bioaccumulation of benzotriazole ultraviolet stabilizers in fish from Manila Bay, the Philippines using an ultra-fast liquid chromatography-tandem mass spectrometry. Chemosphere 85:751-758. | 2011 | Philippines | | Fish; Light; Piscivorous Fish; Sediment; Surface & Groundwater Flow; Wood, Plastics, & Chemical Products |
| Nakamura, M; Ohki, S; Suzuki, A; Sakai, K. 2011. Coral Larvae under Ocean Acidification: Survival, Metabolism, and Metamorphosis. PLoS One 6. | 2011 | | | CO2; Molluscs; Ocean Acidity; Stony Coral |
| Al Balushi, SAK; Macquaker, JHS. 2011. Sedimentological evidence for bottom-water oxygenation during deposition of the Natih-B Member intrashelf-basinal sediments: Upper Cretaceous carbonate source rock, Natih Formation, North Sultanate of Oman. GeoArabia 16:47-84. | 2011 | Global; Oman | Field Study & Monitoring; Model | Echinoderms; Plankton; Primary Production; Sediment; Water Depth & Sea Level |
| Mitchell, MD; McCormick, MI; Ferrari, MCO; Chivers, DP. 2011. Coral Reef Fish Rapidly Learn to Identify Multiple Unknown Predators upon Recruitment to the Reef. PLoS One 6. | 2011 | | | Fish |
| Cui, J; Liu, JX; Chen, JJ; Henny, RJ. 2011. Regeneration of Chlorophytum amaniense 'Fire Flash' Through Indirect Shoot Organogenesis. HortScience 46:466-469. | 2011 | | | Light; Substrate |
| Stat, M; Bird, CE; Pochon, X; Chasqui, L; Chauka, LJ; Concepcion, GT; Logan, D; Takabayashi, M; Toonen, RJ; Gates, RD. 2011. Variation in Symbiodinium ITS2 Sequence Assemblages among Coral Colonies. PLoS One 6. | 2011 | | | Climate; Stony Coral |
| Rolfe, J; Windle, J. 2011. Assessing community values for reducing agricultural emissions to improve water quality and protect coral health in the Great Barrier Reef. Water Resources Research 47. | 2011 | Australia | Model | Agriculture; Monetary Valuation; Non-point Source Runoff |
| Sutherland, WJ; Bardsley, S; Bennun, L; Clout, M; Cote, IM; Depledge, MH; Dicks, LV; Dobson, AP; Fellman, L; Fleishman, E; Gibbons, DW; Impey, AJ; Lawton, JH; Lickorish, F; Lindenmayer, DB; Lovejoy, TE; Mac Nally, R; Madgwick, J; Peck, LS; Pretty, J; Prio. 2011. Horizon scan of global conservation issues for 2011. Trends in Ecology and Evolution 26:10-16. | 2011 | Global | Review | Greenhouse Gas Emissions; Invasive Species; Pathogens; Schools & Colleges |
| del Hoyo, A; Alvarez, R; del Campo, EM; Gasulla, F; Barreno, E; Casano, LM. 2011. Oxidative stress induces distinct physiological responses in the two Trebouxia phycobionts of the lichen Ramalina farinacea. Annals of Botany 107:109-118. | 2011 | | | Algae; Primary Production |
| Kaniewska, P; Magnusson, SH; Anthony, KRN; Reef, R; Kuhl, M; Hoegh-Guldberg, O. 2011. Importance Of Macro- Versus Microstructure In Modulating Light Levels Inside Coral Colonies. Journal of Phycology 47:846-860. | 2011 | | | Light; Stony Coral |
| Mitchell, MD; McCormick, MI; Ferrari, MCO; Chivers, DP. 2011. Friend or foe? The role of latent inhibition in predator and non-predator labelling by coral reef fishes. Animal cognition 14:707-714. | 2011 | | | Fish; Small Herbivorous Fish |
| Reich, M; Kutscher, M. 2011. Sea Pens (Octocorallia: Pennatulacea) From The Late Cretaceous Of Northern Germany. Journal of Paleontology 85:1042-1051. | 2011 | Germany | | Octocoral |
| Pollnac, R; Seara, T. 2011. Factors Influencing Success of Marine Protected Areas in the Visayas, Philippines as Related to Increasing Protected Area Coverage. Environmental Management 47:584-592. | 2011 | Philippines | | Finfish Harvest; Fish; Fishing Sector; Marine Protected Areas |
| Shen, CC; Wu, CC; Liu, Y; Yu, JM; Chang, CC; Lam, DD; Chou, CJ; Lo, L; Wei, KY. 2011. Measurements of Natural Carbonate Rare Earth Elements in Femtogram Quantities by Inductive Coupled Plasma Sector Field Mass Spectrometry. Analytical Chemistry 83:6842-6848. | 2011 | | Field Study & Monitoring | Sponges; Stony Coral |
| Stanley, GD; Zonneveld, JP. 2011. The Occurrence Of The Hydrozoan Genus Cassianastraea From Upper Triassic (Carnian) Rocks Of Williston Lake, British Columbia, Canada. Journal of Paleontology 85:29-31. | 2011 | Columbia | | Sediment |
| Gonzalez, C; Jentoft, S. 2011. MPA in Labor: Securing the Pearl Cays of Nicaragua. Environmental Management 47:617-629. | 2011 | South & Central America; Nicaragua; Oman; Caribbean | | Finfish Harvest; Fishing Sector; Marine Protected Areas; Sea Turtles |
| Zhang, FF; Cai, WY; Zhu, JC; Sun, ZR; Zhang, J. 2011. In Situ Raman Spectral Mapping Study on the Microscale Fibers in Blue Coral (Heliopora coerulea) Skeletons. Analytical Chemistry 83:7870-7875. | 2011 | | GIS & Maps | Calcium Carbonate Deposition; Environmental Monitoring, Mapping, & Scientific Research; Octocoral; Stony Coral |
| Work, TM; Aeby, GS. 2011. Pathology of tissue loss (white syndrome) in Acropora sp corals from the Central Pacific. Journal of Invertebrate Pathology 107:127-131. | 2011 | US Pacific & Hawaii; Samoa; American Samoa; Johnston Atoll | Field Study & Monitoring | Algae; Cyanobacteria; Microorganisms; Pathogens; Sponges; Stony Coral |
| Hargreaves-Allen, V; Mourato, S; Milner-Gulland, EJ. 2011. A Global Evaluation of Coral Reef Management Performance: Are MPAs Producing Conservation and Socio-Economic Improvements? Environmental Management 47:684-700. | 2011 | Global; Philippines | Decision Support Frameworks & Tools | Fishing Sector; Marine Protected Areas; Special Use Permitting; Tourism & Recreation |
| Padmakumar, K; Chandran, R; Kumar, JSY; Sornaraj, R. 2011. Carijoa riisei (Cnidaria : Octocorallia : Clavulariidae), a newly observed threat to Gulf of Mannar coral biodiversity? Current Science 100:35-37. | 2011 | US Pacific & Hawaii | | Octocoral |
| Williams, GJ; Work, TM; Aeby, GS; Knapp, IS; Davy, SK. 2011. Gross and microscopic morphology of lesions in Cnidaria from Palmyra Atoll, Central Pacific. Journal of Invertebrate Pathology 106:165-173. | 2011 | South & Central America; US Pacific & Hawaii; Palmyra Atoll; Caribbean | | Algae; Anemones & Zooanthids; Octocoral; Pathogens; Sponges; Stony Coral; Zooxanthellae |
| Teresa, FB; Romero, RD; Casatti, L; Sabino, J. 2011. Fish as Indicators of Disturbance in Streams Used for Snorkeling Activities in a Tourist Region. Environmental Management 47:960-968. | 2011 | US East Coast (NC, SC, GA) | Field Study & Monitoring; Index or Indicator | Complex Habitat & Resources; Dive, Snorkeling, & Swimming Tourism; Environmental Monitoring, Mapping, & Scientific Research; Fish; Surface & Groundwater Flow; Tourism & Recreation |
| Jha, DK; Vinithkumar, NV; Santhnakumar, J; Nazar, AKA; Kirubagaran, R. 2011. Assessment of post tsunami coral reef resource in Pongi Balu coast, south Andaman Islands. Current Science 100:530-534. | 2011 | Global; Cuba | | Skeletal Coral |
| Kuehl, K; Jones, R; Gibbs, D; Richardson, L. 2011. The roles of temperature and light in black band disease (BBD) progression on corals of the genus Diploria in Bermuda. Journal of Invertebrate Pathology 106:366-370. | 2011 | Bermuda | | Light; Pathogens; Stony Coral |
| Gopinath, A; Muraleedharan, NS; Chandramohanakumar, N; Jayalakshmi, KV. 2011. Statistical Significance of BioMonitoring of Marine Algae for Trace Metal Levels in a Coral Environment. Environmental Forensics 12:98-105. | 2011 | | Field Study & Monitoring; Index or Indicator | Agriculture; Algae; Environmental Monitoring, Mapping, & Scientific Research; Primary Production |
| Kumar, SS; Gaur, A; Shivaji, S. 2011. Phylogenetic studies in Indian scleractinian corals based on mitochondrial cytochrome b gene sequences. Current Science 101:669-676. | 2011 | India | | Stony Coral |
| Perger, R; Vargas, R; Wall, A. 2011. Johngarthia cocoensis, a new species of Gecarcinidae MacLeay, 1838 (Crustacea, Decapoda, Brachyura) from Cocos Island, Costa Rica. Zootaxa 57-68. | 2011 | South & Central America; US Pacific & Hawaii; Costa Rica | | Lobster, Crab, & Shrimp; Museums, Amusement Parks, Historical Sites |
| Gugel, J; Wagler, M; Brummer, F. 2011. Porifera, one new species Suberea purpureaflava n. sp (Demospongiae, Verongida, Aplysinellidae) from northern Red Sea coral reefs, with short descriptions of Red Sea Verongida and known Suberea species. Zootaxa 60-68. | 2011 | | | Sponges |
| Blanco, FM; Alonso, LC; Sanson, GG; Amargos, FP. 2011. Influence of Diadema antillarum populations (Echinodermata: Diadematidae) on algal community structure in Jardines de la Reina, Cuba. Revista de Biologia Tropical 59:1149-1163. | 2011 | South & Central America; Cuba; Caribbean | | Algae; Calcareous Macroalgae; Coralline Algae; Echinoderms; Fish; Fleshy Macroalgae; Marine Protected Areas; Sea Urchins; Small Herbivorous Fish |
| Garcia-Rios, CI; Alvarez-Ruiz, M. 2011. Diversity and microstructure of quitons (Mollusca: Polyplacophora) from the Caribbean of Costa Rica. Revista de Biologia Tropical 59:129-136. | 2011 | South & Central America; Florida; Costa Rica; Caribbean | | Molluscs; Skeletal Coral; Snails & Conch |
| Nava, H; Ramirez-Herrera, MT. 2011. Government conservation policies on Mexican coastal areas: is "top-down" management working? Revista de Biologia Tropical 59:1487-1501. | 2011 | Global; South & Central America; US Pacific & Hawaii; Caribbean | Index or Indicator | Algae; Landscape Changes; Landscape Conservation & Restoration; Marine Protected Areas; Non-Monetary Valuation; Recreational Opportunities; Sediment; Skeletal Coral |
| Myers, MC; Wagner, J; Vaughan, C. 2011. Long-term comparison of the fish community in a Costa Rican rocky shore marine reserve. Revista de Biologia Tropical 59:233-246. | 2011 | US Pacific & Hawaii; Costa Rica; Panama | Index or Indicator | Fish; Small Herbivorous Fish |
| Karnauskas, M; Huntington, BE; Babcock, EA; Lirman, D. 2011. Pre-existing spatial patterns in fish abundances influence species-specific responses in a Caribbean marine reserve. Marine Ecology Progress Series 432:235-246. | 2011 | South & Central America; Belize; Caribbean | Field Study & Monitoring | Fish; Fishing Sector; Marine Protected Areas |
| Huijbers, CM; Nagelkerken, I; Govers, LL; van de Kerk, M; Oldenburger, JJ; de Brouwer, JHF. 2011. Habitat type and schooling interactively determine refuge-seeking behavior in a coral reef fish throughout ontogeny. Marine Ecology Progress Series 437:241-251. | 2011 | | Field Study & Monitoring | Complex Habitat & Resources; Fish; Mangroves; Seagrasses; Skeletal Coral; Surface & Groundwater Flow |
| Zvuloni, A; Armoza-Zvuloni, R; Shaked, Y. 2011. Multifocal bleaching of Millepora dichotoma in the Gulf of Aqaba (Eilat), Red Sea. Marine Ecology Progress Series 441:25-32. | 2011 | Florida | | Hydrocoral; Pathogens |
| Kendall, MS; Miller, TJ; Pittman, SJ. 2011. Patterns of scale-dependency and the influence of map resolution on the seascape ecology of reef fish. Marine Ecology Progress Series 427:259-274. | 2011 | | GIS & Maps | Fish; Seagrasses; Small Herbivorous Fish |
| Krueger, BH; Chaloupka, MY; Leighton, PA; Dunn, JA; Horrocks, JA. 2011. Somatic growth rates for a hawksbill turtle population in coral reef habitat around Barbados. Marine Ecology Progress Series 432:269-276. | 2011 | Bahamas | Model; Rate functions; Index or Indicator | Complex Habitat & Resources; Sea Turtles |
| Booth, DT; Evans, A. 2011. Warm Water and Cool Nests Are Best. How Global Warming Might Influence Hatchling Green Turtle Swimming Performance. PLoS One 6. | 2011 | Global; Cuba | | Beaches & Nature Parks; Climate; Fish; Sea Turtles |
| McCaffrey, K; Hawkins, MB; Godwin, J. 2011. Sexual Phenotype Differences in zic2 mRNA Abundance in the Preoptic Area of a Protogynous Teleost, Thalassoma bifasciatum. PLoS One 6. | 2011 | | Field Study & Monitoring; Model | Planktivorous Fish; Special Use Permitting |
| Ramirez-Llodra, E; Tyler, PA; Baker, MC; Bergstad, OA; Clark, MR; Escobar, E; Levin, LA; Menot, L; Rowden, AA; Smith, CR; Van Dover, CL. 2011. Man and the Last Great Wilderness: Human Impact on the Deep Sea. PLoS One 6. | 2011 | Global; South & Central America; Mexico | Review | Climate; Fishing Sector; Ocean Acidity; Sediment |
| Cripps, IL; Munday, PL; McCormick, MI. 2011. Ocean Acidification Affects Prey Detection by a Predatory Reef Fish. PLoS One 6. | 2011 | | | Climate; Fish; Ocean Acidity; Surface & Groundwater Flow |
| Work, TM; Forsman, ZH; Szabo, Z; Lewis, TD; Aeby, GS; Toonen, RJ. 2011. Inter-Specific Coral Chimerism: Genetically Distinct Multicellular Structures Associated with Tissue Loss in Montipora capitata. PLoS One 6. | 2011 | US Pacific & Hawaii | | Invasive Species; Pathogens |
| Cairns, SD. 2011. Global Diversity of the Stylasteridae (Cnidaria: Hydrozoa: Athecatae). PLoS One 6. | 2011 | Global; US Pacific & Hawaii | GIS & Maps | Stony Coral |
| McAdoo, BG; Ah-Leong, JS; Bell, L; Ifopo, P; Ward, J; Lovell, E; Skelton, P. 2011. Coral reefs as buffers during the 2009 South Pacific tsunami, Upolu Island, Samoa. Earth-Science Reviews 107:147-155. | 2011 | US Pacific & Hawaii; Australia; Samoa | Field Study & Monitoring | Fish; Fishing Sector; Nutrients; Shoreline Protection; Storms & Hurricanes; Substrate; Supporting Services; Tourism & Recreation |
| Porter, JW; Torres, C; Sutherland, KP; Meyers, MK; Callahan, MK; Ruzicka, R; Colella, M. 2011. Prevalence, severity, lethality, and recovery of dark spots syndrome among three Floridian reef-building corals. Journal of Experimental Marine Biology and Ecology 408:79-87. | 2011 | South & Central America; Florida; Caribbean | | Pathogens; Stony Coral |
| Ely, KS; Sandiford, M; Hawke, ML; Phillips, D; Quigley, M; dos Reis, JE. 2011. Evolution of Atauro Island: Temporal constraints on subduction processes beneath the Wetar zone, Banda Arc. Journal of Asian Earth Sciences 41:477-493. | 2011 | Australia; Indonesia | | Water Depth & Sea Level |
| Leong, W; Pawlik, JR. 2011. Comparison of reproductive patterns among 7 Caribbean sponge species does not reveal a resource trade-off with chemical defenses. Journal of Experimental Marine Biology and Ecology 401:80-84. | 2011 | South & Central America; Florida; Caribbean | Index or Indicator | Fish; Sponges; Tube, Barrel, & Finger Sponges |
| Hannak, JS; Kompatscher, S; Stachowitsch, M; Herler, J. 2011. Snorkelling and trampling in shallow-water fringing reefs: Risk assessment and proposed management strategy. Journal of Environmental Management 92:2723-2733. | 2011 | Cuba; Egypt | Model; Index or Indicator | Banks, Credit, & Securities; Dive, Snorkeling, & Swimming Tourism; Finfish Harvest; Sediment; Stony Coral; Substrate; Tourism & Recreation; Trampling |
| Hamasaki, K; Sugizaki, M; Sugimoto, A; Murakami, Y; Kitada, S. 2011. Emigration behaviour during sea-to-land transition of the coconut crab Birgus latro: Effects of gastropod shells, substrata, shelters and humidity. Journal of Experimental Marine Biology and Ecology 403:81-89. | 2011 | US Pacific & Hawaii | | Landscape Conservation & Restoration; Lobster, Crab, & Shrimp; Substrate |
| McFadden, CS; Benayahu, Y; Pante, E; Thoma, JN; Nevarez, PA; France, SC. 2011. Limitations of mitochondrial gene barcoding in Octocorallia. Molecular Ecology Resources 11:19-31. | 2011 | US East Coast (NC, SC, GA) | | Octocoral; Stony Coral |
| Bythell, JC; Wild, C. 2011. Biology and ecology of coral mucus release. Journal of Experimental Marine Biology and Ecology 408:88-93. | 2011 | | | Climate; Microorganisms; Pathogens; Stony Coral |
| Lawton, RJ; Pratchett, MS; Bay, LK. 2011. Cross-species amplification of 44 microsatellite loci developed for Chaetodon trifascialis, C. lunulatus and C. vagabundus in 22 related butterflyfish species. Molecular Ecology Resources 11:323-327. | 2011 | | | Corallivorous Fish; Fish |
| Gates, RD; Ainsworth, TD. 2011. The nature and taxonomic composition of coral symbiomes as drivers of performance limits in scleractinian corals. Journal of Experimental Marine Biology and Ecology 408:94-101. | 2011 | | | Algae; Climate; Microorganisms; Nutrients; Seastars; Stony Coral; Surface & Groundwater Flow |
| Demory, F; Conesa, G; Oudet, J; Mansouri, H; Munch, P; Borgomano, J; Thouveny, N; Lamarche, J; Gisquet, F; Marie, L. 2011. Magnetostratigraphy and paleoenvironments in shallow-water carbonates: the Oligocene-Miocene sediments of the northern margin of the Liguro-Provencal basin (West Marseille, southeastern France). Bulletin de la Societe Geologique de France 182:37-55. | 2011 | Global; France | Model | Climate; Sediment; Water Depth & Sea Level |
| Ernst, S; Janse, M; Renema, W; Kouwenhoven, T; Goudeau, ML; Reichart, GJ. 2011. Benthic Foraminifera In A Large Indo-Pacific Coral Reef Aquarium. Journal of Foraminiferal Research 41:101-113. | 2011 | Global; US Pacific & Hawaii; Java; Indonesia | Index or Indicator | Aquarium & Pet Trade; Aquarium Stock |
| Walker, RA; Hallock, P; Torres, JJ; Vargo, GA. 2011. Photosynthesis And Respiration In Five Species Of Benthic Foraminifera That Host Algal Endosymbionts. Journal of Foraminiferal Research 41:314-325. | 2011 | Florida; US Pacific & Hawaii | | Light; Primary Production |
| Okuku, EO; Ohowa, B; Mwangi, SN; Munga, D; Kiteresi, LI; Wanjeri, VO; Okumu, S; Kilonzo, J. 2011. Sewage pollution in the Coastal waters of Mombasa City, Kenya: A norm Rather than an Exception. International Journal Of Environmental Research 5:865-874. | 2011 | Kenya | | Discharges; Dredging, Draining, & Filling; Nutrients; Sediment; Storms & Hurricanes; Waterborne Discharges |
| Hirose, E; Murakami, A. 2011. Microscopic Anatomy and Pigment Characterization of Coral-encrusting Black Sponge with Cyanobacterial Symbiont, Terpios hoshinota. Zoological Science 28:199-205. | 2011 | | | Cyanobacteria; Encrusting Sponges; Microorganisms; Pathogens; Skeletal Coral; Sponges; Stony Coral |
| Goto, R; Hamamura, Y; Kato, M. 2011. Morphological and Ecological Adaptation of Basterotia Bivalves (Galeommatoidea: Sportellidae) to Symbiotic Association with Burrowing Echiuran Worms. Zoological Science 28:225-234. | 2011 | | | Bivalves; Marine Worms |
| Downs, C. A., C. M. Woodley, J. E. Fauth, S. Knutson, M. M. Burtscher, L. A. May, A. R. Avadanei, J. L. Higgins, and G. K. Ostrander. 2011. A survey of environmental pollutants and cellular-stress markers of Porites astreoides at six sites in St. John, U.S. Virgin Islands. Ecotoxicology | 2011 | Global; US Virgin Islands | | Nutrients; Stony Coral; Surface & Groundwater Flow |
| Jameson, S. C., M. V. Erdmann, J. R. Karr, G. R. Gibson, and K. W. Potts. 2011. Charting a Course Toward Diagnostic Monitoring: A Continuing Review of Coral Reef Attributes and a Research Strategy for Creating Coral Reef Indexes of Biotic Integrity. Bulletin of Marine Science | 2011 | | Review; Field Study & Monitoring; Index or Indicator | Biocriteria; Environmental Monitoring, Mapping, & Scientific Research; Plankton |
| Zhu, BH; Pan, KH; Wang, GC. 2011. Effects of host starvation on the symbiotic dinoflagellates from the sea anemone Stichodactyla mertensii. Marine Ecology-an Evolutionary Perspective 32:15-23. | 2011 | | Index or Indicator | Anemones & Zooanthids; Nutrients; Primary Production; Stony Coral; Zooxanthellae |
| Chaves-Fonnegra, A; Zea, S. 2011. Coral colonization by the encrusting excavating Caribbean sponge Cliona delitrix. Marine Ecology-an Evolutionary Perspective 32:162-173. | 2011 | South & Central America; Caribbean | | Algae; Boring Sponges; Nutrients; Skeletal Coral; Sponges; Stony Coral |
| Stokes, MD; Leichter, JJ; Wing, S; Frew, R. 2011. Temperature variability and algal isotopic heterogeneity on a Floridian coral reef. Marine Ecology-an Evolutionary Perspective 32:364-379. | 2011 | Florida | Field Study & Monitoring; GIS & Maps | Algae; Calcareous Macroalgae; Calcium Carbonate Deposition; Fleshy Macroalgae; Nutrients; Salinity |
| Milazzo, M; Palmeri, A; Falcon, JM; Badalamenti, F; Garcia-Charton, JA; Sinopoli, M; Chemello, R; Brito, A. 2011. Vertical distribution of two sympatric labrid fishes in the Western Mediterranean and Eastern Atlantic rocky subtidal: local shore topography does matter. Marine Ecology-an Evolutionary Perspective 32:521-531. | 2011 | US East Coast (NC, SC, GA) | | Algae; Climate; Complex Habitat & Resources; Planktivorous Fish; Substrate |
| Berumen, ML; Pratchett, MS; Goodman, BA. 2011. Relative gut lengths of coral reef butterflyfishes (Pisces: Chaetodontidae). Coral Reefs 30:1005-1010. | 2011 | Papua New Guinea | | Corallivorous Fish; Surface & Groundwater Flow |
| O'Leary, JK; Potts, DC. 2011. Using hierarchical sampling to understand scales of spatial variation in early coral recruitment. Coral Reefs 30:1013-1023. | 2011 | Kenya | Model | Fish; Seawater Flow; Small Herbivorous Fish; Stony Coral; Surface & Groundwater Flow |
| Vroom, PS; Zgliczynski, BJ. 2011. Effects of volcanic ash deposits on four functional groups of a coral reef. Coral Reefs 30:1025-1032. | 2011 | US Pacific & Hawaii; Northern Mariana Islands | | Algae; Fish; Sediment |
| Stefani, F; Benzoni, F; Yang, SY; Pichon, M; Galli, P; Chen, CA. 2011. Comparison of morphological and genetic analyses reveals cryptic divergence and morphological plasticity in Stylophora (Cnidaria, Scleractinia). Coral Reefs 30:1033-1049. | 2011 | US Pacific & Hawaii; Madagascar; Pacific Ocean | Decision Support Frameworks & Tools | Stony Coral |
| Alvarez-Filip, L; Gill, JA; Dulvy, NK; Perry, AL; Watkinson, AR; Cote, IM. 2011. Drivers of region-wide declines in architectural complexity on Caribbean reefs. Coral Reefs 30:1051-1060. | 2011 | South & Central America; Caribbean | | Climate; Complex Habitat & Resources; Finfish Harvest; Fish; Marine Protected Areas; Stony Coral; Storms & Hurricanes; Surface & Groundwater Flow |
| Zuidema, C; Plate, R; Dikou, A. 2011. To preserve or to develop? East Bay dredging project, South Caicos, Turks and Caicos Islands. Journal of Coastal Conservation 15:555-563. | 2011 | Turks and Caicos | | Algae; Beaches & Nature Parks; Dredging, Draining, & Filling; Monetary Valuation; Seagrasses; Skeletal Coral; Tourism & Recreation; Turf Algae; Valuation |
| Souter, P; Bay, LK; Andreakis, N; Csaszar, N; Seneca, FO; van Oppen, MJH. 2011. A multilocus, temperature stress-related gene expression profile assay in Acropora millepora, a dominant reef-building coral. Molecular Ecology Resources 11:328-334. | 2011 | | Lab Study; Model; Decision Support Frameworks & Tools | Climate; Stony Coral |
| Reece, JS; Bowen, BW; Smith, DG; Larson, A. 2011. Comparative phylogeography of four Indo-Pacific moray eel species (Muraenidae) reveals comparable ocean-wide genetic connectivity despite five-fold differences in available adult habitat. Marine Ecology Progress Series 437:269-277. | 2011 | US Pacific & Hawaii | | Apex Fish Predators; Complex Habitat & Resources; Piscivorous Fish |
| Huang, H; Dong, ZJ; Huang, LM; Yang, JH; Di, BP; Li, YC; Zhou, GW; Zhang, CL. 2011. Latitudinal variation in algal symbionts within the scleractinian coral Galaxea fascicularis in the South China Sea. Marine Biology Research 7:208-211. | 2011 | China | | Algae; Stony Coral; Zooxanthellae |
| Granados-Cifuentes, C; Rodriguez-Lanetty, M. 2011. The use of high-resolution melting analysis for genotyping Symbiodinium strains: a sensitive and fast approach. Molecular Ecology Resources 11:394-399. | 2011 | | Field Study & Monitoring; Decision Support Frameworks & Tools | Zooxanthellae |
| Hitt, S; Pittman, SJ; Nemeth, RS. 2011. Diel movements of fishes linked to benthic seascape structure in a Caribbean coral reef ecosystem. Marine Ecology Progress Series 427:275-291. | 2011 | South & Central America; Caribbean | GIS & Maps; Decision Support Frameworks & Tools | Biological Monitoring, Mapping, & Scientific Research; Fish; Mangroves; Marine Protected Areas; Piscivorous Fish; Seagrasses; Sediment |
| Goffredo, S; Caroselli, E; Gasparini, G; Marconi, G; Putignano, MT; Pazzini, C; Zaccanti, F. 2011. Colony and polyp biometry and size structure in the orange coral Astroides calycularis (Scleractinia: Dendrophylliidae). Marine Biology Research 7:272-280. | 2011 | | | Sediment; Stony Coral |
| Lin, YS; Fazary, AE; Chen, CH; Kuo, YH; Shen, YC. 2011. Asterolaurins G-J, New Xenicane Diterpenoids from the Taiwanese Soft Coral Asterospicularia laurae. Helvetica Chimica Acta 94:273-281. | 2011 | Taiwan | | Octocoral |
| Standish, JD; White, JW; Warner, RR. 2011. Spatial pattern of natal signatures in the otoliths of juvenile kelp rockfish along the Californian coast. Marine Ecology Progress Series 437:279-290. | 2011 | | Model | Fish |
| Ramos, R; Bastidas, C; Debrot, D; Garcia, E. 2011. Phase I and II biotransformation and antioxidant enzymes in the coral Siderastrea siderea act as biomarkers for reproductive condition and habitat quality. Marine Biology Research 7:398-406. | 2011 | | | Marine Protected Areas; Stony Coral; Waterborne Discharges |
| Krawczynski, C; Wilson, M. 2011. The first Jurassic thecideide brachiopods from the Middle East: A new species of Moorellina from the Upper Callovian of Hamakhtesh Hagadol, southern Israel. Acta Geologica Polonica 61:71-77. | 2011 | US East Coast (NC, SC, GA); Middle East | | Sponges |
| Oliver, LM; Lehrter, JC; Fisher, WS. 2011. Relating landscape development intensity to coral reef condition in the watersheds of St. Croix, US Virgin Islands. Marine Ecology Progress Series 427:293-302. | 2011 | US Virgin Islands | Index or Indicator; Decision Support Frameworks & Tools | Climate; Impervious Surfaces; Landscape Changes; Sediment; Stony Coral |
| Findlay, HS; Wood, HL; Kendall, MA; Spicer, JI; Twitchett, RJ; Widdicombe, S. 2011. Comparing the impact of high CO(2) on calcium carbonate structures in different marine organisms. Marine Biology Research 7:565-575. | 2011 | Global | | Calcium Carbonate Deposition; CO2; Echinoderms; Molluscs; Ocean Acidity; Special Use Permitting |
| Apprill, A; Rappe, MS. 2011. Response of the microbial community to coral spawning in lagoon and reef flat environments of Hawaii, USA. Aquatic Microbial Ecology 62:251-266. | 2011 | US Pacific & Hawaii | | Microorganisms; Plankton; Surface & Groundwater Flow |
| Daniels, CA; Zeifman, A; Heym, K; Ritchie, KB; Watson, CA; Berzins, I; Breitbart, M. 2011. Spatial heterogeneity of bacterial communities in the mucus of Montastraea annularis. Marine Ecology Progress Series 426:29-40. | 2011 | Florida | | Microorganisms; Sponges; Stony Coral |
| Poisson, A; Orszag-Sperber, F; Kosun, E; Bassetti, MA; Muller, C; Wernli, R; Rouchy, JM. 2011. The Late Cenozoic evolution of the Aksu basin (Isparta Angle; SW Turkey). New insights. Bulletin de la Societe Geologique de France 182:133-148. | 2011 | | Model | Sediment; Surface & Groundwater Flow; Water Depth & Sea Level |
| Haslun, J. A., K. B. Strychar, G. Buck, and P. W. Sammarco. 2011. Coral Bleaching Susceptibility Is Decreased following Short-Term (1-3 Year) Prior Temperature Exposure and Evolutionary History. Journal of Marine Biology 1-13. | 2011 | Global; Florida | | Climate; Stony Coral; Zooxanthellae |
| Rohr, JR; Dobson, AP; Johnson, PTJ; Kilpatrick, AM; Paull, SH; Raffel, TR; Ruiz-Moreno, D; Thomas, MB. 2011. Frontiers in climate change-disease research. Trends in Ecology and Evolution 26:270-277. | 2011 | | Review; Model | Climate; Collaboration & Partnering; Pathogens |
| Heal, Geoffrey. 2011. Sustainability and it's Measurement. NBER Working Paper No. 17008, National Bureau of Economic Research, Cambridge, (MA, USA). | 2011 | | Review | Surface & Groundwater Flow |
| Lindley, ST; Erickson, DL; Moser, ML; Williams, G; Langness, OP; McCovey, BW; Belchik, M; Vogel, D; Pinnix, W; Kelly, JT; Heublein, JC; Klimley, AP. 2011. Electronic Tagging of Green Sturgeon Reveals Population Structure and Movement among Estuaries. Transactions of the American Fisheries Society 140:108-122. | 2011 | US Pacific & Hawaii; US East Coast (NC, SC, GA); Columbia | | Accidental & Illegal Harvest; Fish; Fishing Sector; Surface & Groundwater Flow; Waterborne Discharges |
| Pelin, M; Zanette, C; De Bortoli, M; Sosa, S; Della Loggia, R; Tubaro, A; Florio, C. 2011. Effects of the marine toxin palytoxin on human skin keratinocytes: Role of ionic imbalance. Toxicology 282:30-38. | 2011 | | | Anemones & Zooanthids |
| Helmle, K. P., R. E. Dodge, P. K. Swart, D. K. Gledhill, and C. M. Eakin. 2011. Growth rates of Florida corals from 1937 to 1996 and their response to climate change. Nature Communications 1-6. | 2011 | Florida | | Calcium Carbonate Deposition; Climate; Ocean Acidity; Stony Coral |
| Roopin, M; Thornhill, DJ; Santos, SR; Chadwick, NE. 2011. Ammonia flux, physiological parameters, and Symbiodinium diversity in the anemonefish symbiosis on Red Sea coral reefs. Symbiosis 53:63-74. | 2011 | US Pacific & Hawaii | Field Study & Monitoring; Lab Study | Anemones & Zooanthids; Fish; Light; Nutrients; Zooxanthellae |
| Jones, A. M. and R. Berkelmans. 2011. Tradeoffs to Thermal Acclimation: Energetics and Reproduction of a Reef Coral with Heat Tolerant Symbiodinium Type-D. Journal of Marine Biology 1-12. | 2011 | | Index or Indicator | Climate; Stony Coral |
| Levy, O; Kaniewska, P; Alon, S; Eisenberg, E; Karako-Lampert, S; Bay, LK; Reef, R; Rodriguez-Lanetty, M; Miller, DJ; Hoegh-Guldberg, O. 2011. Complex Diel Cycles of Gene Expression in Coral-Algal Symbiosis. Science 331:175-175. | 2011 | | | Hydrocoral; Stony Coral |
| Roullier, C; Chollet-Krugler, M; Pferschy-Wenzig, EM; Maillard, A; Rechberger, GN; Legouin-Gargadennec, B; Bauer, R; Boustie, J. 2011. Characterization and identification of mycosporines-like compounds in cyanolichens. Isolation of mycosporine hydroxyglutamicol from Nephroma laevigatum Ach. Phytochemistry 72:1348-1357. | 2011 | China | | Algae; Cyanobacteria; Microorganisms; Plankton |
| Hoegh-Guldberg, O. 2011. Coral reef ecosystems and anthropogenic climate change. Regional Environmental Change 11:S215-S237. | 2011 | Global | Field Study & Monitoring | Climate; CO2; Fishing Sector; Ocean Acidity; Surface & Groundwater Flow |
| Barnett, J. 2011. Dangerous climate change in the Pacific Islands: food production and food security. Regional Environmental Change 11:S229-S237. | 2011 | US Pacific & Hawaii; Australia | | Agriculture; Climate; Fish; Fishing Sector; Housing |
| Guest, JR; Dizon, RM; Edwards, AJ; Franco, C; Gomez, ED. 2011. How Quickly do Fragments of Coral "Self-Attach" after Transplantation? Restoration Ecology 19:234-242. | 2011 | Philippines | Decision Support Frameworks & Tools | Calcium Carbonate Deposition; Stony Coral; Substrate; Wetland & Reef Restoration |
| Forrester, GE; O'Connell-Rodwell, C; Baily, P; Forrester, LM; Giovannini, S; Harmon, L; Karis, R; Krumholz, J; Rodwell, T; Jarecki, L. 2011. Evaluating Methods for Transplanting Endangered Elkhorn Corals in the Virgin Islands. Restoration Ecology 19:299-306. | 2011 | South & Central America; US Virgin Islands; Caribbean | | Algae; Dive, Snorkeling, & Swimming Tourism; Stony Coral; Tourism & Recreation |
| Kreyling, J; Bittner, T; Jaeschke, A; Jentsch, A; Steinbauer, MJ; Thiel, D; Beierkuhnlein, C. 2011. Assisted Colonization: A Question of Focal Units and Recipient Localities. Restoration Ecology 19:433-440. | 2011 | | | Complex Habitat & Resources; Landscape Conservation & Restoration |
| Wojdyla, K; Rogowska-Wrzesinska, A; Wrzesinski, K; Roepstorff, P. 2011. Mass spectrometry based approach for identification and characterisation of fluorescent proteins from marine organisms. Journal of Proteomics 75:44-55. | 2011 | | Decision Support Frameworks & Tools | Stony Coral |
| Vidal-Dupiol, J; Ladriere, O; Meistertzheim, AL; Foure, L; Adjeroud, M; Mitta, G. 2011. Physiological responses of the scleractinian coral Pocillopora damicornis to bacterial stress from Vibrio coralliilyticus. Journal of Experimental Biology 214:1533-1545. | 2011 | | | Climate; Pathogens; Stony Coral |
| Chou, JH; Ben-Nissan, B; Green, DW; Valenzuela, SM; Kohan, L. 2011. Targeting and Dissolution Characteristics of Bone Forming and Antibacterial Drugs by Harnessing the Structure of Microspherical Shells from Coral Beach Sand. Advanced Engineering Materials 13:93-99. | 2011 | | | Pathogens; Pharmaceuticals & Cosmetics; Pharmaceuticals & Cosmetics Sources |
| Parmentier, E; Boyle, KS; Berten, L; Brie, C; Lecchini, D. 2011. Sound production and mechanism in Heniochus chrysostomus (Chaetodontidae). Journal of Experimental Biology 214:2702-2708. | 2011 | | | Fish |
| Soares, MC; Oliveira, RF; Ros, AFH; Grutter, AS; Bshary, R. 2011. Tactile stimulation lowers stress in fish. Nature Communications 2. | 2011 | | Model | Fish; Planktivorous Fish; Small Herbivorous Fish |
| Godinot, C; Grover, R; Allemand, D; Ferrier-Pages, C. 2011. High phosphate uptake requirements of the scleractinian coral Stylophora pistillata. Journal of Experimental Biology 214:2749-2754. | 2011 | | Decision Support Frameworks & Tools | Algae; Nutrients; Special Use Permitting; Stony Coral; Zooxanthellae |
| Edmunds, PJ; Cumbo, V; Fan, TY. 2011. Effects of temperature on the respiration of brooded larvae from tropical reef corals. Journal of Experimental Biology 214:2783-2790. | 2011 | | | Anemones & Zooanthids; Climate; Stony Coral |
| Helmle, KP; Dodge, RE; Swart, PK; Gledhill, DK; Eakin, CM. 2011. Growth rates of Florida corals from 1937 to 1996 and their response to climate change. Nature Communications 2. | 2011 | Florida; US East Coast (NC, SC, GA) | | Calcium Carbonate Deposition; Climate; CO2; Ocean Acidity; Stony Coral |
| Wijgerde, T; Diantari, R; Lewaru, MW; Verreth, JAJ; Osinga, R. 2011. Extracoelenteric zooplankton feeding is a key mechanism of nutrient acquisition for the scleractinian coral Galaxea fascicularis. Journal of Experimental Biology 214:3351-3357. | 2011 | | Field Study & Monitoring | Aquaculture; Nutrients; Plankton; Stony Coral; Zooxanthellae |
| Puebla, O; Bermingham, E; Guichard, F. 2011. Perspective: Matching, Mate Choice, and Speciation. Integrative And Comparative Biology 51:485-491. | 2011 | South & Central America; Caribbean | Model | Fish; Medical Centers; Schools & Colleges |
| Nevitt, GA. 2011. The Neuroecology of Dimethyl Sulfide: A Global-Climate Regulator Turned Marine Infochemical. Integrative And Comparative Biology 51:819-825. | 2011 | Global | Lab Study | Algae; Climate; Marine Birds; Plankton; Special Use Permitting |
| Leis, JM; Siebeck, U; Dixson, DL. 2011. How Nemo Finds Home: The Neuroecology of Dispersal and of Population Connectivity in Larvae of Marine Fishes. Integrative And Comparative Biology 51:826-843. | 2011 | | Review | Fish; Surface & Groundwater Flow |
| Ma, YQ; Xiao, YK; He, MY; Xiao, J; Shen, Q; Jiang, SX. 2011. Boron isotopic composition of Paleozoic brachiopod and coeval coral calcites in Yunnan-Guizhou Plateau, China. Science China-earth Sciences 54:1912-1925. | 2011 | China | | Surface & Groundwater Flow |
| Tian, SG; Zhang, YS; Wang, JT; Niu, SW. 2011. Late Paleozoic reefs and their significance for tectonics and oil-gas exploration in the Hinggan-Inner Mongolia area. Science China-earth Sciences 54:212-222. | 2011 | China | | Algae; Oil & Gas Research & Exploration; Sediment |
| Wang, Y; Shen, JW; Long, JP. 2011. Ecological-sedimentary zonations and carbonate deposition, Xiaodonghai Reef Flat, Sanya, Hainan Island, China. Science China-earth Sciences 54:359-371. | 2011 | China | | Algae; Bivalves; Sediment; Stony Coral |
| Liu, Y; Jiang, T; Zhou, Y; Zhang, Z; Wang, ZJ; Tong, H; Shen, XY; Wang, YN. 2011. Evaluation of the attachment, proliferation, and differentiation of osteoblast on a calcium carbonate coating on titanium surface. Materials Science and Engineering C 31:1055-1061. | 2011 | | | Pharmaceuticals & Cosmetics; Pharmaceuticals & Cosmetics Sources |
| Thresher, RE; Adkins, J; Thiagarajan, N. 2011. Modal analysis of the deep-water solitary scleractinian, Desmophyllum dianthus, on SW Pacific seamounts: inferred recruitment periodicity, growth, and mortality rates. Coral Reefs 30:1063-1070. | 2011 | US Pacific & Hawaii; US East Coast (NC, SC, GA) | | |
| Toonen, R. J., K. R. Andrews, I. B. Baums, C. E. Bird, G. T. Concepcion, T. S. Daly-Engel, J. A. Eble, A. Faucci, M. R. Gaither, M. Iacchei, J. B. Puritz, J. K. Schultz, D. J. Skillings, M. A. Timmers, and B. W. Bowen. 2011. Defining Boundaries for Ecosystem-Based Management: A Multispecies Case Study of Marine Connectivity across the Hawaiian Archipelago. Journal of Marine Biology | 2011 | US Pacific & Hawaii | | Echinoderms; Whales & Dolphins |
| Thompson, WG; Curran, HA; Wilson, MA; White, B. 2011. Sea-level oscillations during the last interglacial highstand recorded by Bahamas corals. Nature Geoscience 4:684-687. | 2011 | Bahamas | | Water Depth & Sea Level |
| Booth, DJ; Parkinson, K. 2011. Pelagic larval duration is similar across 23A degrees of latitude for two species of butterflyfish (Chaetodontidae) in eastern Australia. Coral Reefs 30:1071-1075. | 2011 | Australia | | Corallivorous Fish; Fish |
| Perry, C. T., P. S. Kench, S. G. Smithers, B. Riegl, H. Yamano, and M. J. O'Leary. 2011. Implications of reef ecosystem change for the stability and maintenance of coral reef islands. Global Change Biology | 2011 | US Pacific & Hawaii | Review | Calcareous Macroalgae; Climate; Sediment; Skeletal Coral |
| Evan, AT; Foltz, GR; Zhang, DX; Vimont, DJ. 2011. Influence of African dust on ocean-atmosphere variability in the tropical Atlantic. Nature Geoscience 4:762-765. | 2011 | US Pacific & Hawaii; US East Coast (NC, SC, GA); Atlantic Ocean | Model | |
| Huntington, BE; Karnauskas, M; Lirman, D. 2011. Corals fail to recover at a Caribbean marine reserve despite ten years of reserve designation. Coral Reefs 30:1077-1085. | 2011 | South & Central America; Belize; Caribbean | | Fish; Marine Protected Areas; Small Herbivorous Fish; Stony Coral |
| Mora, C; Aburto-Oropeza, O; Bocos, AA; Ayotte, PM; Banks, S; Bauman, AG; Beger, M; Bessudo, S; Booth, DJ; Brokovich, E; Brooks, A; Chabanet, P; Cinner, JE; Cortes, J; Cruz-Motta, JJ; Magana, AC; DeMartini, EE; Edgar, GJ; Feary, DA; Ferse, SCA; Friedlander. 2011. Global Human Footprint on the Linkage between Biodiversity and Ecosystem Functioning in Reef Fishes. PLoS Biology 9. | 2011 | Global; US Pacific & Hawaii | Field Study & Monitoring | Coastal Development; Finfish Harvest; Fish |
| Nir, O; Gruber, DF; Einbinder, S; Kark, S; Tchernov, D. 2011. Changes in scleractinian coral Seriatopora hystrix morphology and its endocellular Symbiodinium characteristics along a bathymetric gradient from shallow to mesophotic reef. Coral Reefs 30:1089-1100. | 2011 | | | Algae; Stony Coral; Zooxanthellae |
| Kandemir, R; Lerosey-Aubril, R. 2011. First Report of a Trilobite in the Carboniferous of Eastern Pontides, NE Turkey. Turkish Journal of Earth Sciences 20:179-183. | 2011 | | | Algae; Sediment |
| Afeworki, Y; Bruggemann, JH; Videler, JJ. 2011. Limited flexibility in resource use in a coral reef grazer foraging on seasonally changing algal communities. Coral Reefs 30:109-122. | 2011 | | | Algae; Corallivorous Fish; Fish; Large Herbivorous Fish; Small Herbivorous Fish; Substrate |
| Guo, L; Vincent, SJ; Lavrishchev, V. 2011. Upper Jurassic Reefs from the Russian Western Caucasus: Implications for the Eastern Black Sea. Turkish Journal of Earth Sciences 20:629-653. | 2011 | Spain | Field Study & Monitoring | Sponges; Surface & Groundwater Flow; Water Depth & Sea Level |
| Cabioch, G; Wallace, CC; McCulloch, MT; Zibrowius, H; Laboute, P; de Forges, BR. 2011. Disappearance of Acropora from the Marquesas (French Polynesia) during the last deglacial period. Coral Reefs 30:1101-1105. | 2011 | US Pacific & Hawaii; Pacific Ocean | | Climate |
| Kruger, M; Strydom, NA. 2011. Plankton dynamics associated with the convergence zone of a shear front in the permanently open Kowie Estuary, South Africa. African Zoology 46:47-59. | 2011 | South Africa | | Plankton |
| Madin, EMP; Madin, JS. 2011. Predators, facilitators, or both? Re-evaluating an apparent predator-prey relationship. Marine Ecology Progress Series 431:299-302. | 2011 | | | Fish; Piscivorous Fish; Small Herbivorous Fish |
| Maloney, B; Iliffe, TM; Gelwick, F; Quigg, A. 2011. Effect of nutrient enrichment on naturally occurring macroalgal species in six cave pools in Bermuda. Phycologia 50:132-143. | 2011 | Florida; Bermuda | Index or Indicator | Algae; Fleshy Macroalgae; Nutrients; Surface & Groundwater Flow; Tourism & Recreation |
| Wang, JT; Meng, PJ; Sampayo, E; Tang, SL; Chen, CA. 2011. Photosystem II breakdown induced by reactive oxygen species in freshly-isolated Symbiodinium from Montipora (Scleractinia; Acroporidae). Marine Ecology Progress Series 422:51-62. | 2011 | | Index or Indicator | Algae; Climate; Special Use Permitting; Stony Coral; Zooxanthellae |
| Basso, D; Rodondi, G; Bressan, G. 2011. A re-description of Lithothamnion crispatum and the status of Lithothamnion superpositum (Rhodophyta, Corallinales). Phycologia 50:144-155. | 2011 | US East Coast (NC, SC, GA); South Africa | | Algae |
| Richlen, ML; Lobel, PS. 2011. Effects of depth, habitat, and water motion on the abundance and distribution of ciguatera dinoflagellates at Johnston Atoll, Pacific Ocean. Marine Ecology Progress Series 421:51-66. | 2011 | South & Central America; US Pacific & Hawaii; India; Pacific Ocean; Johnston Atoll; Caribbean | Field Study & Monitoring | Complex Habitat & Resources; Fish; Plankton |
| Ota, S; Kudo, A; Ishida, KI. 2011. Gymnochlora dimorpha sp nov., a chlorarachniophyte with unique daughter cell behaviour. Phycologia 50:317-326. | 2011 | Palau | | Algae |
| Orejas, C; Ferrier-Pages, C; Reynaud, S; Gori, A; Beraud, E; Tsounis, G; Allemand, D; Gili, JM. 2011. Long-term growth rates of four Mediterranean cold-water coral species maintained in aquaria. Marine Ecology Progress Series 429:57-65. | 2011 | | | Salinity; Seawater Flow; Stony Coral |
| Ke, DC; Tu, SC. 2011. Activities, Kinetics and Emission Spectra of Bacterial Luciferase-Fluorescent Protein Fusion Enzymes. Photochemistry and Photobiology 87:1346-1353. | 2011 | | | Microorganisms |
| Forcioli, D; Merle, PL; Caligara, C; Ciosi, M; Muti, C; Francour, P; Cerrano, C; Allemand, D. 2011. Symbiont diversity is not involved in depth acclimation in the Mediterranean sea whip Eunicella singularis. Marine Ecology Progress Series 439:57-71. | 2011 | | | Light; Sea Temperatures; Stony Coral; Zooxanthellae |
| Purkis, SJ; Renegar, DA; Riegl, BM. 2011. The most temperature-adapted corals have an Achilles' Heel. Marine Pollution Bulletin 62:246-250. | 2011 | Global; US Pacific & Hawaii | | Climate |
| Poresky, A., Clary, J., Strecker, E., and Earles, A. 2011. International Stormwater Best Management Practices (BMP) Database. Technical Summary: Volume Reduction. Geosyntec Consultants. | 2011 | | | Non-point Source Runoff; Surface & Groundwater Flow |
| Ferrario, F., B. Calcinai, D. Erpenbeck, P. Galli, and G. Worheide. 2010. Two Pione species (Hadromerida, Clionaidae) from the Red Sea: a taxonomical challenge. Organisms Diversity and Evolution 10:275-285. | 2010 | | | Boring Sponges; Sponges |
| Dudley, S. F. J. and G. Cliff. 2010. Influence of the annual sardine run on catches of large sharks in the protective gillnets off KwaZulu-Natal, South Africa, and the occurrence of sardine in shark diet. African Journal of Marine Science 32:383-397. | 2010 | South Africa | | Apex Fish Predators; Beaches & Nature Parks; Whales & Dolphins |
| Mahima, S., C. Karthik, S. Garg, R. Mehta, R. Teki, N. Ravishankar, and G. Ramanath. 2010. Branched Copper Nanocrystal Corals by Room-Temperature Galvanic Displacement. Crystal Growth and Design 10:3925-3928. | 2010 | | | |
| Brown, S. C., S. Bolte, M. Gaudin, C. Pereira, J. Marion, M. N. Soler, and B. Satiat-Jeunemaitre. 2010. Exploring plant endomembrane dynamics using the photoconvertible protein Kaede. Plant Journal 63:696-711. | 2010 | | Decision Support Frameworks & Tools | Construction Codes & Projects; Food, Beverage, & Tobacco Products; Stony Coral |
| Ateweberhan, M. and T. R. McClanahan. 2010. Relationship between historical sea-surface temperature variability and climate change-induced coral mortality in the western Indian Ocean. Marine Pollution Bulletin 60:964-970. | 2010 | Indian Ocean; India | Field Study & Monitoring | Climate |
| Cheng, S. Y., C. T. Chuang, S. K. Wang, Z. H. Wen, S. F. Chiou, C. H. Hsu, C. F. Dai, and C. Y. Duh. 2010. Antiviral and Anti-inflammatory Diterpenoids from the Soft Coral Sinularia gyrosa. Journal of Natural Products 73:1184-1187. | 2010 | | | Octocoral |
| Yang, C. S., M. H. Chen, A. B. Arun, C. A. Chen, J. T. Wang, and W. M. Chen. 2010. Endozoicomonas montiporae sp nov., isolated from the encrusting pore coral Montipora aequituberculata. International Journal of Systematic and Evolutionary Microbiology 60:1158-1162. | 2010 | Taiwan | | |
| Han, L., C. Y. Wang, H. Huang, C. L. Shao, Q. A. Liu, J. Qi, X. P. Sun, P. Zhai, and Y. C. Gu. 2010. A new pregnane analogue from Hainan soft coral Scleronephthya gracillimum Kukenthal. Biochemical Systematics and Ecology 38:243-246. | 2010 | | | Octocoral |
| Rameil, N., A. Immenhauser, G. Warrlich, H. Hillgartner, and H. J. Droste. 2010. Morphological patterns of Aptian Lithocodium-Bacinella geobodies: relation to environment and scale. Sedimentology 57:883-911. | 2010 | Global; Oman | | Nutrients; Sediment |
| Ross, C., R. Ritson-Williams, R. Pierce, J. B. Bullington, M. Henry, and V. J. Paul. 2010. Effects of the Florida red tide dinoflagellate, Karenia brevis, on oxidative stress and metamorphosis of larvae of the coral Porites astreoides. Harmful Algae 9:173-179. | 2010 | Florida | Index or Indicator | Stony Coral; Zooxanthellae |
| Nilsson, G. E., S. Ostlund-Nilsson, and P. L. Munday. 2010. Effects of elevated temperature on coral reef fishes: Loss of hypoxia tolerance and inability to acclimate. Comparative Biochemistry and Physiology Part A 156:389-393. | 2010 | Global; Australia | | Fish; Small Herbivorous Fish |
| Douville, E., E. Salle, N. Frank, M. Eisele, E. Pons-Branchu, and S. Ayrault. 2010. Rapid and accurate U-Th dating of ancient carbonates using inductively coupled plasma-quadrupole mass spectrometry. Chemical Geology 272:1-11. | 2010 | US East Coast (NC, SC, GA) | | Calcium Carbonate Deposition; Climate |
| Mao-Jones, J., K B. Ritchie, L. E. Jones, and S. P. Ellner. 2010. How microbial community composition regulates coral disease eevelopment. PLoS Biology 8:e1000345.doi:10.1371/jourl.pbio.1000345. | 2010 | | Model | Pathogens; Stony Coral |
| Arenas, C. and L. Pomar. 2010. Microbial deposits in upper Miocene carbonates, Mallorca, Spain. Palaeogeography, Palaeoclimatology, Palaeoecology 297:465-485. | 2010 | Spain | | Microorganisms; Salinity; Sediment |
| Ebisawa, T., A. Yamamura, Y. Kameda, K. Hayakawa, K. Nagata, and M. Tanokura. 2010. The structure of mAG, a monomeric mutant of the green fluorescent protein Azami-Green, reveals the structural basis of its stable green emission. Acta Crystallographica Section F-structural Biology And Crystallization Communications 66:485-489. | 2010 | | | Stony Coral |
| Webb, A. P. and P. S. Kench. 2010. The dynamic response of reef islands to sea-level rise: Evidence from multi-decadal analysis of island change in the Central Pacific. Global and Planetary Change 72:234-246. | 2010 | US Pacific & Hawaii; Pacific Ocean | | Water Depth & Sea Level |
| Haas, A. F., C. Jantzen, M. S. Naumann, R. Iglesias-Prieto, and C. Wild. 2010. Organic matter release by the dominant primary producers in a Caribbean reef lagoon: implication for in situ O-2 availability. Marine Ecology Progress Series 409:27-39. | 2010 | South & Central America; Caribbean | | Algae; Plankton; Seagrasses; Stony Coral |
| Dawson, J. L. and S. G. Smithers. 2010. Shoreline and beach volume change between 1967 and 2007 at Raine Island, Great Barrier Reef, Australia. Global and Planetary Change 72:141-154. | 2010 | Global; Australia | Model; GIS & Maps | Climate; Sediment |
| Floyd, E. Y. and T. W. Anderson. 2010. Interactive effects of nutritional condition and refuge availability on survival of a temperate reef goby. Marine Ecology Progress Series 407:257-269. | 2010 | | Field Study & Monitoring; Lab Study | Fish; Skeletal Coral |
| Ripamonti, U., R. M. Klar, L. F. Renton, and C. Ferretti. 2010. Synergistic induction of bone formation by hOP-1, hTGF-beta(3) and inhibition by zoledronate in macroporous coral-derived hydroxyapatites. Biomaterials 31:6400-6410. | 2010 | | | Biochemical & Genetic Resources; Pharmaceuticals & Cosmetics; Pharmaceuticals & Cosmetics Sources |
| Andersson, M. H. and M. C. Ohman. 2010. Fish and sessile assemblages associated with wind-turbine constructions in the Baltic Sea. Marine and Freshwater Research 61:642-650. | 2010 | | | Artificial Habitat; Complex Habitat & Resources; Fish; Invertebrates |
| Knudby, A., A. Brenning, and E. LeDrew. 2010. New approaches to modelling fish�habitat relationships. Ecological Modelling 221:503-211. | 2010 | | Model; Index or Indicator; Decision Support Frameworks & Tools | Fish; Water Depth & Sea Level |
| Thresher, R. E., N. C. Wilson, C. M. MacRae, and H. Neil. 2010. Temperature effects on the calcite skeletal composition of deep-water gorgonians (Isididae). Geochimica et Cosmochimica Acta 74:4655-4670. | 2010 | | Field Study & Monitoring | Octocoral; Sea Temperatures |
| Lenihan, H. S. and P. J. Edmunds. 2010. Response of Pocillopora verrucosa to corallivory varies with environmental conditions. Marine Ecology Progress Series 409:51-63. | 2010 | | Field Study & Monitoring | Fish; Stony Coral |
| Heg, D. 2010. Status-dependent and strategic growth adjustments in female cooperative cichlids. Behavioral Ecology and Sociobiology 64:1309-1316. | 2010 | | | |
| Fattorusso, C., M. Persico, B. Calcinai, C. Cerrano, S. Parapini, D. Taramelli, E. Novellino, A. Romano, F. Scala, E. Fattorusso, and O. Taglialatela-Scafati. 2010. Manadoperoxides A-D from the Indonesian Sponge Plakortis cfr. simplex. Further Insights on the Structure-Activity Relationships of Simple 1,2-Dioxane Antimalarials. Journal of Natural Products 73:1138-1145. | 2010 | Indonesia | Model | Sponges |
| Riyaz, M., K. H. Park, M. Ali, and H. Kan. 2010. Influence of geological setting of islands and significance of reefs for tsunami wave impact on the Atoll Islands, Maldives. Bulletin of Engineering Geology and the Environment 69:443-454. | 2010 | Indian Ocean; Maldives; India | | |
| Zeppelin, T. K. and A. J. Orr. 2010. Stable isotope and scat analyses indicate diet and habitat partitioning in northern fur seals Callorhinus ursinus across the eastern Pacific. Marine Ecology Progress Series 409:241-253. | 2010 | US Pacific & Hawaii | | Nutrients |
| Manriquez, P. H. and J. C. Castilla. 2010. Fertilization efficiency and gamete viability in the ascidian Pyura praeputialis in Chile. Marine Ecology Progress Series 409:107-119. | 2010 | | Field Study & Monitoring; Lab Study | |
| Knudby, A., E. LeDrew, and A. Brenning. 2010. Predictive mapping of reef fish species richness, diversity and biomass in Zanzibar using IKONOS imagery and machine-learning techniques. Remote Sensing of Environment 114:1230-1241. | 2010 | | Field Study & Monitoring; Model; GIS & Maps; Remote Sensing | Complex Habitat & Resources; Fish; Substrate |
| Chih, C. P. 2010. Incorporating effective sample sizes into sampling designs for reef fish. Fisheries Research 105:102-110. | 2010 | | Index or Indicator | Fish; Fishing Sector |
| Imbs, A. B., N. A. Latyshev, T. N. Dautova, and Y. Y. Latypov. 2010. Distribution of lipids and fatty acids in corals by their taxonomic position and presence of zooxanthellae. Marine Ecology Progress Series 409:65-U77. | 2010 | China; Vietnam | | Octocoral; Zooxanthellae |
| Huang, C. Y., J. H. Su, Y. C. Liu, Z. H. Wen, C. H. Hsu, M. Y. Chiang, and J. H. Sheu. 2010. Oppositane-Type Sesquiterpenoids from the Formosan Soft Coral Sinularia leptoclados. Bulletin of the Chemical Society of Japan 83:678-682. | 2010 | | | Octocoral; Pharmaceuticals & Cosmetics Sources; Special Use Permitting |
| Ben-Tzvi, O., D. Tchernov, and M. Kiflawi. 2010. Role of coral-derived chemical cues in microhabitat selection by settling Chromis viridis. Marine Ecology Progress Series 409:181-187. | 2010 | | Field Study & Monitoring | Fish; Small Herbivorous Fish; Stony Coral |
| Faxneld, S., T. L. Jorgensen, and M. Tedengren. 2010. Effects of elevated water temperature, reduced salinity and nutrient enrichment on the metabolism of the coral Turbinaria mesenterina. Estuarine Coastal and Shelf Science 88:482-487. | 2010 | Vietnam | | Climate; Nutrients; Primary Production; Salinity |
| Nakamura, Y., T. Shibuno, N. Suzuki, J. Nakamori, K. Kanashiro, and Y. Watanabe. 2010. Interspecific variations in age and size at settlement of 8 emperor fishes (Lethrinidae) at the southern Ryukyu Islands, Japan. Fisheries Science 76:503-510. | 2010 | Japan | | Plankton |
| Maier, W. D. and S. J. Barnes. 2010. The Petrogenesis Of Platinum-Group Element Reefs In The Upper Main Zone Of The Northern Lobe Of The Bushveld Complex On The Farm Moorddrift South Africa. Economic Geology 105:841-854. | 2010 | South Africa | Model | Agriculture |
| Stephen, J. A. and P. J. Harris. 2010. Commercial catch composition with discard and immediate release mortality proportions off the southeastern coast of the United States. Fisheries Research 103:18-24. | 2010 | | | Accidental & Illegal Harvest; Finfish Harvest; Fish; Fishing Sector; Invertivorous Fish; Piscivorous Fish; Special Use Permitting |
| Gunderson, L. 2010. Ecological and Human Community Resilience in Response to Natural Disasters. Ecology and Society 15:18. | 2010 | | | |
| Plaza, G., S. Katayama, and M. Omori. 2010. Daily patterns of settlement and individual growth rates of young-of-the-year of the rockfish Sebastes inermis in a Sargassum bed. Fisheries Research 103:48-55. | 2010 | Japan | | Fish; Fleshy Macroalgae; Plankton |
| Kraft, N. J. B. and D. D. Ackerly. 2010. Functional trait and phylogenetic tests of community assembly across spatial scales in an Amazonian forest. Ecological Monographs 80:401-422. | 2010 | | Model | |
| Leray, M., R. Beldade, S. J. Holbrook, R. J. Schmitt, S. Planes, and G. Bernardi. 2010. Allopatric Divergence And Speciation In Coral Reef Fish: The Three-Spot Dascyllus, Dascyllus Trimaculatus, Species Complex. Evolution 64:1218-1230. | 2010 | US Pacific & Hawaii | | Fish |
| Vance, R. R., M. A. Steele, and G. E. Forrester. 2010. Using an individual-based model to quantify scale transition in demographic rate functions: Deaths in a coral reef fish. Ecological Modelling 221:1907-1921. | 2010 | | Field Study & Monitoring; Model; Rate functions | |
| Claudet, J., C. W. Osenberg, P. Domenici, F. Badalamenti, M. Milazzo, J. M. Falcon, I. Bertocci, L. Benedetti-Cecchi, J. A. Garcia-Charton, R. Goni, J. A. Borg, A. Forcada, G. A. de Lucia, A. Perez-Ruzafa, P. Afonso, A. Brito, I. Guala, L. Le Direach, and Sanchez-Jerez,. 2010. Marine reserves: Fish life history and ecological traits matter. Ecological Applications 20:830-839. | 2010 | Europe | | Accidental & Illegal Harvest; Fish; Fishing Sector; Marine Protected Areas; Monetary Valuation |
| Luter, H. M. and A. R. Duckworth. 2010. Influence of size and spatial competition on the bioactivity of coral reef sponges. Biochemical Systematics and Ecology 38:146-153. | 2010 | | | Sponges |
| Veal, C. J., M. Carmi, G. Dishon, Y. Sharon, K. Michael, D. Tchernov, O. Hoegh-Guldberg, and M. Fine. 2010. Shallow-water wave lensing in coral reefs: a physical and biological case study. Journal of Experimental Biology 213:4304-4312. | 2010 | | Field Study & Monitoring | Irrigation; Light; Stony Coral |
| Bartley, R., J. P. Corfield, B. N. Abbott, A. A. Hawdon, S. N. Wilkinson, and B. Nelson. 2010. Impacts of improved grazing land management on sediment yields, Part 1: Hills lope processes. Journal of Hydrology 389:237-248. | 2010 | Australia | Field Study & Monitoring | Dredging, Draining, & Filling; Landuse Management; Littering; Non-point Source Runoff; Nutrients; Sediment; Surface & Groundwater Flow |
| Leigh, E. G. 2010. The evolution of mutualism. Journal of Evolutionary Biology 23:2507-2528. | 2010 | | | Microorganisms; Nutrients; Octopus & Squid |
| Cortes, J., C. E. Jimenez, A. C. Fonseca, and J. J. Alvarado. 2010. Status and conservation of coral reefs in Costa Rica. Revista de Biologia Tropical 58:33-50. | 2010 | South & Central America; US Pacific & Hawaii; Costa Rica; Caribbean | Field Study & Monitoring | Environmental Monitoring, Mapping, & Scientific Research; Sediment |
| Bartley, R., S. N. Wilkinson, A. A. Hawdon, B. N. Abbott, and D. A. Post. 2010. Impacts of improved grazing land management on sediment yields. Part 2: Catchment response. Journal of Hydrology 389:249-259. | 2010 | Australia | Field Study & Monitoring | Agriculture; Landuse Management; Non-point Source Runoff; Nutrients; Sediment; Surface & Groundwater Flow |
| Croquer, A., D. Debrot, E. Klein, M. Kurten, S. Rodriguez, and C. Bastidas. 2010. What can two years of monitoring tell us about Venezuelan coral reefs? The Southern Tropical America node of the Global Coral Reef Monitoring Network (STA-GCRMN). Revista de Biologia Tropical 58:51-65. | 2010 | Global; South & Central America; Venezuela; Caribbean | Field Study & Monitoring | Algae; Corallivorous Fish; Fish; Large Herbivorous Fish; Octocoral; Small Herbivorous Fish; Sponges; Stony Coral |
| Winston, J. E. 2010. Life in the Colonies: Learning the Alien Ways of Colonial Organisms. Integrative And Comparative Biology 50:919-933. | 2010 | | Model | Marine Worms; Octocoral; Sponges |
| Kopp, D., Y. Bouchon-Navaro, S. Cordonnier, A. Haouisee, M. Louis, and C. Bouchon. 2010. Evaluation of algal regulation by herbivorous fishes on Caribbean coral reefs. Helgoland Marine Research 64:181-190. | 2010 | South & Central America; Caribbean | | Algae; Fish; Marine Protected Areas; Small Herbivorous Fish; Special Use Permitting |
| Kim, S., K. K. Hammerstom, K. E. Conlan, and A. R. Thurber. 2010. Polar Ecosystem Dynamics: Recovery of Communities from Organic Enrichment in McMurdo Sound, Antarctica. Integrative And Comparative Biology 50:1031-1040. | 2010 | | | Primary Production; Whales & Dolphins |
| van der Meij, S. E. T., Suharsono, and B. W. Hoeksema. 2010. Long-term changes in coral assemblages under natural and anthropogenic stress in Jakarta Bay (1920-2005). Marine Pollution Bulletin 60:1442-1454. | 2010 | Global | | Stony Coral |
| Mishima, M., A. Suzuki, M. Nagao, T. Ishimura, M. Inoue, and H. Kawahata. 2010. Abrupt shift toward cooler condition in the earliest 20th century detected in a 165 year coral record from Ishigaki Island, southwestern Japan. Geophysical Research Letters 37:L15609. | 2010 | US Pacific & Hawaii; Japan | | |
| Leis, J. M. 2010. Ontogeny of behaviour in larvae of marine demersal fishes. Ichthyological Research 57:325-342. | 2010 | | Review; Field Study & Monitoring; Lab Study; Model | |
| Carriquiry, J. D. and G. Horta-Puga. 2010. The Ba/Ca record of corals from the Southern Gulf of Mexico: Contributions from land-use changes, fluvial discharge and oil-drilling muds. Marine Pollution Bulletin 60:1625-1630. | 2010 | South & Central America; Mexico | | Discharges; Oil & Gas Industry; Sediment; Stony Coral; Surface & Groundwater Flow |
| Bover-Arnal, T., J. A. Moreno-Bedmar, R. Salas, P. W. Skelton, K. Bitzer, and E. Gili. 2010. Sedimentary evolution of an Aptian syn-rift carbonate system (Maestrat Basin, E Spain): effects of accommodation and environmental change. Geologica Acta 8:249-280. | 2010 | Global; Spain | | Algae; Sediment; Skeletal Coral; Water Depth & Sea Level |
| Niggl, W. and C. Wild. 2010. Spatial distribution of the upside-down jellyfish Cassiopea sp. within fringing coral reef environments of the Northern Red Sea: implications for its life cycle. Helgoland Marine Research 64:281-287. | 2010 | | Field Study & Monitoring; Index or Indicator | Complex Habitat & Resources; Environmental Monitoring, Mapping, & Scientific Research; Invasive Species; Mangroves; Nutrients; Seagrasses |
| Cvitanovic, C. and A. S. Hoey. 2010. Benthic community composition influences within-habitat variation in macroalgal browsing on the Great Barrier Reef. Marine and Freshwater Research 61:999-1005. | 2010 | Australia | | Algae; Complex Habitat & Resources; Fish; Fleshy Macroalgae; Small Herbivorous Fish; Surface & Groundwater Flow |
| Fernandez-Martinez, E., L. P. Fernandez, I. Mendez-Bedia, F. Soto, and B. Mistiaen. 2010. Earliest Pragian (Early Devonian) corals and stromatoporoids from reefal settings in the Cantabrian Zone (N Spain). Geologica Acta 8:301-323. | 2010 | Spain | | Storms & Hurricanes |
| Guerra-Garcia, J. M., T. Ganesh, M. Jaikumar, and A. V. Raman. 2010. Caprellids (Crustacea: Amphipoda) from India. Helgoland Marine Research 64:297-310. | 2010 | India | | Algae; Discharges; Nutrients; Salinity; Seagrasses; Sediment; Skeletal Coral; Sponges; Surface & Groundwater Flow; Water Depth & Sea Level |
| Mayer, F. W. and C. Wild. 2010. Coral mucus release and following particle trapping contribute to rapid nutrient recycling in a Northern Red Sea fringing reef. Marine and Freshwater Research 61:1006-1014. | 2010 | | Lab Study | Nutrients; Plankton; Sediment; Stony Coral |
| Williams, B. and A. G. Grottoli. 2010. Stable nitrogen and carbon isotope (delta N-15 and delta C-13) variability in shallow tropical Pacific soft coral and black coral taxa and implications for paleoceanographic reconstructions. Geochimica et Cosmochimica Acta 74:5280-5288. | 2010 | US Pacific & Hawaii; Pacific Ocean; Palau | Decision Support Frameworks & Tools | Nutrients; Octocoral |
| Sawall, Y., N. Phongsuwan, and C. Richter. 2010. Coral recruitment and recovery after the 2004 Tsunami around the Phi Phi Islands (Krabi Province) and Phuket, Andaman Sea, Thailand. Helgoland Marine Research 64:357-365. | 2010 | Thailand | Field Study & Monitoring | Algae; Skeletal Coral; Storms & Hurricanes; Substrate; Tourism & Recreation |
| Tyne, J. A., N. R. Loneragan, M. Krutzen, S. J. Allen, and L. Bejder. 2010. An integrated data management and video system for sampling aquatic benthos. Marine and Freshwater Research 61:1023-1028. | 2010 | Australia | | Seagrasses; Sponges; Water Depth & Sea Level |
| Godel, B., S. J. Barnes, S. J. Barnes, and W. D. Maier. 2010. Platinum ore in three dimensions: Insights from high-resolution X-ray computed tomography. Geology 38:1127-1130. | 2010 | South Africa | Model | |
| Tibor, G., T. M. Niemi, Z. Ben-Avraham, A. Al-Zoubi, R. A. Sade, J. K. Hall, G. Hartman, E. Akawi, A. Abueladas, and R. Al-Ruzouq. 2010. Active tectonic morphology and submarine deformation of the northern Gulf of Eilat/Aqaba from analyses of multibeam data. Geo-Marine Letters 30:561-573. | 2010 | | | Sediment; Surface & Groundwater Flow; Water Depth & Sea Level |
| Iwata, E., Y. Nagai, and H. Sasaki. 2010. Social rank modulates brain arginine vasotocin immunoreactivity in false clown anemonefish (Amphiprion ocellaris). Fish Physiology and Biochemistry 36:337-345. | 2010 | | Index or Indicator | Anemones & Zooanthids; Fish; Special Use Permitting |
| Biro, P. A., C. Beckmann, and J. A. Stamps. 2010. Small within-day increases in temperature affects boldness and alters personality in coral reef fish. Proceedings of the Royal Society B 277:71-77. | 2010 | | | Fish |
| Burkepile, D. E. and M . E. Hay. 2010. Impact of herbivore identity on algal succession and coral growth on a Caribbean reef. PLoS One 5:e8963. | 2010 | South & Central America; Florida; Caribbean | | Algae; Coralline Algae; Corallivorous Fish; Finfish Harvest; Fish; Large Herbivorous Fish; Pathogens; Small Herbivorous Fish; Storms & Hurricanes; Substrate |
| Burgess, S. C., K. Osborne, B. Sfiligoj, and H. Sweatman. 2010. Can juvenile corals be surveyed effectively using digital photography?: implications for rapid assessment techniques. Environmental Monitoring and Assessment 171:345-351. | 2010 | Australia | Field Study & Monitoring | Stony Coral |
| Benzoni, F., F. Stefani, M. Pichon, and P. Galli. 2010. The name game: morpho-molecular species boundaries in the genus Psammocora (Cnidaria, Scleractinia). Zoological Journal of the Linnean Society 160:421-456. | 2010 | | | Stony Coral |
| Scoccia, F. and E. Gaino. 2010. Mesenterial filaments of the black coral Cirrhipathes cfr. anguina provide a home to developing nauplii. Symbiosis 50:151-156. | 2010 | US Pacific & Hawaii; Cuba; Indonesia | | Marine Protected Areas |
| Gleeson, R. J., M. B. Bennett, and R. D. Adlard. 2010. First taxonomic description of multivalvulidan myxosporean parasites from elasmobranchs: Kudoa hemiscylli n.sp. and Kudoa carcharhini n.sp. (Myxosporea: Multivalvulidae). Parasitology 137:1885-1898. | 2010 | Australia | | Fish |
| Kidwell, S. M. and T. A. Rothfus. 2010. The living, the dead, and the expected dead: variation in life span yields little bias of proportional abundances in bivalve death assemblages. Paleobiology 36:615-640. | 2010 | Global | Model | Bivalves |
| Nygren, A., J. Eklof, and F. Pleijel. 2010. Cryptic species of Notophyllum (Polychaeta: Phyllodocidae) in Scandinavian waters. Organisms Diversity and Evolution 10:193-204. | 2010 | Norway | | Marine Worms |
| Cebrian, E. 2010. Grazing on coral reefs facilitates growth of the excavating sponge Cliona orientalis (Clionaidae, Hadromerida). Marine Ecology-an Evolutionary Perspective 31:533-538. | 2010 | Australia | | Algae; Boring Sponges; Corallivorous Fish; Fish; Large Herbivorous Fish; Primary Production; Sponges; Substrate; Zooxanthellae |
| Bushnell, M. E., J. T. Claisse, and C. W. Laidley. 2010. Lunar and seasonal patterns in fecundity of an indeterminate, multiple-spawning surgeonfish, the yellow tang Zebrasoma flavescens. Journal of Fish Biology 76:1343-1361. | 2010 | US Pacific & Hawaii | Model; Index or Indicator | Finfish Harvest; Fish; Small Herbivorous Fish |
| Knudby, A., C. Newman, Y. Shaghude, and C. Muhando. 2010. Simple and effective monitoring of historic changes in nearshore environments using the free archive of Landsat imagery. International Journal of Applied Earth Observation and Geoinformation 12:S116-S122. | 2010 | | Field Study & Monitoring; GIS & Maps | Algae; Environmental Monitoring, Mapping, & Scientific Research; Seagrasses; Substrate |
| Marriott, R. J., N. D. C. Jarvis, D. J. Adams, A. E. Gallash, J. Norriss, and S. J. Newman. 2010. Maturation and sexual ontogeny in the spangled emperor Lethrinus nebulosus. Journal of Fish Biology 76:1396-1414. | 2010 | | | Fish; Fishing & Harvesting Management; Fishing Sector; Marine Protected Areas; Recreational Fishing; Tourism & Recreation |
| Schone, B. R., Z. Zhang, D. Jacob, D. P. Gillikin, T. Tutken, D. Garbe-Schonberg, T. McConnaughey, and A. Soldati. 2010. Effect of organic matrices on the determination of the trace element chemistry (Mg, Sr, Mg/Ca, Sr/Ca) of aragonitic bivalve shells (Arctica islandica)-Comparison of ICP-OES and LA-ICP-MS data. Geochemical Journal 44:23-37. | 2010 | | | Calcium Carbonate Deposition; Climate; Dam Construction & Maintenance |
| LaJeunesse, T. C., D. T. Pettay, E. M. Sampayo, N. Phongsuwan, B. Brown, D. O. Obura, O. Hoegh-Guldberg, and W. K. Fitt. 2010. Long-standing environmental conditions, geographic isolation and host-symbiont specificity influence the relative ecological dominance and genetic diversification of coral endosymbionts in the genus Symbiodinium. Journal of Biogeography 37:785-800. | 2010 | Global; Australia; Indian Ocean; Tanzania; India; Thailand; Southeast Asia | | Climate |
| Ho, J. S., Y. R. Cheng, and C. F. Dai. 2010. Hastatus Faviae N. Gen., N. Sp., A Xarifiid Copepod Parasitic In The Honeycomb Coral Of Taiwan. Crustaceana 83:89-99. | 2010 | Taiwan | | |
| Fournier, J., S. Etienne, and J. B. Le Cam. 2010. Inter- and intraspecific variability in the chemical composition of the mineral phase of cements from several tube-building polychaetes. Geobios 43:191-200. | 2010 | Europe | | Marine Worms |
| Futch, J. C., D. W. Griffin, and E. K. Lipp. 2010. Human enteric viruses in groundwater indicate offshore transport of human sewage to coral reefs of the Upper Florida Keys. Environmental Microbiology 12:964-974. | 2010 | Florida | Index or Indicator | Microorganisms; Surface & Groundwater Flow |
| Su, R. X., D. H. Sun, H. Chen, X. M. Chen, and Z. J. Li. 2010. Evolution of Asian monsoon variability revealed by oxygen isotopic record of middle Holocene massive coral in the northern South China Sea. Quaternary International 213:56-68. | 2010 | China | | Salinity; Stony Coral |
| Siboni, N., D. Rasoulouniriana, E. Ben-Dov, E. Kramarsky-Winter, A. Sivan, Y. Loya, O. Hoegh-Guldberg, and A. Kushmaro. 2010. Stramenopile Microorganisms Associated with the Massive Coral Favia sp. Journal of Eukaryotic Microbiology 57:236-244. | 2010 | Australia | | Microorganisms; Stony Coral |
| Hobbs, J. P. A. and A. J. Frisch. 2010. Coral disease in the Indian Ocean: taxonomic susceptibility, spatial distribution and the role of host density on the prevalence of white syndrome. Diseases of Aquatic Organisms 89:1-8. | 2010 | South & Central America; US Pacific & Hawaii; Indian Ocean; India; Pacific Ocean; Caribbean | | Pathogens; Stony Coral |
| Brickner, I., N. Simon-Blecher, and Y. Achituv. 2010. Darwin'S Pyrgoma (Cirripedia) Revisited: Revision Of The Savignium Group, Molecular Analysis And Description Of New Species. Journal of Crustacean Biology 30:266-291. | 2010 | | | |
| Hagedorn, M., V. L. Carter, J. C. Leong, and F. W. Kleinhans. 2010. Physiology and cryosensitivity of coral endosymbiotic algae (Symbiodinium). Cryobiology 60:147-158. | 2010 | US Pacific & Hawaii | Model | Algae; Stony Coral; Zooxanthellae |
| Masuda, R., M. Shiba, Y. Yamashita, M. Ueno, Y. Kai, A. Nakanishi, M. Torikoshi, and M. Tanaka. 2010. Fish assemblages associated with three types of artificial reefs: density of assemblages and possible impacts on adjacent fish abundance. Fishery Bulletin 108:162-173. | 2010 | Cuba; Japan | | Artificial Habitat; Fish |
| Meekan, M. G., C. von Kuerthy, M. I. McCormick, and B. Radford. 2010. Behavioural mediation of the costs and benefits of fast growth in a marine fish. Animal Behaviour 79:803-809. | 2010 | | | Fish; Small Herbivorous Fish |
| Hart, M. K., A. W. Kratter, A. M. Syoboda, C. L. Lawrence, R. C. Sargent, and P. H. Crowley. 2010. Sex allocation in a group-living simultaneous hermaphrodite: effects of density at two different spatial scales. Evolutionary Ecology Research 12:189-202. | 2010 | South & Central America; Panama; Caribbean | | Fish |
| Lindeyer, C. M. and S. M. Reader. 2010. Social learning of escape routes in zebrafish and the stability of behavioural traditions. Animal Behaviour 79:827-834. | 2010 | | | Fish |
| Wallace, B. P., R. L. Lewison, S. L. McDonald, R. K. McDonald, C. Y. Kot, S. Kelez, R. K. Bjorkland, E. M. Finkbeiner, S. Helmbrecht, and L. B. Crowder. 2010. Global patterns of marine turtle bycatch. Conservation Letters [inpress]. | 2010 | Global; US Pacific & Hawaii; Indian Ocean; India | | Accidental & Illegal Harvest; Finfish Harvest; Fishing Sector; Marine Birds; Sea Turtles; Surface & Groundwater Flow; Trawling & Fishing Gear Damage |
| Bertucci, A., E. Tambutte, S. Tambutte, D. Allemand, and D. Zoccola. 2010. Symbiosis-dependent gene expression in coral-dinoflagellate association: cloning and characterization of a P-type H+-ATPase gene. Proceedings of the Royal Society B 277:87-95. | 2010 | | | Primary Production; Zooxanthellae |
| Hanafy, M. H., M. A. Aamer, M. Habib, A. B. Rouphael, and A. H. Baird. 2010. Synchronous reproduction of corals in the Red Sea. Coral Reefs 29:119-124. | 2010 | US Pacific & Hawaii; Australia | | Stony Coral |
| Cole, A. J. 2010. Cleaning to corallivory: ontogenetic shifts in feeding ecology of tubelip wrasse. Coral Reefs 29:125-129. | 2010 | | | Planktivorous Fish |
| Hastings, P. A. and G. R. Galland. 2010. Ontogeny of microhabitat use and two-step recruitment in a specialist reef fish, the Browncheek Blenny (Chaenopsidae). Coral Reefs 29:155-164. | 2010 | | | Plankton; Special Use Permitting |
| Renema, W. 2010. Is increased calcarinid (foraminifera) abundance indicating a larger role for macro-algae in Indonesian Plio-Pleistocene coral reefs? Coral Reefs 29:165-173. | 2010 | US Pacific & Hawaii; Indonesia | | Algae; Complex Habitat & Resources; Nutrients |
| Brahmi, C., A. Meibom, D. C. Smith, J. Stolarski, S. Auzoux-Bordenave, J. Nouet, D. Doumenc, C. Djediat, and I. Domart-Coulon. 2010. Skeletal growth, ultrastructure and composition of the azooxanthellate scleractinian coral Balanophyllia regia. Coral Reefs 29:175-189. | 2010 | | | Stony Coral |
| Sutherland, K. R., L. P. Madina, and R. Stockerb. 2010. Filtration of submicrometer particles by pelagic tunicates. Proceedings of the National Academy of Sciences 107:15129-15134. | 2010 | | Model | Microorganisms; Pharmaceuticals & Cosmetics Sources; Plankton; Tunicates |
| Borell, E. M., S. B. C. Romatzki, and S. C. A. Ferse. 2010. Differential physiological responses of two congeneric scleractinian corals to mineral accretion and an electric field. Coral Reefs 29:191-200. | 2010 | | Field Study & Monitoring | Stony Coral; Wetland & Reef Restoration |
| Diaz-Pulido, G., S. Harii, L. J. McCook, and O. Hoegh-Guldberg. 2010. The impact of benthic algae on the settlement of a reef-building coral. Coral Reefs 29:203-208. | 2010 | Australia | | Algae; Fleshy Macroalgae; Stony Coral |
| Uthicke, S., A. Thompson, and B. Schaffelke. 2010. y Effectiveness of benthic foraminiferal and coral assemblages as water quality indicators on inshore reefs of the Great Barrier Reef, Australia. Coral Reefs 29:209-225. | 2010 | Global; South & Central America; Australia; Caribbean | Index or Indicator | Finfish Harvest; Light; Non-point Source Runoff; Nutrients; Seastars; Sediment; Stony Coral |
| Thresher, R. and W. Musial. 2010. Ocean Renewable Energy�s Potential Role in Supplying Future Electrical Energy Needs. Oceanography 23:16-21. | 2010 | | | Climate |
| Natural Resources Conservation Service. 2010. Conservation Cover. CODE 327. US Department of Agriculture. | 2010 | | | Sediment |
| Titschack, J., M. Zuschin, C. Spotl, and C. Baal. 2010. The giant oyster Hyotissa hyotis from the northern Red Sea as a decadal-scale archive for seasonal environmental fluctuations in coral reef habitats. Coral Reefs 29:1061-1075. | 2010 | Global; US Pacific & Hawaii | | Complex Habitat & Resources; Surface & Groundwater Flow |
| Jiang, Z. Y., Z. L. Liang, Y. L. Tang, L. Y. Huang, D. Y. Yu, and M. S. Jiang. 2010. Numerical simulation and experimental study of the hydrodynamics of a modeled reef located within a current. Chinese Journal of Oceanology and Limnology 28:267-273. | 2010 | | Field Study & Monitoring; Model | Artificial Habitat; Surface & Groundwater Flow |
| Yu, X. M., X. M. Zhang, Y. Duan, P. D. Zhang, and Z. Q. Miao. 2010. Effects of temperature, salinity, body length, and starvation on the critical swimming speed of whiteleg shrimp, Litopenaeus vannamei. Comparative Biochemistry and Physiology Part A 157:392-397. | 2010 | | Model | Lobster, Crab, & Shrimp; Salinity |
| Badenas, B. and M. Aurell. 2010. Facies models of a shallow-water carbonate ramp based on distribution of non-skeletal grains (Kimmeridgian, Spain). Facies 56:89-110. | 2010 | Spain | Model | Sediment; Storms & Hurricanes |
| Peiman, K. S. and B. W. Robinson. 2010. Ecology And Evolution Of Resource-Related Heterospecific Aggression. Quarterly Review of Biology 85:133-158. | 2010 | | Review; Model | |
| Mao-Jones, J., K. B. Ritchie, L. E. Jones, and S. P. Ellner. 2010. How Microbial Community Composition Regulates Coral Disease Development. PLoS Biology 8:e1000345. | 2010 | | Model | Pathogens; Stony Coral |
| Rasala, B. A., M. Muto, P. A. Lee, M. Jager, R. M. R. Cardoso, C. A. Behnke, P. Kirk, C. A. Hokanson, R. Crea, M. Mendez, and S. P. Mayfield. 2010. Production of therapeutic proteins in algae, analysis of expression of seven human proteins in the chloroplast of Chlamydomonas reinhardtii. Plant Biotechnology 8:719-733. | 2010 | | | Algae; Microorganisms; Pharmaceuticals & Cosmetics; Pharmaceuticals & Cosmetics Sources |
| Williams, J. T., K. E. Carpenter, J. L. Van Tassell, P. Hoetjes, W. Toller, P. Etnoyer, and M. Smith. 2010. Biodiversity Assessment of the Fishes of Saba Bank Atoll, Netherlands Antilles. PLoS One 5:e10676. | 2010 | South & Central America; Antilles; Caribbean | | Fish; Mangroves |
| Penesyan, A., S. Kjelleberg, and S. Egan. 2010. Development of novel drugs from marine surface associated microorganisms. Marine Drugs 8:438-459. | 2010 | | Decision Support Frameworks & Tools | Microorganisms; Nutrients; Pharmaceuticals & Cosmetics Sources |
| Thacker, R. W., M. C. Diaz, N. J. de Voogd, R. W. M. van Soest, C. J. Freeman, A. S. Mobley, J. LaPietra, K. Cope, and S. McKenna. 2010. Preliminary Assessment of Sponge Biodiversity on Saba Bank, Netherlands Antilles. PLoS One 5:e9622. | 2010 | South & Central America; Antilles; Caribbean | | Algae; Molluscs; Pathogens; Sponges; Tube, Barrel, & Finger Sponges |
| Jean, C., S. Ciccione, K. Ballorain, J. Y. Georges, and J. Bourjea. 2010. Ultralight aircraft surveys reveal marine turtle population increases along the west coast of Reunion Island. ORYX 44:223-229. | 2010 | Indian Ocean; Reunion; India | | Marine Protected Areas; Sea Turtles; Substrate |
| Thierens, M., J. Titschack, B. Dorschel, V. A. I. Huvenne, A. J. Wheeler, J. B. Stuut, and R. O'Donnell. 2010. The 2.6 Ma depositional sequence from the Challenger cold-water coral carbonate mound (IODP Exp. 307): Sediment contributors and hydrodynamic palaeo-environments. Marine Geology 271:260-277. | 2010 | US East Coast (NC, SC, GA); Europe | Model | Sediment; Water Depth & Sea Level |
| Movassaghi, M., D. S. Siegel, and S. Han. 2010. Total synthesis of all (-)-agelastatin alkaloids. Chemical Science 1:561-566. | 2010 | | | Pharmaceuticals & Cosmetics Sources |
| Riley, M. J., M. S. Hale, A. Harman, and R. G. Rees. 2010. Analysis of whale shark Rhincodon typus aggregations near South An Atoll, Maldives Archipelago. Aquatic Biology 8:145-150. | 2010 | Indian Ocean; Maldives; India | Model | Apex Fish Predators |
| Shima, J. S., C. W. Osenberg, and A. C. Stier. 2010. The vermetid gastropod Dendropoma maximum reduces coral growth and survival. Biology Letters 6:815-818. | 2010 | | | Stony Coral |
| Witt, M. J., A. McGowan, J. M. Blumenthal, A. C. Broderick, S. Gore, D. Wheatley, J. White, and B. J. Godley. 2010. Inferring vertical and horizontal movements of juvenile marine turtles from time-depth recorders. Aquatic Biology 8:169-177. | 2010 | South & Central America; US Virgin Islands; British Virgin Islands; Caribbean | Field Study & Monitoring | Complex Habitat & Resources; Sea Turtles |
| Chang, Y. C., I. C. Huang, M. Y. N. Chiang, T. L. Hwang, T. H. Kung, C. S. Lin, J. H. Sheu, and P. J. Sung. 2010. Briaviodiol A, a New Cembranoid from a Soft Coral Briareum violacea. Chemical & pharmaceutical bulletin 58:1666-1668. | 2010 | | | Octocoral |
| Thomas, Y., C. Courties, Y. El Helwe, A. Herbland, and H. Lemonnier. 2010. Spatial and temporal extension of eutrophication associated with shrimp farm wastewater discharges in the New Caledonia lagoon. Marine Pollution Bulletin 61:387-398. | 2010 | New Caledonia | Decision Support Frameworks & Tools | Agriculture; Discharges; Lobster, Crab, & Shrimp; Mangroves; Nutrients; Plankton; Wastewater Discharge |
| Faure, V., C. Pinazo, J. P. Torreton, and S. Jacquet. 2010. Modelling the spatial and temporal variability of the SW lagoon of New Caledonia I: A new biogeochemical model based on microbial loop recycling. Marine Pollution Bulletin 61:465-479. | 2010 | New Caledonia | Field Study & Monitoring; Model | Microorganisms; Nutrients; Plankton |
| Kuo, K. M. and K. Soong. 2010. Post-Settlement Survival of Reef-Coral Juveniles in Southern Taiwan. Zoological Studies 49:724-734. | 2010 | Taiwan | | Stony Coral |
| Faure, V., C. Pinazo, J. P. Torreton, and P. Douillet. 2010. Modelling the spatial and temporal variability of the SW lagoon of New Caledonia II: Realistic 3D simulations compared with in situ data. Marine Pollution Bulletin 61:480-502. | 2010 | New Caledonia | Field Study & Monitoring; Model; Decision Support Frameworks & Tools | Light; Microorganisms; Nutrients; Sediment; Surface & Groundwater Flow |
| Murdock, S., H. Johnson, N. Forget, and S. K. Juniper. 2010. Composition and diversity of microbial mats at shallow hydrothermal vents on Volcano 1, South Tonga Arc. Cahiers de Biologie Marine 51:407-412. | 2010 | Tonga | | Discharges |
| Grenz, C., L. Denis, O. Pringault, and R. Fichez. 2010. Spatial and seasonal variability of sediment oxygen consumption and nutrient fluxes at the sediment water interface in a sub-tropical lagoon (New Caledonia). Marine Pollution Bulletin 61:399-412. | 2010 | US Pacific & Hawaii; Cuba; Pacific Ocean; New Caledonia | | Nutrients; Primary Production; Sediment |
| May-Ku, M. A., P. L. Ardisson, and U. Ordonez-Lopez. 2010. Morphological variation of Thalassia testudinum in two shallow coastal environments from the southeastern Gulf of Mexico. Botanica Marina 53:449-455. | 2010 | South & Central America; US East Coast (NC, SC, GA); Mexico | Field Study & Monitoring | Environmental Monitoring, Mapping, & Scientific Research; Seagrasses |
| Marchesiello, P., J. Lefevre, A. Vega, X. Couvelard, and C. Menkes. 2010. Coastal upwelling, circulation and heat balance around New Caledonia's barrier reef. Marine Pollution Bulletin 61:432-448. | 2010 | Australia; New Caledonia | | Surface & Groundwater Flow |
| Lirman, D., A. Bowden-Kerby, S. Schopmeyer, B. Huntington, T. Thyberg, M. Gough, T. Gough, R. Gough, and Y. Gough. 2010. A window to the past: documenting the status of one of the last remaining 'megapopulations' of the threatened staghorn coral Acropora cervicornis in the Dominican Republic. Aquatic Conservation: Marine and Freshwater Ecosystems 20:773-781. | 2010 | South & Central America; Dominican Republic; Caribbean | | Algae; Coastal Development; Complex Habitat & Resources; Finfish Harvest; Fish; Marine Worms; Pathogens; Small Herbivorous Fish; Stony Coral |
| Nip, T. H. M. and C. K. Wong. 2010. Juvenile Fish Assemblages in Mangrove and Non-Mangrove Soft-Shore Habitats in Eastern Hong Kong. Zoological Studies 49:760-778. | 2010 | | | Beaches & Nature Parks; Fish; Mangroves; Piscivorous Fish; Salinity; Sediment; Water Depth & Sea Level |
| Bohaty, J. and H. G. Herbig. 2010. Middle Givetian echinoderms from the Schlade Valley (Rhenish Massif, Germany): habitats, taxonomy and ecostratigraphy. Palaeontologische Zeitschrift 84:365-385. | 2010 | Germany | GIS & Maps | Echinoderms; Storms & Hurricanes |
| Reece, J. S., B. W. Bowen, D. G. Smith, and A. Larson. 2010. Molecular phylogenetics of moray eels (Muraenidae) demonstrates multiple origins of a shell-crushing jaw (Gymnomuraena, Echidna) and multiple colonizations of the Atlantic Ocean. Molecular Phylogenetics and Evolution 57:829-835. | 2010 | US Pacific & Hawaii; US East Coast (NC, SC, GA); Atlantic Ocean; Panama | | Apex Fish Predators; Piscivorous Fish |
| Souder, H. C., B. McCloskey, P. Hallock, and R. Byrne. 2010. Shell anomalies observed in a population of Archaias angulatus (Foraminifera) from the Florida Keys (USA) sampled in 1982-83 and 2006-07. Marine Micropaleontology 77:71-81. | 2010 | Florida | | Cyanobacteria; Microorganisms |
| Piche, J., S. J. Iverson, F. A. Parrish, and R. Dollar. 2010. Characterization of forage fish and invertebrates in the Northwestern Hawaiian Islands using fatty acid signatures: species and ecological groups. Marine Ecology Progress Series 418:1-U410. | 2010 | US Pacific & Hawaii | | Fish; Invertebrates; Octopus & Squid |
| Southwood, A. and L. Avens. 2010. Physiological, behavioral, and ecological aspects of migration in reptiles. Journal Of Comparative Physiology B-biochemical Systemic And Environmental Physiology 180:1-23. | 2010 | | | Sea Turtles |
| Woo, J. and S. K. Chough. 2010. Growth patterns of the Cambrian microbialite: Phototropism and speciation of Epiphyton. Sedimentary Geology 229:1-8. | 2010 | China | | Sponges |
| Kendall, M. S. and T. J. Miller. 2010. Relationships among map resolution, fish assemblages, and habitat variables in a coral reef ecosystem. Hydrobiologia 637:101-119. | 2010 | South & Central America; US Virgin Islands; Caribbean | GIS & Maps | Environmental Monitoring, Mapping, & Scientific Research; Fish |
| Teixeira, S. F., Y. F. Duarte, and B. P. Ferreira. 2010. Reproduction of the fish Lutjanus analis (mutton snapper; Perciformes: Lutjanidae) from Northeastern Brazil. Revista de Biologia Tropical 58:791-800. | 2010 | Cuba | Index or Indicator | Fish; Piscivorous Fish |
| Hughes, A. O., J. C. Croke, T. J. Pietsch, and J. M. Olley. 2010. Changes in the rates of floodplain and in-channel bench accretion in response to catchment disturbance, central Queensland, Australia. Geomorphology 114:338-347. | 2010 | Australia; Europe | Model | Climate; Dredging, Draining, & Filling; Sediment; Surface & Groundwater Flow |
| Huntington, B. E., M. Karnauskas, E. A. Babcock, and D. Lirman. 2010. Untangling Natural Seascape Variation from Marine Reserve Effects Using a Landscape Approach. PLoS One 5:e12327. | 2010 | South & Central America; Belize | GIS & Maps | Complex Habitat & Resources; Fish |
| Suwa, R., M. Nakamura, M. Morita, K. Shimada, A. Iguchi, K. Sakai, and A. Suzuki. 2010. Effects of acidified seawater on early life stages of scleractinian corals (Genus Acropora). Fisheries Science 76:93-99. | 2010 | | | CO2; Ocean Acidity; Stony Coral |
| Rodriguez-Quintal, J. G. 2010. Cryptobenthic coral reef fishes in Los Rogues National Park, Caribbean of Venezuela. Revista de Biologia Tropical 58:311-324. | 2010 | South & Central America; Venezuela; Caribbean | | Fish |
| Cardenas-Palomo, N., J. Herrera-Silveira, and O. Reyes. 2010. Spatial and temporal distribution of physicochemical features in the habitat of whale shark Rhincodon typus (Orectolobiformes: Rhincodontidae) in the north of Mexican Caribbean. Revista de Biologia Tropical 58:399-412. | 2010 | Global; South & Central America; Caribbean | Field Study & Monitoring | Apex Fish Predators; Chemical Variables; Nutrients; Plankton; Salinity |
| Knudby, A., E. LeDrew, and A. Brenning. 2010. Predictive mapping of reef fish species richness, diversity and biomass in Zanzibar using IKONOS imagery and machine-learning techniques. Remote Sensing of Environment 114:1230-1241. | 2010 | | Field Study & Monitoring; Model; GIS & Maps; Remote Sensing | Complex Habitat & Resources; Fish; Substrate |
| Roman-Contreras, R. and M. Martinez-Mayen. 2010. Palaemonidae (Crustacea: Decapoda: Caridea) from the shallow waters from Quintana Roo, Mexican Caribbean coast. Revista Mexicana de Biodiversidad 81:43-51. | 2010 | South & Central America; US East Coast (NC, SC, GA); Caribbean; Mexico | | Lobster, Crab, & Shrimp |
| Reyes-Bonilla, H., L. E. Calderon-Aguilera, G. Cruz-Pinon, R. A. Lopez-Perez, and P. Medina-Rosas. 2010. Evaluation of gamma diversity of reef corals (Scleractinia) in the Mexican Pacific. Revista Mexicana de Biodiversidad 81:113-121. | 2010 | US Pacific & Hawaii | | Marine Protected Areas; Stony Coral |
| Villanueva, R. D., A. J. Edwards, and J. D. Bell. 2010. Enhancement of Grazing Gastropod Populations as a Coral Reef Restoration Tool: Predation Effects and Related Applied Implications. Restoration Ecology 18:803-809. | 2010 | | Decision Support Frameworks & Tools | Algae; Artificial Habitat; Finfish Harvest; Octopus & Squid; Small Herbivorous Fish; Wetland & Reef Restoration |
| Emmel, C., P. Knippertz, and O. Schulz. 2010. Climatology of convective density currents in the southern foothills of the Atlas Mountains. Journal of Geophysical Research D: Atmospheres 115:D11115. | 2010 | | | Climate; Storms & Hurricanes |
| Ballantine, D. L. and H. Ruiz. 2010. Two new deepwater Peyssonnelia species, Peyssonnelia iridescens and Peyssonnelia gigaspora (Peyssonneliaceae, Rhodophyta) from Puerto Rico, Caribbean Sea. Phycologia 49:537-544. | 2010 | South & Central America; Puerto Rico; US East Coast (NC, SC, GA); Caribbean | | Algae |
| Haas, A. F., M. S. Naumann, U. Struck, C. Mayr, M. el-Zibdah, and C. Wild. 2010. Organic matter release by coral reef associated benthic algae in the Northern Red Sea. Journal of Experimental Marine Biology and Ecology 389:53-60. | 2010 | | | Algae; Fleshy Macroalgae; Light; Nutrients; Turf Algae; Water Depth & Sea Level |
| Kain, J. M., J. Buchanan, S. M. Boo, and K. M. Lee. 2010. Colpomenia bullosa crust masquerading as Ralfsia verrucosa (Phaeophyceae) in southeast Australia. Phycologia 49:617-627. | 2010 | Australia | | Algae |
| Hoogenboom, M., R. Rodolfo-Metalpa, and C. Ferrier-Pages. 2010. Co-variation between autotrophy and heterotrophy in the Mediterranean coral Cladocora caespitosa. Journal of Experimental Biology 213:2399-2409. | 2010 | Cuba | | Nutrients; Primary Production; Special Use Permitting; Stony Coral |
| Sundelof, A., S. R. Jenkins, C. J. Svensson, J. Delany, S. J. Hawkins, and P. Aberg. 2010. Determinants of reproductive potential and population size in open populations of Patella vulgata. Marine Biology 157:779-789. | 2010 | | Field Study & Monitoring; Model | |
| Schouwstra, R., D. de Vaux, P. Hey, V. Malysiak, N. Shackleton, and S. Bramdeo. 2010. Understanding Gamsberg - A geometallurgical study of a large stratiform zinc deposit. Minerals Engineering 23:960-967. | 2010 | South Africa | | Surface & Groundwater Flow |
| Cortesi, F. and K. L. Cheney. 2010. Conspicuousness is correlated with toxicity in marine opisthobranchs. Journal of Evolutionary Biology 23:1509-1518. | 2010 | | Model | Fish; Invertebrates |
| Nakamura, M. and K. Sakai. 2010. Spatiotemporal variability in recruitment around Iriomote Island, Ryukyu Archipelago, Japan: implications for dispersal of spawning corals. Marine Biology 157:801-810. | 2010 | Japan | | Stony Coral |
| Pignatelli, V. and J. Marshall. 2010. Morphological Characterization of Retinal Bipolar Cells in the Marine Teleost Rhinecanthus aculeatus. Journal of Comparative Neurology 518:3117-3129. | 2010 | | | Fish |
| Sponaugle, S., K. D. Walter, K. L. Denit, J. K. Llopiz, and R. K. Cowen. 2010. Variation in pelagic larval growth of Atlantic billfishes: the role of prey composition and selective mortality. Marine Biology 157:839-849. | 2010 | Florida; US East Coast (NC, SC, GA); Bahamas | | Fish |
| Huang, K. F., C. F. You, Y. H. Liu, R. M. Wang, P. Y. Lin, and C. H. Chung. 2010. Low-memory, small sample size, accurate and high-precision determinations of lithium isotopic ratios in natural materials by MC-ICP-MS. Journal of Analytical Atomic Spectrometry 25:1019-1024. | 2010 | | | Non-point Source Runoff; Surface & Groundwater Flow |
| Sun, Z., J. F. Hamel, E. Edinger, and A. Mercier. 2010. Reproductive biology of the deep-sea octocoral Drifa glomerata in the Northwest Atlantic. Marine Biology 157:863-873. | 2010 | US East Coast (NC, SC, GA) | Field Study & Monitoring; Lab Study; Index or Indicator | Octocoral; Plankton |
| Bohnhoff, M., M. D. Zoback, L. Chiaramonte, J. L. Gerst, and N. Gupta. 2010. Seismic detection of CO2 leakage along monitoring wellbores. International Journal Of Greenhouse Gas Control 4:687-697. | 2010 | | Field Study & Monitoring | CO2 |
| Souter, P. 2010. Hidden genetic diversity in a key model species of coral. Marine Biology 157:875-885. | 2010 | Indian Ocean; India | Model | Stony Coral |
| Edmunds, P. J. and H. S. Lenihan. 2010. Effect of sub-lethal damage to juvenile colonies of massive Porites spp. under contrasting regimes of temperature and water flow. Marine Biology 157:887-897. | 2010 | Cuba | | Corallivorous Fish; Primary Production; Seawater Flow; Stony Coral |
| Coleman, H. M. 2010. Complex species interaction in tropical backreef communities. Journal of Experimental Marine Biology and Ecology 393:124-129. | 2010 | Jamaica | Field Study & Monitoring; Lab Study | Sea Urchins; Snails & Conch |
| Bruce, A. J. 2010. Pontoniine Shrimps (Crustacea: Decapoda: Palaemonidae) from the CReefs 2009 Heron Island Expedition, with a review of the Heron Island pontoniine fauna. Zootaxa 50-68. | 2010 | Australia; Java; Indonesia | Review | Lobster, Crab, & Shrimp; Sponges |
| Giovas, C. M., S. M. Fitzpatrick, M. Clark, and M. Abed. 2010. Evidence for size increase in an exploited mollusc: humped conch (Strombus gibberulus) at Chelechol ra Orrak, Palau from ca. 3000-0 BP. Journal of Archaeological Science 37:2788-2798. | 2010 | US Pacific & Hawaii; Palau; Micronesia | | Molluscs; Snails & Conch |
| Nienhuis, S., A. R. Palmer, and C. D. G. Harley. 2010. Elevated CO2 affects shell dissolution rate but not calcification rate in a marine snail. Proceedings of the Royal Society B 277:2553-2558. | 2010 | | | Calcium Carbonate Deposition; CO2; Molluscs; Ocean Acidity; Snails & Conch |
| Xiao, C. W., H. F. Zhou, S. F. Ge, T. T. Tang, H. L. Hou, M. Luo, and X. Q. Fan. 2010. Repair of orbital wall defects using biocoral scaffolds combined with bone marrow stem cells enhanced by human bone morphogenetic protein-2 in a canine model. International Journal Of Molecular Medicine 26:517-525. | 2010 | | Model | |
| Betancur-R, R., A. P. Arturo, H. Duque-Caro, and S. R. Santos. 2010. Phylogenetic and Morphologic Analyses of a Coastal Fish Reveals a Marine Biogeographic Break of Terrestrial Origin in the Southern Caribbean. PLoS One 5:e11566. | 2010 | South & Central America; Venezuela; Caribbean | | Fish |
| Nagle, V. L., N. M. Mhalsekar, and T. G. Jagtap. 2010. Isolation, optimization and characterization of selected Cyanophycean members. Indian Journal of Marine Sciences 39:212-218. | 2010 | | | Cyanobacteria; Microorganisms; Nutrients; Salinity |
| Hunt, M. E., M. P. Scherrer, F. D. Ferrari, and M. V. Matz. 2010. Very Bright Green Fluorescent Proteins from the Pontellid Copepod Pontella mimocerami. PLoS One 5:e11517. | 2010 | | Decision Support Frameworks & Tools | Biomedical Research Policies; Microorganisms; Pharmaceuticals & Cosmetics; Pharmaceuticals & Cosmetics Sources |
| Raj, K. D. and J. K. P. Edward. 2010. Observations on the reproduction of Acropora corals along the Tuticorin coast of the Gulf of Mannar, Southeastern India. Indian Journal of Marine Sciences 39:219-226. | 2010 | India | | Stony Coral |
| Chablais, J., T. Onoue, and R. Martini. 2010. Upper Triassic reef-limestone blocks of southwestern Japan: New data from a Panthalassan seamount. Palaeogeography, Palaeoclimatology, Palaeoecology 293:206-222. | 2010 | Oman; Japan | | Algae; Sediment; Sponges |
| Mol, V. P. L., T. V. Raveendran, P. S. Parameswaran, R. J. Kunnath, and N. Sathyan. 2010. Antifouling sesquiterpene from the Indian soft coral, Sinularia kavarattiensis Alderslade and Prita. Indian Journal of Marine Sciences 39:270-273. | 2010 | India | | Octocoral |
| Madenjian, C. P. and T. J. Desorcie. 2010. Lake Trout Population Dynamics in the Northern Refuge of Lake Michigan: Implications for Future Rehabilitation. North American Journal of Fisheries Management 30:629-641. | 2010 | | | Fish |
| Montano, S., D. Seveso, P. Galli, and D. O. Obura. 2010. Assessing coral bleaching and recovery with a colour reference card in Watamu Marine Park, Kenya. Hydrobiologia 655:99-108. | 2010 | Kenya | | Marine Protected Areas; Stony Coral |
| Rodriguez, S., E. Fernandez-Martinez, P. Cozar, J. I. Valenzuela-Rios, M. V. P. Alonso, J. C. Liao, and A. May. 2010. Stratigraphic succession, facies and depositional environment of Emsian reefal carbonates in the Ossa-Morena Zone (SW Spain). Neues Jahrbuch Fur Geologie Und Palaontologie-abhandlungen 257:69-83. | 2010 | Spain | | Echinoderms; Surface & Groundwater Flow |
| Tripati, A. K., R. A. Eagle, N. Thiagarajan, A. C. Gagnon, H. Bauch, P. R. Halloran, and J. M. Eiler. 2010. C-13-O-18 isotope signatures and 'clumped isotope' thermometry in foraminifera and coccoliths. Geochimica et Cosmochimica Acta 74:5697-5717. | 2010 | | | Climate; Molluscs; Sea Temperatures |
| Turley, C., M. Eby, A. J. Ridgwell, D. N. Schmidt, H. S. Findlay, C. Brownlee, U. Riebesell, V. J. Fabry, R. A. Feely, and J. P. Gattuso. 2010. The societal challenge of ocean acidification. Marine Pollution Bulletin 60:787-792. | 2010 | | | Ocean Acidity |
| Morrison, R. J., P. J. Peshut, and B. K. Lasorsa. 2010. Elemental composition and mineralogical characteristics of coastal marine sediments of Tutuila, American Samoa. Marine Pollution Bulletin 60:925-930. | 2010 | US Pacific & Hawaii; Australia; Pacific Ocean; Samoa; American Samoa | | Sediment; Skeletal Coral |
| Lu, C. H. and Q. W. Zhang. 2010. Synthesis and morphology of triangular pyramid-shaped puerarin microparticle with nanostructure. Chinese Chemical Letters 21:484-487. | 2010 | | | Substrate |
| Turner, A. 2010. Marine pollution from antifouling paint particles. Marine Pollution Bulletin 60:159-171. | 2010 | | Review | Invertebrates; Salinity; Sediment; Tourism & Recreation; Waterborne Discharges |
| Chiang, C. J., P. T. Chen, and Y. P. Chao. 2010. Secreted Production of Renilla Luciferase in Bacillus subtilis. Biotechnology Progress 26:589-594. | 2010 | | | Nutrients; Octocoral |
| van Oosterom, J., S. C. King, A. Negri, C. Humphrey, and J. Mondon. 2010. Investigation of the mud crab (Scylla serrata) as a potential bio-monitoring species for tropical coastal marine environments of Australia. Marine Pollution Bulletin 60:283-290. | 2010 | Australia | Field Study & Monitoring; Index or Indicator | Environmental Monitoring, Mapping, & Scientific Research; Lobster, Crab, & Shrimp; Surface & Groundwater Flow |
| Negandhi, K., P. L. Blackwelder, A. V. Ereskovsky, and J. V. Lopez. 2010. Florida reef sponges harbor coral disease-associated microbes. Symbiosis 51:117-129. | 2010 | Florida | | Fish; Microorganisms; Pathogens; Ports & Harbors; Sponges |
| Nguyen, H. T., V. M. Chau, V. K. Phan, T. H. Hoang, H. N. Nguyen, X. C. Nguyen, H. Q. Tran, X. N. Nguyen, J. H. Hyun, H. K. Kang, and Y. H. Kim. 2010. Chemical Components from the Vietnamese Soft Coral Lobophytum sp. Archives of Pharmacal Research 33:503-508. | 2010 | Vietnam | | Octocoral |
| Colton, M. A. and S. E. Swearer. 2010. A comparison of two survey methods: differences between underwater visual census and baited remote underwater video. Marine Ecology Progress Series 400:19-36. | 2010 | Australia | Model; Index or Indicator | Banks, Credit, & Securities; Fish |
| Renones, O., A. Grau, X. Mas, F. Riera, and F. Saborido-Rey. 2010. Reproductive pattern of an exploited dusky grouper Epinephelus marginatus (Lowe 1834) (Pisces: Serranidae) population in the western Mediterranean. Scientia Marina 74:523-537. | 2010 | | Index or Indicator | Fishing Sector; Piscivorous Fish; Tourism & Recreation |
| Lozano-Alvarez, E., P. Briones-Fourzan, L. Alvarez-Filip, H. M. Weiss, F. Negrete-Soto, and C. Barradas-Ortiz. 2010. Influence of shelter availability on interactions between Caribbean spiny lobsters and moray eels: implications for artificial lobster enhancement. Marine Ecology Progress Series 400:175-185. | 2010 | South & Central America; Caribbean | | Apex Fish Predators; Complex Habitat & Resources; Finfish Harvest; Lobster, Crab, & Shrimp; Piscivorous Fish; Seagrasses |
| Al-Dabbas, M., J. Al-Jassim, and S. Al-Jumaily. 2010. Depositional environments and porosity distribution in regressive limestone reservoirs of the Mishrif Formation, Southern Iraq. Arabian Journal of Geosciences 3:67-78. | 2010 | | Model; Index or Indicator | Algae; Sediment |
| March, D., M. Palmer, J. Alos, A. Grau, and F. Cardona. 2010. Short-term residence, home range size and diel patterns of the painted comber Serranus scriba in a temperate marine reserve. Marine Ecology Progress Series 400:195-206. | 2010 | | Field Study & Monitoring | Fishing Sector; Marine Protected Areas; Seagrasses |
| Bapary, M. A. and A. Takemura. 2010. Effect of temperature and photoperiod on the reproductive condition and performance of a tropical damselfish Chrysiptera cyanea during different phases of the reproductive season. Fisheries Science 76:769-776. | 2010 | | Index or Indicator | Fish; Small Herbivorous Fish |
| Kongjandtre, N., T. Ridgway, S. Ward, and O. Hoegh-Guldberg. 2010. Broadcast spawning patterns of Favia species on the inshore reefs of Thailand. Coral Reefs 29:227-234. | 2010 | Global; Thailand | | Stony Coral |
| Yu, K. F. and J. X. Zhao. 2010. U-series dates of Great Barrier Reef corals suggest at least+0.7 m sea level similar to 7000 years ago. Holocene 20:161-168. | 2010 | Australia | Field Study & Monitoring; Index or Indicator | Stony Coral; Water Depth & Sea Level |
| Konigshof, P., H. D. Nesbor, and H. Flick. 2010. Volcanism and reef development in the Devonian: A case study from the Lahn syncline, Rheinisches Schiefergebirge (Germany). Gondwana Research 17:264-280. | 2010 | Germany | Model | Water Depth & Sea Level |
| Lee, S., J. H. Park, D. Kwak, and K. Cho. 2010. Coral Mineralization Inspired CaCO3 Deposition via CO2 Sequestration from the Atmosphere. Crystal Growth and Design 10:851-855. | 2010 | | Decision Support Frameworks & Tools | Calcium Carbonate Deposition; CO2; Stony Coral |
| Hofmann, C. M., K. E. O'Quin, N. J. Marshall, and K. L. Carleton. 2010. The relationship between lens transmission and opsin gene expression in cichlids from Lake Malawi. Vision Research 50:357-363. | 2010 | | | Light |
| Paris, R., J. Fournier, E. Poizot, S. Etienne, J. Morin, F. Lavigne, and P. Wassmer. 2010. Boulder and fine sediment transport and deposition by the 2004 tsunami in Lhok Nga (western Banda Aceh, Sumatra, Indonesia): A coupled offshore-onshore model. Marine Geology 268:43-54. | 2010 | Indonesia | Model; GIS & Maps | Discharges; Sediment; Storms & Hurricanes |
| Barroso, R., M. Klautau, A. M. Sole-Cava, and P. C. Paiva. 2010. Eurythoe complanata (Polychaeta: Amphinomidae), the 'cosmopolitan' fireworm, consists of at least three cryptic species. Marine Biology 157:69-80. | 2010 | South & Central America; US Pacific & Hawaii; US East Coast (NC, SC, GA); Atlantic Ocean; Panama; Caribbean | | Invertebrates; Marine Worms |
| Edmunds, P. J., J. J. Leichter, and M. Adjeroud. 2010. Landscape-scale variation in coral recruitment in Moorea, French Polynesia. Marine Ecology Progress Series 414:75-89. | 2010 | | | Shoreline Protection; Stony Coral |
| Bjorndal, K. A. and A. B. Bolten. 2010. Hawksbill sea turtles in seagrass pastures: success in a peripheral habitat. Marine Biology 157:135-145. | 2010 | South & Central America; Bahamas; Caribbean | Index or Indicator | Sea Turtles; Seagrasses |
| Arnold, S. N., R. S. Steneck, and P. J. Mumby. 2010. Running the gauntlet: inhibitory effects of algal turfs on the processes of coral recruitment. Marine Ecology Progress Series 414:91-105. | 2010 | South & Central America; Caribbean | | Algae; Coralline Algae; Corallivorous Fish; Fish; Large Herbivorous Fish; Marine Worms; Pathogens; Plankton; Small Herbivorous Fish; Turf Algae |
| Hoey, A. S. and D. R. Bellwood. 2010. Among-habitat variation in herbivory on Sargassum spp. on a mid-shelf reef in the northern Great Barrier Reef. Marine Biology 157:189-200. | 2010 | South & Central America; US Pacific & Hawaii; Australia; Caribbean | | Algae; Fish; Fleshy Macroalgae; Small Herbivorous Fish |
| Bueno, M., G. A. O. Moser, B. R. C. Tocci, and A. A. V. Flores. 2010. Retention-favorable timing of propagule release in barnacles and periwinkles. Marine Ecology Progress Series 414:155-165. | 2010 | | | Shoreline Protection |
| Manzello, D. P. 2010. Ocean acidification hot spots: Spatiotemporal dynamics of the seawater CO2 system of eastern Pacific coral reefs. Limnology and Oceanography 55:239-248. | 2010 | US Pacific & Hawaii; Panama | | Calcium Carbonate Deposition; CO2; Ocean Acidity |
| Hammerschlag, N., M. R. Heithaus, and J. E. Serafy. 2010. Influence of predation risk and food supply on nocturnal fish foraging distributions along a mangrove-seagrass ecotone. Marine Ecology Progress Series 414:223-235. | 2010 | Florida | | Fish; Mangroves; Piscivorous Fish; Seagrasses |
| Lorke, A. and W. N. Probst. 2010. In situ measurements of turbulence in fish shoals. Limnology and Oceanography 55:354-364. | 2010 | Germany | Model | Artificial Habitat; Fish |
| Faria, A. M. and E. J. Goncalves. 2010. Ontogeny of swimming behaviour of two temperate clingfishes, Lepadogaster lepadogaster and L-purpurea (Gobiesocidae). Marine Ecology Progress Series 414:237-248. | 2010 | | Lab Study | Fish |
| Clua, E., N. Buray, P. Legendre, J. Mourier, and S. Planes. 2010. Behavioural response of sicklefin lemon sharks Negaprion acutidens to underwater feeding for ecotourism purposes. Marine Ecology Progress Series 414:257-266. | 2010 | | | Apex Fish Predators; Tourism & Recreation; Travel Services & Tour Operators |
| De Grave, S. and T. Y. Chan. 2010. The Caridean Shrimps Of The Family Thalassocarididae Bate, 1888 (Crustacea: Decapoda) From The Philippine Panglao 2004 Expedition, With A Note On The Ecology Of Thalassocaris Crinita (Dana, 1852). Raffles Bulletin of Zoology 58:189-192. | 2010 | Philippines | Review | Lobster, Crab, & Shrimp; Plankton; Skeletal Coral |
| Galindo, H. M., A. S. Pfeiffer-Herbert, M. A. McManus, Y. Chao, F. Chai, and S. R. Palumbi. 2010. Seascape genetics along a steep cline: using genetic patterns to test predictions of marine larval dispersal. Molecular Ecology 19:3692-3707. | 2010 | | Field Study & Monitoring; Model; Decision Support Frameworks & Tools | |
| Selkoe, K. A., J. R. Watson, C. White, T. Ben Horin, M. Iacchei, S. Mitarai, D. A. Siegel, S. D. Gaines, and R. J. Toonen. 2010. Taking the chaos out of genetic patchiness: seascape genetics reveals ecological and oceanographic drivers of genetic patterns in three temperate reef species. Molecular Ecology 19:3708-3726. | 2010 | | Model | Lobster, Crab, & Shrimp; Snails & Conch; Surface & Groundwater Flow |
| Unsworth, R. K. F., S. De Grave, and L. Y. D. Goulding. 2010. Influence Of Environmental Cycles Upon A Seagrass Caridean Shrimp Assemblage. Raffles Bulletin of Zoology 58:349-355. | 2010 | US Pacific & Hawaii; Indonesia | | Lobster, Crab, & Shrimp; Primary Production; Seagrasses |
| Chen, T. R., K. F. Yu, S. Li, G. J. Price, Q. Shi, and G. J. Wei. 2010. Heavy metal pollution recorded in Porites corals from Daya Bay, northern South China Sea. Marine Environmental Research 70:318-326. | 2010 | China | Field Study & Monitoring | Discharges; Stony Coral |
| Opresko, D. M. and O. Breedy. 2010. A new species of antipatharian coral (Cnidaria: Anthozoa: Antipatharia: Schizopathidae) from the Pacific coast of Costa Rica. Proceedings of the Biological Society of Washington 123:234-241. | 2010 | US Pacific & Hawaii; Costa Rica | | |
| Regalado, E. L., D. Tasdemir, M. Kaiser, N. Cachet, P. Amade, and O. P. Thomas. 2010. Antiprotozoal Steroidal Saponins from the Marine Sponge Pandaros acanthifolium. Journal of Natural Products 73:1404-1410. | 2010 | South & Central America; Caribbean | | Sponges |
| Coffroth, M. A., D. M. Poland, E. L. Petrou, D. A. Brazeau, and J. C. Holmberg. 2010. Environmental Symbiont Acquisition May Not Be the Solution to Warming Seas for Reef-Building Corals. PLoS One 5:e13258. | 2010 | Global | | Climate; Stony Coral |
| Work, T. M. and G. S. Aeby. 2010. Wound repair in Montipora capitata. Journal of Invertebrate Pathology 105:116-119. | 2010 | | | Stony Coral |
| Poonian, C., P. Z. R. Davis, and C. K. McNaughton. 2010. Impacts of Recreational Divers on Palauan Coral Reefs and Options for Management. Pacific Science 64:557-565. | 2010 | Cuba; Palau | Field Study & Monitoring | Dive, Snorkeling, & Swimming Tourism; Physical Damage; Stony Coral; Tourism & Recreation |
| Lenahan, M. J. and K. L. Bristow. 2010. Understanding sub-surface solute distributions and salinization mechanisms in a tropical coastal floodplain groundwater system. Journal of Hydrology 390:131-142. | 2010 | Australia | Field Study & Monitoring | Agriculture; Discharges; Irrigation; Nutrients; Salinity; Sediment; Surface & Groundwater Flow; Water Depth & Sea Level |
| Tirard, P., M. J. Manning, I. Jollit, C. Duffy, and P. Borsa. 2010. Records of Great White Sharks (Carcharodon carcharias) in New Caledonian Waters. Pacific Science 64:567-576. | 2010 | Cuba; New Caledonia | | Apex Fish Predators; Dive, Snorkeling, & Swimming Tourism; Whales & Dolphins |
| Bratton, J. F. 2010. The Three Scales of Submarine Groundwater Flow and Discharge across Passive Continental Margins. Journal of Geology 118:565-575. | 2010 | | | Discharges; Seawater Flow; Surface & Groundwater Flow; Water Depth & Sea Level |
| Rassweiler, A., R. J. Schmitt, and S. J. Holbrook. 2010. Triggers and maintenance of multiple shifts in the state of a natural community. Oecologia 164:489-498. | 2010 | | | Algae; Echinoderms; Resource Use Management |
| Rodriguez-Troncoso, A. P., E. Carpizo-Ituarte, and A. L. Cupul-Magana. 2010. Differential response to cold and warm water conditions in Pocillopora colonies from the Central Mexican Pacific. Journal of Experimental Marine Biology and Ecology 391:57-64. | 2010 | Global; US Pacific & Hawaii | Lab Study | Climate; Stony Coral |
| Hennige, S. J., D. J. Smith, S. J. Walsh, M. P. McGinley, M. E. Warner, and D. J. Suggett. 2010. Acclimation and adaptation of scleractinian coral communities along environmental gradients within an Indonesian reef system. Journal of Experimental Marine Biology and Ecology 391:143-152. | 2010 | Indonesia | | Climate; Primary Production; Stony Coral |
| Schumacher, S., F. J. Jorissen, A. Mackensen, A. J. Gooday, and O. Pays. 2010. Ontogenetic effects on stable carbon and oxygen isotopes in tests of live (Rose Bengal stained) benthic foraminifera from the Pakistan continental margin. Marine Micropaleontology 76:92-103. | 2010 | | | CO2; Plankton; Water Depth & Sea Level |
| Rypien, K. L., J. R. Ward, and F. Azam. 2010. Antagonistic interactions among coral-associated bacteria. Environmental Microbiology 12:28-39. | 2010 | | | Pathogens; Stony Coral; Zooxanthellae |
| Hongo, C. and H. Kayanne. 2010. Holocene sea-level record from corals: Reliability of paleodepth indicators at Ishigaki Island, Ryukyu Islands, Japan. Palaeogeography, Palaeoclimatology, Palaeoecology 287:143-151. | 2010 | Japan | Index or Indicator | Stony Coral; Water Depth & Sea Level |
| Weis, V. M. 2010. The susceptibility and resilience of corals to thermal stress: adaptation, acclimatization or both? Molecular Ecology 19:1515-1517. | 2010 | Global; Samoa; American Samoa | | Climate; Stony Coral |
| Barshis, D. J., J. H. Stillman, R. D. Gates, R. J. Toonen, L. W. Smith, and C. Birkeland. 2010. Protein expression and genetic structure of the coral Porites lobata in an environmentally extreme Samoan back reef: does host genotype limit phenotypic plasticity? Molecular Ecology 19:1705-1720. | 2010 | Global; Samoa | | Climate; Stony Coral |
| Yudovskaya, M. A. and J. A. Kinnaird. 2010. Chromite in the Platreef (Bushveld Complex, South Africa): occurrence and evolution of its chemical composition. Mineralium Deposita 45:369-391. | 2010 | South Africa | | |
| Radford, C. A., J. A. Stanley, C. T. Tindle, J. C. Montgomery, and A. G. Jeffs. 2010. Localised coastal habitats have distinct underwater sound signatures. Marine Ecology Progress Series 401:21-29. | 2010 | | | Beaches & Nature Parks; Complex Habitat & Resources; Lobster, Crab, & Shrimp; Sea Urchins |
| Watson, J. R., S. Mitarai, D. A. Siegel, J. E. Caselle, C. Dong, and J. C. McWilliams. 2010. Realized and potential larval connectivity in the Southern California Bight. Marine Ecology Progress Series 401:31-48. | 2010 | | | Fish; Fishing Sector; Plankton |
| Concepcion, G. T., S. E. Kahng, M. W. Crepeau, E. C. Franklin, S. L. Coles, and R. J. Toonen. 2010. Resolving natural ranges and marine invasions in a globally distributed octocoral (genus Carijoa). Marine Ecology Progress Series 401:113-127. | 2010 | Global; South & Central America; US Pacific & Hawaii; US East Coast (NC, SC, GA); Pacific Ocean; Caribbean | | Invasive Species; Octocoral; Ports & Harbors |
| Donelson, J. M., P. L. Munday, M. I. McCormick, N. W. Pankhurst, and P. M. Pankhurst. 2010. Effects of elevated water temperature and food availability on the reproductive performance of a coral reef fish. Marine Ecology Progress Series 401:233-243. | 2010 | Global | | Climate; Fish; Plankton; Sea Temperatures; Small Herbivorous Fish |
| Kimes, N. E., J. D. Van Nostrand, E. Weil, J. Z. Zhou, and P. J. Morris. 2010. Microbial functional structure of Montastraea faveolata, an important Caribbean reef-building coral, differs between healthy and yellow-band diseased colonies. Environmental Microbiology 12:541-556. | 2010 | South & Central America; Caribbean | | Microorganisms; Nutrients; Pathogens; Stony Coral |
| Dunstan, A., O. Alanis, and J. Marshall. 2010. Nautilus pompilius fishing and population decline in the Philippines: A comparison with an unexploited Australian Nautilus population. Fisheries Research 106:239-247. | 2010 | Australia; Philippines | | Finfish Harvest; Fishing Sector |
| Wright, K. J., D. M. Higgs, D. H. Cato, and J. M. Leis. 2010. Auditory sensitivity in settlement-stage larvae of coral reef fishes. Coral Reefs 29:235-243. | 2010 | | | Small Herbivorous Fish |
| Kahng, S. E., J. R. Garcia-Sais, H. L. Spalding, E. Brokovich, D. Wagner, E. Weil, L. Hinderstein, and R. J. Toonen. 2010. Community ecology of mesophotic coral reef ecosystems. Coral Reefs 29:255-275. | 2010 | Global; South & Central America; US Pacific & Hawaii; Caribbean | Review | Complex Habitat & Resources; Stony Coral |
| Garcia-Sais, J. R. 2010. Reef habitats and associated sessile-benthic and fish assemblages across a euphotic-mesophotic depth gradient in Isla Desecheo, Puerto Rico. Coral Reefs 29:277-288. | 2010 | South & Central America; Puerto Rico; Caribbean | Index or Indicator | Algae; Complex Habitat & Resources; Corallivorous Fish; Fish; Fleshy Macroalgae; Invertivorous Fish; Large Herbivorous Fish; Planktivorous Fish; Sponges; Stony Coral |
| Smith, T. B., J. Blondeau, R. S. Nemeth, S. J. Pittman, J. M. Calnan, E. Kadison, and J. Gass. 2010. Benthic structure and cryptic mortality in a Caribbean mesophotic coral reef bank system, the Hind Bank Marine Conservation District, US Virgin Islands. Coral Reefs 29:289-308. | 2010 | Global; South & Central America; US Virgin Islands; Caribbean | GIS & Maps | Complex Habitat & Resources; Pathogens; Stony Coral; Surface & Groundwater Flow |
| Bongaerts, P., T. Ridgway, E. M. Sampayo, and O. Hoegh-Guldberg. 2010. Assessing the 'deep reef refugia' hypothesis: focus on Caribbean reefs. Coral Reefs 29:309-327. | 2010 | Global; South & Central America; Caribbean | Review | Climate; Stony Coral; Storms & Hurricanes |
| Locker, S. D., R. A. Armstrong, T. A. Battista, J. J. Rooney, C. Sherman, and D. G. Zawada. 2010. Geomorphology of mesophotic coral ecosystems: current perspectives on morphology, distribution, and mapping strategies. Coral Reefs 29:329-345. | 2010 | South & Central America; Florida; US Pacific & Hawaii; Caribbean; Mexico | Review; GIS & Maps | Environmental Monitoring, Mapping, & Scientific Research; Substrate |
| Sherman, C., M. Nemeth, H. Ruiz, I. Bejarano, R. Appeldoorn, F. Pagan, M. Scharer, and E. Weil. 2010. Geomorphology and benthic cover of mesophotic coral ecosystems of the upper insular slope of southwest Puerto Rico. Coral Reefs 29:347-360. | 2010 | Puerto Rico | | Sediment; Water Depth & Sea Level |
| Rooney, J., E. Donham, A. Montgomery, H. Spalding, F. Parrish, R. Boland, D. Fenner, J. Gove, and O. Vetter. 2010. Mesophotic coral ecosystems in the Hawaiian Archipelago. Coral Reefs 29:361-367. | 2010 | US Pacific & Hawaii | GIS & Maps | Algae; Stony Coral; Substrate |
| Bare, A. Y., K. L. Grimshaw, J. J. Rooney, M. G. Sabater, D. Fenner, and B. Carroll. 2010. Mesophotic communities of the insular shelf at Tutuila, American Samoa. Coral Reefs 29:369-377. | 2010 | Samoa; American Samoa | | Sediment; Stony Coral |
| Renken, H., P. J. Mumby, I. Matsikis, H. J. Edwards. 2010. Effects of physical environmental conditions on the patch dynamics of Dictyota pulchella and Lobophora variegata on Caribbean coral reefs. Marine Ecology Progress Series 403. | 2010 | South & Central America; Caribbean | Index or Indicator | Algae; Complex Habitat & Resources; Fleshy Macroalgae |
| Jensen, S., S. Duperron, N. K. Birkeland, and M. Hovland. 2010. Intracellular Oceanospirillales bacteria inhabit gills of Acesta bivalves. FEMS Microbiology Ecology 74:523-533. | 2010 | US East Coast (NC, SC, GA); Norway | | Bivalves; Finfish Harvest |
| DeBose, J. L., G. A. Nevitt, and A. H. Dittman. 2010. Rapid Communication: Experimental Evidence that Juvenile Pelagic Jacks (Carangidae) Respond Behaviorally to DMSP. Journal of Chemical Ecology 36:326-328. | 2010 | South & Central America; Mexico | Lab Study | Algae; Plankton |
| Main, W. P. L., C. Ross, and G. K. Bielmyer. 2010. Copper accumulation and oxidative stress in the sea anemone, Aiptasia pallida, after waterborne copper exposure. Comparative Biochemistry And Physiology C-toxicology & Pharmacology 151:216-221. | 2010 | | Field Study & Monitoring; Model | Anemones & Zooanthids; Environmental Monitoring, Mapping, & Scientific Research; Zooxanthellae |
| Rasalato, E., V. Maginnity, and J. M. Brunnschweiler. 2010. Using local ecological knowledge to identify shark river habitats in Fiji (South Pacific). Environmental Conservation 37:90-97. | 2010 | US Pacific & Hawaii; Australia; Fiji | | Apex Fish Predators; Finfish Harvest; Housing; Resource Use Management; Surface & Groundwater Flow |
| Rosic, N. N. and O. Hoegh-Guldberg. 2010. A method for extracting a high-quality RNA from Symbiodinium sp. Journal of Applied Phycology 22:139-146. | 2010 | | | Surface & Groundwater Flow |
| Love, M. S., B. Lenarz, and L. Snook. 2010. A Survey Of The Reef Fishes, Purple Hydrocoral (Stylaster Californicus), And Marine Debris Of Farnsworth Bank, Santa Catalina Island. Bulletin of Marine Science 86:35-52. | 2010 | | | Commercial Fisheries; Dive, Snorkeling, & Swimming Tourism; Finfish Harvest; Fish; Fishing Sector; Hydrocoral; Marine Debris; Recreational Fishing; Substrate; Tourism & Recreation |
| Munoz, R. C., M. L. Burton, K. J. Brennan, and R. O. Parker. 2010. Reproduction, Habitat Utilization, And Movements Of Hogfish (Lachnolaimus Maximus) In The Florida Keys, Usa: Comparisons From Fished Versus Unfished Habitats. Bulletin of Marine Science 86:93-116. | 2010 | Florida; Cuba | | Dive, Snorkeling, & Swimming Tourism; Finfish Harvest; Fish; Invertivorous Fish |
| Kool, J. T., C. B. Paris, S. Andrefouet, and R. K. Cowen. 2010. Complex migration and the development of genetic structure in subdivided populations: an example from Caribbean coral reef ecosystems. Ecography 33:597-606. | 2010 | South & Central America; Bahamas; Cayman Islands; Jamaica; Caribbean | Field Study & Monitoring; Model | Fish |
| Littler, M. M., D. S. Littler, and B. L. Brooks. 2010. The effects of nitrogen and phosphorus enrichment on algal community development: Artificial mini-reefs on the Belize Barrier Reef sedimentary lagoon. Harmful Algae 9:255-263. | 2010 | South & Central America; Belize | | Algae; Calcareous Macroalgae; Coralline Algae; Cyanobacteria; Fertilizer & Pesticide Use; Microorganisms; Nutrients; Sediment; Skeletal Coral; Stony Coral |
| Scheibling, R. E. and A. Metaxas. 2010. Mangroves And Fringing Reefs As Nursery Habitats For The Endangered Caribbean Sea Star Oreaster Reticulatus. Bulletin of Marine Science 86:133-148. | 2010 | South & Central America; Belize; Panama; Caribbean | | Complex Habitat & Resources; Mangroves; Seagrasses; Seastars; Sediment; Sponges |
| Kogure, T. and Y. Matsukura. 2010. Critical notch depths for failure of coastal limestone cliffs: case study at Kuro-shima Island, Okinawa, Japan. Earth Surface Processes and Landforms 35:1044-1056. | 2010 | Japan | | |
| Swart, P. K., L. Greer, B. E. Rosenheim, C. S. Moses, A. J. Waite, A. Winter, R. E. Dodge, and K. Helmle. 2010. The C-13 Suess effect in scleractinian corals mirror changes in the anthropogenic CO2 inventory of the surface oceans. Geophysical Research Letters 37:L05604. | 2010 | Global; South & Central America; Florida; Puerto Rico; US Pacific & Hawaii; Indian Ocean; US East Coast (NC, SC, GA); Atlantic Ocean; Dominican Republic; Belize; India; Caribbean | | CO2; Stony Coral |
| McCormick, M. I., J. A. Y. Moore, and P. L. Munday. 2010. Influence of habitat degradation on fish replenishment. Coral Reefs 29:537-546. | 2010 | | Field Study & Monitoring; Lab Study | Climate; Fish; Skeletal Coral; Small Herbivorous Fish |
| Scott, T. W., D. J. P. Swift, G. R. Whittecar, and G. A. Brook. 2010. Glacioisostatic influences on Virginia's late Pleistocene coastal plain deposits. Geomorphology 116:175-188. | 2010 | US East Coast (NC, SC, GA) | | Sediment; Water Depth & Sea Level |
| Baigorria, G. A., M. Chelliah, K. C. Mo, C. C. Romero, J. W. Jones, J. J. O'Brien, and R. W. Higgins. 2010. Forecasting Cotton Yield in the Southeastern United States using Coupled Global Circulation Models. Agronomy Journal 102:187-196. | 2010 | Global | Model; Index or Indicator | Climate |
| Starger, C. J., P. H. Barber, Ambariyanto, and A. C. Baker. 2010. The recovery of coral genetic diversity in the Sunda Strait following the 1883 eruption of Krakatau. Coral Reefs 29:547-565. | 2010 | | | Stony Coral; Surface & Groundwater Flow |
| Gischler, E. 2010. Indo-Pacific and Atlantic spurs and grooves revisited: the possible effects of different Holocene sea-level history, exposure, and reef accretion rate in the shallow fore reef. Facies 56:173-177. | 2010 | US Pacific & Hawaii; US East Coast (NC, SC, GA) | | Algae; Coralline Algae; Water Depth & Sea Level |
| Raymundo, L. J., A. R. Halford, A. P. Maypa, and A. M. Kerr. 2010. Functionally diverse reef-fish communities ameliorate coral disease (vol 106, pg 17067, 2009). Proceedings of the National Academy of Sciences of the United States of America 107:513-513. | 2010 | | | Fish; Pathogens |
| Nishihara, G. N. and R. Terada. 2010. Spatial variations in nutrient supply to the red algae Eucheuma serra (J. Agardh) J. Agardh. Phycological Research 58:29-34. | 2010 | | Model | Algae; Nutrients |
| Gilbert, S. F., E. McDonald, N. Boyle, N. Buttino, L. Gyi, M. Mai, N. Prakash, and J. Robinson. 2010. Symbiosis as a source of selectable epigenetic variation: taking the heat for the big guy. Philosophical Transactions of the Royal Society B: Biological Sciences 365:671-678. | 2010 | | | |
| Albright, R., B. Mason, M. Miller, and C. Langdon. 2010. Ocean acidification compromises recruitment success of the threatened Caribbean coral Acropora palmata. Proceedings of the National Academy of Sciences 5. | 2010 | South & Central America; Caribbean | | Climate; CO2; Ocean Acidity; Stony Coral |
| Bielmyera, G. K., M. Grosell, R. Bhagooli, A. C. Baker, C. Langdon, P. Gillette, and T.R. Capo. 2010. Differential effects of copper on three species of scleractinian corals and their algal symbionts (Symbiodinium spp.). Aquatic Toxicology 97:125-133. | 2010 | | Lab Study | Primary Production; Stony Coral; Zooxanthellae |
| Comprehensive Everglades Restoration Plan. 2010. Comprehensive Everglades Restoration Plan: 2009 System Status Report. | 2010 | Florida | Field Study & Monitoring; Index or Indicator | Algae; Apex Fish Predators; Biological Monitoring, Mapping, & Scientific Research; Chemical Use Regulations; Climate; Fertilizer & Pesticide Use; Infrastructure; Lobster, Crab, & Shrimp; Non-point Source Runoff; Nutrients; Pathogens; Salinity; Seawater Flow; Sediment; Storms & Hurricanes; Surface & Groundwater Flow; Water Depth & Sea Level; Wetlands |
| Byrne, M., M. Ho, E. Wong, N. A. Soars, P. Selvakumaraswamy, H. Shepard-Brennand, S. A. Dworjanyn, and A. R. Davis. 2010. Unshelled abalone and corrupted urchins: development of marine calcifiers in a changing ocean. Proceedings of the Royal Society B doi:10.1098/rspb.2010.2404. | 2010 | | | Climate; CO2; Ocean Acidity; Sea Urchins |
| Shen, Y. C., K. L. Lo, J. Y. Chang, Y. S. Lin, K. Mendbayar, Y. H. Kuo, and Y. C. Lin. 2010. New Cytotoxic Prostanoids from Taiwanese Soft Coral Clavularia viridis. Chemistry & biodiversity 7:2702-2708. | 2010 | Taiwan | | Octocoral |
| Goto, K., K. Okada, and F. Imamura. 2010. Numerical analysis of boulder transport by the 2004 Indian Ocean tsunami at Pakarang Cape, Thailand. Marine Geology 268:97-105. | 2010 | Indian Ocean; India; Thailand | Field Study & Monitoring; Model | Shoreline Protection; Water Depth & Sea Level |
| Martindale, R. C., J. P. Zonneveld, and D. J. Bottjer. 2010. Microbial framework in Upper Triassic (Carnian) patch reefs from Williston Lake, British Columbia, Canada. Palaeogeography, Palaeoclimatology, Palaeoecology 297:609-620. | 2010 | Columbia | GIS & Maps | Echinoderms |
| Hearty, P. J., J. M. Webster, D. A. Clague, D. S. Kaufman, J. Bright, J. Southon, and W. Renema. 2010. A pulse of ooid formation in Maui Nui (Hawaiian Islands) during Termination I. Marine Geology 268:152-162. | 2010 | US Pacific & Hawaii; Australia | | Calcium Carbonate Deposition; Sediment; Water Depth & Sea Level |
| Wooldridge, S. A. 2010. Is the coral-algae symbiosis really 'mutually beneficial' for the partners? (vol 32, pg 615, 2010). BioEssays 32:1106-1106. | 2010 | | | Algae |
| Brokovich, E., I. Ayalon, S. Einbinder, N. Segev, Y. Shaked, A. Genin, S. Kark, and M. Kiflawi. 2010. Grazing pressure on coral reefs decreases across a wide depth gradient in the Gulf of Aqaba, Red Sea. Marine Ecology Progress Series 399:69-80. | 2010 | | | Algae; Fish; Small Herbivorous Fish; Substrate; Turf Algae |
| Naville, C., M. Ancel, P. Andriessen, P. Ricarte, and F. Roure. 2010. New constrains on the thickness of the Semail ophiolite in the Northern Emirates. Arabian Journal of Geosciences 3:459-475. | 2010 | United Arab Emirates; Oman | | Sediment |
| Matsumoto, A. K. 2010. Estimation of in situ distribution of carbonate produced from cold-water octocorals on a Japanese seamount in the NW Pacific. Marine Ecology Progress Series 399:81-102. | 2010 | US Pacific & Hawaii; Japan | | Octocoral |
| Smith, T. B., P. Fong, R. Kennison, and J. Smith. 2010. Spatial refuges and associational defenses promote harmful blooms of the alga Caulerpa sertularioides onto coral reefs. Oecologia 164:1039-1048. | 2010 | US Pacific & Hawaii | Model | Algae; Cyanobacteria; Fleshy Macroalgae; Microorganisms; Nutrients; Stony Coral |
| Holmes, T. H. and M. I. McCormick. 2010. Size-selectivity of predatory reef fish on juvenile prey. Marine Ecology Progress Series 399:273-283. | 2010 | | Model | Apex Fish Predators; Fish |
| Haney, R. A., B. R. Silliman, and D. M. Rand. 2010. Effects of selection and mutation on mitochondrial variation and inferences of historical population expansion in a Caribbean reef fish. Molecular Phylogenetics and Evolution 57:821-828. | 2010 | South & Central America; Caribbean | Model | Fish |
| Tougaard, J. and M. S. Wisz. 2010. General models of the spatial distribution of porpoises require representative data and parsimony: Comment on Skov & Thomsen (2008). Marine Ecology Progress Series 399:295-297. | 2010 | | Model | |
| de Almeida, M. T. R., G. E. Siless, C. D. Perez, M. J. Veloso, L. Schejter, L. Puricelli, and J. A. Palermo. 2010. Dolabellane Diterpenoids from the South Atlantic Gorgonian Convexella magelhaenica. Journal of Natural Products 73:1714-1717. | 2010 | US East Coast (NC, SC, GA) | | Accidental & Illegal Harvest; Dredging, Draining, & Filling; Finfish Harvest; Octocoral |
| Skov, H. and F. Thomsen. 2010. General models of marine animal habitats require a process-based approach to parameter selection and model design Reply. Marine Ecology Progress Series 399:299-303. | 2010 | | Model | Dredging, Draining, & Filling |
| Welch, D. J., B. D. Mapstone, C. R. Davies, and G. R. Russ. 2010. Spatial and fishing effects on sampling gear biases in a tropical reef line fishery. Marine and Freshwater Research 61:1134-1146. | 2010 | Australia | | Finfish Harvest; Fish; Trawling & Fishing Gear Damage |
| Bjerager, M., F. Surlyk, H. Lykke-Andersen, N. Thibault, and L. Stemmerik. 2010. Danian cool-water coral reefs in southern Scandinavia localised over seafloor highs. Marine and Petroleum Geology 27:455-466. | 2010 | Cuba; Norway | | Dive, Snorkeling, & Swimming Tourism; Echinoderms; Nutrients; Water Depth & Sea Level |
| Jaguin, J., P. Boulvais, M. Poujol, M. C. Boiron, and M. Cathelineau. 2010. Stable Isotope Composition Of Quartz-Calcite Veins In The Witwatersrand Basin, South Africa: Implication For Basin-Scale Fluid Circulation. South African Journal of Geology 113:169-182. | 2010 | South Africa | | Sediment |
| Van der Kooij, B., A. Immenhauser, T. Steuber, J. R. B. Rionda, and O. M. Tome. 2010. Controlling factors of volumetrically important marine carbonate cementation in deep slope settings. Sedimentology 57:1491-1525. | 2010 | | | Nutrients; Water Depth & Sea Level |
| Rodgers, S. K., P. L. Jokiel, C. E. Bird, E. K. Brown. 2010. Quantifying the condition of Hawaiian coral reefs. Aquatic Conservation: Marine and Freshwater Ecosystems 20:93-105. | 2010 | US Pacific & Hawaii | Model; Index or Indicator | Fish; Sediment |
| Gopinath, A., S. M. Nair, N. C. Kumar, K. V. Jayalakshmi, and D. Pamalal. 2010. A baseline study of trace metals in a coral reef sedimentary environment, Lakshadweep Archipelago. Environmental Earth Sciences 59:1245-1266. | 2010 | Indian Ocean; India | Index or Indicator | Mangroves; Sediment |
| Schoon, R., A. Bissett, and D. de Beer. 2010. Resilience of pore-water chemistry and calcification in photosynthetic zones of calcifying sediments. Limnology and Oceanography 55:377-385. | 2010 | Australia | Lab Study | Primary Production; Sediment |
| Rivest, E. B., D. M. Baker, K. L. Rypien, and C. D. Harvell. 2010. Nitrogen source preference of Aspergillus sydowii, an infective agent associated with aspergillosis of sea fan corals. Limnology and Oceanography 55:386-392. | 2010 | South & Central America; Caribbean | | Nutrients; Octocoral; Pathogens |
| Leigh, E. G. 2010. The group selection controversy. Journal of Evolutionary Biology 23:6-19. | 2010 | | | |
| Deng, W. F., Y. Liu, G. J. Wei, X. H. Li, X. L. Tu, L. H. Xie, H. Zhang, and W. D. Sun. 2010. High-precision analysis of Sr/Ca and Mg/Ca ratios in corals by laser ablation inductively coupled plasma optical emission spectrometry. Journal of Analytical Atomic Spectrometry 25:84-87. | 2010 | | | Climate |
| Schutter, M., J. Crocker, A. Paijmans, M. Janse, R. Osinga, A. J. Verreth, and R. H. Wijffels. 2010. The effect of different flow regimes on the growth and metabolic rates of the scleractinian coral Galaxea fascicularis. Coral Reefs DOI10.1007/s00338-010-0617-2. | 2010 | | | Algae; Cyanobacteria; Microorganisms; Nutrients; Primary Production; Seawater Flow; Stony Coral |
| Mohammed, T. A. A. A. and M. A. Dar. 2010. Ability of corals to accumulate heavy metals, Northern Red Sea, Egypt. Environmental Earth Sciences 59:1525-1534. | 2010 | Egypt | | Octocoral; Stony Coral |
| Soares, M. C., I. M. Cote, S. C. Cardoso, R. F. Oliveira, and R. Bshary. 2010. Caribbean Cleaning Gobies Prefer Client Ectoparasites Over Mucus. Ethology 116:1244-1248. | 2010 | South & Central America; US Pacific & Hawaii; Caribbean | Model | Fish; Planktivorous Fish |
| Becker, A., P. D. Cowley, and A. K. Whitfield. 2010. Use of remote underwater video to record littoral habitat use by fish within a temporarily closed South African estuary. Journal of Experimental Marine Biology and Ecology 391:161-168. | 2010 | South Africa | Decision Support Frameworks & Tools | Fish |
| Peterson, M. J., D. M. Hall, A. M. Feldpausch-Paker, and T. R. Peterson. 2010. Obscuring ecosystem function with application of the ecosystem services concept. Conservation Biology 21:113-119. | 2010 | Global | | Valuation |
| Putnam, H. M., P. J. Edmunds, and T. Y. Fan. 2010. Effect of a fluctuating thermal regime on adult and larval reef corals. Invertebrate Biology 129:199-209. | 2010 | Taiwan | | Stony Coral |
| Kiessling, W., C. Simpson, and Michael Foote. 2010. Reefs as cradles of evolution and sources of biodiversity in the Phanerozoic. Science 327:196-198. | 2010 | | | Complex Habitat & Resources; Substrate |
| Baeza, J. A. 2010. Observations on the sexual system and the natural history of the semi-terrestrial shrimp Merguia rhizophorae (Rathbun, 1900). Invertebrate Biology 129:266-276. | 2010 | Panama | | Lobster, Crab, & Shrimp; Mangroves |
| Statzell-Tallman, A., G. Scorzetti, and J. W. Fell. 2010. Candida spencermartinsiae sp nov., Candida taylorii sp nov and Pseudozyma abaconensis sp nov., novel yeasts from mangrove and coral reef ecosystems. International Journal of Systematic and Evolutionary Microbiology 60:1978-1984. | 2010 | | | Mangroves |
| Bird, M. I., W. E. N. Austin, C. M. Wurster, L. K. Fifield, M. Mojtahid, and C. Sargeant. 2010. Punctuated eustatic sea-level rise in the early mid-Holocene. Geology 38:803-806. | 2010 | | | Agriculture; Climate; Sediment; Surface & Groundwater Flow; Water Depth & Sea Level |
| O'Leary, M. J. and C. T. Perry. 2010. Holocene reef accretion on the Rodrigues carbonate platform: An alternative to the classic "bucket-fill" model. Geology 38:855-858. | 2010 | Indian Ocean; India | Model | Sediment; Water Depth & Sea Level |
| Rudershausen, P. J., W. A. Mitchell, J. A. Buckel, E. H. Williams, and E. Hazen. 2010. Developing a two-step fishery-independent design to estimate the relative abundance of deepwater reef fish: Application to a marine protected area off the southeastern United States coast. Fisheries Research 105:254-260. | 2010 | Florida; US East Coast (NC, SC, GA) | Model | Finfish Harvest; Fish; Fishing Sector; Marine Protected Areas; Trawling & Fishing Gear Damage |
| Gray, D. L., R. Canessa, R. Rollins, C. P. Keller, and P. Dearden. 2010. Incorporating Recreational Users into Marine Protected Area Planning: A Study of Recreational Boating in British Columbia, Canada. Environmental Management 46:167-180. | 2010 | Columbia | Model | Aquaculture; Boating Activities; Boating Regulations; Landuse Management; Marine Protected Areas; Small Boats; Tourism & Recreation; Whales & Dolphins |
| Godoy, N., S. Gelcich, J. A. Vasquez, and J. C. Castilla. 2010. Spearfishing to depletion: evidence from temperate reef fishes in Chile. Ecological Applications 20:1504-1511. | 2010 | Cuba | Index or Indicator | Dive, Snorkeling, & Swimming Tourism; Finfish Harvest; Fish; Fishing & Harvesting Management; Fishing Sector; Tourism & Recreation; Tourism & Recreation Policies |
| Pert, P. L., J. R. A. Butler, J. E. Brodie, C. Bruce, M. Honzak, F. J. Kroon, D. Metcalfe, D. Mitchell, and G. Wong. 2010. A catchment-based approach to mapping hydrological ecosystem services using riparian habitat: A case study from the Wet Tropics, Australia. Ecological Complexity 7:378-388. | 2010 | Australia | GIS & Maps | Agriculture; Funding & Incentives; Surface & Groundwater Flow |
| Wernberg, T., F. Tuya, M. S. Thomsen, and G. A. Kendrick. 2010. Turban snails as habitat for foliose algae: contrasting geographical patterns in species richness. Marine and Freshwater Research 61:1237-1242. | 2010 | Australia | | Algae; Snails & Conch |
| Stewart, J. and J. M. Hughes. 2010. Life-history traits of the southern hemisphere eastern red scorpionfish, Scorpaena cardinalis (Scorpaenidae: Scorpaeninae). Marine and Freshwater Research 61:1290-1297. | 2010 | Global; Australia | Index or Indicator | Fish; Fishing Sector |
| Evans, S. N. and D. A. Abdo. 2010. A cost-effective technique for measuring relative water movement for studies of benthic organisms. Marine and Freshwater Research 61:1327-1335. | 2010 | Australia | Field Study & Monitoring | Environmental Monitoring, Mapping, & Scientific Research; Shoreline Protection |
| Monismith, S. G., K. A. Davis, G. G. Shellenbarger, J. L. Hench, N. J. Nidzieko, A. E. Santoro, M. A. Reidenbach, J. H. Rosman, R. Holtzman, C. S. Martens, N. L. Lindquist, M. W. Southwell, and A. Genin. 2010. Flow effects on benthic grazing on phytoplankton by a Caribbean reef. Limnology and Oceanography 55:1881-1892. | 2010 | South & Central America; Florida; Caribbean | GIS & Maps | Octocoral; Plankton; Sponges |
| Baker, D. M., E. Jordan-Dahlgren, M. A. Maldonado, and C. D. Harvell. 2010. Sea fan corals provide a stable isotope baseline for assessing sewage pollution in the Mexican Caribbean. Limnology and Oceanography 55:2139-2149. | 2010 | South & Central America; Caribbean; Mexico | Field Study & Monitoring | Infrastructure; Nutrient & Contaminant Processing; Nutrients; Octocoral; Sewage Treatment; Tourism & Recreation; Waste Management Policies |
| Aretz, M. 2010. Habitats of colonial rugose corals: the Mississippian of western Europe as example for a general classification. Lethaia 43:558-572. | 2010 | Europe | Field Study & Monitoring | |
| Trost, B. M., M. Osipov, and G. B. Dong. 2010. Palladium-Catalyzed Dynamic Kinetic Asymmetric Transformations of Vinyl Aziridines with Nitrogen Heterocycles: Rapid Access to Biologically Active Pyrroles and Indoles. Journal of the American Chemical Society 132:15800-15807. | 2010 | | | Nutrients |
| Simonti, A. L. and J. R. Eastman. 2010. 2005 Caribbean mass coral bleaching event: A sea surface temperature empirical orthogonal teleconnection analysis. Journal of Geophysical Research C: Oceans 115:C11009. | 2010 | Global; South & Central America; US East Coast (NC, SC, GA); Caribbean | Index or Indicator | Climate |
| Hobbs, J. P. A., G. P. Jones, and P. L. Munday. 2010. Rarity and extinction risk in coral reef angelfishes on isolated islands: interrelationships among abundance, geographic range size and specialisation. Coral Reefs 29:1-11. | 2010 | Global; Indian Ocean; India | | Complex Habitat & Resources |
| Kininmonth, S., M. J. H. van Oppen, and H. P. Possingham. 2010. Determining the community structure of the coral Seriatopora hystrix from hydrodynamic and genetic networks. Ecological Modelling 221:2870-2880. | 2010 | Australia | GIS & Maps | |
| Seneca, F. O., S. Foret, E. E. Ball, C. Smith-Keune, D. J. Miller, and M. J. H. van Oppen. 2010. Patterns of Gene Expression in a Scleractinian Coral Undergoing Natural Bleaching. Marine Biotechnology 12:594-604. | 2010 | Global; US Pacific & Hawaii; Australia | Model | Stony Coral |
| Croize, D., S. N. Ehrenberg, K. Bjorlykke, F. Renard, and J. Jahren. 2010. Petrophysical properties of bioclastic platform carbonates: implications for porosity controls during burial. Marine and Petroleum Geology 27:1765-1774. | 2010 | Australia | | Water Depth & Sea Level |
| Melo, P. A. M. C., T. A. Silva, S. Neumann-Leitao, R. Schwamborn, L. M. O. Gusmao, and F. Porto Neto. 2010. Demersal zooplankton communities from tropical habitats in the southwestern Atlantic. Marine Biology Research 6:530-541. | 2010 | US East Coast (NC, SC, GA) | | Plankton; Seagrasses; Substrate |
| Omori, M. 2010. Degradation and restoration of coral reefs: Experience in Okinawa, Japan. Marine Biology Research 7:3-12. | 2010 | Japan | | Stony Coral; Wetland & Reef Restoration |
| Puce, S., M. Bo, C. G. Di Camillo, L. Paoli, D. Pica, and G. Bavestrello. 2010. Morphology and development of the early growth stages of an Indonesian Stylaster (Cnidaria: Hydrozoa). Journal of the Marine Biological Association of the United Kingdom 90:1145-1151. | 2010 | Indonesia | | Calcium Carbonate Deposition; Marine Protected Areas |
| Capasso, E., S. R. Jenkins, M. Frost, and H. Hinz. 2010. Investigation of benthic community change over a century-wide scale in the western English Channel. Journal of the Marine Biological Association of the United Kingdom 90:1161-1172. | 2010 | | | Dredging, Draining, & Filling; Echinoderms; Finfish Harvest; Fish; Lobster, Crab, & Shrimp; Marine Worms; Molluscs; Sea Urchins; Trawling & Fishing Gear Damage |
| Sorokin, Y. I. and P. Y. Sorokin. 2010. Plankton of the central Great Barrier Reef: abundance, production and trophodynamic roles. Journal of the Marine Biological Association of the United Kingdom 90:1173-1187. | 2010 | Australia | | Algae; Mangroves; Nutrients; Plankton; Primary Production; Substrate |
| Boisnier, E., T. Sagawa, T. Komatsu, and N. Takagi. 2010. Distinguishing resident from transient species along marine artificial reefs. Journal of the Marine Biological Association of the United Kingdom 90:1297-1303. | 2010 | | Decision Support Frameworks & Tools | Artificial Habitat; Fish |
| Hammerschlag, N., A. B. Morgan, and J. E. Serafy. 2010. Relative predation risk for fishes along a subtropical mangrove-seagrass ecotone. Marine Ecology Progress Series 401:259-267. | 2010 | Florida | | Fish; Mangroves; Piscivorous Fish; Seagrasses |
| Barbour, A. B., M. L. Montgomery, A. A. Adamson, E. Diaz-Ferguson, and B. R. Silliman. 2010. Mangrove use by the invasive lionfish Pterois volitans. Marine Ecology Progress Series 401:291-294. | 2010 | US East Coast (NC, SC, GA); Bahamas | | Complex Habitat & Resources; Corallivorous Fish; Fish; Invasive Species; Large Herbivorous Fish; Lobster, Crab, & Shrimp; Mangroves |
| Robertson, D. R. and W. F. Smith-Vaniz. 2010. Use of clove oil in collecting coral reef fishes for research. Marine Ecology Progress Series 401:295-302. | 2010 | | | Storms & Hurricanes |
| Bellchambers, L. M., S. N. Evans, and J. J. Meeuwig. 2010. Abundance and size of western rock lobster (Panulirus cygnus) as a function of benthic habitat: implications for ecosystem-based fisheries management. Marine and Freshwater Research 61:279-287. | 2010 | Australia | GIS & Maps | Finfish Harvest; Fishing & Harvesting Management; Fishing Sector; Lobster, Crab, & Shrimp; Sponges |
| Dalton, S. J., S. Godwin, S. D. A. Smith, and L. Pereg. 2010. Australian subtropical white syndrome: a transmissible, temperature-dependent coral disease. Marine and Freshwater Research 61:342-350. | 2010 | Australia | Field Study & Monitoring; Model; Decision Support Frameworks & Tools | Climate; Marine Protected Areas; Pathogens; Stony Coral |
| del Monaco, C., E. Villamizar, and S. Narciso. 2010. Selectivity of preys of Coralliophila abbreviata and C. caribaea in coral reefs of the National Park Morrocoy, Venezuela: an experimental approximation. Latin American Journal of Aquatic Research 38:57-69. | 2010 | South & Central America; Venezuela; Caribbean | | Octocoral; Snails & Conch; Stony Coral |
| Karthikayalu, S., V. Rama, R. Kirubagaran, and R. Venkatesan. 2010. Hemolytic toxin from the soft coral Sarcophyton trocheliophorum: isolation and physiological characterization. Journal Of Venomous Animals And Toxins Including Tropical Diseases 16:107-120. | 2010 | | | Octocoral |
| Hallegraeff, G. M. 2010. Ocean Climate Change, Phytoplankton Community Responses, And Harmful Algal Blooms: A Formidable Predictive Challenge. Journal of Phycology 46:220-235. | 2010 | Global; US East Coast (NC, SC, GA) | Field Study & Monitoring; Lab Study | Algae; Climate; CO2; Fish; Non-point Source Runoff; Nutrients; Ocean Acidity; Plankton; Primary Production; Small Herbivorous Fish; Storms & Hurricanes; Surface & Groundwater Flow |
| Said, I., S. Rodriguez, M. Berkhli, P. Cozar, and A. Gomez-Herguedas. 2010. Environmental parameters of a coral assemblage from the Akerchi Formation (Carboniferous), Adarouch Area, central Morocco. Journal of Iberian Geology 36:7-19. | 2010 | | | Algae; Cyanobacteria; Echinoderms; Microorganisms; Salinity; Sponges; Substrate |
| Cheng, Y. R. and C. F. Dai. 2010. Endosymbiotic copepods may feed on zooxanthellae from their coral host, Pocillopora damicornis. Coral Reefs 29:13-18. | 2010 | Taiwan | | Algae; Primary Production; Stony Coral; Zooxanthellae |
| Lindenmayer, D. and M. Hunter. 2010. Some Guiding Concepts for Conservation Biology. Conservation Biology 24:1459-1468. | 2010 | | | |
| Tsuda, R. T., J. R. Fisher, P. S. Vroom, and I. A. Abbott. 2010. New records of subtidal benthic marine algae from Wake Atoll, Central Pacific. Botanica Marina 53:19-29. | 2010 | US Pacific & Hawaii; Micronesia; Marshall Islands | | Algae; Museums, Amusement Parks, Historical Sites |
| Grove, C. A., R. Nagtegaal, J. Zinke, T. Scheufen, B. Koster, S. Kasper, M. T. McCulloch, G. van den Bergh, and G. J. A. Brummer. 2010. River runoff reconstructions from novel spectral luminescence scanning of massive coral skeletons. Coral Reefs 29:579-591. | 2010 | Madagascar | | Calcium Carbonate Deposition; Non-point Source Runoff; Sediment; Surface & Groundwater Flow |
| Maynard, J. A., P. A. Marshall, J. E. Johnson, and S. Harman. 2010. Building resilience into practical conservation: identifying local management responses to global climate change in the southern Great Barrier Reef. Coral Reefs 29:381-391. | 2010 | Global; Australia | Index or Indicator | Climate; Mitigation |
| Dudgeon, S. R., R. B. Aronson, J. F. Bruno, and W. F. Precht. 2010. Phase shifts and stable states on coral reefs. Marine Ecology Progress Series 413:201-216. | 2010 | | | Algae |
| Fabricius, K. E., K. Okaji, and G. De'ath. 2010. Three lines of evidence to link outbreaks of the crown-of-thorns seastar Acanthaster planci to the release of larval food limitation. Coral Reefs 29:593-605. | 2010 | US Pacific & Hawaii; Australia | Field Study & Monitoring; Lab Study; Model | Nutrients; Plankton; Seastars; Surface & Groundwater Flow |
| Geange, S. W. and A. C. Stier. 2010. Charismatic microfauna alter cyanobacterial production through a trophic cascade. Coral Reefs 29:393-397. | 2010 | | Lab Study | Cyanobacteria; Microorganisms |
| Elizalde-Rendon, E. M., G. Horta-Puga, P. Gonzalez-Diaz, and J. P. Carricart-Ganivet. 2010. Growth characteristics of the reef-building coral Porites astreoides under different environmental conditions in the Western Atlantic. Coral Reefs 29:607-614. | 2010 | South & Central America; US Pacific & Hawaii; US East Coast (NC, SC, GA); Cuba; Caribbean; Mexico | | Stony Coral |
| Valentine, J. P. and G. J. Edgar. 2010. Impacts of a population outbreak of the urchin Tripneustes gratilla amongst Lord Howe Island coral communities. Coral Reefs 29:399-410. | 2010 | | | Algae; Finfish Harvest; Fish; Marine Protected Areas; Sea Urchins |
| Ogston, A. S. and M. E. Field. 2010. Predictions of turbidity due to enhanced sediment resuspension resulting from sea-level rise on f Fringing coral reef: evidence from Molokai, Hawaii. Journal of Coastal Research 26:1027-1037. | 2010 | Global; US Pacific & Hawaii | | Climate; Light; Primary Production; Sediment; Shoreline Protection; Water Depth & Sea Level |
| Lesser, M. P. 2010. Interactions between stressors on coral reefs: analytical approaches, re-analysis of old data, and different conclusions. Coral Reefs 29:615-619. | 2010 | | | Light |
| Tapiolas, D. M., C. A. Motti, P. Holloway, and S. G. Boyle. 2010. High levels of acrylate in the Great Barrier Reef coral Acropora millepora. Coral Reefs 29:621-625. | 2010 | Australia | | Microorganisms; Stony Coral |
| Wu, H. C. and A. G. Grottoli. 2010. Stable oxygen isotope records of corals and a sclerosponge in the Western Pacific warm pool. Coral Reefs 29:413-418. | 2010 | US Pacific & Hawaii; Palau | | Salinity; Sponges; Surface & Groundwater Flow |
| McCammon, A., P. C. Sikkel, and D. Nemeth. 2010. Effects of three Caribbean cleaner shrimps on ectoparasitic monogeneans in a semi-natural environment. Coral Reefs 29:419-426. | 2010 | South & Central America; Caribbean | | Anemones & Zooanthids; Fish; Lobster, Crab, & Shrimp; Small Herbivorous Fish; Special Use Permitting |
| Smith, J. E., C. L. Hunter, and C. M. Smith. 2010. The effects of top�down versus bottom�up control on benthic coral reef community structure. Oecologia 163:497-507. | 2010 | Global | | Algae; Climate; Coralline Algae; Finfish Harvest; Fleshy Macroalgae; Nutrients; Ocean Acidity; Surface & Groundwater Flow |
| Heyward, A. J. and A. P. Negri. 2010. Plasticity of larval pre-competency in response to temperature: observations on multiple broadcast spawning coral species. Coral Reefs 29:631-636. | 2010 | Global; US Pacific & Hawaii | Lab Study | Climate; Stony Coral |
| Henry, L. A., A. J. Davies, and J. M. Roberts. 2010. Beta diversity of cold-water coral reef communities off western Scotland. Coral Reefs 29:427-436. | 2010 | | Remote Sensing | Complex Habitat & Resources; Stony Coral |
| Molina, J. L., J. Bromley, J.L. Garcia-Arostegui, C. Sullivan, J. Benavente. 2010. Integrated water resources management of overexploited hydrogeological systems using Object-Oriented Bayesian Networks. Environmental Modelling & Software 25:383-397. | 2010 | Spain | Field Study & Monitoring; Decision Support Frameworks & Tools | Decision Support; Pharmaceuticals & Cosmetics; Surface & Groundwater Flow |
| Thompson, A. A. and A. M. Dolman. 2010. Coral bleaching: one disturbance too many for near-shore reefs of the Great Barrier Reef. Coral Reefs 29:637-648. | 2010 | Australia | Field Study & Monitoring; Model | Climate; Seastars; Stony Coral |
| Drew, J. A., G. R. Allen, and M. V. Erdmann. 2010. Congruence between mitochondrial genes and color morphs in a coral reef fish: population variability in the Indo-Pacific damselfish Chrysiptera rex (Snyder, 1909). Coral Reefs 29:439-444. | 2010 | US Pacific & Hawaii; China; Indonesia; Philippines | | Fish; Plankton; Small Herbivorous Fish |
| Naumann, M. S., A. Haas, U. Struck, C. Mayr, M. El-Zibdah, and C. Wild. 2010. Organic matter release by dominant hermatypic corals of the Northern Red Sea. Coral Reefs 29:649-659. | 2010 | Cuba | Lab Study | Hydrocoral; Light; Nutrients; Stony Coral |
| Guillemot, N., P. Chabanet, and O. Le Pape. 2010. Cyclone effects on coral reef habitats in New Caledonia (South Pacific). Coral Reefs 29:445-453. | 2010 | US Pacific & Hawaii; Australia; New Caledonia | | Algae; Complex Habitat & Resources; Fish; Octocoral; Skeletal Coral; Stony Coral |
| Hoogenboom, M., E. Beraud, and C. Ferrier-Pages. 2010. Relationship between symbiont density and photosynthetic carbon acquisition in the temperate coral Cladocora caespitosa. Coral Reefs 29:21-29. | 2010 | | Field Study & Monitoring; Lab Study; Model | Primary Production; Stony Coral |
| Radke, L. C., P. W. Ford, I. T. Webster, I. Atkinson, G. Douglas, K. Oubelkheir, J. Li, B. Robson, and B. Brooke. 2010. Biogeochemical Zones Within a Macrotidal, Dry-Tropical Fluvial-Marine Transition Area: A Dry-Season Perspective. Aquatic Geochemistry 16:1-29. | 2010 | Australia; Cuba | Model | Nutrients; Plankton; Sediment; Surface & Groundwater Flow |
| Rodriguez-Ramirez, A., J. Garzon-Ferreira, A. Batista-Morales, D. L. Gil, D. I. Gomez-Lopez, K. Gomez-Campo, T. Lopez-Londono, R. Navas-Camacho, M. C. Reyes-Nivia, and J. Vega-Sequeda. 2010. Temporal patterns in coral reef, seagrass and mangrove communities from Chengue bay CARICOMP site (Colombia) 1993-2008. Revista de Biologia Tropical 58:45-62. | 2010 | South & Central America; Caribbean | Field Study & Monitoring; Index or Indicator | Mangroves; Seagrasses; Storms & Hurricanes |
| Vroom, P. S., C. A. Musburger, S. W. Cooper, J. E. Maragos, K. N. Page-Albins, and M. A. V. Timmers. 2010. Marine biological community baselines in unimpacted tropical ecosystems: spatial and temporal analysis of reefs at Howland and Baker Islands. Biodiversity and Conservation 19:797-812. | 2010 | US Pacific & Hawaii; Pacific Ocean; Baker Island; Howland Island | Field Study & Monitoring | Algae; Biological Monitoring, Mapping, & Scientific Research; Fish; Turf Algae |
| Beger, M., S. Linke, M. Watts, E. Game, E. Treml, I. Ball, and H. P. Possingham. 2010. Incorporating asymmetric connectivity into spatial decision making for conservation. Conservation Letters 3:359-368. | 2010 | Australia | Decision Support Frameworks & Tools | Decision Support; Surface & Groundwater Flow |
| Justine, J. L., I. Beveridge, G. A. Boxshall, R. A. Bray, F. Moravec, and I. D. Whittington. 2010. An annotated list of fish parasites (Copepoda, Monogenea, Digenea, Cestoda and Nematoda) collected from Emperors and Emperor Bream (Lethrinidae) in New Caledonia further highlights parasite biodiversity estimates on coral reef fish. Zootaxa 1-40. | 2010 | US Pacific & Hawaii; Australia; New Caledonia | | Apex Fish Predators; Fish; Marine Worms; Piscivorous Fish |
| McCook, L. J., T. Ayling, M. Cappo, J. H. Choat, R. D. Evans., D. M. De Freitas, M. Heupel, T. P. Hughes, G. P. Jones, B. Mapstone, H. Marsh, M. Mills, F. J. Molloy, C. R. Pitcher, R. L. Pressey, G. R. Russ, S. Sutton, H. Sweatman, R. Tobin, D. R. Wachenfeld, and D. H. Williamson. 2010. Adaptive management of the Great Barrier Reef: a globally significant demonstration of the benefits of networks of marine reserves. Proceedings of the National Academy of Sciences [earlyedition]. | 2010 | Global; Australia | Review | Apex Fish Predators; Climate; Complex Habitat & Resources; Fishing Sector; Landuse Management; Seastars; Tourism & Recreation; Tourism & Recreation Policies |
| Gaino, E. and F. Scoccia. 2010. Gamete spawning in Antipathella subpinnata (Anthozoa, Antipatharia): a structural and ultrastructural investigation. Zoomorphology 129:213-219. | 2010 | | | |
| Vroom, P. S. and C. L. Braun. 2010. Benthic composition of a healthy subtropical reef: baseline species-level cover, with an emphasis on algae, in the Northwestern Hawaiian Islands. PLoS One 5:e9733. | 2010 | Global; US Pacific & Hawaii | Field Study & Monitoring | Algae; Complex Habitat & Resources; Environmental Monitoring, Mapping, & Scientific Research; Fish; Fleshy Macroalgae; Ocean Acidity; Stony Coral; Substrate |
| Motta, P. J., M. Maslanka, R. E. Hueter, R. L. Davis, R. de la Parra, S. L. Mulvany, M. L. Habegger, J. A. Strother, K. R. Mara, J. M. Gardiner, J. P. Tyminski, and L. D. Zeigler. 2010. Feeding anatomy, filter-feeding rate, and diet of whale sharks Rhincodon typus during surface ram filter feeding off the Yucatan Peninsula, Mexico. Zoology 113:199-212. | 2010 | South & Central America; Mexico | | Apex Fish Predators; Fish; Plankton |
| Baskett, M. L., R. M. Nisbet, C. V. Kappel, P. J. Mumby, and S. D. Gaines. 2010. Conservation management approaches to protecting the capacity for corals to respond to climate change: a theoretical comparison. Global Change Biology 16:1229-1246. | 2010 | Global | Model | Climate; Stony Coral; Zooxanthellae |
| Farre, B., J. P. Cuif, and Y. Dauphin. 2010. Occurrence and diversity of lipids in modern coral skeletons. Zoology 113:250-257. | 2010 | | | |
| Shoji, A. M. and A. J. Gaston. 2010. Comparing Methods for Monitoring Nest Attendance in Ancient Murrelets. Waterbirds 33:260-263. | 2010 | | Field Study & Monitoring | Marine Birds |
| Duarte, T. K., S. Pongkijvorasin, J. Roumasset, D. Amato, and K. Burnett. 2010. Optimal management of a Hawaiian Coastal aquifer with nearshore marine ecological interactions. Water Resources Research 46:W11545. | 2010 | US Pacific & Hawaii | Model | Algae; Discharges; Surface & Groundwater Flow |
| Shen, J. W., G. E. Webb, and H. R. Qing. 2010. Microbial mounds prior to the Frasnian-Famennian mass extinctions, Hantang, Guilin, South China. Sedimentology 57:1615-1639. | 2010 | Global; Australia; China; Europe | | Algae |
| Perez-Asensio, J. N. and J. Aguirre. 2010. Benthic Foraminiferal Assemblages In Temperate Coral-Bearing Deposits From The Late Pliocene. Journal of Foraminiferal Research 40:61-78. | 2010 | Spain | | Nutrients; Sediment; Substrate; Water Depth & Sea Level |
| Sofonia, J. J. and R. K. F. Unsworth. 2010. Development of water quality thresholds during dredging for the protection of benthic primary producer habitats. Journal of Environmental Monitoring 12:159-163. | 2010 | | Field Study & Monitoring; Model | Biological Monitoring, Mapping, & Scientific Research; Dredging, Draining, & Filling; Light; Sediment |
| Rubinoff, D., B. S. Holland, A. Shibata, R. H. Messing, and M. G. Wright. 2010. Rapid Invasion Despite Lack of Genetic Variation in the Erythrina Gall Wasp (Quadrastichus erythrinae Kim). Pacific Science 64:23-31. | 2010 | US Pacific & Hawaii; Australia; Japan; Samoa; Guam; China; Taiwan | | Invasive Species |
| Wang, B. J., F. Q. Sun, Y. P. Du, X. P. Liu, G. Y. Li, Q. L. Lai, J. Luo, and Z. Z. Shao. 2010. Meridianimaribacter flavus gen. nov., sp nov., a member of the family Flavobacteriaceae isolated from marine sediment of the South China Sea. International Journal of Systematic and Evolutionary Microbiology 60:121-127. | 2010 | China | | Microorganisms; Sediment |
| Morimoto, N., Y. Furushima, M. Nagao, T. Irie, A. Iguchi, A. Suzuki, and K. Sakai. 2010. Water-Quality Variables across Sekisei Reef, A Large Reef Complex in Southwestern Japan. Pacific Science 64:113-123. | 2010 | Japan | | Light; Nutrients; Plankton; Salinity; Seastars; Sediment |
| Allison, N. and A. A. Finch. 2010. delta B-11, Sr, Mg and B in a modern Porites coral: the relationship between calcification site pH and skeletal chemistry. Geochimica et Cosmochimica Acta 74:1790-1800. | 2010 | US Pacific & Hawaii | Model; Index or Indicator | Primary Production; Stony Coral |
| Malay, M. C. D. and G. Paulay. 2010. Peripatric Speciation Drives Diversification And Distributional Pattern Of Reef Hermit Crabs (Decapoda: Diogenidae: Calcinus). Evolution 64:634-662. | 2010 | US Pacific & Hawaii | Model; GIS & Maps | Lobster, Crab, & Shrimp |
| Rojas, J. M. and F. P. Ojeda. 2010. Spatial distribution of intertidal fishes: a pattern dependent on body size and predation risk? Environmental Biology of Fishes 87:175-185. | 2010 | | | Fish |
| Christiansen, N. A., A. Kemp, and I. R. Tibbetts. 2010. Are the oral teeth of combtooth blennies (Salariini: Teleostei) merely combs? Environmental Biology of Fishes 87:205-216. | 2010 | Australia | | Algae; Fish; Small Herbivorous Fish; Substrate |
| Medeiros, P. R., R. G. Grempel, A. T. Souza, M. I. Ilarri, and R. S. Rosa. 2010. Non-random reef use by fishes at two dominant zones in a tropical, algal-dominated coastal reef. Environmental Biology of Fishes 87:237-246. | 2010 | South & Central America; US Pacific & Hawaii; US East Coast (NC, SC, GA); Caribbean | Model | Algae; Complex Habitat & Resources; Fish; Small Herbivorous Fish; Substrate |
| Berkley, H. A., B. E. Kendall, S. Mitarai, and D. A. Siegel. 2010. Turbulent dispersal promotes species coexistence. Ecology Letters 13:360-371. | 2010 | | Model | |
| A. V. Borges and N. Gypens. 2010. Carbonate chemistry in the coastal zone responds more strongly to eutrophication than to ocean acidification. Limnology and Oceanography 55:346-353. | 2010 | | Model | Carbon Storage & Cycling; CO2; Nutrients; Ocean Acidity; Primary Production; Special Use Permitting; Surface & Groundwater Flow |
| Salvati, E., M. Angiolillo, M. Bo, G. Bavestrello, M. Giusti, A. Cardinali, S. Puce, C. Spaggiari, S. Greco, and S. Canese. 2010. The population of Errina aspera (Hydrozoa: Stylasteridae) of the Messina Strait (Mediterranean Sea). Journal of the Marine Biological Association of the United Kingdom 90:1331-1336. | 2010 | US East Coast (NC, SC, GA) | | Anemones & Zooanthids |
| Bertoncini, A. A., L. F. Machado, J. P. Barreiros, M. Hostim-Silva, and J. R. Verani. 2010. Rocky reef fish community structure in two Azorean islands (Portugal) central North Atlantic. Journal of the Marine Biological Association of the United Kingdom 90:1353-1362. | 2010 | US East Coast (NC, SC, GA) | | Fish |
| Westaway, K. E., T. Sutikna, M. J. Morwood, and J. X. Zhao. 2010. Establishing rates of karst landscape evolution in the Tropics: a context for the formation of archaeological sites in western Flores, Indonesia. Journal of Quaternary Science 25:1018-1037. | 2010 | Indonesia | | Surface & Groundwater Flow |
| Toropova, A. P., A. A. Toropov, E. Benfenati, D. Leszczynska, and J. Leszczynski. 2010. QSAR modeling of measured binding affinity for fullerene-based HIV-1 PR inhibitors by CORAL. Journal Of Mathematical Chemistry 48:959-987. | 2010 | | Model | |
| Tarya, A., A. J. F. Hoitink, and M. Van der Vegt. 2010. Tidal and subtidal flow patterns on a tropical continental shelf semi-insulated by coral reefs. Journal of Geophysical Research C: Oceans 115:C09029. | 2010 | | Model | Water Depth & Sea Level |
| Wilson, B. 2010. Effect Of Hurricanes On Guilds Of Nearshore Epiphytal Foraminifera, Nevis, West Indies. Journal of Foraminiferal Research 40:327-343. | 2010 | South & Central America; Caribbean | Field Study & Monitoring | Calcareous Macroalgae; Environmental Monitoring, Mapping, & Scientific Research; Nutrients; Storms & Hurricanes; Substrate |
| Porter, M. L., Y. F. Zhang, S. Desai, R. L. Caldwell, and T. W. Cronin. 2010. Evolution of anatomical and physiological specialization in the compound eyes of stomatopod crustaceans. Journal of Experimental Biology 213:3473-3486. | 2010 | | Field Study & Monitoring | |
| Lindsay, S. M. 2010. Frequency of Injury and the Ecology of Regeneration in Marine Benthic Invertebrates. Integrative And Comparative Biology 50:479-493. | 2010 | | Review; Field Study & Monitoring | Invertebrates; Marine Worms; Sediment |
| Wulff, J. 2010. Regeneration of Sponges in Ecological Context: Is Regeneration an Integral Part of Life History and Morphological Strategies? Integrative And Comparative Biology 50:494-505. | 2010 | South & Central America; Caribbean | | Mangroves; Sponges |
| Koehl, M. A. R. and M. G. Hadfield. 2010. Hydrodynamics of Larval Settlement from a Larva's Point of View. Integrative And Comparative Biology 50:539-551. | 2010 | | Field Study & Monitoring; Lab Study; Model | Seawater Flow |
| Mouchka, M. E., I. Hewson, and C. D. Harvell. 2010. Coral-Associated Bacterial Assemblages: Current Knowledge and the Potential for Climate-Driven Impacts. Integrative And Comparative Biology 50:662-674. | 2010 | | Review; Field Study & Monitoring; Model | Climate; Complex Habitat & Resources; Cyanobacteria; Microorganisms; Pathogens; Ports & Harbors |
| Boyle, K. S. and T. C. Tricas. 2010. Pulse sound generation, anterior swim bladder buckling and associated muscle activity in the pyramid butterflyfish, Hemitaurichthys polylepis. Journal of Experimental Biology 213:3881-3893. | 2010 | | Field Study & Monitoring; Lab Study | Corallivorous Fish; Fish |
| Allen, J. J., L. M. Mathger, K. C. Buresch, T. Fetchko, M. Gardner, and R. T. Hanlon. 2010. Night vision by cuttlefish enables changeable camouflage. Journal of Experimental Biology 213:3953-3960. | 2010 | Australia | Field Study & Monitoring | Fish; Substrate |
| Mass, T., D. I. Kline, M. Roopin, C. J. Veal, S. Cohen, D. Iluz, and O. Levy. 2010. The spectral quality of light is a key driver of photosynthesis and photoadaptation in Stylophora pistillata colonies from different depths in the Red Sea. Journal of Experimental Biology 213:4084-4091. | 2010 | | | Algae; Light; Primary Production; Surface & Groundwater Flow; Zooxanthellae |
| Kolasinski, J., D. Taddei, P. Cuet, and P. Frouin. 2010. AChE and EROD activities in two echinoderms, Holothuria leucospilota and Holoturia atra (Holothuroidea), in a coral reef (Reunion Island, South-western Indian Ocean). Journal Of Environmental Science And Health Part A-toxic/hazardous Substances & Environmental Engineering 45:699-708. | 2010 | Indian Ocean; Reunion; India | | Echinoderms; Salinity |
| Dissanayake, D. C. T. and G. Stefansson. 2010. Reproductive biology of the commercial sea cucumber Holothuria atra (Holothuroidea: Aspidochirotida) in the northwestern coastal waters of Sri Lanka. Invertebrate Reproduction and Development 54:65-76. | 2010 | US Pacific & Hawaii; Sri Lanka | Index or Indicator | Echinoderms; Finfish Harvest |
| Parsons, M. L., C. J. Settlemier, and P. K. Bienfang. 2010. A simple model capable of simulating the population dynamics of Gambierdiscus, the benthic dinoflagellate responsible for ciguatera fish poisoning. Harmful Algae 10:71-80. | 2010 | US Pacific & Hawaii | Model | Algae; Climate; Fish; Nutrients |
| Dragicevic, J. S. 2010. Sea Pollution By Petroleum And Petroleum Products. Gradevinar 62:755-760. | 2010 | South & Central America; Mexico | | Aquaculture; Beaches & Nature Parks; Finfish Harvest; Fish; Oil & Gas Industry |
| Khalesi, M. K. and P. Lamers. 2010. Partial quantification of pigments extracted from the zooxanthellate octocoral Sinularia flexibilis at varying irradiances. Biologia 65:681-687. | 2010 | Cuba | | Light; Octocoral |
| Zazo, C., J. L. Goy, C. Hillaire-Marcel, C. J. Dabrio, J. A. Gonzalez-Delgado, A. Cabero, T. Bardaji, B. Ghaleb, and V. Soler. 2010. Sea level changes during the last and present interglacials in Sal Island (Cape Verde archipelago). Global and Planetary Change 72:302-317. | 2010 | US East Coast (NC, SC, GA) | GIS & Maps | Algae; Sediment; Water Depth & Sea Level |
| Gayle, P., B. Charpentier, O. Spence, and A. Levrel. 2010. The Jamaican CARICOMP Site using a temporal data set to assist in managing coastal resources. Revista de Biologia Tropical 58:63-69. | 2010 | Jamaica | | Algae; Artificial Habitat; Complex Habitat & Resources; Fish; Fishing Sector; Stony Coral |
| Ramos, J. B. E., M. N. Muller, and U. Riebesell. 2010. Short-term response of the coccolithophore Emiliania huxleyi to an abrupt change in seawater carbon dioxide concentrations. Biogeosciences 7:177-186. | 2010 | Cuba | | CO2; Plankton |
| Jones, D. B., D. R. Jerry, M. I. McCormick, and L. K. Bay. 2010. The population genetic structure of a common tropical damselfish on the Great Barrier Reef and eastern Papua New Guinea. Coral Reefs 29:455-467. | 2010 | Australia; Papua New Guinea | | Fish; Small Herbivorous Fish |
| Williams, G. J., I. S. Knapp, J. E. Maragos, and S. K. Davy. 2010. Modeling patterns of coral bleaching at a remote Central Pacific atoll. Marine Pollution Bulletin 60:1467-1476. | 2010 | US Pacific & Hawaii; Palmyra Atoll | Model | Sediment |
| Bennett, S., A. Verges, and D. R. Bellwood. 2010. Branching coral as a macroalgal refuge in a marginal coral reef system. Coral Reefs 29:471-480. | 2010 | Australia | | Algae; Fleshy Macroalgae; Small Herbivorous Fish; Stony Coral |
| Blanchon, P. 2010. Reef demise and back-stepping during the last interglacial, northeast Yucatan. Coral Reefs 29:481-498. | 2010 | | Field Study & Monitoring | Algae; Coralline Algae; Sediment; Water Depth & Sea Level |
| Hoey, A. S. and D. R. Bellwood. 2010. Cross-shelf variation in browsing intensity on the Great Barrier Reef. Coral Reefs 29:499-508. | 2010 | Australia | | Algae; Fish; Fleshy Macroalgae |
| Wielgus, J., E. Cooper, R. Torres, and L. Burke. 2010. Coastal capital: Dominican Republic. Case studies on the economic value of coastal ecosystems in the Dominican Republic. Washington, DC, World Resources Institute. | 2010 | Global; Dominican Republic | | Beaches & Nature Parks; Coastal Development; Commercial Fisheries; Finfish Harvest; Fishing Sector; Mangroves; Marine Protected Areas; Monetary Valuation; Tourism & Recreation; Tourism & Recreation Policies |
| Namin, K. S., M. J. Risk, B. W. Hoeksema, Z. Zohari, and H. Rezai. 2010. Coral mortality and serpulid infestations associated with red tide, in the Persian Gulf. Coral Reefs 29:509-509. | 2010 | | | Marine Worms |
| Hutchinson, N. and K. Rhodes. 2010. Home range estimates for squaretail coralgrouper, Plectropomus areolatus (Ruppell 1830). Coral Reefs 29:511-519. | 2010 | Micronesia | | Fish; Marine Protected Areas; Piscivorous Fish; Wholesale & Retail Trade |
| Hamel, J. F., Z. Sun, and A. Mercier. 2010. Influence of size and seasonal factors on the growth of the deep-sea coral Flabellum alabastrum in mesocosm. Coral Reefs 29:521-525. | 2010 | | Lab Study; Model | Plankton; Stony Coral |
| Heinlein, J. M., A. C. Stier, and M. A. Steele. 2010. Predators reduce abundance and species richness of coral reef fish recruits via non-selective predation. Coral Reefs 29:527-532. | 2010 | | Field Study & Monitoring | Fish |
| Wang, X., D. X. Wang, R. Z. Gao, and D. H. Sun. 2010. Anthropogenic climate change revealed by coral gray values in the South China Sea. Chinese Science Bulletin 55:1304-1310. | 2010 | Global; China | | Climate; CO2 |
| Ries, J. B., A. L. Cohen, and D. C. McCorkle. 2010. A nonlinear calcification response to CO2-induced ocean acidification by the coral Oculina arbuscula. Coral Reefs 29:661-674. | 2010 | | | Calcium Carbonate Deposition; CO2; Ocean Acidity; Stony Coral; Surface & Groundwater Flow |
| Tanaka, Y., H. Ogawa, and T. Miyajima. 2010. Effects of nutrient enrichment on the release of dissolved organic carbon and nitrogen by the scleractinian coral Montipora digitata. Coral Reefs 29:675-682. | 2010 | Cuba | Lab Study | Nutrients; Stony Coral; Zooxanthellae |
| Browne, N. K., S. G. Smithers, and C. T. Perry. 2010. Geomorphology and community structure of Middle Reef, central Great Barrier Reef, Australia: an inner-shelf turbid zone reef subject to episodic mortality events. Coral Reefs 29:683-689. | 2010 | Australia | GIS & Maps | Sediment; Stony Coral; Water Depth & Sea Level |
| Kuwahara, V. S., R. Nakajima, B. H. R. Othman, M. R. M. Kushairi, and T. Toda. 2010. Spatial variability of UVR attenuation and bio-optical factors in shallow coral-reef waters of Malaysia. Coral Reefs 29:693-704. | 2010 | Malaysia | | Light |
| Emslie, M. J., M. S. Pratchett, A. J. Cheal, and K. Osborne. 2010. Great Barrier Reef butterflyfish community structure: the role of shelf position and benthic community type. Coral Reefs 29:705-715. | 2010 | Australia | | Complex Habitat & Resources; Corallivorous Fish; Fish; Octocoral; Stony Coral |
| Pratchett, M. S. 2010. Changes in coral assemblages during an outbreak of Acanthaster planci at Lizard Island, northern Great Barrier Reef (1995-1999). Coral Reefs 29:717-725. | 2010 | Australia | | Complex Habitat & Resources; Octocoral; Seastars; Stony Coral |
| Lirman, D., T. Thyberg, J. Herlan, C. Hill, C. Young-Lahiff, S. Schopmeyer, B. Huntington, R. Santos, and C. Drury. 2010. Propagation of the threatened staghorn coral Acropora cervicornis: methods to minimize the impacts of fragment collection and maximize production. Coral Reefs 29:729-735. | 2010 | South & Central America; Caribbean | | Stony Coral; Wetland & Reef Restoration |
| Manzello, D. P. 2010. Coral growth with thermal stress and ocean acidification: lessons from the eastern tropical Pacific. Coral Reefs 29:749-758. | 2010 | Global; US Pacific & Hawaii; US East Coast (NC, SC, GA); Atlantic Ocean; Panama; India | | Climate; Ocean Acidity; Stony Coral |
| Rodolfo-Metalpa, R., S. Martin, C. Ferrier-Pages, and J. P. Gattuso. 2010. Response of the temperate coral Cladocora caespitosa to mid- and long-term exposure to pCO(2) and temperature levels projected for the year 2100 AD. Biogeosciences 7:289-300. | 2010 | | | Calcium Carbonate Deposition; CO2; Ocean Acidity; Primary Production |
| Vignon, M. and P. Sasal. 2010. Multiscale determinants of parasite abundance: A quantitative hierarchical approach for coral reef fishes. International Journal for Parasitology 40:443-451. | 2010 | Global; Australia | Field Study & Monitoring; Model; Decision Support Frameworks & Tools | |
| Niggl, W., A. F. Haas, and C. Wild. 2010. Benthic community composition affects O-2 availability and variability in a Northern Red Sea fringing reef. Hydrobiologia 644:401-405. | 2010 | | | Algae; Stony Coral |
| Levy, G., L. Shaish, A. Haim, and B. Rinkevich. 2010. Mid-water rope nursery Testing design and performance of a novel reef restoration instrument. Ecological Engineering 36:560-569. | 2010 | | Decision Support Frameworks & Tools | Wetland & Reef Restoration |
| Renshaw, G. M. C., G. Wise, and P. R. Dodd. 2010. Ecophysiology of neuronal metabolism in transiently oxygen-depleted environments: Evidence that GABA is accumulated pre-synaptically in the cerebellum. Comparative Biochemistry and Physiology Part A 155:486-492. | 2010 | | | Apex Fish Predators; Landscape Conservation & Restoration |
| Lu, Y., J. H. Su, C. Y. Huang, Y. C. Liu, Y. H. Kuo, Z. H. Wen, C. H. Hsu, and J. H. Sheu. 2010. Cembranoids from the Soft Corals Sinularia granosa and Sinularia querciformis. Chemical & pharmaceutical bulletin 58:464-466. | 2010 | | | Octocoral |
| Juillet-Leclerc, A. and S. Reynaud. 2010. Light effects on the isotopic fractionation of skeletal oxygen and carbon in the cultured zooxanthellate coral, Acropora: implications for coral-growth rates. Biogeosciences 7:893-906. | 2010 | | | Calcium Carbonate Deposition; Light; Stony Coral |
| Hofmann, G. E. and A. E. Todgham. 2010. Living in the Now: Physiological Mechanisms to Tolerate a Rapidly Changing Environment. Annual Review of Physiology 72:127-145. | 2010 | Global | Review | Climate; CO2; Ocean Acidity; Surface & Groundwater Flow |
| Hubert, N., E. Delrieu-Trottin, J. O. Irisson, C. Meyer, and S. Planes. 2010. Identifying coral reef fish larvae through DNA barcoding: A test case with the families Acanthuridae and Holocentridae. Molecular Phylogenetics and Evolution 55:1195-1203. | 2010 | US Pacific & Hawaii | | Fish; Small Herbivorous Fish |
| Keene, A. F., S. G. Johnston, R. T. Bush, E. D. Burton, and L. A. Sullivan. 2010. Reactive trace element enrichment in a highly modified, tidally inundated acid sulfate soil wetland: East Trinity, Australia. Marine Pollution Bulletin 60:620-626. | 2010 | Australia | | Mangroves; Remediation; Sediment; Wetlands |
| Shank, G. C., R. G. Zepp, A. Vahatalo, R. Lee, and E. Bartels. 2010. Photobleaching kinetics of chromophoric dissolved organic matter derived from mangrove leaf litter and floating Sargassum colonies. Marine Chemistry 119:162-171. | 2010 | Florida | | CO2; Fleshy Macroalgae; Light; Littering; Mangroves; Seagrasses |
| Shank, G. C., R. Lee, A. Vahatalo, R. G. Zepp, and E. Bartels. 2010. Production of chromophoric dissolved organic matter from mangrove leaf litter and floating Sargassum colonies. Marine Chemistry 119:172-181. | 2010 | South & Central America; Florida; US East Coast (NC, SC, GA); Cuba; Mexico | Field Study & Monitoring; Lab Study; Remote Sensing | Discharges; Fleshy Macroalgae; Light; Littering; Mangroves; Seagrasses |
| Arai, M. and M. Kobayashi. 2010. Search for Medicinal Seeds from Marine Organisms. Journal Of Synthetic Organic Chemistry Japan 68:470-479. | 2010 | Japan; Indonesia | | Microorganisms; Pharmaceuticals & Cosmetics; Pharmaceuticals & Cosmetics Sources |
| Rastogi, R. P., Richa, R. P. Sinha, S. P. Singh, and D. P. Hader. 2010. Photoprotective compounds from marine organisms. Journal Of Industrial Microbiology & Biotechnology 37:537-558. | 2010 | | | Algae; Cyanobacteria; Light; Microorganisms; Nutrients; Pharmaceuticals & Cosmetics; Pharmaceuticals & Cosmetics Sources; Plankton |
| Wang, X. D., Y. Q. Zhang, and W. Lin. 2010. Carboniferous-Permian rugose coral Cyathaxonia faunas in China. Science China-earth Sciences 53:1864-1872. | 2010 | China | | Sediment |
| Shen, S. Z., M. Y. Zhu, X. D. Wang, G. X. Li, C. Q. Cao, and H. Zhang. 2010. A comparison of the biological, geological events and environmental backgrounds between the Neoproterozoic-Cambrian and Permian-Triassic transitions. Science China-earth Sciences 53:1873-1884. | 2010 | Global | | Coal Mining |
| Blanquer, A. and M. J. Uriz. 2010. Population genetics at three spatial scales of a rare sponge living in fragmented habitats. BMC Evolutionary Biology 10:13. | 2010 | | Model | Invertebrates; Sponges |
| Martinez-Porchas, M., L. R. Martinez-Cordova, M. A. Porchas-Cornejo, and J. A. Lopez-Elias. 2010. Shrimp polyculture: a potentially profitable, sustainable, but uncommon aquacultural practice. Reviews In Aquaculture 2:73-85. | 2010 | | Review | Aquaculture; Lobster, Crab, & Shrimp; Pathogens |
| Edwards, H. J., I. A. Elliott, R. L. Pressey, and P. J. Mumby. 2010. Incorporating ontogenetic dispersal, ecological processes and conservation zoning into reserve design. Biological Conservation 143:457-470. | 2010 | South & Central America; Belize | Decision Support Frameworks & Tools | Fish; Landuse Management; Mangroves |
| Higuchi, T., H. Fujimura, Y. Hitomi, T. Arakaki, T. Oomori, and Y. Suzuki. 2010. Photochemical Formation of Hydroxyl Radicals in Tissue Extracts of the Coral Galaxea fascicularis. Photochemistry and Photobiology 86:1421-1426. | 2010 | Cuba | | Light; Zooxanthellae |
| Forsyth, A. J., J. Nott, and M. D. Bateman. 2010. Beach ridge plain evidence of a variable late-Holocene tropical cyclone climate, North Queensland, Australia. Palaeogeography, Palaeoclimatology, Palaeoecology 297:707-716. | 2010 | Australia | | Climate; Sediment |
| Titlyanov, E. A., S. I. Kiyashko, T. V. Titlyanova, and J. A. Raven. 2010. delta C-13 and delta N-15 in tissue of coral polyps and epilithic algae inhabiting damaged coral colonies under the influence of different light intensities. Aquatic Ecology 44:13-21. | 2010 | | | Algae; Light; Nutrients; Primary Production; Stony Coral; Zooxanthellae |
| Malcolm, H. A., S. D. A. Smith, and A. Jordan. 2010. Using patterns of reef fish assemblages to refine a Habitat Classification System for marine parks in NSW, Australia. Aquatic Conservation: Marine and Freshwater Ecosystems 20:83-92. | 2010 | Australia | | Fish; Marine Protected Areas |
| Price, A. R. G., A. Harris, A. Mcgowan, A. J. Venkatachalam, and C. R. C. Sheppard. 2010. Chagos feels the pinch: assessment of holothurian (sea cucumber) abundance, illegal harvesting and conservation prospects in British Indian Ocean Territory. Aquatic Conservation: Marine and Freshwater Ecosystems 20:117-126. | 2010 | US Pacific & Hawaii; Indian Ocean; Chagos Archipelago; Sri Lanka; India | | Accidental & Illegal Harvest; Commercial Fisheries; Echinoderms; Finfish Harvest; Fishing Sector |
| Koldewey, H. J., D. Curnick, S. Harding, L. R. Harrison, and M. Gollock. 2010. Potential benefits to fisheries and biodiversity of the Chagos Archipelago/British Indian Ocean Territory as a no-take marine reserve. Marine Pollution Bulletin 60:1906-1915. | 2010 | Indian Ocean; Chagos Archipelago; India | Review; Decision Support Frameworks & Tools | Accidental & Illegal Harvest; Fishing Sector; Marine Protected Areas |
| Crean, A. J., S. E. Swearer, and H. M. Patterson. 2010. Larval supply is a good predictor of recruitment in endemic but not non-endemic fish populations at a high latitude coral reef. Coral Reefs 29:137-143. | 2010 | Australia | | Fish |
| Scopelitis, J., S. Andrefouet, S. Phinn, L. Arroyo, M. Dalleau, A. Cros, and P. Chabanet. 2010. The next step in shallow coral reef monitoring: Combining remote sensing and in situ approaches. Marine Pollution Bulletin 60:1956-1968. | 2010 | | Field Study & Monitoring; GIS & Maps; Remote Sensing | Collaboration & Partnering |
| Benzoni, F., P. Galli, and M. Pichon. 2010. Pink spots on Porites: not always a coral disease. Coral Reefs 29:153-153. | 2010 | | | Pathogens; Stony Coral |
| Wichachucherd, B., L. B. Liddle, and A. Prathep. 2010. Population structure, recruitment, and succession of the brown alga, Padina boryana Thivy (Dictyotales, Heterokontophyta), at an exposed shore of Sirinart National Park and a sheltered area of Tang Khen Bay, Phuket Province, Thailand. Aquatic Botany 92:93-98. | 2010 | Thailand | | Climate; Fleshy Macroalgae; Sediment; Small Herbivorous Fish |
| Borsa, P., A. Collet, L. Carassou, D. Ponton, and W. J. Chen. 2010. Multiple nuclear and mitochondrial genotyping identifies emperors and large-eye breams (Teleostei: Lethrinidae) from New Caledonia and reveals new large-eye bream species. Biochemical Systematics and Ecology 38:370-389. | 2010 | US Pacific & Hawaii; New Caledonia | Decision Support Frameworks & Tools | Complex Habitat & Resources; Fish; Fishing Sector; Resource Use Management |
| Feely, R. A., S. R. Alin, J. Newton, C. L. Sabine, M. Warner, A. Devol, C. Krembs, and C. Maloy. 2010. The combined effects of ocean acidification, mixing, and respiration on pH and carbonate saturation in an urbanized estuary. Estuarine Coastal and Shelf Science 88:442-449. | 2010 | US Pacific & Hawaii | | Calcium Carbonate Deposition; Climate; CO2; Ocean Acidity; Surface & Groundwater Flow |
| Jordan, L. A., C. Avolio, J. E. Herbert-Read, J. Krause, D. I. Rubenstein, and A. J. W. Ward. 2010. Group structure in a restricted entry system is mediated by both resident and joiner preferences. Behavioral Ecology and Sociobiology 64:1099-1106. | 2010 | | | Fish; Small Herbivorous Fish |
| Williams, D. E., A. Amlani, A. S. Dewi, B. O. Patrick, L. P. van Ofwegen, A. L. F. Mui, and R. J. Andersen. 2010. Australin E Isolated from the Soft Coral Cladiella sp Collected in Pohnpei Activates the Inositol 5-Phosphatase SHIP1. Australian Journal of Chemistry 63:895-900. | 2010 | | | Octocoral |
| Saleh, M. B. and R. G. Kerr. 2010. Identification of the Cyclase Product and its First Oxidation Product in the Biosynthesis of Fuscol and Fuscosides. Australian Journal of Chemistry 63:901-906. | 2010 | South & Central America; Cuba; Caribbean | Model | Octocoral; Pharmaceuticals & Cosmetics Sources |
| Jatkar, A. A., B. E. Brown, J. C. Bythell, R. Guppy, N. J. Morris, and J. P. Pearson. 2010. Measuring mucus thickness in reef corals using a technique devised for vertebrate applications. Marine Biology 157:261-267. | 2010 | Oman | Index or Indicator | Stony Coral |
| Bittick, S. J., N. D. Bilotti, H. A. Peterson, and H. L. Stewart. 2010. Turbinaria ornata as an herbivory refuge for associate algae. Marine Biology 157:317-323. | 2010 | | | Algae; Complex Habitat & Resources |
| Anker, A. 2010. On two snapping shrimps, Alpheus baccheti n. sp and A. coetivensis Coutiere from the Tuamotu Islands, French Polynesia (Crustacea, Decapoda). Zootaxa 49-62. | 2010 | US Pacific & Hawaii | | Lobster, Crab, & Shrimp |
| Yeoh, S. R. and C. F. Dai. 2010. The production of sexual and asexual larvae within single broods of the scleractinian coral, Pocillopora damicornis. Marine Biology 157:351-359. | 2010 | Taiwan | | Stony Coral |
| Hellstrom, M., K. D. Kavanagh, and J. A. H. Benzie. 2010. Multiple spawning events and sexual reproduction in the octocoral Sarcophyton elegans (Cnidaria: Alcyonacea) on Lizard Island, Great Barrier Reef. Marine Biology 157:383-392. | 2010 | Australia | | Octocoral; Surface & Groundwater Flow |
| Precht, W. F., R. B. Aronson, R. M. Moody, and L. Kaufman. 2010. Changing Patterns of Microhabitat Utilization by the Threespot Damselfish, Stegastes planifrons, on Caribbean Reefs. PLoS One 5:e10835. | 2010 | South & Central America; Florida; Bahamas; Cayman Islands; Jamaica; Belize; Caribbean | | Algae; Fish; Pathogens; Small Herbivorous Fish; Stony Coral |
| Weil, E. and W. L. Vargas. 2010. Comparative aspects of sexual reproduction in the Caribbean coral genus Diploria (Scleractinia: Faviidae). Marine Biology 157:413-426. | 2010 | South & Central America; Puerto Rico; Caribbean | | Pathogens; Stony Coral |
| Frank, D. M. and S. Sarkar. 2010. Group Decisions in Biodiversity Conservation: Implications from Game Theory. PLoS One 5:e10688. | 2010 | Philippines; South Africa; United Kingdom | Model; Decision Support Frameworks & Tools | Fish; Funding & Incentives |
| Salas, E., H. Molina-Urena, R. P. Walter, and D. D. Heath. 2010. Local and regional genetic connectivity in a Caribbean coral reef fish. Marine Biology 157:437-445. | 2010 | South & Central America; Costa Rica; Panama; Caribbean | Model | Fish; Small Herbivorous Fish |
| Whalen, K. E., A. L. Lane, J. Kubanek, and M. E. Hahn. 2010. Biochemical Warfare on the Reef: The Role of Glutathione Transferases in Consumer Tolerance of Dietary Prostaglandins. PLoS One 5:e8537. | 2010 | South & Central America; Caribbean | Lab Study | Octocoral; Snails & Conch; Substrate |
| Shen, S. Z., C. Q. Cao, Y. C. Zhang, W. Z. Li, G. R. Shi, Y. Wang, Y. S. Wu, K. Ueno, C. M. Henderson, X. D. Wang, H. Zhang, X. J. Wang, and J. Chen. 2010. End-Permian mass extinction and palaeoenvironmental changes in Neotethys: Evidence from an oceanic carbonate section in southwestern Tibet. Global and Planetary Change 73:3-14. | 2010 | China | | Climate; Echinoderms; Sponges |
| Correa, A. M. S. and A. C. Baker. 2010. Disaster taxa in microbially mediated metazoans: how endosymbionts and environmental catastrophes influence the adaptive capacity of reef corals. Global Change Biology | 2010 | | | Climate; Microorganisms |
| Heupel, M. R., A. J. Williams, D. J. Welch, C. R. Davies, A. Penny, J. P. Kritzer, R. J. Marriott, and B. D. Mapstone. 2010. Demographic characteristics of exploited tropical lutjanids: a comparative analysis. Fishery Bulletin 108:420-432. | 2010 | | | Finfish Harvest; Trawling & Fishing Gear Damage |
| Laidig, T. E. 2010. Influence of ocean conditions on the timing of early life history events for blue rockfish (Sebastes mystinus) off California. Fishery Bulletin 108:442-449. | 2010 | | | Fish; Marine Protected Areas; Water Depth & Sea Level |
| Drake, J. M. and B. D. Griffen. 2010. Early warning signals of extinction in deteriorating environments. Nature 467:456-459. | 2010 | | Lab Study; Model; Index or Indicator | |
| Hart, T. D., J. E. R. Clemons, W. W. Wakefield, and S. S. Heppell. 2010. Day and night abundance, distribution, and activity patterns of demersal fishes on Heceta Bank, Oregon. Fishery Bulletin 108:466-477. | 2010 | | | Fish |
| Sguanci, S., F. Ceccolini, and R. Berti. 2010. Non visual discrimination of shapes in the blind cave cyprinid Phreatichthys andruzzii Vinciguerra 1924. Ethology Ecology & Evolution 22:353-358. | 2010 | | | Fish |
| Fuentes, M. M. P. P. and J. E. Cinner. 2010. Using expert opinion to prioritize impacts of climate change on sea turtles' nesting grounds. Journal of Environmental Management 91:2511-2518. | 2010 | Australia | | Climate; Sea Turtles; Water Depth & Sea Level |
| Gallmetzer, I., A. Haselmair, and B. Velimirov. 2010. Slow growth and early sexual maturity: Bane and boon for the red coral Corallium rubrum. Estuarine Coastal and Shelf Science 90:1-10. | 2010 | | | |
| Garmendia, E., R. Prellezo, A. Murillas, M. Escapa, and M. Gallastegui. 2010. Weak and strong sustainability assessment in fisheries. Ecological Economics 70:96-106. | 2010 | US East Coast (NC, SC, GA) | Field Study & Monitoring; Decision Support Frameworks & Tools | Fishing & Harvesting Management; Fishing Sector; Resource Use Management |
| Garland, K. F., S. E. Burnett, L. B. Stack, and D. L. Zhang. 2010. Minimum Daily Light Integral for Growing High-quality Coleus. HortTechnology 20:929-933. | 2010 | | | Light; Primary Production |
| Kilbourne, K. H., T. M. Quinn, R. Webb, T. Guilderson, J. Nyberg, and A. Winter. 2010. Coral windows onto seasonal climate variability in the northern Caribbean since 1479. Geochemistry Geophysics Geosystems 11:Q10006. | 2010 | South & Central America; Puerto Rico; Caribbean | | Salinity |
| Gonzalez, Y., D. Venegas, G. Mendoza-Hernandez, L. Camarena, and G. Dreyfus. 2010. Na+- and H+-dependent motility in the coral pathogen Vibrio shilonii. FEMS Microbiology Letters 312:142-150. | 2010 | | | Microorganisms; Pathogens |
| Colmenero, A. I., J. Aguzzi, A. Lombarte, and A. Bozzano. 2010. Sensory constraints in temporal segregation in two species of anglerfish, Lophius budegassa and L. piscatorius. Marine Ecology Progress Series 416:255-265. | 2010 | | | Fish |
| Munehara, H. and H. Murahana. 2010. Sperm allocation pattern during a reproductive season in the copulating marine cottoid species, Alcichthys alcicornis. Environmental Biology of Fishes 88:323-331. | 2010 | | | |
| Stallings, C. D., F. C. Coleman, C. C. Koenig, and D. A. Markiewicz. 2010. Energy allocation in juveniles of a warm-temperate reef fish. Environmental Biology of Fishes 88:389-398. | 2010 | South & Central America; Mexico | Index or Indicator | Fish; Seagrasses |
| Nwogu, O. and Z. Demirbilek. 2010. Infragravity Wave Motions and Runup over Shallow Fringing Reefs. Journal Of Waterway Port Coastal And Ocean Engineering-asce 136:295-305. | 2010 | Guam | Lab Study; Model | Shoreline Protection |
| White, J. W., J. F. Samhouri, A. C. Stier, C. L. Wormald, S. L. Hamilton, and S. A. Sandin. 2010. Synthesizing mechanisms of density dependence in reef fishes: behavior, habitat configuration, and observational scale. Ecology 91:1949-1961. | 2010 | | Review; Model | Complex Habitat & Resources; Fish |
| Lettieri, L. and J. T. Streelman. 2010. Colourful stripes send mixed messages to safe and risky partners in a diffuse cleaning mutualism. Journal of Evolutionary Biology 23:2289-2299. | 2010 | South & Central America; Caribbean | | Sponges |
| Alcolado, P. M., I. E. Morgan, P. A. Kramer, R. N. Ginsburg, P. Blanchon, E. de la Guardia, V. Kosminin, S. Gonzalez-Ferrer, and M. Hernandez. 2010. Condition of remote reefs off southwest Cuba. Ciencias Marinas 36:179-197. | 2010 | South & Central America; Cuba; Caribbean | | Finfish Harvest; Mangroves; Sea Urchins; Stony Coral; Storms & Hurricanes |
| Goddard, J. H. R. and M. S. Love. 2010. Megabenthic Invertebrates On Shell Mounds Associated With Oil And Gas Platforms Off California. Bulletin of Marine Science 86:533-554. | 2010 | | | Anemones & Zooanthids; Echinoderms; Invasive Species; Lobster, Crab, & Shrimp; Oil & Gas Rigs; Sea Urchins; Seastars |
| Marancik, K. E., D. E. Richardson, J. Lyczkowski-Shultz, M. Konieczna, and R. K. Cowen. 2010. Evaluation Of Morphological Characters To Identify Grouper (Serranidae: Epinephelini) Larvae In The Gulf Of Mexico Using Genetically Identified Specimens. Bulletin of Marine Science 86:571-624. | 2010 | South & Central America; Florida; US East Coast (NC, SC, GA); Mexico | Field Study & Monitoring; Decision Support Frameworks & Tools | Piscivorous Fish |
| Tanaka, K. and S. Ohde. 2010. Fluoride in coral aragonite related to seawater carbonate. Geochemical Journal 44:371-378. | 2010 | Thailand; Japan; Micronesia; Philippines | | Calcium Carbonate Deposition |
| Vermeij, M. J. A., A. O. Debrot, N. van der Hal, J. Bakker, and R. P. M. Bak. 2010. Increased Recruitment Rates Indicate Recovering Populations Of The Sea Urchin Diadema Antillarum On Curacao. Bulletin of Marine Science 86:719-725. | 2010 | South & Central America; Caribbean | | Sea Urchins |
| Guzner, B., A. Novplansky, O. Shalit, and N. E. Chadwick. 2010. Indirect Impacts Of Recreational Scuba Diving: Patterns Of Growth And Predation In Branching Stony Corals. Bulletin of Marine Science 86:727-742. | 2010 | Cuba | Field Study & Monitoring | Dive, Snorkeling, & Swimming Tourism; Pathogens; Snails & Conch; Stony Coral; Tourism & Recreation |
| Rogers, J. E., D. T. Marcovich, S. J. Jordan, and S. N. Gallaher. 2010. Does Temperature And Uv Exposure History Modulate The Effects Of Temperature And Uv Stress On Symbiodinium Growth Rates? Bulletin of Marine Science 86:743-761. | 2010 | | | Light |
| Jacobson, L. M. and P. J. Edmunds. 2010. Long-Term Changes In The Concentration Of Zooplankton And Particulate Material Over A Fringing Reef In St. John, Us Virgin Islands. Bulletin of Marine Science 86:763-772. | 2010 | South & Central America; US Virgin Islands; Caribbean | | Plankton |
| Harris, P. M. 2010. Delineating and quantifying depositional facies patterns in carbonate reservoirs: Insight from modern analogs. AAPG Bulletin 94:61-86. | 2010 | | Model | |
| Hiscock, K., S. Sharrock, J. Highfield, and D. Snelling. 2010. Colonization of an artificial reef in south-west England-ex-HMS 'Scylla'. Journal of the Marine Biological Association of the United Kingdom 90:69-94. | 2010 | England | | Algae; Anemones & Zooanthids; Artificial Habitat; Coastal Defense; Military; Planktivorous Fish; Sea Urchins; Seastars; Sponges |
| Avila, E., N. I. Blancas-Gallangos, R. Riosmena-Rodriguez, and L. Paul-Chavez. 2010. Sponges associated with Sargassum spp. (Phaeophyceae: Fucales) from the south-western Gulf of California. Journal of the Marine Biological Association of the United Kingdom 90:193-202. | 2010 | South & Central America; Mexico | | Fleshy Macroalgae; Salinity; Sponges; Substrate |
| Wolkenhauer, S. M., S. Uthicke, C. Burridge, T. Skewes, and R. Pitcher. 2010. The ecological role of Holothuria scabra (Echinodermata: Holothuroidea) within subtropical seagrass beds. Journal of the Marine Biological Association of the United Kingdom 90:215-223. | 2010 | Global | | Algae; Commercial Fisheries; Echinoderms; Finfish Harvest; Food, Beverage, & Tobacco Products; Seagrasses |
| Caceres, I., L. H. Trung, H. van Ettinger, A. Reniers, and W. Uijttewaal. 2010. Wave and Flow Response to an Artificial Surf Reef: Laboratory Measurements. Journal Of Hydraulic Engineering-asce 136:299-310. | 2010 | | Lab Study | Shoreline Protection |
| Francini, R. B. and R. L. de Moura. 2010. Predation On The Toxic Zoanthid Palythoa Caribaeorum By Reef Fishes In The Abrolhos Bank, Eastern Brazil. Brazilian Journal of Oceanography 58:77-79. | 2010 | | | Anemones & Zooanthids |
| Brown, I., W. Sumpton, M. McLennan, D. Mayer, M. Campbell, J. Kirkwood, A. Butcher, I. Halliday, A. Mapleston, D. Welch, G. A. Begg, and B. Sawynok. 2010. An improved technique for estimating short-term survival of released line-caught fish, and an application comparing barotrauma-relief methods in red emperor (Lutjanus sebae Cuvier 1816). Journal of Experimental Marine Biology and Ecology 385:1-7. | 2010 | | Decision Support Frameworks & Tools | Fish |
| Cheng, S. Y., C. T. Chuang, Z. H. Wen, S. K. Wang, S. F. Chiou, C. H. Hsu, C. F. Dai, and C. Y. Duh. 2010. Bioactive norditerpenoids from the soft coral Sinularia gyrosa. Bioorganic and Medicinal Chemistry 18:3379-3386. | 2010 | | | Octocoral |
| Marriner, N., M. Guerout, and T. Romon. 2010. The forgotten slaves of Tromelin (Indian Ocean): new geoarchaeological data. Journal of Archaeological Science 37:1293-1304. | 2010 | Indian Ocean; India | | Sediment; Storms & Hurricanes |
| Frederich, B., D. Lecchini, and P. Vandewalle. 2010. Evidence of an original scale development during the settlement phase of a coral reef fish (Acanthurus triostegus). Journal of Applied Ichthyology 26:176-178. | 2010 | | | Fish; Small Herbivorous Fish |
| Cheney, K. L. 2010. Multiple selective pressures apply to a coral reef fish mimic: a case of Batesian-aggressive mimicry. Proceedings of the Royal Society B 277:1849-1855. | 2010 | | Model | Fish |
| Vosoughi, G. H., M. R. Fatemi, M. Rabbaniha, S. Jamili, K. Gharra, and M. Noorinejad. 2010. Distribution pattern of coral & non coralline fish larvae in Khark & Kharko (Persian Gulf). Iranian Journal Of Fisheries Sciences 9:173-184. | 2010 | Iran | | Fish; Plankton |
| Chen, B. W., C. H. Chao, J. H. Su, Z. H. Wen, P. J. Sung, and J. H. Sheu. 2010. Anti-inflammatory eunicellin-based diterpenoids from the cultured soft coral Klyxum simplex. Organic & Biomolecular Chemistry 8:2363-2366. | 2010 | | | Octocoral |
| Rahul, P. R. C., P. S. Salvekar, B. K. Sahu, S. Nayak, and T. S. Kumar. 2010. Role of a Cyclonic Eddy in the 7000-Year-Old Mentawai Coral Reef Death During the 1997 Indian Ocean Dipole Event. Ieee Geoscience And Remote Sensing Letters 7:296-300. | 2010 | Indian Ocean; India; Indonesia | Model | Climate; Plankton; Stony Coral |
| Medeiros, P. R., A. T. Souza, and M. I. Ilarri. 2010. Habitat use and behavioural ecology of the juveniles of two sympatric damselfishes (Actinopterygii: Pomacentridae) in the south-western Atlantic Ocean. Journal of Fish Biology 77:1599-1615. | 2010 | US East Coast (NC, SC, GA); Atlantic Ocean | | Algae; Complex Habitat & Resources; Small Herbivorous Fish; Turf Algae |
| Buffler, R. T., J. H. Bruggemann, B. N. Ghebretensae, R. C. Walter, M. M. M. Guillaume, S. M. Berhe, W. McIntosh, and L. E. Park. 2010. Geologic setting of the Abdur Archaeological Site on the Red Sea coast of Eritrea, Africa. Global and Planetary Change 72:429-450. | 2010 | | Decision Support Frameworks & Tools | Echinoderms; Molluscs; Sediment; Surface & Groundwater Flow |
| Obura, D. O., A. Harvey, T. Young, M. M. Eltayeb, and R. von Brandis. 2010. Hawksbill turtles as significant predators on hard coral. Coral Reefs 29:759-759. | 2010 | | | Sea Turtles; Stony Coral |
| Wen, C. K. C., M. S. Pratchett, K. T. Shao, K. P. Kan, and B. K. K. Chan. 2010. Effects of habitat modification on coastal fish assemblages. Journal of Fish Biology 77:1674-1687. | 2010 | Taiwan | | Artificial Habitat; Complex Habitat & Resources; Fish; Shoreline Protection; Small Herbivorous Fish |
| Al-Banna, N. Y., M. M. Al-Mutwali, and N. R. Ismail. 2010. Oligocene stratigraphy in the Sinjar Basin, northwestern Iraq. GeoArabia 15:17-44. | 2010 | Europe | | Sediment |
| Pantos, O. and J. C. Bythell. 2010. A novel reef coral symbiosis. Coral Reefs 29:761-770. | 2010 | Australia | | Algae; Bivalves; Marine Worms; Microorganisms; Octocoral; Pathogens; Sponges; Stony Coral |
| Parravicini, V., F. Micheli, M. Montefalcone, E. Villa, C. Morri, and C. N. Bianchi. 2010. Rapid assessment of epibenthic communities: A comparison between two visual sampling techniques. Journal of Experimental Marine Biology and Ecology 395:21-29. | 2010 | Cuba | Field Study & Monitoring | Substrate |
| Greenwood, N. D. W., C. J. Sweeting, and N. V. C. Polunin. 2010. Elucidating the trophodynamics of four coral reef fishes of the Solomon Islands using delta N-15 and delta C-13. Coral Reefs 29:785-792. | 2010 | Solomon Islands | Review | Fish; Plankton; Small Herbivorous Fish |
| McClanahan, T. R. 2010. Effects of Fisheries Closures and Gear Restrictions on Fishing Income in a Kenyan Coral Reef. Conservation Biology 24:1519-1528. | 2010 | Indian Ocean; Kenya; India | | Docks & Marinas; Finfish Harvest; Fish; Fishing Sector; Funding & Incentives; Marine Protected Areas; Monetary Valuation; Special Use Permitting; Valuation |
| Norstrom, A. V. and M. Sandstrom. 2010. Lipid content of Favia fragum larvae: changes during planulation. Coral Reefs 29:793-795. | 2010 | | | Stony Coral |
| Noernberg, M. A., J. Fournier, S. Dubois, and J. Populus. 2010. Using airborne laser altimetry to estimate Sabellaria alveolata (Polychaeta: Sabellariidae) reefs volume in tidal flat environments. Estuarine Coastal and Shelf Science 90:93-102. | 2010 | France | Model; Remote Sensing | Finfish Harvest; Marine Worms |
| Sella, I. and Y. Benayahu. 2010. Rearing cuttings of the soft coral Sarcophyton glaucum (Octocorallia, Alcyonacea): towards mass production in a closed seawater system. Aquaculture Research 41:1748-1758. | 2010 | US Pacific & Hawaii | Field Study & Monitoring | Aquaculture; Octocoral; Pharmaceuticals & Cosmetics Sources; Salinity |
| Millero, F. J. and B. R. DiTrolio. 2010. Use of Thermodynamics in Examining the Effects of Ocean Acidification. Elements 6:299-303. | 2010 | | | Calcium Carbonate Deposition; CO2; Microorganisms; Ocean Acidity; Surface & Groundwater Flow |
| Feng, Q., Y. M. Gong, and R. Riding. 2010. Mid-Late Devonian Calcified Marine Algae And Cyanobacteria, South China. Journal of Paleontology 84:569-587. | 2010 | China | | Algae; Cyanobacteria; Microorganisms |
| Hochberg, R. 2010. Two new species of Oregodasys (Gastrotricha: Macrodasyida: Thaumastodermatidae) from Carrie Bow Cay, Belize with ultrastructural observations of the epidermal glandular system. Zootaxa 1-17. | 2010 | South & Central America; Belize; Caribbean | | Sediment |
| Mellin, C., C. Huchery, M. J. Caley, M. G. Meekan, and C. J. A. Bradshaw. 2010. Reef size and isolation determine the temporal stability of coral reef fish populations. Ecology 91:3138-3145. | 2010 | Australia | | Fish; Surface & Groundwater Flow |
| Vezzulli, L., M. Previati, C. Pruzzo, A. Marchese, D. G. Bourne, and C. Cerrano. 2010. Vibrio infections triggering mass mortality events in a warming Mediterranean Sea. Environmental Microbiology 12:2007-2019. | 2010 | Global | Field Study & Monitoring | Climate; Microorganisms; Pathogens |
| Pignatelli, C., A. Scheffers, S. Scheffers, and G. Mastronuzzi. 2010. Assessment of extreme wave flooding from geomorphologic evidence in Bonaire (Netherlands Antilles). Zeitschrift fur Geomorphologie 54:219-245. | 2010 | Antilles | Model | Shoreline Protection; Storms & Hurricanes; Water Depth & Sea Level |
| Turgeon, K., A. Robillard, J. Gregoire, V. Duclos, and D. L. Kramer. 2010. Functional connectivity from a reef fish perspective: behavioral tactics for moving in a fragmented landscape. Ecology 91:3332-3342. | 2010 | | GIS & Maps | Fish; Marine Protected Areas; Small Herbivorous Fish |
| Gavio, B., S. Palmer-Cantillo, and J. E. Mancera. 2010. Historical analysis (2000-2005) of the coastal water quality in San Andres Island, Sea Flower Biosphere Reserve, Caribbean Colombia. Marine Pollution Bulletin 60:1018-1030. | 2010 | South & Central America; Caribbean | Field Study & Monitoring; Decision Support Frameworks & Tools | Discharges; Microorganisms; Nutrients; Pathogens; Seagrasses |
| Lund, S., E. Platzman, N. Thouveny, G. Camoin, F. Corsetti, and W. Berelson. 2010. Biological control of paleomagnetic remanence acquisition in carbonate framework rocks of the Tahiti coral reef. Earth and Planetary Science Letters 298:14-22. | 2010 | Global | | Algae; Calcium Carbonate Deposition; Coralline Algae; Microorganisms; Water Depth & Sea Level |
| Wanless, R. M., S. Scott, W. H. H. Sauer, T. G. Andrew, J. P. Glass, B. Godfrey, C. Griffiths, and E. Yeld. 2010. Semi-submersible rigs: a vector transporting entire marine communities around the world. Biological Invasions 12:2573-2583. | 2010 | | | Fish; Invasive Species; Oil & Gas Rigs |
| Wooldridge, S. A. 2010. Is the coral-algae symbiosis really 'mutually beneficial' for the partners? BioEssays 32:615-625. | 2010 | | Review | Algae; Climate; Pathogens; Zooxanthellae |
| Ryan, J. C., J. S. Morey, M. Y. D. Bottein, J. S. Ramsdell, and F. M. Van Dolah. 2010. Gene expression profiling in brain of mice exposed to the marine neurotoxin ciguatoxin reveals an acute anti-inflammatory, neuroprotective response. Bmc Neuroscience 11:107. | 2010 | Global; US Pacific & Hawaii | Model; Decision Support Frameworks & Tools | Fish |
| Cossington, S., S. A. Hesp, N. G. Hall, and I. C. Potter. 2010. Growth and reproductive biology of the foxfish Bodianus frenchii, a very long-lived and monandric protogynous hermaphroditic labrid. Journal of Fish Biology 77:600-626. | 2010 | Australia | | Fish |
| Grimsditch, G., J. M. Mwaura, J. Kilonzo, and N. Amiyo. 2010. The Effects of Habitat on Coral Bleaching Responses in Kenya. Ambio 39:295-304. | 2010 | Kenya | | Stony Coral; Zooxanthellae |
| Kawabata, Y., J. Okuyama, K. Asami, K. Okuzawa, K. Yoseda, and N. Arai. 2010. Effects of a tropical cyclone on the distribution of hatchery-reared black-spot tuskfish Choerodon schoenleinii determined by acoustic telemetry. Journal of Fish Biology 77:627-642. | 2010 | Japan | Field Study & Monitoring; Model | Environmental Monitoring, Mapping, & Scientific Research; Fish; Storms & Hurricanes |
| Marshall, N. A., P. A. Marshall, A. Abdulla, and T. Rouphael. 2010. The Links Between Resource Dependency and Attitude of Commercial Fishers to Coral Reef Conservation in the Red Sea. Ambio 39:305-313. | 2010 | Egypt | | Climate; Commercial Fisheries; Finfish Harvest; Marine Protected Areas |
| Bubley, W. J. and O. Pashuk. 2010. Life history of a simultaneously hermaphroditic fish, Diplectrum formosum. Journal of Fish Biology 77:676-691. | 2010 | US East Coast (NC, SC, GA); Atlantic Ocean | | Fish |
| de Mitcheson, Y. S., M. Liu, and S. Suharti. 2010. Gonadal development in a giant threatened reef fish, the humphead wrasse Cheilinus undulatus, and its relationship to international trade. Journal of Fish Biology 77:706-718. | 2010 | Global; Indonesia | | Fishing Sector; Planktivorous Fish; Wholesale & Retail Trade |
| Wang, Z. D., Y. S. Guo, W. Tan, L. Li, E. P. Tang, C. W. Liu, and Y. Liu. 2010. DNA barcoding, phylogenetic relationships and speciation of snappers (genus Lutjanus). Science China-life Sciences 53:1025-1030. | 2010 | China | | Piscivorous Fish |
| Mills, S. C., J. Mourier, and R. Galzin. 2010. Plasma cortisol and 11-ketotestosterone enzyme immunoassay (EIA) kit validation for three fish species: the orange clownfish Amphiprion percula, the orangefin anemonefish Amphiprion chrysopterus and the blacktip reef shark Carcharhinus melanopterus. Journal of Fish Biology 77:769-777. | 2010 | | Field Study & Monitoring | Anemones & Zooanthids; Apex Fish Predators; Fish |
| Srinivasan, U., R. H. Raza, and S. Quader. 2010. The nuclear question: rethinking species importance in multi-species animal groups. Journal of Animal Ecology 79:948-954. | 2010 | India | | Fish |
| Matsukane, Y., H. Sato, S. Tanaka, Y. Kamata, and Y. Sugita-Konishi. 2010. Kudoa septempunctata n. sp (Myxosporea: Multivalvulida) from an aquacultured olive flounder (Paralichthys olivaceus) imported from Korea. Parasitology Research 107:865-872. | 2010 | Australia | | Aquaculture; Planktivorous Fish |
| Maier, C., M. G. Weinbauer, and J. Patzold. 2010. Stable isotopes reveal limitations in C and N assimilation in the Caribbean reef corals Madracis auretenra, M. carmabi and M. formosa. Marine Ecology Progress Series 412:103-112. | 2010 | South & Central America; Caribbean | | Light; Nutrients; Primary Production; Stony Coral; Water Depth & Sea Level; Zooxanthellae |
| Wakefield, C. B., S. J. Newman, and B. W. Molony. 2010. Age-based demography and reproduction of hapuku, Polyprion oxygeneios, from the south coast of Western Australia: implications for management. ICES Journal of Marine Science 67:1164-1174. | 2010 | Australia | Field Study & Monitoring; Model | Biological Monitoring, Mapping, & Scientific Research; Finfish Harvest; Fishing Sector |
| Roder, C., L. Fillinger, C. Jantzen, G. M. Schmidt, S. Khokiattiwong, and C. Richter. 2010. Trophic response of corals to large amplitude internal waves. Marine Ecology Progress Series 412:113-128. | 2010 | Thailand | | Primary Production; Stony Coral |
| Krief, S., E. J. Hendy, M. Fine, R. Yam, A. Meibom, G. L. Foster, and A. Shemesh. 2010. Physiological and isotopic responses of scleractinian corals to ocean acidification. Geochimica et Cosmochimica Acta 74:4988-5001. | 2010 | | | Calcium Carbonate Deposition; CO2; Ocean Acidity; Special Use Permitting; Stony Coral; Zooxanthellae |
| Zabin, C. J., R. Obernolte, J. A. Mackie, J. Gentry, L. Harris, and J. Geller. 2010. A non-native bryozoan creates novel substrate on the mudflats in San Francisco Bay. Marine Ecology Progress Series 412:129-139. | 2010 | | | Algae; Invasive Species; Invertebrates; Substrate |
| Tomasovych, A. and S. M. Kidwell. 2010. The Effects of Temporal Resolution on Species Turnover and on Testing Metacommunity Models. American Naturalist 175:587-606. | 2010 | | Model | |
| Lavoie, D., G. Chi, M. Urbatsch, and W. J. Davis. 2010. Massive dolomitization of a pinnacle reef in the Lower Devonian West Point Formation (Gaspe Peninsula, Quebec): An extreme case of hydrothermal dolomitization through fault-focused circulation of magmatic fluids. AAPG Bulletin 94:513-531. | 2010 | | | |
| Langhamer, O., K. Haikonen, and J. Sundberg. 2010. Wave power Sustainable energy or environmentally costly? A review with special emphasis on linear wave energy converters. Renewable & Sustainable Energy Reviews 14:1329-1335. | 2010 | Global | Review | Artificial Habitat; Fishing Sector; Shoreline Protection; Substrate; Whales & Dolphins |
| Connell, S. D. and B. D. Russell. 2010. The direct effects of increasing CO2 and temperature on non-calcifying organisms: increasing the potential for phase shifts in kelp forests. Proceedings of the Royal Society B 277:1409-1415. | 2010 | | | Algae; Climate; CO2; Echinoderms; Ocean Acidity |
| Simpson, C. and W. Kiessling. 2010. The role of extinction in large-scale diversity-stability relationships. Proceedings of the Royal Society B 277:1451-1456. | 2010 | | | |
| Mayakun, J., J. H. Kim, and A. Prathep. 2010. Effects of herbivory and the season of disturbance on algal succession in a tropical intertidal shore, Phuket, Thailand. Phycological Research 58:88-96. | 2010 | Thailand | | Algae; Fish; Skeletal Coral; Small Herbivorous Fish |
| Cummins, S. F., P. Nuurai, G. T. Nagle, and B. M. Degnan. 2010. Conservation of the egg-laying hormone neuropeptide and attractin pheromone in the spotted sea hare, Aplysia dactylomela. Peptides 31:394-401. | 2010 | Australia; Europe | | Molluscs |
| Harvey, E. S., J. Goetze, B. McLaren, T. Langlois, and M. R. Shortis. 2010. Influence of Range, Angle of View, Image Resolution and Image Compression on Underwater Stereo-Video Measurements: High-Definition and Broadcast-Resolution Video Cameras Compared. Marine Technology Society Journal 44:75-85. | 2010 | | | Fish |
| Dobretsov, S. V., L. Gosselin, and P. Y. Qian. 2010. Effects of solar PAR and UV radiation on tropical biofouling communities. Marine Ecology Progress Series 402:31-43. | 2010 | China | | Bivalves; Light; Marine Worms; Microorganisms |
| Hetzinger, S., M. Pfeiffer, W. C. Dullo, D. Garbe-Schonberg, and J. Halfar. 2010. Rapid 20th century warming in the Caribbean and impact of remote forcing on climate in the northern tropical Atlantic as recorded in a Guadeloupe coral. Palaeogeography, Palaeoclimatology, Palaeoecology 296:111-124. | 2010 | South & Central America; US Pacific & Hawaii; US East Coast (NC, SC, GA); Antilles; Caribbean | Model; Index or Indicator | Climate; Stony Coral |
| Siebeck, U. E., A. N. Parker, D. Sprenger, L. M. Mathger, and G. Wallis. 2010. A Species of Reef Fish that Uses Ultraviolet Patterns for Covert Face Recognition. Current Biology 20:407-410. | 2010 | | | Fish; Light; Small Herbivorous Fish |
| Chittaro, P. M., T. Klinger, K. Telmer, M. Sanborn, and L. Morgan. 2010. Using Otolith Chemistry to Investigate Population Structure of Quillback Rockfish in Puget Sound. Northwest Science 84:243-254. | 2010 | | | Fish |
| Hoey, A. S. and D. R. Bellwood. 2010. Damselfish territories as a refuge for macroalgae on coral reefs. Coral Reefs 19:107-188. | 2010 | | | Algae; Fish; Fleshy Macroalgae; Small Herbivorous Fish |
| Yeh, T. C. and P. W. Hsueh. 2010. Taku Spinosocarinatus (Fukuda, 1909): First Record Of A Takuid Stomatopod From Taiwan. Crustaceana 83:369-373. | 2010 | Taiwan | | Skeletal Coral |
| Putz, A., G. M. Konig, and H. Wagele. 2010. Defensive strategies of Cladobranchia (Gastropoda, Opisthobranchia). Natural Product Reports 27:1386-1402. | 2010 | | Review | |
| Springer, Y. P., C. G. Hays, M. H. Carr, and M. R. Mackey. 2010. Toward Ecosystem-Based Management Of Marine Macroalgae-The Bull Kelp, Nereocystis Luetkeana. Pages 1-41 Oceanography And Marine Biology: An Annual Review, Vol 48. | 2010 | | Review | Algae; Primary Production |
| Munoz-Perez, J. J. and R. Medina. 2010. Comparison of long-, medium- and short-term variations of beach profiles with and without submerged geological control. Coastal Engineering 57:241-251. | 2010 | Spain | Field Study & Monitoring | Shoreline Protection; Storms & Hurricanes |
| [Anon],. 2010. Global warming slows coral growth in Red Sea. Marine Pollution Bulletin 60:1386-1386. | 2010 | Global | | |
| Tsounis, G., S. Rossi, R. Grigg, G. Santangelo, L. Bramanti, and J. M. Gili. 2010. The Exploitation And Conservation Of Precious Corals. Pages 161-211 Oceanography And Marine Biology: An Annual Review, Vol 48. | 2010 | | Review | Fishing Sector; Ornamental Jewelry & Art; Souvenir & Decorative Trade |
| D'Onghia, G., P. Maiorano, L. Sion, A. Giove, F. Capezzuto, R. Carlucci, and A. Tursi. 2010. Effects of deep-water coral banks on the abundance and size structure of the megafauna in the Mediterranean Sea. Deep-Sea Research Part II: Topical Studies in Oceanography 57:397-411. | 2010 | | | Apex Fish Predators; Finfish Harvest; Fish; Fishing Sector; Marine Protected Areas; Trawling & Fishing Gear Damage |
| Reveillaud, J., T. Remerie, R. van Soest, D. Erpenbeck, P. Cardenas, S. Derycke, J. R. Xavier, A. Rigaux, and A. Vanreusel. 2010. Species boundaries and phylogenetic relationships between Atlanto-Mediterranean shallow-water and deep-sea coral associated Hexadella species (Porifera, Ianthellidae). Molecular Phylogenetics and Evolution 56:104-114. | 2010 | US East Coast (NC, SC, GA); Europe | | Sponges; Stony Coral |
| Todd, P. A., X. Y. Ong, and L. M. Chou. 2010. Impacts of pollution on marine life in Southeast Asia. Biodiversity and Conservation 19:1063-1082. | 2010 | Global; Southeast Asia; Philippines | Review | Apex Fish Predators; Aquaculture; Deforestation & Devegetation; Finfish Harvest; Mangroves; Nutrients; Seagrasses; Sediment; Shipping, Storage, & Warehousing; Waterborne Discharges |
| Mastrototaro, F., G. D'Onghia, G. Corriero, A. Matarrese, P. Maiorano, P. Panetta, M. Gherardi, C. Longo, A. Rosso, F. Sciuto, R. Sanfilippo, C. Gravili, F. Boero, M. Taviani, and A. Tursi. 2010. Biodiversity of the white coral bank off Cape Santa Maria di Leuca (Mediterranean Sea): An update. Deep-Sea Research Part II: Topical Studies in Oceanography 57:412-430. | 2010 | | | Echinoderms; Finfish Harvest; Fish; Molluscs; Stony Coral; Trawling & Fishing Gear Damage |
| Alva-Campbell, Y., S. R. Floeter, D. R. Robertson, D. R. Bellwood, and G. Bernardi. 2010. Molecular phylogenetics and evolution of Holacanthus angelfishes (Pomacanthidae). Molecular Phylogenetics and Evolution 56:456-461. | 2010 | US Pacific & Hawaii; US East Coast (NC, SC, GA); Panama | | Fish; Invertivorous Fish |
| Liu, R. L., Y. Zhang, and N. Z. Jiao. 2010. Diel variations in frequency of dividing cells and abundance of aerobic anoxygenic phototrophic bacteria in a coral reef system of the South China Sea. Aquatic Microbial Ecology 58:303-310. | 2010 | China | | Microorganisms |
| Etiope, G., A. Savini, N. Lo Bue, P. Favali, and C. Corselli. 2010. Deep-sea survey for the detection of methane at the "Santa Maria di Leuca" cold-water coral mounds (Ionian Sea, South Italy). Deep-Sea Research Part II: Topical Studies in Oceanography 57:431-440. | 2010 | | Lab Study | Microorganisms; Nutrients; Sediment |
| Pochon, X. and R. D. Gates. 2010. A new Symbiodinium clade (Dinophyceae) from soritid foraminifera in Hawai'i. Molecular Phylogenetics and Evolution 56:492-497. | 2010 | US Pacific & Hawaii | | |
| Fitzsimons, J. D., S. Brown, L. Brown, D. Honeyfield, J. He, and J. E. Johnson. 2010. Increase in lake trout reproduction in Lake Huron following the collapse of alewife: Relief from thiamine deficiency or larval predation? Aquatic Ecosystem Health & Management 13:73-84. | 2010 | | Index or Indicator | Complex Habitat & Resources; Fish |
| Beuck, L., A. Freiwald, and M. Taviani. 2010. Spatiotemporal bioerosion patterns in deep-water scleractinians from off Santa Maria di Leuca (Apulia, Ionian Sea). Deep-Sea Research Part II: Topical Studies in Oceanography 57:458-470. | 2010 | US East Coast (NC, SC, GA) | | Boring Sponges; Microorganisms; Sponges; Stony Coral |
| Uthicke, S., M. Byrne, and C. Conand. 2010. Genetic barcoding of commercial Beche-de-mer species (Echinodermata: Holothuroidea). Molecular Ecology Resources 10:634-646. | 2010 | US Pacific & Hawaii; India; Pacific Ocean | | Echinoderms; Finfish Harvest; Invertebrates |
| Schlieper, G., D. Grotemeyer, A. Aretz, L. J. Schurgers, T. Kruger, H. Rehbein, T. E. Weirich, R. Westenfeld, V. M. Brandenburg, F. Eitner, J. Mayer, J. Floege, W. Sandmann, and M. Ketteler. 2010. Analysis of Calcifications in Patients with Coral Reef Aorta. Annals of vascular surgery 24:408-414. | 2010 | | | Pathogens |
| Lopez Correa, M., P. Montagna, B. Vendrell-Simon, M. McCulloch, and M. Taviani. 2010. Stable isotopes (delta O-18 and delta C-13), trace and minor element compositions of Recent scleractinians and Last Glacial bivalves at the Santa Maria di Leuca deep-water coral province, Ionian Sea. Deep-Sea Research Part II: Topical Studies in Oceanography 57:471-486. | 2010 | US East Coast (NC, SC, GA) | | Calcium Carbonate Deposition; Nutrients; Salinity |
| Jones, A. T., J. Greinert, D. A. Bowden, I. Klaucke, C. J. Petersen, G. L. Netzeband, and W. Weinrebe. 2010. Acoustic and visual characterisation of methane-rich seabed seeps at Omakere Ridge on the Hikurangi Margin, New Zealand. Marine Geology 272:154-169. | 2010 | | GIS & Maps; Decision Support Frameworks & Tools | Marine Worms; Microorganisms |
| Lee, Y. F., Y. H. Lin, and S. H. Wu. 2010. Spatiotemporal Variation in Cicada Diversity and Distribution, and Tree Use by Exuviating Nymphs, in East Asian Tropical Reef-Karst Forests and Forestry Plantations. Annals of the Entomological Society of America 103:216-226. | 2010 | | | Forestry; Substrate |
| Di Geronimo, R. 2010. Cirripeds from deep-water coral mounds off S. Maria di Leuca, Apulian Plateau Bank (Mediterranean Sea). Deep-Sea Research Part II: Topical Studies in Oceanography 57:487-492. | 2010 | | | Algae |
| Dharmaraj, S., B. Ashokkumar, and K. Dhevendaran. 2010. Isolation of marine Streptomyces and the evaluation of its bioactive potential. African Journal Of Microbiology Research 4:240-248. | 2010 | | | Fish; Pathogens; Sponges; Surface & Groundwater Flow |
| Rabaut, M., L. Van de Moortel, M. Vincx, and S. Degraer. 2010. Biogenic reefs as structuring factor in Pleuronectes platessa (Plaice) nursery. Journal of Sea Research 64:102-106. | 2010 | | | Fish; Marine Worms; Sediment |
| Greenslade, P. 2010. Did alien ants initiate a population explosion of a coccoid plant pest on an islet in the Coral Sea? Journal of Insect Conservation 14:419-421. | 2010 | | | Arthropods; Invertebrates |
| Reece, J. S., B. W. Bowen, K. Joshi, V. Goz, and A. Larson. 2010. Phylogeography of Two Moray Eels Indicates High Dispersal Throughout the Indo-Pacific. Journal of Heredity 101:391-402. | 2010 | US Pacific & Hawaii | | Apex Fish Predators; Piscivorous Fish; Water Depth & Sea Level |
| Previati, M., A. Scinto, C. Cerrano, and R. Osinga. 2010. Oxygen consumption in Mediterranean octocorals under different temperatures. Journal of Experimental Marine Biology and Ecology 390:39-48. | 2010 | | | Climate; Octocoral; Zooxanthellae |
| Al-Zereini, W., C. B. F. F. Yao, H. Laatsch, and H. Anke. 2010. Aqabamycins A-G: novel nitro maleimides from a marine Vibrio species: I. Taxonomy, fermentation, isolation and biological activities. Journal of Antibiotics 63:297-301. | 2010 | | | Octocoral |
| Lin, Y. C., M. H. Abd El-Razek, and Y. C. Shen. 2010. Verticillane-Type Diterpenoids and an Eduesmanolide-Type Sesquiterpene from the Formosan Soft Coral Cespitularia hypotentaculata (vol 93, pg 281, 2010). Helvetica Chimica Acta 93:1238-1239. | 2010 | | | Octocoral |
| Faichney, I. D. E., J. M. Webster, D. A. Clague, J. B. Paduan, and P. D. Fullagar. 2010. Unraveling the tilting history of the submerged reefs surrounding Oahu and the Maui-Nui Complex, Hawaii. Geochemistry Geophysics Geosystems 11:Q07002. | 2010 | US Pacific & Hawaii | Model; GIS & Maps | Substrate |
| Araoka, D., M. Inoue, A. Suzuki, Y. Yokoyama, R. L. Edwards, H. Cheng, H. Matsuzaki, H. Kan, N. Shikazono, and H. Kawahata. 2010. Historic 1771 Meiwa tsunami confirmed by high-resolution U/Th dating of massive Porites coral boulders at Ishigaki Island in the Ryukyus, Japan. Geochemistry Geophysics Geosystems 11:Q06014. | 2010 | Japan | | Stony Coral; Storms & Hurricanes |
| Bshary, A. and R. Bshary. 2010. Interactions Between Sabre-Tooth Blennies and Their Reef Fish Victims: Effects Of Enforced Repeated Game Structure and Local Abundance on Victim Aggression. Ethology 116:681-690. | 2010 | | | Fish |
| Alves, N., O. S. M. Neto, B. S. O. Silva, R. L. de Moura, R. B. Francini, C. B. E. Castro, R. Paranhos, B. C. Bitner-Mathe, R. H. Kruger, A. C. P. Vicente, C. C. Thompson, and F. L. Thompson. 2010. Diversity and pathogenic potential of vibrios isolated from Abrolhos Bank corals. Environmental Microbiology Reports 2:90-95. | 2010 | | Model | Microorganisms; Pathogens |
| Smith, M. D., S. E. Goater, E. S. Reichwaldt, B. Knott, and A. Ghadouani. 2010. Effects of recent increases in salinity and nutrient concentrations on the microbialite community of Lake Clifton (Western Australia): are the thrombolites at risk? Hydrobiologia 649:207-216. | 2010 | Australia | | Cyanobacteria; Microorganisms; Nutrients; Salinity; Surface & Groundwater Flow; Wetlands |
| Chang, Y. C., T. L. Hwang, S. K. Huang, L. W. Huang, M. R. Lin, and P. J. Sung. 2010. 12-Epi-Fragilide G, A New Briarane-Type Diterpenoid From The Gorgonian Coral Ellisella Robusta. Heterocycles 81:991-996. | 2010 | | | Octocoral |
| Crandall, E. D., J. R. Taffel, and P. H. Barber. 2010. High gene flow due to pelagic larval dispersal among South Pacific archipelagos in two amphidromous gastropods (Neritomorpha: Neritidae). Heredity 104:563-572. | 2010 | US Pacific & Hawaii; Australia | | Plankton; Surface & Groundwater Flow |
| Andersen, M. B., C. H. Stirling, E. K. Potter, A. N. Halliday, S. G. Blake, M. T. McCulloch, B. F. Ayling, and M. J. O'Leary. 2010. The timing of sea-level high-stands during Marine Isotope Stages 7.5 and 9: Constraints from the uranium-series dating of fossil corals from Henderson Island. Geochimica et Cosmochimica Acta 74:3598-3620. | 2010 | US Pacific & Hawaii; Australia | Model | Climate |
| Islam, M. S., M. Ueno, and Y. Yamashita. 2010. Growth-dependent survival mechanisms during the early life of a temperate seabass (Lateolabrax japonicus): field test of the 'growth-mortality' hypothesis. Fisheries Oceanography 19:230-242. | 2010 | Japan | Field Study & Monitoring | |
| Lauer, M. and S. Aswani. 2010. Indigenous Knowledge and Long-term Ecological Change: Detection, Interpretation, and Responses to Changing Ecological Conditions in Pacific Island Communities. Environmental Management 45:985-997. | 2010 | US Pacific & Hawaii; Solomon Islands | Remote Sensing | Housing; Seagrasses; Surface & Groundwater Flow |
| Wood, C. L., K. D. Lafferty, and F. Micheli. 2010. Fishing out marine parasites? Impacts of fishing on rates of parasitism in the ocean. Ecology Letters 13:761-775. | 2010 | Global | | Commercial Fisheries; Finfish Harvest; Fish; Fishing Sector |
| Budd, A. F. 2010. Rethinking the phylogeny of scleractinian reef corals: reconciling morphologic and molecular data in the families Faviidae and Mussidae. Integrative And Comparative Biology 50:E19-E19. | 2010 | | | Stony Coral |
| Callaway, R. 2010. Tube building polychaetes: from ephemeral bio-engineer to reef builder. Integrative And Comparative Biology 50:E23-E23. | 2010 | | | Marine Worms |
| Lapointe, B. E. and B. J. Bedford. 2010. Ecology and nutrition of invasive Caulerpa brachypus f. parvifolia blooms on coral reefs off southeast Florida, USA. Harmful Algae 9:1-12. | 2010 | Florida; Bahamas | | Algae; Discharges; Fleshy Macroalgae; Invasive Species; Non-point Source Runoff; Nutrients; Surface & Groundwater Flow |
| Furstenau, J., S. Lindhorst, C. Betzler, and C. Hubscher. 2010. Submerged reef terraces of the Maldives (Indian Ocean). Geo-Marine Letters 30:511-515. | 2010 | Global; Indian Ocean; Maldives; India | Field Study & Monitoring | Water Depth & Sea Level |
| Price, S. A., P. C. Wainwright, D. R. Bellwood, E. Kazancioglu, D. C. Collar, and T. J. Near. 2010. Functional Innovations And Morphological Diversification In Parrotfish. Evolution 64:3057-3068. | 2010 | | | Corallivorous Fish; Fish; Large Herbivorous Fish |
| Dumas, P., H. Jimenez, M. Leopold, G. Petro, and R. Jimmy. 2010. Effectiveness of village-based marine reserves on reef invertebrates in Emau, Vanuatu. Environmental Conservation 37:364-372. | 2010 | US Pacific & Hawaii; Vanuatu | Field Study & Monitoring; Decision Support Frameworks & Tools | Dive, Snorkeling, & Swimming Tourism; Snails & Conch |
| Kvennefors, E. C. E., W. Leggat, C. C. Kerr, T. D. Ainsworth, O. Hoegh-Guldberg, and A. C. Barnes. 2010. Analysis of evolutionarily conserved innate immune components in coral links immunity and symbiosis. Developmental and Comparative Immunology 34:1219-1229. | 2010 | | | Pathogens; Stony Coral |
| Ramadass, G. A., S. Ramesh, J. M. Selvakumar, R. Ramesh, A. N. Subramanian, D. Sathianarayanan, G. Harikrishnan, D. Muthukumaran, V. K. Jayakumar, E. Chandrasekaran, M. Murugesh, S. Elangovan, V. D. Prakash, M. Radhakrishnan, and A. Vadivelan. 2010. Deep-ocean exploration using remotely operated vehicle at gas hydrate site in Krishna-Godavari basin, Bay of Bengal. Current Science 99:809-815. | 2010 | India | | Echinoderms; Lobster, Crab, & Shrimp; Marine Worms |
| Rooper, C. N., G. R. Hoff, and A. De Robertis. 2010. Assessing habitat utilization and rockfish (Sebastes spp.) biomass on an isolated rocky ridge using acoustics and stereo image analysis. Canadian Journal of Fisheries and Aquatic Sciences 67:1658-1670. | 2010 | | | Fish; Fishing Sector |
| Baeza, J. A., J. A. Bolanos, S. Fuentes, J. E. Hernandez, C. Lira, and R. Lopez. 2010. Molecular phylogeny of enigmatic Caribbean spider crabs from the Mithrax-Mithraculus species complex (Brachyura: Majidae: Mithracinae): ecological diversity and a formal test of genera monophyly. Journal of the Marine Biological Association of the United Kingdom 90:851-858. | 2010 | South & Central America; Venezuela; Caribbean | Review | Lobster, Crab, & Shrimp |
| Luo, Y. F., C. L. Brown, and T. B. Yang. 2010. Seasonal Dynamics Of Diplectanum Grouperi Parasitism On Wild Versus Cultured Groupers, Epinephelus Spp., And The Linkage Between Infestation And Host Species Phylogeny. Journal of Parasitology 96:541-546. | 2010 | China | | Piscivorous Fish |
| Simon, S. L., A. Bouville, C. E. Land, and H. L. Beck. 2010. Radiation Doses And Cancer Risks In The Marshall Islands Associated With Exposure To Radioactive Fallout From Bikini And Enewetak Nuclear Weapons Tests: Summary. Health Physics 99:105-123. | 2010 | Marshall Islands | | |
| Houk, P. and R. van Woesik. 2010. Coral assemblages and reef growth in the Commonwealth of the Northern Mariana Islands (Western Pacific Ocean). Marine Ecology-an Evolutionary Perspective 31:318-329. | 2010 | US Pacific & Hawaii; Pacific Ocean; Northern Mariana Islands | | Stony Coral |
| Hammerschlag, N. and J. E. Serafy. 2010. Nocturnal fish utilization of a subtropical mangrove-seagrass ecotone. Marine Ecology-an Evolutionary Perspective 31:364-374. | 2010 | | | Apex Fish Predators; Mangroves; Piscivorous Fish; Seagrasses |
| Ercilla, G., F. Estrada, D. Casas, R. Duran, M. Nuez, B. Alonso, and M. L. Farran. 2010. The El Masnou infralittoral sedimentary environment (Barcelona province, NW Mediterranean Sea): morphology and Holocene seismic stratigraphy. Scientia Marina 74:179-196. | 2010 | | Field Study & Monitoring | Dredging, Draining, & Filling; Sediment; Water Depth & Sea Level |
| Brokovich, E., T. Ben-Ari, S. Kark, M. Kiflawi, G. Dishon, D. Iluz, and N. Shashar. 2010. Functional changes of the visual system of the damselfish Dascyllus marginatus along its bathymetric range. Physiology & Behavior 101:413-421. | 2010 | | | Complex Habitat & Resources; Fish; Light; Planktivorous Fish; Small Herbivorous Fish |
| Dornelas, M. 2010. Disturbance and change in biodiversity. Philosophical Transactions of the Royal Society B: Biological Sciences 365:3719-3727. | 2010 | | Model | |
| MacNeil, M. A., N. A. J. Graham, J. E. Cinner, N. K. Dulvy, P. A. Loring, S. Jennings, N. V. C. Polunin, A. T. Fisk, and T. R. McClanahan. 2010. Transitional states in marine fisheries: adapting to predicted global change. Philosophical Transactions of the Royal Society B: Biological Sciences 365:3753-3763. | 2010 | Global; Indian Ocean; India | | Climate; Finfish Harvest; Fish; Fishing Sector; Primary Production |
| Jackson, J. B. C. 2010. The future of the oceans past. Philosophical Transactions of the Royal Society B: Biological Sciences 365:3765-3778. | 2010 | Global; South & Central America; Panama; Caribbean | | Climate; Finfish Harvest; Greenhouse Gas Emissions; Ocean Acidity |
| Burger, M. A. A. and R. D. Adlard. 2010. Phenotypic variation in a significant spore character in Kudoa (Myxosporea: Multivalvulida) species infecting brain tissue. Parasitology 137:1759-1772. | 2010 | | | Pathogens |
| Zaunbrecher, L. K., K. M. Cobb, J. W. Beck, C. D. Charles, E. R. M. Druffel, R. G. Fairbanks, S. Griffin, and H. R. Sayani. 2010. Coral records of central tropical Pacific radiocarbon variability during the last millennium. Paleoceanography 25:PA4212. | 2010 | US Pacific & Hawaii; Pacific Ocean | Model | Calcium Carbonate Deposition; Climate |
| Johansson, C. L., D. R. Bellwood, and M. Depczynski. 2010. Sea urchins, macroalgae and coral reef decline: a functional evaluation of an intact reef system, Ningaloo, Western Australia. Marine Ecology Progress Series 414:65-74. | 2010 | Australia | Index or Indicator | Algae; Corallivorous Fish; Echinoderms; Fish; Large Herbivorous Fish; Sea Urchins |
| Coleman, F. C. and C. C. Koenig. 2010. The effects of fishing, climate change, and other anthropogenic disturbances on red grouper and other reef fishes in the Gulf of Mexico. Integrative And Comparative Biology 50:E31-E31. | 2010 | South & Central America; Mexico | | Climate; Finfish Harvest; Piscivorous Fish |
| Idjadi, J. A., R. N. Haring, and W. F. Precht. 2010. Recovery of the sea urchin Diadema antillarum promotes scleractinian coral growth and survivorship on shallow Jamaican reefs. Integrative And Comparative Biology 50:E80-E80. | 2010 | Jamaica | | Sea Urchins; Stony Coral |
| Magnusson, M., K. Heimann, P. Quayle, and A. P. Negri. 2010. Additive toxicity of herbicide mixtures and comparative sensitivity of tropical benthic microalgae. Marine Pollution Bulletin 60:1978-1987. | 2010 | Australia | | Algae; Fertilizer & Pesticide Use; Primary Production |
| Jones, R. 2010. Environmental contamination associated with a marine landfill ('seafill') beside a coral reef. Marine Pollution Bulletin 60:1993-2006. | 2010 | Bermuda | | Fertilizer & Pesticide Use; Sediment; Solid Waste Disposal |
| Narayan, Y. R. and J. M. Pandolfi. 2010. Benthic foraminiferal assemblages from Moreton Bay, South-East Queensland, Australia: Applications in monitoring water and substrate quality in subtropical estuarine environments. Marine Pollution Bulletin 60:2062-2078. | 2010 | Australia | Field Study & Monitoring; Index or Indicator | Environmental Monitoring, Mapping, & Scientific Research; Salinity; Sediment; Substrate |
| Bauman, A. G., J. A. Burt, D. A. Feary, E. Marquis, and P. Usseglio. 2010. Tropical harmful algal blooms: An emerging threat to coral reef communities? Marine Pollution Bulletin 60:2117-2122. | 2010 | Global; Indian Ocean; India; Oman | | Ballast Discharge; Climate; Discharges; Fish; Nutrients; Stony Coral |
| Mumby, P. J. and A. R. Harborne. 2010. Marine reserves enhance the recovery of corals on caribbean reefs. PLoS One 5:e8657. | 2010 | South & Central America; Caribbean | Decision Support Frameworks & Tools | Algae; Climate; Corallivorous Fish; Finfish Harvest; Fish; Fishing Sector; Large Herbivorous Fish; Small Herbivorous Fish |
| Purser, A., A. I. Larsson, L. Thomsen, and D. van Oevelen. 2010. The influence of flow velocity and food concentration on Lophelia pertusa (Scleractinia) zooplankton capture rates. Journal of Experimental Marine Biology and Ecology 395:55-62. | 2010 | Europe; Norway | Field Study & Monitoring | Plankton; Stony Coral |
| Sere, M. G., L. M. Masse, R. Perissinotto, and M. H. Schleyer. 2010. Influence of heterotrophic feeding on the sexual reproduction of Pocillopora verrucosa in aquaria. Journal of Experimental Marine Biology and Ecology 395:63-71. | 2010 | | | Nutrients; Stony Coral |
| Bedard, R., P. T. Jacobson, M. Previsic, W. Musial, and R. Varley. 2010. An Overview of Ocean Renewable Energy Technologies. Oceanography 23:22-31. | 2010 | Europe | | Salinity; Shoreline Protection |
| Yost, D. M. and C. L. Mitchelmore. 2010. Determination of total and particulate dimethylsulfoniopropionate (DMSP) concentrations in four scleractinian coral species: A comparison of methods. Journal of Experimental Marine Biology and Ecology 395:72-79. | 2010 | | Field Study & Monitoring; Index or Indicator | Stony Coral; Zooxanthellae |
| Kennedy, E. V., M. W. Holderied, J. M. Mair, H. M. Guzman, and S. D. Simpson. 2010. Spatial patterns in reef-generated noise relate to habitats and communities: Evidence from a Panamanian case study. Journal of Experimental Marine Biology and Ecology 395:85-92. | 2010 | US Pacific & Hawaii; Panama | Field Study & Monitoring | Fish; Water Depth & Sea Level |
| Ling, S. D., S. Ibbott, and J. C. Sanderson. 2010. Recovery of canopy-forming macroalgae following removal of the enigmatic grazing sea urchin Heliocidaris erythrogramma. Journal of Experimental Marine Biology and Ecology 395:135-146. | 2010 | Australia | Model | Algae; Fleshy Macroalgae; Sea Urchins |
| Mason, T. J. and C. G. Lowe. 2010. Home range, habitat use, and site fidelity of barred sand bass within a southern California marine protected area. Fisheries Research 106:93-101. | 2010 | | GIS & Maps | Fishing Sector; Marine Protected Areas; Sediment; Tourism & Recreation |
| Marriner, N., M. Guerout, T. Romon, and P. Dussouillez. 2010. Geomorphology of Tromelin, Indian Ocean. Comptes Rendus Geoscience 342:766-777. | 2010 | Indian Ocean; Madagascar; Reunion; India; France | Field Study & Monitoring; GIS & Maps | Beaches & Nature Parks; Sediment; Storms & Hurricanes; Water Depth & Sea Level |
| Lindholm, J., A. Knight, and M. Domeier. 2010. Gender-Mediated Patterns In The Movement Of California Sheephead In The Northern Channel Islands (Eastern Pacific). California Fish and Game 96:53-68. | 2010 | US Pacific & Hawaii | | Fish |
| Molloy, P. P., J. A. Anticamara, J. L. Rist, and A. C. J. Vincent. 2010. Frugal conservation: What does it take to detect changes in fish populations? Biological Conservation 143:2532-2542. | 2010 | Philippines | Field Study & Monitoring | Fish; Fishing Sector; Marine Protected Areas; Resource Use Management |
| Knittweis, L. and M. Wolff. 2010. Live coral trade impacts on the mushroom coral Heliofungia actiniformis in Indonesia: Potential future management approaches. Biological Conservation 143:2722-2729. | 2010 | Indonesia | Model | Aquarium & Pet Trade; Aquarium Stock; Finfish Harvest; Fishing Sector; Marine Protected Areas |
| Yamane, K., K. Shirai, Y. Nagakura, M. Yamaguchi, A. Takiya, T. Horii, N. Tanaka, S. Yamane, T. Arai, and T. Otake. 2010. Spatial variation in otolith elemental composition of the Pacific herring Clupea pallasii in northern Japan. Aquatic Biology 10:283-290. | 2010 | US Pacific & Hawaii; Japan | Index or Indicator; Decision Support Frameworks & Tools | Fish |
| Hunter, J. A., E. Ingram, R. D. Adlard, R. A. Bray, and T. H. Cribb. 2010. A cryptic complex of Transversotrema species (Digenea: Transversotrematidae) on labroid, haemulid and lethrinid fishes in the Indo-West Pacific Region, including the description of three new species. Zootaxa 17-32. | 2010 | US Pacific & Hawaii; Australia | | Corallivorous Fish; Fish; Large Herbivorous Fish |
| Mwandya, A. W., M. Gullstrom, M. H. Andersson, M. C. Ohman, Y. D. Mgaya, and I. Bryceson. 2010. Spatial and seasonal variations of fish assemblages in mangrove creek systems in Zanzibar (Tanzania). Estuarine Coastal and Shelf Science 89:277-286. | 2010 | Tanzania | Index or Indicator | Algae; Fish; Mangroves; Salinity; Seagrasses; Substrate |
| Smith, K., M. Scarr, and C. Scarpaci. 2010. Grey Nurse Shark (Carcharias taurus) Diving Tourism: Tourist Compliance and Shark Behaviour at Fish Rock, Australia. Environmental Management 46:699-710. | 2010 | Australia | Field Study & Monitoring | Apex Fish Predators; Dive, Snorkeling, & Swimming Tourism; Fish; Tourism & Recreation |
| Kroeker, K. J., R. L. Kordas, R. N. Crim, and G. G. Singh. 2010. Meta-analysis reveals negative yet variable effects of ocean acidification on marine organisms. Ecology Letters 13:1419-1434. | 2010 | | | Calcium Carbonate Deposition; Climate; CO2; Ocean Acidity; Primary Production |
| Cisneros-Montemayor, A. M., U. R. Sumaila, K. Kaschner, and D. Pauly. 2010. The global potential for whale watching. Marine Policy [inpress]. | 2010 | Global | | Funding & Incentives; Whales & Dolphins |
| Rousseau, Y., R. Galzin, and J. P. Marechal. 2010. Impact of hurricane Dean on coral reef benthic and fish structure of Martinique, French West Indies. Cybium 34:243-256. | 2010 | South & Central America; Martinique; Caribbean | Decision Support Frameworks & Tools | Algae; Complex Habitat & Resources; Fish; Small Herbivorous Fish; Storms & Hurricanes |
| Kadison, E., E. K. D'Alessandro, G. O. Davis, and P. B. Hood. 2010. Age, Growth, And Reproductive Patterns Of The Great Barracuda, Sphyraena Barracuda, From The Florida Keys. Bulletin of Marine Science 86:773-784. | 2010 | Florida | Model | Apex Fish Predators; Piscivorous Fish |
| Crabbe, M. J. C. 2010. Computational Biology Approaches to Plant Metabolism and Photosynthesis: Applications for Corals in Times of Climate Change and Environmental Stress. Journal of Integrative Plant Biology 52:698-703. | 2010 | | Review | Climate; Primary Production; Zooxanthellae |
| Andrefouet, S. and L. Wantiez. 2010. Characterizing the diversity of coral reef habitats and fish communities found in a UNESCO World Heritage Site: The strategy developed for Lagoons of New Caledonia. Marine Pollution Bulletin 61:612-620. | 2010 | New Caledonia | Index or Indicator; Remote Sensing | Complex Habitat & Resources; Cultural Policies; Fish |
| Briggs, J. C. 2010. Marine biology: the role of accommodation in shaping marine biodiversity. Marine Biology 157:2117-2126. | 2010 | Global | Review | |
| Pemberton, C. A., E. Harris-Charles, and H. Patterson-Andrews. 2010. Cultural bias in contingent valuation of copper mining in the Commonwealth of Dominica. Ecological Economics 70:19-23. | 2010 | | | Valuation |
| Suggett, D. J. and D. J. Smith. 2010. Interpreting the sign of coral bleaching as friend vs. foe. Global Change Biology doi:10.1111/j.1365-2486.2009.02155.x. | 2010 | | Decision Support Frameworks & Tools | Stony Coral; Zooxanthellae |
| Walker, B., L. Pearson, M. Harris, K.-G. Maler, C.-Z. Li, R. Biggs, and T. Bayes. 2010. Incorporating resilience in the assessment of inclusive wealth: an example from South East Australia. Environmental Resources and Economics 45:183-202. | 2010 | Australia | | Agriculture |
| Albouy, C., D. Mouillot, D. Rocklin, J. M. Culioli, and F. Le Loc'h. 2010. Simulation of the combined effects of artisanal and recreational fisheries on a Mediterranean MPA ecosystem using a trophic model. Marine Ecology Progress Series 412:207-221. | 2010 | | Model; Decision Support Frameworks & Tools | Finfish Harvest; Fishing Sector; Marine Protected Areas; Recreational Fishing; Tourism & Recreation |
| Roberts, D. G. and D. J. Ayre. 2010. Panmictic population structure in the migratory marine sparid Acanthopagrus australis despite its close association with estuaries. Marine Ecology Progress Series 412:223-230. | 2010 | Australia | | Fish |
| Petraitis, P. S. and C. Hoffman. 2010. Multiple stable states and relationship between thresholds in processes and states. Marine Ecology Progress Series 413:189-200. | 2010 | | Review; Model | Fishing Sector; Seagrasses |
| Water Stewardship Inc. 2010. Beta Test Report: Process Development & Description of Findings. | 2010 | | | Agriculture; Nutrients |
| Rochelle-Newall, E. J., X. Mari, and O. Pringault. 2010. Sticking properties of transparent exopolymeric particles (TEP) during aging and biodegradation. Journal of Plankton Research 32:1433-1442. | 2010 | Cuba | | Carbon Storage & Cycling; Microorganisms |
| Neveux, J., J. P. Lefebvre, R. Le Gendre, C. Dupouy, F. Gallois, C. Courties, P. Gerard, J. M. Fernandez, and S. Ouillon. 2010. Phytoplankton dynamics in the southern New Caledonian lagoon during a southeast trade winds event. Journal of Marine Systems 82:230-244. | 2010 | New Caledonia | | Plankton; Surface & Groundwater Flow |
| Wells, M. and S. Parker. 2010. The thermal variability of the waters of Fathom Five National Marine Park, Lake Huron. Journal of Great Lakes Research 36:570-576. | 2010 | | | Fish; Marine Protected Areas |
| White, J. W., L. W. Botsford, A. Hastings, and J. L. Largier. 2010. Population persistence in marine reserve networks: incorporating spatial heterogeneities in larval dispersal. Marine Ecology Progress Series 398:49-67. | 2010 | | Model | |
| Gochfeld, D. J. 2010. Territorial damselfishes facilitate survival of corals by providing an associational defense against predators. Marine Ecology Progress Series 398:137-148. | 2010 | Guam | | Corallivorous Fish; Fish; Small Herbivorous Fish; Stony Coral |
| Clement, A. M. and J. A. Long. 2010. Air-breathing adaptation in a marine Devonian lungfish. Biology Letters 6:509-512. | 2010 | Global; Australia; Poland | | Fish; Surface & Groundwater Flow |
| Azzurro, E., M. Matiddi, E. Fanelli, P. Guidetti, G. La Mesa, A. Scarpato, and V. Axiak. 2010. Sewage pollution impact on Mediterranean rocky-reef fish assemblages. Marine Environmental Research 69:390-397. | 2010 | | Index or Indicator | Fish; Wastewater Discharge |
| Holland, J. N. and D. L. DeAngelis. 2010. A consumer-resource approach to the density-dependent population dynamics of mutualism. Ecology 91:1286-1295. | 2010 | | Model | |
| Meyer, E., S. Wang, G. Agyamova, and M. Matz. 2010. Quantitative genetics and genomics of reef-building coral Acropora millepora. Integrative And Comparative Biology 50:E118-E118. | 2010 | | | Stony Coral |
| Pignatelli, V., C. Champ, J. Marshall, and M. Vorobyev. 2010. Double cones are used for colour discrimination in the reef fish, Rhinecanthus aculeatus. Biology Letters 6:537-539. | 2010 | | | Fish |
| Portune, K. J., C. R. Voolstra, M. Medina, and A. M. Szmant. 2010. Development and heat stress-induced transcriptomic changes during embryogenesis of the scleractinian coral Acropora palmata. Marine Genomics 3:51-62. | 2010 | South & Central America; Caribbean | | Plankton; Special Use Permitting; Stony Coral |
| Mbije, N. E. J., E. Spanier, and B. Rinkevich. 2010. Testing the first phase of the 'gardening concept' as an applicable tool in restoring denuded reefs in Tanzania. Ecological Engineering 36:713-721. | 2010 | Tanzania | Decision Support Frameworks & Tools | Hydrocoral; Stony Coral; Wetland & Reef Restoration |
| Ritson-Williams, R., V. J. Paul, S. N. Arnold, and R. S. Steneck. 2010. Do coral larvae choose between species of coralline algae? Integrative And Comparative Biology 50:E148-E148. | 2010 | | | Algae; Coralline Algae |
| Breves-Ramos, A., A. O. R. Junqueira, H. P. Lavrado, S. H. G. Silva, and M. A. G. Ferreira-Silva. 2010. Population structure of the invasive bivalve Isognomon bicolor on rocky shores of Rio de Janeiro State (Brazil). Journal of the Marine Biological Association of the United Kingdom 90:453-459. | 2010 | | | Bivalves; Invasive Species; Molluscs |
| Webster, I. T. and P. W. Ford. 2010. Delivery, deposition and redistribution of fine sediments within macrotidal Fitzroy Estuary/Keppel Bay: Southern Great Barrier Reef, Australia. Continental Shelf Research 30:793-805. | 2010 | Australia | Remote Sensing | Discharges; Nutrients; Sediment; Surface & Groundwater Flow |
| Robinson, H. E., C. M. Finelli, and E. J. Buskey. 2010. Turbulence over a coral reef interferes with zooplankton escape behavior. Integrative And Comparative Biology 50:E149-E149. | 2010 | | | Plankton |
| Suarez-Morales, E., C. Reyes-Lizama, and D. Gonzalez-Solis. 2010. Parasitic copepods from reef grunts (Teleostei, Haemulidae) with description of a new species of Lernanthropus (Siphonostomatoida, Lernanthropidae) from the Mexican Caribbean. Acta Parasitologica 55:167-176. | 2010 | South & Central America; US East Coast (NC, SC, GA); Caribbean; Mexico | | |
| Francini, R. B., C. M. Ferreira, E. O. Coni, R. L. De Moura, and L. Kaufman. 2010. Foraging activity of roving herbivorous reef fish (Acanthuridae and Scaridae) in eastern Brazil: influence of resource availability and interference competition. Journal of the Marine Biological Association of the United Kingdom 90:481-492. | 2010 | US East Coast (NC, SC, GA) | | Algae; Coralline Algae; Corallivorous Fish; Fish; Fleshy Macroalgae; Large Herbivorous Fish; Small Herbivorous Fish; Turf Algae |
| Estes, J. A., M. T. Tinker, and J. L. Bodkin. 2010. Using Ecological Function to Develop Recovery Criteria for Depleted Species: Sea Otters and Kelp Forests in the Aleutian Archipelago. Conservation Biology 24:852-860. | 2010 | | | Complex Habitat & Resources; Deforestation & Devegetation; Sea Urchins |
| Rogers-Lowery, C. L. 2010. Effects of elevated atmospheric CO2 on growth in newly-settled coral polyps. Integrative And Comparative Biology 50:E150-E150. | 2010 | | | CO2 |
| Trilles, J. P. and J. L. Justine. 2010. Elthusa epinepheli sp nov (Crustacea, Isopoda, Cymothoidae) a branchial parasite of the grouper Epinephelus howlandi (Serranidae, Epinephelinae) from off New Caledonia. Acta Parasitologica 55:177-187. | 2010 | US Pacific & Hawaii; New Caledonia | | Apex Fish Predators; Piscivorous Fish |
| Culloty, S. C., E. Favier, M. Ni Riada, N. F. Ramsay, and R. M. O'Riordan. 2010. Reproduction of the biogenic reef-forming honeycomb worm Sabellaria alveolata in Ireland. Journal of the Marine Biological Association of the United Kingdom 90:503-507. | 2010 | France | | |
| Barkan, R. and U. ten Brink. 2010. Tsunami Simulations of the 1867 Virgin Island Earthquake: Constraints on Epicenter Location and Fault Parameters. Bulletin of the Seismological Society of America 100:995-1009. | 2010 | South & Central America; US Virgin Islands; Antilles; Caribbean | | |
| Santini, F. and M. E. Alfaro. 2010. Origin ad evolution of the coral reef fish fauna. Integrative And Comparative Biology 50:E156-E156. | 2010 | | | Fish |
| Whittington, I. D. 2010. Revision of Benedeniella Johnston, 1929 (Monogenea: Capsalidae), its assignment to Entobdellinae Bychowsky, 1957 and comments on subfamilial composition. Zootaxa 1-30. | 2010 | South & Central America; Australia; India; United Arab Emirates; Java; Mexico | GIS & Maps | Fish |
| Chong, V. C., P. K. Y. Lee, and C. M. Lau. 2010. Diversity, extinction risk and conservation of Malaysian fishes. Journal of Fish Biology 76:2009-2066. | 2010 | Malaysia | | Accidental & Illegal Harvest; Finfish Harvest; Fish; Sediment |
| Chen, P. T., C. J. Chiang, and Y. P. Chao. 2010. Medium optimization and production of secreted Renilla luciferase in Bacillus subtilis by fed-batch fermentation. Biochemical Engineering Journal 49:395-400. | 2010 | | | Octocoral |
| Hagedorn, M., V. L. Carter, S. Ly, R. M. Andrell, P. H. Yancey, J. A. C. Leong, and F. W. Kleinhans. 2010. Analysis of Internal Osmolality in Developing Coral Larvae, Fungia scutaria. Physiological And Biochemical Zoology 83:157-166. | 2010 | Global | | Stony Coral; Zooxanthellae |
| Hamouda, A. Z. and K. M. Abdel-Salam. 2010. Estuarine Habitat Assessment for Construction of a Submarine Transmission Line. Surveys In Geophysics 31:449-463. | 2010 | Egypt | GIS & Maps; Decision Support Frameworks & Tools | Environmental Monitoring, Mapping, & Scientific Research; Invertebrates; Marine Worms; Mitigation; Pipelines; Sediment; Utility Line Construction & Maintenance; Water Depth & Sea Level |
| Holmes, G. and R. W. Johnstone. 2010. The role of coral mortality in nitrogen dynamics on coral reefs. Journal of Experimental Marine Biology and Ecology 387:1-8. | 2010 | | | Light; Nutrients; Stony Coral; Substrate |
| Edgar, G. J. and N. S. Barrett. 2010. Biotic affinities of rocky reef fishes, invertebrates and macroalgae in different zones of the Port Davey marine protected area, south-western Tasmania. Aquatic Conservation: Marine and Freshwater Ecosystems 20:282-296. | 2010 | Australia | | Algae; Finfish Harvest; Fishing Sector; Invertebrates; Marine Protected Areas; Water Depth & Sea Level |
| Yancey, P. H., M. Heppenstall, S. Ly, R. M. Andrell, R. D. Gates, V. L. Carter, and M. Hagedorn. 2010. Betaines and Dimethylsulfoniopropionate as Major Osmolytes in Cnidaria with Endosymbiotic Dinoflagellates. Physiological And Biochemical Zoology 83:167-173. | 2010 | US Pacific & Hawaii | | Algae; Anemones & Zooanthids; Stony Coral |
| Anson, J. A. 2010. Recruitment Sensitivity to Contaminated Substrata in Larvae of Coral Species: Montipora capitata and Porites hawaiiensis. Integrative And Comparative Biology 50:E200-E200. | 2010 | US Pacific & Hawaii | | Stony Coral |
| Kulbicki, M., N. Cornuet, L. Vigliola, L. Wantiez, G. Moutham, and P. Chabanet. 2010. Counting coral reef fishes: Interaction between fish life-history traits and transect design. Journal of Experimental Marine Biology and Ecology 387:15-23. | 2010 | New Caledonia | | Fish |
| Edgar, G. J., P. R. Last, N. S. Barrett, K. Gowlett-Holmes, M. Driessen, and P. Mooney. 2010. Conservation of natural wilderness values in the Port Davey marine and estuarine protected area, south-western Tasmania. Aquatic Conservation: Marine and Freshwater Ecosystems 20:297-311. | 2010 | Global; Australia | | Boating Activities; Climate; Dive, Snorkeling, & Swimming Tourism; Finfish Harvest; Invertebrates; Marine Protected Areas; Nutrients; Salinity; Sediment; Sponges; Surface & Groundwater Flow; Tourism & Recreation |
| Mcleod, E., J. Hinkel, A. T. Vafeidis, R. J. Nicholls, N. Harvey, and R. Salm. 2010. Sea-level rise vulnerability in the countries of the Coral Triangle. Sustainability Science 5:207-222. | 2010 | Malaysia; Solomon Islands; Indonesia; Philippines | Model | Climate; Wetlands |
| Carpenter, L. W., M. R. Patterson, and E. S. Bromage. 2010. Water flow influences the spatiotemporal distribution of heat shock protein 70 within colonies of the scleractinian coral Montastrea annularis (Ellis and Solander, 1786) following heat stress: Implications for coral bleaching. Journal of Experimental Marine Biology and Ecology 387:52-59. | 2010 | | | Seawater Flow; Special Use Permitting; Stony Coral; Surface & Groundwater Flow |
| Lynch, A. M. J., S. G. Sutton, and C. A. Simpfendorfer. 2010. Implications of recreational fishing for elasmobranch conservation in the Great Barrier Reef Marine Park. Aquatic Conservation: Marine and Freshwater Ecosystems 20:312-318. | 2010 | Australia | | Apex Fish Predators; Finfish Harvest; Fish; Marine Protected Areas; Recreational Fishing; Tourism & Recreation |
| Cook, E. J., R. Shucksmith, H. Orr, G. V. Ashton, and J. Berge. 2010. Fatty acid composition as a dietary indicator of the invasive caprellid, Caprella mutica (Crustacea: Amphipoda). Marine Biology 157:19-27. | 2010 | Global; US East Coast (NC, SC, GA) | Field Study & Monitoring; Index or Indicator | Algae; Aquaculture; Artificial Habitat; Invasive Species |
| Thacker, C. E., A. R. Thompson, T. C. Adam, and J. P. Chen. 2010. Phylogeny and character evolution in the Indo-Pacific genus Ctenogobiops (Gobiiformes: Gobiidae). Ichthyological Research 57:231-239. | 2010 | US Pacific & Hawaii; Tonga | Index or Indicator | Fish; Lobster, Crab, & Shrimp |
| Nanami, A., T. Kurihara, Y. Kurita, Y. Aonuma, N. Suzuki, and H. Yamada. 2010. Age, growth and reproduction of the humpback red snapper Lutjanus gibbus off Ishigaki Island, Okinawa. Ichthyological Research 57:240-244. | 2010 | Japan | Index or Indicator | Fishing Sector; Piscivorous Fish |
| Nanami, A., K. Okuzawa, H. Yamada, N. Suzuki, and Y. Aonuma. 2010. Reproductive activity in the checkered snapper, Lutjanus decussatus, off Ishigaki Island, Okinawa. Ichthyological Research 57:314-318. | 2010 | | Index or Indicator | Fishing Sector; Piscivorous Fish |
| Jury, C. P., R. F. Whitehead, and A. M. Szmant. 2010. Effects of variations in carbonate chemistry on the calcification rates of Madracis auretenra (= Madracis mirabilis sensu Wells, 1973): bicarbonate concentrations best predict calcification rates. Global Change Biology 16:1632-1644. | 2010 | Cuba | Model | Calcium Carbonate Deposition; CO2; Ocean Acidity |
| Wabnitz, C. C. C., S. Andrefouet, and F. E. Muller-Karger. 2010. Measuring progress toward global marine conservation targets. Frontiers in Ecology and the Environment 8:124-129. | 2010 | Global | Remote Sensing | Marine Protected Areas |
| Nobi, E. P., E. Dilipan, T. Thangaradjou, K. Sivakumar, and L. Kannan. 2010. Geochemical and geo-statistical assessment of heavy metal concentration in the sediments of different coastal ecosystems of Andaman Islands, India. Estuarine Coastal and Shelf Science 87:253-264. | 2010 | India | Index or Indicator | Beaches & Nature Parks; Mangroves; Seagrasses; Sediment; Skeletal Coral |
| Armi, Z., S. Turki, E. Trabelsi, and N. Ben Maiz. 2010. First recorded proliferation of Coolia monotis (Meunier, 1919) in the North Lake of Tunis (Tunisia) correlation with environmental factors. Environmental Monitoring and Assessment 164:423-433. | 2010 | | | Fishing Sector; Nutrients; Plankton; Recreational Fishing; Tourism & Recreation |
| Kuffner, I. B., R. Grober-Dunsmore, J. C. Brock, and T. D. Hickey. 2010. Biological community structure on patch reefs in Biscayne National Park, FL, USA. Environmental Monitoring and Assessment 164:513-531. | 2010 | | Remote Sensing | Algae; Calcareous Macroalgae; Complex Habitat & Resources; Corallivorous Fish; Finfish Harvest; Fish; Fleshy Macroalgae; Large Herbivorous Fish; Marine Protected Areas; Physical Variables; Storms & Hurricanes |
| Wilson, S. K., R. Fisher, M. S. Pratchett, N. A. J. Graham, N. K. Dulvy, R. A. Turner, A. Cakacaka, and N. V. C. Polunin. 2010. Habitat degradation and fishing effects on the size structure of coral reef fish communities. Ecological Applications 20:442-451. | 2010 | Fiji | | Climate; Complex Habitat & Resources; Finfish Harvest; Fishing Sector; Seastars |
| Su, J. H., Y. Lu, W. Y. Lin, W. H. Wang, P. J. Sung, and J. H. Sheu. 2010. A Cembranoid, Trocheliophorol, from the Cultured Soft Coral Sarcophyton trocheliophorum. Chemistry Letters 39:172-173. | 2010 | | | Octocoral |
| Holmes, T. H. and M. I. McCormick. 2010. Smell, learn and live: The role of chemical alarm cues in predator learning during early life history in a marine fish. Behavioural Processes 83:299-305. | 2010 | | | Fish; Small Herbivorous Fish |
| Suzuki, S., T. Kuwamura, Y. Nakashima, K. Karino, and M. Kohda. 2010. Social factors of group spawning as an alternative mating tactic in the territorial males of the threespot wrasse Halichoeres trimaculatus. Environmental Biology of Fishes 89:71-77. | 2010 | | | Planktivorous Fish |
| Anker, A. 2010. The shrimp genus Salmoneus Holthuis, 1955 (Crustacea, Decapoda, Alpheidae) in the tropical western Atlantic, with description of five new species. Zootaxa 177-205. | 2010 | South & Central America; US East Coast (NC, SC, GA); Dominican Republic; Turks and Caicos; Tobago; Honduras; Costa Rica; Panama; Venezuela; Caribbean; Mexico | | Lobster, Crab, & Shrimp; Skeletal Coral |
| Murchie, K. J., E. Schwager, S. J. Cooke, A. J. Danylchuk, S. E. Danylchuk, T. L. Goldberg, C. D. Suski, and D. P. Philipp. 2010. Spatial ecology of juvenile lemon sharks (Negaprion brevirostris) in tidal creeks and coastal waters of Eleuthera, The Bahamas. Environmental Biology of Fishes 89:95-104. | 2010 | Bahamas | Field Study & Monitoring | Apex Fish Predators; Coastal Development; Fishing Sector; Marine Protected Areas |
| Hultgren, K. M., K. S. Macdonald, and J. E. Duffy. 2010. Sponge-dwelling snapping shrimps of Curacao, with descriptions of three new species. Zootaxa 221-262. | 2010 | | | Lobster, Crab, & Shrimp; Sponges |
| Vergauwen, L., D. Benoot, R. Blust, and D. Knapen. 2010. Long-term warm or cold acclimation elicits a specific transcriptional response and affects energy metabolism in zebrafish. Comparative Biochemistry and Physiology Part A 157:149-157. | 2010 | | | Fish; Special Use Permitting |
| Dos Santos, A. S., J. M. D. Nogueira, M. V. Fukuda, and M. L. Christoffersen. 2010. New terebellids (Polychaeta: Terebellidae) from northeastern Brazil. Zootaxa 1-46. | 2010 | | | Marine Worms |
| Simpson, S. D., M. G. Meekan, N. J. Larsen, R. D. McCauley, and A. Jeffs. 2010. Behavioral plasticity in larval reef fish: orientation is influenced by recent acoustic experiences. Behavioral Ecology 21:1098-1105. | 2010 | | | Fish; Small Herbivorous Fish |
| Na-Nakorn, U., R. Yashiro, A. Wachirachaikarn, W. Prakoon, and N. Pansaen. 2010. Novel microsatellites for multiplex PCRs in the Humpback grouper, Cromileptes altivelis (Valenciennes, 1828), and applications for broodstock management. Aquaculture 306:57-62. | 2010 | Southeast Asia | | Piscivorous Fish |
| Gregati, R. A., V. Fransozo, L. S. Lopez-Greco, and M. L. Negreiros-Fransozo. 2010. Reproductive cycle and ovarian development of the marine ornamental shrimp Stenopus hispidus in captivity. Aquaculture 306:185-190. | 2010 | Cuba | | Aquarium & Pet Trade; Aquarium Stock; Lobster, Crab, & Shrimp; Salinity |
| Wild, C., M. Naumann, W. Niggl, and A. Haas. 2010. Carbohydrate composition of mucus released by scleractinian warm- and cold-water reef corals. Aquatic Biology 10:41-45. | 2010 | | | Stony Coral |
| Reyes, J. G. and N. V. Schizas. 2010. No two reefs are created equal: fine-scale population structure in the threatened coral species Acropora palmata and A. cervicornis. Aquatic Biology 10:69-U83. | 2010 | Puerto Rico; Bahamas | | Stony Coral |
| Andersen, S. B., M. L. Vestergaard, T. D. Ainsworth, O. Hoegh-Guldberg, and M. Kuhl. 2010. Acute tissue death (white syndrome) affects the microenvironment of tabular Acropora corals. Aquatic Biology 10:99-104. | 2010 | | Decision Support Frameworks & Tools | Pathogens; Stony Coral |
| Anker, A. 2010. A new genus and three new species of alpheid shrimps (Crustacea, Decapoda, Caridea) from the tropical American coasts. Zootaxa 47-63. | 2010 | South & Central America; US Pacific & Hawaii; US East Coast (NC, SC, GA); Panama; Caribbean; Mexico | | Lobster, Crab, & Shrimp |
| Fiore, C. L., J. K. Jarett, N. D. Olson, and M. P. Lesser. 2010. Nitrogen fixation and nitrogen transformations in marine symbioses. Trends in Microbiology 18:455-463. | 2010 | | Review | Microorganisms; Nutrient & Contaminant Processing; Nutrients; Ports & Harbors; Sponges |
| Polato, N. R., G. T. Concepcion, R. J. Toonen, and I. B. Baums. 2010. Isolation by distance across the Hawaiian Archipelago in the reef-building coral Porites lobata. Molecular Ecology 19:4661-4677. | 2010 | US Pacific & Hawaii; Johnston Atoll | Lab Study | Stony Coral |
| Mulligan, R. P., A. E. Hay, and A. J. Bowen. 2010. A wave-driven jet over a rocky shoal. Journal of Geophysical Research C: Oceans 115:C10038. | 2010 | | Field Study & Monitoring; Model | Shoreline Protection; Storms & Hurricanes |
| McGowan, H. A., A. P. Sturman, M. C. MacKellar, A. H. Wiebe, and D. T. Neil. 2010. Measurements of the local energy balance over a coral reef flat, Heron Island, southern Great Barrier Reef, Australia. Journal of Geophysical Research D: Atmospheres 115:D19124. | 2010 | Global; Australia | | Ocean Acidity; Substrate |
| Kuguru, B., Y. Achituv, D. F. Gruber, and D. Tchernov. 2010. Photoacclimation mechanisms of corallimorpharians on coral reefs: Photosynthetic parameters of zooxanthellae and host cellular responses to variation in irradiance. Journal of Experimental Marine Biology and Ecology 394:53-62. | 2010 | | | Light; Primary Production; Zooxanthellae |
| Baria, M. V. B., J. R. Guest, A. J. Edwards, P. M. Alino, A. J. Heyward, and E. D. Gomez. 2010. Caging enhances post-settlement survival of juveniles of the scleractinian coral Acropora tenuis. Journal of Experimental Marine Biology and Ecology 394:149-153. | 2010 | Philippines | | Fish; Stony Coral |
| Roth, M. S., M. I. Latz, R. Goericke, and D. D. Deheyn. 2010. Green fluorescent protein regulation in the coral Acropora yongei during photoacclimation. Journal of Experimental Biology 213:3644-3655. | 2010 | | Lab Study | Climate; Special Use Permitting; Stony Coral |
| Parmentier, E., L. Kever, M. Casadevall, and D. Lecchini. 2010. Diversity and complexity in the acoustic behaviour of Dacyllus flavicaudus (Pomacentridae). Marine Biology 157:2317-2327. | 2010 | | | Fish; Small Herbivorous Fish |
| Comeau, S., G. Gorsky, S. Alliouane, and J. P. Gattuso. 2010. Larvae of the pteropod Cavolinia inflexa exposed to aragonite undersaturation are viable but shell-less. Marine Biology 157:2341-2345. | 2010 | | | Calcium Carbonate Deposition; Ocean Acidity |
| Frederich, B. and H. D. Sheets. 2010. Evolution of ontogenetic allometry shaping giant species: a case study from the damselfish genus Dascyllus (Pomacentridae). Biological Journal of the Linnean Society 99:99-117. | 2010 | | Model | Fish; Small Herbivorous Fish |
| Finks, R. M. 2010. The Sponge Family Guadalupiidae In The Texas Permian. Journal of Paleontology 84:821-847. | 2010 | | Review | Sponges |
| Stanley, J. A., C. A. Radford, and A. G. Jeffs. 2010. Induction of settlement in crab megalopae by ambient underwater reef sound. Behavioral Ecology 21:113-120. | 2010 | | | Complex Habitat & Resources; Lobster, Crab, & Shrimp |
| Lowe, R. J., C. Hart, and C. B. Pattiaratchi. 2010. Morphological constraints to wave-driven circulation in coastal reef-lagoon systems: A numerical study. Journal of Geophysical Research C: Oceans 115:C09021. | 2010 | | Field Study & Monitoring; Lab Study; Model | |
| Pineda, J., F. Porri, V. Starczak, and J. Blythe. 2010. Causes of decoupling between larval supply and settlement and consequences for understanding recruitment and population connectivity. Journal of Experimental Marine Biology and Ecology 392:9-21. | 2010 | | Review | Invertebrates; Special Use Permitting |
| Van Syoc, R. J. and W. A. Newman. 2010. Morphology and evolutionary ecology of a sponge-barnacle symbiosis: Four new genera of barnacles (Archaeobalanidae, Bryozobiinae). Journal of Experimental Marine Biology and Ecology 392:65-88. | 2010 | | | Encrusting Sponges; Sponges |
| Brickner, I. and J. T. Hoeg. 2010. Antennular specialization in cyprids of coral-associated barnacles. Journal of Experimental Marine Biology and Ecology 392:115-124. | 2010 | | | |
| Westerberg, V. H., R. Lifran, and S. B. Olsen. 2010. To restore or not? A valuation of social and ecological functions of the Marais des Baux wetland in Southern France. Ecological Economics 69:2383-2393. | 2010 | France | Model | Tourism & Recreation; Tourism & Recreation Policies; Valuation; Wetland & Reef Restoration; Wetlands |
| Johnson, D. W., M. R. Christie, and J. Moye. 2010. Quantifying Evolutionary Potential Of Marine Fish Larvae: Heritability, Selection, And Evolutionary Constraints. Evolution 64:2614-2628. | 2010 | | Field Study & Monitoring | Fish; Small Herbivorous Fish |
| Yamazaki, S., R. Q. Grafton, and T. Kompas. 2010. Non-consumptive values and optimal marine reserve switching. Ecological Economics 69:2427-2434. | 2010 | Australia | Model | Fishing Sector |
| Pinsky, M. L., H. R. Montes, and S. R. Palumbi. 2010. Using Isolation By Distance And Effective Density To Estimate Dispersal Scales In Anemonefish. Evolution 64:2688-2700. | 2010 | | | Anemones & Zooanthids; Fish |
| TEEB. 2010. Integrating the ecological and economic dimensions in biodiversity and ecosystem service valuation. in Kumar, P., editor. The economics of ecosystems and biodiversity: ecological and economic foundations. Earthscan, United Kingdom. | 2010 | | | Fish; Fishing Sector; Funding & Incentives |
| Looney, E. E., K. P. Sutherland, and E. K. Lipp. 2010. Effects of temperature, nutrients, organic matter and coral mucus on the survival of the coral pathogen, Serratia marcescens PDL100. Environmental Microbiology 12:2479-2485. | 2010 | | | Nutrients; Pathogens; Stony Coral |
| TEEB. 2010. Biodiversity, ecosystems and ecosystem services. in P. Kumar, editor. The economics of ecosystems and biodiversity: ecological and economic foundations. Earthscan, United Kingdom. | 2010 | | | Surface & Groundwater Flow |
| Garren, M. and F. Azam. 2010. New Method for Counting Bacteria Associated with Coral Mucus. Applied and Environmental Microbiology 76:6128-6133. | 2010 | US Pacific & Hawaii | Field Study & Monitoring | Microorganisms; Stony Coral; Wastewater Discharge; Zooxanthellae |
| TEEB. 2010. Measuring biophysical quantities and the use of indicators. in P. Kumar, editor. The economics of ecosystems and biodiversity: ecological and economic foundations. Earthscan, United Kingdom. | 2010 | | Index or Indicator | Agriculture; Carbon Storage & Cycling; Forestry |
| Hou, X. L., W. J. Zhou, N. Chen, L. Y. Zhang, Q. Liu, M. Y. Luo, Y. K. Fan, W. G. Liang, and Y. C. Fu. 2010. Determination of Ultralow Level I-129/I-127 in Natural Samples by Separation of Microgram Carrier Free Iodine and Accelerator Mass Spectrometry Detection. Analytical Chemistry 82:7713-7721. | 2010 | China | | Sediment; Surface & Groundwater Flow |
| Pereira, P. H. C., B. P. Ferreira, and S. M. Rezende. 2010. Community structure of the ichthyofauna associated with seagrass beds (Halodule wrightii) in Formoso River estuary - Pernambuco, Brazil. Anais da Academia Brasileira de Ciencias 82:617-628. | 2010 | | Index or Indicator | Corallivorous Fish; Large Herbivorous Fish; Seagrasses; Surface & Groundwater Flow; Trawling & Fishing Gear Damage |
| Vendrasco, M. J., R. D. Hoare, and G. L. Bell. 2010. The youngest rostroconch mollusc from North America, Minycardita capitanensis n. sp. Zootaxa 61-64. | 2010 | | | Molluscs; Snails & Conch |
| Bruce, A. J. 2010. More pontoniine shrimps (Crustacea: Decapoda: Palaemonidae) from the CReefs 2009 Heron Island expedition. Zootaxa 20-36. | 2010 | Australia | | Lobster, Crab, & Shrimp; Sponges |
| Hamilton, B., N. Whittle, G. Shaw, G. Eaglesham, M. R. Moore, and R. J. Lewis. 2010. Human fatality associated with Pacific ciguatoxin contaminated fish. Toxicon 56:668-673. | 2010 | US Pacific & Hawaii | | Fish |
| National Oceanic and Atmospheric Administration, National Marine Fisheries Service. 2010. Fisheries of the United States 2009. National Oceanic and Atmospheric Administration, Silver Spring, MD. | 2010 | | | Aquaculture; Commercial Fisheries; Fish; Fishing Sector; Lobster, Crab, & Shrimp; Recreational Fishing; Tourism & Recreation |
| van de Flierdt, T., L. F. Robinson, and J. F. Adkins. 2010. Deep-sea coral aragonite as a recorder for the neodymium isotopic composition of seawater. Geochimica et Cosmochimica Acta 74:6014-6032. | 2010 | Global; Oman | | Calcium Carbonate Deposition |
| Garzon-Ferreira, J. and A. Rodriguez-Ramirez. 2010. SIMAC: Development and implementation of a coral reef monitoring network in Colombia. Revista de Biologia Tropical 58:67-80. | 2010 | Global; South & Central America; US Pacific & Hawaii; Caribbean | Field Study & Monitoring | Docks & Marinas; Environmental Monitoring, Mapping, & Scientific Research; Fish; Internet & Telecommunications; Octocoral; Pathogens; Salinity |
| Zapata, F. A., A. Rodriguez-Ramirez, C. Caro-Zambrano, and J. Garzon-Ferreira. 2010. Mid-term coral-algal dynamics and conservation status of a Gorgona Island (Tropical Eastern Pacific) coral reef. Revista de Biologia Tropical 58:81-94. | 2010 | US Pacific & Hawaii | Field Study & Monitoring | Algae; Non-point Source Runoff; Sediment |
| Navas-Camacho, R., D. L. Gil-Agudelo, A. Rodriguez-Ramirez, M. C. Reyes-Nivia, and J. Garzon-Ferreira. 2010. Coral diseases and bleaching on Colombian Caribbean coral reefs. Revista de Biologia Tropical 58:95-106. | 2010 | South & Central America; Caribbean | Field Study & Monitoring | Hydrocoral; Pathogens; Stony Coral |
| Rodriguez-Ramirez, A., M. C. Reyes-Nivia, S. Zea, R. Navas-Camacho, J. Garzon-Ferreira, S. Bejarano, P. Herron, and C. Orozco. 2010. Recent dynamics and condition of coral reefs in the Colombian Caribbean. Revista de Biologia Tropical 58:107-131. | 2010 | South & Central America; Caribbean | Field Study & Monitoring; Model; Index or Indicator | Algae; Climate; Stony Coral |
| Navas-Camacho, R., A. Rodriguez-Ramirez, and M. C. Reyes-Nivia. 2010. Agents of coral mortality on reef formations of the Colombian Pacific. Revista de Biologia Tropical 58:133-138. | 2010 | Global; South & Central America; US Pacific & Hawaii; Caribbean | Field Study & Monitoring | Microorganisms; Octocoral; Pathogens; Stony Coral |
| Narvaez, K. and F. A. Zapata. 2010. First record and impact of the crown-of-thorns starfish, Acanthaster planci (Spinulosida: Acanthasteridae) on corals of Malpelo Island, Colombian Pacific. Revista de Biologia Tropical 58:139-143. | 2010 | US Pacific & Hawaii; Panama | | Seastars |
| Sanchez, J. A., S. Herrera, R. Navas-Camacho, A. Rodriguez-Ramirez, P. Herron, V. Pizarro, A. R. Acosta, P. A. Castillo, P. Montoya, and C. Orozco. 2010. White plague-like coral disease in remote reefs of the Western Caribbean. Revista de Biologia Tropical 58:145-154. | 2010 | South & Central America; Caribbean | | Pathogens; Stony Coral |
| Tsounis, G., C. Orejas, S. Reynaud, J. M. Gili, D. Allemand, and C. Ferrier-Pages. 2010. Prey-capture rates in four Mediterranean cold water corals. Marine Ecology Progress Series 398:149-155. | 2010 | | | Stony Coral |
| O'Donnell, M. J., A. E. Todgham, M. A. Sewell, L. M. Hammond, K. Ruggiero, N. A. Fangue, M. L. Zippay, and G. E. Hofmann. 2010. Ocean acidification alters skeletogenesis and gene expression in larval sea urchins. Marine Ecology Progress Series 398:157-171. | 2010 | | | Calcium Carbonate Deposition; CO2; Ocean Acidity; Sea Urchins; Special Use Permitting |
| Pillay, D., G. M. Branch, and A. Steyn. 2010. Unexpected effects of starfish grazing on sandflat communities following an outbreak. Marine Ecology Progress Series 398:173-182. | 2010 | South Africa | Field Study & Monitoring; Index or Indicator | Invertebrates; Microorganisms; Seastars; Sediment; Small Herbivorous Fish |
| O'Shea, O. R., M. J. Kingsford, and J. Seymour. 2010. Tide-related periodicity of manta rays and sharks to cleaning stations on a coral reef. Marine and Freshwater Research 61:65-73. | 2010 | Australia | Decision Support Frameworks & Tools | Apex Fish Predators |
| Coulson, P. G., S. A. Hesp, I. C. Potter, and N. G. Hall. 2010. Life cycle characteristics of the Blue Morwong Nemadactylus valenciennesi, compared with those of other species of Cheilodactylidae. Marine and Freshwater Research 61:104-118. | 2010 | Australia | | Fish |
| Motti, C. A., P. Ettinger-Epstein, R. H. Willis, and D. M. Tapiolas. 2010. ESI FTICR-MS Analysis of Larvae from the Marine Sponge Luffariella variabilis. Marine Drugs 8:190-199. | 2010 | Australia | | Sponges |
| Dixon, O. A. 2010. Fossilized polyp remains in Silurian Heliolites (Anthozoa, Tabulata) from Nunavut, Arctic Canada. Lethaia 43:60-72. | 2010 | | | |
| Sleeman, J. C., M. G. Meekan, B. J. Fitzpatrick, C. R. Steinberg, R. Ancel, and C. J. A. Bradshaw. 2010. Oceanographic and atmospheric phenomena influence the abundance of whale sharks at Ningaloo Reef, Western Australia. Journal of Experimental Marine Biology and Ecology 382:77-81. | 2010 | Global; Australia | Model; Index or Indicator; Remote Sensing | Apex Fish Predators; Physical Variables; Tourism & Recreation; Water Depth & Sea Level |
| Barbeitos, M. S., S. L. Romano, and H. R. Lasker. 2010. Repeated loss of coloniality and symbiosis in scleractinian corals. Proceedings of the National Academy of Sciences of the United States of America 107:11877-11882. | 2010 | South & Central America; US East Coast (NC, SC, GA); Caribbean | | Climate; Stony Coral; Zooxanthellae |
| Manez, K. S. and S. C. A. Ferse. 2010. The History of Makassan Trepang Fishing and Trade. PLoS One 5:e11346. | 2010 | Southeast Asia; Indonesia | | Echinoderms; Finfish Harvest; Fishing Sector |
| Comeau, S., R. Jeffree, J. L. Teyssie, and J. P. Gattuso. 2010. Response of the Arctic Pteropod Limacina helicina to Projected Future Environmental Conditions. PLoS One 5:e11362. | 2010 | | Lab Study | Calcium Carbonate Deposition; CO2; Molluscs; Ocean Acidity; Plankton; Whales & Dolphins |
| Sunagawa, S., C. M. Woodley, and M. Medina. 2010. Threatened Corals Provide Underexplored Microbial Habitats. PLoS One 5:e9554. | 2010 | South & Central America; Caribbean | | Microorganisms; Ports & Harbors; Stony Coral |
| Karlen, D. J., R. E. Price, T. Pichler, and J. R. Garey. 2010. Changes in Benthic Macrofauna Associated with a Shallow-Water Hydrothermal Vent Gradient in Papua New Guinea. Pacific Science 64:391-404. | 2010 | Papua New Guinea | | Invertebrates; Molluscs |
| Baird, A. H., M. C. Kospartov, and S. Purcell. 2010. Reproductive Synchrony in Acropora Assemblages on Reefs of New Caledonia. Pacific Science 64:405-412. | 2010 | Global; US Pacific & Hawaii; Australia; New Caledonia | | Discharges; Stony Coral |
| Yeffet, D., A. Rudi, S. Ketzinel, Y. Benayahu, and Y. Kashman. 2010. Auroside, a Xylosyl-sterol, and Patusterol A and B, two Hydroxylated Sterols, from two Soft Corals Eleutherobia aurea and Lobophytum patulum. Natural Product Communications 5:205-210. | 2010 | Kenya; South Africa | | Lobster, Crab, & Shrimp; Nutrients; Octocoral |
| Hazlett, B. A. and C. E. Bach. 2010. Microhabitat Distribution of the Hermit Crabs Calcinus haigae and Calcinus hazletti (Decapoda: Anomura: Diogenidae). Pacific Science 64:441-447. | 2010 | | Field Study & Monitoring; Lab Study | Lobster, Crab, & Shrimp; Stony Coral |
| Herrera, S., A. Baco, and J. A. Sanchez. 2010. Molecular systematics of the bubblegum coral genera (Paragorgiidae, Octocorallia) and description of a new deep-sea species. Molecular Phylogenetics and Evolution 55:123-135. | 2010 | | | Finfish Harvest; Octocoral; Trawling & Fishing Gear Damage |
| Ishii, T., Z. Q. Zhan, and C. S. Vairappan. 2010. A New Cembrane Diterpene from the Bornean Soft Coral Nephthea sp. Molecules 15:3857-3862. | 2010 | | | Octocoral |
| Wilding, T. A., E. J. L. Palmer, and N. V. C. Polunin. 2010. Comparison of three methods for quantifying topographic complexity on rocky shores. Marine Environmental Research 69:143-151. | 2010 | | | Complex Habitat & Resources |
| Olsen, Y. S., S. E. Fox, E. L. Kinney, M. Teichberg, and I. Valiela. 2010. Differences in urbanization and degree of marine influence are reflected in delta C-13 and delta N-15 of producers and consumers in seagrass habitats of Puerto Rico. Marine Environmental Research 69:198-206. | 2010 | Puerto Rico | | Seagrasses; Surface & Groundwater Flow; Wastewater Discharge |
| Dailer, M. L., R. S. Knox, J. E. Smith, M. Napier, and C. M. Smith. 2010. Using delta N-15 values in algal tissue to map locations and potential sources of anthropogenic nutrient inputs on the island of Maui, Hawai'i, USA. Marine Pollution Bulletin 60:655-671. | 2010 | | GIS & Maps | Agriculture; Fertilizer & Pesticide Use; Nutrients; Wastewater Discharge |
| Crowe, S. E., P. T. Gayes, R. F. Viso, D. C. Bergquist, P. C. Jutte, and R. F. Van Dolah. 2010. Impact of the Charleston Ocean Dredged Material Disposal Site on nearby hard bottom reef habitats. Marine Pollution Bulletin 60:679-691. | 2010 | US East Coast (NC, SC, GA) | | Complex Habitat & Resources; Dredging, Draining, & Filling; Fish; Ports & Harbors; Sediment; Shipping, Storage, & Warehousing; Sponges |
| Elliott, K. H., A. Shoji, K. L. Campbell, and A. J. Gaston. 2010. Oxygen stores and foraging behavior of two sympatric, planktivorous alcids. Aquatic Biology 8:221-235. | 2010 | Cuba | | Dive, Snorkeling, & Swimming Tourism; Marine Birds |
| Rodgers, G. M., J. L. Kelley, and L. J. Morrell. 2010. Colour change and assortment in the western rainbowfish. Animal Behaviour 79:1025-1030. | 2010 | | | Fish |
| Rocha, L. A., H. T. Pinheiro, and J. L. Gasparini. 2010. Description of Halichoeres rubrovirens, a new species of wrasse (Labridae: Perciformes) from the Trindade and Martin Vaz Island group, southeastern Brazil, with a preliminary mtDNA molecular phylogeny of New World Halichoeres. Zootaxa 22-30. | 2010 | US Pacific & Hawaii; US East Coast (NC, SC, GA) | | Planktivorous Fish |
| Perez, R. A. L., I. L. Perez-Maldonado, A. M. L. Ortiz, L. M. B. Servin, J. B. Villalobos, and G. E. L. Morales. 2010. Reef fishes of the Mazunte-Bahias de Huatulco reef track, Oaxaca, Mexican Pacific. Zootaxa 53-62. | 2010 | US Pacific & Hawaii | | Fish |
| Shiroma, E. and J. D. Reimer. 2010. Investigations into the Reproductive Patterns, Ecology, and Morphology in the Zoanthid Genus Palythoa (Cnidaria: Anthozoa: Hexacorallia) in Okinawa, Japan. Zoological Studies 49:182-194. | 2010 | Japan | | Anemones & Zooanthids; Zooxanthellae |
| Tkachenko, K. S. and K. Soong. 2010. Protection of Habitat Types: A Case Study of the Effectiveness of a Small Marine Reserve and Impacts of Different Habitats on the Diversity and Abundance of Coral Reef Fishes. Zoological Studies 49:195-210. | 2010 | Taiwan | Index or Indicator | Algae; Complex Habitat & Resources; Finfish Harvest; Fish; Small Herbivorous Fish |
| Yuan, J., W. J. Zhang, G. P. Liu, M. Wei, Z. L. Qi, W. Liu, L. Cui, and Y. L. Cao. 2010. Repair of Canine Mandibular Bone Defects with Bone Marrow Stromal Cells and Coral. Tissue Engineering Part A 16:1385-1394. | 2010 | | | |
| Payros, A., V. Pujalte, J. Tosquella, and X. Orue-Etxebarria. 2010. The Eocene storm-dominated foralgal ramp of the western Pyrenees (Urbasa-Andia Formation): An analogue of future shallow-marine carbonate systems? Sedimentary Geology 228:184-204. | 2010 | Global | Field Study & Monitoring | Climate; CO2; Sediment; Storms & Hurricanes; Water Depth & Sea Level |
| De Santis, V., M. Caldara, T. de Torres, and J. E. Ortiz. 2010. Stratigraphic units of the Apulian Tavoliere plain (Southern Italy): Chronology, correlation with marine isotope stages and implications regarding vertical movements. Sedimentary Geology 228:255-270. | 2010 | | | Agriculture; Sediment; Surface & Groundwater Flow; Water Depth & Sea Level |
| Schlesinger, A., E. Kramarsky-Winter, H. Rosenfeld, R. Armoza-Zvoloni, and Y. Loya. 2010. Sexual Plasticity and Self-Fertilization in the Sea Anemone Aiptasia diaphana. PLoS One 5:e11874. | 2010 | | Lab Study; Model | Anemones & Zooanthids; Substrate |
| Devney, C. A., M. J. Caley, and B. C. Congdon. 2010. Plasticity of Noddy Parents and Offspring to Sea-Surface Temperature Anomalies. PLoS One 5:e11891. | 2010 | | | Marine Birds |
| Butler, A. J., T. Rees, P. Beesley, and N. J. Bax. 2010. Marine Biodiversity in the Australian Region. PLoS One 5:e11831. | 2010 | Australia | | Marine Protected Areas; Museums, Amusement Parks, Historical Sites |
| Fujikura, K., D. Lindsay, H. Kitazato, S. Nishida, and Y. Shirayama. 2010. Marine Biodiversity in Japanese Waters. PLoS One 5:e11836. | 2010 | Global; US Pacific & Hawaii; Japan | | |
| Fautin, D., P. Dalton, L. S. Incze, J. A. C. Leong, C. Pautzke, A. Rosenberg, P. Sandifer, G. Sedberry, J. W. Tunnell, I. Abbott, R. E. Brainard, M. Brodeur, L. G. Eldredge, M. Feldman, F. Moretzsohn, P. S. Vroom, M. Wainstein, and N. Wolff. 2010. An Overview of Marine Biodiversity in United States Waters. PLoS One 5:e11914. | 2010 | Global | Field Study & Monitoring; Lab Study | Banks, Credit, & Securities; CO2; Coastal Development; Environmental Monitoring, Mapping, & Scientific Research; Invasive Species; Shipping, Storage, & Warehousing |
| Miloslavich, P., J. M. Diaz, E. Klein, J. Jose Alvarado, C. Diaz, J. Gobin, E. Escobar-Briones, J. J. Cruz-Motta, E. Weil, J. Cortes, A. C. Bastidas, R. Robertson, F. Zapata, A. Martin, J. Castillo, A. Kazandjian, and M. Ortiz. 2010. Marine Biodiversity in the Caribbean: Regional Estimates and Distribution Patterns. PLoS One 5:e11916. | 2010 | Global; South & Central America; Antilles; Cuba; Venezuela; Caribbean | | Beaches & Nature Parks; Mangroves; Seagrasses |
| Ward-Paige, C. A., C. Mora, H. K. Lotze, C. Pattengill-Semmens, L. McClenachan, E. Arias-Castro, and R. A. Myers. 2010. Large-Scale Absence of Sharks on Reefs in the Greater-Caribbean: A Footprint of Human Pressures. PLoS One 5:e11968. | 2010 | South & Central America; Caribbean | | Apex Fish Predators; Finfish Harvest; Fishing & Harvesting Management; Special Use Permitting |
| TEEB. 2010. Socio-cultural context of ecosystem and biodiversity valuation. in P. Kumar, editor. The economics of ecosystems and biodiversity: ecological and economic foundations. Earthscan, United Kingdom. | 2010 | | Decision Support Frameworks & Tools | Existence Value & Sense of Place; Funding & Incentives; Landscape Conservation & Restoration; Monetary Valuation; Valuation |
| Hardman, E., J. M. Green, M. S. Desire, and S. Perrine. 2010. Movement of sonically tagged bluespine unicornfish, Naso unicornis, in relation to marine reserve boundaries in Rodrigues, western Indian Ocean. Aquatic Conservation: Marine and Freshwater Ecosystems 20:357-361. | 2010 | Indian Ocean; India | Field Study & Monitoring | Finfish Harvest; Fish; Fishing Sector |
| TEEB. 2010. The economics of valuing ecosystem services and biodiversity. in P. Kumar, editor. The economics of ecosystems and biodiversity: ecological and economic foundations. Earthscan, United Kingdom. | 2010 | | | Climate; Climate Regulation; Cultural Policies; Monetary Valuation; Recreational Opportunities; Special Use Permitting; Tourism & Recreation; Tourism & Recreation Policies; Valuation |
| TEEB. 2010. Discounting, ethics, and options for maintaining biodiversity and ecosystem integrity. in P. Kumar, editor. The economics of ecosystems and biodiversity: ecological and economic foundations. Earthscan, United Kingdom. | 2010 | | | |
| TEEB. 2010. in P. Kumar, editor. The economics of ecosystems and biodiversity: ecological and economic foundations. Earthscan, United Kingdom. | 2010 | | Index or Indicator | Economic Markets & Policies; Monetary Valuation; Valuation |
| Chung, H. M., Y. H. Chen, T. L. Hwang, L. F. Chuang, W. H. Wang, and P. J. Sung. 2010. Rumphellclovane A, a novel clovane-related sesquiterpenoid from the gorgonian coral Rumphella antipathies. Tetrahedron Letters 51:2734-2736. | 2010 | | | Octocoral |
| TEEB. 2010. Appendix C: Estimates of monetary values of ecosystem services. in P. Kumar, editor. The economics of ecosystems and biodiversity: ecological and economic foundations. Earthscan, United Kingdom. | 2010 | | Decision Support Frameworks & Tools | Monetary Valuation |
| Adams, E. W. and C. A. Hasler. 2010. The intrinsic effect of shape on the retrogradation motif and timing of drowning of carbonate patch reef systems (Lower Frasnian, Bugle Gap, Canning Basin, Western Australia). Sedimentology 57:956-984. | 2010 | Australia | Model; Decision Support Frameworks & Tools | Sediment |
| Carpentier, C., B. Lathuiliere, and S. Ferry. 2010. Sequential and climatic framework of the growth and demise of a carbonate platform: implications for the peritidal cycles (Late Jurassic, North-eastern France). Sedimentology 57:985-U38. | 2010 | France | | Climate; Sediment |
| Gischler, E., R. N. Ginsburg, J. O. Herrle, and S. Prasad. 2010. Mixed carbonates and siliciclastics in the Quaternary of southern Belize: Pleistocene turning points in reef development controlled by sea-level change. Sedimentology 57:1049-1068. | 2010 | South & Central America; Florida; US East Coast (NC, SC, GA); Atlantic Ocean; Belize; New Caledonia | Field Study & Monitoring; Model | Sediment |
| Craig, M. T., J. A. Eble, and B. W. Bowen. 2010. Origins, ages and population histories: comparative phylogeography of endemic Hawaiian butterflyfishes (genus Chaetodon). Journal of Biogeography 37:2125-2136. | 2010 | US Pacific & Hawaii; Australia; Pacific Ocean | Review | Corallivorous Fish; Fish |
| Tester, P. A., R. L. Feldman, A. W. Nau, S. R. Kibler, and R. W. Litaker. 2010. Ciguatera fish poisoning and sea surface temperatures in the Caribbean Sea and the West Indies. Toxicon 56:698-710. | 2010 | South & Central America; US Pacific & Hawaii; Belize; Pacific Ocean; Caribbean; Mexico | Review | Climate; Fish; Pathogens |
| Shima, J. S. and S. E. Swearer. 2010. The legacy of dispersal: larval experience shapes persistence later in the life of a reef fish. Journal of Animal Ecology 79:1308-1314. | 2010 | | Field Study & Monitoring | Fish |
| Litaker, R. W., M. W. Vandersea, M. A. Faust, S. R. Kibler, A. W. Nau, W. C. Holland, M. Chinain, M. J. Holmes, and P. A. Tester. 2010. Global distribution of ciguatera causing dinoflagellates in the genus Gambierdiscus. Toxicon 56:711-730. | 2010 | Global; South & Central America; US Pacific & Hawaii; US East Coast (NC, SC, GA); Belize; Caribbean; Mexico | Field Study & Monitoring | Environmental Monitoring, Mapping, & Scientific Research; Fish |
| Dewsbury, B. M. and J. W. Fourqurean. 2010. Artificial Reefs Concentrate Nutrients And Alter Benthic Community Structure In An Oligotrophic, Subtropical Estuary. Bulletin of Marine Science 86:813-829. | 2010 | Florida | | Algae; Artificial Habitat; Fish; Invertebrates; Nutrients; Piscivorous Fish; Seagrasses; Sediment |
| Stewart, I., G. K. Eaglesham, S. Poole, G. Graham, C. Paulo, W. Wickramasinghe, R. Sadler, and G. R. Shaw. 2010. Establishing a public health analytical service based on chemical methods for detecting and quantifying Pacific ciguatoxin in fish samples. Toxicon 56:804-812. | 2010 | US Pacific & Hawaii; Australia | Lab Study | Fish |
| Burt, J., D. Feary, P. Usseglio, A. Bauman, and P. F. Sale. 2010. The Influence Of Wave Exposure On Coral Community Development On Man-Made Breakwater Reefs, With A Comparison To A Natural Reef. Bulletin of Marine Science 86:839-859. | 2010 | United Arab Emirates | | Sediment; Shoreline Protection |
| Golubic, S., R. M. M. Abed, K. Palinska, S. Pauillac, M. Chinain, and D. Laurent. 2010. Marine toxic cyanobacteria: Diversity, environmental responses and hazards. Toxicon 56:836-841. | 2010 | | Field Study & Monitoring; Decision Support Frameworks & Tools | Cyanobacteria; Microorganisms; Plankton |
| Nakajima, R., T. Yoshida, K. Fujita, A. Nakayama, Y. Fuchinoue, B. H. R. Othman, and T. Toda. 2010. Release Of Particulate And Dissolved Organic Carbon By The Scleractinian Coral Acropora Formosa. Bulletin of Marine Science 86:861-870. | 2010 | Cuba | | Stony Coral |
| Copard, K., C. Colin, E. Douville, A. Freiwald, G. Gudmundsson, B. De Mol, and N. Frank. 2010. Nd isotopes in deep-sea corals in the North-eastern Atlantic. Quaternary Science Reviews 29:2499-2508. | 2010 | US East Coast (NC, SC, GA); Atlantic Ocean | | Calcium Carbonate Deposition; Water Depth & Sea Level |
| Hunting, E. R., J. M. de Goeij, M. Asselman, R. W. M. van Soest, and H. G. van der Geest. 2010. Degradation Of Mangrove-Derived Organic Matter In Mangrove Associated Sponges. Bulletin of Marine Science 86:871-877. | 2010 | South & Central America; Caribbean | | Mangroves; Microorganisms; Sponges |
| Boswell, K. M., R. J. D. Wells, J. H. Cowan, and C. A. Wilson. 2010. Biomass, Density, And Size Distributions Of Fishes Associated With A Large-Scale Artificial Reef Complex In The Gulf Of Mexico. Bulletin of Marine Science 86:879-889. | 2010 | South & Central America; Mexico | | Artificial Habitat; Complex Habitat & Resources; Fish; Oil & Gas Rigs |
| Klein, C. J., N. C. Ban, B. S. Halpern, M. Beger, E. T. Game, H. S. Grantham, A. Green, T. J. Klein, S. Kininmonth, E. Treml, K. Wilson, and H. P. Possingham. 2010. Prioritizing Land and Sea Conservation Investments to Protect Coral Reefs. PLoS One 5:e12431. | 2010 | Global | | Climate; Finfish Harvest; Funding & Donations; Funding & Incentives; Ocean Acidity |
| Sweet, M. J., A. Croquer, and J. C. Bythell. 2010. Temporal and spatial patterns in waterborne bacterial communities of an island reef system. Aquatic Microbial Ecology 61:1-11. | 2010 | | | Plankton; Sediment |
| Brothers, N., A. R. Duckworth, C. Safina, and E. L. Gilman. 2010. Seabird Bycatch in Pelagic Longline Fisheries Is Grossly Underestimated when Using Only Haul Data. PLoS One 5:e12491. | 2010 | US Pacific & Hawaii; Indian Ocean; India; Pacific Ocean | | Accidental & Illegal Harvest; Finfish Harvest; Fishing Sector; Marine Birds |
| Bourgeois, S., S. Hochard, and O. Pringault. 2010. Subtidal microphytobenthos: effects of inorganic and organic compound supplies on migration, production, and respiration in a tropical coastal environment. Aquatic Microbial Ecology 61:13-29. | 2010 | New Caledonia | | Nutrients; Primary Production; Sediment |
| Tang, P. C., N. V. Wei, C. W. Chen, C. C. Wallace, and C. A. Chen. 2010. Comparative Study of Genetic Variability of AAT and CT/GT Microsatellites in Staghorn Coral, Acropora (Scleractinia: Acroporidae). Zoological Studies 49:657-668. | 2010 | South & Central America; US Pacific & Hawaii; Caribbean | | Stony Coral |
| Villaca, R., A. C. Fonseca, V. K. Jensen, and B. Knoppers. 2010. Species composition and distribution of macroalgae on Atol das Rocas, Brazil, SW Atlantic. Botanica Marina 53:113-122. | 2010 | South & Central America; US East Coast (NC, SC, GA); Caribbean | | Algae; Coralline Algae; Salinity |
| Komorita, T., R. Kajihara, H. Tsutsumi, S. Shibanuma, T. Yamada, N. Higaki, and S. Montani. 2010. Reevaluation of the nutrient mineralization process by infaunal bivalves (Ruditapes philippinarum) in a shallow lagoon in Hokkaido, Japan. Journal of Experimental Marine Biology and Ecology 383:8-16. | 2010 | Japan | Field Study & Monitoring | Algae; Bivalves; Nutrients; Plankton; Sediment |
| Fuentes, M. M. P. B., M. Hamann, and C. J. Limpus. 2010. Past, current and future thermal profiles of green turtle nesting grounds: Implications from climate change. Journal of Experimental Marine Biology and Ecology 383:56-64. | 2010 | Global; Australia; Cuba | Model | Beaches & Nature Parks; Climate; Sea Turtles |
| Singh, C., J. C. Manivel, and S. E. Pambuccian. 2010. Pseudofungi: Coral Shapes and Bamboo Sticks in Lymph Node Sinuses. International Journal Of Surgical Pathology 18:68-69. | 2010 | | | |
| Sherwood, O. A., B. E. Lapointe, M. J. Risk, and R. E. Jamieson. 2010. Nitrogen Isotopic Records of Terrestrial Pollution Encoded in Floridian and Bahamian Gorgonian Corals. Environmental Science and Technology 44:874-880. | 2010 | Florida; Bahamas | | Algae; Discharges; Nutrients; Octocoral; Sea Turtles; Wastewater Discharge |
| Singh, S. P., A. Azua, A. Chaudhary, S. Khan, K. L. Willett, and P. R. Gardinali. 2010. Occurrence and distribution of steroids, hormones and selected pharmaceuticals in South Florida coastal environments. Ecotoxicology 19:338-350. | 2010 | Florida | | Pharmaceuticals & Cosmetics; Pharmaceuticals & Cosmetics Sources; Sewage Treatment; Surface & Groundwater Flow; Waste Management Policies; Wastewater Discharge; Wetlands |
| Sheehy, D. J. and S. F. Vik. 2010. The role of constructed reefs in non-indigenous species introductions and range expansions. Ecological Engineering 36:1-11. | 2010 | South & Central America; Mexico | Review | Artificial Habitat; Boating Activities; Boating Regulations; Civil Engineering & Construction; Invasive Species; Shipping, Storage, & Warehousing; Skeletal Coral |
| Bahartan, K., M. Zibdah, Y. Ahmed, A. Israel, I. Brickner, and A. Abelson. 2010. Macroalgae in the coral reefs of Eilat (Gulf of Aqaba, Red Sea) as a possible indicator of reef degradation. Marine Pollution Bulletin 60:759-764. | 2010 | | Index or Indicator | Algae; Stony Coral; Turf Algae |
| Csaszar, N. B. M., P. J. Ralph, R. Frankham, R. Berkelmans, and M. J. H. van Oppen. 2010. Estimating the Potential for Adaptation of Corals to Climate Warming. PLoS One 5:e9751. | 2010 | US Pacific & Hawaii | | Climate; Primary Production; Stony Coral |
| Kawamura, G., T. Kasedou, T. Tamiya, and A. Watanabe. 2010. Colour preference of five marine fishes: bias for natural and yellow-dyed krill in laboratory tanks, sea cages and an earthen pond. Marine and Freshwater Behaviour and Physiology 43:169-182. | 2010 | Japan | Lab Study | Fish |
| Benayahu, Y. and K. Fabricius. 2010. On Some Octocorallia (Alcyonacea) from Hong Kong, with Description of a New Species, Paraminabea rubeusa. Pacific Science 64:285-296. | 2010 | US Pacific & Hawaii | | Octocoral |
| Rochette, S., E. Rivot, J. Morin, S. Mackinson, P. Riou, and O. Le Pape. 2010. Effect of nursery habitat degradation on flatfish population: Application to Solea solea in the Eastern Channel (Western Europe). Journal of Sea Research 64:34-44. | 2010 | Europe | Model; GIS & Maps | Fish; Fishing Sector; Sediment; Surface & Groundwater Flow |
| Borsa, P., M. Pandolfi, S. Andrefouet, and V. Bretagnolle. 2010. Breeding Avifauna of the Chesterfield Islands, Coral Sea: Current Population Sizes, Trends, and Threats. Pacific Science 64:297-314. | 2010 | US Pacific & Hawaii | | Marine Birds |
| Dong, H. Y., W. S. Li, and H. R. Lin. 2010. Comparative analyses of sequence structure, evolution, and expression of four somatostatin receptors in orange-spotted grouper (Epinephelus coioides). Molecular And Cellular Endocrinology 323:125-136. | 2010 | Southeast Asia | | Fish; Piscivorous Fish |
| Batianoff, G. N., G. C. Naylor, R. J. Fensham, and V. J. Neldner. 2010. Characteristics of Coral Cay Soils at Coringa-Herald Coral Sea Islands, Australia. Pacific Science 64:335-347. | 2010 | US Pacific & Hawaii; Australia | | Marine Birds; Nutrients |
| Penin, L., F. Michonneau, A. H. Baird, S. R. Connolly, M. S. Pratchett, M. Kayal, and M. Adjeroud. 2010. Early post-settlement mortality and the structure of coral assemblages. Marine Ecology Progress Series 408:55-U76. | 2010 | | | Corallivorous Fish; Large Herbivorous Fish; Stony Coral |
| McCauley, D. J., Y. P. Papastamatiou, and H. S. Young. 2010. An Observation of Mating in Free-Ranging Blacktip Reef Sharks, Carcharhinus melanopterus. Pacific Science 64:349-352. | 2010 | Palmyra Atoll | | Apex Fish Predators |
| Wagner, D. E., P. Kramer, and R. van Woesik. 2010. Species composition, habitat, and water quality influence coral bleaching in southern Florida. Marine Ecology Progress Series 408:65-78. | 2010 | Florida | | Discharges; Hydrocoral; Nutrients; Stony Coral |
| Lamb, R. W. and D. W. Johnson. 2010. Trophic restructuring of coral reef fish communities in a large marine reserve. Marine Ecology Progress Series 408:169-180. | 2010 | Bahamas | | Apex Fish Predators; Finfish Harvest; Fish; Piscivorous Fish |
| Rees, S. E., M. J. Attrill, M. C. Austen, S. C. Mangi, J. P. Richards, and L. D. Rodwell. 2010. Is there a win-win scenario for marine nature conservation? A case study of Lyme Bay, England. Ocean and Coastal Management 53:135-145. | 2010 | England | | Dredging, Draining, & Filling; Finfish Harvest; Monetary Valuation; Substrate; Trawling & Fishing Gear Damage |
| Ford, J. R., R. J. Williams, A. M. Fowler, D. R. Cox, and I. M. Suthers. 2010. Identifying critical estuarine seagrass habitat for settlement of coastally spawned fish. Marine Ecology Progress Series 408:181-193. | 2010 | Australia | Model | Complex Habitat & Resources; Fish; Landscape Conservation & Restoration; Seagrasses |
| Lefevre, C. D. and D. R. Bellwood. 2010. Seasonality and dynamics in coral reef macroalgae: variation in condition and susceptibility to herbivory. Marine Biology 157:955-965. | 2010 | Australia | | Algae; Fleshy Macroalgae |
| Nikolioudakis, N., G. Koumoundouros, S. Kiparissis, and S. Somarakis. 2010. Defining length-at-metamorphosis in fishes: a multi-character approach. Marine Biology 157:991-1001. | 2010 | | | Fish |
| Cadena, N. J., C. Rey, M. Hernandez-Hoyos, J. D. Sanchez, S. Teillaud, N. Ardila, and J. A. Sanchez. 2010. Linking local to global properties in branching modular networks: gorgonian coral colonies. Marine Biology 157:1003-1010. | 2010 | Global; South & Central America; Belize | Model | Nutrients; Octocoral; Surface & Groundwater Flow |
| Freeman, C. J. and D. F. Gleason. 2010. Chemical defenses, nutritional quality, and structural components in three sponge species: Ircinia felix, I. campana, and Aplysina fulva. Marine Biology 157:1083-1093. | 2010 | | | Fish; Invertebrates; Sponges |
| Ferry-Graham, L. A. and N. Konow. 2010. The Intramandibular Joint in Girella: A Mechanism for Increased Force Production? Journal of Morphology 271:271-279. | 2010 | | Model | Fish; Substrate |
| Wilson, S. K., M. Adjeroud, D. R. Bellwood, M. L. Berumen, D. Booth, Y. M. Bozec, P. Chabanet, A. Cheal, J. Cinner, M. Depczynski, D. A. Feary, M. Gagliano, N. A. J. Graham, A. R. Halford, B. S. Halpern, A. R. Harborne, A. S. Hoey, S. J. Holbrook, G. P. Jones, M. Kulbiki, and Letourneu. 2010. Crucial knowledge gaps in current understanding of climate change impacts on coral reef fishes. Journal of Experimental Biology 213:894-900. | 2010 | Global | | Climate; Collaboration & Partnering; Complex Habitat & Resources; Fish; Fishing Sector; Ocean Acidity |
| Mydlarz, L. D., E. S. McGinty, and C. D. Harvell. 2010. What are the physiological and immunological responses of coral to climate warming and disease? Journal of Experimental Biology 213:934-945. | 2010 | | | Climate; Pathogens; Stony Coral |
| Lin, Y. C., M. H. A. El-Razek, and Y. C. Shen. 2010. Verticillane-Type Diterpenoids and an Eudesnianolide-Type Sesquiterpene from the Formosan Soft Coral Cespitularia hypotentaculata. Helvetica Chimica Acta 93:281-289. | 2010 | Taiwan | | Octocoral |
| Purkis, S. J., G. P. Rowlands, B. M. Riegl, and P. G. Renaud. 2010. The paradox of tropical karst morphology in the coral reefs of the arid Middle East. Geology 38:227-230. | 2010 | Middle East | | Climate; Water Depth & Sea Level |
| Inui, R., T. Nishida, N. Onikura, K. Eguchi, M. Kawagishi, M. Nakatani, and S. Oikawa. 2010. Physical factors influencing immature-fish communities in the surf zones of sandy beaches in northwestern Kyushu Island, Japan. Estuarine Coastal and Shelf Science 86:467-476. | 2010 | Japan | | Beaches & Nature Parks; Fish; Salinity; Sediment |
| Gonzalez-Sanson, G. and C. Aguilar. 2010. Reef fish diversity components as indicators of cumulative effects in a highly impacted fringe reef. Ecological Indicators 10:766-772. | 2010 | Cuba | Model; Index or Indicator | Algae; Fish; Marine Worms; Sponges |
| Basilone, L., M. G. Morticelli, and G. Lena. 2010. Mesozoic tectonics and volcanism of Tethyan rifted continental margins in western Sicily. Sedimentary Geology 226:54-70. | 2010 | | Field Study & Monitoring | Sediment |
| Adrianov, A. V. and A. S. Maiorova. 2010. Reproduction and Development of Common Species of Peanut Worms (Sipuncula) from the Sea of Japan. Russian Journal of Marine Biology 36:1-15. | 2010 | US Pacific & Hawaii; Japan | | Marine Worms |
| Lilley, R. M., P. J. Ralph, and A. W. D. Larkum. 2010. The determination of activity of the enzyme Rubisco in cell extracts of the dinoflagellate alga Symbiodinium sp by manganese chemiluminescence and its response to short-term thermal stress of the alga. Plant Cell And Environment 33:995-1004. | 2010 | | | Invertebrates; Microorganisms; Primary Production |
| Smith, J. E., C. L. Hunter, and C. M. Smith. 2010. The effects of top-down versus bottom-up control on benthic coral reef community structure. Oecologia 163:497-507. | 2010 | Global | | Algae; Climate; Coralline Algae; Finfish Harvest; Fleshy Macroalgae; Nutrients; Ocean Acidity; Surface & Groundwater Flow |
| Obuchi, M., Y. Fujita, Y. Nakano, T. Uehara, and T. Motokawa. 2010. Reproductive biology and early life history of the hermaphroditic feather star Dorometra sesokonis (Echinodermata: Crinoidea). Marine Biology 157:1191-1201. | 2010 | Japan | | Echinoderms |
| Harii, S., M. Yamamoto, and O. Hoegh-Guldberg. 2010. The relative contribution of dinoflagellate photosynthesis and stored lipids to the survivorship of symbiotic larvae of the reef-building corals. Marine Biology 157:1215-1224. | 2010 | | | Primary Production; Stony Coral |
| Watson, D. L., E. S. Harvey, B. M. Fitzpatrick, T. J. Langlois, and G. Shedrawi. 2010. Assessing reef fish assemblage structure: how do different stereo-video techniques compare? Marine Biology 157:1237-1250. | 2010 | | | Corallivorous Fish; Fish; Large Herbivorous Fish; Small Herbivorous Fish |
| Ong, L. and K. N. Holland. 2010. Bioerosion of coral reefs by two Hawaiian parrotfishes: species, size differences and fishery implications. Marine Biology 157:1313-1323. | 2010 | US Pacific & Hawaii | | Corallivorous Fish; Large Herbivorous Fish; Sediment |
| Knee, K. L., J. H. Street, E. E. Grossman, A. B. Boehm, and A. Paytan. 2010. Nutrient inputs to the coastal ocean from submarine groundwater discharge in a groundwater-dominated system: Relation to land use (Kona coast, Hawaii, USA). Limnology and Oceanography 55:1105-1122. | 2010 | US Pacific & Hawaii | | Agriculture; Discharges; Golf Course Operations; Nutrients; Salinity; Surface & Groundwater Flow |
| Boyd, P. W., R. Strzepek, F. X. Fu, and D. A. Hutchins. 2010. Environmental control of open-ocean phytoplankton groups: Now and in the future. Limnology and Oceanography 55:1353-1376. | 2010 | Global | Review; Field Study & Monitoring; Lab Study; Model | Climate; CO2; Cyanobacteria; Microorganisms; Nutrients; Plankton |
| Sorauf, J. E. and P. J. Harries. 2010. Morphologic Variation In Manicina Areolata (Cnidaria, Scleractinia) From The Pleistocene Of South Florida. Journal of Paleontology 84:505-517. | 2010 | Florida | | Substrate; Water Depth & Sea Level |
| Dixon, O. A. 2010. Endobiotic Cornulitids In Upper Ordovician Tabulate Corals And Stromatoporoids From Anticosti Island, Quebec. Journal of Paleontology 84:518-528. | 2010 | | | |
| Beare, D., F. Holker, G. H. Engelhard, E. McKenzie, and D. G. Reid. 2010. An unintended experiment in fisheries science: a marine area protected by war results in Mexican waves in fish numbers-at-age. Naturwissenschaften 97:797-808. | 2010 | | Model | Finfish Harvest; Fish; Marine Protected Areas |
| Maloof, A. C., C. V. Rose, R. Beach, B. M. Samuels, C. C. Calmet, D. H. Erwin, G. R. Poirier, N. Yao, and F. J. Simons. 2010. Possible animal-body fossils in pre-Marinoan limestones from South Australia. Nature Geoscience 3:653-659. | 2010 | Australia | Model | Sponges |
| Menabreaz, L., N. Thouveny, G. Camoin, and S. P. Lund. 2010. Paleomagnetic record of the late Pleistocene reef sequence of Tahiti (French Polynesia): A contribution to the chronology of the deposits. Earth and Planetary Science Letters 294:58-68. | 2010 | | Field Study & Monitoring | Water Depth & Sea Level |
| Osawa, Y., K. Fujita, Y. Umezawa, H. Kayanne, Y. Ide, T. Nagaoka, T. Miyajima, and H. Yamano. 2010. Human impacts on large benthic foraminifers near a densely populated area of Majuro Atoll, Marshall Islands. Marine Pollution Bulletin 60:1279-1287. | 2010 | Marshall Islands | | Algae; Nutrients; Surface & Groundwater Flow; Wastewater Discharge |
| Anticamara, J. A., D. Zeller, and A. C. J. Vincent. 2010. Spatial and temporal variation of abundance, biomass and diversity within marine reserves in the Philippines. Diversity and Distributions 16:529-536. | 2010 | Philippines | Index or Indicator | Finfish Harvest; Fish; Fishing Sector; Marine Protected Areas |
| Arbeloa, E. M., M. O. Carignan, F. H. Acuna, M. S. Churio, and J. I. Carreto. 2010. Mycosporine-like amino acid content in the sea anemones Aulactinia marplatensis, Oulactis muscosa and Anthothoe chilensis. Comparative Biochemistry And Physiology B-biochemistry & Molecular Biology 156:216-221. | 2010 | | | Anemones & Zooanthids; Light |
| Sridhar, R., T. Thangaradjou, and L. Kannan. 2010. Spatial and temporal variations in phytoplankton in coral reef and seagrass ecosystems of the Palk Bay, southeast coast of India. Journal of Environmental Biology 31:765-771. | 2010 | India | | Plankton; Seagrasses |
| Liao, X. J., S. H. Xu, and H. Lin. 2010. Isolation and Identification of Two Tetrahydroxylated Sterols with Cytotoxic Activity. Chinese Journal of Organic Chemistry 30:749-752. | 2010 | China | | Octocoral |
| Goto, K., T. Shinozaki, K. Minoura, K. Okada, D. Sugawara, and F. Imamura. 2010. Distribution of boulders at Miyara Bay of Ishigaki Island, Japan: A flow characteristic indicator of tsunami and storm waves. Island Arc 19:412-426. | 2010 | Japan | Index or Indicator | Storms & Hurricanes |
| McFadden, C. S., J. A. Sanchez, and S. C. France. 2010. Molecular Phylogenetic Insights into the Evolution of Octocorallia: A Review. Integrative And Comparative Biology 50:389-410. | 2010 | | Review | Octocoral |
| Mckoy, H., D. M. Kennedy, and P. S. Kench. 2010. Sand cay evolution on reef platforms, Mamanuca Islands, Fiji. Marine Geology 269:61-73. | 2010 | Fiji | | Climate; Sediment; Shoreline Protection; Water Depth & Sea Level |
| Budd, A. F., S. L. Romano, N. D. Smith, and M. S. Barbeitos. 2010. Rethinking the Phylogeny of Scleractinian Corals: A Review of Morphological and Molecular Data. Integrative And Comparative Biology 50:411-427. | 2010 | | Review; Decision Support Frameworks & Tools | |
| Vignon, M., P. Sasal, R. L. Johnson, and R. Galzin. 2010. Impact of shark-feeding tourism on surrounding fish populations off Moorea Island (French Polynesia). Marine and Freshwater Research 61:163-169. | 2010 | US Pacific & Hawaii | Index or Indicator | Apex Fish Predators; Fish; Piscivorous Fish; Tourism & Recreation |
| Blanco, A. C., K. Nadaoka, T. Yamamoto, and K. Kinjo. 2010. Dynamic evolution of nutrient discharge under stormflow and baseflow conditions in a coastal agricultural watershed in Ishigaki Island, Okinawa, Japan. Hydrological Processes 24:2601-2616. | 2010 | Japan | Field Study & Monitoring; GIS & Maps | Agriculture; Algae; Discharges; Fertilizer & Pesticide Use; Nutrients; Sediment; Storms & Hurricanes; Surface & Groundwater Flow |
| Cardenas, M. B., P. B. Zamora, F. P. Siringan, M. R. Lapus, R. S. Rodolfo, G. S. Jacinto, M. L. San Diego-McGlone, C. L. Villanoy, O. Cabrera, and M. I. Senal. 2010. Linking regional sources and pathways for submarine groundwater discharge at a reef by electrical resistivity tomography, Rn-222, and salinity measurements. Geophysical Research Letters 37:L16401. | 2010 | Philippines | | Discharges; Salinity; Sediment; Surface & Groundwater Flow |
| Connor, R. C. 2010. Cooperation beyond the dyad: on simple models and a complex society. Philosophical Transactions of the Royal Society B: Biological Sciences 365:2687-2697. | 2010 | | Model | Whales & Dolphins |
| Yu, K. F., Q. A. Hua, J. X. Zhao, E. Hodge, D. Fink, and M. Barbetti. 2010. Holocene marine C-14 reservoir age variability: Evidence from Th-230-dated corals in the South China Sea. Paleoceanography 25:PA3205. | 2010 | US Pacific & Hawaii; China | | Surface & Groundwater Flow |
| Srivastava, M., O. Simakov, J. Chapman, B. Fahey, M. E. A. Gauthier, T. Mitros, G. S. Richards, C. Conaco, M. Dacre, U. Hellsten, C. Larroux, N. H. Putnam, M. Stanke, M. Adamska, A. Darling, S. M. Degnan, T. H. Oakley, D. C. Plachetzki, Y. F. Zhai, M. Adamski, and A. ;. Calcino. 2010. The Amphimedon queenslandica genome and the evolution of animal complexity. Nature 466:720-U3. | 2010 | Australia | Decision Support Frameworks & Tools | Sponges |
| Kazanidis, G., C. Antoniadou, A. P. Lolas, N. Neofitou, D. Vafidis, C. Chintiroglou, and C. Neofitou. 2010. Population dynamics and reproduction of Holothuria tubulosa (Holothuroidea: Echinodermata) in the Aegean Sea. Journal of the Marine Biological Association of the United Kingdom 90:895-901. | 2010 | | Index or Indicator | Echinoderms; Finfish Harvest; Invertebrates; Seagrasses |
| Edwards, A. J., editor. 2010. Reef rehabilitation manual. The Coral Reef Targeted Research & Capacity Building for Management Program, St Lucia, Australia. | 2010 | Global; Australia | | Algae; Calcium Carbonate Deposition; Climate; Mitigation; Stony Coral; Wetland & Reef Restoration; Zooxanthellae |
| Lasagna, R., G. Albertelli, C. Morri, and C. N. Bianchi. 2010. Acropora abundance and size in the Maldives six years after the 1998 mass mortality: patterns across reef typologies and depths. Journal of the Marine Biological Association of the United Kingdom 90:919-922. | 2010 | Maldives | | Stony Coral |
| Anton, C., J. Young, P. A. Harrison, M. Musche, G. Bela, C. K. Feld, R. Harrington, J. R. Haslett, G. Pataki, M. D. A. Rounsevell, M. Skourtos, J. P. Sousa, M. T. Sykes, R. Tinch, M. Vandewalle, A. Watt, and J. Settele. 2010. Research needs for incorporating the ecosystem service approach into EU biodiversity conservation policy. Biodiversity and Conservation 19:2979-2994. | 2010 | | Review; Index or Indicator | Collaboration & Partnering; Funding & Donations; Funding & Incentives; Surface & Groundwater Flow; Valuation |
| Zawada, D. G., G. A. Piniak, and C. J. Hearn. 2010. Topographic complexity and roughness of a tropical benthic seascape. Geophysical Research Letters 37:L14604. | 2010 | | Field Study & Monitoring; Model | Biological Monitoring, Mapping, & Scientific Research; Nutrients; Seawater Flow; Stony Coral; Substrate |
| Felis, T., A. Suzuki, H. Kuhnert, N. Rimbu, and H. Kawahata. 2010. Pacific Decadal Oscillation documented in a coral record of North Pacific winter temperature since 1873. Geophysical Research Letters 37:L14605. | 2010 | Global; US Pacific & Hawaii; Pacific Ocean | Field Study & Monitoring; Index or Indicator | Climate; Fishing Sector |
| Hill, N. A., A. R. Pepper, M. L. Puotinen, M. G. Hughes, G. J. Edgar, N. S. Barrett, R. D. Stuart-Smith, and R. Leaper. 2010. Quantifying wave exposure in shallow temperate reef systems: applicability of fetch models for predicting algal biodiversity. Marine Ecology Progress Series 417:83-U100. | 2010 | Australia | Model; Index or Indicator; Decision Support Frameworks & Tools | Algae |
| Chu, J. W. F. and S. P. Leys. 2010. High resolution mapping of community structure in three glass sponge reefs (Porifera, Hexactinellida). Marine Ecology Progress Series 417:97-U120. | 2010 | US Pacific & Hawaii | GIS & Maps | Biological Monitoring, Mapping, & Scientific Research; Fish; Molluscs; Sponges |
| Perez-Matus, A. and J. S. Shima. 2010. Density- and trait-mediated effects of fish predators on amphipod grazers: potential indirect benefits for the giant kelp Macrocystis pyrifera. Marine Ecology Progress Series 417:151-U168. | 2010 | | | Algae; Fish |
| Swearer, S. E. and J. S. Shima. 2010. Regional variation in larval retention and dispersal drives recruitment patterns in a temperate reef fish. Marine Ecology Progress Series 417:229-236. | 2010 | | | |
| Hogan, J. D., R. J. Thiessen, and D. D. Heath. 2010. Variability in connectivity indicated by chaotic genetic patchiness within and among populations of a marine fish. Marine Ecology Progress Series 417:263-U289. | 2010 | | | Fish; Small Herbivorous Fish |
| Hirose, E. and Y. Nozawa. 2010. Photosymbiotic Ascidians from Kenting and Lyudao in Taiwan. Zoological Studies 49:681-687. | 2010 | Japan; Taiwan | | Surface & Groundwater Flow |
| Su, J. H., M. Y. Chiang, Z. H. Wen, C. F. Dai, C. H. Hsu, and J. H. Sheu. 2010. Sesquiterpenoids from the Formosan Soft Coral Sinularia leptoclados. Chemical & pharmaceutical bulletin 58:250-253. | 2010 | | | Octocoral |
| Crabbe, M. J. C. 2010. Topography and spatial arrangement of reef-building corals on the fringing reefs of North Jamaica may influence their response to disturbance from bleaching. Marine Environmental Research 69:158-162. | 2010 | Global; South & Central America; US Pacific & Hawaii; Jamaica; Caribbean | Field Study & Monitoring | Algae; Climate; Complex Habitat & Resources; Stony Coral; Storms & Hurricanes |
| Kastner, M., I. Schulke, J. Winsemann, and J. Bottcher. 2010. High-resolution sequence stratigraphy of a Late Jurassic mixed carbonate-siliciclastic ramp, Lower Saxony Basin, Northwestern Germany. Zeitschrift Der Deutschen Gesellschaft Fur Geowissenschaften 161:263-283. | 2010 | Germany | GIS & Maps | Forestry; Sediment; Storms & Hurricanes |
| Denny, M. W. and B. Gaylord. 2010. Marine Ecomechanics. Annual Review of Marine Science 2:89-114. | 2010 | | Field Study & Monitoring; Model | Ocean Acidity; Storms & Hurricanes |
| Martin, L. B., W. A. Hopkins, L. D. Mydlarz, and J. R. Rohr. 2010. The effects of anthropogenic global changes on immune functions and disease resistance. Pages 129-148 Year In Ecology And Conservation Biology 2010. | 2010 | Global | | Invasive Species; Pathogens; Toxics |
| Ozcan, E., G. Less, A. I. Okay, M. Baldi-Beke, K. Kollanyi, and I. O. Yilmaz. 2010. Stratigraphy and Larger Foraminifera of the Eocene Shallow-marine and Olistostromal Units of the Southern Part of the Thrace Basin, NW Turkey. Turkish Journal of Earth Sciences 19:27-77. | 2010 | | Decision Support Frameworks & Tools | Algae; Coralline Algae |
| Cote, I. M. and E. S. Darling. 2010. Rethinking ecosystem resilience in the face of climate change. PLoS Biology 8:e1000438. | 2010 | Global | | Climate; Surface & Groundwater Flow |
| Metcalf, S. J. 2010. Qualitative Models to Complement Quantitative Ecosystem Models for the Analysis of Data-Limited Marine Ecosystems and Fisheries. Reviews in Fisheries Science 18:248-265. | 2010 | Australia | Model | Algae; Fish; Fishing & Harvesting Management; Fishing Sector; Lobster, Crab, & Shrimp |
| van Woesik, R. 2010. Calm before the spawn: global coral spawning patterns are explained by regional wind fields. Proceedings of the Royal Society B 277:715-722. | 2010 | Global; Australia; Kenya | | |
| Nakamura, Y. 2010. Patterns in fish response to seagrass bed loss at the southern Ryukyu Islands, Japan. Marine Biology 157:2397-2406. | 2010 | Global; Japan | | Fish; Fishing Sector; Seagrasses; Storms & Hurricanes |
| Samhouri, J. F., P. S. Levin, and C. H. Ainsworth. 2010. Identifying Thresholds for Ecosystem-Based Management. PLoS One 5:e8907. | 2010 | Columbia | Model; Index or Indicator | Finfish Harvest |
| Bell, J. J., J. Berman, T. Jones, and L. J. Hepburn. 2010. Variability in the spatial association patterns of sponge assemblages in response to environmental heterogeneity. Marine Biology 157:2503-2509. | 2010 | South & Central America; Indonesia; Caribbean | | Marine Protected Areas; Sediment; Sponges |
| Charpy, L., K. A. Palinska, B. Casareto, M. J. Langlade, Y. Suzuki, R. M. M. Abed, and S. Golubic. 2010. Dinitrogen-Fixing Cyanobacteria in Microbial Mats of Two Shallow Coral Reef Ecosystems. Microbial Ecology 59:174-186. | 2010 | US Pacific & Hawaii; Indian Ocean; Reunion; India; Pacific Ocean | Decision Support Frameworks & Tools | Cyanobacteria; Microorganisms; Nutrients; Primary Production |
| Naumann, M. S., C. Mayr, U. Struck, and C. Wild. 2010. Coral mucus stable isotope composition and labeling: experimental evidence for mucus uptake by epizoic acoelomorph worms. Marine Biology 157:2521-2531. | 2010 | | | Nutrients; Stony Coral; Zooxanthellae |
| Marriott, R. J., B. D. Mapstone, A. C. Ballagh, L. M. Currey, A. Penny, A. J. Williams, G. Jackson, D. C. Lou, A. J. Mapleston, N. D. C. Jarvis, I. S. Keay, and S. J. Newman. 2010. Accepting final counts from repeat readings of otoliths: should a common criterion apply to the age estimation of fish? Marine and Freshwater Research 61:1171-1184. | 2010 | Australia | Model | Fish |
| Wilson, R., E. Cook, R. D'Arrigo, N. Riedwyl, M. N. Evans, A. Tudhope, and R. Allan. 2010. Reconstructing ENSO: the influence of method, proxy data, climate forcing and teleconnections. Journal of Quaternary Science 25:62-78. | 2010 | US Pacific & Hawaii | | Climate |
| 2010. Report Card for the Mesoamerican Reef: An evaluation of ecosystem health. Healthy Reef Initiative. | 2010 | | | |
| Harper, S. J. M., C. R. Bates, H. M. Guzman, and J. M. Mair. 2010. Acoustic mapping of fish aggregation areas to improve fisheries management in Las Perlas Archipelago, Pacific Panama. Ocean and Coastal Management 53:615-623. | 2010 | US Pacific & Hawaii; Panama | GIS & Maps; Decision Support Frameworks & Tools | Complex Habitat & Resources; Fish; Fishing & Harvesting Management; Fishing Sector; Landuse Management |
| Speed, C. W., I. C. Field, M. G. Meekan, and C. J. A. Bradshaw. 2010. Complexities of coastal shark movements and their implications for management. Marine Ecology Progress Series 408:275-U305. | 2010 | Global | Field Study & Monitoring | Apex Fish Predators; Environmental Monitoring, Mapping, & Scientific Research; Finfish Harvest; Marine Protected Areas; Salinity |
| Schwalb, A. N., M. Garvie, and J. D. Ackerman. 2010. Dispersion of freshwater mussel larvae in a lowland river. Limnology and Oceanography 55:628-638. | 2010 | | Model | Fish; Surface & Groundwater Flow |
| Clifton, J., L. C. Cullen, J. Haapkyla, and R. K. F. Unsworth. 2010. Ensuring appropriate and proportionate responses to environmental threats: A response to Caras and Pasternak. Ocean and Coastal Management 53:700-702. | 2010 | Indonesia | | Cultural Policies; Mangroves; Mining Policies; Seagrasses |
| Broad, A., N. Knott, X. Turon, and A. R. Davis. 2010. Effects of a shark repulsion device on rocky reef fishes: no shocking outcomes. Marine Ecology Progress Series 408:295-298. | 2010 | Australia | Field Study & Monitoring | Apex Fish Predators; Dive, Snorkeling, & Swimming Tourism; Fish; Marine Protected Areas; Tourism & Recreation |
| Irisson, J. O., C. B. Paris, C. Guigand, and S. Planes. 2010. Vertical distribution and ontogenetic "migration" in coral reef fish larvae. Limnology and Oceanography 55:909-919. | 2010 | | | Fish |
| de Juan, S. and J. Lleonart. 2010. A conceptual framework for the protection of vulnerable habitats impacted by fishing activities in the Mediterranean high seas. Ocean and Coastal Management 53:717-723. | 2010 | | Decision Support Frameworks & Tools | Finfish Harvest; Fish; Fishing Sector; Marine Protected Areas; Trawling & Fishing Gear Damage |
| Visram, S., M. C. Yang, R. M. Pillay, S. Said, O. Henriksson, M. Grahn, and C. A. Chen. 2010. Genetic connectivity and historical demography of the blue barred parrotfish (Scarus ghobban) in the western Indian Ocean. Marine Biology 157:1475-1487. | 2010 | Indian Ocean; Kenya; Tanzania; Seychelles; Mauritius; India | | Climate; Corallivorous Fish; Fish; Fishing Sector; Large Herbivorous Fish; Water Depth & Sea Level |
| Heyman, W. D., L. M. Carr, and P. S. Lobel. 2010. Diver ecotourism and disturbance to reef fish spawning aggregations: It is better to be disturbed than to be dead. Marine Ecology Progress Series 419:201-210. | 2010 | South & Central America; Belize | | Apex Fish Predators; Dive, Snorkeling, & Swimming Tourism; Finfish Harvest; Fish; Marine Protected Areas; Piscivorous Fish; Tourism & Recreation |
| Masaka, R., M. Ogata, Y. Misawa, M. Yano, C. Hashimoto, T. Murata, H. Kawagishi, and T. Usui. 2010. Molecular design of N-linked tetravalent glycosides bearing N-acetylglucosamine, N,N '-diacetylchitobiose and N-acetyllactosamine: Analysis of cross-linking activities with WGA and ECA lectins. Bioorganic and Medicinal Chemistry 18:621-629. | 2010 | | | |
| Burgess, S. C., K. Osborne, and M. J. Caley. 2010. Similar regional effects among local habitats on the structure of tropical reef fish and coral communities. Global Ecology and Biogeography 19:363-375. | 2010 | Australia | | Fish |
| Cummings, D. O., D. J. Booth, R. W. Lee, S. J. Simpson, and A. J. Pile. 2010. Ontogenetic diet shifts in the reef fish Pseudanthias rubrizonatus from isolated populations on the North-West Shelf of Australia. Marine Ecology Progress Series 419:211-222. | 2010 | Australia; Indian Ocean; India | | Artificial Habitat; Fish |
| Choi, E. S., S. S. Han, D. E. Cheong, M. Y. Park, J. S. Kim, and G. J. Kim. 2010. Generation of a fast maturating red fluorescent protein by a combined approach of elongation mutagenesis and functional salvage screening. Biochemical and Biophysical Research Communications 391:598-603. | 2010 | | Index or Indicator | |
| Selig, E. R., K. S. Casey, and J. F. Bruno. 2010. New insights into global patterns of ocean temperature anomalies: implications for coral reef health and management. Global Ecology and Biogeography 19:397-411. | 2010 | Global | Model | Climate; Marine Protected Areas; Pathogens; Sea Temperatures |
| Santos, I. R., D. Erler, D. Tait, and B. D. Eyre. 2010. Breathing of a coral cay: Tracing tidally driven seawater recirculation in permeable coral reef sediments. Journal of Geophysical Research C: Oceans 115:C12010. | 2010 | | Model | Discharges; Nutrients; Sediment; Surface & Groundwater Flow |
| MacNeil, M. A. and N. A. J. Graham. 2010. Enabling regional management in a changing climate through Bayesian meta-analysis of a large-scale disturbance. Global Ecology and Biogeography 19:412-421. | 2010 | Global; Indian Ocean; Study Location; India | Model | Climate |
| McCabe, R. M., P. Estrade, J. H. Middleton, W. K. Melville, M. Roughan, and L. Lenain. 2010. Temperature variability in a shallow, tidally isolated coral reef lagoon. Journal of Geophysical Research C: Oceans 115:C12011. | 2010 | Australia | Model | Water Depth & Sea Level |
| Duffy, J. E. and K. S. Macdonald. 2010. Kin structure, ecology and the evolution of social organization in shrimp: a comparative analysis. Proceedings of the Royal Society B 277:575-584. | 2010 | South & Central America; Belize | | Lobster, Crab, & Shrimp; Sponges |
| Oren, M., K. O. Amar, J. Douek, T. Rosenzweig, G. Paz, and B. Rinkevich. 2010. Assembled catalog of immune-related genes from allogeneic challenged corals that unveils the participation of vWF-like transcript. Developmental and Comparative Immunology 34:630-637. | 2010 | | Decision Support Frameworks & Tools | Stony Coral |
| Winter, A. and P. W. Sammarco. 2010. Lunar banding in the scleractinian coral Montastraea faveolata: Fine-scale structure and influence of temperature. Journal Of Geophysical Research-biogeosciences 115:G04007. | 2010 | Puerto Rico | | Calcium Carbonate Deposition; Stony Coral |
| Eytan, R. I. and M. E. Hellberg. 2010. Nuclear And Mitochondrial Sequence Data Reveal And Conceal Different Demographic Histories And Population Genetic Processes In Caribbean Reef Fishes. Evolution 64:3380-3397. | 2010 | South & Central America; Caribbean | | |
| Savini, A. and C. Corselli. 2010. High-resolution bathymetry and acoustic geophysical data from Santa Maria di Leuca Cold Water Coral province (Northern Ionian Sea-Apulian continental slope). Deep-Sea Research Part II: Topical Studies in Oceanography 57:326-344. | 2010 | | GIS & Maps | Sediment; Water Depth & Sea Level |
| Goffredo, S., F. Pensa, P. Neri, A. Orlandi, M. S. Gagliardi, A. Velardi, C. Piccinetti, and F. Zaccanti. 2010. Unite research with what citizens do for fun: "recreational monitoring'' of marine biodiversity. Ecological Applications 20:2170-2187. | 2010 | Cuba | Field Study & Monitoring; Index or Indicator | Dive, Snorkeling, & Swimming Tourism; Environmental Education & Outreach; Environmental Monitoring, Mapping, & Scientific Research; Social Organizations; Tourism & Recreation; Travel Services & Tour Operators |
| Scharron, C. E. R. 2010. Sediment production from unpaved roads in a sub-tropical dry setting - Southwestern Puerto Rico. Catena 82:146-158. | 2010 | South & Central America; Puerto Rico; Caribbean | Field Study & Monitoring; Model; Decision Support Frameworks & Tools | Coastal Development; Mitigation; Sediment; Transportation Policies |
| Webster, J. M., D. A. Clague, I. D. E. Faichney, P. D. Fullagar, J. R. Hein, J. G. Moore, and C. K. Paull. 2010. Early Pleistocene origin of reefs around Lanai, Hawaii. Earth and Planetary Science Letters 290:331-339. | 2010 | US Pacific & Hawaii | | Algae; Coralline Algae; Sediment |
| Davies, A. J., G. C. A. Duineveld, T. C. E. van Weering, F. Mienis, A. M. Quattrini, H. E. Seim, J. M. Bane, and S. W. Ross. 2010. Short-term environmental variability in cold-water coral habitat at Viosca Knoll, Gulf of Mexico. Deep-Sea Research Part I: Oceanographic Research Papers 57:199-212. | 2010 | South & Central America; US East Coast (NC, SC, GA); Mexico | | Plankton; Salinity; Seawater Flow; Sediment; Stony Coral |
| Macpherson, E., B. R. de Forges, K. Schnabel, S. Samadi, M. C. Boisselier, and A. Garcia-Rubies. 2010. Biogeography of the deep-sea galatheid squat lobsters of the Pacific Ocean. Deep-Sea Research Part I: Oceanographic Research Papers 57:228-238. | 2010 | US Pacific & Hawaii; Pacific Ocean; Vanuatu; New Caledonia; Fiji; Tonga; Indonesia; Philippines | | Lobster, Crab, & Shrimp |
| Luter, H. M., S. Whalan, and N. S. Webster. 2010. Exploring the Role of Microorganisms in the Disease-Like Syndrome Affecting the Sponge Ianthella basta. Applied and Environmental Microbiology 76:5736-5744. | 2010 | Australia | | Microorganisms; Pathogens; Sponges |
| Hou, Y. and L. Harinantenaina. 2010. New and Bioactive Natural Products Isolated from Madagascar Plants and Marine Organisms. Current Medicinal Chemistry 17:1191-1219. | 2010 | Madagascar | Review | Pharmaceuticals & Cosmetics Sources |
| Baumberger, R. E., N. J. Brown-Peterson, J. K. Reed, and R. G. Gilmore. 2010. Spawning Aggregation of Beardfish, Polymixia lowei, in a Deep-water Sinkhole off the Florida Keys. Copeia 41-46. | 2010 | Florida | | Fish |
| Cheng, S. Y., E. H. Lin, J. S. Huang, Z. H. Wen, and C. Y. Duh. 2010. Ylangene-Type and Nardosinane-Type Sesquiterpenoids from the Soft Corals Lemnalia flava and Paralemnalia thyrsoides. Chemical & pharmaceutical bulletin 58:381-385. | 2010 | | | Octocoral |
| Aretz, M., H. G. Herbig, I. D. Somerville, and P. Cozar. 2010. Rugose coral biostromes in the late Visean (Mississippian) of NW Ireland: Bioevents on an extensive carbonate platform. Palaeogeography, Palaeoclimatology, Palaeoecology 292:488-506. | 2010 | | | Storms & Hurricanes; Water Depth & Sea Level |
| Duan, J., L. Y. Ma, L. M. Jia, Z. B. Chen, Z. K. Jia, and W. R. Che. 2010. Tree Richness and Climatic Dominance in Different Districts of Beijing City, China. Notulae Botanicae Horti Agrobotanici Cluj-napoca 38:262-265. | 2010 | China | Model; Index or Indicator | Stony Coral |
| Hermans, J., P. Dubois, L. Andre, J. Vacelet, and P. Willenz. 2010. Growth rate and chemical features of the massive calcium carbonate skeleton of Petrobiona massiliana (Baeriida: Calaronea: Calcispongiae). Journal of the Marine Biological Association of the United Kingdom 90:749-754. | 2010 | | | Calcium Carbonate Deposition; Sponges |
| Angel, B. M., L. T. Hales, S. L. Simpson, S. C. Apte, A. A. Chariton, D. A. Shearer, and D. F. Jolley. 2010. Spatial variability of cadmium, copper, manganese, nickel and zinc in the Port Curtis Estuary, Queensland, Australia. Marine and Freshwater Research 61:170-183. | 2010 | Australia | | Point Source Discharges; Sediment; Surface & Groundwater Flow |
| Heupel, M. R., A. J. Williams, D. J. Welch, C. R. Davies, S. Adams, G. Carlos, and B. D. Mapstone. 2010. Demography of a large exploited grouper, Plectropomus laevis: Implications for fisheries management. Marine and Freshwater Research 61:184-195. | 2010 | US Pacific & Hawaii; Australia | Model | Fishing & Harvesting Management; Fishing Sector; Piscivorous Fish |
| Murphy, H. M. and G. P. Jenkins. 2010. Observational methods used in marine spatial monitoring of fishes and associated habitats: a review. Marine and Freshwater Research 61:236-252. | 2010 | | Review; Field Study & Monitoring; GIS & Maps; Remote Sensing | Commercial Fisheries; Finfish Harvest; Fish; Fishing Sector; Recreational Fishing; Tourism & Recreation |
| Li, Y., M. Carbone, R. M. Vitale, P. Amodeo, F. Castelluccio, G. Sicilia, E. Mollo, M. Nappo, G. Cimino, Y. W. Guo, and M. Gavagnin. 2010. Rare Casbane Diterpenoids from the Hainan Soft Coral Sinularia depressa. Journal of Natural Products 73:133-138. | 2010 | | | Octocoral |
| Cheng, S. Y., S. K. Wang, S. F. Chiou, C. H. Hsu, C. F. Dai, M. Y. Chiang, and C. Y. Duh. 2010. Cembranoids from the Octocoral Sarcophyton ehrenbergi. Journal of Natural Products 73:197-203. | 2010 | | | Octocoral |
| Louzao, M., N. Anadon, J. Arrontes, C. Alvarez-Claudio, D. M. Fuente, F. Ocharan, A. Anadon, and J. L. Acuna. 2010. Historical macrobenthic community assemblages in the Aviles Canyon, N Iberian Shelf: Baseline biodiversity information for a marine protected area. Journal of Marine Systems 80:47-56. | 2010 | US East Coast (NC, SC, GA); Europe; Spain | | Marine Protected Areas |
| Dawson, T. P., M. D. A. Rounsevell, T. Kluvankova-Oravska, V. Chobotova, and A. Stirling. 2010. Dynamic properties of complex adaptive ecosystems: implications for the sustainability of service provision. Biodiversity and Conservation 19:2843-2853. | 2010 | Global | | Surface & Groundwater Flow |
| de Bello, F., S. Lavorel, S. Diaz, R. Harrington, J. H. C. Cornelissen, R. D. Bardgett, M. P. Berg, P. Cipriotti, C. K. Feld, D. Hering, P. M. da Silva, S. G. Potts, L. Sandin, J. P. Sousa, J. Storkey, D. A. Wardle, and P. A. Harrison. 2010. Towards an assessment of multiple ecosystem processes and services via functional traits. Biodiversity and Conservation 19:2873-2893. | 2010 | | Review; Field Study & Monitoring; Index or Indicator | Biological Monitoring, Mapping, & Scientific Research; Invertebrates; Nutrients |
| Feld, C. K., J. P. Sousa, P. M. da Silva, and T. P. Dawson. 2010. Indicators for biodiversity and ecosystem services: towards an improved framework for ecosystems assessment. Biodiversity and Conservation 19:2895-2919. | 2010 | Global; Europe | Field Study & Monitoring; Index or Indicator; Remote Sensing | Biological Monitoring, Mapping, & Scientific Research; Surface & Groundwater Flow |
| Harrington, R., C. Anton, T. P. Dawson, F. de Bello, C. K. Feld, J. R. Haslett, T. Kluvankova-Oravska, A. Kontogianni, S. Lavorel, G. W. Luck, M. D. A. Rounsevell, M. J. Samways, J. Settele, M. Skourtos, J. H. Spangenberg, M. Vandewalle, M. Zobel, and P. A. Harrison. 2010. Ecosystem services and biodiversity conservation: concepts and a glossary. Biodiversity and Conservation 19:2773-2790. | 2010 | | Decision Support Frameworks & Tools | Valuation |
| Calado, H. and A. Gil, editors. 2010. Geographic technologies applied to marine spatial planning and integrated coastal zone management. CIGPT, Ponta Delgada, Portugal. | 2010 | Global; US East Coast (NC, SC, GA) | GIS & Maps | Fishing Sector; Marine Protected Areas; Storms & Hurricanes |
| Chase, J. M. 2010. Stochastic community assembly causes higher biodiversity in more productive environments. Sciencexpress 10.1126/science.1187820. | 2010 | | | Surface & Groundwater Flow |
| 2010. USVI Integrated Water Quality Monitoring & Assessment Report. Department of Planning & Natural Resources. | 2010 | US Virgin Islands | Field Study & Monitoring | Environmental Monitoring, Mapping, & Scientific Research; Surface & Groundwater Flow |
| Wilson, B. 2010. The significance of iron-stained foraminifera off SE Trinidad, West Indies, western central Atlantic Ocean. Geological Magazine 147:728-736. | 2010 | South & Central America; US East Coast (NC, SC, GA); Atlantic Ocean; Trinidad; Mexico | Field Study & Monitoring; Decision Support Frameworks & Tools | Plankton; Sediment; Water Depth & Sea Level |
| Allison, N. and A. A. Finch. 2010. The potential origins and palaeoenvironmental implications of high temporal resolution delta O-18 heterogeneity in coral skeletons. Geochimica et Cosmochimica Acta 74:5537-5548. | 2010 | US Pacific & Hawaii | Model | Calcium Carbonate Deposition; CO2; Light; Stony Coral |
| Mitsuguchi, T., T. Uchida, and E. Matsumoto. 2010. Na/Ca variability in coral skeletons. Geochemical Journal 44:261-273. | 2010 | Australia | | Calcium Carbonate Deposition; Salinity |
| Muzuka, A. N. N., A. M. Dubi, C. A. Muhando, and Y. W. Shaghude. 2010. Impact of hydrographic parameters and seasonal variation in sediment fluxes on coral status at Chumbe and Bawe reefs, Zanzibar, Tanzania. Estuarine Coastal and Shelf Science 89:137-144. | 2010 | Tanzania | | Sediment |
| Lambrechts, J., C. Humphrey, L. McKinna, O. Gourge, K. E. Fabricius, A. J. Mehta, S. Lewis, and E. Wolanski. 2010. Importance of wave-induced bed liquefaction in the fine sediment budget of Cleveland Bay, Great Barrier Reef. Estuarine Coastal and Shelf Science 89:154-162. | 2010 | Australia | Field Study & Monitoring; Model | Sediment; Surface & Groundwater Flow |
| Shaish, L., G. Levy, G. Katzir, and B. Rinkevich. 2010. Employing a highly fragmented, weedy coral species in reef restoration. Ecological Engineering 36:1424-1432. | 2010 | Philippines | Field Study & Monitoring | Stony Coral; Storms & Hurricanes; Substrate; Tourism & Recreation; Wetland & Reef Restoration |
| Aeby, G. S., M. Ross, G. J. Williams, T. D. Lewis, and T. M. Work. 2010. Disease dynamics of Montipora white syndrome within Kaneohe Bay, Oahu, Hawaii: distribution, seasonality, virulence, and transmissibility. Diseases of Aquatic Organisms 91:1-8. | 2010 | US Pacific & Hawaii | | Pathogens |
| Wanzola, M., T. Furuta, Y. Kohno, S. Fukumitsu, S. Yasukochi, K. Watari, C. Tanaka, R. Higuchi, and T. Miyamoto. 2010. Four New Cembrane Diterpenes Isolated from an Okinawan Soft Coral Lobophytum crassum with Inhibitory Effects on Nitric Oxide Production. Chemical & pharmaceutical bulletin 58:1203-1209. | 2010 | | | Octocoral |
| Sung, P. J. and C. Y. Liu. 2010. New 3 beta,5 alpha,6 beta-Trihydroxysteroids from the Octocorals Bebryce sp (Plexauridae) and Carijoa sp (Clavulariidae). Chemical & pharmaceutical bulletin 58:1240-1242. | 2010 | | | Octocoral |
| Ferrari, M. C. O., B. D. Wisenden, and D. P. Chivers. 2010. Chemical ecology of predator-prey interactions in aquatic ecosystems: a review and prospectus. Canadian Journal Of Zoology-revue Canadienne De Zoologie 88:698-724. | 2010 | | Review; Field Study & Monitoring; Lab Study | |
| Ang, T. Z. and A. Manica. 2010. Benefits and Costs of Dominance in the Angelfish Centropyge bicolor. Ethology 116:855-865. | 2010 | | Field Study & Monitoring | Fish |
| Clague, D. A., J. C. Braga, D. Bassi, P. D. Fullagar, W. Renema, and J. M. Webster. 2010. The maximum age of Hawaiian terrestrial lineages: geological constraints from Koko Seamount. Journal of Biogeography 37:1022-1033. | 2010 | Global; US Pacific & Hawaii; Pacific Ocean | | Algae; Climate; Coralline Algae; Water Depth & Sea Level |
| Moussa, R. M. 2010. Estimation of the size of lagoon fish sold at the roadside as tui on Moorea Island (French Polynesia) by analysis of digital images. Cybium 34:73-82. | 2010 | | Decision Support Frameworks & Tools | Finfish Harvest; Fish; Fishing & Harvesting Management; Fishing Sector |
| Collin, R., A. S. Mobley, L. B. Lopez, S. P. Leys, M. C. Diaz, and R. W. Thacker. 2010. Phototactic responses of larvae from the marine sponges Neopetrosia proxima and Xestospongia bocatorensis (Haplosclerida: Petrosiidae). Invertebrate Biology 129:121-128. | 2010 | | | Sponges |
| Vaslet, A., Y. Bouchon-Navaro, M. Louis, and C. Bouchon. 2010. Fish assemblages in a mangrove shoreline lagoon of Guadeloupe (FWI): spatial and temporal distribution patterns along environmental gradients. Cybium 34:115-127. | 2010 | Antilles | | Fish; Mangroves; Salinity; Seagrasses; Surface & Groundwater Flow |
| Jackson, D. J., V. Thiel, and G. Worheide. 2010. An evolutionary fast-track to biocalcification. Geobiology 8:191-196. | 2010 | | | Calcium Carbonate Deposition; Microorganisms; Special Use Permitting; Sponges |
| Haisfield, K. M., H. E. Fox, S. Yen, S. Mangubhai, and P. J. Mous. 2010. An ounce of prevention: cost-effectiveness of coral reef rehabilitation relative to enforcement. Conservation Letters 3:243-250. | 2010 | Southeast Asia; Indonesia | Field Study & Monitoring; Model | Artificial Habitat; Finfish Harvest; Fishing Sector; Marine Protected Areas; Skeletal Coral; Special Use Permitting; Tourism & Recreation |
| Dong, H. Y., L. X. Zeng, D. Duan, H. F. Zhang, Y. X. Wang, W. S. Li, and H. R. Lin. 2010. Growth hormone and two forms of insulin-like growth factors I in the giant grouper (Epinephelus lanceolatus): molecular cloning and characterization of tissue distribution. Fish Physiology and Biochemistry 36:201-212. | 2010 | Southeast Asia | | Fish; Piscivorous Fish |
| Kopp, D., Y. Bouchon-Navaro, M. Louis, D. Mouillot, and C. Bouchon. 2010. Herbivorous fishes and the potential of Caribbean marine reserves to preserve coral reef ecosystems. Aquatic Conservation: Marine and Freshwater Ecosystems 20:516-524. | 2010 | South & Central America; Caribbean | | Algae; Fish; Marine Protected Areas; Small Herbivorous Fish; Special Use Permitting; Stony Coral |
| Lesser, M. P., M. Slattery, M. Stat, M. Ojimi, R. D. Gates, and A. Grottoli. 2010. Photoacclimatization by the coral Montastraea cavernosa in the mesophotic zone: light, food, and genetics. Ecology 91:990-1003. | 2010 | Bahamas | | Stony Coral; Zooxanthellae |
| Graham, N. A. J., M. D. Spalding, and C. R. C. Sheppard. 2010. Reef shark declines in remote atolls highlight the need for multi-faceted conservation action. Aquatic Conservation: Marine and Freshwater Ecosystems 20:543-548. | 2010 | Indian Ocean; Chagos Archipelago; India | | Apex Fish Predators; Finfish Harvest; Fishing Sector; Marine Protected Areas |
| Qiu, D. J., L. M. Huang, H. Huang, J. H. Yang, and S. J. Lin. 2010. Two Functionally Distinct Ciliates Dwelling in Acropora Corals in the South China Sea near Sanya, Hainan Province, China. Applied and Environmental Microbiology 76:5639-5643. | 2010 | China | | Pathogens; Stony Coral |
| Vonk, J. A., M. J. A. Christianen, and J. Stapel. 2010. Abundance, edge effect, and seasonality of fauna in mixed-species seagrass meadows in southwest Sulawesi, Indonesia. Marine Biology Research 6:282-291. | 2010 | Indonesia | | Bivalves; Echinoderms; Fish; Invertebrates; Marine Worms; Molluscs; Seagrasses; Sediment |
| Walker, S. P. W., L. Thibaut, and M. I. McCormick. 2010. Density-Dependent Sex Ratio Adjustment and the Allee Effect: A Model and a Test Using a Sex-Changing Fish. American Naturalist 176:312-321. | 2010 | | Model; Decision Support Frameworks & Tools | Fish; Invertebrates |
| De Torres, T., J. E. Ortiz, I. Arribas, A. Delgado, R. Julia, and J. A. Martin-Rubi. 2010. Geochemistry of Persististrombus latus Gmelin from the Pleistocene Iberian Mediterranean realm. Lethaia 43:149-163. | 2010 | | | |
| Anker, A. 2010. Metabetaeus Borradaile, 1899 revisited, with description of a new marine species from French Polynesia (Crustacea: Decapoda: Alpheidae). Zootaxa 37-54. | 2010 | US Pacific & Hawaii; Indian Ocean; India; Pacific Ocean | | Lobster, Crab, & Shrimp |
| Serrano, X., M. Grosell, and J. E. Serafy. 2010. Salinity selection and preference of the grey snapper Lutjanus griseus: field and laboratory observations. Journal of Fish Biology 76:1592-1608. | 2010 | Florida | Field Study & Monitoring; Lab Study | Complex Habitat & Resources; Fish; Mangroves; Piscivorous Fish; Salinity; Special Use Permitting |
| Rush, J. and C. Kerans. 2010. Stratigraphic Response Across A Structurally Dynamic Shelf: The Latest Guadalupian Composite Sequence At Walnut Canyon, New Mexico, Usa. Journal of Sedimentary Research 80:808-828. | 2010 | South & Central America; Mexico | Field Study & Monitoring; GIS & Maps | Sediment |
| Hobbs, J. P. A. and C. A. McDonald. 2010. Increased seawater temperature and decreased dissolved oxygen triggers fish kill at the Cocos (Keeling) Islands, Indian Ocean. Journal of Fish Biology 77:1219-1229. | 2010 | Global; Indian Ocean; India | | Climate; Fish; Sea Temperatures |
| Brunnschweiler, J. M., N. Queiroz, and D. W. Sims. 2010. Oceans apart? Short-term movements and behaviour of adult bull sharks Carcharhinus leucas in Atlantic and Pacific Oceans determined from pop-off satellite archival tagging. Journal of Fish Biology 77:1343-1358. | 2010 | US Pacific & Hawaii; US East Coast (NC, SC, GA); Bahamas; Pacific Ocean; Fiji | | Apex Fish Predators; Fish |
| Wakefield, C. B. 2010. Annual, lunar and diel reproductive periodicity of a spawning aggregation of snapper Pagrus auratus (Sparidae) in a marine embayment on the lower west coast of Australia. Journal of Fish Biology 77:1359-1378. | 2010 | Australia | | Finfish Harvest; Piscivorous Fish; Plankton |
| Webb, J. F., J. L. Herman, C. F. Woods, and D. R. Ketten. 2010. The ears of butterflyfishes (Chaetodontidae): 'hearing generalists' on noisy coral reefs? Journal of Fish Biology 77:1406-1423. | 2010 | | | Corallivorous Fish |
| Launio, C. C., Y. Morooka, H. Aizaki, and Y. Iiguni. 2010. Perceptions of small-scale fishermen on the value of marine resources and protected areas: case of Claveria, Northern Philippines. International Journal of Sustainable Development and World Ecology 17:401-409. | 2010 | Philippines | Model | Finfish Harvest; Fish; Fishing Sector; Housing; Marine Protected Areas; Monetary Valuation; Non-Monetary Valuation; Resource Use Management |
| Hirose, M., Y. Nozawa, and E. Hirose. 2010. Genetic Isolation among Morphotypes in the Photosymbiotic Didemnid Didemnum molle (Ascidiacea, Tunicata) from the Ryukyus and Taiwan. Zoological Science 27:959-964. | 2010 | US Pacific & Hawaii; Pacific Ocean; Japan; Taiwan | | |
| Westphal, H., J. Halfar, and A. Freiwald. 2010. Heterozoan carbonates in subtropical to tropical settings in the present and past. International Journal of Earth Sciences 99:S153-S169. | 2010 | | | Climate; CO2; Nutrients; Sediment; Substrate |
| Hubscher, C., C. Dullo, S. Flogel, J. Titschack, and J. Schonfeld. 2010. Contourite drift evolution and related coral growth in the eastern Gulf of Mexico and its gateways. International Journal of Earth Sciences 99:S191-S206. | 2010 | South & Central America; Florida; Mexico | | Octocoral; Sediment; Water Depth & Sea Level |
| Capezzuto, F., R. Carlucci, P. Maiorano, L. Sion, D. Battista, A. Giove, A. Indennidate, A. Tursi, and G. D'Onghia. 2010. The bathyal benthopelagic fauna in the north-western Ionian Sea: structure, patterns and interactions. Chemistry and Ecology 26:199-217. | 2010 | | Index or Indicator | Finfish Harvest; Lobster, Crab, & Shrimp; Octopus & Squid |
| Vietti, R. C., G. Albertelli, S. Aliani, S. Bava, G. Bavestrello, L. B. Cecchi, C. N. Bianchi, E. Bozzo, M. Capello, M. Castellano, C. Cerrano, M. Chiantore, N. Corradi, S. Cocito, L. Cutroneo, G. Diviacco, M. Fabiano, M. Faimali, M. Ferrari, G. P. Gasparini, and Locr. 2010. The Ligurian Sea: present status, problems and perspectives. Chemistry and Ecology 26:319-340. | 2010 | | Review | Beaches & Nature Parks; Climate; Discharges; Finfish Harvest; Fish; Fishing Sector; Marine Protected Areas; Monetary Valuation; Plankton; Sediment; Whales & Dolphins |
| Oceana. 2010. Precious Corals and CITES. | 2010 | | | Octocoral |
| Kasper-Zubillaga, J. J., L. Rosales-Hoz, and J. P. Bernal. 2010. Rare earth elements in corals from the Isla de Sacrificios Reef, Veracruz, Mexico. Chemie Der Erde-geochemistry 70:55-60. | 2010 | South & Central America; Mexico | | Nutrients; Sediment; Stony Coral |
| Cheng, S. Y., E. H. Lin, Z. H. Wen, M. Y. N. Chiang, and C. Y. Duh. 2010. Two New Verticillane-Type Diterpenoids from the Formosan Soft Coral Cespitularia hypotentaculata. Chemical & pharmaceutical bulletin 58:848-851. | 2010 | | | Octocoral |
| Batianoff, G. N., G. C. Naylor, J. A. Olds, N. A. Fechner, and V. J. Neldner. 2010. Climate and Vegetation Changes at Coringa-Herald National Nature Reserve, Coral Sea Islands, Australia. Pacific Science 64:73-92. | 2010 | US Pacific & Hawaii; Australia | | Climate; Marine Birds; Surface & Groundwater Flow |
| Chou, L. M., D. W. Huang, K. P. P. Tun, J. T. B. Kwik, Y. C. Tay, and A. L. Seow. 2010. Temporal Changes in Reef Community Structure at Bintan Island (Indonesia) Suggest Need for Integrated Management. Pacific Science 64:99-111. | 2010 | Southeast Asia; Indonesia | | Fish; Hotel & Food Services; Stony Coral; Tourism & Recreation |
| Ahyong, S. T. 2010. A New Genus And Two New Species Of Mantis Shrimp From The Western Pacific (Stomatopoda: Gonodactyloidea: Protosquillidae). Journal of Crustacean Biology 30:141-145. | 2010 | US Pacific & Hawaii | | Lobster, Crab, & Shrimp |
| Chapuis, L. and R. Bshary. 2010. Signalling by the cleaner shrimp Periclimenes longicarpus. Animal Behaviour 79:645-647. | 2010 | | Field Study & Monitoring; Lab Study | Fish; Lobster, Crab, & Shrimp |
| Kaspersson, R., J. Hojesjo, and S. Pedersen. 2010. Effects of density on foraging success and aggression in age-structured groups of brown trout. Animal Behaviour 79:709-715. | 2010 | | | Surface & Groundwater Flow |
| Chanmethakul, T., H. Chansang, and S. Watanasit. 2010. Soft Coral (Cnidaria: Alcyonacea) Distribution Patterns in Thai Waters. Zoological Studies 49:72-83. | 2010 | Thailand | | Octocoral; Substrate |
| Mendonca, V. M., M. M. Al Jabri, I. Al Ajmi, M. Al Muharrami, M. Al Areimi, and H. A. Al Aghbari. 2010. Persistent and Expanding Population Outbreaks of the Corallivorous Starfish Acanthaster planci in the Northwestern Indian Ocean: Are They Really a Consequence of Unsustainable Starfish Predator Removal through Overfishing in Coral Reefs, or a Response to. Zoological Studies 49:108-123. | 2010 | Indian Ocean; India; Oman | | Finfish Harvest; Nutrients; Plankton; Seastars |
| Hongo, C. and H. Kayanne. 2010. Relationship between species diversity and reef growth in the Holocene at Ishigaki Island, Pacific Ocean. Sedimentary Geology 223:86-99. | 2010 | Global; US Pacific & Hawaii; Pacific Ocean | Index or Indicator | Stony Coral; Water Depth & Sea Level |
| Sharon, G. and E. Rosenberg. 2010. Healthy corals maintain Vibrio in the VBNC state. Environmental Microbiology Reports 2:116-119. | 2010 | Cuba | | Microorganisms; Pathogens |
| Luna, G. M., L. Bongiorni, C. Gili, F. Biavasco, and R. Danovaro. 2010. Vibrio harveyi as a causative agent of the White Syndrome in tropical stony corals. Environmental Microbiology Reports 2:120-127. | 2010 | Indian Ocean; India; Indonesia | | Aquarium & Pet Trade; Aquarium Stock; Microorganisms; Pathogens; Stony Coral |
| Tait, K., Z. Hutchison, F. L. Thompson, and C. B. Munn. 2010. Quorum sensing signal production and inhibition by coral-associated vibrios. Environmental Microbiology Reports 2:145-150. | 2010 | | | Microorganisms; Pathogens |
| Pollock, F. J., B. Wilson, W. R. Johnson, P. J. Morris, B. L. Willis, and D. G. Bourne. 2010. Phylogeny of the coral pathogen Vibrio coralliilyticus. Environmental Microbiology Reports 2:172-178. | 2010 | Global; South & Central America; US Pacific & Hawaii; US East Coast (NC, SC, GA); Atlantic Ocean; India; Caribbean | | Bivalves; Pathogens |
| Carriquiry, J. D. and J. A. Villaescusa. 2010. Coral Cd/Ca and Mn/Ca records of ENSO variability in the Gulf of California. Climate of the Past 6:401-410. | 2010 | South & Central America; US Pacific & Hawaii; Mexico | | Stony Coral; Surface & Groundwater Flow |
| Li, H. J., Y. T. Cai, Y. Y. Chen, C. K. Lam, and W. J. Lan. 2010. Metabolites of Marine Fungus Aspergillus sp Collected from Soft Coral Sarcophyton tortuosum. Chemical Research in Chinese Universities 26:415-419. | 2010 | | | Octocoral |
| Wang, S. H., Y. C. Chang, M. Y. Chang, Y. H. Chen, T. L. Hwang, C. F. Weng, and P. J. Sung. 2010. Chlorinated Briarane Diterpenoids from the Sea Whip Gorgonian Corals Junceella fragilis and Ellisella robusta (Ellisellidae). Chemical & pharmaceutical bulletin 58:928-933. | 2010 | | | Octocoral |
| von Brandis, R. G., J. A. Mortimer, and B. K. Reilly. 2010. In-Water Observations of the Diving Behaviour of Immature Hawksbill Turtles, Eretmochelys imbricata, on a Coral Reef at D'Arros Island, Republic of Seychelles. Chelonian Conservation and Biology 9:26-32. | 2010 | Seychelles | | Sea Turtles |
| Mogollones, S. C., D. J. Rodriguez, O. Hernandez, and G. R. Barreto. 2010. A Demographic Study of the Arrau Turtle (Podocnemis expansa) in the Middle Orinoco River, Venezuela. Chelonian Conservation and Biology 9:79-89. | 2010 | South & Central America; Venezuela | Model | Surface & Groundwater Flow |
| Selig, E. R. and J. F. Bruno. 2010. A global analysis of the effectiveness of marine protected areas in preventing coral loss. PLoS One 5:e9278. | 2010 | Global | Decision Support Frameworks & Tools | Finfish Harvest; Fish; Fishing Sector; Marine Protected Areas; Monetary Valuation; Stony Coral |
| Clancy, D., J. E. Tanner, S. McWilliam, and M. Spencer. 2010. Quantifying parameter uncertainty in a coral reef model using Metropolis-Coupled Markov Chain Monte Carlo. Ecological Modelling 221:1337-1347. | 2010 | Australia | Model | Octocoral; Stony Coral |
| Holmes, G. and R. W. Johnstone. 2010. Modelling coral reef ecosystems with limited observational data. Ecological Modelling 221:1173-1183. | 2010 | South & Central America; Australia; Caribbean | Model; Decision Support Frameworks & Tools | Stony Coral |
| Jordan, S. J., S. E. Hayes, D. Yoskowitz, L. S. Smith, J. K. Summers, M. Russell, and W. H. Benson. 2010. Accounting for natural resources and environmental sustainability: linking ecosystem services to human well-being. Environmental Science and Technology [inpress]. | 2010 | | Index or Indicator | Special Use Permitting |
| Stier, A. C. and C. W. Osenberg. 2010. Propagule redirection: Habitat availability reduces colonization and increases recruitment in reef fishes. Ecology 91:2826-2832. | 2010 | | Field Study & Monitoring; Model | |
| Ciannelli, L., H. Knutsen, E. M. Olsen, S. H. Espeland, L. Asplin, A. Jelmert, J. A. Knutsen, and N. C. Stenseth. 2010. Small-scale genetic structure in a marine population in relation to water circulation and egg characteristics. Ecology 91:2918-2930. | 2010 | US East Coast (NC, SC, GA); Norway | Field Study & Monitoring; Model | |
| Botte, E., A. Negri, S. C. King, M. Gagliano, C. Smith-Keune, and D. Jerry. 2010. Are Damsels in Distress? Combined effects of chlorpyrifos and temperature stress on the tropical damselfish Acanthochromis polyacanthus from the Great Barrier Reef (Australia). Comparative Biochemistry and Physiology Part A 157:S16-S16. | 2010 | Australia | | Fish; Small Herbivorous Fish |
| Francis, R. I. C. C., S. E. Campana, and H. L. Neil. 2010. Validation of fish ageing methods should involve bias estimation rather than hypothesis testing: a proposed approach for bomb radiocarbon validations. Canadian Journal of Fisheries and Aquatic Sciences 67:1398-1408. | 2010 | | | Fish |
| Pangle, K. L., S. A. Ludsin, and B. J. Fryer. 2010. Otolith microchemistry as a stock identification tool for freshwater fishes: testing its limits in Lake Erie. Canadian Journal of Fisheries and Aquatic Sciences 67:1475-1489. | 2010 | | Decision Support Frameworks & Tools | Fish; Fishing Sector; Surface & Groundwater Flow |
| Sung, P. J., S. H. Wang, Y. C. Chang, Y. H. Chen, M. R. Lin, I. C. Huang, J. J. Chen, J. J. Li, T. H. Kung, L. S. Fang, W. H. Wang, and C. F. Weng. 2010. New Briarane-Related Diterpenoids from the Sea Whip Gorgonian Coral Junceella fragilis (Ellisellidae). Bulletin of the Chemical Society of Japan 83:1074-1078. | 2010 | | | Octocoral |
| Filby, A. L., G. C. Paull, T. F. A. Hickmore, and C. R. Tyler. 2010. Unravelling the neurophysiological basis of aggression in a fish model. BMC Genomics 11:498. | 2010 | | Model | Fish |
| Malcolm, H. A. and S. D. A. Smith. 2010. Objective selection of surrogate families to describe reef fish assemblages in a subtropical marine park. Biodiversity and Conservation 19:3611-3618. | 2010 | Australia | | Fish; Landuse Management; Marine Protected Areas; Small Herbivorous Fish |
| Mercier, A. and J. F. Hamel. 2010. Synchronized breeding events in sympatric marine invertebrates: role of behavior and fine temporal windows in maintaining reproductive isolation. Behavioral Ecology and Sociobiology 64:1749-1765. | 2010 | | Review | |
| Jiang, Z. X., H. J. Yang, Z. Li, X. Q. Pang, J. F. Han, D. X. Li, and Y. Y. Huang. 2010. Differences of Hydrocarbon Enrichment between the Upper and the Lower Structural Layers in the Tazhong Paleouplift. Acta Geologica Sinica-english Edition 84:1116-1127. | 2010 | | Model | |
| Li, Q. M., G. H. Wu, X. Q. Pang, W. Q. Pan, C. S. Luo, C. L. Wang, X. S. Li, and B. Zhou. 2010. Hydrocarbon Accumulation Conditions of Ordovician Carbonate in Tarim Basin. Acta Geologica Sinica-english Edition 84:1180-1194. | 2010 | | Field Study & Monitoring | Sediment |
| Tabot, M. B., G. Schnakenburg, and H. Gross. 2010. Pregna-1,4,20-trien-3-one, a cytotoxic marine steroid from the marine soft coral Nephthea sp. Acta Crystallographica Section E-structure Reports Online 66:O2040-U1398. | 2010 | | | Octocoral |
| Moore, A. B. M., W. T. White, and R. Peirce. 2010. Additions to the shark fauna of the Persian (Arabian) Gulf. Zoology in the Middle East 50:83-88. | 2010 | Saudi Arabia; Kuwait; Qatar | | Apex Fish Predators |
| Hinnebusch, D. M., J. F. Therrien, M. A. Valiquette, B. Robertson, S. Robertson, and K. L. Bildstein. 2010. Survival, Site Fidelity, And Population Trends Of American Kestrels Wintering In Southwestern Florida. Wilson Journal of Ornithology 122:475-483. | 2010 | Florida | Model | |
| Tanaka, K., S. Ohde, A. Sakaguchi, C. W. McLeod, and A. G. Cox. 2010. Pb/Ca in Thailand Coral Determined by LA-ICP-MS: Anthropogenic Pb Input of River Run-off into a Coral Reef from Urbanised Areas. Water Air And Soil Pollution 211:211-218. | 2010 | Thailand | | Calcium Carbonate Deposition; Non-point Source Runoff; Surface & Groundwater Flow |
| Bejarano, S., P. J. Mumby, J. D. Hedley, and I. Sotheran. 2010. Combining optical and acoustic data to enhance the detection of Caribbean forereef habitats. Remote Sensing of Environment 114:2768-2778. | 2010 | South & Central America; Belize; Caribbean | Index or Indicator; GIS & Maps; Remote Sensing; Decision Support Frameworks & Tools | Complex Habitat & Resources; Water Depth & Sea Level |
| Mapes, R. H., N. H. Landman, K. Cochran, C. Goiran, B. R. de Forges, and A. Renfro. 2010. Early Taphonomy And Significance Of Naturally Submerged Nautilus Shells From The New Caledonia Region. Palaios 25:597-610. | 2010 | New Caledonia | | Algae; Dredging, Draining, & Filling; Sediment |
| Heindel, K., D. Birgel, J. Peckmann, H. Kuhnert, and H. Westphal. 2010. Formation Of Deglacial Microbialites In Coral Reefs Off Tahiti (Iodp 310) Involving Sulfate-Reducing Bacteria. Palaios 25:618-635. | 2010 | | | Algae; Coralline Algae; Cyanobacteria; Microorganisms; Nutrients; Primary Production; Water Depth & Sea Level |
| Malinverno, E., M. Taviani, A. Rosso, D. Violanti, I. Villa, A. Savini, A. Vertino, A. Remia, and C. Corselli. 2010. Stratigraphic framework of the Apulian deep-water coral province, Ionian Sea. Deep-Sea Research Part II: Topical Studies in Oceanography 57:345-359. | 2010 | | Model | Sediment; Substrate; Water Depth & Sea Level |
| Rosso, A., A. Vertino, I. Di Geronimo, R. Sanfilippo, F. Sciuto, R. Di Geronimo, D. Violanti, C. Corselli, M. Taviani, F. Mastrototaro, and A. Tursi. 2010. Hard- and soft-bottom thanatofacies from the Santa Maria di Leuca deep-water coral province, Mediterranean. Deep-Sea Research Part II: Topical Studies in Oceanography 57:360-379. | 2010 | | | Marine Worms; Sediment; Skeletal Coral |
| Vertino, A., A. Savini, A. Rosso, I. Di Geronimo, F. Mastrototaro, R. Sanfilippo, G. Gay, and G. Etiope. 2010. Benthic habitat characterization and distribution from two representative sites of the deep-water SML Coral Province (Mediterranean). Deep-Sea Research Part II: Topical Studies in Oceanography 57:380-396. | 2010 | | | Sponges; Stony Coral; Substrate; Water Depth & Sea Level |
| Cheng, J. O., Y. M. Cheng, T. H. Chen, P. C. Hsieh, M. D. Fang, C. L. Lee, and F. C. Ko. 2010. A Preliminary Assessment of Polycyclic Aromatic Hydrocarbon Distribution in the Kenting Coral Reef Waters of Southern Taiwan. Archives of Environmental Contamination and Toxicology 58:489-498. | 2010 | Taiwan | | Non-point Source Runoff |
| Fuentes, M. M. P. B., C. J. Limpus, M. Hamann, and J. Dawson. 2010. Potential impacts of projected sea-level rise on sea turtle rookeries. Aquatic Conservation: Marine and Freshwater Ecosystems 20:132-139. | 2010 | Australia | Model | Beaches & Nature Parks; Climate; Sea Turtles; Storms & Hurricanes |
| Garcon, J. S., A. Grech, J. Moloney, and M. Hamann. 2010. Relative Exposure Index: an important factor in sea turtle nesting distribution. Aquatic Conservation: Marine and Freshwater Ecosystems 20:140-149. | 2010 | Australia | Index or Indicator; GIS & Maps | Climate; Coastal Development; Sea Turtles |
| Jenkins, A. P., S. D. Jupiter, I. Qauqau, and J. Atherton. 2010. The importance of ecosystem-based management for conserving aquatic migratory pathways on tropical high islands: a case study from Fiji. Aquatic Conservation: Marine and Freshwater Ecosystems 20:224-238. | 2010 | US Pacific & Hawaii; Australia; Fiji; Papua New Guinea | GIS & Maps | Collaboration & Partnering; Fish; Invasive Species; Landscape Conservation & Restoration; Mangroves; Monetary Valuation; Surface & Groundwater Flow |
| Jones, D. L., J. F. Walter, E. N. Brooks, and J. E. Serafy. 2010. Connectivity through ontogeny: fish population linkages among mangrove and coral reef habitats. Marine Ecology Progress Series 401:245-258. | 2010 | Florida | Field Study & Monitoring; Index or Indicator | Apex Fish Predators; Complex Habitat & Resources; Finfish Harvest; Fish; Mangroves; Piscivorous Fish |
| Wicks, L. C., J. P. A. Gardner, and S. K. Davy. 2010. Spatial patterns and regional affinities of coral communities at the Kermadec Islands Marine Reserve, New Zealand-a marginal high-latitude site. Marine Ecology Progress Series 400:101-113. | 2010 | Global; Australia | | Algae; Shoreline Protection; Stony Coral |
| Bard, E., B. Hamelin, and D. Delanghe-Sabatier. 2010. Deglacial Meltwater Pulse 1B and Younger Dryas Sea Levels Revisited with Boreholes at Tahiti. Science 327:1235-1237. | 2010 | | | Water Depth & Sea Level |
| Allwood, A. C., B. S. Kamber, M. R. Walter, I. W. Burch, and I. Kanik. 2010. Trace elements record depositional history of an Early Archean stromatolitic carbonate platform. Chemical Geology 270:148-163. | 2010 | Australia | | Sediment |
| Martin-Garin, B., B. Lathuiliere, J. Geister, and K. Ramseyer. 2010. Oxygen Isotopes And Climatic Control Of Oxfordian Coral Reefs (Jurassic, Tethys). Palaios 25:721-729. | 2010 | Europe | | Climate |
| Stanley, G. D. and K. P. Helmle. 2010. Middle Triassic Coral Growth Bands And Their Implication For Photosymbiosis. Palaios 25:754-763. | 2010 | | | |
| Chen, B. W., S. M. Chang, C. Y. Huang, C. H. Chao, J. H. Su, Z. H. Wen, C. H. Hsu, C. F. Dai, Y. C. Wu, and J. H. Sheu. 2010. Hirsutalins A-H, Eunicellin-Based Diterpenoids from the Soft Coral Cladiella hirsuta. Journal of Natural Products 73:1785-1791. | 2010 | | | Octocoral |
| Iryu, Y., Y. Takahashi, K. Fujita, G. Camoin, G. Cabioch, H. Matsuda, T. Sato, K. Sugihara, J. M. Webster, and H. Westphal. 2010. Sealevel history recorded in the Pleistocene carbonate sequence in IODP Hole 310-M0005D, off Tahiti. Island Arc 19:690-706. | 2010 | US Pacific & Hawaii; Australia; Pacific Ocean | | Algae; Climate; Coralline Algae; Sediment; Water Depth & Sea Level |
| Justine, J. L., I. Beveridge, G. A. Boxshall, R. A. Bray, F. Moravec, J. P. Trilles, and I. D. Whittington. 2010. An annotated list of parasites (Isopoda, Copepoda, Monogenea, Digenea, Cestoda and Nematoda) collected in groupers (Serranidae, Epinephelinae) in New Caledonia emphasizes parasite biodiversity in coral reef fish. Folia Parasitologica 57:237-262. | 2010 | Australia; New Caledonia | | Apex Fish Predators; Fish; Marine Worms; Piscivorous Fish |
| Wen, J. and C. Hu. 2010. Elemental composition of commercial sea cucumbers (holothurians). Food Additives & Contaminants Part B-surveillance 3:246-252. | 2010 | | | Echinoderms |
| Matysik, M. 2010. Reefal Environments And Sedimentary Processes Of The Anisian Karchowice Beds In Upper Silesia, Southern Poland. Annales Societatis Geologorum Poloniae 80:123-145. | 2010 | Poland | | Climate; Sediment; Sponges; Storms & Hurricanes; Substrate |
| Forsman, Z. H., G. T. Concepcion, R. D. Haverkort, R. W. Shaw, J. E. Maragos, and R. J. Toonen. 2010. Ecomorph or Endangered Coral? DNA and Microstructure Reveal Hawaiian Species Complexes: Montipora dilatata/flabellata/turgescens & M. patula/verrilli. PLoS One 5:e15021. | 2010 | US Pacific & Hawaii | | Stony Coral |
| Wilson, S. K., M. Depczynski, R. Fisher, T. H. Holmes, R. A. O'Leary, and P. Tinkler. 2010. Habitat Associations of Juvenile Fish at Ningaloo Reef, Western Australia: The Importance of Coral and Algae. PLoS One 5:e15185. | 2010 | Australia | | Algae; Climate; Complex Habitat & Resources; Corallivorous Fish; Fish; Fishing Sector; Large Herbivorous Fish; Marine Protected Areas; Skeletal Coral; Stony Coral |
| Mayfield, A. B., Y. Y. Hsiao, T. Y. Fan, C. S. Chen, and R. D. Gates. 2010. Evaluating the temporal stability of stress-activated protein kinase and cytoskeleton gene expression in the Pacific reef corals Pocillopora damicornis and Seriatopora hystrix. Journal of Experimental Marine Biology and Ecology 395:215-222. | 2010 | US Pacific & Hawaii | Field Study & Monitoring | Special Use Permitting; Stony Coral |
| Ogston, A. S. and M. E. Field. 2010. Predictions of Turbidity Due to Enhanced Sediment Resuspension Resulting from Sea-Level Rise on a Fringing Coral Reef: Evidence from Molokai, Hawaii. Journal of Coastal Research 26:1027-1037. | 2010 | Global; US Pacific & Hawaii | | Climate; Light; Primary Production; Sediment; Shoreline Protection; Water Depth & Sea Level |
| do Carmo, J. A., C. S. Reis, and H. Freitas. 2010. Working with Nature by Protecting Sand Dunes: Lessons Learned. Journal of Coastal Research 26:1068-1078. | 2010 | | Field Study & Monitoring | Artificial Habitat; Metals, Electronics, & Machinery Products; Shoreline Protection; Storms & Hurricanes |
| Kopp, D., Y. Bouchon-Navaro, M. Louis, D. Mouillot, and C. Bouchon. 2010. Juvenile Fish Assemblages in Caribbean Seagrass Beds: Does Nearby Habitat Matter? Journal of Coastal Research 26:1133-1141. | 2010 | South & Central America; Caribbean | Index or Indicator | Fish; Mangroves; Seagrasses |
| Vannucci, G., M. Testa, M. Piazza, and P. Pastorino. 2010. Subterraniphyllum and free-living Neogoniolithon (coralline algae) from the Oligocene reef facies of Costa d'Ovada (Tertiary Piedmont Basin, Alessandria, NW Italy). Italian Journal Of Geosciences 129:4-14. | 2010 | | | Algae; Coralline Algae; Sediment |
| Bautista-Guerrero, E., J. L. Carballo, and M. Maldonado. 2010. Reproductive cycle of the coral-excavating sponge Thoosa mismalolli (Clionaidae) from Mexican Pacific coral reefs. Invertebrate Biology 129:285-296. | 2010 | US Pacific & Hawaii | | Boring Sponges; Sponges |
| Strathmann, R. R., M. F. Strathmann, G. Ruiz-Jones, and M. G. Hadfield. 2010. Effect of plasticity in hatching on duration as a precompetent swimming larva in the nudibranch Phestilla sibogae. Invertebrate Biology 129:309-318. | 2010 | | | Lobster, Crab, & Shrimp; Plankton |
| Munday, P. L., D. L. Dixson, M. I. McCormick, M. Meekan, M. C. O. Ferrari, and D. P. Chivers. 2010. Replenishment of fish populations is threatened by ocean acidification. Proceedings of the National Academy of Sciences of the United States of America 107:12930-12934. | 2010 | | Field Study & Monitoring; Lab Study | CO2; Complex Habitat & Resources; Fish; Ocean Acidity |
| Newman, S. J., C. L. Skepper, and C. B. Wakefield. 2010. Age estimation and otolith characteristics of an unusually old, red emperor snapper (Lutjanus sebae) captured off the Kimberley coast of north-western Australia. Journal of Applied Ichthyology 26:120-122. | 2010 | Australia | | Fish; Piscivorous Fish |
| Ikmi, A. and M. C. Gibson. 2010. Identification and In Vivo Characterization of NvFP-7R, a Developmentally Regulated Red Fluorescent Protein of Nematostella vectensis. PLoS One 5:e11807. | 2010 | | Model; Decision Support Frameworks & Tools | Anemones & Zooanthids |
| Palyvos, N., M. Mancini, D. Sorel, F. Lemeille, D. Pantosti, R. Julia, M. Triantaphyllou, and P. M. De Martini. 2010. Geomorphological, stratigraphic and geochronological evidence of fast Pleistocene coastal uplift in the westernmost part of the Corinth Gulf Rift (Greece). Geological Journal 45:78-104. | 2010 | | | Plankton; Sediment |
| Moosavi, A. and A. Aghaei. 2010. Comparison of solution combustion and co-precipitation methods in synthesis of iron zircon coral pigment. Pigment & Resin Technology 39:203-207. | 2010 | | | |
| LaVigne, M., K. A. Matthews, A. G. Grottoli, K. M. Cobb, E. Anagnostou, G. Cabioch, and R. M. Sherrell. 2010. Coral skeleton P/Ca proxy for seawater phosphate: Multi-colony calibration with a contemporaneous seawater phosphate record. Geochimica et Cosmochimica Acta 74:1282-1293. | 2010 | Panama | | Nutrients; Primary Production; Stony Coral; Surface & Groundwater Flow |
| Yang, X. F., C. S. Lin, H. J. Yang, J. F. Han, J. Y. Liu, Y. M. Zhang, L. Peng, B. Jing, J. Y. Tong, H. P. Wang, and H. P. Li. 2010. Depositional architecture of the late Ordovician drowned carbonate platform margin and its responses to sea-level fluctuation in the northern slope of the Tazhong region, Tarim Basin. Petroleum Science 7:323-336. | 2010 | | | Sediment; Sponges |
| Rollion-Bard, C., D. Blamart, J. P. Cuif, and Y. Dauphin. 2010. In situ measurements of oxygen isotopic composition in deep-sea coral, Lophelia pertusa: Re-examination of the current geochemical models of biomineralization. Geochimica et Cosmochimica Acta 74:1338-1349. | 2010 | | Model | Calcium Carbonate Deposition |
| Goatley, C. H. R., D. R. Bellwood, and O. Bellwood. 2010. Fishes on coral reefs: changing roles over the past 240 million years. Paleobiology 36:415-427. | 2010 | | | Fish; Surface & Groundwater Flow |
| Krause, R. A., S. L. Barbour, M. Kowalewski, D. S. Kaufman, C. S. Romanek, M. G. Simoes, and J. F. Wehmiller. 2010. Quantitative comparisons and models of time-averaging in bivalve and brachiopod shell accumulations. Paleobiology 36:428-452. | 2010 | | Model | Sediment |
| Munakata, A. and M. Kobayashi. 2010. Endocrine control of sexual behavior in teleost fish. General and Comparative Endocrinology 165:456-468. | 2010 | | Field Study & Monitoring; Lab Study | Fish; Special Use Permitting |
| Sazima, C., P. R. Guimaraes, S. F. dos Reis, and I. Sazima. 2010. What makes a species central in a cleaning mutualism network? Oikos 119:1319-1325. | 2010 | | | |
| Schreck, C. B. 2010. Stress and fish reproduction: The roles of allostasis and hormesis. General and Comparative Endocrinology 165:549-556. | 2010 | | Review | Fish; Security Policies |
| Luiz, O. J., I. Sazima, L. F. Waib, and C. E. L. Ferreira. 2010. A honeymoon in Brazil: the spawning behavior of an exotic reef fish in the western south Atlantic. Neotropical Ichthyology 8:369-371. | 2010 | US East Coast (NC, SC, GA) | | Fish; Small Herbivorous Fish |
| Jadhawar, P. S. and H. K. Sarma. 2010. Numerical Simulation and Sensitivity Analysis of Gas-Oil Gravity Drainage Process of Enhanced Oil Recovery. Journal of Canadian Petroleum Technology 49:64-70. | 2010 | | GIS & Maps | |
| Kuo, Y. M. and H. J. Lin. 2010. Dynamic factor analysis of long-term growth trends of the intertidal seagrass Thalassia hemprichii in southern Taiwan. Estuarine Coastal and Shelf Science 86:225-236. | 2010 | Taiwan | Model | Salinity; Seagrasses; Sediment |
| Baeza, J. A. 2010. The symbiotic lifestyle and its evolutionary consequences: social monogamy and sex allocation in the hermaphroditic shrimp Lysmata pederseni. Naturwissenschaften 97:729-741. | 2010 | South & Central America; Caribbean | Field Study & Monitoring | Lobster, Crab, & Shrimp; Sponges; Tube, Barrel, & Finger Sponges |
| Gheerardyn, H., M. De Troch, M. Vincx, and A. Vanreusel. 2010. Diversity and community structure of harpacticoid copepods associated with cold-water coral substrates in the Porcupine Seabight (North-East Atlantic). Helgoland Marine Research 64:53-62. | 2010 | US East Coast (NC, SC, GA) | | Complex Habitat & Resources; Sediment; Sponges; Substrate |
| Liu, C. P., C. H. Wang, and L. S. Hwang. 2010. Temporal variation of seepage water chemistry before and after the Hengchun Ms 7.2 earthquake in south Taiwan. Geoderma 155:107-114. | 2010 | Taiwan | | Sediment |
| Gilman, E., J. Gearhart, B. Price, S. Eckert, H. Milliken, J. Wang, Y. Swimmer, D. Shiode, O. Abe, S. H. Peckham, M. Chaloupka, M. Hall, J. Mangel, J. Alfaro-Shigueto, P. Dalzell, and A. Ishizaki. 2010. Mitigating sea turtle by-catch in coastal passive net fisheries. Fish and Fisheries 11:57-88. | 2010 | | Review | Accidental & Illegal Harvest; Finfish Harvest; Fishing Sector; Mitigation; Sea Turtles |
| Martins, G. M., R. C. Thompson, A. I. Neto, S. J. Hawkins, and S. R. Jenkins. 2010. Enhancing stocks of the exploited limpet Patella candei d'Orbigny via modifications in coastal engineering. Biological Conservation 143:203-211. | 2010 | | | Coastal Engineering |
| Rounsevell, M. D. A., T. P. Dawson, and P. A. Harrison. 2010. A conceptual framework to assess the effects of environmental change on ecosystem services. Biodiversity and Conservation 19:2823-2842. | 2010 | | Decision Support Frameworks & Tools | Mitigation; Surface & Groundwater Flow; Valuation |
| Lebata-Ramos, M. J. H. L., K. Okuzawa, R. J. Maliao, J. B. R. Abroguena, M. D. N. Dimzon, E. F. C. Doyola-Solis, and T. U. Dacles. 2010. Growth and survival of hatchery-bred giant clams (Tridacna gigas) in an ocean nursery in Sagay Marine Reserve, Philippines. Aquaculture International 18:19-33. | 2010 | Philippines | | |
| Pittman, S. J., C. F. G. Jeffrey, R. Clark, K. Woody, B. D. Herlach, C. Caldow, M. E. Monaco, and R. Appledoorn. 2010. Coral reef ecosystems of Reserva Natural de La Parguera (Puerto Rico): spatial and temporal patterns in fish and benthic communities (2001-2007). National Oceanic and Atmospheric Administration, Silver Spring, MD. | 2010 | South & Central America; Puerto Rico; Caribbean | Field Study & Monitoring | Biological Monitoring, Mapping, & Scientific Research; Boating Activities; Boating Regulations; Collaboration & Partnering; Dive, Snorkeling, & Swimming Tourism; Environmental Monitoring, Mapping, & Scientific Research; Fish; Fishing Sector; Landscape Conservation & Restoration; Mangroves; Marine Debris; Marine Protected Areas; Tourism & Recreation |
| Tims, S. G., S. E. Everett, L. K. Fifield, G. J. Hancock, and R. Bartley. 2010. Plutonium as a tracer of soil and sediment movement in the Herbert River, Australia. Nuclear Instruments & Methods In Physics Research Section B-beam Interactions With Materials And Atoms 268:1150-1154. | 2010 | Australia | | Discharges; Dredging, Draining, & Filling; Sediment; Surface & Groundwater Flow |
| Banks, S. C., S. D. Ling, C. R. Johnson, M. P. Piggott, J. E. Williamson, and L. B. Beheregaray. 2010. Genetic structure of a recent climate change-driven range extension. Molecular Ecology 19:2011-2024. | 2010 | Global; Australia | Model | Climate; Fishing Sector; Invasive Species; Sea Temperatures; Sea Urchins |
| Salter, Z. T., E. S. Harvey, G. A. Kendrick, and K. Murray. 2010. The effect of kelp bed disturbance on the abundance and feeding behaviour of fishes on high-relief reefs. Marine and Freshwater Behaviour and Physiology 43:109-125. | 2010 | | | Algae; Fish |
| Foley, N. S., V. Kahui, C. W. Armstrong, and T. M. van Rensburg. 2010. Estimating Linkages between Redfish and Cold Water Coral on the Norwegian Coast. Marine Resource Economics 25:105-120. | 2010 | Norway | Model | Commercial Fisheries; Fish; Fishing Sector; Trawling & Fishing Gear Damage |
| Liu, J. Y., T. Luo, T. S. Mouli, F. L. Meng, B. Sun, M. Q. Li, and J. H. Liu. 2010. A novel coral-like porous SnO2 hollow architecture: biomimetic swallowing growth mechanism and enhanced photovoltaic property for dye-sensitized solar cell application. Chemical Communications 46:472-474. | 2010 | | | |
| Sikkel, P. C. and C. A. Fuller. 2010. Shoaling preference and evidence for maintenance of sibling groups by juvenile black perch Embiotoca jacksoni. Journal of Fish Biology 76:1671-1681. | 2010 | | Field Study & Monitoring; Lab Study | Fish |
| O'Connor, K. C. and T. W. Anderson. 2010. Consequences of habitat disturbance and recovery to recruitment and the abundance of kelp forest fishes. Journal of Experimental Marine Biology and Ecology 386:1-10. | 2010 | | | Algae; Fish |
| Holcomb, M., D. C. McCorkle, and A. L. Cohen. 2010. Long-term effects of nutrient and CO2 enrichment on the temperate coral Astrangia poculata (Ellis and Solander, 1786). Journal of Experimental Marine Biology and Ecology 386:27-33. | 2010 | | Model | CO2; Nutrients; Ocean Acidity; Stony Coral |
| Gaither, M. R. and R. Rowan. 2010. Zooxanthellar symbiosis in planula larvae of the coral Pocillopora damicornis. Journal of Experimental Marine Biology and Ecology 386:45-53. | 2010 | | | Primary Production; Stony Coral; Zooxanthellae |
| dos Santos, L. N., D. S. Brotto, and I. R. Zalmon. 2010. Fish responses to increasing distance from artificial reefs on the Southeastern Brazilian Coast. Journal of Experimental Marine Biology and Ecology 386:54-60. | 2010 | | Model; Decision Support Frameworks & Tools | Artificial Habitat; Complex Habitat & Resources; Finfish Harvest; Fish; Fishing Sector; Small Herbivorous Fish |
| Papastamatiou, Y. P., A. M. Friedlander, J. E. Caselle, and C. G. Lowe. 2010. Long-term movement patterns and trophic ecology of blacktip reef sharks (Carcharhinus melanopterus) at Palmyra Atoll. Journal of Experimental Marine Biology and Ecology 386:94-102. | 2010 | US Pacific & Hawaii; Palmyra Atoll | Index or Indicator | Apex Fish Predators; Marine Protected Areas |
| Hagiwara, K., H. Manabe, and A. Shinomiya. 2010. Simultaneous polygyny of the gobiid fish Asterropteryx semipunctata in relation to mate availability. Journal of Ethology 28:251-256. | 2010 | Japan | Field Study & Monitoring | Fish |
| Xu, L. Q., X. D. Liu, L. G. Sun, H. Yan, Y. Liu, Y. H. Luo, J. Huang, and Y. H. Wang. 2010. Distribution of radionuclides in the guano sediments of Xisha Islands, South China Sea and its implication. Journal of Environmental Radioactivity 101:362-368. | 2010 | China | Model | Nutrients; Sediment |
| Dulf, F. V., M. L. Unguresan, D. C. Vodnar, and C. Socaciu. 2010. Free and Esterified Sterol Distribution in Four Romanian Vegetable Oil. Notulae Botanicae Horti Agrobotanici Cluj-napoca 38:91-97. | 2010 | Oman | | |
| Ravago-Gotanco, R. G. and M. A. Juinio-Menez. 2010. Phylogeography of the mottled spinefoot Siganus fuscescens: Pleistocene divergence and limited genetic connectivity across the Philippine archipelago. Molecular Ecology 19:4520-4534. | 2010 | China; Philippines | | Water Depth & Sea Level |
| Collins, C. J., C. I. Fraser, A. Ashcroft, and J. M. Waters. 2010. Asymmetric dispersal of southern bull-kelp (Durvillaea antarctica) adults in coastal New Zealand: testing an oceanographic hypothesis. Molecular Ecology 19:4572-4580. | 2010 | | Model | Algae; Complex Habitat & Resources |
| Lopez-Legentil, S., P. M. Erwin, J. R. Pawlik, and B. Song. 2010. Effects of Sponge Bleaching on Ammonia-Oxidizing Archaea: Distribution and Relative Expression of Ammonia Monooxygenase Genes Associated with the Barrel Sponge Xestospongia muta. Microbial Ecology 60:561-571. | 2010 | South & Central America; Caribbean | | Cyanobacteria; Microorganisms; Nutrients; Pathogens; Sediment; Sponges; Tube, Barrel, & Finger Sponges |
| Williams, N. B., B. Dixon, and A. Johnson. 2010. Linking Watersheds' Hydrologic Response to Sediment Deliver: A Conceptual Framework. Pages 1-8 in AWRA 2010 Summer Specialty Conference. | 2010 | South & Central America; Caribbean | Model; GIS & Maps; Decision Support Frameworks & Tools | Climate; Sediment; Surface & Groundwater Flow |
| Palmer, S. E., C. T. Perry, S. G. Smithers, and P. Gulliver. 2010. Internal structure and accretionary history of a nearshore, turbid-zone coral reef: Paluma Shoals, central Great Barrier Reef, Australia. Marine Geology 276:14-29. | 2010 | Australia | | Sediment; Skeletal Coral |
| Liu, Y. L., H. B. Lillywhite, and M. C. Tu. 2010. Sea snakes anticipate tropical cyclone. Marine Biology 157:2369-2373. | 2010 | Taiwan | | Storms & Hurricanes |
| Yniguez, A. T., J. W. McManus, and L. Collado-Vides. 2010. Capturing the dynamics in benthic structures: environmental effects on morphology in the macroalgal genera Halimeda and Dictyota. Marine Ecology Progress Series 411:17-U40. | 2010 | Florida | Model; Index or Indicator | Algae; Calcareous Macroalgae; Complex Habitat & Resources; Fleshy Macroalgae; Nutrients |
| Wild, C., W. Niggl, M. S. Naumann, and A. F. Haas. 2010. Organic matter release by Red Sea coral reef organisms-potential effects on microbial activity and in situ O-2 availability. Marine Ecology Progress Series 411:61-71. | 2010 | Cuba | Lab Study | Algae; Nutrients; Stony Coral |
| Wisshak, M., A. Form, J. Jakobsen, and A. Freiwald. 2010. Temperate carbonate cycling and water mass properties from intertidal to bathyal depths (Azores). Biogeosciences 7:2379-2396. | 2010 | Bahamas | | Calcium Carbonate Deposition; Light; Nutrients; Substrate |
| Norse, E. A. 2010. Ecosystem-Based Spatial Planning And Management Of Marine Fisheries: Why And How? Bulletin of Marine Science 86:179-195. | 2010 | Australia | Decision Support Frameworks & Tools | Finfish Harvest; Fish; Fishing Sector; Marine Protected Areas |
| Douville, E., M. Paterne, G. Cabioch, P. Louvat, J. Gaillardet, A. Juillet-Leclerc, and L. Ayliffe. 2010. Abrupt sea surface pH change at the end of the Younger Dryas in the central sub-equatorial Pacific inferred from boron isotope abundance in corals (Porites). Biogeosciences 7:2445-2459. | 2010 | US Pacific & Hawaii | Lab Study | Calcium Carbonate Deposition; CO2; Stony Coral; Surface & Groundwater Flow |
| Bates, N. R., A. Amat, and A. J. Andersson. 2010. Feedbacks and responses of coral calcification on the Bermuda reef system to seasonal changes in biological processes and ocean acidification. Biogeosciences 7:2509-2530. | 2010 | Bermuda | Field Study & Monitoring | Algae; Calcium Carbonate Deposition; CO2; Ocean Acidity; Stony Coral |
| Lu, Y., Y. C. Lin, Z. H. Wen, J. H. Su, P. J. Sung, C. H. Hsu, Y. H. Kuo, M. Y. Chiang, C. F. Dai, and J. H. Sheu. 2010. Steroid and cembranoids from the Dongsha atoll soft coral Lobophytum sarcophytoides. Tetrahedron 66:7129-7135. | 2010 | | | Octocoral |
| Caselle, J. E., B. P. Kinlan, and R. R. Warner. 2010. Temporal And Spatial Scales Of Influence On Nearshore Fish Settlement In The Southern California Bight. Bulletin of Marine Science 86:355-385. | 2010 | | Model | Fish; Substrate |
| Galvan-Villa, C. M., J. L. Arreola-Robles, E. Rios-Jara, and F. A. Rodriguez-Zaragoza. 2010. Reef fish assemblages and their relation with the benthic habitat of Isabel Island, Nayarit, Mexico. Revista de Biologia Marina y Oceanografia 45:311-324. | 2010 | South & Central America; US Pacific & Hawaii; Mexico | Index or Indicator | Fish; Octocoral; Small Herbivorous Fish; Sponges |
| LaJeunesse, T. C., R. Smith, M. Walther, J. Pinzon, D. T. Pettay, M. McGinley, M. Aschaffenburg, P. Medina-Rosas, A. L. Cupul-Magana, A. L. Perez, H. Reyes-Bonilla, and M. E. Warner. 2010. Host-symbiont recombination versus natural selection in the response of coral-dinoflagellate symbioses to environmental disturbance. Proceedings of the Royal Society B 277:2925-2934. | 2010 | Global; South & Central America; US Pacific & Hawaii; Mexico | | Anemones & Zooanthids; Climate; Collaboration & Partnering; Invasive Species; Stony Coral |
| Weinbauer, M. G., M. E. Kerros, C. Motegi, I. C. Wilhartitz, F. Rassoulzadegan, J. P. Torreton, and X. Mari. 2010. Bacterial community composition and potential controlling mechanisms along a trophic gradient in a barrier reef system. Aquatic Microbial Ecology 60:15-28. | 2010 | New Caledonia | Index or Indicator | |
| Servais, T., A. W. Owen, D. A. T. Harper, B. Kroger, and A. Munnecke. 2010. The Great Ordovician Biodiversification Event (GOBE): The palaeoecological dimension. Palaeogeography, Palaeoclimatology, Palaeoecology 294:99-119. | 2010 | | Review | Arthropods; Invertebrates; Plankton; Sediment; Surface & Groundwater Flow |
| Alvaro, J. J. and F. Debrenne. 2010. The Great Atlasian Reef Complex: An early Cambrian subtropical fringing belt that bordered West Gondwana. Palaeogeography, Palaeoclimatology, Palaeoecology 294:120-132. | 2010 | Oman | | Climate; Sediment |
| Bassi, D. and J. H. Nebelsick. 2010. Components, facies and ramps: Redefining Upper Oligocene shallow water carbonates using coralline red algae and larger foraminifera (Venetian area, northeast Italy). Palaeogeography, Palaeoclimatology, Palaeoecology 295:258-280. | 2010 | | Index or Indicator | Algae; Coralline Algae; Sediment |
| Geange, S. W. and A. C. Stier. 2010. Priority effects and habitat complexity affect the strength of competition. Oecologia 163:111-118. | 2010 | | Field Study & Monitoring | Complex Habitat & Resources; Fish |
| Leong, W. and J. R. Pawlik. 2010. Fragments or propagules? Reproductive tradeoffs among Callyspongia spp. from Florida coral reefs. Oikos 119:1417-1422. | 2010 | South & Central America; Florida; Caribbean | | Sponges; Stony Coral; Storms & Hurricanes |
| Iacona, G. D., L. K. Kirkman, and E. M. Bruna. 2010. Effects of resource availability on seedling recruitment in a fire-maintained savanna. Oecologia 163:171-180. | 2010 | | Index or Indicator | Water |
| Hill, R. W., C. Li, A. D. Jones, J. P. Gunn, and P. R. Frade. 2010. Abundant betaines in reef-building corals and ecological indicators of a photoprotective role. Coral Reefs 29:869-880. | 2010 | | Field Study & Monitoring; Index or Indicator | Algae; Light; Primary Production; Stony Coral |
| Hata, H., K. Watanabe, and M. Kato. 2010. Geographic variation in the damselfish-red alga cultivation mutualism in the Indo-West Pacific. BMC Evolutionary Biology 10:185. | 2010 | US Pacific & Hawaii; Australia; Kenya; Mauritius; Maldives; Egypt; Japan | | Algae; Fish; Small Herbivorous Fish |
| Barbosa, S. S., B. P. Kelaher, and M. Byrne. 2010. Patterns of abundance, growth and size of the tropical intertidal chiton Acanthopleura gemmata. Molluscan Research 30:48-52. | 2010 | Australia | | Infrastructure; Substrate |
| Berumen, M. L., H. J. Walsh, N. Raventos, S. Planes, G. P. Jones, V. Starczak, and S. R. Thorrold. 2010. Otolith geochemistry does not reflect dispersal history of clownfish larvae. Coral Reefs 29:883-891. | 2010 | Papua New Guinea | | Fish; Invertebrates |
| Pollock, F. J., P. J. Morris, B. L. Willis, and D. G. Bourne. 2010. Detection and Quantification of the Coral Pathogen Vibrio coralliilyticus by Real-Time PCR with TaqMan Fluorescent Probes. Applied and Environmental Microbiology 76:5282-5286. | 2010 | | Field Study & Monitoring | Microorganisms; Pathogens |
| Fujita, K., A. Omori, Y. Yokoyama, S. Sakai, and Y. Iryu. 2010. Sea-level rise during Termination II inferred from large benthic foraminifers: IODP Expedition 310, Tahiti Sea Level. Marine Geology 271:149-155. | 2010 | | | Climate; Water Depth & Sea Level |
| Veal, C. J., M. Carmi, M. Fine, and O. Hoegh-Guldberg. 2010. Increasing the accuracy of surface area estimation using single wax dipping of coral fragments. Coral Reefs 29:893-897. | 2010 | | Lab Study | |
| Cote, I. M. and A. Maljkovie. 2010. Predation rates of Indo-Pacific lionfish on Bahamian coral reefs. Marine Ecology Progress Series 404:219-225. | 2010 | South & Central America; US Pacific & Hawaii; Bahamas; Caribbean | Field Study & Monitoring | Escape & Release of Non-natives; Fish |
| Colombo-Pallotta, M. F., A. Rodriguez-Roman, and R. Iglesias-Prieto. 2010. Calcification in bleached and unbleached Montastraea faveolata: evaluating the role of oxygen and glycerol. Coral Reefs 29:899-907. | 2010 | South & Central America; Cuba; Caribbean | Lab Study | Calcium Carbonate Deposition; Primary Production; Stony Coral |
| Pobprasert, K. and A. J. Pierce. 2010. Observations and Predation of a Coral-billed Ground Cuckoo (Carpococcyx renauldi) Nest in Northeastern Thailand. Wilson Journal of Ornithology 122:173-177. | 2010 | Cuba; Thailand | | Invertebrates |
| Bannister, R. J., C. N. Battershill, and R. de Nys. 2010. Demographic variability and long-term change in a coral reef sponge along a cross-shelf gradient of the Great Barrier Reef. Marine and Freshwater Research 61:389-396. | 2010 | Australia | | Complex Habitat & Resources; Sponges |
| Abesamis, R. A. and G. R. Russ. 2010. Patterns of recruitment of coral reef fishes in a monsoonal environment. Coral Reefs 29:911-921. | 2010 | US Pacific & Hawaii; Philippines | | Planktivorous Fish; Small Herbivorous Fish |
| Brule, T., T. Colas-Marrufo, E. Perez-Diaz, and J. C. Samano-Zapata. 2010. Red Snapper Reproductive Biology in the Southern Gulf of Mexico. Transactions of the American Fisheries Society 139:957-968. | 2010 | South & Central America; US East Coast (NC, SC, GA); Atlantic Ocean; Mexico | | Commercial Fisheries; Fishing Sector; Piscivorous Fish |
| Fuentes, M. M. P. B., J. L. Dawson, S. G. Smithers, M. Hamann, and C. J. Limpus. 2010. Sedimentological characteristics of key sea turtle rookeries: potential implications under projected climate change. Marine and Freshwater Research 61:464-473. | 2010 | Global; Australia; Cuba | Review | Climate; Molluscs; Ocean Acidity; Sea Turtles; Sediment |
| Thomson, D. P. and A. J. Frisch. 2010. Extraordinarily high coral cover on a nearshore, high-latitude reef in south-west Australia. Coral Reefs 29:923-927. | 2010 | Australia | | Algae; Stony Coral |
| Johnson, M. W., S. P. Powers, C. L. Hightower, and M. Kenworthy. 2010. Age, Growth, Mortality, and Diet Composition of Vermilion Snapper from the North-Central Gulf of Mexico. Transactions of the American Fisheries Society 139:1136-1149. | 2010 | South & Central America; Mexico | | Fish; Fishing Sector; Piscivorous Fish; Recreational Fishing; Tourism & Recreation; Tunicates |
| Luter, H. M., S. Whalan, and N. S. Webster. 2010. Prevalence of tissue necrosis and brown spot lesions in a common marine sponge. Marine and Freshwater Research 61:484-489. | 2010 | South & Central America; Australia; Caribbean | Field Study & Monitoring | Pathogens; Sponges |
| Erwin, P. M. and A. M. Szmant. 2010. Settlement induction of Acropora palmata planulae by a GLW-amide neuropeptide. Coral Reefs 29:929-939. | 2010 | South & Central America; US Pacific & Hawaii; Caribbean; Europe | Field Study & Monitoring | Stony Coral; Zooxanthellae |
| Wei, M. Y., C. Y. Wang, Q. A. Liu, C. L. Shao, Z. G. She, and Y. C. Lin. 2010. Five Sesquiterpenoids from a Marine-Derived Fungus Aspergillus sp Isolated from a Gorgonian Dichotella gemmacea. Marine Drugs 8:941-949. | 2010 | China | | Hotel & Food Services; Octocoral |
| Vargas-Angel, B. 2010. Crustose coralline algal diseases in the US-Affiliated Pacific Islands. Coral Reefs 29:943-956. | 2010 | US Pacific & Hawaii; Samoa; American Samoa; Guam; Northern Mariana Islands | Index or Indicator | Algae; Coralline Algae; Pathogens |
| Pfennig, D. W. and S. P. Mullen. 2010. Mimics without models: causes and consequences of allopatry in Batesian mimicry complexes. Proceedings of the Royal Society B 277:2577-2585. | 2010 | | Model | |
| Hung, T. C., C. F. Chen, C. C. Chen, and W. T. Whang. 2010. One-Step Fabrication of Carbon Nanotubes Decorated with Graphitic Nanoflakes for Energy Storage Systems. Journal of Nanoscience and Nanotechnology 10:4738-4742. | 2010 | | | Substrate |
| Stella, J. S., G. P. Jones, and M. S. Pratchett. 2010. Variation in the structure of epifaunal invertebrate assemblages among coral hosts. Coral Reefs 29:957-973. | 2010 | Australia | | Hydrocoral; Stony Coral |
| Bridge, D., A. G. Theofiles, R. L. Holler, E. Marcinkevicius, R. E. Steele, and D. E. Martinez. 2010. FoxO and Stress Responses in the Cnidarian Hydra vulgaris. PLoS One 5:e11686. | 2010 | | | Special Use Permitting; Sponges |
| Ward-Paige, C., J. M. Flemming, and H. K. Lotze. 2010. Overestimating Fish Counts by Non-Instantaneous Visual Censuses: Consequences for Population and Community Descriptions. PLoS One 5:e11722. | 2010 | | Model | Apex Fish Predators; Fish |
| Russ, G. R. and A. C. Alcala. 2010. Decadal-scale rebuilding of predator biomass in Philippine marine reserves. Oecologia 163:1103-1106. | 2010 | Philippines | Model | Fish |
| Jayewardene, D. 2010. Experimental determination of the cost of lesion healing on Porites compressa growth. Coral Reefs 29:131:135. | 2010 | US Pacific & Hawaii | Field Study & Monitoring; Lab Study | Stony Coral |
| Cerrano, C., R. Danovaro, C. Gambi, A. Pusceddu, A. Riva, and S. Schiaparelli. 2010. Gold coral (Savalia savaglia) and gorgonian forests enhance benthic biodiversity and ecosystem functioning in the mesophotic zone. Biodiversity and Conservation 19:153-167. | 2010 | Cuba | | Marine Worms; Molluscs; Octocoral; Sediment; Substrate |
| Landry, M. S. and C. T. Taggart. 2010. Turtle watching conservation guidelines: green turtle (Chelonia mydas) tourism in nearshore coastal environments. Biodiversity and Conservation 19:305-312. | 2010 | | | Dive, Snorkeling, & Swimming Tourism; Sea Turtles; Special Use Permitting; Tourism & Recreation; Travel Services & Tour Operators; Whales & Dolphins |
| Campbell, J. and M. Tiryakioglu. 2010. Review of effect of P and Sr on modification and porosity development in Al-Si alloys. Materials Science And Technology 26:262-268. | 2010 | | Review | |
| Sheppard, C., M. Al-Husiani, F. Al-Jamali, F. Al-Yamani, R. Baldwin, J. Bishop, F. Benzoni, E. Dutrieux, N. K. Dulvy, S. R. V. Durvasula, D. A. Jones, R. Loughland, D. Medio, M. Nithyanandan, G. M. Pilling, I. Polikarpov, A. R. G. Price, S. Purkis, B. Riegl, and M. Saburova. 2010. The Gulf: A young sea in decline. Marine Pollution Bulletin 60:13-38. | 2010 | | Review | Climate; Collaboration & Partnering; Dredging, Draining, & Filling; Fishing Sector; Infrastructure; Mangroves; Salinity; Seawater Flow; Sediment; Tourism & Recreation |
| Shaw, M., M. J. Furnas, K. Fabricius, D. Haynes, S. Carter, G. Eaglesham, and J. F. Mueller. 2010. Monitoring pesticides in the Great Barrier Reef. Marine Pollution Bulletin 60:113-122. | 2010 | Australia | Field Study & Monitoring; Decision Support Frameworks & Tools | Agriculture; Environmental Monitoring, Mapping, & Scientific Research; Fertilizer & Pesticide Use; Non-point Source Runoff; Surface & Groundwater Flow |
| Goto, K., K. Miyagi, H. Kawamata, and F. Imamura. 2010. Discrimination of boulders deposited by tsunamis and storm waves at Ishigaki Island, Japan. Marine Geology 269:34-45. | 2010 | Japan | Field Study & Monitoring | Sediment; Stony Coral; Storms & Hurricanes |
| Zhang, Y. L., E. P. Gong, M. A. Wilson, C. Q. Guan, and B. L. Sun. 2010. A large coral reef in the Pennsylvanian of Ziyun County, Guizhou (South China): The substrate and initial colonization environment of reef-building corals. Journal of Asian Earth Sciences 37:335-349. | 2010 | China | | Sediment; Stony Coral; Substrate |
| Sato, Y., B. L. Willis, and D. G. Bourne. 2010. Successional changes in bacterial communities during the development of black band disease on the reef coral, Montipora hispida. ISME Journal 4:203-214. | 2010 | Australia | Field Study & Monitoring | Cyanobacteria; Pathogens |
| Abell, G. C. J., A. T. Revill, C. Smith, A. P. Bissett, J. K. Volkman, and S. S. Robert. 2010. Archaeal ammonia oxidizers and nirS-type denitrifiers dominate sediment nitrifying and denitrifying populations in a subtropical macrotidal estuary. ISME Journal 4:286-300. | 2010 | Australia | | Discharges; Microorganisms; Nutrient & Contaminant Processing; Nutrients; Salinity; Sediment; Surface & Groundwater Flow |
| Thomas, S., H. Burdett, B. Temperton, R. Wick, D. Snelling, J. W. McGrath, J. P. Quinn, C. Munn, and J. A. Gilbert. 2010. Evidence for phosphonate usage in the coral holobiont. ISME Journal 4:459-461. | 2010 | | | Microorganisms; Octocoral |
| Smale, D. A., G. A. Kendrick, and T. Wernberg. 2010. Assemblage turnover and taxonomic sufficiency of subtidal macroalgae at multiple spatial scales. Journal of Experimental Marine Biology and Ecology 384:76-86. | 2010 | Australia | Field Study & Monitoring | Algae |
| Niggl, W., M. S. Naumann, U. Struck, R. Manasrah, and C. Wild. 2010. Organic matter release by the benthic upside-down jellyfish Cassiopea sp fuels pelagic food webs in coral reefs. Journal of Experimental Marine Biology and Ecology 384:99-106. | 2010 | Cuba | | Plankton |
| Kamke, J., M. W. Taylor, and S. Schmitt. 2010. Activity profiles for marine sponge-associated bacteria obtained by 16S rRNA vs 16S rRNA gene comparisons. ISME Journal 4:498-508. | 2010 | | | Microorganisms; Sponges |
| Burgman, R., R. Seager, A. Clement, and C. Herweijer. 2010. Role of tropical Pacific SSTs in global medieval hydroclimate: A modeling study. Geophysical Research Letters 37:L06705. | 2010 | Global; US Pacific & Hawaii; Palmyra Atoll | Model | Climate |
| Houlbreque, F., M. McCulloch, B. Roark, T. Guilderson, A. Meibom, J. Kimball, G. Mortimer, J. P. Cuif, and R. Dunbar. 2010. Uranium-series dating and growth characteristics of the deep-sea scleractinian coral: Enallopsammia rostrata from the Equatorial Pacific. Geochimica et Cosmochimica Acta 74:2380-2395. | 2010 | US Pacific & Hawaii | Field Study & Monitoring | Stony Coral; Water Depth & Sea Level |
| White, J. W. 2010. Adapting the steepness parameter from stock-recruit curves for use in spatially explicit models. Fisheries Research 102:330-334. | 2010 | | Model | Finfish Harvest; Fishing & Harvesting Management; Fishing Sector |
| Crec'hriou, R., F. Alemany, E. Roussel, A. Chassanite, J. Y. Marinaro, J. Mader, E. Rochel, and S. Planes. 2010. Fisheries replenishment of early life taxa: potential export of fish eggs and larvae from a temperate marine protected area. Fisheries Oceanography 19:135-150. | 2010 | | | Fish; Fishing Sector; Marine Protected Areas; Plankton; Surface & Groundwater Flow |
| McMurray, S. E., T. P. Henkel, and J. R. Pawlik. 2010. Demographics of increasing populations of the giant barrel sponge Xestospongia muta in the Florida Keys. Ecology 91:560-570. | 2010 | South & Central America; Florida; Caribbean | Model | Complex Habitat & Resources; Pathogens; Sponges; Tube, Barrel, & Finger Sponges |
| Witman, J. D., M. Brandt, and F. Smith. 2010. Coupling between subtidal prey and consumers along a mesoscale upwelling gradient in the Galapagos Islands. Ecological Monographs 80:153-177. | 2010 | | | Snails & Conch |
| Hartmann, B., M. Muller, N. R. Hislop, B. Roth, L. Tomljenovic, D. J. Miller, and H. Reichert. 2010. Coral emx-Am can substitute for Drosophila empty spiracles function in head, but not brain development. Developmental Biology 340:125-133. | 2010 | | | Stony Coral |
| Sarno, D., A. Zingone, and M. Montresor. 2010. A massive and simultaneous sex event of two Pseudo-nitzschia species. Deep-Sea Research Part II: Topical Studies in Oceanography 57:248-255. | 2010 | | | Surface & Groundwater Flow |
| Salomon, A. K., S. K. Gaichas, N. T. Shears, J. E. Smith, E. M. P. Madin, and S. D. Gaines. 2010. Key Features and Context-Dependence of Fishery-Induced Trophic Cascades. Conservation Biology 24:382-394. | 2010 | | Model | Complex Habitat & Resources; Finfish Harvest; Fishing Sector |
| Aswani, S. and A. Sabetian. 2010. Implications of Urbanization for Artisanal Parrotfish Fisheries in the Western Solomon Islands. Conservation Biology 24:520-530. | 2010 | Solomon Islands | | Corallivorous Fish; Finfish Harvest; Fish; Fishing Sector; Housing; Large Herbivorous Fish; Marine Protected Areas |
| Weeks, R., G. R. Russ, A. C. Alcala, and A. T. White. 2010. Effectiveness of Marine Protected Areas in the Philippines for Biodiversity Conservation. Conservation Biology 24:531-540. | 2010 | Global; Philippines | | Fishing Sector; Marine Protected Areas |
| Dalleau, M., S. Andrefouet, C. C. C. Wabnitz, C. Payri, L. Wantiez, M. Pichon, K. Friedman, L. Vigliola, and F. Benzoni. 2010. Use of Habitats as Surrogates of Biodiversity for Efficient Coral Reef Conservation Planning in Pacific Ocean Islands. Conservation Biology 24:541-552. | 2010 | US Pacific & Hawaii; Pacific Ocean | GIS & Maps; Remote Sensing | Algae; Fish; Marine Protected Areas |
| Vizcaino, M. I., W. R. Johnson, N. E. Kimes, K. Williams, M. Torralba, K. E. Nelson, G. W. Smith, E. Weil, P. D. R. Moeller, and P. J. Morris. 2010. Antimicrobial Resistance of the Coral Pathogen Vibrio coralliilyticus and Caribbean Sister Phylotypes Isolated from a Diseased Octocoral. Microbial Ecology 59:646-657. | 2010 | Global; South & Central America; Caribbean | | Microorganisms; Octocoral; Pathogens |
| de Castro, A. P., S. D. Araujo, A. M. M. Reis, R. L. Moura, R. B. Francini, G. Pappas, T. B. Rodrigues, F. L. Thompson, and R. H. Kruger. 2010. Bacterial Community Associated with Healthy and Diseased Reef Coral Mussismilia hispida from Eastern Brazil. Microbial Ecology 59:658-667. | 2010 | | | Pathogens |
| Leong, W. and J. R. Pawlik. 2010. Evidence of a resource trade-off between growth and chemical defenses among Caribbean coral reef sponges. Marine Ecology Progress Series 406:71-78. | 2010 | South & Central America; Caribbean | Field Study & Monitoring | Sponges |
| Jimenez, H., P. Dumas, L. Bigot, J. M. Amouroux, and J. Ferraris. 2010. Taxonomic resolution needed to describe invertebrate assemblages and to detect harvesting effects on coral reef ecosystems. Marine Ecology Progress Series 406:211-222. | 2010 | US Pacific & Hawaii; Australia; New Caledonia | Field Study & Monitoring | Environmental Monitoring, Mapping, & Scientific Research; Marine Protected Areas; Seagrasses |
| Diaz, C., M. L. Valenzuela, A. Laguna, V. Lavayen, J. Jimenez, L. A. Power, and C. O'Dwyer. 2010. Metallophosphazene Precursor Routes to the Solid-State Deposition of Metallic and Dielectric Microstructures and Nanostructures on Si and SiO2. Langmuir 26:10223-10233. | 2010 | | | Substrate |
| Jacobs, G. R., C. P. Madenjian, D. B. Bunnell, and J. D. Holuszko. 2010. Diet of lake trout and burbot in Northern Lake Michigan during spring: Evidence of ecological interaction. Journal of Great Lakes Research 36:312-317. | 2010 | | Index or Indicator | |
| Negus, M. T. 2010. Contribution of lake trout stocked as fry to an adult population in Lake Superior. Journal of Great Lakes Research 36:380-386. | 2010 | | | Fish |
| Hayes, M. L., R. I. Eytan, and M. E. Hellberg. 2010. High amino acid diversity and positive selection at a putative coral immunity gene (tachylectin-2). BMC Evolutionary Biology 10:150. | 2010 | Japan | Model; Decision Support Frameworks & Tools | Lobster, Crab, & Shrimp; Microorganisms; Pathogens; Stony Coral |
| Wei, X. M., A. D. Rodriguez, P. Baran, and R. G. Raptis. 2010. Dolabellane-Type Diterpenoids with Antiprotozoan Activity from a Southwestern Caribbean Gorgonian Octocoral of the Genus Eunicea. Journal of Natural Products 73:925-934. | 2010 | South & Central America; Caribbean | | Octocoral |
| Ma, A. Y., Z. W. Deng, L. P. van Ofwegen, M. Bayer, P. Proksch, and W. H. Lin. 2010. Dendronpholides A-R, Cembranoid Diterpenes from the Chinese Soft Coral Dendronephthya sp. (vol 71, pg 1133, 2008). Journal of Natural Products 73:1026-1026. | 2010 | | | Octocoral |
| Johnson, J. E. and D. J. Welch. 2010. Marine Fisheries Management in a Changing Climate: A Review of Vulnerability and Future Options. Reviews in Fisheries Science 18:106-124. | 2010 | Global | Review | Climate; Finfish Harvest; Fish; Fishing & Harvesting Management; Fishing Sector; Invasive Species; Ocean Acidity; Storms & Hurricanes; Surface & Groundwater Flow; Water Depth & Sea Level |
| McCormick, M. I., C. A. Ryen, P. L. Munday, and S. P. W. Walker. 2010. Differing Mechanisms Underlie Sexual Size-Dimorphism in Two Populations of a Sex-Changing Fish. PLoS One 5:e10616. | 2010 | | | Planktivorous Fish |
| Hunter, J. A. and T. H. Cribb. 2010. Transversotrematidae (Platyhelminthes: Trematoda) are rich and abundant on Indo-Pacific fishes. Zootaxa 25-38. | 2010 | US Pacific & Hawaii; Australia; Maldives; Palau | | Corallivorous Fish; Large Herbivorous Fish; Small Herbivorous Fish |
| Garcia, T. M., H. Matthews-Cascon, and W. Franklin. 2010. Sipuncula Associated With Branching Fire Coral (Millepora Alcicornis) In A Marine Protected Area In Northeastern Brazil. Thalassas 26:9-12. | 2010 | Cuba | Lab Study | Hydrocoral; Marine Protected Areas; Marine Worms |
| Linan-Cabello, M. A., L. A. Flores-Ramirez, J. F. Cobo-Diaz, T. Zenteno-Savin, N. O. Olguin-Monroy, A. Olivos-Ortiz, and A. Tintos-Gomez. 2010. Response to short term ultraviolet stress in the reef-building coral Pocillopora capitata (Anthozoa: Scleractinia). Revista de Biologia Tropical 58:103-118. | 2010 | US Pacific & Hawaii | Lab Study | Algae; Light; Nutrients; Sediment; Stony Coral; Zooxanthellae |
| Gobin, J. F. 2010. Free-living marine polychaetes (Annelida) inhabiting hard-bottom substrates in Trinidad and Tobago, West Indies. Revista de Biologia Tropical 58:147-157. | 2010 | South & Central America; Trinidad; Tobago; Caribbean | | Marine Worms; Substrate |
| Perez, E., A. Ruiz, G. Espinosa, and I. Lee. 2010. Gonadic histology and phenotypical maturation criteria in the marine turtles Chelonia mydas and Eretmochelys imbricata (Testudines: Chelonidae) from Cuba. Revista de Biologia Tropical 58:287-298. | 2010 | Cuba | | Finfish Harvest; Fishing Sector; Sea Turtles |
| Nithyanand, P., R. Thenmozhi, J. Rathna, and S. K. Pandian. 2010. Inhibition of Streptococcus pyogenes Biofilm Formation by Coral-Associated Actinomycetes. Current Microbiology 60:454-460. | 2010 | | | Stony Coral |
| Ushie, H., H. Kawahata, A. Suzuki, S. Murayama, and M. Inoue. 2010. Enhanced riverine carbon flux from carbonate catchment to the ocean: A comparative hydrogeochemical study on Ishigaki and Iriomote islands, southwestern Japan. Journal Of Geophysical Research-biogeosciences 115:G02017. | 2010 | Japan | | Climate; CO2; Nutrients; Ocean Acidity; Special Use Permitting; Surface & Groundwater Flow |
| Riebesell, U., V. J. Fabry, L. Hansson, and J.-P. Gattuso., editors. 2010. Guide to best practices for ocean acidifi cation research and data reporting. Publications Office of the European Union., Luxembourg. | 2010 | Europe | Review; Field Study & Monitoring | CO2; Ocean Acidity |
| Bongiorni, L., M. Mea, C. Gambi, A. Pusceddu, M. Taviani, and R. Danovaro. 2010. Deep-water scleractinian corals promote higher biodiversity in deep-sea meiofaunal assemblages along continental margins. Biological Conservation 143:1687-1700. | 2010 | US East Coast (NC, SC, GA) | | Marine Worms; Sediment; Skeletal Coral; Stony Coral |
| McMurtry, G. M., J. F. Campbell, G. J. Fryer, and J. Fietzke. 2010. Uplift of Oahu, Hawaii, during the past 500 k.y. as recorded by elevated reef deposits. Geology 38:27-30. | 2010 | US Pacific & Hawaii | | Climate; Water Depth & Sea Level |
| Okubo, N., H. H. Yamamoto, F. Nakaya, and K. Okaji. 2010. Reproduction in Cultured versus Wild Coral Colonies: Fertilization, Larval Oxygen Consumption, and Survival. Biological Bulletin 218:230-236. | 2010 | Japan | | Stony Coral |
| Ang, T. Z. and A. Manica. 2010. Unavoidable limits on group size in a body size-based linear hierarchy. Behavioral Ecology 21:819-825. | 2010 | | | Fish; Special Use Permitting |
| Winn, R. D. and P. Pousai. 2010. Synorogenic alluvial-fan - fan-delta deposition in the Papuan foreland basin: Plio-Pleistocene Era Formation, Papua New Guinea. Australian Journal of Earth Sciences 57:507-523. | 2010 | Australia; Papua New Guinea | | Sediment; Storms & Hurricanes; Surface & Groundwater Flow |
| Dell'Angelo, B., B. Sabelli, M. Taviani, and A. Bonfitto. 2010. New data on the Polyplacophora of Madagascar (Western Indian Ocean) (Mollusca: Polyplacophora). Archiv fur Molluskenkunde 139:35-43. | 2010 | Australia; Indian Ocean; Madagascar; India | | Complex Habitat & Resources; Molluscs |
| McClanahan, T. R., B. Kaunda-Arara, and J. O. Omukoto. 2010. Composition and diversity of fish and fish catches in closures and open-access fisheries of Kenya. Fisheries Management and Ecology 17:63-76. | 2010 | Indian Ocean; Kenya; India | | Corallivorous Fish; Finfish Harvest; Fish; Fishing Sector; Large Herbivorous Fish |
| Lindahl, P., M. Keith-Roach, P. Worsfold, M. S. Choi, H. S. Shin, and S. H. Lee. 2010. Ultra-trace determination of plutonium in marine samples using multi-collector inductively coupled plasma mass spectrometry. Analytica Chimica Acta 671:61-69. | 2010 | US Pacific & Hawaii | | Calcium Carbonate Deposition; Sediment |
| Sumpton, W. D., I. W. Brown, D. G. Mayer, M. F. McLennan, A. Mapleston, A. R. Butcher, D. J. Welch, J. M. Kirkwood, B. Sawynok, and G. A. Begg. 2010. Assessing the effects of line capture and barotrauma relief procedures on post-release survival of key tropical reef fish species in Australia using recreational tagging clubs. Fisheries Management and Ecology 17:77-88. | 2010 | Australia | | Fish; Fishing Sector; Piscivorous Fish; Tourism & Recreation |
| Deeds, J. R. and M. D. Schwartz. 2010. Human risk associated with palytoxin exposure. Toxicon 56:150-162. | 2010 | | Model | Anemones & Zooanthids; Aquarium & Pet Trade; Aquarium Stock; Fish; Fishing Sector; Lobster, Crab, & Shrimp |
| Yee, S. H. and M. G. Barron. 2010. Predicting coral bleaching in response to environmental stressors using 8 years of global-scale data. Environmental Monitoring and Assessment 161:423-438. | 2010 | Global | Model; Remote Sensing | Light; Water Depth & Sea Level |
| Rao, T. S. P., N. S. Sarma, Y. L. N. Murthy, V. S. S. N. Kantamreddi, C. W. Wright, and P. S. Parameswaran. 2010. New polyhydroxy sterols from the marine sponge Callyspongia fibrosa (Ridley & Dendly). Tetrahedron Letters 51:3583-3586. | 2010 | India | | Sponges |
| Ledoux, J. B., J. Garrabou, O. Bianchimani, P. Drap, J. P. Feral, and D. Aurelle. 2010. Fine-scale genetic structure and inferences on population biology in the threatened Mediterranean red coral, Corallium rubrum. Molecular Ecology 19:4204-4216. | 2010 | | | |
| Williams, B. and A. G. Grottoli. 2010. Recent shoaling of the nutricline and thermocline in the western tropical Pacific. Geophysical Research Letters 37:L22601. | 2010 | US Pacific & Hawaii; Palau | | Climate; Greenhouse Gas Emissions; Nutrients |
| Ouillon, S., P. Douillet, J. P. Lefebvre, R. Le Gendre, A. Jouon, P. Bonneton, J. M. Fernandez, C. Chevillon, O. Magand, J. Lefevre, P. Le Hir, R. Laganier, F. Dumas, P. Marchesiello, A. B. Madani, S. Andrefouet, J. Y. Panche, and R. Fichez. 2010. Circulation and suspended sediment transport in a coral reef lagoon: The south-west lagoon of New Caledonia. Marine Pollution Bulletin 61:269-296. | 2010 | New Caledonia | Field Study & Monitoring; Model | Sediment |
| Denayer, J. and E. Poty. 2010. Facies And Palaeoecology Of The Upper Member Of The Aisemont Formation (Late Frasnian, S. Belgium): An Unusual Episode Within The Late Frasnian Crisis. Geologica Belgica 13:197-211. | 2010 | | Model | Sediment; Sponges |
| Le Borgne, R., P. Douillet, R. Fichez, and J. P. Torreton. 2010. Hydrography and plankton temporal variabilities at different time scales in the southwest lagoon of New Caledonia: A review. Marine Pollution Bulletin 61:297-308. | 2010 | New Caledonia | Review; Index or Indicator | Plankton |
| Hofmann, M. and H. J. Schellnhuber. 2010. Ocean acidification: a millennial challenge. Energy & Environmental Science 3:1883-1896. | 2010 | | Review | Climate; CO2; Greenhouse Gas Emissions; Ocean Acidity |
| Fichez, R., S. Chifflet, P. Douillet, P. Gerard, F. Gutierrez, A. Jouon, S. Ouillon, and C. Grenz. 2010. Biogeochemical typology and temporal variability of lagoon waters in a coral reef ecosystem subject to terrigeneous and anthropogenic inputs (New Caledonia). Marine Pollution Bulletin 61:309-322. | 2010 | New Caledonia | Index or Indicator | Nutrients |
| Craig, J., A. J. Jamieson, R. Hutson, A. F. Zuur, and I. G. Priede. 2010. Factors influencing the abundance of deep pelagic bioluminescent zooplankton in the Mediterranean Sea. Deep-Sea Research Part I: Oceanographic Research Papers 57:1474-1484. | 2010 | | Model | Plankton; Surface & Groundwater Flow |
| Torreton, J. P., E. Rochelle-Newall, O. Pringault, S. Jacquet, V. Faure, and E. Briand. 2010. Variability of primary and bacterial production in a coral reef lagoon (New Caledonia). Marine Pollution Bulletin 61:335-348. | 2010 | US Pacific & Hawaii; Pacific Ocean; New Caledonia | | Microorganisms; Nutrients; Plankton; Primary Production |
| Bshary, A. and R. Bshary. 2010. Self-Serving Punishment of a Common Enemy Creates a Public Good in Reef Fishes. Current Biology 20:2032-2035. | 2010 | | | Fish |
| Carassou, L., R. Le Borgne, E. Rolland, and D. Ponton. 2010. Spatial and temporal distribution of zooplankton related to the environmental conditions in the coral reef lagoon of New Caledonia, Southwest Pacific. Marine Pollution Bulletin 61:367-374. | 2010 | US Pacific & Hawaii; New Caledonia | | Fish; Plankton |
| Frolicher, T. L. and F. Joos. 2010. Reversible and irreversible impacts of greenhouse gas emissions in multi-century projections with the NCAR global coupled carbon cycle-climate model. Climate Dynamics 35:1439-1459. | 2010 | Global | Model | Calcium Carbonate Deposition; Climate; CO2; Greenhouse Gas Emissions; Ocean Acidity; Water Depth & Sea Level |
| Adjeroud, M., J. M. Fernandez, A. G. Carroll, P. L. Harrison, and L. Penin. 2010. Spatial patterns and recruitment processes of coral assemblages among contrasting environmental conditions in the southwestern lagoon of New Caledonia. Marine Pollution Bulletin 61:375-386. | 2010 | New Caledonia | | Algae; Coralline Algae; Sediment; Stony Coral; Substrate; Turf Algae |
| Yan, P. C., Z. W. Deng, L. van Ofwegen, P. Proksch, and W. H. Lin. 2010. Lobophytones H-N, Biscembranoids from the Chinese Soft Coral Lobophytum pauciflorum. Chemical & pharmaceutical bulletin 58:1591-1595. | 2010 | | | Octocoral |
| Heidelberg, K. B., K. L. O'Neil, J. C. Bythell, and K. P. Sebens. 2010. Vertical distribution and diel patterns of zooplankton abundance and biomass at Conch Reef, Florida Keys (USA). Journal of Plankton Research 32:75-91. | 2010 | Florida | | Plankton |
| Jones, K. B., E. T. Slonecker, M. S. Nash, A. C. Neale, T. G. Wade, and S. Hamann. 2010. Riparian habitat changes across the continental United States (1972-2003) and potential implications for sustaining ecosystem services. Landscape Ecology 1-15. | 2010 | | Model; Remote Sensing | Agriculture; Landscape Changes; Landscape Conservation & Restoration; Wetlands |
| Roth, L., S. Koksal, and R. van Woesik. 2010. Effects of thermal stress on key processes driving coral-population dynamics. Marine Ecology Progress Series 411:73-U109. | 2010 | Japan | Model; Index or Indicator | Stony Coral |
| Jantzen, C., C. Wild, M. Rasheed, M. El-Zibdah, and C. Richter. 2010. Enhanced pore-water nutrient fluxes by the upside-down jellyfish Cassiopea sp in a Red Sea coral reef. Marine Ecology Progress Series 411:117-U162. | 2010 | | | Nutrients; Primary Production; Sediment; Zooxanthellae |
| Ruppert, J. L. W., M. J. Fortin, G. A. Rose, and R. Devillers. 2010. Environmental mediation of Atlantic cod on fish community composition: an application of multivariate regression tree analysis to exploited marine ecosystems. Marine Ecology Progress Series 411:189-U238. | 2010 | US East Coast (NC, SC, GA) | Model | Climate; Fish; Lobster, Crab, & Shrimp; Salinity |
| Vignon, M. and F. Morat. 2010. Environmental and genetic determinant of otolith shape revealed by a non-indigenous tropical fish. Marine Ecology Progress Series 411:231-241. | 2010 | US Pacific & Hawaii | Decision Support Frameworks & Tools | Fish; Fishing & Harvesting Management; Fishing Sector; Piscivorous Fish; Special Use Permitting |
| Taylor, B. M. and J. L. McIlwain. 2010. Beyond abundance and biomass: effects of marine protected areas on the demography of a highly exploited reef fish. Marine Ecology Progress Series 411:243-258. | 2010 | Guam | | Finfish Harvest; Fish; Fishing Sector; Marine Protected Areas |
| Foden, J., S. I. Rogers, and A. P. Jones. 2010. Recovery of UK seabed habitats from benthic fishing and aggregate extraction-towards a cumulative impact assessment. Marine Ecology Progress Series 411:259-270. | 2010 | Europe; England | Review; Field Study & Monitoring | Complex Habitat & Resources; Dredging, Draining, & Filling; Environmental Monitoring, Mapping, & Scientific Research; Finfish Harvest; Sediment; Trawling & Fishing Gear Damage |
| Hoey, A. S. 2010. Size matters: macroalgal height influences the feeding response of coral reef herbivores. Marine Ecology Progress Series 411:299-U341. | 2010 | Australia | | Algae; Fleshy Macroalgae |
| Patrick, W. S., P. Spencer, J. Link, J. Cope, J. Field, D. Kobayashi, P. Lawson, T. Gedamke, E. Cortes, O. Ormseth, K. Bigelow, and W. Overholtz. 2010. Using productivity and susceptibility indices to assess the vulnerability of United States fish stocks to overfishing. Fishery Bulletin 108:305-322. | 2010 | | Index or Indicator; Decision Support Frameworks & Tools | Finfish Harvest; Fish; Fishing Sector |
| Phillips, N. E. and J. S. Shima. 2010. Reproduction of the vermetid gastropod Dendropoma maximum (Sowerby, 1825) in Moorea, French Polynesia. Journal of Molluscan Studies 76:133-137. | 2010 | US Pacific & Hawaii | Field Study & Monitoring; Index or Indicator | Molluscs; Plankton; Substrate |
| Makino, A. and T. Miyazaki. 2010. Topographical distribution of visual cell nuclei in the retina in relation to the habitat of five species of Decapodiformes (Cephalopoda). Journal of Molluscan Studies 76:180-185. | 2010 | | | Fish; Lobster, Crab, & Shrimp; Octopus & Squid |
| Vairappan, C. S., S. P. Anangdan, K. L. Tan, and S. Matsunaga. 2010. Role of secondary metabolites as defense chemicals against ice-ice disease bacteria in biofouler at carrageenophyte farms. Journal of Applied Phycology 22:305-311. | 2010 | Malaysia | Field Study & Monitoring | Pathogens |
| Bruck, W. M., T. B. Bruck, W. T. Self, J. K. Reed, S. S. Nitecki, and P. J. McCarthy. 2010. Comparison of the anaerobic microbiota of deep-water Geodia spp. and sandy sediments in the Straits of Florida. ISME Journal 4:686-699. | 2010 | Florida; Cuba | | Fish; Microorganisms; Sediment; Sponges |
| Sukhdev, P., editor. 2010. The Economics of Ecosystems and Biodiversity for business: executive summary. Earthscan, Cambridge,(UK). | 2010 | | | Monetary Valuation |
| Okamoto, M., M. Yap, A. K. Roeroe, S. Nojima, K. Oyamada, S. Fujiwara, and I. Iwata. 2010. In situ growth and mortality of juvenile Acropora over 2 years following mass spawning in Sekisei Lagoon, Okinawa (24 degrees N). Fisheries Science 76:343-353. | 2010 | | | Stony Coral |
| Sukhdev, P., editor. 2010. The Economics of Ecosystems and Biodiversity Mainstreaming the economics of nature: a synthesis of the approach, conclusions and recommendations of TEEB,Earthscan, Cambridge,(UK). | 2010 | Global; Germany | | |
| Jimbo, M., H. Yamashita, K. Koike, R. Sakai, and H. Kamiya. 2010. Effects of lectin in the scleractinian coral Ctenactis echinata on symbiotic zooxanthellae. Fisheries Science 76:355-363. | 2010 | China | | Octocoral; Stony Coral; Zooxanthellae |
| Imbs, A. B., I. M. Yakovleva, and L. Q. Pham. 2010. Distribution of lipids and fatty acids in the zooxanthellae and host of the soft coral Sinularia sp. Fisheries Science 76:375-380. | 2010 | | Index or Indicator | Octocoral; Stony Coral; Zooxanthellae |
| Weeks, S. J., A. Bakun, C. R. Steinberg, R. Brinkman, and O. Hoegh-Guldberg. 2010. The Capricorn Eddy: a prominent driver of the ecology and future of the southern Great Barrier Reef. Coral Reefs 29:975-985. | 2010 | Australia | Model | Climate; Nutrients; Surface & Groundwater Flow |
| Page, C. A. and J. A. Stoddart. 2010. New records of five coral diseases from the Pilbara Region of Western Australia. Coral Reefs 29:987-987. | 2010 | Australia | | Pathogens |
| Wicks, L. C., E. Sampayo, J. P. A. Gardner, and S. K. Davy. 2010. Local endemicity and high diversity characterise high-latitude coral-Symbiodinium partnerships. Coral Reefs 29:989-1003. | 2010 | Australia | | Collaboration & Partnering; Octocoral |
| Cheal, A. J., M. A. MacNeil, E. Cripps, M. J. Emslie, M. Jonker, B. Schaffelke, and H. Sweatman. 2010. Coral-macroalgal phase shifts or reef resilience: links with diversity and functional roles of herbivorous fishes on the Great Barrier Reef. Coral Reefs 29:1005-1015. | 2010 | Global; Australia | Field Study & Monitoring; Model | Algae; Climate; Corallivorous Fish; Finfish Harvest; Fish; Large Herbivorous Fish; Nutrients; Small Herbivorous Fish; Storms & Hurricanes |
| Chui, P. Y. A. and P. O. Ang. 2010. Massive overgrowth of coral recruits by barnacles in winter low-temperature conditions, Hong Kong, China. Coral Reefs 29:1017-1017. | 2010 | China | | |
| Stier, A. C., C. S. McKeon, C. W. Osenberg, and J. S. Shima. 2010. Guard crabs alleviate deleterious effects of vermetid snails on a branching coral. Coral Reefs 29:1019-1022. | 2010 | | Field Study & Monitoring | Complex Habitat & Resources; Lobster, Crab, & Shrimp; Nutrients; Seastars; Sediment; Snails & Conch; Stony Coral |
| Villegas-Sanchez, C. A., R. Rivera-Madrid, and J. E. Arias-Gonzalez. 2010. Small-scale genetic connectivity of bicolor damselfish (Stegastes partitus) recruits in Mexican Caribbean reefs. Coral Reefs 29:1023-1033. | 2010 | South & Central America; Caribbean | | Fish; Marine Protected Areas; Small Herbivorous Fish |
| Haapkyla, J., J. Melbourne-Thomas, M. Flavell, and B. L. Willis. 2010. Spatiotemporal patterns of coral disease prevalence on Heron Island, Great Barrier Reef, Australia. Coral Reefs 29:1035-1045. | 2010 | US Pacific & Hawaii; Australia | | Pathogens; Stony Coral; Surface & Groundwater Flow |
| Venera-Ponton, D. E., G. Diaz-Pulido, M. Rodriguez-Lanetty, and O. Hoegh-Guldberg. 2010. Presence of Symbiodinium spp. in macroalgal microhabitats from the southern Great Barrier Reef. Coral Reefs 29:1049-1060. | 2010 | Australia | | Algae; Stony Coral |
| Francini, R., R. Reis, P. Meirelles, R. Moura, F. Thompson, R. Kikuchi, and L. Kaufman. 2010. Seasonal prevalence of white plague like disease on the endemic Brazilian reef coral Mussismilia braziliensis. Latin American Journal of Aquatic Research 38:292-296. | 2010 | US East Coast (NC, SC, GA) | | Pathogens |
| Schlappy, M. L., S. I. Schottner, G. Lavik, M. M. M. Kuypers, D. de Beer, and F. Hoffmann. 2010. Evidence of nitrification and denitrification in high and low microbial abundance sponges. Marine Biology 157:593-602. | 2010 | | | Microorganisms; Nutrient & Contaminant Processing; Sponges |
| Song, N., X. M. Zhang, X. F. Sun, T. Yanagimoto, and T. X. Gao. 2010. Population genetic structure and larval dispersal potential of spottedtail goby Synechogobius ommaturus in the north-west Pacific. Journal of Fish Biology 77:388-402. | 2010 | US Pacific & Hawaii; China | | |
| Purcell, S. W. 2010. Diel burying by the tropical sea cucumber Holothuria scabra: effects of environmental stimuli, handling and ontogeny. Marine Biology 157:663-671. | 2010 | New Caledonia | | Commercial Fisheries; Echinoderms; Seagrasses; Sediment |
| Sleeman, J. C., M. G. Meekan, S. G. Wilson, J. J. Polovina, J. D. Stevens, G. S. Boggs, and C. J. A. Bradshaw. 2010. To go or not to go with the flow: Environmental influences on whale shark movement patterns. Journal of Experimental Marine Biology and Ecology 390:84-98. | 2010 | Australia; Indian Ocean; India | Model; GIS & Maps | Apex Fish Predators |
| Campora, C. E., Y. Hokama, C. S. Tamaru, B. Anderson, and D. Vincent. 2010. Evaluating the Risk of Ciguatera Fish Poisoning from Reef Fish Grown at Marine Aquaculture Facilities in Hawai'i. Journal of the World Aquaculture Society 41:61-70. | 2010 | US Pacific & Hawaii | | Algae; Aquaculture; Fish |
| Ferrier-Pages, C., C. Rottier, E. Beraud, and O. Levy. 2010. Experimental assessment of the feeding effort of three scleractinian coral species during a thermal stress: Effect on the rates of photosynthesis. Journal of Experimental Marine Biology and Ecology 390:118-124. | 2010 | | | Primary Production; Stony Coral; Zooxanthellae |
| Stanley, S. M., J. B. Ries, and L. A. Hardie. 2010. Increased Production Of Calcite And Slower Growth For The Major Sediment-Producing Alga Halimeda As The Mg/Ca Ratio Of Seawater Is Lowered To A "Calcite Sea" Level. Journal of Sedimentary Research 80:6-16. | 2010 | | Lab Study | Algae; Calcareous Macroalgae; Calcium Carbonate Deposition; CO2; Primary Production; Sediment |
| Rotjan, R. D. and J. L. Dimond. 2010. Discriminating causes from consequences of persistent parrotfish corallivory. Journal of Experimental Marine Biology and Ecology 390:188-195. | 2010 | South & Central America; Belize; Caribbean | | Corallivorous Fish; Fish; Large Herbivorous Fish; Small Herbivorous Fish; Stony Coral |
| Takemura, A., M. S. Rahman, and Y. J. Park. 2010. External and internal controls of lunar-related reproductive rhythms in fishes. Journal of Fish Biology 76:7-26. | 2010 | | Review | Fish; Special Use Permitting |
| Shen, J. W. and H. R. Qing. 2010. Mississippian (Early Carboniferous) stromatolite mounds in a fore-reef slope setting, Laibin, Guangxi, South China. International Journal of Earth Sciences 99:443-458. | 2010 | China | | Algae; Housing; Sediment; Sponges; Storms & Hurricanes |
| Coleman, F. C. and C. C. Koenig. 2010. The Effects of Fishing, Climate Change, and Other Anthropogenic Disturbances on Red Grouper and Other Reef Fishes in the Gulf of Mexico. Integrative And Comparative Biology 50:201-212. | 2010 | South & Central America; US East Coast (NC, SC, GA); Mexico | | Climate; Finfish Harvest; Fish; Mangroves; Oil & Gas Research & Exploration; Piscivorous Fish |
| Heiman, K. W. and F. Micheli. 2010. Non-native Ecosystem Engineer Alters Estuarine Communities. Integrative And Comparative Biology 50:226-236. | 2010 | | | Invasive Species; Marine Worms |
| Schoepf, V., J. Herler, and M. Zuschin. 2010. Microhabitat use and prey selection of the coral-feeding snail Drupella cornus in the northern Red Sea. Hydrobiologia 641:45-57. | 2010 | US Pacific & Hawaii | | Snails & Conch; Stony Coral; Substrate; Water Depth & Sea Level |
| Callaway, R., N. Desroy, S. F. Dubois, J. Fournier, M. Frost, L. Godet, V. J. Hendrick, and M. Rabaut. 2010. Ephemeral Bio-engineers or Reef-building Polychaetes: How Stable are Aggregations of the Tube Worm Lanice conchilega (Pallas, 1766)? Integrative And Comparative Biology 50:237-250. | 2010 | Europe; France | Field Study & Monitoring | Biological Monitoring, Mapping, & Scientific Research; Environmental Monitoring, Mapping, & Scientific Research; Marine Worms; Sediment |
| Richlen, M. L., S. L. Morton, E. A. Jamali, A. Rajan, and D. M. Anderson. 2010. The catastrophic 2008-2009 red tide in the Arabian gulf region, with observations on the identification and phylogeny of the fish-killing dinoflagellate Cochlodinium polykrikoides. Harmful Algae 9:163-172. | 2010 | Global; South & Central America; Puerto Rico; Malaysia; United Arab Emirates; Oman; Mexico | | Aquaculture; Ballast Discharge; Discharges; Drinking Water Supply; Fish; Fishing Sector; Nutrients; Tourism & Recreation; Water |
| Richards, Z. T., C. C. Wallace, and D. J. Miller. 2010. Archetypal 'elkhorn' coral discovered in the Pacific Ocean. Systematics and Biodiversity 8:281-288. | 2010 | US Pacific & Hawaii; US East Coast (NC, SC, GA); Pacific Ocean | | Stony Coral |
| Polato, N. R., C. R. Voolstra, J. Schnetzer, M. K. DeSalvo, C. J. Randall, A. M. Szmant, M. Medina, and I. B. Baums. 2010. Location-Specific Responses to Thermal Stress in Larvae of the Reef-Building Coral Montastraea faveolata. PLoS One 5:e11221. | 2010 | South & Central America; Florida; Mexico | | Climate; Housing; Stony Coral |
| Unsworth, R. K. F., L. C. Cullen, J. N. Pretty, D. J. Smith, and J. J. Bell. 2010. Economic and subsistence values of the standing stocks of seagrass fisheries: Potential benefits of no-fishing marine protected area management. Ocean and Coastal Management 53:218-224. | 2010 | | | Finfish Harvest; Fishing Sector; Marine Protected Areas; Seagrasses |
| Leisenring, M., Clary, J., Stephenson, J., and Hobson, P. 2010. International Stormwater Best Management Practices (BMP) Database Pollutant Category Summary: Nutrients. Geosyntec Consultants, Inc. | 2010 | | | Non-point Source Runoff; Nutrients; Surface & Groundwater Flow |
| Wilson, G. S., D. A. Raftos, S. L. Corrigan, and S. V. Nair. 2010. Diversity and antimicrobial activities of surface-attached marine bacteria from Sydney Harbour, Australia. Microbiological Research 165:300-311. | 2010 | Australia | | |
| Clary, J., Leisenring, M., and Jeray, J. 2010. International Stormwater Best Management Practices (BMP) Database. Pollutant Category Summary: Fecal Indicator Bacteria. Wright Water Engineers. | 2010 | | Index or Indicator | Microorganisms; Non-point Source Runoff; Pathogens; Surface & Groundwater Flow |
| Hultgren, K. M. and J. E. Duffy. 2010. Sponge host characteristics shape the community structure of their shrimp associates. Marine Ecology Progress Series 407:1-12. | 2010 | Jamaica | | Lobster, Crab, & Shrimp; Sponges |
| Scheef, L. P. and N. H. Marcus. 2010. Occurrence and significance of copepod resting egg accumulation in seagrass sediments. Marine Ecology Progress Series 407:125-134. | 2010 | South & Central America; Mexico | Field Study & Monitoring | Plankton; Seagrasses; Sediment |
| McCormick, M. I. and M. G. Meekan. 2010. The importance of attitude: the influence of behaviour on survival at an ontogenetic boundary. Marine Ecology Progress Series 407:173-185. | 2010 | | | Fish; Small Herbivorous Fish |
| Geange, S. W. 2010. Effects of larger heterospecifics and structural refuge on the survival of a coral reef fish, Thalassoma hardwicke. Marine Ecology Progress Series 407:197-207. | 2010 | | Field Study & Monitoring | Complex Habitat & Resources |
| Luna, B., C. V. Perez, and J. L. Sanchez-Lizaso. 2009. Benthic impacts of recreational divers in a Mediterranean Marine Protected Area. ICES Journal of Marine Science 66:517-523. | 2009 | Cuba | Field Study & Monitoring | Dive, Snorkeling, & Swimming Tourism; Marine Protected Areas; Sediment; Tourism & Recreation |
| van Hooidonk, R. and M. Huber. 2009. Equivocal evidence for a thermostat and unusually low levels of coral bleaching in the Western Pacific Warm Pool. Geophysical Research Letters 36:L06705. | 2009 | US Pacific & Hawaii | | |
| Lee, J. S. F. and B. A. Berejikian. 2009. Structural complexity in relation to the habitat preferences, territoriality, and hatchery rearing of juvenile China rockfish (Sebastes nebulosus). Environmental Biology of Fishes 84:411-419. | 2009 | China | Lab Study | Complex Habitat & Resources; Fish |
| Nielsen, L., A. S. von Brockdorff, M. Bjerager, and F. Surlyk. 2009. Three-dimensional architecture and development of Danian bryozoan mounds at Limhamn, south-west Sweden, using ground-penetrating radar. Sedimentology 56:695-708. | 2009 | | | Sediment; Water Depth & Sea Level |
| Iryu, Y., D. Bassi, and W. J. Woelkerling. 2009. Re-Assessment Of The Type Collections Of Fourteen Corallinalean Species (Corallinales, Rhodophyta) Described By W. Ishijima (1942-1960). Palaeontology 52:401-427. | 2009 | US Pacific & Hawaii; Japan; Taiwan | | Algae; Coralline Algae; Sediment |
| Lee, C. S., J. Walford, and B. P. L. Goh. 2009. Adding coral rubble to substrata enhances settlement of Pocillopora damicornis larvae. Coral Reefs 28:529-533. | 2009 | | | Skeletal Coral; Stony Coral |
| Blackstone, N. 2009. Mitochondria and the redox control of development in cnidarians. Seminars in Cell and Developmental Biology 20:330-336. | 2009 | | Review | Algae; Microorganisms |
| Metaxas, A. and M. Saunders. 2009. Quantifying the "bio-" components in biophysical models of larval transport in marine benthic invertebrates: advances and pitfalls. Biological Bulletin 216:257-272. | 2009 | | Field Study & Monitoring; Lab Study; Model; Decision Support Frameworks & Tools | Invertebrates |
| Ben-Tzvi, O., M. Kiflawi, O. Polak, and A. Abelson. 2009. The Effect of Adult Aggression on Habitat Selection by Settlers of Two Coral-Dwelling Damselfishes. PLoS One 4:e5511. | 2009 | | Lab Study | Fish; Small Herbivorous Fish |
| Pinheiro, H. T., V. Camilato, J. L. Gasparini, and J. C. Joyeux. 2009. New records of fishes for Trindade-Martin Vaz oceanic insular complex, Brazil. Zootaxa 45-54. | 2009 | US East Coast (NC, SC, GA) | | Fish; Plankton |
| Smith, R. T., J. H. Pinzon, and T. C. LaJeunesse. 2009. Symbiodinium (Dinophyta) Diversity And Stability In Aquarium Corals. Journal of Phycology 45:1030-1036. | 2009 | US Pacific & Hawaii; Indian Ocean; India | Field Study & Monitoring | Aquarium & Pet Trade; Aquarium Stock; Collaboration & Partnering; Stony Coral; Zooxanthellae |
| Smale, D. A. and T. Wernberg. 2009. Satellite-derived SST data as a proxy for water temperature in nearshore benthic ecology. Marine Ecology Progress Series 387:27-37. | 2009 | Australia; Study Location | | Sea Temperatures |
| Tribollet, A., C. Godinot, M. Atkinson, and C. Langdon. 2009. Effects of elevated pCO(2) on dissolution of coral carbonates by microbial euendoliths. Global Biogeochemical Cycles 23:GB3008. | 2009 | US Pacific & Hawaii | | Calcium Carbonate Deposition; Stony Coral |
| Penesyan, A., Z. Marshall-Jones, C. Holmstrom, S. Kjelleberg, and S. Egan. 2009. Antimicrobial activity observed among cultured marine epiphytic bacteria reflects their potential as a source of new drugs. FEMS Microbiology Ecology 69:113-124. | 2009 | | | Algae; Microorganisms |
| Mathger, L. M., E. J. Denton, N. J. Marshall, and R. T. Hanlon. 2009. Mechanisms and behavioural functions of structural coloration in cephalopods. Journal of the Royal Society Interface 6:S149-S163. | 2009 | | Review | Fish; Octopus & Squid |
| Jordan, S. J., L. M. Smith, and J. A. Nestlerode. 2009. Cumulative Effects of Coastal Habitat Alterations on Fishery Resources: toward Prediction at Regional Scales. Ecology and Society 14:16-35. | 2009 | South & Central America; Mexico | Model | Commercial Fisheries; Lobster, Crab, & Shrimp |
| Maurer, H., S. Friedel, and D. Jaeggi. 2009. Characterization of a coastal aquifer using seismic and geoelectric borehole methods. Near Surface Geophysics 7:353-366. | 2009 | Spain | Model | Forestry; Salinity; Seawater Flow; Sediment; Surface & Groundwater Flow |
| Houlbreque, F. and C. Ferrier-Pages. 2009. Heterotrophy in tropical scleractinian corals. Biological Review 84:17-Jan. | 2009 | | Review | Algae; Microorganisms; Nutrients; Plankton; Primary Production; Stony Coral; Zooxanthellae |
| Rojas, R. L. S., F. Mejia-Arana, J. A. Palacios, and K. Hiramatsu. 2009. Reproduction and growth of the fish Lutjanus guttatus (Pisces: Lutjanidae) in the Gulf of Nicoya, Costa Rica. Revista de Biologia Tropical 57:125-131. | 2009 | Costa Rica | | Fish; Fishing Sector; Piscivorous Fish |
| Mukherjee, J., N. Webster, and L. E. Llewellyn. 2009. Purification and Characterization of a Collagenolytic Enzyme from a Pathogen of the Great Barrier Reef Sponge, Rhopaloeides odorabile. PLoS One 4:e7177. | 2009 | Global; Australia | | Invertebrates; Microorganisms; Pathogens; Sponges |
| Heindel, K., D. Birgel, J. Peckmann, H. Kuhnert, and H. Westphal. 2009. Sulfate-reducing bacteria as major players in the formation of reef-microbialites during the last sea-level rise (Tahiti, IODP 310). Geochimica et Cosmochimica Acta 73:A514-A514. | 2009 | | | Microorganisms |
| Sarkar, A., S. Sengupta, J. M. McArthur, P. Ravenscroft, M. K. Bera, R. Bhushan, A. Samanta, and S. Agrawal. 2009. Evolution of Ganges-Brahmaputra western delta plain: clues from sedimentology and carbon isotopes. Quaternary Science Reviews 28:2564-2581. | 2009 | Global | | Climate; Discharges; Mangroves; Sediment; Surface & Groundwater Flow |
| Chen, I.-P., C.-Y. Tang, C.-Y. Chiou, J.-H. Hsu, N. V. Wei, C. C. Wallace, P. Muir, H. Wu, and C. A. Chen. 2009. Comparative analyses of coding and noncoding DNA regions indicate that Acropora (Anthozoa: Scleractina) possesses a similar evolutionary tempo of nuclear vs. mitochondrial genomes as in plants. Marine Biotechnology 11:141-152. | 2009 | Panama | | Stony Coral |
| Belmaker, J., E. Brokovich, V. China, D. Golani, and M. Kifawi. 2009. Estimating the rate of biological introductions: Lessepsian fishes in the Mediterranean. Ecology 90:1134-1141. | 2009 | | Model | Invasive Species |
| Villier, L. 2009. Linking Evolution Of Fossil Communities With Evolution Of Carbonate Sedimentary Systems. Palaios 24:551-552. | 2009 | | | Sediment |
| Yee, S. H. and M. G. Barron. 2009. Predicting coral bleaching in response to environmental stressors using 8 years of global-scale data. Environmental Monitoring and Assessment 16-Jan. | 2009 | Global | Model; Remote Sensing | Light; Water Depth & Sea Level |
| Kiessling, W., E. Roniewicz, L. Villier, P. Leonide, and U. Struck. 2009. An Early Hettangian Coral Reef In Southern France: Implications For The End-Triassic Reef Crisis. Palaios 24:657-671. | 2009 | France | | |
| Edmunds, P. J. 2009. Effect of acclimatization to low temperature and reduced light on the response of reef corals to elevated temperature. Marine Biology 12-Jan. | 2009 | Cuba | | Stony Coral |
| Chouvelon, T., M. Warnau, C. Churlaud, and P. Bustamante. 2009. Hg concentrations and related risk assessment in coral reef crustaceans, molluscs and fish from New Caledonia. Environmental Pollution 157:331-340. | 2009 | New Caledonia | | Fish; Marine Products; Molluscs |
| Tomasovych, A. and M. Zuschin. 2009. Variation In Brachiopod Preservation Along A Carbonate Shelf-Basin Transect (Red Sea And Gulf Of Aden): Environmental Sensitivity Of Taphofacies. Palaios 24:697-716. | 2009 | | | Calcium Carbonate Deposition; Salinity; Sediment |
| Drisko, G. L., V. Luca, E. Sizgek, N. Scales, and R. A. Caruso. 2009. Template synthesis and adsorption properties of hierarchically porous zirconium titanium oxides. Langmuir 25:5286-5293. | 2009 | | | |
| Yamaguchi, T., H. Kayanne, and H. Yamano. 2009. Archaeological Investigation of the Landscape History of an Oceanic Atoll: Majuro, Marshall Islands. Pacific Science 63:537-565. | 2009 | US Pacific & Hawaii; Marshall Islands | Field Study & Monitoring | Agriculture; Sediment; Water Depth & Sea Level |
| Jones, S. 2009. A Long-term Perspective on Biodiversity and Marine Resource Exploitation in Fiji's Lau Group. Pacific Science 63:617-648. | 2009 | Fiji | | |
| Lan, W. J., S. L. Wang, and H. J. Li. 2009. Additional New Tetracyclic Tetraterpenoid: Methyl Tortuoate D from Soft Coral Sarcophyton tortuosum. Natural Product Communications 4:1193-1196. | 2009 | China | | Octocoral |
| Dumas, P., A. Bertaud, C. Peignon, M. Leopold, and D. Pelletier. 2009. A \quick and clean\" photographic method for the description of coral reef habitats". Journal of Experimental Marine Biology and Ecology 368:161-168. | 2009 | Cuba; New Caledonia | Field Study & Monitoring | Complex Habitat & Resources; Dive, Snorkeling, & Swimming Tourism; Sediment; Substrate |
| Ding, S. X., H. S. Zeng, Y. Wang, Y. Pan, and X. F. Shi. 2009. Characterization of eight polymorphic microsatellite loci for the leopard coralgrouper (Plectropomus leopardus Lacepede). Molecular Ecology Resources 9:1485-1487. | 2009 | | | Fish; Piscivorous Fish |
| Jeon, H. Y., B. Kim, H. Won, S. Woo, H. S. Park, and S. Yum. 2009. Biological responses in a soft coral (Scleronephthya gracillimum) to hyper-thermal and organic pollutants stressors. Molecular & Cellular Toxicology 5:68-68. | 2009 | | | Octocoral |
| Lourey, M. J. and H. Kirkman. 2009. Short-lived dissolved nitrate pulses in a shallow Western Australian coastal lagoon. Marine and Freshwater Research 60:1068-1080. | 2009 | Australia | | Algae; Nutrients; Storms & Hurricanes |
| Abram, N. J., H. V. McGregor, M. K. Gagan, W. S. Hantoro, and B. W. Suwargadi. 2009. Oscillations in the southern extent of the Indo-Pacific Warm Pool during the mid-Holocene. Quaternary Science Reviews 28:2794-2803. | 2009 | Global; US Pacific & Hawaii; Indian Ocean; India; Papua New Guinea; Indonesia | | Climate |
| Dautova, T. N. and O. V. Savinkin. 2009. New data on soft corals (cnidaria: Octocorallia: Alcyonacea) from Nha Trang Bay, South China sea. Zootaxa 27-Jan. | 2009 | China; Vietnam | | Octocoral |
| Tans, P. 2009. An accounting of the observed increase in oceanic and atmospheric CO2 and an outlook for the future. Oceanography 22:26-35. | 2009 | | | CO2; Ocean Acidity |
| Sierro, F. J., N. Andersen, M. A. Bassetti, S. Berne, M. Canals, J. H. Curtis, B. Dennielou, J. A. Flores, J. Frigola, B. Gonzalez-Mora, J. O. Grimalt, D. A. Hodell, G. Jouet, M. Perez-Folgado, and R. Schneider. 2009. Phase relationship between sea level and abrupt climate change. Quaternary Science Reviews 28:2867-2881. | 2009 | Global; US East Coast (NC, SC, GA) | | Climate; Sediment; Water Depth & Sea Level |
| Buyukutku, A. G. 2009. Reservoir properties of Karaisali{dotless} formation in the Adana Basin, Southern Turkey. Journal of Petroleum Science and Engineering 65:33-44. | 2009 | | | Algae; Sediment; Water Depth & Sea Level |
| Brodie, J., S. Lewis, Z. Bainbridge, A. Mitchell, J. Waterhouse, and F. Kroon. 2009. Target setting for pollutant discharge management of rivers in the Great Barrier Reef catchment area. Marine and Freshwater Research 60:1141-1149. | 2009 | Australia | Field Study & Monitoring; Model | Agriculture; Chemical Use Regulations; Discharges; Fertilizer & Pesticide Use; Nutrients; Sediment; Surface & Groundwater Flow |
| Roebeling, P. C., M. E. van Grieken, A. J. Webster, J. Biggs, and P. Thorburn. 2009. Cost-effective water quality improvement in linked terrestrial and marine ecosystems: a spatial environmental-economic modelling approach. Marine and Freshwater Research 60:1150-1158. | 2009 | Australia | Model | Agriculture; Nutrients; Sediment; Surface & Groundwater Flow; Waterborne Discharges |
| Vargas-Angel, B. 2009. Coral health and disease assessment in the U.S. pacific remote ISLAND areas. Bulletin of Marine Science 84:211-227. | 2009 | US Pacific & Hawaii; Jarvis Island; Johnston Atoll | | Complex Habitat & Resources; Pathogens; Stony Coral |
| Buyukutku, A. G. and G. Eseller. 2009. The reservoir potential of the upper eocene carbonates of the Northern Thrace Basin, Turkey. Energy Sources, Part A: Recovery, Utilization and Environmental Effects 31:25-30. | 2009 | | Model | Algae; Plankton |
| Humblet, M., Y. Iryu, and T. Nakamori. 2009. Variations in Pleistocene coral assemblages in space and time in southern and northern Central Ryukyu Islands, Japan. Marine Geology 259:20-Jan. | 2009 | Japan | | |
| Wang, S.-K., C.-Y. Duh, Y.-C. Wu, Y. Wang, M.-C. Cheng, K. Soong, and L.-S. Fang. 2009. Cytotoxic cembranoids from the soft coral Lobophytum michaelae (1992):55. Journal of Natural Products 72:324. | 2009 | | | Octocoral |
| Pait, A.S., C. F. G. Jeffrey, C. Caldow, D. R. Whitall, S. I. Hartwell, A. L. Mason, and J. D. Christensen. 2009. Chemical contaminants in the coral Porites astreoides from outhwest Puerto Rico. NOS NCCOS 91, Silver Spring, MD. | 2009 | Puerto Rico | | Stony Coral; Toxics |
| Burford, M. A., P. C. Rothlisberg, and A. T. Revill. 2009. Sources of nutrients driving production in the Gulf of Carpentaria, Australia: a shallow tropical shelf system. Marine and Freshwater Research 60:1044-1053. | 2009 | Australia | | Cyanobacteria; Microorganisms; Nutrients; Surface & Groundwater Flow |
| Jayewardene, D., M. J. Donahue, and C. Birkeland. 2009. Effects of frequent fish predation on corals in Hawaii. Coral Reefs 8-Jan. | 2009 | US Pacific & Hawaii | Model | Fish; Invertivorous Fish; Stony Coral |
| Brock, J. C. and S. J. Purkis. 2009. The Emerging Role of Lidar Remote Sensing in Coastal Research and Resource Management. Journal of Coastal Research 25:1-5. | 2009 | | GIS & Maps; Remote Sensing | Environmental Monitoring, Mapping, & Scientific Research; Resource Use Management; Scientific Research; Storms & Hurricanes |
| McClanahan, T. R., M. Ateweberhan, J. Omukoto, and L. Pearson. 2009. Recent seawater temperature histories, status, and predictions for madagascar's coral reefs. Marine Ecology Progress Series 380:117-128. | 2009 | Indian Ocean; Madagascar; India | | Algae; Climate; Fishing Sector; Marine Protected Areas; Sea Temperatures |
| Zawada, D. G. and J. C. Brock. 2009. A Multiscale Analysis of Coral Reef Topographic Complexity Using Lidar-Derived Bathymetry. Journal of Coastal Research 25:6-15. | 2009 | Florida | Model; Remote Sensing | Complex Habitat & Resources; Substrate |
| Duran, A. and R. Claro. 2009. The feeding activity of herbivorous fishes and their impact on coral reefs with different levels of anthropogenic degradation. Revista de Biologia Tropical 57:687-697. | 2009 | Cuba | | Algae; Corallivorous Fish; Finfish Harvest; Fish; Large Herbivorous Fish; Small Herbivorous Fish; Substrate |
| Gonzalez-Sanson, G., C. Aguilar, I. Hernandez, Y. Cabrera, N. Suarez-Montes, F. Bretos, and D. Guggenheim. 2009. Natural and human-induced variability in the composition of fish assemblages in the Northwestern Cuban shelf. Revista de Biologia Tropical 57:721-740. | 2009 | South & Central America; Cuba; Caribbean; Mexico | Field Study & Monitoring | Finfish Harvest; Fish |
| To, A. W. L. and Y. S. de Mitcheson. 2009. Shrinking baseline: the growth in juvenile fisheries, with the Hong Kong grouper fishery as a case study. Fish and Fisheries 10:396-407. | 2009 | US Pacific & Hawaii | | Aquaculture; Finfish Harvest; Fishing Sector; Piscivorous Fish; Wholesale & Retail Trade |
| Holcomb, M., A. L. Cohen, R. I. Gabitov, and J. L. Hutter. 2009. Compositional and morphological features of aragonite precipitated experimentally from seawater and biogenically by corals. Geochimica et Cosmochimica Acta 73:4166-4179. | 2009 | | | Calcium Carbonate Deposition; Stony Coral |
| Fava, F., M. Ponti, A. Scinto, B. Calcinai, and C. Cerrano. 2009. Possible effects of human impacts on epibenthic communities and coral rubble features in the marine Park of Bunaken (Indonesia). Estuarine Coastal and Shelf Science 85:151-156. | 2009 | US Pacific & Hawaii; Indonesia | | Complex Habitat & Resources; Dive, Snorkeling, & Swimming Tourism; Housing; Marine Protected Areas; Skeletal Coral; Stony Coral; Tourism & Recreation |
| Kitamura, M., P. J. Schupp, Y. Nakano, and D. Uemura. 2009. Luminaolide, a novel metamorphosis-enhancing macrodiolide for scleractinian coral larvae from crustose coralline algae. Tetrahedron Letters 50:6606-6609. | 2009 | | | Algae; Coralline Algae; Stony Coral |
| Boe, R., V. K. Bellec, M. F. J. Dolan, P. Buhl-Mortensen, L. Buhl-Mortensen, D. Slagstad, and L. Rise. 2009. Giant sandwaves in the Hola glacial trough off Vesteralen, North Norway. Marine Geology 267:36-54. | 2009 | Norway | Field Study & Monitoring; Model; GIS & Maps | Sediment; Water Depth & Sea Level |
| Bergsma, G. S. 2009. Tube-dwelling coral symbionts induce significant morphological change in Montipora. Symbiosis 49:143-150. | 2009 | | | Marine Worms; Snails & Conch; Stony Coral |
| Takesue, R. K., M. H. Bothner, and R. L. Reynolds. 2009. Sources of land-derived runoff to a coral reef-fringed embayment identified using geochemical tracers in nearshore sediment traps. Estuarine Coastal and Shelf Science 85:459-471. | 2009 | | Field Study & Monitoring; Index or Indicator | Non-point Source Runoff; Salinity; Sediment; Surface & Groundwater Flow |
| Hill, J., D. Tetzlaff, A. Curtis, and R. Wood. 2009. Modeling shallow marine carbonate depositional systems. Computers and Geosciences 35:1862-1872. | 2009 | | Model | Sediment |
| Lee, A. C. and T. M. Sin. 2009. Trapezia Septata Dana, 1852 (Brachyura, Trapeziidae): A New Record For Singapore With Notes On Its Relationship With The Host Coral, Pocillopora Verrucosa. Crustaceana 82:1603-1608. | 2009 | | | Stony Coral |
| Tallis, H., R. Goldman, M. Uhl, and B. Brosi. 2009. Integrating conservation and development in the field: implementing ecosystem service projects. Frontiers in Ecology and the Environment 7:12�20. | 2009 | | Field Study & Monitoring; Decision Support Frameworks & Tools | Banks, Credit, & Securities; Funding & Donations; Funding & Incentives; Landscape Conservation & Restoration |
| Bartlett, C. Y., C. Manua, J. Cinner, S. Sutton, R. Jimmy, R. South, J. Nilsson, and J. Raina. 2009. Comparison of Outcomes of Permanently Closed and Periodically Harvested Coral Reef Reserves. Conservation Biology 23:1475-1484. | 2009 | US Pacific & Hawaii; Australia; Vanuatu | Decision Support Frameworks & Tools | Coralline Algae; Cultural Policies; Cultural Protections; Fishing Sector; Marine Protected Areas; Substrate |
| Trigg, C. and C. G. Moore. 2009. Recovery of the biogenic nest habitat of Limaria hians (Mollusca: Limacea) following anthropogenic disturbance. Estuarine Coastal and Shelf Science 82:351-356. | 2009 | | | Dredging, Draining, & Filling; Molluscs; Sediment |
| Cadotte, M. W. 2009. Editor's choice: Modelling disease-coral dynamics as a way to understand long-term coral reef persistence. Journal of Applied Ecology 46:733. | 2009 | | Model | Pathogens |
| Seemann, P., C. Gernert, S. Schmitt, D. Mebs, and U. Hentschel. 2009. Detection of hemolytic bacteria from Palythoa caribaeorum (Cnidaria, Zoantharia) using a novel palytoxin-screening assay. Antonie van Leeuwenhoek, International Journal of General and Molecular Microbiology 0:7-Jan. | 2009 | | | Anemones & Zooanthids; Microorganisms; Sponges |
| Leiper, I. A., U. E. Siebeck, N. J. Marshall, and S. R. Phinn. 2009. Coral health monitoring: linking coral colour and remote sensing techniques. Canadian Journal of Remote Sensing 35:276-286. | 2009 | Australia | Field Study & Monitoring; Index or Indicator; GIS & Maps; Remote Sensing | Stony Coral |
| Cinner, J. E., T. R. McClanahan, N. A. J. Graham, M. S. Pratchett, S. K. Wilson, and J.-B. Raina. 2009. Gear-based fisheries management as a potential adaptive response to climate change and coral mortality. Journal of Applied Ecology 46:724-732. | 2009 | Kenya; Papua New Guinea | Decision Support Frameworks & Tools | Climate; Complex Habitat & Resources; Finfish Harvest; Fish; Fishing & Harvesting Management; Fishing Sector; Trawling & Fishing Gear Damage |
| Cao, J., J. Liu, Y. Ezaki, and N. Adachi. 2009. Lower Ordovician reefs in the Honghuayuan formation at Dongzhi, Anhui: Microbial reefs just prior to the Ordovician biodiversification. Beijing Daxue Xuebao (Ziran Kexue Ban)/Acta Scientiarum Naturalium Universitatis Pekinensis 45:279-288. | 2009 | Global | | Sediment; Sponges |
| Shaw, M., A. Negri, K. Fabricius, and J. F. Mueller. 2009. Predicting water toxicity: Pairing passive sampling with bioassays on the Great Barrier Reef. Aquatic Toxicology 95:108-116. | 2009 | Australia | Decision Support Frameworks & Tools | Agriculture; Fertilizer & Pesticide Use; Microorganisms; Primary Production; Sea Urchins; Stony Coral |
| Schmidt J. V., C. L. Schmidt , F. Ozer, R. E. Ernst, K. A. Feldheim, M. V. Ashley, and M. Levine. 2009. Low genetic differentiation across three major ocean populations of the whale shark, Rhincodon typus. PLoS One 4:e4988. | 2009 | South & Central America; US Pacific & Hawaii; India; Caribbean | | Apex Fish Predators |
| Ebisawa, T., A. Yamamura, Y. Kameda, K. Hayakawa, K. Nagata, and M. Tanokura. 2009. Crystallization and preliminary X-ray analysis of a monomeric mutant of Azami-Green (mAG), an Aequorea victoria green fluorescent protein-like green-emitting fluorescent protein from the stony coral Galaxea fascicularis. Acta Crystallographica Section F-structural Biology And Crystallization Communications 65:1292-1295. | 2009 | Japan | | Stony Coral |
| Aguilar-Perera, A., C. Gonzalez-Salas, A. Tuz-Sulub, and H. Villegas-Hernandez. 2009. Fishery of the Goliath grouper, Epinephelus itajara (Teleostei: Epinephelidae) based on local ecological knowledge and fishery records in Yucatan, Mexico. Revista de Biologia Tropical 57:557-566. | 2009 | South & Central America; Mexico | | Finfish Harvest; Fish; Fishing Sector; Piscivorous Fish; Special Use Permitting |
| Alvarez-Cadena, J. N., U. Ordonez-Lopez, A. R. Almaral-Mendivil, and A. Uicab-Sabido. 2009. Composition and abundance of zooplankton groups from a coral reef lagoon in Puerto Morelos, Quintana Roo, Mexico, during an annual cycle. Revista de Biologia Tropical 57:647-658. | 2009 | South & Central America; Caribbean; Mexico | | Lobster, Crab, & Shrimp; Plankton; Salinity |
| Myers, A. A. and J. K. Lowry. 2009. The biogeography of Indo-West Pacific tropical amphipods with particular reference to Australia. Zootaxa 109-127. | 2009 | US Pacific & Hawaii; Australia | | |
| Lowry, J. K. and H. E. Stoddart. 2009. Amaryllididae. Zootaxa 128-131. | 2009 | Australia | | |
| Hughes, L. E. and J. K. Lowry. 2009. Ampithoidae. Zootaxa 153-219. | 2009 | Australia | | |
| Myers, A. A. 2009. Aoridae. Zootaxa 220-278. | 2009 | Australia | | |
| Reolid, M., J. M. Molina, H. Loser, V. Navarro, and P. A. Ruiz-Ortiz. 2009. Coral biostromes of the Middle Jurassic from the Subbetic (Betic Cordillera, southern Spain): facies, coral taxonomy, taphonomy, and palaeoecology. Facies 19-Jan. | 2009 | Spain | Review | Water Depth & Sea Level |
| King, R. A. 2009. Ampeliscidae. Zootaxa 132-142. | 2009 | Australia | | |
| Azman, B. A. R. 2009. Amphilochidae. Zootaxa 143-152. | 2009 | Australia | | |
| Cheng, S.-Y., Y.-C. Huang, Z.-H. Wen, C.-H. Hsu, S.-K. Wang, C.-F. Dai, and C.-Y. Duh. 2009. New 19-oxygenated and 4-methylated steroids from the Formosan soft coral Nephthea chabroli. Steroids 74:543-547. | 2009 | | | Octocoral |
| Gochfeld, D. J. and J. B. Olson. 2009. A novel feeding behavior by an ambush predator on toxic prey. Coral Reefs 28:155. | 2009 | | | |
| Sashidhara, K. V., K. N. White, and P. Crews. 2009. A selective account of effective paradigms and significant outcomes in the discovery of inspirational marine natural products. Journal of Natural Products 72:588-603. | 2009 | | Review | Collaboration & Partnering; Pharmaceuticals & Cosmetics; Pharmaceuticals & Cosmetics Sources; Sponges |
| Yakovleva, I. M., A. H. Baird, H. H. Yamamoto, R. Bhagooli, M. Nonaka, and M. Hidaka. 2009. Algal symbionts increase oxidative damage and death in coral larvae at high temperatures. Marine Ecology Progress Series 378:105-112. | 2009 | | Model | Zooxanthellae |
| Kane, C. N., A. J. Brooks, S. J. Holbrook, and R. J. Schmitt. 2009. The role of microhabitat preference and social organization in determining the spatial distribution of a coral reef fish. Environmental Biology of Fishes 84:10-Jan. | 2009 | | | Fish; Stony Coral; Substrate |
| Yap, H. T. 2009. Local changes in community diversity after coral transplantation. Marine Ecology Progress Series 374:33-41. | 2009 | | Decision Support Frameworks & Tools | Algae; Complex Habitat & Resources; Fish; Sea Urchins; Small Herbivorous Fish |
| Unsworth, R. K. F., S. L. Garrard, P. S. De Leon, L. C. Cullen, D. J. Smith, K. A. Sloman, and J. J. Bell. 2009. Structuring of Indo-Pacific fish assemblages along the mangrove-seagrass continuum. Aquatic Biology 5:85-95. | 2009 | US Pacific & Hawaii; Indonesia | | Apex Fish Predators; Complex Habitat & Resources; Fish; Fishing Sector; Mangroves; Resource Use Management; Seagrasses |
| Titlyanov, E. A., S. I. Kiyashko, T. V. Titlyanova, and J. A. Raven. 2009. δ13C and δ15N in tissue of coral polyps and epilithic algae inhabiting damaged coral colonies under the influence of different light intensities. Aquatic Ecology 9-Jan. | 2009 | | | Algae; Light; Nutrients; Primary Production; Stony Coral; Zooxanthellae |
| Azman, B. A. R. and J. K. Lowry. 2009. Bolttsiidae. Zootaxa 285-289. | 2009 | Australia | | Mangroves |
| Schottner, S., F. Hoffmann, C. Wild, H. T. Rapp, A. Boetius, and A. Ramette. 2009. Inter- and intra-habitat bacterial diversity associated with cold-water corals. ISME Journal | 2009 | | | Microorganisms; Sediment; Stony Coral |
| Guerra-Garcia, J. M. and J. K. Lowry. 2009. Caprellidae. Zootaxa 290-327. | 2009 | Australia | | Sediment; Substrate |
| Tuya, F., T. Wernberg, and M. S. Thomsen. 2009. Colonization of gastropods on subtidal reefs depends on density in adjacent habitats, not on disturbance regime. Journal of Molluscan Studies 75:27-33. | 2009 | Australia | | Algae |
| Coleman, C. O. 2009. Ceinidae. Zootaxa 328-332. | 2009 | Australia | | |
| Gunter, N. L. and R. D. Adlard. 2009. Seven new species of Ceratomyxa Thelohan, 1892 (Myxozoa) from the gall-bladders of serranid fishes from the Great Barrier Reef, Australia. Systematic Parasitology 73:11-Jan. | 2009 | Australia | | Apex Fish Predators |
| Sanchirico, J. N. and P. Mumby. 2009. Mapping ecosystem functions to the valuation of ecosystem services: Implications of species-habitat associations for coastal land-use decisions. Theoretical Ecology 2:67-77. | 2009 | | Model; GIS & Maps | Coastal Development; Landscape Conservation & Restoration; Mangroves; Monetary Valuation; Valuation |
| Coleman, C. O. and J. K. Lowry. 2009. Cheirocratidae. Zootaxa 333-338. | 2009 | Australia; US East Coast (NC, SC, GA) | | |
| Myers, A. A. 2009. Chevaliidae. Zootaxa 344-347. | 2009 | US Pacific & Hawaii; Australia; Sri Lanka; Fiji; Papua New Guinea | | |
| Andras, J. P., N. L. Kirk, M. A. Coffroth, and C. D. Harvell. 2009. Isolation and characterization of microsatellite loci in Symbiodinium B1/B184, the dinoflagellate symbiont of the Caribbean sea fan coral, Gorgonia ventalina. Molecular Ecology Resources 9:989-993. | 2009 | South & Central America; Caribbean | Decision Support Frameworks & Tools | Octocoral; Zooxanthellae |
| Fox, R. J., T. L. Sunderland, A. S. Hoey, and D. R. Bellwood. 2009. Estimating ecosystem function: contrasting roles of closely related herbivorous rabbitfishes (Siganidae) on coral reefs. Marine Ecology Progress Series 385:261-269. | 2009 | Australia | | Algae; Turf Algae |
| Titschack, J., U. Radtke, and A. Freiwald. 2009. Dating And Characterization Of Polymorphic Transformation Of Aragonite To Calcite In Pleistocene Bivalves From Rhodes (Greece) By Combined Shell Microstructure, Stable Isotope, And Electron Spin Resonance Study. Journal of Sedimentary Research 79:332-346. | 2009 | | Decision Support Frameworks & Tools | Bivalves; Calcium Carbonate Deposition; Sediment |
| Peters, K. J., C. D. Amsler, J. B. McClintock, R. W. M. van Soest, and B. J. Baker. 2009. Palatability and chemical defenses of sponges from the western Antarctic Peninsula. Marine Ecology Progress Series 385:77-85. | 2009 | | | Seastars; Sponges |
| Scheibling, R. E., N. E. Kelly, and B. G. Raymond. 2009. Herbivory and community organization on a subtidal cobble bed. Marine Ecology Progress Series 382:113-128. | 2009 | | | Algae; Coralline Algae; Molluscs; Sea Urchins |
| Lettieri, L., K. L. Cheney, C. H. Mazel, D. Boothe, N. J. Marshall, and J. T. Streelman. 2009. Cleaner gobies evolve advertising stripes of higher contrast. Journal of Experimental Biology 212:2194-2203. | 2009 | South & Central America; Caribbean | Model | Fish; Sponges |
| Rankey, E. C., S. A. Guidry, S. L. Reeder, and H. Guarin. 2009. Geomorphic And Sedimentologic Heterogeneity Along A Holocene Shelf Margin: Caicos Platform. Journal of Sedimentary Research 79:440-456. | 2009 | South & Central America; US East Coast (NC, SC, GA); Caribbean | Model; Remote Sensing | Sediment |
| Arotsker, L., N. Siboni, E. Ben-Dov, E. Kramarsky-Winter, Y. Loya, and A. Kushmaro. 2009. Vibrio sp as a potentially important member of the Black Band Disease (BBD) consortium in Favia sp corals. FEMS Microbiology Ecology 70:515-524. | 2009 | South & Central America; Bahamas; Caribbean | | Microorganisms; Pathogens |
| Quaranta, F., M. Piazza, and G. Vannucci. 2009. Climatic and tectonic control on the distribution of the Oligocene reefs of the Tertiary Piedmont Basin (NW Italy). Bollettino della Societa Geologica Italiana 128:587-591. | 2009 | | | Sediment |
| Van Oppen, M. J. H., J.-A. Leong, and R. D. Gates. 2009. Coral-virus interactions: A double-edged sword? Symbiosis 47:8-Jan. | 2009 | | Review; Field Study & Monitoring | Pathogens; Stony Coral |
| Wlodarska-Kowalczuk, M., P. Kuklinski, M. Ronowicz, J. Legezynska, and S. Gromisz. 2009. Assessing species richness of macrofauna associated with macroalgae in Arctic kelp forests (hornsund, svalbard). Polar Biology 32:897-905. | 2009 | Cuba | | Algae; Marine Worms |
| Anderson, C. R., G. J. Dick, M. L. Chu, J. C. Cho, R. E. Davis, S. L. Brauer, and B. M. Tebo. 2009. Aurantimonas manganoxydans, sp nov and Aurantimonas litoralis, sp nov.: Mn(II) Oxidizing Representatives of a Globally Distributed Clade of alpha-Proteobacteria from the Order Rhizobiales. Geomicrobiology Journal 26:189-198. | 2009 | Global; South & Central America; Caribbean | | Surface & Groundwater Flow |
| Devney, C. A., M. Short, and B. C. Congdon. 2009. Sensitivity of tropical seabirds to El Nino precursors. Ecology 90:1175-1183. | 2009 | US Pacific & Hawaii; Australia | | Marine Birds |
| Costa, B. M., T. A. Battista, and S. J. Pittman. 2009. Comparative evaluation of airborne LiDAR and ship-based multibeam SoNAR bathymetry and intensity for mapping coral reef ecosystems. Remote Sensing of Environment 113:1082-1100. | 2009 | | Field Study & Monitoring; GIS & Maps; Remote Sensing | Environmental Monitoring, Mapping, & Scientific Research; Sediment |
| Rosenberg, E., A. Kushmaro, E. Kramarsky-Winter, E. Banin, and L. Yossi. 2009. The role of microorganisms in coral bleaching. ISME Journal 3:139-146. | 2009 | | | Algae; Microorganisms; Pathogens |
| Cognetti G. and F. Maltagliati. 2009. Ecosystem service and service providing units (SPUs) in strategies of marine biodiversity conservation. Marine Pollution Bulletin 58:637-638. | 2009 | | | |
| Greer, L., J. E. Jackson, H. A. Curran, T. Guilderson, and L. Teneva. 2009. How vulnerable is Acropora cervicornis to environmental change? Lessons from the early to middle Holocene. Geology 37:263-266. | 2009 | South & Central America; Dominican Republic; Caribbean | Index or Indicator | Climate; Salinity; Stony Coral; Storms & Hurricanes |
| Foster, L. C., N. Allison, A. A. Finch, and C. Andersson. 2009. Strontium distribution in the shell of the aragonite bivalve Arctica islandica. Geochemistry Geophysics Geosystems 10:Q03003. | 2009 | | | Bivalves; Calcium Carbonate Deposition |
| Van Alstyne, K. L., V. J. Dominique III, and G. Muller-Parker. 2009. Is dimethylsulfoniopropionate (DMSP) produced by the symbionts or the host in an anemone-zooxanthella symbiosis? Coral Reefs 28:167-176. | 2009 | | | Anemones & Zooanthids; Octocoral; Stony Coral; Zooxanthellae |
| Som, S. K., V. Shivgotra, and A. Saha. 2009. Coral microatoll as geodetic tool in North Andaman and Little Andaman, India. Journal of Earth System Science 118:157-162. | 2009 | Global; India | Model; Decision Support Frameworks & Tools | |
| Di Camillo, C. G., S. Puce, and G. Bavestrello. 2009. Macrorhynchia species (Cnidaria: Hydrozoa) from the Bunaken Marine Park (North Sulawesi, Indonesia) with a description of two new species. Italian Journal of Zoology 76:208-228. | 2009 | US Pacific & Hawaii; Indonesia | | Marine Protected Areas |
| Felis, T., A. Suzuki, H. Kuhnert, M. Dima, G. Lohmann, and H. Kawahata. 2009. Subtropical coral reveals abrupt early-twentieth-century freshening in the western North Pacific Ocean. Geology 37:527-530. | 2009 | Global; US Pacific & Hawaii; US East Coast (NC, SC, GA); Pacific Ocean | | Climate; Salinity; Sea Temperatures; Surface & Groundwater Flow |
| Knittweis, L., W. E. Kraemer, J. Timm, and M. Kochzius. 2009. Genetic structure of Heliofungia actiniformis (Scleractinia: Fungiidae) populations in the Indo-Malay Archipelago: implications for live coral trade management efforts. Conservation Genetics 10:241-249. | 2009 | US Pacific & Hawaii; Indonesia | | Aquarium & Pet Trade; Stony Coral; Surface & Groundwater Flow |
| Pande, A. and J. P. A. Gardner. 2009. A baseline biological survey of the proposed Taputeranga Marine Reserve (Wellington, New Zealand): spatial and temporal variability along a natural environmental gradient. Aquatic Conservation: Marine and Freshwater Ecosystems 19:237-248. | 2009 | | Field Study & Monitoring; Index or Indicator | Biological Monitoring, Mapping, & Scientific Research; Environmental Monitoring, Mapping, & Scientific Research; Fish; Fishing Sector; Invertebrates |
| Myers, J. L. and L. L. Richardson. 2009. Adaptation of cyanobacteria to the sulfide-rich microenvironment of black band disease of coral. FEMS Microbiology Ecology 67:242-251. | 2009 | Global; Europe | | Cyanobacteria; Microorganisms; Pathogens; Primary Production |
| Little, L. R., A. E. Punt, B. D. Mapstone, G. A. Begg, B. Goldman, and A. J. Williams. 2009. An agent-based model for simulating trading of multi-species fisheries quota. Ecological Modelling 220:3404-3412. | 2009 | Australia | Model | Finfish Harvest; Fish; Fishing Sector |
| Watanabe, S., A. Metaxas, J. Sameoto, and P. Lawton. 2009. Patterns in abundance and size of two deep-water gorgonian octocorals, in relation to depth and substrate features off Nova Scotia. Deep-Sea Research Part I: Oceanographic Research Papers 56:2235-2248. | 2009 | US East Coast (NC, SC, GA) | | Finfish Harvest; Octocoral; Substrate |
| Zhou, X. Y., Z. M. Wang, H. J. Yang, L. J. Zhang, J. F. Han, and Z. Y. Wang. 2009. Large-scale Tazhong Ordovician Reef-flat Oil-Gas Field in the Tarim Basin of China. Acta Geologica Sinica-english Edition 83:179-188. | 2009 | China | | |
| Pettay, D. T. and T. C. Lajeunesse. 2009. Microsatellite loci for assessing genetic diversity, dispersal and clonality of coral symbionts in 'stress-tolerant' clade D Symbiodinium. Molecular Ecology Resources 9:1022-1025. | 2009 | US Pacific & Hawaii; Indian Ocean; US East Coast (NC, SC, GA); India | Index or Indicator | Stony Coral; Zooxanthellae |
| Poortvliet, M., J. L. Olsen, K. A. Selkoe, J. A. Coyer, and G. Bernardi. 2009. Isolation and characterization of 11 microsatellite primers for a temperate reef fish, the California sheephead (Semicossyphus pulcher). Molecular Ecology Resources 9:429-430. | 2009 | | | |
| Tam, T.-W. and P. O. A. Jr. 2009. Structures, dynamics and stability of reef fish assemblages in non-reefal coral communities in Hong Kong, China. Aquatic Conservation: Marine and Freshwater Ecosystems 19:301-321. | 2009 | China | Field Study & Monitoring | Algae; Fish |
| Arepalli, S. K., V. Sridhar, J. V. Rao, P. K. Kennady, and Y. Venkateswarlu. 2009. Furano-sesquiterpene from soft coral, Sinularia kavarittiensis: Induces apoptosis via the mitochondrial-mediated caspase-dependent pathway in THP-1, leukemia cell line. Apoptosis 14:729-740. | 2009 | | | Octocoral |
| Martin, J. W., S. Godwin, and R. Moffitt. 2009. Additions to the decapod crustacean fauna of the Hawaiian Islands, I. A review of the genus Sakaila Manning and Holthuis, 1981 (Decapoda, Brachyura, Aethridae), with the description of a new species from the Northwestern Hawaiian Islands. Zootaxa 25-44. | 2009 | US Pacific & Hawaii; US East Coast (NC, SC, GA); Japan; Johnston Atoll | Review | Lobster, Crab, & Shrimp |
| Scheffers, S. R., J. Haviser, T. Browne, and A. Scheffers. 2009. Tsunamis, hurricanes, the demise of coral reefs and shifts in prehistoric human populations in the Caribbean. Quaternary International 195:69-87. | 2009 | South & Central America; Indian Ocean; India; Caribbean | Review | Sediment; Storms & Hurricanes |
| Yu, K.-F., J.-X. Zhao, T. Done, and T.-G. Chen. 2009. Microatoll record for large century-scale sea-level fluctuations in the mid-Holocene. Quaternary Research 71:354-360. | 2009 | China | Index or Indicator | Water Depth & Sea Level |
| Nelson, W. A. 2009. Calcified macroalgae - critical to coastal ecosystems and vulnerable to change: a review. Marine and Freshwater Research 60:787-801. | 2009 | Global | Review | Agriculture; Algae; Aquaculture; CO2; Coastal Development; Complex Habitat & Resources; Dredging, Draining, & Filling; Non-point Source Runoff; Nutrients; Ocean Acidity; Sediment |
| Di Franco, A., S. Bussotti, A. Navone, P. Panzalis, and P. Guidetti. 2009. Evaluating effects of total and partial restrictions to fishing on Mediterranean rocky-reef fish assemblages. Marine Ecology Progress Series 387:275-285. | 2009 | | | Finfish Harvest; Fish; Fishing & Harvesting Management; Marine Protected Areas; Piscivorous Fish; Recreational Fishing; Special Use Permitting; Tourism & Recreation |
| Tittensor, D. P., A. R. Baco, P. E. Brewin, M. R. Clark, M. Consalvey, J. Hall-Spencer, A. A. Rowden, T. Schlacher, K. I. Stocks, and A. D. Rogers. 2009. Predicting global habitat suitability for stony corals on seamounts. Journal of Biogeography 36:1111-1128. | 2009 | Global; US East Coast (NC, SC, GA) | Model; GIS & Maps; Decision Support Frameworks & Tools | Calcium Carbonate Deposition; Complex Habitat & Resources; Stony Coral; Surface & Groundwater Flow |
| Mukai, T., S. Nakamura, and M. Nishida. 2009. Genetic population structure of a reef goby, Bathygobius cocosensis, in the northwestern Pacific. Ichthyological Research 8-Jan. | 2009 | US Pacific & Hawaii; Japan; Guam | | Water Depth & Sea Level |
| Fujita, K., Y. Osawa, H. Kayanne, Y. Ide, and H. Yamano. 2009. Distribution and sediment production of large benthic foraminifers on reef flats of the Majuro Atoll, Marshall Islands. Coral Reefs 28:29-45. | 2009 | Marshall Islands | | Algae; Calcium Carbonate Deposition; Sediment; Water Depth & Sea Level |
| Baskett, M. L., S. D. Gaines, and R. M. Nisbet. 2009. Symbiont diversity may help coral reefs survive moderate climate change. Ecological Applications 19:17-Mar. | 2009 | | Model | Algae; Climate; Greenhouse Gas Emissions; Zooxanthellae |
| Fontes, J., J. E. Caselle, M. S. Sheehy, R. S. Santos, and R. R. Warner. 2009. Natal signatures of juvenile Coris julis in the Azores: investigating connectivity scenarios in an oceanic archipelago. Marine Ecology Progress Series 387:51-59. | 2009 | US East Coast (NC, SC, GA) | | Fish; Planktivorous Fish |
| Dubois, S., L. Barille, and B. Cognie. 2009. Feeding response of the polychaete Sabellaria alveolata (Sabellariidae) to changes in seston concentration. Journal of Experimental Marine Biology and Ecology 376:94-101. | 2009 | France | | Algae; Bivalves; Marine Worms |
| Ferrier-Pages, C., E. Tambutte, T. Zamoum, N. Segonds, P. L. Merle, N. Bensoussan, D. Allemand, J. Garrabou, and S. Tambutte. 2009. Physiological response of the symbiotic gorgonian Eunicella singularis to a long-term temperature increase. Journal of Experimental Biology 212:3007-3015. | 2009 | Global | Lab Study | Climate; Octocoral; Primary Production |
| Venkatachalam, A. J., A. R. G. Price, S. Chandrasekara, and S. S. Sellamuttu. 2009. Risk factors in relation to human deaths and other tsunami (2004) impacts in Sri Lanka: The fishers'-eye view. Aquatic Conservation: Marine and Freshwater Ecosystems 19:57-66. | 2009 | Sri Lanka | Model; Index or Indicator | Hotel & Food Services; Housing; Mangroves; Surface & Groundwater Flow |
| Huvenne, V. A. I., D. G. Masson, and A. J. Wheeler. 2009. Sediment dynamics of a sandy contourite: The sedimentary context of the Darwin cold-water coral mounds, Northern Rockall Trough. International Journal of Earth Sciences 98:865-884. | 2009 | | | Sediment; Water Depth & Sea Level |
| van Hooidonk, R. and M. Huber. 2009. Quantifying the quality of coral bleaching predictions. Coral Reefs 9-Jan. | 2009 | Global | GIS & Maps; Decision Support Frameworks & Tools | Sea Temperatures |
| Fournier, G. P., J. L. Huang, and J. P. Gogarten. 2009. Horizontal gene transfer from extinct and extant lineages: biological innovation and the coral of life. Philosophical Transactions of the Royal Society B: Biological Sciences 364:2229-2239. | 2009 | | | Cyanobacteria; Microorganisms |
| Wei, G., M. T. McCulloch, G. Mortimer, W. Deng, and L. Xie. 2009. Evidence for ocean acidification in the Great Barrier Reef of Australia. Geochimica et Cosmochimica Acta 73:2332-2346. | 2009 | US Pacific & Hawaii; Australia | | CO2; Greenhouse Gas Emissions; Non-point Source Runoff; Ocean Acidity; Salinity; Surface & Groundwater Flow |
| Williams, J. S., C. D. White, and F. J. Longstaffe. 2009. Maya marine subsistence: Isotopic evidence from Marco Gonzalez and San Pedro, Belize. Latin American Antiquity 20:37-56. | 2009 | South & Central America; Belize | | Finfish Harvest; Nutrients |
| Gross-Aviv, T. and R. Vago. 2009. The role of aragonite matrix surface chemistry on the chondrogenic differentiation of mesenchymal stem cells. Biomaterials 30:770-779. | 2009 | | | Calcium Carbonate Deposition; Stony Coral |
| Nedashkovskaya, O. I., M. Vancanneyt, S. B. Kim, N. V. Zhukova, J. H. Han, and V. V. Mikhailov. 2009. Leeuwenhoekiella palythoae sp nov., a new member of the family Flavobacteriaceae. International Journal of Systematic and Evolutionary Microbiology 59:3074-3077. | 2009 | | | Microorganisms |
| Montagna, P., M. McCulloch, M. Taviani, J. Trotter, S. Silenzi, and C. Mazzoli. 2009. An improved sampling method for coral P/Ca as a nutrient proxy. Geochimica et Cosmochimica Acta 73:A895-A895. | 2009 | | | Nutrients |
| Tuuling, I. and T. Floden. 2009. Seismic correlation of Palaeozoic rocks across the northern Baltic Proper - Swedish-Estonian project since 1990, a review. Estonian Journal of Earth Sciences 58:273-285. | 2009 | | Review | Sediment |
| Galliot, B., M. Quiquand, L. Ghila, R. de Rosa, M. Miljkovic-Licina, and S. Chera. 2009. Origins of neurogenesis, a cnidarian view. Developmental Biology 332:2-24. | 2009 | | Decision Support Frameworks & Tools | Sponges; Stony Coral |
| Chai, H., N. Li, C. Xiao, X. Liu, D. Li, C. Wang, and D. Wu. 2009. Automatic discrimination of sedimentary facies and lithologies in reef-bank reservoirs using borehole image logs. Applied Geophysics 6:17-29. | 2009 | China | Decision Support Frameworks & Tools | Sediment |
| Mattio, L., C. E. Payri, and M. Verlaque. 2009. Taxonomic Revision And Geographic Distribution Of The Subgenus Sargassum (Fucales, Phaeophyceae) In The Western And Central Pacific Islands Based On Morphological And Molecular Analyses. Journal of Phycology 45:1213-1227. | 2009 | US Pacific & Hawaii; Solomon Islands; Vanuatu; Fiji; Tonga; Samoa | Review | Fleshy Macroalgae |
| Litherland, L., S. P. Collin, and K. A. Fritsches. 2009. Visual optics and ecomorphology of the growing shark eye: a comparison between deep and shallow water species. Journal of Experimental Biology 212:3583-3594. | 2009 | | | Apex Fish Predators |
| Mendoza, W. G., R. G. Zika, J. E. Corredor, J. Morrel, D. S. Ko, and C. N. K. Mooers. 2009. Developmental strategy for effective sampling to detect possible nutrient fluxes in oligotrophic coastal reef waters in the Caribbean. Journal Of Operational Oceanography 2:35-47. | 2009 | South & Central America; Puerto Rico; Caribbean | Field Study & Monitoring; Remote Sensing | Nutrients; Salinity; Surface & Groundwater Flow |
| Parapar, J., E. Martinez-Ansemil, C. Caramelo, R. Collado, and R. Schmelz. 2009. Polychaetes and oligochaetes associated with intertidal rocky shores in a semi-enclosed industrial and urban embayment, with the description of two new species. Helgoland Marine Research 63:293-308. | 2009 | Spain | Field Study & Monitoring; Index or Indicator; Decision Support Frameworks & Tools | Marine Worms |
| Rypien, K. L. and D. M. Baker. 2009. Isotopic labeling and antifungal resistance as tracers of gut passage of the sea fan pathogen Aspergillus sydowii. Diseases of Aquatic Organisms 86:1-7. | 2009 | South & Central America; Caribbean | Lab Study | Octocoral; Pathogens; Snails & Conch |
| Lim, A., J. D. Hedley, E. LeDrew, P. J. Mumby, and C. Roelfsema. 2009. The effects of ecologically determined spatial complexity on the classification accuracy of simulated coral reef images. Remote Sensing of Environment 113:965-978. | 2009 | South & Central America; Caribbean | GIS & Maps; Remote Sensing | Environmental Monitoring, Mapping, & Scientific Research; Substrate |
| Mellin, C. 2009. Habitat selection at settlement and post-settlement dynamics in juvenile fish communities in the New Caledonia lagoon. Cybium 33:96-96. | 2009 | New Caledonia | | Fish |
| Wahle, R. A., M. Gibson, and M. Fogarty. 2009. Distinguishing disease impacts from larval supply effects in a lobster fishery collapse. Marine Ecology Progress Series 376:185-192. | 2009 | England | Model | Fish; Fishing Sector; Invertebrates; Lobster, Crab, & Shrimp; Pathogens |
| Lasram, F. B., F. Guilhaumon, and D. Mouillot. 2009. Fish diversity patterns in the Mediterranean Sea: deviations from a mid-domain model. Marine Ecology Progress Series 376:253-267. | 2009 | | Model; GIS & Maps | Climate; Fish; Primary Production; Surface & Groundwater Flow |
| Voolstra, C. R., S. Sunagawa, J. A. Schwarz, M. A. Coffroth, D. Yellowlees, W. Leggat, and M. Medina. 2009. Evolutionary analysis of orthologous cDNA sequences from cultured and symbiotic dinoflagellate symbionts of reef-building corals (Dinophyceae: Symbiodinium). Comparative Biochemistry and Physiology - Part D: Genomics and Proteomics 4:67-74. | 2009 | | | Primary Production; Stony Coral; Zooxanthellae |
| Huang, S. C., D. S. Wuu, P. Y. Wu, W. Y. Lin, P. M. Tu, Y. C. Yeh, C. P. Hsu, and S. H. Chan. 2009. Improved output power of 400-nm InGaN/AlGaN LEDs using a novel surface roughening technique. Journal of Crystal Growth 311:867-870. | 2009 | | | Light |
| Lemberget, T., M. I. McCormick, and D. T. Wilson. 2009. Environmental influences on the replenishment of lizardfish (family Synodontidae) in Caribbean Panama. Coral Reefs 14-Jan. | 2009 | South & Central America; Panama; Caribbean | | Complex Habitat & Resources; Fish; Light |
| Phillips, J. A. 2009. Reproductive ecology of Caulerpa taxifolia (Caulerpaceae, Bryopsidales) in subtropical eastern Australia. European Journal of Phycology 44:81-88. | 2009 | Australia | | Fleshy Macroalgae; Invasive Species |
| Winfield, I. and F. Alvarez. 2009. Two New Species Of Amphipods (Peracarida, Amphipoda, Leucothoidae) From The Veracruz Coral Reef System, Sw Gulf Of Mexico. Crustaceana 82:11-25. | 2009 | South & Central America; Mexico | | Substrate |
| Poggio, C., Z. Leao, and P. Mafalda. 2009. Record Of Seasonal Bleaching In Siderastrea Spp. From Tidal Pools Of The Guarajuba Reef, Bahia, Brazil. Interciencia 34:502-506. | 2009 | | | Salinity; Stony Coral; Zooxanthellae |
| Wall, M. and J. Herler. 2009. Postsettlement movement patterns and homing in a coral-associated fish. Behavioral Ecology 20:87-95. | 2009 | | Field Study & Monitoring | Fish; Stony Coral |
| van Katwijk, M. M., A. R. Bos, V. N. de Jonge, L. S. A. M. Hanssen, D. C. R. Hermus, and D. J. de Jong. 2009. Guidelines for seagrass restoration: Importance of habitat selection and donor population, spreading of risks, and ecosystem engineering effects. Marine Pollution Bulletin 58:179-188. | 2009 | | Review | Seagrasses |
| Salim, R., A. I. Sofi, M. K. M. Daud, K. Al-Salihi, and A. R. Samsudin. 2009. Coral Bone-Graft Substitute in Rabbit Mandible Deffect Model: Macroscopic and Scanning Electron Microscopy Studies. International Medical Journal 16:217-220. | 2009 | | Model | |
| Cinner, J. E., T. Daw, and T. R. McClanahan. 2009. Socioeconomic factors that affect artisanal fishers' readiness to exit a declining fishery. Conservation Biology 23:124-130. | 2009 | Kenya | | Finfish Harvest; Fish; Fishing Sector; Housing |
| Li, L., C. Y. Wang, C. L. Shao, Y. W. Guo, G. Q. Li, X. P. Sun, L. Han, H. Huang, and H. S. Guan. 2009. Sarcoglycosides A - C, New O-Glycosylglycerol Derivatives from the South China Sea Soft Coral Sarcophyton infundibuliforme. Helvetica Chimica Acta 92:1495-1502. | 2009 | China | | Lobster, Crab, & Shrimp; Octocoral |
| Tseng, C. Y., H. J. Yang, H. Y. Yang, D. Y. Liu, C. Wu, C. K. Cheng, C. H. Chen, and C. M. Ker. 2009. Continuity of the North Qilian and North Qinling orogenic belts, Central Orogenic System of China: Evidence from newly discovered Paleozoic adakitic rocks. Gondwana Research 16:285-293. | 2009 | Australia; China | | |
| Chen, T., A. V. Newman, L. J. Feng, and H. M. Fritz. 2009. Slip distribution from the 1 April 2007 Solomon Islands earthquake: A unique image of near-trench rupture. Geophysical Research Letters 36:L16307. | 2009 | Solomon Islands | Model | |
| Kleemann, K. 2009. Gastrochaenolites hospitium isp nov., trace fossil by a coral-associated boring bivalve from the Eocene and Miocene of Austria. Geologica Carpathica 60:339-342. | 2009 | | | |
| Juillet-Leclerc, A., S. Reynaud, C. Rollion-Bard, J. P. Cuif, Y. Dauphin, D. Blamart, C. Ferrier-Pages, and D. Allemand. 2009. Oxygen isotopic signature of the skeletal microstructures in cultured corals: Identification of vital effects. Geochimica et Cosmochimica Acta 73:5320-5332. | 2009 | | Model | Calcium Carbonate Deposition; Stony Coral |
| Alamaru, A., Y. Loya, E. Brokovich, R. Yam, and A. Shemesh. 2009. Carbon and nitrogen utilization in two species of Red Sea corals along a depth gradient: Insights from stable isotope analysis of total organic material and lipids. Geochimica et Cosmochimica Acta 73:5333-5342. | 2009 | | | Nutrients; Stony Coral; Water Depth & Sea Level; Zooxanthellae |
| MacDonald, J. A., S. Shahrestani, and J. S. Weis. 2009. Behavior and space utilization of two common fishes within Caribbean mangroves: implications for the protective function of mangrove habitats. Estuarine Coastal and Shelf Science 84:195-201. | 2009 | South & Central America; Honduras; Caribbean | | Fish; Mangroves; Piscivorous Fish; Substrate |
| Wolanski, E., J. A. Martinez, and R. H. Richmond. 2009. Quantifying the impact of watershed urbanization on a coral reef: Maunalua Bay, Hawaii. Estuarine Coastal and Shelf Science 84:259-268. | 2009 | US Pacific & Hawaii | Field Study & Monitoring; Model | Algae; Coralline Algae; Dredging, Draining, & Filling; Non-Monetary Valuation; Non-point Source Runoff; Nutrients; Sediment; Shoreline Protection; Skeletal Coral; Small Herbivorous Fish; Surface & Groundwater Flow |
| Martin-Smith, K. 2009. A Risk-Management Framework For Avoiding Significant Adverse Impacts Of Bottom Fishing Gear On Vulnerable Marine Ecosystems. Ccamlr Science 16:177-193. | 2009 | | Review; Decision Support Frameworks & Tools | Accidental & Illegal Harvest; Finfish Harvest; Marine Birds; Scientific Research; Trawling & Fishing Gear Damage |
| Moore, J. A. and P. J. Auster. 2009. Commensalism Between Juvenile Cusk Eels and Pancake Urchins on Western North Atlantic Seamounts. Bulletin Of The Peabody Museum Of Natural History 50:381-386. | 2009 | US East Coast (NC, SC, GA); England | | Echinoderms; Sediment; Skeletal Coral |
| Crabbe, M. J. C. and J. P. Carlin. 2009. Multiple Symbiodinium clades in Acropora species scleractinian corals from the Ningaloo reef, Australia. International Journal of Integrative Biology 5:72-74. | 2009 | Global; Australia | | Climate; Hydrocoral; Marine Protected Areas; Stony Coral; Zooxanthellae |
| Eme, J. and W. A. Bennett. 2009. Acute temperature quotient responses of fishes reflect their divergent thermal habitats in the Banda Sea, Sulawesi, Indonesia. Australian Journal of Zoology 57:357-362. | 2009 | US Pacific & Hawaii; Indonesia | | Fish; Mangroves; Seagrasses; Wholesale & Retail Trade |
| Chen, S.-P., J.-H. Su, H.-C. Yeh, A. F. Ahmed, C.-F. Dai, Y.-C. Wu, and J.-H. Sheu. 2009. Novel norhumulene and Xeniaphyllane-Derived terpenoids from a formosan soft coral sinularia gibberosa. Chemical and Pharmaceutical Bulletin 57:162-166. | 2009 | Japan | | Octocoral; Pharmaceuticals & Cosmetics; Pharmaceuticals & Cosmetics Sources |
| Casareto, B. E., M. P. Niraula, H. Fujimura, and Y. Suzuki. 2009. Effects of carbon dioxide on the coccolithophorid Pleurochrysis carterae in incubation experiments. Aquatic Biology 7:59-70. | 2009 | Cuba | | Calcium Carbonate Deposition; CO2; Nutrients; Plankton |
| Wild, C., L. M. Wehrmann, C. Mayr, S. I. Schottner, E. Allers, and T. Lundalv. 2009. Microbial degradation of cold-water coral-derived organic matter: potential implication for organic C cycling in the water column above Tisler Reef. Aquatic Biology 7:71-80. | 2009 | Cuba | Model | Plankton; Substrate |
| Ball, A. D., K. J. Purdy, E. A. Glover, and J. D. Taylor. 2009. Ctenidial structure and three bacterial symbiont morphotypes in Anodontia (Euanodontia) ovum (Reeve, 1850) from the Great Barrier Reef, Australia (Bivalvia: Lucinidae). Journal of Molluscan Studies 75:175-185. | 2009 | US Pacific & Hawaii; Australia; US East Coast (NC, SC, GA) | | Bivalves |
| Koplovitz, G., J. B. McClintock, C. D. Amsler, and B. J. Baker. 2009. Palatability and chemical anti-predatory defenses in common ascidians from the Antarctic Peninsula. Aquatic Biology 7:81-92. | 2009 | | | Fish; Seastars |
| Figueroa, F. L., B. Martinez, A. Israel, A. Neori, E. J. Malta, P. Ang, S. Inken, R. Marquardt, T. Rachamim, U. Arazi, S. Frenk, and N. Korbee. 2009. Acclimation of Red Sea macroalgae to solar radiation: photosynthesis and thallus absorptance. Aquatic Biology 7:159-172. | 2009 | Cuba | Field Study & Monitoring | Algae; Fleshy Macroalgae; Light; Nutrients; Primary Production |
| Hong, M. J., Y. T. Yu, C. A. Chen, P. W. Chiang, and S. L. Tang. 2009. Influence of Species Specificity and Other Factors on Bacteria Associated with the Coral Stylophora pistillata in Taiwan. Applied and Environmental Microbiology 75:7797-7806. | 2009 | South & Central America; Taiwan; Caribbean | | Microorganisms; Stony Coral; Surface & Groundwater Flow |
| Kiessling, W. 2009. Geologic and Biologic Controls on the Evolution of Reefs. Annual Review Of Ecology Evolution And Systematics 40:173-192. | 2009 | | | Climate; Complex Habitat & Resources; Nutrients |
| Shih, H. T. and J. Y. Shy. 2009. Geothelphusa makatao sp nov (Crustacea: Brachyura: Potamidae), a new freshwater crab from an uplifted Pleistocene reef in Taiwan. Zootaxa 51-60. | 2009 | Taiwan | | Lobster, Crab, & Shrimp; Surface & Groundwater Flow |
| Monniot, F. 2009. Some ascidians from Indonesian marine lakes (Raja Ampat Islands, West Papua). Zootaxa 13-40. | 2009 | Palau; Indonesia | | Salinity |
| Luiz, O. J., C. E. L. Ferreira, and L. A. Rocha. 2009. Halichoeres sazimai, a new species of wrasse (Perciformes: Labridae) from the Western South Atlantic. Zootaxa 37-46. | 2009 | US East Coast (NC, SC, GA) | | Planktivorous Fish |
| Georgiadis, M., G. Papatheodorou, E. Tzanatos, M. Geraga, A. Ramfos, C. Koutsikopoulos, and G. Ferentinos. 2009. Coralligene formations in the eastern Mediterranean Sea: Morphology, distribution, mapping and relation to fisheries in the southern Aegean Sea (Greece) based on high-resolution acoustics. Journal of Experimental Marine Biology and Ecology 368:44-58. | 2009 | | GIS & Maps | Algae; Biological Monitoring, Mapping, & Scientific Research; Coralline Algae; Finfish Harvest; Fishing & Harvesting Management; Fishing Sector; Sediment; Special Use Permitting; Substrate; Trawling & Fishing Gear Damage |
| Van Soest, R. W. M. 2009. New sciophilous sponges from the Caribbean (Porifera: Demospongiae). Zootaxa 1-40. | 2009 | South & Central America; Antilles; Caribbean | | Dive, Snorkeling, & Swimming Tourism; Skeletal Coral; Sponges; Substrate |
| Bray, R. A., T. H. Cribb, and J. L. Justine. 2009. New observations on the genus Hypocreadium Ozaki, 1936 (Digenea: Lepocreadiidae) in the Indo-West Pacific region, including the description of one new species. Zootaxa 22-40. | 2009 | US Pacific & Hawaii; Australia; Palau; New Caledonia | | Invertivorous Fish |
| Auer, M., H.-J. Gawlick, H. Suzuki, and F. Schlagintweit. 2009. Spatial and temporal development of siliceous basin and shallow-water carbonate sedimentation in Oxfordian Northern Calcareous Alps. Facies 55:63-87. | 2009 | Global | | Sediment |
| Salem, E. S. M. 2009. Paleo-Tsunami deposits on the Red Sea beach, Egypt. Arabian Journal of Geosciences 2:185-197. | 2009 | Egypt | | Sediment |
| Kingsford, R. T., J. E. M. Watson, C. J. Lundquist, O. Venter, L. Hughes, E. L. Johnston, J. Atherton, M. Gawel, D. A. Keith, B. G. Mackey, C. Morley, H. P. Possingham, B. Raynor, H. F. Recher, and K. A. Wilson. 2009. Major Conservation Policy Issues for Biodiversity in Oceania. Conservation Biology 23:834-840. | 2009 | US Pacific & Hawaii; Australia; Micronesia | Review | Climate; Invasive Species; Pathogens |
| Christiansen, N. A., S. Ward, S. Harii, and I. R. Tibbetts. 2009. Grazing by a small fish affects the early stages of a post-settlement stony coral. Coral Reefs 28:47-51. | 2009 | Australia | | Fish; Stony Coral |
| Rossi, S. and J. M. Gili. 2009. Reproductive features and gonad development cycle of the soft bottom-gravel gorgonian Leptogorgia sarmentosa (Esper, 1791) in the NW Mediterranean Sea. Invertebrate Reproduction and Development 53:175-190. | 2009 | | | Octocoral |
| Dentinger, B. T. M., D. J. Lodge, A. B. Munkacsi, D. E. Desjardin, and D. J. McLaughlin. 2009. Phylogenetic Placement Of An Unusual Coral Mushroom Challenges The Classic Hypothesis Of Strict Coevolution In The Apterostigma Pilosum Group Ant-Fungus Mutualism. Evolution 63:2172-2178. | 2009 | | | |
| Thurber, R. V., D. Willner-Hall, B. Rodriguez-Mueller, C. Desnues, R. A. Edwards, F. Angly, E. Dinsdale, L. Kelly, and F. Rohwer. 2009. Metagenomic analysis of stressed coral holobionts. Environmental Microbiology 11:2148-2163. | 2009 | | | Cyanobacteria; Nutrients; Pathogens; Stony Coral; Zooxanthellae |
| Clark, M. R. and A. A. Rowden. 2009. Effect of deepwater trawling on the macro-invertebrate assemblages of seamounts on the Chatham Rise, New Zealand. Deep-Sea Research Part I: Oceanographic Research Papers 56:1540-1554. | 2009 | | Field Study & Monitoring; Index or Indicator | Commercial Fisheries; Environmental Monitoring, Mapping, & Scientific Research; Finfish Harvest; Fishing Sector; Mineral, Rock, & Metal Mining; Stony Coral; Substrate; Trawling & Fishing Gear Damage |
| Brierley, A. S. and M. J. Kingsford. 2009. Impacts of Climate Change on Marine Organisms and Ecosystems. Current Biology 19:R602-R614. | 2009 | Global | Review | Climate; CO2; Nutrients; Water Depth & Sea Level |
| Godinot, C. and N. E. Chadwick. 2009. Phosphate Excretion By Anemonefish And Uptake By Giant Sea Anemones: Demand Outstrips Supply. Bulletin of Marine Science 85:1-9. | 2009 | | Lab Study | Anemones & Zooanthids; Fish; Nutrients; Zooxanthellae |
| Occhioni, G. E., A. C. S. Brasil, and A. F. B. Araujo. 2009. Morphometric study of Phragmatopoma caudata (Polychaeta: Sabellida: Sabellariidae). Zoologia 26:739-746. | 2009 | | | Marine Worms; Substrate |
| Alvarado-Chacon, E. M. and A. Acosta. 2009. Population Size-Structure Of The Reef-Coral Montastraea Annularis In Two Contrasting Reefs Of A Marine Protected Area In The Southern Caribbean Sea. Bulletin of Marine Science 85:61-76. | 2009 | South & Central America; Caribbean | | Marine Protected Areas; Stony Coral |
| Erisman, B. E., M. T. Craig, and P. A. Hastings. 2009. A Phylogenetic Test of the Size-Advantage Model: Evolutionary Changes in Mating Behavior Influence the Loss of Sex Change in a Fish Lineage. American Naturalist 174:E83-E99. | 2009 | | Model | Fish; Piscivorous Fish |
| Cheng, Y. R., J. S. Ho, and C. F. Dai. 2009. Orstomella yaliuensis n. sp., a xarifiid copepod (Crustacea) parasitic in the polyps of hump coral Porites lutea Milne Edwards & Haime off Taiwan. Systematic Parasitology 74:17-21. | 2009 | Taiwan | | Stony Coral |
| Downs, C. A., E. Kramarsky-Winter, C. M. Woodley, A. Downs, G. Winters, Y. Loya, and G. K. Ostrander. 2009. Cellular pathology and histopathology of hypo-salinity exposure on the coral Stylophora pistillata. Science of the Total Environment 407:4838-4851. | 2009 | | Field Study & Monitoring; Lab Study | Non-point Source Runoff; Salinity; Storms & Hurricanes; Zooxanthellae |
| Waycott, M., C. M. Duarte, T. J. B. Carruthers, R. J. Orth, W. C. Dennison, S. Olyarnik, A. Calladine, J. W. Fourqurean, K. L. Heck, A. R. Hughes, G. A. Kendrick, W. J. Kenworthy, F. T. Short, and S. L. Williams. 2009. Accelerating loss of seagrasses across the globe threatens coastal ecosystems. Proceedings of the National Academy of Sciences of the United States of America 106:12377-12381. | 2009 | Global | | Climate; Coastal Development; Fish; Mangroves; Nutrients; Sea Turtles; Seagrasses |
| Madhavaraju, J. and Y. I. Lee. 2009. Geochemistry of the Dalmiapuram Formation of the Uttatur Group (Early Cretaceous), Cauvery basin, southeastern India: Implications on provenance and paleo-redox conditions. Revista Mexicana de Ciencias Geologicas 26:380-394. | 2009 | Australia; India | | Sediment |
| Carod-Artal, F. J. and C. B. Vazquez-Cabrera. 2009. Neurological Aspects Described In The Treasure Of Medicines For All Illnesses By Gregorio Lopez. Revista De Neurologia 49:149-155. | 2009 | India; Europe; Spain | Review | Pathogens; Pharmaceuticals & Cosmetics; Social Organizations |
| Purcell, J. F. H., R. K. Cowen, C. R. Hughes, and D. A. Williams. 2009. Population structure in a common Caribbean coral-reef fish: Implications for larval dispersal and early life-history traits. Journal of Fish Biology 74:403-417. | 2009 | South & Central America; Caribbean | | Fish; Small Herbivorous Fish |
| Imbs, A. B., D. A. Demidkova, T. N. Dautova, and N. A. Latyshev. 2009. Fatty acid biomarkers of symbionts and unusual inhibition of tetracosapolyenoic acid biosynthesis in corals (octocorallia). Lipids 44:325-335. | 2009 | | | Microorganisms; Octocoral; Sponges; Zooxanthellae |
| Neulinger, S. C., A. Gartner, J. Jarnegren, M. Ludvigsen, K. Lochte, and W.-C. Dullo. 2009. Tissue-associated \Candidatus mycoplasma corallicola\" and filamentous bacteria on the cold-water coral Lophelia pertusa (Scleractinia)". Applied and Environmental Microbiology 75:1437-1444. | 2009 | Norway | | Microorganisms; Stony Coral |
| Sonnenholzner, J. I., L. B. Ladah, and K. D. Lafferty. 2009. Cascading effects of fishing on Galapagos rocky reef communities: Reanalysis using corrected data. Marine Ecology Progress Series 375:209-218. | 2009 | | | Algae; Anemones & Zooanthids; Coralline Algae; Finfish Harvest; Fish; Invertivorous Fish; Lobster, Crab, & Shrimp; Sea Urchins |
| Langhamer, O., D. Wilhelmsson, and J. Engstrom. 2009. Artificial reef effect and fouling impacts on offshore wave power foundations and buoys - a pilot study. Estuarine Coastal and Shelf Science 82:426-432. | 2009 | | | Artificial Habitat; Invertebrates |
| Pratchett, M. S., T. J. Schenk, M. Baine, C. Syms, and A. H. Baird. 2009. Selective coral mortality associated with outbreaks of Acanthaster planci L. in Bootless Bay, Papua New Guinea. Marine Environmental Research 67:230-236. | 2009 | Papua New Guinea | | Complex Habitat & Resources; Seastars; Stony Coral |
| Ferse, S. C. A. and A. Kunzmann. 2009. Effects of concrete-bamboo cages on coral fragments: Evaluation of a low-tech method used in artisanal ocean-based coral farming. Journal of Applied Aquaculture 21:31-49. | 2009 | Indonesia | | Aquaculture; Aquarium & Pet Trade; Stony Coral |
| Hoogenboom, M. O., D. A. Campbell, and C. Ferrier-Pages. 2009. Function of Photosystems I and II during coral bleaching. Comparative Biochemistry and Physiology Part A S171-S171. | 2009 | | | |
| Nakamura, T. and T. Nakamori. 2009. Estimation of photosynthesis and calcification rates at a fringing reef by accounting for diurnal variations and the zonation of coral reef communities on reef flat and slope: A case study for the Shiraho reef, Ishigaki Island, southwest Japan. Coral Reefs 28:229-250. | 2009 | Cuba; Japan | | CO2; Primary Production; Stony Coral; Water Depth & Sea Level |
| Sheaves, M. 2009. Consequences of ecological connectivity: the coastal ecosystem mosaic. Marine Ecology Progress Series 391:107-115. | 2009 | | | Nutrients; Wetlands |
| Lan, T. D. 2009. Assessment of some marine ecosystems using sustainable utilization indicators in Hai Phong-Quang Ninh coastal area, Vietnam. Aquatic Ecosystem Health & Management 12:243-248. | 2009 | Vietnam | Field Study & Monitoring; Index or Indicator; Remote Sensing | Mangroves; Stony Coral |
| Dung, L. D. 2009. Nha Trang Bay marine protected area, Vietnam: Initial trends in coral structure and some preliminary linkages between these trends and human activities (2002-2005). Aquatic Ecosystem Health & Management 12:249-257. | 2009 | Vietnam | | Aquaculture; Coastal Development; Finfish Harvest; Fishing Sector; Marine Protected Areas; Non-point Source Runoff; Stony Coral; Tourism & Recreation |
| Lee, O. O., P. Y. Chui, Y. H. Wong, J. R. Pawlik, and P. Y. Qian. 2009. Evidence for Vertical Transmission of Bacterial Symbionts from Adult to Embryo in the Caribbean Sponge Svenzea zeai. Applied and Environmental Microbiology 75:6147-6156. | 2009 | South & Central America; Caribbean | | Biochemical & Genetic Resources; Sponges |
| Pazza, R., K. F. Kavalco, P. R. Penteado, S. A. F. Kavalco, and L. F. de Almeida-Toledo. 2009. Gene Mapping of 18S and 5S rDNA Genes in the Karyotype of the Three-Spot Gourami Trichogaster trichopterus (Perciformes, Osphronemidae). Zebrafish 6:219-222. | 2009 | | GIS & Maps | Aquarium & Pet Trade; Aquarium Stock |
| Naumann, M. S., W. Niggl, C. Laforsch, C. Glaser, and C. Wild. 2009. Coral surface area quantification-evaluation of established techniques by comparison with computer tomography. Coral Reefs 28:109-117. | 2009 | | | Invasive Species; Stony Coral |
| Miller, T. L. and T. H. Cribb. 2009. Gynichthys diakidnus n. g., n. sp (Digenea: Cryptogonimidae) from the grunt Plectorhinchus gibbosus (Lac,pSde, 1802) (Perciformes: Haemulidae) off the Great Barrier Reef, Australia. Systematic Parasitology 74:103-112. | 2009 | Australia | Model | Fish |
| Negri, A. P., M. Mortimer, S. Carter, and J. F. Muller. 2009. Persistent organochlorines and metals in estuarine mud crabs of the Great Barrier Reef. Marine Pollution Bulletin 58:769-773. | 2009 | Australia | | Lobster, Crab, & Shrimp |
| Follesa, M. C., D. Cuccu, R. Cannas, A. Sabatini, A. M. Deiana, and A. Cau. 2009. Movement patterns of the spiny lobster Palinurus elephas (Fabricius, 1787) from a central western Mediterranean protected area. Scientia Marina 73:499-506. | 2009 | | | Fishing Sector; Lobster, Crab, & Shrimp |
| Tsang, L. M., B. K. K. Chan, F.-L. Shih, K. H. Chu, and C. Allen Chen. 2009. Host-associated speciation in the coral barnacle Wanella milleporae (Cirripedia: Pyrgomatidae) inhabiting the Millepora coral. Molecular Ecology 18:1463-1475. | 2009 | Taiwan | | Hydrocoral |
| Casale, P., A. D. Mazaris, D. Freggi, C. Vallini, and R. Argano. 2009. Growth rates and age at adult size of loggerhead sea turtles (Caretta caretta) in the Mediterranean Sea, estimated through capture-mark-recapture records. Scientia Marina 73:589-595. | 2009 | | Model | Sea Turtles |
| Du, C. G., F. Hao, H. Y. Zou, Y. M. Zhu, X. Y. Cai, and C. W. Wang. 2009. Process and mechanism for oil and gas accumulation, adjustment and reconstruction in Puguang Gas Field, Northeast Sichuan Basin, China. Science In China Series D-earth Sciences 52:1400-1411. | 2009 | China | Index or Indicator | |
| Zhang, Z. Y., D. Y. Gong, X. Z. He, D. Guo, and S. H. Feng. 2009. Reconstruction of the western Pacific warm pool SST since 1644 AD and its relation to precipitation over East China. Science In China Series D-earth Sciences 52:1436-1446. | 2009 | US Pacific & Hawaii; China | Index or Indicator | Climate; Surface & Groundwater Flow |
| South Asian Network for Development and Environmental Economics (SANDEE). 2009. Can mangroves minimize property loss during big storms? An analysis of house damage due to the super cyclone in Orissa. | 2009 | Global | GIS & Maps | Housing; Landscape Conservation & Restoration; Mangroves; Regulating Services; Shoreline Protection; Storms & Hurricanes |
| Makarow, M., R. Ceulemans, and L. Horn. 2009. Science Policy Briefing: Impacts of Ocean Acidification. 37, European Science Foundation, France. | 2009 | Global; Europe | Review; Field Study & Monitoring | Climate; CO2; Deforestation & Devegetation; Fishing Sector; Invasive Species; Ocean Acidity |
| Lewis, C. F., S. L. Slade, K. E. Maxwell, and T. R. Matthews. 2009. Lobster trap impact on coral reefs: effects of wind-driven trap movement. New Zealand Journal of Marine & Freshwater Research 43:271-282. | 2009 | South & Central America; Florida; Caribbean | | Commercial Fisheries; Complex Habitat & Resources; Fishing Sector; Octocoral; Sponges; Stony Coral; Storms & Hurricanes |
| Pittman, S. J., B. M. Costa, and T. A. Battista. 2009. Using lidar bathymetry and boosted regression trees to predict the diversity and abundance of fish and corals. Journal of Coastal Research 53:27-38. | 2009 | Puerto Rico | Model; GIS & Maps; Remote Sensing | Corallivorous Fish; Fish; Large Herbivorous Fish; Piscivorous Fish; Small Herbivorous Fish; Stony Coral |
| Chung, H. M., T. L. Hwang, W. H. Wang, L. S. Fang, and P. J. Sung. 2009. Curcuphenol Derivatives From The Gorgonian Echinomuricea Sp. Heterocycles 78:2595-2600. | 2009 | | | Octocoral |
| Abu-Hilal, A. and T. Al-Najjar. 2009. Marine litter in coral reef areas along the Jordan Gulf of Aqaba, Red Sea. Journal of Environmental Management 90:1043-1049. | 2009 | | | Finfish Harvest; Littering; Marine Debris; Trawling & Fishing Gear Damage |
| Tuya, F., T. Wernberg, and M. S. Thomsen. 2009. Habitat structure affect abundances of labrid fishes across temperate reefs in south-western Australia. Environmental Biology of Fishes 86:311-319. | 2009 | Australia | | Algae; Complex Habitat & Resources |
| Maliao, R. J., A. T. White, A. P. Maypa, and R. G. Turingan. 2009. Trajectories and magnitude of change in coral reef fish populations in Philippine marine reserves: a meta-analysis. Coral Reefs 28:809-822. | 2009 | | | Finfish Harvest; Fish; Fishing Sector; Resource Use Management |
| Gischler, E., J. H. Hudson, and D. Storz. 2009. Growth of Pleistocene massive corals in south Florida: low skeletal extension-rates and possible ENSO, decadal, and multi-decadal cyclicities. Coral Reefs 28:823-830. | 2009 | Florida; US East Coast (NC, SC, GA) | | Climate; Stony Coral; Water Depth & Sea Level |
| Reyes-Bermudez, A. and D. J. Miller. 2009. In vitro culture of cells derived from larvae of the staghorn coral Acropora millepora. Coral Reefs 28:859-864. | 2009 | | | Stony Coral |
| Alamaru, A., O. Bronstein, Y. Loya, and G. Dishon. 2009. Opportunistic feeding by the fungiid coral Fungia scruposa on the moon jellyfish Aurelia aurita. Coral Reefs 28:865-865. | 2009 | | | |
| Millet, J. and W. Kiessling. 2009. First record of coralline demosponges in the Pleistocene: implications for reef ecology. Coral Reefs 28:867-870. | 2009 | Vanuatu | Index or Indicator | Sponges |
| Dunn, S. R. and V. M. Weis. 2009. Apoptosis as a post-phagocytic winnowing mechanism in a coral-dinoflagellate mutualism. Environmental Microbiology 11:268-276. | 2009 | Cuba | | Algae; Anemones & Zooanthids; Stony Coral |
| Wooldridge, S. A. 2009. A new conceptual model for the warm-water breakdown of the coral-algae endosymbiosis. Marine and Freshwater Research 60:483-496. | 2009 | | Model; Index or Indicator | Algae; Climate; CO2; Stony Coral; Substrate |
| Sanfilippo, R. 2009. New species of Hyalopomatus Marenzeller, 1878 (Annelida, Polychaeta, Serpulidae) from Recent Mediterranean deep-water coral mounds and comments on some congeners. Zoosystema 31:147-161. | 2009 | Iceland | | Marine Worms; Sediment |
| Meekan, M. G., S. N. Jarman, C. McLean, and M. B. Schultz. 2009. DNA evidence of whale sharks (Rhincodon typus) feeding on red crab (Gecarcoidea natalis) larvae at Christmas Island, Australia. Marine and Freshwater Research 60:607-609. | 2009 | Australia | | Apex Fish Predators; Lobster, Crab, & Shrimp; Plankton |
| Gilbert, J. A., S. Thomas, N. A. Cooley, A. Kulakova, D. Field, T. Booth, J. W. McGrath, J. P. Quinn, and I. Joint. 2009. Potential for phosphonoacetate utilization by marine bacteria in temperate coastal waters. Environmental Microbiology 11:111-125. | 2009 | | Lab Study | Microorganisms; Pathogens; Plankton |
| Eme, J. and W. A. Bennett. 2009. Critical thermal tolerance polygons of tropical marine fishes from Sulawesi, Indonesia. Journal of Thermal Biology 34:220-225. | 2009 | Global; US Pacific & Hawaii; Indonesia | | Climate; Fish; Small Herbivorous Fish |
| Gunter, N. L. and R. D. Adlard. 2009. Seven new species of Ceratomyxa Th,lohan, 1892 (Myxozoa) from the gall-bladders of serranid fishes from the Great Barrier Reef, Australia. Systematic Parasitology 73:1-11. | 2009 | Australia | | Apex Fish Predators |
| Summerer, M., B. Sonntag, P. Hortnagl, and R. Sommaruga. 2009. Symbiotic Ciliates Receive Protection Against UV Damage from their Algae: A Test with Paramecium bursaria and Chlorella. Protist 160:233-243. | 2009 | | Model | Algae; Light |
| Rundquist, D., A. Gitelson, M. Lawson, G. Keydan, B. Leavitt, R. Perk, J. Keck, D. R. Mishra, and S. Narumalani. 2009. Proximal Sensing of Coral Features: Spectral Characterization of Siderastrea siderea. Giscience & Remote Sensing 46:139-160. | 2009 | | Field Study & Monitoring; Remote Sensing; Decision Support Frameworks & Tools | Stony Coral |
| Byrne, M., M. Ho, P. Selvakumaraswamy, H. D. Nguyen, S. A. Dworjanyn, and A. R. Davis. 2009. Temperature, but not pH, compromises sea urchin fertilization and early development under near-future climate change scenarios. Proceedings of the Royal Society B 276:1883-1888. | 2009 | Global; Australia | | Climate; Ocean Acidity; Sea Urchins |
| Van Herwerden, L., J. Howard Choat, S. J. Newman, M. Leray, and G. Hillersoy. 2009. Complex patterns of population structure and recruitment of Plectropomus leopardus (Pisces: Epinephelidae) in the Indo-West Pacific: implications for fisheries management. Marine Biology 13-Jan. | 2009 | US Pacific & Hawaii; Australia; New Caledonia; Taiwan | | Fishing & Harvesting Management; Fishing Sector |
| Di Franco, A., M. Milazzo, P. Baiata, A. Tomasello, and R. Chemello. 2009. Scuba diver behaviour and its effects on the biota of a Mediterranean marine protected area. Environmental Conservation 36:32-40. | 2009 | Cuba | | Algae; Dive, Snorkeling, & Swimming Tourism; Marine Protected Areas; Substrate |
| Planes, S., G. P. Jones, and S. R. Thorrold. 2009. Larval dispersal connects fish populations in a network of marine protected areas. Proceedings of the National Academy of Sciences of the United States of America 106:5693-5697. | 2009 | Papua New Guinea | | Anemones & Zooanthids; Fish; Marine Protected Areas |
| Anderson, C. R., G. J. Dick, M.-L. Chu, J.-C. Cho, R. E. Davis, S. L. Brauer, and B. M. Tebo. 2009. Aurantimonas manganoxydans, sp. nov. and Aurantimonas litoralis, sp. nov.: Mn(II) oxidizing representatives of a globally distributed clade of alpha-proteobacteria from the order rhizobiales. Geomicrobiology Journal 26:189-198. | 2009 | Global; South & Central America; Caribbean | | Surface & Groundwater Flow |
| Sung, P. J., G. Y. Li, Y. P. Chen, I. C. Huang, B. Y. Chen, S. H. Wang, and S. K. Huang. 2009. Fragilide E, a Novel Chlorinated 20-Acetoxybriarane from the Gorgonian Coral Junceella fragilis. Chemistry Letters 38:454-455. | 2009 | | | Octocoral |
| Saenz-Agudelo, P., G. P. Jones, S. R. Thorrold, and S. Planes. 2009. Estimating connectivity in marine populations: an empirical evaluation of assignment tests and parentage analysis under different gene flow scenarios. Molecular Ecology 18:1765-1776. | 2009 | Papua New Guinea; Britain | Model | Fish; Fishing Sector; Marine Protected Areas |
| Mertz-Kraus, R., T. C. Brachert, M. Reuter, S. J. G. Galer, C. Fassoulas, and G. Iliopoulos. 2009. Late Miocene sea surface salinity variability and paleoclimate conditions in the Eastern Mediterranean inferred from coral aragonite delta O-18. Chemical Geology 262:202-216. | 2009 | Global; US East Coast (NC, SC, GA); Atlantic Ocean; Iceland | Field Study & Monitoring | Calcium Carbonate Deposition; Climate; Discharges; Surface & Groundwater Flow |
| Campbell, J. 2009. Discussion of "Effect of Strontium and Phosphorus on Eutectic Al-Si Nucleation and Formation of beta-Al5FeSi in Hypoeutectic Al-Si Foundry Alloys"*. Metallurgical And Materials Transactions A-physical Metallurgy And Materials Science 1009-1010. | 2009 | | | Substrate |
| Reidenbach, M. A., J. R. Koseff, and M. A. R. Koehl. 2009. Hydrodynamic forces on larvae affect their settlement on coral reefs in turbulent, wavedriven flow. Limnology and Oceanography 54:318-330. | 2009 | US Pacific & Hawaii | Field Study & Monitoring; Lab Study | Stony Coral |
| Farrapeira, C. M. R. 2009. Barnacles (Crustacea: Cirripedia) of the estuarine and marine areas of the port of Recife (Pernambuco, Brazil). Cahiers de Biologie Marine 50:119-129. | 2009 | | | Invasive Species |
| Clark, D., M. Lamare, and M. Barker. 2009. Response of sea urchin pluteus larvae (Echinodermata: Echinoidea) to reduced seawater pH: a comparison among a tropical, temperate, and a polar species. Marine Biology 156:1125-1137. | 2009 | | Lab Study; Index or Indicator | CO2; Echinoderms; Ocean Acidity; Sea Urchins |
| Devney, C. A. and B. C. Congdon. 2009. Testing the efficacy of a boundary fence at an important tropical seabird breeding colony and key tourist destination. Wildlife Research 36:353-360. | 2009 | Australia | Field Study & Monitoring | Marine Birds; Tourism & Recreation |
| Font, E., G. P. I. De Lanuza, and C. Sampedro. 2009. Ultraviolet reflectance and cryptic sexual dichromatism in the ocellated lizard, Lacerta (Timon) lepida (Squamata: Lacertidae). Biological Journal of the Linnean Society 97:766-780. | 2009 | | | Light |
| Eble, J. A., R. J. Toonen, and B. W. Bowen. 2009. Endemism and dispersal: Comparative phylogeography of three surgeonfishes across the Hawaiian Archipelago. Marine Biology 156:689-698. | 2009 | Global; US Pacific & Hawaii; Johnston Atoll | | Fish; Small Herbivorous Fish |
| Zuschin, M. and S. Mayrhofer. 2009. Brachiopods from cryptic coral reef habitats in the northern Red Sea. Facies 10-Jan. | 2009 | | | Algae; Complex Habitat & Resources; Lobster, Crab, & Shrimp; Sediment |
| Meng, P.-J., J. Lin, and L.-L. Liu. 2009. Aquatic organotin pollution in Taiwan. Journal of Environmental Management 90. | 2009 | Taiwan | Review; Field Study & Monitoring | Agriculture; Environmental Monitoring, Mapping, & Scientific Research; Fish; Sediment; Small Boats; Snails & Conch |
| Voolstra, C. R., J. Schnetzer, L. Peshkin, C. J. Randall, A. M. Szmant, and M. Medina. 2009. Effects of temperature on gene expression in embryos of the coral Montastraea faveolata. BMC Genomics 10:627. | 2009 | Global | | Climate; Special Use Permitting; Stony Coral |
| Negri, A. and P. Marshall. 2009. TBT contamination of remote marine environments: Ship groundings and ice-breakers as sources of organotins in the Great Barrier Reef and Antarctica. Journal of Environmental Management 90. | 2009 | Australia | | Anchoring & Vessel Grounding; Point Source Discharges; Sediment; Shipping, Storage, & Warehousing |
| Wagner, A. J., T. P. Guilderson, N. C. Slowey, and J. E. Cole. 2009. Pre-Bomb Surface Water Radiocarbon Of The Gulf Of Mexico And Caribbean As Recorded In Hermatypic Corals. Radiocarbon 51:947-954. | 2009 | South & Central America; Venezuela; Caribbean; Mexico | | Surface & Groundwater Flow |
| Weisler, M. I., Q. Hua, and J. X. Zhao. 2009. Late Holocene C-14 Marine Reservoir Corrections For Hawai'I Derived From U-Series Dated Archaeological Coral. Radiocarbon 51:955-968. | 2009 | US Pacific & Hawaii | | Social Organizations; Stony Coral |
| Sponaugle, S., J. K. Llopiz, L. N. Havel, and T. L. Rankin. 2009. Spatial variation in larval growth and gut fullness in a coral reef fish. Marine Ecology Progress Series 383:239-249. | 2009 | Florida; Bahamas | | Fish; Planktivorous Fish; Plankton |
| Boyer, J. N., C. R. Kelble, P. B. Ortner, and D. T. Rudnick. 2009. Phytoplankton bloom status: Chlorophyll a biomass as an indicator of water quality condition in the southern estuaries of Florida, USA. Ecological Indicators 9:S56-S67. | 2009 | Florida | Index or Indicator | Cyanobacteria; Microorganisms; Nutrients; Plankton; Salinity; Sediment; Surface & Groundwater Flow |
| Chateau, O. and L. Wantiez. 2009. Movement patterns of four coral reef fish species in a fragmented habitat in New Caledonia: Implications for the design of marine protected area networks. ICES Journal of Marine Science 66:50-55. | 2009 | US Pacific & Hawaii; Australia; New Caledonia | | Fish; Marine Protected Areas |
| Rodriguez, S., A. Alvizu, A. Tagliafico, and C. Bastidas. 2009. Low natural repopulation of marginal coral communities under the influence of upwelling. Hydrobiologia 624:11-Jan. | 2009 | South & Central America; US Pacific & Hawaii; Cuba; Venezuela; Caribbean | | Sediment; Stony Coral |
| Andersson, M. H., M. Berggren, D. Wilhelmsson, and M. C. Ohman. 2009. Epibenthic colonization of concrete and steel pilings in a cold-temperate embayment: a field experiment. Helgoland Marine Research 12-Jan. | 2009 | | Field Study & Monitoring | Artificial Habitat; Complex Habitat & Resources; Docks & Marinas; Fish; Oil & Gas Rigs; Tunicates |
| Titschack, J., M. Thierens, B. Dorschel, C. Schulbert, A. Freiwald, A. Kano, C. Takashima, N. Kawagoe, and X. Li. 2009. Carbonate budget of a cold-water coral mound (Challenger Mound, IODP Exp. 307). Marine Geology 259:36-46. | 2009 | Global; US East Coast (NC, SC, GA) | | Calcium Carbonate Deposition; Plankton; Sediment |
| Tachikawa, K., L. Vidal, C. Sonzogni, and E. Bard. 2009. Glacial/interglacial sea surface temperature changes in the Southwest Pacific ocean over the past 360 ka. Quaternary Science Reviews 28:1160-1170. | 2009 | Global; US Pacific & Hawaii; Pacific Ocean | | Climate; CO2; Plankton |
| Farquharson, C., N. J. Smit, A. S. Grutter, and A. J. Davies. 2009. A new Gnathia sp (Crustacea: Isopoda: Gnathiidae) from Lizard Island, Great Barrier Reef, Australia. Journal Of The South African Veterinary Association-tydskrif Van Die Suid-afrikaanse Veterinere Vereniging 80:136-137. | 2009 | Australia | | |
| Obura, D. O. 2009. Reef corals bleach to resist stress. Marine Pollution Bulletin 58:206-212. | 2009 | | | Climate; Special Use Permitting; Zooxanthellae |
| Peirano, A., P. Kruzic, and G. Mastronuzzi. 2009. Growth of Mediterranean reef of Cladocora caespitosa (L.) in the Late Quaternary and climate inferences. Facies 9-Jan. | 2009 | | | Climate |
| Vroom, P. S. and M. A. V. Timmers. 2009. Spatial and temporal comparison of algal biodiversity and benthic cover at gardner pinnacles, Northwestern Hawaiian Islands. Journal of Phycology 45:337-347. | 2009 | US Pacific & Hawaii | | Algae; Fish; Lobster, Crab, & Shrimp; Marine Protected Areas; Substrate; Turf Algae |
| Wilson, S. B., G. W. Knox, K. L. Muller, R. Freyre, and Z. Deng. 2009. Seed Production and Viability of Eight Porterweed Selections Grown in Northern and Southern Florida. HortScience 44:1842-1849. | 2009 | Florida; Jamaica | | Invasive Species |
| Hoey, A. S. and D. R. Bellwood. 2009. Limited Functional Redundancy in a High Diversity System: Single Species Dominates Key Ecological Process on Coral Reefs. Ecosystems 12:1316-1328. | 2009 | Australia | | Algae; Complex Habitat & Resources; Fish; Fleshy Macroalgae; Small Herbivorous Fish |
| Wooldridge, S. A. 2009. Water quality and coral bleaching thresholds: Formalising the linkage for the inshore reefs of the Great Barrier Reef, Australia. Marine Pollution Bulletin 58:745-751. | 2009 | Global; Australia | Model | Climate; Non-point Source Runoff; Nutrients; Surface & Groundwater Flow |
| Samhouri, J. F. 2009. Food supply influences offspring provisioning but not density-dependent fecundity in a marine fish. Ecology 90:3478-3488. | 2009 | Bahamas | | Small Herbivorous Fish |
| Stelzenmuller, V., F. Maynou, and P. Martin. 2009. Patterns of species and functional diversity around a coastal marine reserve: a fisheries perspective. Aquatic Conservation: Marine and Freshwater Ecosystems 19:554-565. | 2009 | Spain | GIS & Maps; Decision Support Frameworks & Tools | Finfish Harvest; Fish; Fishing & Harvesting Management; Marine Protected Areas; Monetary Valuation; Seagrasses; Special Use Permitting |
| Cooper, T. F., J. P. Gilmour, and K. E. Fabricius. 2009. Bioindicators of changes in water quality on coral reefs: review and recommendations for monitoring programmes. Coral Reefs 18-Jan. | 2009 | | Review; Field Study & Monitoring; Index or Indicator | Complex Habitat & Resources; Environmental Monitoring, Mapping, & Scientific Research; Nutrients; Sediment; Stony Coral |
| Mathews, B. W., J. R. Carpenter, and L. E. Sollenberger. 2009. In Vitro Digestibility and Chemical Composition of Kikuyugrass as Influenced by Soil Silicon, Liming, and Genotype. Communications in Soil Science and Plant Analysis 40:2855-2873. | 2009 | | | Calcium Carbonate Deposition |
| Lecchini, D. and D. Poignonec. 2009. Spatial variability of ontogenetic patterns in habitat associations by coral reef fishes (Moorea lagoon - French Polynesia). Estuarine Coastal and Shelf Science 82:553-556. | 2009 | | | Fish |
| Gleiss, A. C., B. Norman, N. Liebsch, C. Francis, and R. P. Wilson. 2009. A new prospect for tagging large free-swimming sharks with motion-sensitive data-loggers. Fisheries Research 97:16-Nov. | 2009 | Australia | | Apex Fish Predators; Dive, Snorkeling, & Swimming Tourism |
| Chimetto, L. A., M. Brocchi, M. Gondo, C. C. Thompson, B. Gomez-Gil, and F. L. Thompson. 2009. Genomic diversity of vibrios associated with the Brazilian coral Mussismilia hispida and its sympatric zoanthids (Palythoa caribaeorum, Palythoa variabilis and Zoanthus solanderi). Journal of Applied Microbiology 106:1818-1826. | 2009 | | | Anemones & Zooanthids; Deforestation & Devegetation; Microorganisms |
| Nemeth, K. and S. J. Cronin. 2009. Phreatomagmatic volcanic hazards where rift-systems meet the sea, a study from Ambae Island, Vanuatu. Journal of Volcanology and Geothermal Research 180:246-258. | 2009 | US Pacific & Hawaii; Vanuatu; Fiji; Samoa | Field Study & Monitoring | Sediment; Water Depth & Sea Level |
| Sekar, R., L. T. Kaczmarsky, and L. L. Richardson. 2009. Effect of freezing on PCR amplification of 16S rRNA genes from microbes associated with black band disease of corals. Applied and Environmental Microbiology 75:2581-2584. | 2009 | | | Cyanobacteria; Pathogens |
| Correa, A. M. S., M. E. Brandt, T. B. Smith, D. J. Thornhill, and A. C. Baker. 2009. Symbiodinium associations with diseased and healthy scleractinian corals. Coral Reefs 12-Jan. | 2009 | Florida; US Virgin Islands | | Pathogens; Stony Coral |
| Brischoux, F., X. Bonnet, and R. Shine. 2009. Determinants of dietary specialization: A comparison of two sympatric species of sea snakes. Oikos 118:145-151. | 2009 | New Caledonia | Model | Stony Coral |
| Sharp, K., K. E. Arthur, L. Gu, C. Ross, G. Harrison, S. P. Gunasekera, T. Meickle, S. Matthew, H. Luesch, R. W. Thacker, D. H. Sherman, and V. J. Paul. 2009. Phylogenetic and chemical diversity of three chemotypes of bloom-forming Lyngbya species (cyanobacteria: Oscillatoriales) from reefs of southeastern Florida. Applied and Environmental Microbiology 75:2879-2888. | 2009 | Florida | | Cyanobacteria; Microorganisms; Pharmaceuticals & Cosmetics Sources |
| Koch, E. W., E. B. Barbier, B. R. Silliman, D. J. Reed, G. M. E. Perillo, S. D. Hacker, E. F. Granek, J. H. Primavera, N. Muthiga, S. Polasky, B. S. Halpern, C. J. Kennedy, C. V. Kappel, and E. Wolanski. 2009. Non-linearity in ecosystem services: temporal and spatial variability in coastal protection. Frontiers in Ecology and the Environment 7:29-37. | 2009 | | | Mangroves; Seagrasses; Shoreline Protection; Valuation |
| Bulleri, F., L. Tamburello, and L. Benedetti-Cecchi. 2009. Loss of consumers alters the effects of resident assemblages on the local spread of an introduced macroalga. Oikos 118:269-279. | 2009 | | | Algae; Fleshy Macroalgae; Invasive Species; Sea Urchins |
| Kenyon, J. C. and G. S. Aeby. 2009. Localized outbreak and feeding preferences of the crown-of-thorns seastar Acanthaster Planci (echinodermata, asteroidea) on reefs off oahu, HAWAII. Bulletin of Marine Science 84:199-209. | 2009 | US Pacific & Hawaii | | Echinoderms; Seastars |
| Pistortus, P. A. and F. E. Taylor. 2009. Declining catch rates of reef fish in Aldabra's marine protected area. Aquatic Conservation: Marine and Freshwater Ecosystems 19:S2-S9. | 2009 | Indian Ocean; Seychelles; India | Model | Finfish Harvest; Fish; Fishing Sector; Marine Protected Areas; Piscivorous Fish |
| Rasheed, M., E. El-Hihi, S. Al-Rousan, and A. Abu-Hilal. 2009. Chemical evaluation of sand material sources for beach replenishment along the coast of the Gulf of Aqaba, Red Sea. Chemistry and Ecology 25:371-384. | 2009 | | | Dredging, Draining, & Filling; Nutrients |
| Fay, S. A., M. X. Weber, and J. H. Lipps. 2009. The distribution of Symbiodinium diversity within individual host foraminifera. Coral Reefs 10-Jan. | 2009 | Papua New Guinea | | Special Use Permitting |
| Freeman, D. J., A. B. MacDiarmid, and R. B. Taylor. 2009. Habitat patches that cross marine reserve boundaries: consequences for the lobster Jasus edwardsii. Marine Ecology Progress Series 388:159-167. | 2009 | | | Fishing Sector; Lobster, Crab, & Shrimp; Marine Protected Areas; Sediment |
| Fortunato, H. and P. Schafer. 2009. Coralline algae as carbonate producers and habitat providers on the Eastern Pacific coast of Panama: preliminary assessment. Neues Jahrbuch Fur Geologie Und Palaontologie-abhandlungen 253:145-161. | 2009 | US Pacific & Hawaii; Panama | | Algae; Coralline Algae; Molluscs; Sediment |
| Rhyne, A. L., D. Zhang, J. D. Lin, and N. V. Schizas. 2009. Not any two will do: DNA divergence and interpopulation reproductive compatibility in the simultaneous hermaphroditic shrimp Lysmata wurdemanni. Marine Ecology Progress Series 388:185-195. | 2009 | South & Central America; Florida; US East Coast (NC, SC, GA); Mexico | | Lobster, Crab, & Shrimp |
| Cowman, P. F., D. R. Bellwood, and L. van Herwerden. 2009. Dating the evolutionary origins of wrasse lineages (Labridae) and the rise of trophic novelty on coral reefs. Molecular Phylogenetics and Evolution 52:621-631. | 2009 | | Model; GIS & Maps | Fish; Planktivorous Fish |
| Malecha, P. W. and R. P. Stone. 2009. Response of the sea whip Halipteris willemoesi to simulated trawl disturbance and its vulnerability to subsequent predation. Marine Ecology Progress Series 388:197-206. | 2009 | | | Fishing Sector; Trawling & Fishing Gear Damage |
| Thacker, C. E. and D. M. Roje. 2009. Phylogeny of cardinalfishes (Teleostei: Gobiiformes: Apogonidae) and the evolution of visceral bioluminescence. Molecular Phylogenetics and Evolution 52:735-745. | 2009 | South & Central America; US East Coast (NC, SC, GA); Caribbean | | Housing; Microorganisms |
| Munday, P. L., N. E. Crawley, and G. E. Nilsson. 2009. Interacting effects of elevated temperature and ocean acidification on the aerobic performance of coral reef fishes. Marine Ecology Progress Series 388:235-242. | 2009 | Global; Australia | | Climate; CO2; Ocean Acidity |
| Baums, I. B., K. Devlin-Durante, L. Brown, and J. H. Pinzon. 2009. Nine novel, polymorphic microsatellite markers for the study of threatened Caribbean acroporid corals. Molecular Ecology Resources 9:1155-1158. | 2009 | South & Central America; Caribbean | | Stony Coral |
| Guo, W. and H. H. Sawin. 2009. Review of profile and roughening simulation in microelectronics plasma etching. Journal Of Physics D-applied Physics 42:194014. | 2009 | | Review; Field Study & Monitoring; Model | Manufacturing & Trade; Metals, Electronics, & Machinery Products |
| Fernandez-Jover, D., P. Sanchez-Jerez, J. T. Bayle-Sempere, P. Arechavala-Lopez, L. Martinez-Rubio, J. A. L. Jimenez, and F. J. M. Lopez. 2009. Coastal fish farms are settlement sites for juvenile fish. Marine Environmental Research 68:89-96. | 2009 | | Index or Indicator | Aquaculture; Complex Habitat & Resources; Plankton |
| Raymond, B. and R. Rossmann. 2009. Total and methyl mercury accumulation in 1994-1995 Lake Michigan lake trout and forage fish. Journal of Great Lakes Research 35:438-446. | 2009 | | Field Study & Monitoring | Fish; Sediment; Toxics |
| Dai, M. H., Z. M. Lu, W. D. Zhai, B. S. Chen, Z. M. Cao, K. B. Zhou, W. J. Cai, and C. T. A. Chen. 2009. Diurnal variations of surface seawater pCO(2) in contrasting coastal environments. Limnology and Oceanography 54:735-745. | 2009 | China; Taiwan | | CO2; Surface & Groundwater Flow |
| Nanami, A. and H. Yamada. 2009. Site fidelity, size, and spatial arrangement of daytime home range of thumbprint emperor Lethrinus harak (Lethrinidae). Fisheries Science 75:1109-1116. | 2009 | | | Dive, Snorkeling, & Swimming Tourism; Fish; Fishing Sector |
| Trost, B. M. and G. B. Dong. 2009. A Stereodivergent Strategy to Both Product Enantiomers from the Same Enantiomer of a Stereoinducing Catalyst: Agelastatin A. Chemistry-a European Journal 15:6910-6919. | 2009 | | | Pharmaceuticals & Cosmetics Sources |
| Silva, I. R., J. C. Rossi, H. M. Nascimento, and T. G. Siqueira. 2009. Geoenvironmental Characterization and Urbanization of the Beaches on the Islands of Tinhare and Boipeba, South Coast of the State of Bahia, Brazil. Journal of Coastal Research 1297-1300. | 2009 | | | Beaches & Nature Parks; Finfish Harvest; Housing; Mangroves; Tourism & Recreation |
| Stallings, C. D. 2009. Predator identity and recruitment of coral-reef fishes: Indirect effects of fishing. Marine Ecology Progress Series 383:251-259. | 2009 | South & Central America; Caribbean | Field Study & Monitoring | Apex Fish Predators; Finfish Harvest; Piscivorous Fish |
| Bruce Duguid. 2009. Fasten Your Seat Belt: Airlines and cap-and-trade. CTC764, Carbon Trust, United Kingdom. | 2009 | | | Banks, Credit, & Securities; Climate; Special Use Permitting |
| Kaunda-Arara, B., J. M. Mwaluma, G. A. Locham, V. Oresland, and M. K. Osore. 2009. Temporal variability in fish larval supply to Malindi Marine Park, coastal Kenya. Aquatic Conservation: Marine and Freshwater Ecosystems 19:S10-S18. | 2009 | Indian Ocean; Kenya; India | | Fish; Marine Protected Areas; Water Depth & Sea Level |
| Wong, C. K., P. Hung, K. Lee, and K. M. Kam. 2009. Solid-phase extraction clean-up of ciguatoxin-contaminated coral fish extracts for use in the mouse bioassay. Food Additives and Contaminants - Part A Chemistry, Analysis, Control, Exposure and Risk Assessment 26:236-247. | 2009 | | | Fish |
| Hahn, Y. 2009. Molecular Evolution of TEPP Protein Genes in Metazoans. Pages 14-Jan Biochemical Genetics. | 2009 | | | Anemones & Zooanthids; Echinoderms; Marine Worms; Molluscs; Tunicates |
| Littman, R. A., B. L. Willis, C. Pfeffer, and D. G. Bourne. 2009. Diversities of coral-associated bacteria differ with location, but not species, for three acroporid corals on the Great Barrier Reef. FEMS Microbiology Ecology 68:152-163. | 2009 | Australia | | Microorganisms; Ports & Harbors; Stony Coral |
| Steward, C. A., K. D. DeMaria, and J. M. Shenker. 2009. Using otolith morphometrics to quickly and inexpensively predict age in the gray angelfish (Pomacanthus arcuatus). Fisheries Research 99:123-129. | 2009 | Florida | Model | Fish; Fishing Sector |
| Grorud-Colvert, K. and S. Sponaugle. 2009. Larval supply and juvenile recruitment of coral reef fishes to marine reserves and non-reserves of the upper Florida Keys, USA. Marine Biology 156:277-288. | 2009 | Florida | | Fish; Plankton; Small Herbivorous Fish |
| Clemente, S., J. C. Hernandez, and A. Brito. 2009. Evidence of the top-down role of predators in structuring sublittoral rocky-reef communities in a marine protected area and nearby areas of the Canary Islands. ICES Journal of Marine Science 66:64-71. | 2009 | | Index or Indicator | Finfish Harvest; Fish; Fishing Sector; Marine Protected Areas; Sea Urchins |
| Stewart, J. and J. M. Hughes. 2009. Biological and fishery characteristics of rubberlip morwong Nemadactylus douglasii (Hector, 1875) in eastern Australia. Fisheries Research 96:267-274. | 2009 | Australia | Index or Indicator | Commercial Fisheries; Fish; Fishing Sector; Recreational Fishing; Tourism & Recreation |
| Mandal, D. and K. P. Tripathi. 2009. Soil erosion limits for Lakshadweep Archipelago. Current Science 96:276-280. | 2009 | | | Landscape Conservation & Restoration |
| Hii, Y. S., C. L. Soo, and H. C. Liew. 2009. Feeding of scleractinian coral, Galaxea fascicularis, on Artemia salina nauplii in captivity. Aquaculture International 17:363-376. | 2009 | | | Aquaculture; Aquarium & Pet Trade; Aquarium Stock; Fish; Nutrients; Plankton; Stony Coral |
| Nugues, M. M. and R. P. M. Bak. 2009. Brown-band syndrome on feeding scars of the crown-of-thorn starfish Acanthaster planci. Coral Reefs 28:507-510. | 2009 | Indonesia | | Pathogens; Seastars; Stony Coral |
| Love, M. S., M. Yoklavich, and D. M. Schroeder. 2009. Demersal fish assemblages in the Southern California Bight based on visual surveys in deep water. Environmental Biology of Fishes 84:55-68. | 2009 | | | Commercial Fisheries; Fish; Recreational Fishing; Tourism & Recreation |
| Komura, M. and S. Itoh. 2009. Fluorescence measurement by a streak camera in a single-photon-counting mode. Photosynthesis Research 101:119-133. | 2009 | Global | | |
| Elliot, M., K. Welsh, C. Chilcott, M. McCulloch, J. Chappell, and B. Ayling. 2009. Profiles of trace elements and stable isotopes derived from giant long-lived Tridacna gigas bivalves: Potential applications in paleoclimate studies. Palaeogeography, Palaeoclimatology, Palaeoecology 280:132-142. | 2009 | US Pacific & Hawaii | Index or Indicator | Climate; Plankton |
| Chazottes, V., G. Cabioch, S. Golubic, and G. Radtke. 2009. Bathymetric zonation of modern microborers in dead coral substrates from New Caledonia-Implications for paleodepth reconstructions in Holocene corals. Palaeogeography, Palaeoclimatology, Palaeoecology 280:456-468. | 2009 | New Caledonia | Model | Cyanobacteria; Microorganisms; Skeletal Coral; Substrate; Water Depth & Sea Level |
| Zhang, Y. L., E. P. Gong, M. A. Wilson, C. Q. Guan, B. L. Sun, and H. L. Chang. 2009. Paleoecology of a Pennsylvanian encrusting colonial rugose coral in south Guizhou, China. Palaeogeography, Palaeoclimatology, Palaeoecology 280:507-516. | 2009 | China | | Substrate |
| Yamada, H., M. Chimura, K. Asami, T. Sato, M. Kobayashi, and A. Nanami. 2009. Otolith development and daily increment formation in laboratory-reared larval and juvenile black-spot tuskfish Choerodon schoenleinii. Fisheries Science 75:1141-1146. | 2009 | | Lab Study; Index or Indicator | Fish; Plankton |
| Fry, G. C. and D. A. Milton. 2009. Age, growth and mortality estimates for populations of red snappers Lutjanus erythropterus and L. malabaricus from northern Australia and eastern Indonesia. Fisheries Science 75:1219-1229. | 2009 | Australia; Indonesia | | Fishing & Harvesting Management; Fishing Sector; Piscivorous Fish |
| Perrin, C. 2009. Solenomeris: from biomineralization patterns to diagenesis. Facies 55:501-522. | 2009 | | | Substrate |
| Moffitt, E. A., L. W. Botsford, D. M. Kaplan, and M. R. O'Farrell. 2009. Marine reserve networks for species that move within a home range. Ecological Applications 19:1835-1847. | 2009 | | Model | Fishing Sector; Marine Protected Areas |
| Asami, R., T. Felis, P. Deschamps, K. Hanawa, Y. Iryu, E. Bard, N. Durand, and M. Murayama. 2009. Evidence for tropical South Pacific climate change during the Younger Dryas and the Bolling-Allerod from geochemical records of fossil Tahiti corals. Earth and Planetary Science Letters 288:96-107. | 2009 | US Pacific & Hawaii; Australia; Pacific Ocean; Vanuatu | | Climate; Surface & Groundwater Flow; Water Depth & Sea Level |
| Freshwater, D. W., A. Hines, S. Parham, A. Wilbur, M. Sabaoun, J. Woodhead, L. Akins, B. Purdy, P. E. Whitfield, and C. B. Paris. 2009. Mitochondrial control region sequence analyses indicate dispersal from the US East Coast as the source of the invasive Indo-Pacific lionfish Pterois volitans in the Bahamas. Marine Biology 156:1213-1221. | 2009 | Florida; US Pacific & Hawaii; US East Coast (NC, SC, GA); Bahamas; Indonesia; Philippines | Model | Aquarium & Pet Trade; Aquarium Stock; Fish; Invasive Species |
| Vroom, P. S. and M. A. V. Timmers. 2009. Spatial And Temporal Comparison Of Algal Biodiversity And Benthic Cover At Gardner Pinnacles, Northwestern Hawai'Ian Islands. Journal of Phycology 45:337-347. | 2009 | US Pacific & Hawaii | | Algae; Fish; Lobster, Crab, & Shrimp; Marine Protected Areas; Substrate; Turf Algae |
| Buxton, L., M. Badger, and P. Ralph. 2009. Effects Of Moderate Heat Stress And Dissolved Inorganic Carbon Concentration On Photosynthesis And Respiration Of Symbiodinium Sp (Dinophyceae) In Culture And In Symbiosis. Journal of Phycology 45:357-365. | 2009 | | Model | CO2; Primary Production; Zooxanthellae |
| Nakajima, R., T. Yoshida, B. A. R. Azman, K. Zaleha, B. H. R. Othman, and T. Toda. 2009. In situ release of coral mucus by Acropora and its influence on the heterotrophic bacteria. Aquatic Ecology 43:815-823. | 2009 | Cuba; Malaysia; Oman | | Microorganisms; Nutrients; Stony Coral |
| Ivankovic, H., G. G. Ferrer, E. Tkalcec, S. Orlic, and M. Ivankovic. 2009. Preparation of highly porous hydroxyapatite from cuttlefish bone. Journal of Materials Science: Materials in Medicine 20:1039-1046. | 2009 | | | Fish; Pharmaceuticals & Cosmetics; Pharmaceuticals & Cosmetics Sources |
| Nakajima, R., T. Yoshida, B. H. R. Othman, and T. Toda. 2009. Diel variation of zooplankton in the tropical coral-reef water of Tioman Island, Malaysia. Aquatic Ecology 43:965-975. | 2009 | Malaysia; Oman | | Plankton |
| King, J. N., A. J. Mehta, and R. G. Dean. 2009. Generalized analytical model for benthic water flux forced by surface gravity waves. Journal of Geophysical Research C: Oceans 114:C04004. | 2009 | | Lab Study; Model | Discharges; Surface & Groundwater Flow; Water Depth & Sea Level |
| Meirelles, M. E., M. Y. Tsuzuki, F. F. Ribeiro, R. C. Medeiros, and I. D. Silva. 2009. Reproduction, early development and larviculture of the barber goby, Elacatinus figaro (Sazima, Moura & Rosa 1997). Aquaculture Research 41:11-18. | 2009 | Cuba | | Aquaculture; Aquarium & Pet Trade; Aquarium Stock; Fish |
| Mayal, E. M., A. N. Sial, V. P. Ferreira, M. Fisner, and B. R. Pinheiro. 2009. Thermal stress assessment using carbon and oxygen isotopes from Scleractinia, Rocas Atoll, northeastern Brazil. International Geology Review 51:166-188. | 2009 | | | Stony Coral; Water Depth & Sea Level |
| Nothdurft, L. D. and G. E. Webb. 2009. Earliest diagenesis in scleractinian coral skeletons: implications for palaeoclimate-sensitive geochemical archives. Facies 55:161-201. | 2009 | Australia | | Calcium Carbonate Deposition; Climate; Stony Coral |
| Holmes, G., J. C. Ortiz, and C. H. L. Schonberg. 2009. Bioerosion rates of the sponge Cliona orientalis Thiele, 1900: spatial variation over short distances. Facies 55:203-211. | 2009 | Australia | | Boring Sponges; Nutrients; Sponges |
| Berning, B., M. Reuter, W. E. Piller, M. Harzhauser, and A. Kroh. 2009. Larger foraminifera as a substratum for encrusting bryozoans (Late Oligocene, Tethyan Seaway, Iran). Facies 55:227-241. | 2009 | Iran | | |
| Olbers, J. M., L. Celliers, and M. H. Schleyer. 2009. Zonation of benthic communities on the subtropical Aliwal Shoal, Durban, KwaZulu-Natal, South Africa. African Zoology 44:8-23. | 2009 | Cuba; South Africa | | Algae; Marine Protected Areas; Marine Worms; Octocoral; Primary Production; Sediment; Shoreline Protection; Sponges; Stony Coral |
| Nothdurft, L. D. and G. E. Webb. 2009. Clypeotheca, a new skeletal structure in scleractinian corals: A potential stress indicator. Coral Reefs 28:143-153. | 2009 | Australia | Field Study & Monitoring; Index or Indicator | Climate; Complex Habitat & Resources; Environmental Monitoring, Mapping, & Scientific Research; Pathogens |
| Simanenko, V. P., A. N. Filippov, and A. A. Chashchin. 2009. Basalts of the Pantalassa ocean in the Samarka terrane, Central Sikhote Alin. Russian Journal of Pacific Geology 3:220-233. | 2009 | | | Sediment; Surface & Groundwater Flow |
| Nuryanto, A. and M. Kochzius. 2009. Highly restricted gene flow and deep evolutionary lineages in the giant clam Tridacna maxima. Coral Reefs 13-Jan. | 2009 | US Pacific & Hawaii; Indian Ocean; India; Southeast Asia; Java; Indonesia | Index or Indicator | Aquarium & Pet Trade; Marine Protected Areas |
| Dinsdale, E. A. 2009. Linking ecological and perceptual assessments for environmental management: a coral reef case study. Ecology and Society 14:28. | 2009 | | | Anchoring & Vessel Grounding; Stony Coral |
| Allwood, A. C., J. P. Grotzinger, A. H. Knoll, I. W. Burch, M. S. Anderson, M. L. Coleman, and I. Kanik. 2009. Controls on development and diversity of Early Archean stromatolites. Proceedings of the National Academy of Sciences of the United States of America 106:9548-9555. | 2009 | Australia | | Sediment |
| Lee, T.-G., K. Lee, J. R. Hein, and J.-W. Moon. 2009. Geophysical investigation of seamounts near the Ogasawara fracture zone, western Pacific. Earth, Planets and Space 61:319-331. | 2009 | US Pacific & Hawaii; Japan; Marshall Islands | | Dredging, Draining, & Filling; Water Depth & Sea Level |
| Kroon, F. J. and J. Brodie. 2009. Catchment management and health of coastal ecosystems: synthesis and future research. Marine and Freshwater Research 60:1196-1200. | 2009 | Global; Australia | Model | Banks, Credit, & Securities; Non-point Source Runoff; Nutrients |
| Owen, C. L., C. G. Messing, G. W. Rouse, and M. S. Shivji. 2009. Using a combined approach to explain the morphological and ecological diversity in Phanogenia gracilis Hartlaub, 1893 (Echinodermata: Crinoidea) sensu lato: two species or intraspecific variation? Marine Biology 156:1517-1529. | 2009 | US Pacific & Hawaii | | Echinoderms |
| Ferreira, M. L., N. J. Smit, A. S. Grutter, and A. J. Davies. 2009. A New Species Of Gnathiid (Crustacea: Isopoda) Parasitizing Teleosts From Lizard Island, Great Barrier Reef, Australia. Journal of Parasitology 95:1066-1075. | 2009 | Australia | Field Study & Monitoring | Fish |
| Van Herwerden, L., J. H. Choat, S. J. Newman, M. Leray, and G. Hillersoy. 2009. Complex patterns of population structure and recruitment of Plectropomus leopardus (Pisces: Epinephelidae) in the Indo-West Pacific: implications for fisheries management. Marine Biology 156:1595-1607. | 2009 | US Pacific & Hawaii; Australia; New Caledonia; Taiwan | | Fishing & Harvesting Management; Fishing Sector |
| Burrage, D. M., J. W. Book, and P. J. Martin. 2009. Eddies and filaments of the Western Adriatic Current near Cape Gargano: Analysis and prediction. Journal of Marine Systems 78:S205-S226. | 2009 | | Field Study & Monitoring; Model; Remote Sensing | Coastal Defense; Military; Salinity; Surface & Groundwater Flow |
| Scott, A. and P. L. Harrison. 2009. Gametogenic and reproductive cycles of the sea anemone, Entacmaea quadricolor. Marine Biology 156:1659-1671. | 2009 | US Pacific & Hawaii; Australia; Study Location | Field Study & Monitoring | Anemones & Zooanthids; Fish; Marine Protected Areas |
| Byrne, R. J. and J. C. Avise. 2009. Multiple paternity and extra-group fertilizations in a natural population of California grunion (Leuresthes tenuis), a beach-spawning marine fish. Marine Biology 156:1681-1690. | 2009 | Cuba | | Arthropods; Fish |
| Berumen, M. L. and G. R. Almany. 2009. External tagging does not affect the feeding behavior of a coral reef fish, Chaetodon vagabundus (Pisces: Chaetodontidae). Environmental Biology of Fishes 86:447-450. | 2009 | Papua New Guinea | | Corallivorous Fish; Fish |
| Feary, D. A., M. Wellenreuther, and K. D. Clements. 2009. Trophic ecology of New Zealand triplefin fishes (Family Tripterygiidae). Marine Biology 156:1703-1714. | 2009 | | Model | Invertebrates |
| Gomelyuk, V. E. 2009. Fish assemblages composition and structure in three shallow habitats in north Australian tropical bay, Garig Gunak Barlu National Park, Northern Territory, Australia. Journal of the Marine Biological Association of the United Kingdom 89:449-460. | 2009 | Australia | Field Study & Monitoring | Complex Habitat & Resources; Dive, Snorkeling, & Swimming Tourism; Fish |
| Chaves, L. D. T. and C. Monteiro-Neto. 2009. Comparative analysis of rocky reef fish community structure in coastal islands of south-eastern Brazil. Journal of the Marine Biological Association of the United Kingdom 89:609-619. | 2009 | US East Coast (NC, SC, GA) | | Complex Habitat & Resources; Fish; Invertebrates |
| Riley, J. W. and J. E. Marsden. 2009. Predation on emergent lake trout fry in Lake Champlain. Journal of Great Lakes Research 35:175-181. | 2009 | | | Fish; Fishing Sector |
| Mamauag, S. S., P. M. Alino, R. O. M. Gonzales, and M. R. Deocadez. 2009. Patterns of Demersal Fish Distribution Derived from Line Fishing Experiment in Calauag Bay, Philippines. Philippine Agricultural Scientist 92:370-387. | 2009 | Philippines | | Complex Habitat & Resources; Finfish Harvest; Fish; Fishing Sector; Mangroves; Piscivorous Fish |
| Zorrilla, P., G. Carmona, A. De la Hera, C. Varela-Ortega, P. Martinez-Santos, J. Bromley, and H. Jorgen Henriksen. 2009. Evaluation of Bayesian Networks in Participatory Water Resources Management, Upper Guadiana Basin, Spain. Ecology and Society 15. | 2009 | Spain | Model; Decision Support Frameworks & Tools | Decision Support; Surface & Groundwater Flow; Wetlands |
| Reis, A. M. M., S. D. Araujo Jr, R. L. Moura, R. B. Francini-Filho, G. Pappas Jr, A. M. A. Coelho, R. H. Kruger, and F. L. Thompson. 2009. Bacterial diversity associated with the Brazilian endemic reef coral Mussismilia braziliensis. Journal of Applied Microbiology 106:1378-1387. | 2009 | | | Cyanobacteria; Pathogens |
| Campbell, J. 2009. Discussion of \Effect of strontium and phosphorus on eutectic Al-Si nucleation and formation of β-Al5FeSi in hypoeutectic Al-Si foundry alloys\"". Metallurgical and Materials Transactions A: Physical Metallurgy and Materials Science 40:1009-1010. | 2009 | | | Substrate |
| Energy Efficiency & Renewable Energy. 2009. Report to Congress on the Potential Environmental Effects of Marine and Hydrokinetic Energy Technologies. Department of Energy. | 2009 | | Review; Field Study & Monitoring | Cultural Policies; Environmental Monitoring, Mapping, & Scientific Research; Fish; Mitigation; Surface & Groundwater Flow; Tourism & Recreation; Utility Line Construction & Maintenance; Utility Policies |
| Collen, J. D., J. P. A. Gardner, and D. W. Garton. 2009. Application of the littoral cell concept to managing a protected atoll: Palmyra Atoll National Wildlife Refuge. Ocean and Coastal Management 52:628-635. | 2009 | Palmyra Atoll | | Sediment |
| Ito, Y., H. Miura, K. Nakamura, and T. Yoshida. 2009. Behavior properties of Jack mackerel Trachurus japonicus using ultrasonic biotelemetry in artificial reef off the coast of Hamochi, Sado Island, the Sea of Japan. Nippon Suisan Gakkaishi 75:1019-1026. | 2009 | Japan | | Artificial Habitat; Fish |
| Nirchio, M., C. Oliveira, D. C. Ferreira, R. Rondon, J. E. Perez, A. K. Hett, A. R. Rossi, and L. Sola. 2009. Cytogenetic characterization of Rhomboplites aurorubens and Ocyurus chrysurus, two monotypic genera of Lutjaninae from Cubagua Island, Venezuela, with a review of the cytogenetics of Lutjanidae (Teleostei: Perciformes). Neotropical Ichthyology 7:587-594. | 2009 | Cuba; Venezuela | Review | Piscivorous Fish |
| Silva, S. E., W. R. C. Assuncao, C. Duca, and J. Penha. 2009. Cost of territorial maintenance by Parodon nasus (Osteichthyes: Parodontidae) in a Neotropical stream. Neotropical Ichthyology 7:677-682. | 2009 | | | Fish; Surface & Groundwater Flow |
| Duckworth, A. R., C. W. Wolff, and H. Luter. 2009. Patterns of abundance and size across varying spatial scales for the coral reef sponge Coscinoderma matthewsi. Marine Ecology Progress Series 396:27-33. | 2009 | Australia | | Sponges |
| Lozano-Alvarez, E., C. Meiners, and P. Briones-Fourzan. 2009. Ontogenetic habitat shifts affect performance of artificial shelters for Caribbean spiny lobsters. Marine Ecology Progress Series 396:85-97. | 2009 | South & Central America; Caribbean | | Lobster, Crab, & Shrimp |
| Yamamoto, N., A. Kitamura, A. Ohmori, Y. Morishima, T. Toyofuku, and S. Ohashi. 2009. Long-term changes in sediment type and cavernicolous bivalve assemblages in Daidokutsu submarine cave, Okinawa Islands: evidence from a new core extending over the past 7,000 years. Coral Reefs 28:967-976. | 2009 | Japan | | Nutrients; Seawater Flow; Sediment; Shoreline Protection |
| Finkl, C. W. and J. L. Andrews. 2009. Shelf Geomorphology along the Southeast Florida Atlantic Continental Platform: Interpretation of Airborne Laser Bathymetry. Journal of Coastal Research 1494-1498. | 2009 | Florida; US East Coast (NC, SC, GA) | Field Study & Monitoring; Remote Sensing | Sediment |
| Mumby, P. J. 2009. Phase shifts and the stability of macroalgal communities on Caribbean coral reefs. Coral Reefs 13-Jan. | 2009 | South & Central America; Caribbean | Field Study & Monitoring; Model | Algae; Sea Urchins |
| Croquer, A. and E. Weil. 2009. Spatial variability in distribution and prevalence of Caribbean scleractinian coral and octocoral diseases. II. Genera-level analysis. Diseases of Aquatic Organisms 83:209-222. | 2009 | South & Central America; Puerto Rico; Bermuda; Caribbean | | Octocoral; Pathogens; Stony Coral |
| Plaisance, L., N. Knowlton, G. Paulay, and C. Meyer. 2009. Reef-associated crustacean fauna: biodiversity estimates using semi-quantitative sampling and DNA barcoding. Coral Reefs 28:977-986. | 2009 | US Pacific & Hawaii; Pacific Ocean | | Stony Coral |
| De Mol, B., V. Huvenne, and M. Canals. 2009. Cold-water coral banks and submarine landslides: a review. International Journal of Earth Sciences 98:885-899. | 2009 | Norway | Review | Sediment |
| Mumby, P. J. 2009. Herbivory versus corallivory: are parrotfish good or bad for Caribbean coral reefs? Coral Reefs 8-Jan. | 2009 | South & Central America; Caribbean | Review | Corallivorous Fish; Fish; Large Herbivorous Fish; Pathogens; Stony Coral; Zooxanthellae |
| Aubert, A., C. E. Lazareth, G. Cabioch, H. Boucher, T. Yamada, Y. Iryu, and R. Farman. 2009. The tropical giant clam Hippopus hippopus shell, a new archive of environmental conditions as revealed by sclerochronological and delta O-18 profiles. Coral Reefs 28:989-998. | 2009 | US Pacific & Hawaii; New Caledonia | Field Study & Monitoring | Environmental Monitoring, Mapping, & Scientific Research |
| Raes, M., W. Decraemer, and A. Vanreusel. 2009. Draconematidae (Nematoda) from cold-water corals in the Porcupine Seabight: The genus Tenuidraconema Decraemer, 1989. Organisms Diversity and Evolution 9:41-43. | 2009 | US East Coast (NC, SC, GA) | | Marine Worms |
| Ortiz, J. C., M. D. Gomez-Cabrera, and O. Hoegh-Guldberg. 2009. Effect of colony size and surrounding substrate on corals experiencing a mild bleaching event on Heron Island reef flat (southern Great Barrier Reef, Australia). Coral Reefs 28:999-1003. | 2009 | Australia | | Climate; Skeletal Coral; Stony Coral; Substrate |
| Gabant, M., I. Schmitz-Afonso, J. F. Gallard, J. L. Menou, D. Laurent, C. Debitus, and A. Al-Mourabit. 2009. Sulfated Steroids: Ptilosteroids A-C and Ptilosaponosides A and B from the Solomon Islands Marine Sponge Ptilocaulis spiculifer. Journal of Natural Products 72:760-763. | 2009 | Solomon Islands | | Sponges |
| Burgess, S. N., M. T. McCulloch, G. E. Mortimer, and T. M. Ward. 2009. Structure and growth rates of the high-latitude coral: Plesiastrea versipora. Coral Reefs 28:1005-1015. | 2009 | Australia | | Climate |
| Jan, S. and C. T. A. Chen. 2009. Potential biogeochemical effects from vigorous internal tides generated in Luzon Strait: A case study at the southernmost coast of Taiwan. Journal of Geophysical Research C: Oceans 114:C04021. | 2009 | Taiwan | Model | Nutrients |
| Thebault, J., L. Chauvaud, S. L'Helguen, J. Clavier, A. Barats, S. Jacquet, C. Pecheyran, and D. Amouroux. 2009. Barium and molybdenum records in bivalve shells: Geochemical proxies for phytoplankton dynamics in coastal environments? Limnology and Oceanography 54:1002-1014. | 2009 | New Caledonia | | Plankton |
| Soto, I., S. Andrefouet, C. Hu, F. E. Muller-Karger, C. C. Wall, J. Sheng, and B. G. Hatcher. 2009. Physical connectivity in the Mesoamerican Barrier Reef System inferred from 9 years of ocean color observations. Coral Reefs 28:415-425. | 2009 | South & Central America; Belize; Honduras; Nicaragua; Caribbean; Mexico | Model; Remote Sensing | Discharges; Storms & Hurricanes; Surface & Groundwater Flow |
| Riegl, B., A. Bruckner, S. L. Coles, P. Renaud, and R. E. Dodge. 2009. Coral Reefs Threats and Conservation in an Era of Global Change. Pages 136-186 Year In Ecology And Conservation Biology 2009. | 2009 | Global; Florida | | Climate; CO2; Finfish Harvest; Fishing Sector; Invasive Species; Non-point Source Runoff; Nutrients; Ocean Acidity; Pathogens; Sediment; Tourism & Recreation |
| Liu, P. J., S. M. Lin, T. Y. Fan, P. J. Meng, K. T. Shao, and H. J. Lin. 2009. Rates of overgrowth by macroalgae and attack by sea anemones are greater for live coral than dead coral under conditions of nutrient enrichment. Limnology and Oceanography 54:1167-1175. | 2009 | Taiwan | | Algae; Anemones & Zooanthids; Nutrients; Skeletal Coral; Stony Coral; Zooxanthellae |
| Ezaki, Y. 2009. Secular fluctuations in Palaeozoic and Mesozoic reef-forming organisms during greenhouse periods: geobiological interrelations and consequences. Paleontological Research 13:23-38. | 2009 | | | |
| Ritter, A. F. 2009. Regional variation in oceanographic conditions influences intertidal fish assemblage structure. Limnology and Oceanography 54:1559-1573. | 2009 | | | Fish |
| Negri, A. P., M. Mortimer, S. Carter, and J. F. Muller. 2009. Persistent organochlorines and metals in estuarine mud crabs of the Great Barrier Reef. Marine Pollution Bulletin 58:769-773. | 2009 | Australia | | Lobster, Crab, & Shrimp |
| Godinot, C., C. Ferrier-Pages, and R. Grover. 2009. Control of phosphate uptake by zooxanthellae and host cells in the scleractinian coral Stylophora pistillata. Limnology and Oceanography 54:1627-1633. | 2009 | | | Algae; Stony Coral; Zooxanthellae |
| Goldstein, J. S. and M. J. Butler. 2009. Behavioral enhancement of onshore transport by postlarval Caribbean spiny lobster (Panulirus argus). Limnology and Oceanography 54:1669-1678. | 2009 | South & Central America; Caribbean | Field Study & Monitoring; Lab Study | Algae; Complex Habitat & Resources; Lobster, Crab, & Shrimp; Substrate |
| Steele-Petrovich, H. M. 2009. The biological reconstruction of Tetradium Dana, 1846. Lethaia 42:297-311. | 2009 | | Model | Algae; Calcium Carbonate Deposition; Nutrients; Sponges |
| Haas, A., C. T. S. Little, H. Sahling, G. Bohrmann, T. Himmler, and J. Peckmann. 2009. Mineralization of vestimentiferan tubes at methane seeps on the Congo deep-sea fan. Deep-Sea Research Part I: Oceanographic Research Papers 56:283-293. | 2009 | South & Central America; Mexico | Field Study & Monitoring | Calcium Carbonate Deposition; Marine Worms; Microorganisms; Sediment |
| Anthony, K. R. N., M. O. Hoogenboom, J. A. Maynard, A. G. Grottoli, and R. Middlebrook. 2009. Energetics approach to predicting mortality risk from environmental stress: A case study of coral bleaching. Functional Ecology 23:539-550. | 2009 | US Pacific & Hawaii; Australia | Model | Climate; Stony Coral |
| Huang, S. C., D. S. Wuu, P. Y. Wu, W. Y. Lin, P. M. Tu, Y. C. Yeh, C. P. Hsu, and S. H. Chan. 2009. Improved output power of 400-nm InGaN/AlGaN LEDs using a novel surface roughening technique. Journal of Crystal Growth 311:867-870. | 2009 | | | Light |
| Clements, K. D., D. Raubenheimer, and J. H. Choat. 2009. Nutritional ecology of marine herbivorous fishes: Ten years on. Functional Ecology 23:79-92. | 2009 | | Field Study & Monitoring | Algae; Fish; Nutrients; Small Herbivorous Fish; Substrate |
| Smith, A. M. 2009. Bryozoans as southern sentinels of ocean acidification: A major role for a minor phylum. Marine and Freshwater Research 60:475-482. | 2009 | Global; Australia | Field Study & Monitoring; Model | Biological Monitoring, Mapping, & Scientific Research; CO2; Environmental Monitoring, Mapping, & Scientific Research; Ocean Acidity; Sediment; Surface & Groundwater Flow |
| Obura, D. O. and G. Grimsditch. 2009. Resilience Assessment of Coral Reefs Rapid assessment protocol for coral reefs, focusing on coral bleaching and thermal stress. IUCN working group on Climate Change and Coral Reefs, IUCN, Gland, Switzerland. | 2009 | Global; South & Central America; Caribbean | | Algae; Climate; Coastal Development; Finfish Harvest; Mangroves; Sea Temperatures; Seagrasses; Stony Coral; Storms & Hurricanes; Tourism & Recreation; Tourism & Recreation Policies |
| Oliver, L. M. and W. S. Fisher, editors. 2009. APM 289: Report on effects of UV radiation, temperature and nutrients on South Florida corals. US EPA Gulf Ecology Division, Gulf Breeze, (FL, USA). | 2009 | Global; Florida | | Algae; Climate; Light; Nutrients; Ocean Acidity; Pathogens; Physical Damage; Sediment; Stony Coral |
| Boyer, J. N. and H. O. Briceno. 2009. 2009 annual report of the water quality monitoring project for the water quality protection program of the Florida Keys National Marine Sactuary. Florida International University, Miami, FL. | 2009 | Florida | Field Study & Monitoring | Light; Nutrients; Salinity |
| Vermeij, M. J. A., J. E. Smith, C. M. Smith, R. Vega Thurber, and S. A. Sandin. 2009. Survival and settlement success of coral planulae: Independent and synergistic effects of macroalgae and microbes. Oecologia 159:325-336. | 2009 | US Pacific & Hawaii | | Algae; Fleshy Macroalgae |
| Tanner, J. E., T. P. Hughes, and J. H. Connell. 2009. Community-level density dependence: An example from a shallow coral assemblage. Ecology 90:506-516. | 2009 | Australia | Model | Stony Coral |
| Cole, A. J., M. S. Pratchett, and G. P. Jones. 2009. Effects of coral bleaching on the feeding response of two species of coral-feeding fish. Journal of Experimental Marine Biology and Ecology 373:15-Nov. | 2009 | | | Corallivorous Fish; Planktivorous Fish |
| Bostock, H. C., B. N. Opdyke, M. K. Gagan, and L. K. Fifield. 2009. Late Quaternary siliciclastic/carbonate sedimentation model for the Capricorn Channel, southern Great Barrier Reef province, Australia. Marine Geology 257:107-123. | 2009 | Australia | Model | Calcium Carbonate Deposition; Climate; Sediment; Surface & Groundwater Flow; Water Depth & Sea Level |
| Mora, C. 2009. Degradation of Caribbean coral reefs: Focusing on proximal rather than ultimate drivers. Reply to Rogers. Proceedings of the Royal Society B 276:199-200. | 2009 | South & Central America; Caribbean | | Surface & Groundwater Flow |
| Strain, E. M. A. and C. R. Johnson. 2009. Competition between an invasive urchin and commercially fished abalone: Effect on body condition, reproduction and survivorship. Marine Ecology Progress Series 377:169-182. | 2009 | Australia | | Algae; Finfish Harvest; Fishing Sector; Invasive Species |
| Brigaud, B., C. Durlet, J. F. Deconinck, B. Vincent, E. Puceat, J. Thierry, and A. Trouiller. 2009. Facies and climate/environmental changes recorded on a carbonate ramp: A sedimentological and geochemical approach on Middle Jurassic carbonates (Paris Basin, France). Sedimentary Geology 222:181-206. | 2009 | Europe; France | | Climate; Echinoderms; Sediment |
| Rodriguez-Hernandez, E., R. Lopez-Doncel, J. R. Barboza-Gudino, and J. Cruz-Marquez. 2009. Sedimentological facies analysis of Cretaceous carbonate breccia-forming clasts in a platform-basin transitional setting in central Mexico. Revista Mexicana de Ciencias Geologicas 26:687-708. | 2009 | South & Central America; Mexico | | Algae; Sediment; Sponges |
| World Resources Institute. 2009. Value of coral reefs & mangroves in the caribbean: economic valuation methodology v3.0. | 2009 | South & Central America; St. Lucia; Trinidad; Tobago; Belize; Caribbean | Review | Collaboration & Partnering; Cruise Ships; Fishing Sector; Mangroves; Monetary Valuation; Shoreline Protection; Tourism & Recreation; Valuation |
| Duris, Z., I. Horka, and D. T. Hoc. 2009. Periclimenaeus Nufu, A New Species Of Shrimp (Crustacea: Decapoda: Pontoniinae) From Vietnam. Raffles Bulletin of Zoology 57:453-464. | 2009 | China; Vietnam | | Encrusting Sponges; Lobster, Crab, & Shrimp; Skeletal Coral; Sponges |
| Castro, P. 2009. Shallow-Water Trapeziidae And Tetraliidae (Crustacea: Brachyura) Of The Philippines (Panglao 2004 Expedition), New Guinea, And Vanuatu (Santo 2006 Expedition). Raffles Bulletin of Zoology 271-281. | 2009 | Australia; Vanuatu; Philippines | | Lobster, Crab, & Shrimp |
| Feely, R. A., S. C. Doney, and S. R. Cooley. 2009. Ocean acidification: present conditions and future changes in a high-CO2 world. Oceanography 22:36-47. | 2009 | Global; US Pacific & Hawaii | Model | Calcium Carbonate Deposition; Climate; CO2; Ocean Acidity; Surface & Groundwater Flow |
| Rodriguez-Lanetty, M., S. Harii, and O. Hoegh-Guldberg. 2009. Early molecular responses of coral larvae to hyperthermal stress. Molecular Ecology 18:5101-5114. | 2009 | | Field Study & Monitoring | Climate; Pathogens; Special Use Permitting; Stony Coral |
| Gattuso, J.-P., L. Hansson, and The EPOCA Consortium. 2009. European project on ocean acidification (EPOCA): objectives, products, and scientific highlights. Oceanography 22:190-201. | 2009 | Europe | | Ocean Acidity |
| Kuroyanagi, A., H. Kawahata, A. Suzuki, K. Fujita, and T. Irie. 2009. Impacts of ocean acidification on large benthic foraminifers: Results from laboratory experiments. Marine Micropaleontology 73:190-195. | 2009 | | Lab Study | Calcium Carbonate Deposition; CO2; Ocean Acidity |
| Reineman, B. D., L. Lenain, D. Castel, and W. K. Melville. 2009. A Portable Airborne Scanning Lidar System for Ocean and Coastal Applications. Journal of Atmospheric and Oceanic Technology 26:2626-2641. | 2009 | Australia | Field Study & Monitoring; Remote Sensing | |
| Rathakrishnan, T., M. Ramasubramanian, N. Anandaraja, N. Suganthi, and S. Anitha. 2009. Traditional fishing practices followed by fisher folks of Tamil Nadu. Indian Journal Of Traditional Knowledge 8:543-547. | 2009 | Global; India | | Finfish Harvest; Fish; Mangroves; Wetlands |
| Olendzenski, L. and J. P. Gogarten. 2009. Evolution of Genes and Organisms The Tree/Web of Life in Light of Horizontal Gene Transfer. Pages 137-145 in Witzany, G., editor. Natural Genetic Engineering And Natural Genome Editing. | 2009 | | Model | |
| Carr, L. M. and W. D. Heyman. 2009. Jamaica bound? Marine resources and management at a crossroads in Antigua and Barbuda. Geographical Journal 175:17-38. | 2009 | South & Central America; Jamaica; Antigua; Barbuda; Caribbean | Index or Indicator | Commercial Fisheries; Finfish Harvest; Fish; Fishing Sector; Marine Protected Areas; Tourism & Recreation |
| Salas-Monreal, D., D. A. Salas-de-Leon, M. A. Monreal-Gomez, and M. L. Riveron-Enzastiga. 2009. Current rectification in a tropical coral reef system. Coral Reefs 9-Jan. | 2009 | South & Central America; Mexico | | Plankton; Salinity |
| Dorenbosch, M., M. G. G. Grol, A. De Groene, G. Van Der Velde, and I. Nagelkerken. 2009. Piscivore assemblages and predation pressure affect relative safety of some back-reef habitats for juvenile fish in a Caribbean bay. Marine Ecology Progress Series 379:181-196. | 2009 | South & Central America; Caribbean | | Complex Habitat & Resources; Fish; Mangroves; Seagrasses |
| Vandeginste, V., R. Swennen, S. A. Gleeson, R. M. Ellam, K. Osadetz, and F. Roure. 2009. Thermochemical sulphate reduction in the Upper Devonian Cairn Formation of the Fairholme carbonate complex (South-West Alberta, Canadian Rockies): Evidence from fluid inclusions and isotopic data. Sedimentology 56:439-460. | 2009 | | | CO2; Salinity; Sediment |
| Luck, G. W., R. harrington, P. A. Harrison, C. Kremen, P. M. Berry, R. Bugter, T. P. Dawson, F. de Bello, S. Diaz, C. K. Feld, J. R. Haslett, D. Hering, A. Kontogianni, S. Lavorel, M. Rounsevell, M. J. Samways, L. Sandin, J. Settele, M. T. Sykes, S. van den Hove, M. Vanderwalle, and M. Zobel. 2009. Quantifying the contribution of organisms to the provision of ecosystem services. Bioscience 59:223-235. | 2009 | | Decision Support Frameworks & Tools | |
| Cushman, E. L., N. K. Jue, A. E. Strand, and E. E. Sotka. 2009. Evaluating the demographic significance of genetic homogeneity using a coalescent-based simulation: a case study with gag (Mycteroperca microlepis). Canadian Journal of Fisheries and Aquatic Sciences 66:1821-1830. | 2009 | South & Central America; US East Coast (NC, SC, GA); Mexico | Model | Finfish Harvest |
| Coker, D. J., M. S. Pratchett, and P. L. Munday. 2009. Coral bleaching and habitat degradation increase susceptibility to predation for coral-dwelling fishes. Behavioral Ecology 20:1204-1210. | 2009 | Global | | Climate; Skeletal Coral; Small Herbivorous Fish |
| Smith, J. T. and J. B. C. Jackson. 2009. Ecology of extreme faunal turnover of tropical American scallops. Paleobiology 35:77-93. | 2009 | South & Central America; US Pacific & Hawaii; Panama; Caribbean | | |
| Soares, M. C., R. Bshary, and I. M. Cote. 2009. Cleaning in pairs enhances honesty in male cleaning gobies. Behavioral Ecology 20:1343-1347. | 2009 | South & Central America; US Pacific & Hawaii; Caribbean | Model | Fish; Planktivorous Fish |
| Nordt, S. P., J. Wu, F. L. Cantrell, and R. F. Clark. 2009. Palytoxin Poisoning Following Dermal Contact with Zoanthid Coral. Clinical Toxicology 47. | 2009 | | | Anemones & Zooanthids |
| Myers, M. R. and R. F. Ambrose. 2009. Differences in benthic cover inside and outside marine protected areas on the Great Barrier Reef: influence of protection or disturbance history? Aquatic Conservation: Marine and Freshwater Ecosystems 19:736-747. | 2009 | Australia | Field Study & Monitoring | Marine Protected Areas; Octocoral; Stony Coral; Substrate; Tourism & Recreation |
| Paparu, P., A. Macleod, T. Dubois, D. Coyne, and A. Viljoen. 2009. Efficacy of chemical and fluorescent protein markers in studying plant colonization by endophytic non-pathogenic Fusarium oxysporum isolates. Biocontrol 54:709-722. | 2009 | | | Pathogens |
| Haapkyla, J., A. S. Seymour, O. Barneah, I. Brickner, S. Hennige, D. Suggett, and D. Smith. 2009. Association of Waminoa sp. (Acoela) with corals in the Wakatobi Marine Park, South-East Sulawesi, Indonesia. Marine Biology 156:1021-1027. | 2009 | Indonesia | | Marine Protected Areas; Octocoral; Stony Coral; Zooxanthellae |
| McClanahan, T. R., N. A. Muthiga, J. Maina, A. T. Kamukuru, and S. A. S. Yahya. 2009. Changes in northern Tanzania coral reefs during a period of increased fisheries management and climatic disturbance. Aquatic Conservation: Marine and Freshwater Ecosystems 19:758-771. | 2009 | Indian Ocean; Tanzania; India | | Climate; Fish; Fishing Sector; Marine Protected Areas; Sea Urchins |
| Bruce, N. L. 2009. New genera and species of the marine isopod family Serolidae (Crustacea, Sphaeromatidea) from the southwestern Pacific. Zookeys 17-76. | 2009 | US Pacific & Hawaii; New Caledonia; Fiji | Review | |
| Spillman, C. M. and O. Alves. 2009. Dynamical seasonal prediction of summer sea surface temperatures in the Great Barrier Reef. Coral Reefs 28:197-206. | 2009 | Global; Australia | Model; Decision Support Frameworks & Tools | |
| Blazewicz-Paszkowycz, M. and K. Zemko. 2009. A new species of Metatanais Shiino, 1952 (Crustacea, Tanaidacea, Paratanaoidea) from Australian coral reefs, with a redefinition of the genus. Zookeys 129-141. | 2009 | Australia; Japan | | Algae; Skeletal Coral; Sponges |
| Singh, S., W. G. L. Aalbersberg, and R. J. Morrison. 2009. Nutrient Pollution in Laucala Bay, Fiji Islands. Water Air And Soil Pollution 204:363-372. | 2009 | Fiji | | Discharge Limitations; Discharges; Nutrients; Point Source Discharges; Sewage Treatment; Waste Management Policies |
| Poore, G. C. B. 2009. Leipanthura casuarina, new genus and species of anthurid isopod from Australian coral reefs without a "five-petalled" tail (Isopoda, Cymothoida, Anthuroidea). Zookeys 171-180. | 2009 | Australia | | |
| Pueschel, C. M. and G. W. Saunders. 2009. Ramicrusta textilis sp nov (Peyssonneliaceae, Rhodophyta), an anatomically complex Caribbean alga that overgrows corals. Phycologia 48:480-491. | 2009 | South & Central America; US Pacific & Hawaii; Jamaica; Pacific Ocean; Caribbean | | Skeletal Coral |
| Ries, J. B. 2009. Effects of secular variation in seawater Mg/Ca ratio (calcite-aragonite seas) on CaCO3 sediment production by the calcareous algae Halimeda, Penicillus and Udotea- evidence from recent experiments and the geological record. Terra Nova 21:323-339. | 2009 | | | Algae; Calcareous Macroalgae; Calcium Carbonate Deposition; CO2; Primary Production; Sediment |
| Bapary, M. A. J., P. Fainuulelei, and A. Takemura. 2009. Environmental control of gonadal development in the tropical damselfish Chrysiptera cyanea. Marine Biology Research 5:462-469. | 2009 | | Index or Indicator | Fish; Small Herbivorous Fish; Special Use Permitting |
| de Putron, S. J. and J. S. Ryland. 2009. Effect of seawater temperature on reproductive seasonality and fecundity of Pseudoplexaura porosa (Cnidaria: Octocorallia): latitudinal variation in Caribbean gorgonian reproduction. Invertebrate Biology 128:213-222. | 2009 | South & Central America; Bermuda; Panama; Caribbean | | Octocoral |
| Wright, J. D., R. E. Sheridan, K. G. Miller, J. Uptegrove, B. S. Cramer, and J. V. Browning. 2009. Late Pleistocene Sea level on the New Jersey Margin: Implications to eustasy and deep-sea temperature. Global and Planetary Change 66:93-99. | 2009 | | | Climate; Sea Temperatures; Water Depth & Sea Level |
| Boyer, S. E., J. S. White, A. C. Stier, and C. W. Osenberg. 2009. Effects of the fish anesthetic, clove oil (eugenol), on coral health and growth. Journal of Experimental Marine Biology and Ecology 369:53-57. | 2009 | | Field Study & Monitoring | Fish; Stony Coral |
| Blanchon, P., A. Eisenhauer, J. Fietzke, and V. Liebetrau. 2009. Rapid sea-level rise and reef back-stepping at the close of the last interglacial highstand. Nature 458:881-884. | 2009 | Global; South & Central America; Mexico | Index or Indicator | Water Depth & Sea Level |
| Nakamura, K., M. Kitamura, and D. Uemura. 2009. Biologically active marine natural products. Heterocycles 78:17-Jan. | 2009 | Japan | Field Study & Monitoring | Microorganisms; Pharmaceuticals & Cosmetics Sources; Sponges |
| Schlager, W. and L. Keim. 2009. Carbonate platforms in the Dolomites area of the Southern Alps - Historic perspectives on progress in sedimentology. Sedimentology 56:191-204. | 2009 | US Pacific & Hawaii; Indian Ocean; India; Europe | Field Study & Monitoring; Model | Sediment |
| Correa, A. M. S. and A. C. Baker. 2009. Understanding diversity in coral-algal symbiosis: A cluster-based approach to interpreting fine-scale genetic variation in the genus Symbiodinium. Coral Reefs 28:81-93. | 2009 | | | |
| Kasemann, S. A., D. N. Schmidt, J. Bijma, and G. L. Foster. 2009. In situ boron isotope analysis in marine carbonates and its application for foraminifera and palaeo-pH. Chemical Geology 260:138-147. | 2009 | | | CO2 |
| Check, W. 2009. DNA sequencing grows virtuosic - And deep. Microbe 4:18-22. | 2009 | | | Biomedical Research Policies; Microorganisms; Pathogens; Pharmaceuticals & Cosmetics; Pharmaceuticals & Cosmetics Sources |
| Williamson, D. H., G. P. Jones, and S. R. Thorrold. 2009. An experimental evaluation of transgenerational isotope labelling in a coral reef grouper. Marine Biology 156:2517-2525. | 2009 | | Field Study & Monitoring | Fish; Marine Protected Areas; Piscivorous Fish |
| Kamal, A. H. and M. A. A. Khan. 2009. Coastal and estuarine resources of Bangladesh: management conservation issues. Maejo International Journal Of Science And Technology 3:313-342. | 2009 | | | Discharges; Fish; Fishing Sector; Lobster, Crab, & Shrimp; Mangroves; Marine Birds; Nutrients; Plankton; Salinity; Seagrasses; Surface & Groundwater Flow |
| Hobbs, J.-P.A., A. J. Frisch, G. R. Allen, and L. Van Herwerden. 2009. Marine hybrid hotspot at Indo-Pacific biogeographic border. Biology Letters 5:258-261. | 2009 | US Pacific & Hawaii; Indian Ocean; India; Pacific Ocean | Lab Study | Climate |
| Gu, C. D., H. Ren, J. P. Tu, and T. Y. Zhang. 2009. Micro/Nanobinary Structure of Silver Films on Copper Alloys with Stable Water-Repellent Property under Dynamic Conditions. Langmuir 25:12299-12307. | 2009 | | | Substrate |
| Knittweis, L., W. E. Kraemer, J. Timm, and M. Kochzius. 2009. Genetic structure of Heliofungia actiniformis (Scleractinia: Fungiidae) populations in the Indo-Malay Archipelago: Implications for live coral trade management efforts. Conservation Genetics 10:241-249. | 2009 | US Pacific & Hawaii; Indonesia | | Aquarium & Pet Trade; Stony Coral; Surface & Groundwater Flow |
| Mortillaro, J. M., K. A. Pitt, S. Y. Lee, and T. Meziane. 2009. Light intensity influences the production and translocation of fatty acids by zooxanthellae in the jellyfish Cassiopea sp. Journal of Experimental Marine Biology and Ecology 378:22-30. | 2009 | Australia | | Light; Lobster, Crab, & Shrimp; Plankton; Primary Production; Zooxanthellae |