You are here: EPA Home
Environmental Education & Outreach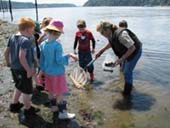 Environmental Education & Outreach
Environmental education refers to organized efforts to teach about how natural environments function and, particularly, how human beings can manage their behavior and ecosystems in order to live sustainably. The term is often used to imply education within the school system, from primary to post-secondary. However, it is sometimes used more broadly to include all efforts to educate the public and other audiences, including print materials, websites, media campaigns, etc. Environmental outreach is an umbrella term for a variety of activities by research institutes, universities, but also institutions such as science museums, aimed at promoting public awareness (and understanding) of environmental science and making informal contributions to environmental science education.
CMap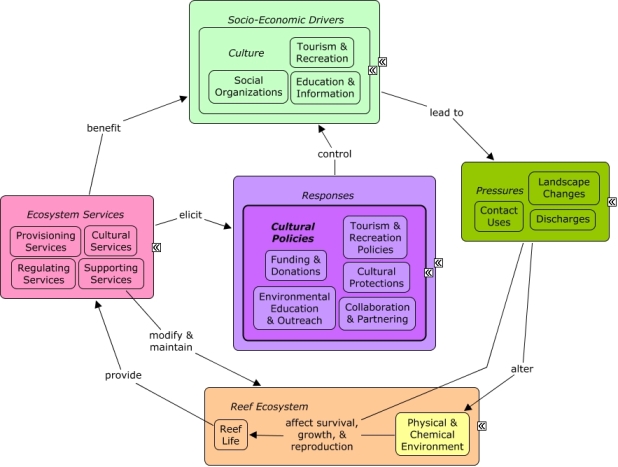 CMap Description
A change in the provision of ecosystem services, or a desire to improve provision of ecosystem services, may elicit responses to manage the distribution and functioning of cultural sectors. Cultural sectors, particularly tourism and recreation, create pressures on the reef ecosystem through primarily through contact uses, but also drive coastal development, which can lead to landscape changes and increasing pollution. Cultural sectors benefit from reef ecosystem services, including recreational and educational opportunities. Environmental education and outreach, including classwork, field trips, public advertising campaigns, and brochures, can be used to increase environmental awareness and to teach the public about the value of ecosystem services, or to modify public behavior.
Citations
More than 50 citations. Click here to load.
| Citation | Year | Study Location | Study Type | Database Topics |
| --- | --- | --- | --- | --- |
Management Options
More than 50 management options. Click here to load.
| Management Option | Description | Sources | Database Topics |
| --- | --- | --- | --- |
Laws
Legal Citation
Purpose of Law
Management Organization
Database Topics
25 Virgin Islands Code.
Under Title 25, in addition to requirements for boat registration and administration of harbors, among other things, sections pertaining to the mooring and anchoring of vessels and houseboats provide for the protection of important marine resources in USVI waters. The Law requires mandatory boating education and safety courses for all boat operators.

Application to Coral Reefs:Mooring and anchoring are restricted and not allowed near fragile systems. Not anchoring on coral reefs is abig plus of this legislation.

Legislative Actions:Penalties for violation of the Chapter include fines not to exceed $1,000, a lien on the vessel and potential libel suit

Comments:A houseboat or vessel is allowed to moor or anchor only in those areas designated by the Department. Section 404(g) of the legislation lists areas designated as areas of special concern.
US Virgin Islands, Department of Planning and Natural Resources, Division of Environmental Protection

Jurisdiction:
US Virgin Islands
Boating Regulations; Commercial Fishing Boats; Cruise Ships; Environmental Education & Outreach; Large Ships; Mangroves; Marine Protected Areas; Oil & Gas Tankers; Resource Use Management; Seagrasses; Small Boats; Transportation Policies
Abandoned Shipwreck Act of 1987, 43 United States Code &sect&sect 2101-2106.
To establish title to certain abandoned shipwrecks. U. S. Government asserted three categories of abandoned shipwrecks; embedded in a State's submerged lands, embedded in corralline formations protected by a State on its submerged lands, located on a State's submerged lands and included or determined eligible for inclusion in the National Register of historic Places.

Application to Coral Reefs:The Act requires, but is not limited to, development by NPS of guidelines for States and Federal agencies to develop appropriate and consistant policies to protect national resources and habitat areas, and to provide for public and private sector recovery consistant with historical values and environmental integrety. Corralline structures are specifically protected by the Act.

Legislative Actions:Specific response will vary from Federal agency to Federal agency and State to State.

Comments:The NPS published non-binding, advisory guidelines for States and Federal agencies to establish, review, revise, and implement programs to manage shipwrecks under their ownership or control. The guidance is entitled "Abondoned Shipwreck Act Guidelines."
National Park Service

Jurisdiction:
United States; US State Waters
Artificial Habitat; Coral; Designated Uses; Marine Protected Areas; Public Administration; Resource Use Management; Tourism & Recreation Policies; Waste Management Policies; Wetlands
Amendment to the Florida Keys National Marine Sanctuary Regulations revising the boundary of the northernmost area to be avoided off the coast of Florida, Federal Register &sect Volume 65, Number226 (2000).
NOAA, in conjunction with the US Coast Guard, proposed to revise the northernmost area to be avoided (ATBA) off the coast of the Florida Keys. The change was expected to increaase maritime safety and to avoid harm to the marine environment and its resources.

Application to Coral Reefs:The amendments directly protect coral reefs because the change of the nothernmost area presented in the regulation as Area To Be Avoided resulted in large vessels not entering the area that had been the site of large vessel groundings.

Legislative Actions:

Comments:
National Oceanic and Atmospheric Administration in conjunction with the US Coast Guard

Jurisdiction:
US Coral Reefs; State Coastal Waters; US State Waters; Designated Marine Areas
Anchoring & Vessel Grounding; Boat Movement; Civil Engineering & Construction; Commercial Fishing Boats; Coral; Cruise Ships; Fish; Large Ships; Oil & Gas Tankers; Physical Damage; Reef Inhabitants; Transportation Policies; Water Transportation
Biscayne Bay Aquatic Preserve, 18-18 Florida Administrative Code.
18-18.001 Intent. (1) The Biscayne Bay Aquatic Preserve, the boundaries of which are fully described in Rule 18-18.002, F.A.C., was established for the purpose of preserving and enhancing Biscayne Bay and all natural waterways tidally connected to the bay in an essentially natural condition so that its biological and aesthetic values may endure for the enjoyment of future generations. (2) These rules shall apply to all lands public and private within the boundaries of the preserve. However, privately owned uplands shall be excluded from these rules except as otherwise provided for herein. (3) In promulgating and implementing these rules, it is the intent of the Department to construe the provisions of Sections 258.397 and 258.35 through 258.46, F.S., together and to apply the more stringent statutory provisions for the maintenance of the preserve. (4) The preserve shall be administered and managed in accordance with the following goals: (a) To preserve, protect, and enhance Biscayne Bay and all natural waterways tidally connected to the bay by reasonable regulation of human activity within the preserve through the development and implementation of a comprehensive management program; (b) To protect and enhance the waters of the preserve so that the public may continue to enjoy the traditional recreational uses of those waters such as swimming, boating and fishing; (c) To coordinate with federal, state, and local agencies to aid in carrying out the intent of the legislature in creating the preserve; (d) To use applicable federal, state, and local management programs, which are compatible with the intent and provisions of the Act and these rules, to assist in managing the preserve; (e) To encourage activities that protect or enhance the biological and aesthetic values of the preserve, including but not limited to the modification of existing manmade conditions towards their natural condition, when reviewing applications or developing and implementing management plans for the preserve; (f) To preserve and promote indigenous life forms and habitats including but not limited to sponges, soft corals, hard corals, seagrasses, mangroves, mud flats, marine reptiles, game and non-game fish species, marine mammals, tropical marine invertebrates, birds and shellfish; (g) To acquire additional title interests in land wherever such acquisitions would serve to protect or enhance the biological or aesthetic values of the preserve.

Application to Coral Reefs:Biscayne Bay Aquatic Preserve protection of water quality will contribute to a lowering of contaminants leaving the preserve on tides and thus limiting the contaminants that reach off-shore ecosystems including the FKNMS and the reef system within the sanctuary.

Legislative Actions:

Comments:This chapter establishes the rules to protect the Biscayne Bay Aquatic Preserve, which was established for the purpose of preserving and enhancing Biscayne Bay and all natural waterways tidally connected to the bay in an essentially natural condition so that its biological and aesthetic values may endure for the enjoyment of future generations.
Florida State Department of Environmental Protection

Jurisdiction:
Designated Marine Areas
Accidental & Illegal Harvest; Anchoring & Vessel Grounding; Ballast Discharge; Boat Movement; Coastal Development; Docks & Marinas; Dredging Regulations; Dredging, Draining, & Filling; Environmental Education & Outreach; Existence Value & Sense of Place; Finfish & Shellfish Stock; Finfish Harvest; Hydrologic Management; Landuse Management; Mangroves; Marine Birds; Marine Debris; Nutrients; Point Source Discharges; Recreational Opportunities; Resource Use Management; Seagrasses; Seawater Flow; Sediment; Sewage Treatment; Small Boats; Waste Management Policies; Wastewater Discharge
Chapter 2: Protection of indigenous, endangered and threatened fish, wildlife and plants, 12 Virgin Islands Code.
Regulates activities, including scientific research, that could affect indigenous species and species considered at risk (threatened) or endangered, establishes species of special concern and habitats that should be protected, requires permits for trimming mangroves

Application to Coral Reefs:It is illegal to take or posses "live rock" which is defined as dead or live coral. It is illegaal to cut all three species of mangrove trees. Forbidding the takeing of coral directly protects coral species. Not cutting mangraoves will aid in sediment control and the removal of nutrients that could enter coral reef areas. The Commission can designate habitats for listed threatened or endangered species.

Legislative Actions:It is illegal to take or posses "live rock" which is defined as dead or live coral. It is illegaal to cut all three species of mangrove trees. Forbidding the takeing of coral directly protects coral species. Not cutting mangraoves will aid in sediment control and the removal of nutrients that could enter coral reef areas. The Commission can designate habitats for listed threatened or endangered species.

Comments:
US Virgin Islands, Department of Planning and Natural Resources, Division of Environmental Protection

Jurisdiction:
US Virgin Islands
Accidental & Illegal Harvest; Aquarium & Pet Trade; Aquarium Stock; Biological Monitoring & Restoration; Coral; Dive, Snorkeling, & Swimming Tourism; Environmental Monitoring, Mapping, & Scientific Research; Fishing & Harvesting Management; Invertebrate Harvest; Mangroves; Ornamental Jewelry & Art; Resource Use Management; Seagrasses; Tourism & Recreation Policies
Coastal Zone Management Act of 1972, 16 United States Code &sect&sect 1451-1456.
Preserve, protect, develop, and where possible, to restore or enhance the resources of the Nation's coastal zone for this and succeeding generations.

Application to Coral Reefs:Protection of coastal areas can have an indirect influence on coral reef preservation and conservation by the use of environmentally sound construction and development by limiting runoff of contaminants and sediment that could have an adverse effect on inshore coral reefs if present.

Legislative Actions:In addition, the Act authorized a national system of estuarine sanctuaries and the establishment of national field laboratories with a 50/50 cost-sharing grants with coastal states.

Comments:
National Oceanic and Atmospheric Administration/US Fish and Wildlife Service

Jurisdiction:
United States; State Coastal Waters
City Planning; Coastal Development; Collaboration & Partnering; Construction Codes & Projects; Corporate Responses; Designated Uses; Economic Markets & Policies; Environmental Education & Outreach; Environmental Monitoring, Mapping, & Scientific Research; Fishing & Harvesting Management; Funding & Incentives; Hydrologic Management; Landscape Changes; Landuse Management; Marine Debris; Marine Protected Areas; Non-point Source Controls; Nutrients; Permitting & Zoning; Point & Mobile Source Controls; Political Pressure; Public Administration; Resource Use Management; Sediment; Tourism & Recreation Policies; Transportation Policies; Waste Management Policies; Waterborne Discharges; Wetlands
Coral Reef Conservation Act of 2000, 16 United States Code &sect 6401 (2000).
To preserve, sustain, and restore the condition of coral reef ecosystems, to promote the wise management and sustainable use of coral reef ecosystems, to benefit local communities and the Nation, to develop sound scientific information on the condition of coral reef ecosystems and threats to the ecosystems, to assist in the preservation of coral reefs by supporting and financing conservation programs including local and non-governmental programs, establish a formal mechanism for collecting and allocating monetary donations from the private sector to be used for coral reef conservation projects

Application to Coral Reefs:Allowed the development of programs and projects, and provided financing for developing sound scientific data to preserve and restore coral reefs. Continued the Coral Reef Task Force and Coral Reef Initiative started under Executive Order 13089 (1998).

Legislative Actions:Provided funding for matching grants, encouraged education and outreach, encouaged cooperative conservation and management through partnerships with other federal, state, regional and local partners including citizen groups.

Comments:The Act is administrative, not regulatory. It established four major programs; (1) The National Coral Reef Action Strategy established goals for research, monitoring and conservation, (2, 3) The Coral Reef Conservation Program and Coral Reef Conservation Fund provided financial assistance for coral reef projects, (4) the National Program facilitated cooperative work between federal, state and regional efforts that work to improve coral reef ecosystems. The National Program also enhanced the public awareness of coral reefs through educational programs. The Act incorporated Executive Order 13,089 and provided coordinated funding activities through twelve federal agencies and seven states.
National Oceanic and Atmospheric Administration

Jurisdiction:
United States; US Coral Reefs
Biocriteria; Biological Monitoring, Mapping, & Scientific Research; Corporate Responses; Education & Information; Environmental Education & Outreach; Environmental Monitoring, Mapping, & Scientific Research; Fishing & Harvesting Management; Food & Raw Materials; Funding & Incentives; Marine Debris; Marine Protected Areas; Microorganisms; Public Administration; Remediation; Utilities
Endangered and Threatened Species; Critical Habitat for Threatened Elkhorn and Staghorn Corals, 73 Federal Register &sect 6895 (2008).
To make it unlawful, to import or export the species into or from the US, to take the species within the US or territorial seas of the US, to take the species upon the high seas, to possess, sell, deliver, carry, transport, or ship by any means whatsoever the species taken in violation, to deliver, receive, carry, transport, or ship in interstate or foreign commerce, by any means whatsoever and in the course of a commercial activity the species, to sell or offer for sale in interstate or foreign commerce the species, to violate any regulation pertaining to the species.

Application to Coral Reefs:The deignation of Acropa palmeta and Acropa cervicornis as threathened species will allow the species advantages in recovery. The designation protects the reef habitat because the species must have the reef to reproduce and grow.

Legislative Actions:Section 11 of the ESA provides civil and criminal penalties for a violation of the ESA.

Comments:
NOAA

Jurisdiction:
US Coral Reefs; US Territorial Waters; US Virgin Islands; Puerto Rico
Accidental & Illegal Harvest; Collaboration & Partnering; Environmental Education & Outreach; Fishing & Harvesting Management; Invertebrate Harvest; Recreational Opportunities; Skeletal Coral; Tourism & Recreation; Tourism & Recreation Policies
Endangered and Threatened Species; Critical Habitat for Threatened Elkhorn and Staghorn Corals; Final Rule, 73 Federal Register &sect 72210.
We, the National Marine Fisheries Service (NMFS), issue a final rule designating critical habitat for elkhorn (Acropora palmata) and staghorn (A. cervicornis) corals, which we listed as threatened under the Endangered Species Act of 1973, as amended (ESA), on May 9, 2006. Four specific areas are designated: the Florida area, which comprises approximately 1,329 square miles (3,442 sq km) of marine habitat; the Puerto Rico area, which comprises approximately 1,383 square miles (3,582 sq km) of marine habitat; the St. John/St. Thomas area, which comprises approximately 121 square miles (313 sq km) of marine habitat; and the St. Croix area, which comprises approximately 126 square miles (326 sq km) of marine habitat. We are excluding one military site, comprising approximately 5.5 square miles (14.3 sq km), because of national security impacts.

Application to Coral Reefs:The law protects coral habitat for elkhorn and staghorn coral which strenghtens their protection in the FKNMS, Puerto Rico, and US Virgin Islands.

Legislative Actions:

Comments:the National Marine
Fisheries Service (NMFS), issue a final
rule designating critical habitat for
elkhorn (Acropora palmata) and
staghorn (A. cervicornis) corals, which
we listed as threatened under the
Endangered Species Act of 1973, as
amended (ESA), on May 9, 2006. Four
specific areas are designated: the Florida
area, which comprises approximately
1,329 square miles (3,442 sq km) of
marine habitat; the Puerto Rico area,
which comprises approximately 1,383
square miles (3,582 sq km) of marine
habitat; the St. John/St. Thomas area,
which comprises approximately 121
square miles (313 sq km) of marine
habitat; and the St. Croix area, which
comprises approximately 126 square
miles (326 sq km) of marine habitat. We
are excluding one military site,
comprising approximately 5.5 square
miles (14.3 sq km), because of national
security impacts.
National Marine Fisheries Service

Jurisdiction:
US Coral Reefs; US Territorial Waters; US Territories; US State Waters; Designated Marine Areas; US Virgin Islands
Accidental & Illegal Harvest; Collaboration & Partnering; Commercial Fisheries; Commercial Fishing Boats; Dive, Snorkeling, & Swimming Tourism; Educational & Research Opportunities; Environmental Education & Outreach; Fishing & Harvesting Management; Recreational Fishing; Tourism & Recreation Policies
Estuaries and Clean Waters Act of 2000, 33 United States Code &sect&sect 2901 et seq.
Creates a federal interagency council that includes the Director of the Fish and Wildlife Service, the Secretary of Army for Civil Works, the Secretary of Agriculture, the Administrator of the Environmental Protection Agency, and the Administrator of the National Oceanic and Atmospheric Administration. The council is charged with developing a national estuary habitat restoration strategy and providing grants to entities to restore and protect estuary habitat to promote the strategy.

Application to Coral Reefs:Protecting water quality in estuaries will help mitigate the impacts of water pollution which inturn would help mitigate ocean acidification.

Legislative Actions:The Act authorized the formation of the Estuary Habitat Restoration Council that was responsible for developing a National Habitat Restoration Strategy.

Comments:
US Fish and Wildlife Service, US Army Corps of Engineers, Department of Agriculture, US Environmental Protection Agency, National Oceanic and Atmospheric Administration

Jurisdiction:
United States
Ballast Discharge; Building & Home Construction; Collaboration & Partnering; Dredging, Draining, & Filling; Educational & Research Opportunities; Environmental Education & Outreach; Existence Value & Sense of Place; Finfish Harvest; Fishing & Harvesting Management; Forestry; Funding & Donations; Mangroves; Marine Birds; Mining; Non-point Source Runoff; Nutrient & Contaminant Processing; Nutrients; Remediation; Resource Use Management; Seagrasses; Sediment; Sewage Treatment; Solid Waste Disposal; Waste Management; Waste Management Policies; Wastewater Discharge
Estuaries Protection Act of 1968, 16 United States Code &sect&sect 1221-1226.
Authorizes the Secretary of Interior in cooperation with other federal agencies and the states, to study and inventory estuaries of the united states, including land and water of the Great Lakes, and to determine whether such areas should be acquired for protection. The Secretary is also requied to encourage state and local governments to consider the importance of estuaries in their planning activities relative to federal natural resources grants.

Application to Coral Reefs:Established the congressional policy on the values of wetlands and the need to conserve their natural resources. Protection of wetlands provide coral reefs with an indirect benefit as the wetland serves the functions of nutrient removal and sediment containment

Legislative Actions:

Comments:
Secretary of Interior in conjunction with other federal agencies and States

Jurisdiction:
United States
Building & Home Construction; Collaboration & Partnering; Discharges; Docks & Marinas; Environmental Education & Outreach; Existence Value & Sense of Place; Fertilizer & Pesticide Use; Hydrologic Management; Landscape Changes; Mangroves; Nutrient & Contaminant Processing; Ports & Harbors; Recreational Opportunities; Seagrasses; Waterborne Discharges; Wetlands
Exec. Order No. 11990, Protection of Wetlands, 42 Federal Register 26961 (1977).
Federal agencies are directed to provide leadership and take action to minimize the destruction, loss, or degradation of wetland and to preserve and enhance the natural and beneficial uses of wetlands.

Application to Coral Reefs:Protection and restoration of wetlands benefits coral reefs because wetlands stop nutrients and sediments from entering waterbodies and eventually reaching coral reefs and producing adverse effects.

Legislative Actions:The Order protects wetlands on projects on Federal lands. The agencies are to provide leadership to minimize the destruction, loss or degradation of wetlands, to preserve and enhance natural and beneficial values when carrying our their responsibilities.

Comments:
Federal agencies

Jurisdiction:
United States
Educational & Research Opportunities; Environmental Education & Outreach; Hydrologic Management; Mangroves; Nutrient & Contaminant Processing; Public Administration; Seagrasses; Security & Public Administration Policies; Wetlands
Exec. Order No. 12962, Recreational Fisheries, 60 Federal Register (1995).
Federal agencies are directed to improve the quantity, function, sustainable productivity, and distribution of U.S. aquatic resources for increased recreational fishing opportunities in cooperation with states and tribes.

Application to Coral Reefs:

Legislative Actions:

Comments:
Federal agencies

Jurisdiction:
United States
Environmental Education & Outreach; Finfish & Shellfish Stock; Finfish Harvest; Fishing & Harvesting Management; Fishing Sector; Funding & Donations; Recreational Fishing; Resource Use Management; Tourism & Recreation Policies
Exec. Order No. 13112, Invasive Species, 68 Federal Register 6183 (1990).
Federal agencies are directed to prevent the introduction of invasive species, detect and rapidly respond to control populations of such species in a cost effective and environmentalyy sound manner, accurately monitor invasive species, provide for restoration of native species and habitat conditions, conduct research to prevent introduction and to control invasive species, and promote public education on invasive species and the means to address them.

Application to Coral Reefs:

Legislative Actions:No enforcement provisions. Federal agencies are encouraged to prevent the introduction, detect and respond to control, monitor, and conduct research of invasives. Secretary of Interior established an "Invasive Species Council" to address invasive species issues.

Comments:
Federal Agencies

Jurisdiction:
United States
Collaboration & Partnering; Designate Protected Species; Environmental Education & Outreach; Environmental Monitoring, Mapping, & Scientific Research; Escape & Release of Non-natives; Existence Value & Sense of Place; Invasive Species; Political Pressure; Remediation
Exec. Order No. 13158, Marine Protected Areas, 65 Federal Register 34909 (2000).
This Executive Order is meant to help protect the significant natural and cultural resources within the marine environment for the benefit of present and future generations by strengthening and expanding the Nation�s system of marine protected areas.

Application to Coral Reefs:Benefits to coral reefs within MPA's.

Legislative Actions:One of the provisions of the Act requires that the Secretary develop a scientifically based, comprehensive system of MPA's representing diverse US marine ecosystems, and the Nation's natural and cultural resources.

Comments:
Department of Interior, National Oceanic and Atmospheric Administration

Jurisdiction:
United States
Biocriteria; Biological Monitoring, Mapping, & Scientific Research; Collaboration & Partnering; Complex Habitat & Resources; Educational & Research Opportunities; Environmental Education & Outreach; Environmental Monitoring, Mapping, & Scientific Research; Existence Value & Sense of Place; Fishing & Harvesting Management; Marine Protected Areas; Recreational Opportunities; Resource Use Management; Tourism & Recreation Policies
Federal Advisory Committee Act of 1972, 5 United States Code &sect app.
Created a formal process for federal agencies to seek advice and assistance from citizens. Any council, panel, conference, task force, or similar group used by federal officials to obtain consensus advice or recommendations on issues and policies that fall under the purview of the Act.

Application to Coral Reefs:The public sector had, and continues to participate, in many areas of the FKNMS.

Legislative Actions:The Act is the legal foundation defining how federal advisory committees operate. The law has special emphasis on open meetings, chartering, public involvement, and reporting.

Comments:
Federal Agencies

Jurisdiction:
United States
Collaboration & Partnering; Environmental Education & Outreach
Fish and Wildlife Act of 1956, as amended, 16 United States Code &sect 742.
Established a comprehensive national fish, shellfish, and wildlife resources policy with emphasis on commercial fishing industry but also with a direction to administer the Act with regard to the inherent right of every citizen and resident to fish for pleasure, enjoyment, and betterment and to maintain and increase public opportunities for recreational use of fish and wildlife.

Application to Coral Reefs:

Legislative Actions:

Comments:The 1998 amendments promoted voluteer programs and community partnerships for the benefit of national wildlife refuges.
US Fish and Wildlife Service

Jurisdiction:
United States
Bivalves; Commercial Fisheries; Designate Protected Species; Economic Markets & Policies; Environmental Education & Outreach; Environmental Monitoring, Mapping, & Scientific Research; Finfish Harvest; Fish; Fishing & Harvesting Management; Funding & Donations; Lobster, Crab, & Shrimp; Political Pressure; Public Administration; Recreational Fishing; Resource Use Management; Snails & Conch; Tourism & Recreation; Tourism & Recreation Policies
Fish and Wildlife Improvement Act of 1978, 16 United States Code &sect 7421.
Passed to improve the administration of fish and wildlife programs and amends several earlier laws, including the Refuge Recreation Act, the National Wildlife Refuge System Administration Act, and the Fish and Wildlife Act of 1956. It authorizes the Secretary to accept gifts and bequests of real and personal property on behalf of the United States. It also authorizes the use of volunteers on Service projects and appropriations to carry out volunteer programs.

Application to Coral Reefs:

Legislative Actions:The Secretaries were authorized to establish, conduct and assist with national training programs for State fish and wildlife enforcement personnel.

Comments:The law provided authority to the Secretaries to enter into law enforcement cooperatives with State and other federal agencies.It expanded the use of fines, penalties and forfeiture funds received under the Endangered Species Act and Lacey Act to include the cost of shipping, storing and disposing of items.
Secretary of Interior and Secretary of Commerce, administration primarily through US Fish and Wildlife Service

Jurisdiction:
United States
Environmental Education & Outreach; Environmental Monitoring, Mapping, & Scientific Research; Public Administration; Resource Use Management
Fish and Wildlife Service Act of 1956, 16 United States Code &sect 742.
Establishes a comprehensive national fish, shellfish, and wildlife resources policy with emphasis on the commercial fishing industry but also includes the inherent right of every citizen and resident to fish for pleasure, enjoyment, and betterment, and to maintain and increase public opportunities for recreational use of fish and wildlife resources. Among other things, it authorizes the Secretary of the Interior to take such steps as may be required for the development, advancement, management, conservation, and protection of fish and wildlife resources, including, but not limited to, research, development of existing facilities, and acquisition by purchase or exchange of land and water or interests therein.

Application to Coral Reefs:

Legislative Actions:The Act is written for the support of commercial and recreational fisherpersons so that they enjoy the benefits of the Nation's fishery resources.

Comments:
US Fish and Wildlife Service

Jurisdiction:

Commercial Fisheries; Designate Protected Species; Environmental Education & Outreach; Environmental Monitoring, Mapping, & Scientific Research; Finfish Harvest; Fish; Fishing & Harvesting Management; Fishing Sector; Lobster, Crab, & Shrimp; Public Administration; Recreational Fishing; Resource Use Management; Tourism & Recreation Policies
Florida Aquatic Preserves, 18-20 Florida Administrative Code.
18-20.001 Intent. (1) All sovereignty lands within a preserve shall be managed primarily for the maintenance of essentially natural conditions, the propagation of fish and wildlife, and public recreation, including hunting and fishing where deemed appropriate by the Board, and the managing agency. (2) Aquatic preserves which are described in Part II of Chapter 258, Florida Statutes, were established for the purpose of being preserved in an essentially natural or existing condition so that their aesthetic, biological and scientific values may endure for the enjoyment of future generations. (3) The preserves shall be administered and managed in accordance with the following goals: (a) To preserve, protect, and enhance these exceptional areas of sovereignty submerged lands by reasonable regulation of human activity within the preserves through the development and implementation of a comprehensive management program; (b) To protect and enhance the waters of the preserves so that the public may continue to enjoy the traditional recreational uses of those waters such as swimming, boating, and fishing; (c) To coordinate with federal, state, and local agencies to aid in carrying out the intent of the Legislature in creating the preserves; (d) To use applicable federal, state, and local management programs, which are compatible with the intent and provisions of the act and these rules, and to assist in managing the preserves; (e) To encourage the protection, enhancement or restoration of the biological, aesthetic, or scientific values of the preserves, including but not limited to the modification of existing manmade conditions toward their natural condition, and discourage activities which would degrade the aesthetic, biological, or scientific values, or the quality, or utility of a preserve, when reviewing applications, or when developing and implementing management plans for the preserves; (f) To preserve, promote, and utilize indigenous life forms and habitats, including but not limited to: sponges, soft coral, hard corals, submerged grasses, mangroves, salt water marshes, fresh water marshes, mud flats, estuarine, aquatic, and marine reptiles, game and non-game fish species, estuarine, aquatic and marine invertebrates, estuarine, aquatic and marine mammals, birds, shellfish and mollusks; (g) To acquire additional title interests in lands wherever such acquisitions would serve to protect or enhance the biological, aesthetic, or scientific values of the preserves; (h) To maintain those beneficial hydrologic and biologic functions, the benefits of which accrue to the public at large. (4) Nothing in these rules shall serve to eliminate or alter the requirements or authority of other governmental agencies, including counties and municipalities, to protect or enhance the preserves provided that such requirements or authority are not inconsistent with the act and this chapter.

Application to Coral Reefs:By maintaining coastal aquatic preserves in their natural condition, mangrove forests, wetlands and submerged aquatic vegetation will perform the functions of being sediment traps and removing some contaminants such as nutrients. Therefore, they will not reach marine ecosystems including coral reefs.

Legislative Actions:

Comments:Aquatic preserves which are described in Part II of Chapter 258, Florida Statutes, were established for the purpose of being preserved in an essentially natural or existing condition so that their aesthetic, biological and scientific values may endure for the enjoyment of future generations. All sovereignty lands within a preserve shall be managed primarily for the maintenance of essentially natural conditions, the propagation of fish and wildlife, and public recreation, including hunting and fishing where deemed appropriate by the Board, and the managing agency.
Florida State Department of Environmental Protection

Jurisdiction:
State Coastal Waters
Building & Home Construction; Coastal Development; Docks & Marinas; Dredging, Draining, & Filling; Educational & Research Opportunities; Environmental Education & Outreach; Existence Value & Sense of Place; Landuse Management; Mangroves; Marine Birds; Ports & Harbors; Recreational Opportunities; Resource Use Management; Seagrasses; Waste Management Policies
Florida Keys National Marine Sanctuary Regulations, Federal Register &sect Volume 66, Number 11 (2001).
NOAA established the Tortugas Ecological Reserve (a no-take zone) in the Tortugas region (Tortugas or region) of the Florida Keys to protect significant coral resources and to protect an area that serves as a source of biodiversity for the Sanctuary as well as for the southwest shelf of Florida. Establishment of the Reserve included expansion of the Sanctuary boundary to ensure that the Reserve protects sensitive coral habitats lying outside the existing boundary of the Sanctuary.

Application to Coral Reefs:The Regulation protects significant coral resources and many marine species by providing a no-take zone.

Legislative Actions:The regulation increased the no-take zones to 24 areas. Fishing is prohibited in Tortugas north for areas that are within State waters. Diving is prohibited in Tortugas south.

Comments:
National Oceanic and Atmospheric Administration

Jurisdiction:
US State Waters; Designated Marine Areas
Biological Harvest; Bivalves; Boating Activities; Commercial Fisheries; Coral; Dive, Snorkeling, & Swimming Tourism; Environmental Education & Outreach; Finfish Harvest; Fish; Fishing & Harvesting Management; Invertebrate Harvest; Invertebrates; Lobster, Crab, & Shrimp; Marine Protected Areas; Molluscs; Octopus & Squid; Recreational Fishing; Reef Habitat; Reef Inhabitants; Sea Urchins; Seastars; Snails & Conch; Sponges; Stony Coral; Tourism & Recreation; Trawling & Fishing Gear Damage
Florida Keys National Marine Sanctuary Regulations; Final Rule, Code of Federal Regulations &sect Parts 922, 929, 937 (1997).
NOAA developed the comprehensive Final Management Plan for the FKNMS and issued the Plan on January 30, 1997. Congress and the Governer of Florida were provided a 45-day period to provide certification of unacceptable regulations that needed amendments. NOAA incorporated the certified changes provided and issued the final regulations and management plan for the Sanctuary that went into effect with the publication of the final rule, including waters within the State of Florida in the Sanctuary.

Application to Coral Reefs:The Sanctuary sets aside the coral reef system that is the third largest barrier coral reef in the world. Included in the FKNMS are the Key Largo Marine Sanctuary containing 103 square nautical miles of coral reefs and Looe Key National Marine Sanctuary containing 5.32 square nautical miles of coral reefs. The Act protects the reefs from anchoring directly into the coral formation and taking coral dead or alive. The Act protects mangrove islands and submerged aquatic vegetation, both potential buffers for the reef system against eutrophication and sediment deposition. The Act prohibits oil and hydrocarbon exploration, mining or altering the seabed, restricts large shipping traffic, and restricts the discharge of pollutants, further protecting coral, mangroves, and submerged aquatic vegetation.

Legislative Actions:The Act requires the preparation of a comprehensive management plan and implementing regulations to protect Sanctuary resources.

Comments:The final rule codifies the Act and further defines boundaries of the Sanctuary as well as providing a list of species protected in the Sanctuary.
National Oceanic and Atmospheric and Administration

Jurisdiction:
US Coral Reefs; US Territorial Waters; State Coastal Waters; US State Waters; Designated Marine Areas
Ballast Discharge; Biological Monitoring, Mapping, & Scientific Research; Boating Regulations; Collaboration & Partnering; Commercial Fishing Boats; Cruise Ships; Cultural Protections; Designate Protected Species; Dive, Snorkeling, & Swimming Tourism; Educational & Research Opportunities; Environmental Education & Outreach; Finfish & Shellfish Stock; Finfish Harvest; Fishing & Harvesting Management; Invertebrate Harvest; Invertebrates; Large Ships; Live Collection; Mangroves; Marine Debris; Nutrient & Contaminant Processing; Oil & Gas Tankers; Point & Mobile Source Controls; Recreational Fishing; Recreational Opportunities; Reef Inhabitants; Resource Use Management; Seagrasses; Sediment; Shoreline Protection; Small Boats; Tourism & Recreation; Tourism & Recreation Policies; Transportation Policies; Waste Management Policies; Wetlands
General Authorities Act of 1970, 16 United States Code &sect&sect 1 et seq.
Reinforces the National Park Services Act by uniting all areas administered by the NPS into one National Park System. The Act assures a common preservation purpose for all units, regardless of title or designation.

Application to Coral Reefs:

Legislative Actions:

Comments:
National Park Service

Jurisdiction:
United States
Environmental Education & Outreach; Public Administration; Security & Public Administration Policies; Tourism & Recreation Policies
Marine Protection, Research, and Sanctuaries Act of 1972, 33 United States Code &sect 1401.
To regulate the dumping of all types of materials into ocean waters and to prevent or strictly limit the dumping into ocean waters of any material which would adversely affect human health, welfare, or amenities, or the marine environment, ecological systems, or economic potentialities. To regulate (1) the transportation by any person of material from the United States and, in the case of United States vessels, aircraft, or agencies, the transportation of material from a location outside the United States, when in either case the transportation is for the purpose of dumping the material into ocean waters, and (2) the dumping of material transported by any person from a location outside the United States, if the dumping occurs in the territorial sea or the contiguous zone of the United States.

Application to Coral Reefs:The Act has been historically used to regulate dumping of dredged materials and sewage sludge into the marine environment. The law intends to improve the conservation, understanding, management, and wise and sustainable use of marine resources, enhance public awareness, understanding, and appreciation of the marine environment, and to maintain for future generations the habitat, and ecologigal services, of the natural assemblage of living resources that inhabit those areas. Because permits are required, it can be assumed that dumping would not be allowed if the material would be dispersed into a sensitive habitat such as coral reefs.

Legislative Actions:EPA may assess an administrative civil penalty up to $50,000 per person. Higher penalties can be assessed for dumping medical waste (up to $125,000). Each day in violation constitutes a separate offense. Continuing violations can suffer criminal penalties with fines and up to five years imprisionment possible.

Comments:The Act has played a major role in regulating the disposal of dredged material into the ocean environment. However, medical and radioactive wastes, industrial wastes, as well as sewage sludge, are also regulated in the law.
United States Environmntal Protection Agency

Jurisdiction:
US Territorial Waters; US Federal Waters; Designated Marine Areas
Ballast Discharge; Biocriteria; Boating Regulations; Complex Habitat & Resources; Designate Protected Species; Designated Uses; Environmental Education & Outreach; Environmental Monitoring, Mapping, & Scientific Research; Fishing & Harvesting Management; Mangroves; Marine Debris; Marine Protected Areas; Microorganisms; Non-point Source Controls; Oil & Gas Research & Exploration; Physical & Chemical Water Quality Criteria; Point & Mobile Source Controls; Political Pressure; Remediation; Resource Use Management; Seagrasses; Sediment; Sewage Treatment; Solid Waste Disposal; Tourism & Recreation Policies; Transportation Policies; Waste Management Policies; Wastewater Discharge
National Environmental Education Act of 1990, 20 United States Code &sect 5501.
Established the Office of Environmental Education within USEPA to develop and administer a federal environmental education program in consultation with other federal natural reource management agencies.

Application to Coral Reefs:The Act could be used as a tool to educate the public about the values of coral reefs

Legislative Actions:

Comments:
US Environmental Protection Agency

Jurisdiction:
United States
Collaboration & Partnering; Cultural Services; Educational & Research Opportunities; Environmental Education & Outreach; Existence Value & Sense of Place; Public Administration; Recreational Opportunities
National Environmental Policy Act of 1969 as amended through 1982,.
Declared a national policy that will encourage productive and enjoyable harmony between man and his environment : promote efforts that will prevent or eliminate damage to the environment and biosphere: stimulate the health and welfare of resources important to the Nation and establish a Council on Environmental Quality.

Application to Coral Reefs:Re-athorizes NEPA of 1969. Provides additional funding.

Legislative Actions:The Act potentially could protect coral reefs if the proposed federal project could have a significant impact on the reef.

Comments:The amendments did not add regulations to the Act
Federal Agencies

Jurisdiction:
United States
Atmospheric Emissions; Chemical Variables; Collaboration & Partnering; Complex Habitat & Resources; Dam Construction & Maintenance; Discharge Limitations; Discharges; Educational & Research Opportunities; Energy Policy & Development; Environmental Education & Outreach; Existence Value & Sense of Place; Infrastructural Policies; Landuse Management; Manufacturing & Trade; Mining; Oil & Gas Industry; Recreational Opportunities; Resource Use Management; Security; Toxics; Transportation; Waterborne Discharges
National Marine Sanctuaries Act of 1972, 16 United States Code &sect&sect 1431-1445.
Authorizes the Secretary of Commerce to designate and manage areas of the marine environment with special national significance due to their conservation, recreational, ecological, historical, scientific, cultural, archeological, educational, or esthetic qualities as National Marine Sanctuaries.

Application to Coral Reefs:Protects marine resources, such as coral reefs, sunken historical vessels, or unique habitats.

Legislative Actions:NOAA may impose civil penalties up tp $130,000 per day per violation. Criminal penalties were added in the 2000 amendments for interfering or resisting with any enforcement of the NMSA, or providing false information to the Secretary or any officer authorized to enforce NMSA. The 2000 amendments made it illegal to offer for sale, purchase, import, or export, any sanctuary resource and increased enforcement authority.

Comments:There are 13 marine sanctuaries in the National Marine Sactuary System, six of which were created after 1990. Each sanctuary has a separarte staff and program in its local region.
National Oceanic Aatmospheric Administration

Jurisdiction:
Designated Marine Areas
Apex Fish Predators; Biological Monitoring, Mapping, & Scientific Research; Boating Regulations; CO2; Coastal Development; Commercial Fishing Boats; Coral; Corporate Responses; Designate Protected Species; Designated Uses; Dive, Snorkeling, & Swimming Tourism; Dredging, Draining, & Filling; Educational & Research Opportunities; Environmental Education & Outreach; Environmental Monitoring, Mapping, & Scientific Research; Existence Value & Sense of Place; Fishing & Harvesting Management; Large Ships; Marine Birds; Marine Protected Areas; Nutrients; Ocean Acidity; Oil & Gas Research & Exploration; Political Pressure; Recreational Opportunities; Remediation; Resource Use Management; Seagrasses; Sediment; Tourism & Recreation Policies; Wetlands
National Park Service General Partnership Authorities of 1970, 16 United States Code &sect 1.
The Act supplemented and clarified the National Park Service's mandate with respect to the management of the National Park System.

Application to Coral Reefs:

Legislative Actions:

Comments:
National Park Service

Jurisdiction:
United States
Biological Monitoring, Mapping, & Scientific Research; Boating Regulations; Designated Uses; Educational & Research Opportunities; Environmental Education & Outreach; Environmental Monitoring, Mapping, & Scientific Research; Existence Value & Sense of Place; Fishing & Harvesting Management; Marine Protected Areas; Recreational Opportunities; Remediation; Resource Use Management; Tourism & Recreation Policies
National Park Service Organic Act of 1916, 16 United States Code &sect 1.
The Act was created to start the National Park Service within the Department of Interior for the purpose of promoting and regulating the use of federal areas such as national parks and monuments.

Application to Coral Reefs:

Legislative Actions:Created the National Park Service to be supervised by a Director.

Comments:
National Park Service

Jurisdiction:
United States
Boating Regulations; Collaboration & Partnering; Construction Codes & Projects; Designated Uses; Environmental Education & Outreach; Environmental Monitoring, Mapping, & Scientific Research; Fishing & Harvesting Management; Invasive Species; Landuse Management; Marine Protected Areas; Microorganisms; Permitting & Zoning; Political Pressure; Public Administration; Remediation; Resource Use Management; Tourism & Recreation Policies; Transportation Policies
National Park Service, Department of Interior,.
To conserve the scenery, natural and historic objects, and wildlife of the National Parks; and to provide for the enjoyment of those resources in a sustainable manner. Regulations provide for the proper use, management, government, and protection of persons, property, and natural and cultural resources within areas under the jurisdiction of the National Park Service.

Application to Coral Reefs:

Legislative Actions:

Comments:
National Park Service

Jurisdiction:
United States
Biological Monitoring, Mapping, & Scientific Research; Boating Regulations; Construction Codes & Projects; Deforestation & Devegetation; Designated Uses; Economic Markets & Policies; Educational & Research Opportunities; Environmental Education & Outreach; Environmental Monitoring, Mapping, & Scientific Research; Existence Value & Sense of Place; Fishing & Harvesting Management; Landuse Management; Mangroves; Marine Debris; Marine Protected Areas; Permitting & Zoning; Political Pressure; Public Administration; Recreational Opportunities; Resource Use Management; Seagrasses; Tourism & Recreation; Tourism & Recreation Policies; Transportation Policies
National Wildlife Refuge System Administration Act of 1966, 16 United States Code &sect 66.
The Act defines the National Wildlife Refuge System and authorizes the Secretary of Interior to permit any use of a refuge provided such use is compatible with the major purpose for which the refuge was established.

Application to Coral Reefs:

Legislative Actions:

Comments:
US Fish and Wildlife Serice

Jurisdiction:
United States
Biological Monitoring, Mapping, & Scientific Research; Construction Codes & Projects; Designate Protected Species; Designated Uses; Environmental Education & Outreach; Environmental Monitoring, Mapping, & Scientific Research; Fishing & Harvesting Management; Funding & Donations; Landuse Management; Physical & Chemical Water Quality Criteria; Political Pressure; Remediation; Resource Use Management; Tourism & Recreation Policies; Transportation Policies
North American Wetlands Conservation Act of 1989, 16 United States Code &sect 4411.
Provides funding and administrative direction for the implementation of the North American Waterfowl Management Plan and the Tripartite Agreement between Canada, the United States, and Mexico.

Application to Coral Reefs:

Legislative Actions:A North American Wetlands Conservation Council was created to recommend projects to be funded under the Act to the Migratory Bird Conservation Commission.

Comments:
US Fish and Wildlife Service

Jurisdiction:
State Coastal Waters; Canada; Mexico
Collaboration & Partnering; Designate Protected Species; Environmental Education & Outreach; Environmental Monitoring, Mapping, & Scientific Research; Funding & Donations; Marine Birds; Public Administration
Ocean Acidification and Marine pH Water Quality Criteria, 74 Federal Register &sect 17484 (2009).
The publication is a Notice of Data Availability. EPA was making data submitted from various sources available to the public. They also were requesting additon data from the public on ocean acidification and marine pH. The data was to be reviewed to determine if a revision of the Clean Water Act (Section 304) (a) (1) was warranted.

Application to Coral Reefs:Coral reefs would be protected if ocean acidification could be controlled because it is a major detrimental parameter of living cora, contributing to their dying.

Legislative Actions:

Comments:
EPA

Jurisdiction:
US Coral Reefs
Collaboration & Partnering; Coral; Environmental Education & Outreach; Greenhouse Gas Emissions; Ocean Acidity; Point Source Discharges
Partnerships for Wildlife Act of 1992, 16 United States Code &sect&sect 3741-3744.
Established a Wildlife Conservation and Appreciation Fund to receive appropriated funds and donations from the National Fish and Wildlife Foundation and other private sources to assist the state fish and game agencies in carrying out their responsibilities for conservation of non-game species.

Application to Coral Reefs:

Legislative Actions:The Act authorized grants to match contributions from the Wildlife Conservation and Appreciarion Fund, and authorized grants to states for conservation programs and projects to conserve nongame wildlife species.

Comments:
US Fish and Wildlife Service

Jurisdiction:
State Coastal Waters
Collaboration & Partnering; Environmental Education & Outreach; Funding & Donations; Reef Life
Proclamation No. 7392, The Buck Island Reef National Park, 66 Federal Register 7335-7336 (2001).
18,000 acres in the US Virgin Islands

Application to Coral Reefs:The Proclamation expanded the original momument thus protecting additional coral reefs within the monument boundaries.

Legislative Actions:

Comments:Together, Proclamation 7399 and 7392 designated a total of 30,843 marine acres in the United States Virgin Isalnds as monuments.
US Virgin Islands, Department of Planning and Natural Resources, Division of Environmental Protection

Jurisdiction:
US Virgin Islands
Accidental & Illegal Harvest; Biological Monitoring, Mapping, & Scientific Research; Commercial Fishing Boats; Cruise Ships; Dive, Snorkeling, & Swimming Tourism; Economic Markets & Policies; Educational & Research Opportunities; Environmental Education & Outreach; Existence Value & Sense of Place; Finfish & Shellfish Stock; Invertebrate Harvest; Mangroves; Marine Protected Areas; Recreational Fishing; Recreational Opportunities; Resource Use Management; Seagrasses; Small Boats; Tourism & Recreation; Tourism & Recreation Policies
Proclamation No. 7399, Establishment of Virgin Islands Coral Reef National monument, 66 Federal Register 7364 (2001).
Designated 12,000 marine acres in the US Virgin Islands

Application to Coral Reefs:Monuments include coral reefs thereby providing the coral reefs within the monument bondaries the same protection as the designated monument areas.

Legislative Actions:

Comments:Together, Proclamation 7399 and 7392 designated a total of 30,843 marine acres in the United States Virgin Isalnds as monuments.
US Virgin Islands, Department of Planning and Natural Resources, Division of Environmental Protection

Jurisdiction:
US Virgin Islands
Building & Home Construction; Commercial Fishing Boats; Designate Protected Species; Dive, Snorkeling, & Swimming Tourism; Educational & Research Opportunities; Environmental Education & Outreach; Existence Value & Sense of Place; Finfish Harvest; Fishing Sector; Invertebrate Harvest; Mangroves; Marine Protected Areas; Recreational Opportunities; Resource Use Management; Road Construction & Maintenance; Seagrasses; Small Boats; Tourism & Recreation Policies
Refuge Recreation Act of 1963, as amended, 16 United States Code &sect 1962.
Authorized the Secretary of the Interior to administer refuges, hatcheries, and other conservation areas for recreational use, when such uses do not interfere with the area's primary purpose. It authorizes construction and maintenance of recreational facilities and the acquisition of land for incidental fish and wildlife-oriented recreational development or protection of natural resources. It also authorizes the charging of fees for public uses.

Application to Coral Reefs:

Legislative Actions:The Act established public use fees and permits, and established penalties for violations of regulations.

Comments:
US Fish and Wildlife Service

Jurisdiction:
United States
Environmental Education & Outreach; Fishing & Harvesting Management; Resource Use Management; Tourism & Recreation Policies
Revised Florida Keys National Marine Sanctuary Management Plan &sect&sect Public Law 101-605 (HR 5909, Public Law (2007).
The document is a report on the results of NOAA's five year review of strategies and activities detailed in the 1996 Final Management Plan and Environmental Impact Statement for the Florida Keys National Marine Sanctuary.

Application to Coral Reefs:The plan specifically addresses preserving and enhancing Sanctuary resources including four national wildlife refuges, six state parks, three state aquatic preserves, Key Largo Marine Sanctuary, Looe Key Marine Sanctuary and a total of 2,900 square nautical miles of coastal waters and numerous coral reefs. The sanctuary ecosystems are facing specific threats including direct human impacts such as vessel groundidngs, pollution and overfishing.

Legislative Actions:

Comments:
National Oceanic and Atmospheric Administration with the Florida Department of Environmental Protection and the Florida Fish and Wildlife Conservation Commission as Co-trustees

Jurisdiction:
US Federal Waters; Designated Marine Areas
Anemones & Zooanthids; Apex Fish Predators; Ballast Discharge; Coastal Development; Commercial Fishing Boats; Complex Habitat & Resources; Coral; Cruise Ships; Dive, Snorkeling, & Swimming Tourism; Economic Markets & Policies; Educational & Research Opportunities; Environmental Education & Outreach; Existence Value & Sense of Place; Fish; Fishing & Harvesting Management; Littering; Lobster, Crab, & Shrimp; Marine Debris; Natural Gas & Electric Power; Non-point Source Runoff; Nutrients; Ocean Acidity; Oil & Gas Research & Exploration; Oil & Gas Rigs; Recreational Opportunities; Reef Habitat; Reef Inhabitants; Seastars; Sediment; Sponges; Tourism & Recreation Policies; Waste Management; Waste Management Policies; Waterborne Discharges
Significant amendments to the National Marine Sanctuaries Act of 1972. Amendments of 1980 were PL 96-332, 1984 were PL98-498, 1988 were Title II of PL 100-627, 1992 were PL 102-587, 1996 were PL 104-283 and for 2000 were PL106-513,.
Title III of the Marine Protection, Reseach and Sanctuaries Act was amended to create the National Marine Sanctuaries Program. The amendments of 1980 mandated the terms of designation to include the geographic area included within the sanctuary and the characteristics of the area that give it conservation, recreational, ecological, or esthetic value, and the types of activities that would be subject to regulation to protect those characteristics. The 1984 amendments required a Resource Assessment Report documenting present and potential use of the area. 1998 amendments established a special use permit for commercial operations, added a section that a vessel or person causing damage to the resources of a sanctuary would be liable for both response and cleanup costs as well as damages for any sanctuary resource destroyed. Amendments of 1992 provided that Title III may be cited as 'The National Marine Sanctuaries Act." Also, federal agencies had to be consistent with the National Environmental Policy Act in commenting on proposed designations.

Application to Coral Reefs:Strenghtened the protectinon of marine sanctuaries and their resources. Some specific purposes of the Act that add to coral reef protection include; to identify and designate national marine sanctuaries of the marine environment, to maintain the natural b

Legislative Actions:

Comments:
National Oceanic Aatmospheric Administration

Jurisdiction:
Designated Marine Areas
Anchoring & Vessel Grounding; Ballast Discharge; Boating Activities; Collaboration & Partnering; Commercial Fisheries; Commercial Fishing Boats; Construction Codes & Projects; Coral; Cruise Ships; Deforestation & Devegetation; Economic Markets & Policies; Educational & Research Opportunities; Environmental Education & Outreach; Environmental Monitoring, Mapping, & Scientific Research; Existence Value & Sense of Place; Finfish & Shellfish Stock; Fishing & Harvesting Management; Large Ships; Mangroves; Nutrient & Contaminant Processing; Oil & Gas Tankers; Physical & Chemical Water Quality Criteria; Recreational Fishing; Recreational Opportunities; Reef Habitat; Reef Inhabitants; Reef Life; Resource Use Management; Seagrasses; Tourism & Recreation Policies; Wetland & Reef Restoration
Small Community Wastewater Construction Grants Program, 62-505 Florida Administrative Code.
(1) Florida�s Small Community Wastewater Facilities Grants Program is authorized by Sections 403.1835 and 403.1838, F.S. These statutes authorize the Department to fund the planning, design, and construction of wastewater management systems for qualifying small municipalities. (2) This chapter sets forth the Department�s program management procedures and the requirements for obtaining financial assistance from the Small Community Wastewater Facilities Grants Program. (3) Highest priority is given to projects that address the most serious risks to public health, are necessary to achieve compliance, or assist systems most in need based on an affordability index. Specific Authority 403.1835(10) FS. Law Implemented 403.1835(3)(d), 403.1838 FS. History � New 1-25-07.

Application to Coral Reefs:Providing financial assistance to parties interested in building wastewater treatment palnts and best available standards for construction will result in higher treatment of wastewater prior to discharge to waters of the state. Less contaminated water will reach the marine environment where it would have the potential to adversely effect ecosystems.

Legislative Actions:

Comments:sets forth the program management procedures and the requirements for obtaining financial assistance from the Small
Community Wastewater Facilities Grants Program.
Florida State Department of Environmental Protection

Jurisdiction:
US State Waters
Building & Home Construction; Environmental Education & Outreach; Nutrients; Point Source Discharges; Toxics; Waste Management Policies
State Revolving Fund Loan Program, 62-503 Florida Administrative Code.
(1) Florida�s water pollution control revolving loan program is authorized by Section 403.1835, F.S. This statute establishes the Wastewater Treatment and Stormwater Management Revolving Loan Trust Fund, which meets federal requirements for a State Revolving Fund. The statute authorizes the Department to fund the planning, design, construction, and implementation of wastewater management systems and stormwater management systems. The Act also authorizes financial assistance for a wide range of services, equipment, and construction associated with nonpoint source pollution control. Project examples include brownfield remediation, wetland restoration, septic tank problem correction, best management practices (especially those for agricultural operations) for controlling leaching and runoff, animal waste management, boat discharge elimination, or other needs identified by the Department�s nonpoint source management program. National estuary program projects also may be eligible. (2) The federal Water Pollution Control Act, as amended, commonly called the Clean Water Act, authorizes federal appropriations for grants to the Department to capitalize the State Revolving Fund. The Act requires that the state contribute matching funds of 20% to qualify for federal capitalization grants. The State Revolving Fund must be operated in perpetuity by the Department. (3) This rule sets forth the Department�s program management procedures and the requirements for obtaining financial assistance. Specific Authority 403.1835(5)(a) FS. Law Implemented 403.1835 FS. History - New 7-29-04.

Application to Coral Reefs:Providing financial assistance to parties interested in building wastewater treatment palnts and best available standards for construction will result in higher treatment of wastewater prior to discharge to waters of the state. Less contaminated water will reach the marine environment where it would have the potential to adversely effect ecosystems.

Legislative Actions:

Comments:Establishes the Wastewater Treatment and Stormwater Management Revolving Loan Trust Fund to fund the planning, design, construction, and implementation of wastewater management systems and stormwater management systems and to provide financial assistance for a wide range of services, equipment, and construction associated with nonpoint source pollution control.
Florida State Department of Environmental Protection

Jurisdiction:
US State Waters
Building & Home Construction; Environmental Education & Outreach; Nutrient & Contaminant Processing; Nutrients; Point Source Discharges; Sewage Treatment; Toxics; Waste Management Policies
The Florida Keys National Marine Sanctuary and Protection Act, Public Law 101-605 (H.R. 5909 United States Code (1990).
To protect the resources of the area delineated in section 5(b) of the Act, to educate and interpret for the public regarding the Florida Keys marine environment, and to manage such human uses of the Sanctuary consistent with the Act. Nothing in the Act is intended to restrict activities that do not cause adverse effects to the resources or property of the Sanctuary or that do not pose harm to the users of the Sanctuary.

Application to Coral Reefs:The Sanctuary sets aside the coral reef system that is the thrid largest coral reef barrier in the world. Included in the FKNMS are Key Largo Marine Sanctuary containing 103 square nautical miles of coral reefs and Looe Key National Marine Sanctuary containing 5.32 squared nautical miles of coral reefs.The Act protects the reefs from anchoring directly into the coral formation and taking coral dead or alive in the Sanctuary. From Miami to the Marquesas Keys there are over 6000 patch reefs. The Act also protects mangrove islands and submerged aquatic vegetation, both potential buffers for the reef system against eutrophication and sediment deposition. The Act prohibits oil and hydrocarbon exploration, mining or altering the seabed, restricts large shipping traffic, and restricts the discharge of pollutants, futher protecting mangroves, and submerged aquatic vegetation.

Legislative Actions:The Act required the preparation of a comprehensive mangement plan and implementing regulations to protect Sanctuary resources.

Comments:Large vessel groundings on coral reefs in the Florida Keys was a major driver for the designation of the Sanctuary. In 1989, there were three groundings of large commercial vessels on the coral reef tract within an eighteen day period.
National Oceanic and Atmospheric Administration as lead agency and Florida Department of Environmental Protection, Florida Fish and Wildlife Commission, and Monroe County as Co-Trustees

Jurisdiction:
US Coral Reefs; US Federal Waters; US State Waters; Designated Marine Areas
Anchoring & Vessel Grounding; Ballast Discharge; Boating Regulations; Complex Habitat & Resources; Coral; Economic Markets & Policies; Educational & Research Opportunities; Environmental Education & Outreach; Existence Value & Sense of Place; Finfish Harvest; Fish; Fishing & Harvesting Management; Invertebrate Harvest; Large Ships; Marine Debris; Marine Protected Areas; Recreational Opportunities; Reef Habitat; Reef Inhabitants; Reef Life; Shoreline Protection; Substrate; Tourism & Recreation Policies; Water Transportation
Water Resource Implementation Rule, 62-40 Florida Administrative Code (2006).
The Chapter is intended to provide water resouirce implementation goals, objectives and guidance for the development and review of programs, rules, and plans relating to water resources. A goal of the Chapter is to coordinate the management of water and land resources. It is the objective of the State to protect the functions of the entire ecological systems, as developed and defined in the programs, rules, and plans of the Department and water management districts. It is a goal of the Chapter that sufficient water be available for all existing and future reasonable-beneficial uses and the natural systems and that adverse effects of competition for water supplies be avoided.

Application to Coral Reefs:By protecting the functions of entire aquatic ecological systems, those waters will contain less contaminants when they are discharged and meet other natural water bodies including marine ecosystems. Cleaner water will result in less ecological strees to marine ecosystems, including coral reefs.

Legislative Actions:

Comments:This Chapter is intended to provide water resource implementation goals, objectives, and guidance for the development and review of programs, rules, and plans relating to water resources, based on statutory policies and directives in Chapters 187, 373, and 403, Florida Statutes.
Florida State Department of Environmental Protection

Jurisdiction:
US State Waters
Agriculture, Aquaculture, & Forestry Policies; Drinking Water Supply; Environmental Education & Outreach; Non-point Source Controls; Non-point Source Runoff; Nutrient & Contaminant Processing; Physical & Chemical Water Quality Criteria; Point & Mobile Source Controls; Point Source Discharges; Waste Management Policies
Wetland applications, 62-611 Florida Administrative Code Annotated (1996).
To provide qualitative and quantitative design criteria discharge limits, permitting requirements, and monitoring requirements for wetlands, man-made and natural, receiving domestic wastewater.

Application to Coral Reefs:Because wetlands act as buffers and remove nutrients from contaminated water, in many case the nutrients will not reach the estuarine and marine environments and potentially have an adverse effect on coral reefs.

Legislative Actions:The Rule is administrative in nature and specific pollutant limits and monitoring requirements are specified in individual permits

Comments:
Florida Department of Environmental Protection

Jurisdiction:
State Coastal Waters
Agriculture, Aquaculture, & Forestry Policies; City Planning; Construction Codes & Projects; Environmental Education & Outreach; Hydrologic Management; Landuse Management; Mangroves; Nutrients; Pipelines; Point Source Discharges; Resource Use Management; Seagrasses; Sewage Treatment; Waste Management Policies; Wastewater Discharge