Student Diversity Internship Program:
Environmental Justice (EJ) ecoAmbassadors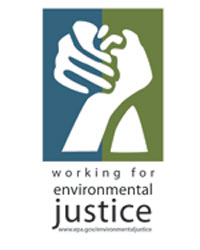 The Environmental Justice (EJ) ecoAmbassador Program, in partnership with the U.S. Environmental Protection Agency's (EPA) Student Diversity Internship Program (SDIP) is providing student internship opportunities focusing on environmental justice. This new partnership supports former Administrator Lisa P. Jackson's priorities to "expand the conversation on environmentalism and work for environmental justice."
The EJ ecoAmbassador focus area aims to:
Expand opportunities for graduate students to work collaboratively with EPA offices to support community based programs and increase local community's capacity to address environmental concerns; and

Facilitate career development opportunities for graduate level students who have been involved in or have a strong interest in environmental justice.
Application Process
Graduate students interested in the EJ ecoAmbassador focus area should apply to the Student Diversity Internship Program (SDIP); in your application please indicate your interest in the EJ ecoAmbassador focus.
Please submit your applications via AGi Support Services Incorporated.

Eligibility Requirements For The EJ ecoAmbassador Program:
All U.S. citizens, including residents of Puerto Rico, the Virgin Islands, and other U.S. territories may apply;

Applicants must be full-time graduate students attending a U.S. accredited institution as recognized by the U.S. Department of Education;

Applicants must have a minimum 2.8 on a 4.0 grading scale (B average and above); and

Applicants must have previously been involved and/or have a strong interest in environmental justice , social justice issues and/or environmental health disparities in an academic, volunteer and/ or employment setting

Applicants may be pursuing a degree in: Environmental Health Science, Public Health, Public Policy, Environmental Management, Environmental Law, or other areas relating to public service and environmental concerns. 
Internship Components:
Support: Graduate Stipend

Internship Experience:10-week internship 20 hours per week at an EPA site.

Professional Development: Student orientation, web-based professional development training, networking through UNCFSP Virtual Network and portal opportunity (internships, scholarships, etc).
Related ecoAmbassadors Content
Contact Us
M. Saida Agostini, Managing Director
EPA-SDIP c/o AGi Mission Support Services, Inc.
8401 Colesville Road Suite 115, Silver Spring MD 20910
Phone (301) 565-5200
Email: sagostini@agimssinc.com
---
Patricia Durrant, MAI National Program Manager
EPA, Office of the Administrator
Office of Small Business Programs
1200 Pennsylvania Avenue, NW
Mail Code: 1230T
Washington, DC 20460
Phone: (202) 566-2458
E-mail: durrant.patricia@epa.gov