About the Tribal ecoAmbassadors Program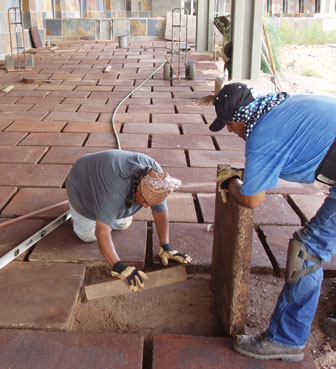 EPA's Tribal ecoAmbassadors Program partners Tribal College and University (TCU) with EPA scientists to solve the environmental problems most important to their tribal communities.
Apply now through July 31 for the 2015-2016 Program
2014-2015 Tribal ecoAmbassadors
Fond Du Lac College – Dr. Courtney Kowalczak
Assessing Dragonflies as a Sentinel Species for Mercury in the St. Louis River Watershed

Institute of American Indian Arts – Dr. Annie McDonnell
Mapping stories of change - Indigenous ecological knowledge and sustainable technologies for student-led campus climate adaptation and mitigation projects

Northwest Indian College – Ane Berrett, in partnership with Americorps
Foodscaping a Tribal College

Salish Kootenai College – Dr. Robert Kenning
Informing Camas Restoration on the Flathead Indian Reservation: adapting to climate change and invasive species
At the end of this academic year, EPA's Tribal ecoAmbassadors Program has given over 150 TCU students the opportunity to work with their professors and EPA scientists while solving environmental problems in their communities, 3 transferable online courses are ready to share with other TCUs, and dozens of new partnerships have been formed to support this great work long-term.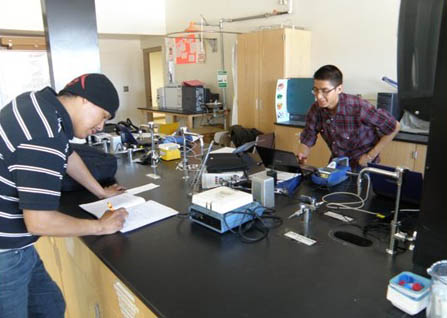 Read about results from last year's projects
PRESS:
Visit the American Indian Higher Education Consortium page for videos of last year's Tribal ecoAmbassador projects.
REPORTS:
2013-2014 Program Report
2011-2012 Program Report
For more information or to apply for next year's program, contact Rosalva Tapia at Tapia.Rosalva@epa.gov.
Related ecoAmbassadors Content
Partnerships
"Building stronger tribal partnerships and increasing our support for tribal communities is one of our top priorities," said EPA Principal Deputy Assistant Administrator Jane Nishida. "This group of Ambassadors represents an effective partnership where the tribal community can direct EPA resources to the most pressing environmental problems they face, and to start developing solutions."
Contact Us
For more information contact EPA's Rosalva Tapia at (202) 564-5197 or Tapia.Rosalva@epa.gov