Stadiums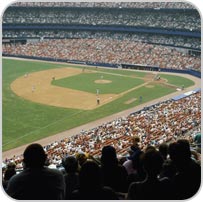 Note: EPA no longer updates this information, but it may be useful as a reference or resource.
Opportunities to recycle at stadiums exist both inside the venue and outside in the parking lots. Plastic and aluminum beverage containers are the most common recyclables generated by fans while tailgating, and these materials may be collected either separately or mixed together. Cardboard is another recyclable generated in high volumes at stadiums, primarily by concessionaires. As the cost of trash disposal continues to increase, recycling can be a financially attractive option—particularly with cardboard.
---
Target Areas
Concessionaires
Concessionaires can be a key partner in facilitating recycling. Most stadiums do not allow patrons to bring in consumables from the outside, so concessionaires can control most of the waste that is generated. Many concessionaires discard tons of corrugated cardboard, one of the easiest products to recycle. Work with concessionaires to use packaging that cuts down on waste and is conducive to recycling.
Tips:
Encourage concessionaires to collect corrugated cardboard.
Instruct either concessionaires or janitorial staff to bring corrugated cardboard to a compactor.
Refer to our Concessionaires & Vendors page to learn how to involve these valuable partners.
Parking Lots and Tailgating
Remember that tailgaters generate large amounts of waste and even larger amounts of bottles and cans. Target these areas to collect tailgaters' and fans' recyclables.
Tips:
Pass out collection bags to stadium attendees as cars enter the parking lot. Ask attendees to collect their own recyclables in the bags and then leave the bags in the parking lot. Collect the bags after the game and transfer the materials to a mixed recycling bin.
Place recycling bins next to each trash can in the parking lot and at stadium entrances and exits. (Qualcomm Stadium (PDF) (6 pp, 636K, about PDF) in San Diego uses this method successfully.)
Post-Event Stadium Bleachers
A majority of food and beverages are consumed by patrons in the seating area, and most of the packaging and containers are left behind once the game or event is over. Although a post-event pickup of recyclables from the seating area can be labor intensive, it is one of the most efficient ways to recover recyclable materials.
Recycling and Trash Collection at Colorado Rockies Coors Field in Denver, CO (PDF) (3 pp, 164K, about PDF)
Tips:
Instruct janitorial staff to conduct two separate "picks" after the game or event—one for recyclables and one for trash.
Enlist volunteers to collect the recyclable materials after a game or event.
Hallways, Restrooms, and Other Public Areas
Because it may not be feasible or desirable to place recycling bins in seating areas, stadiums should position bins in the concourse areas, in hallways, and near restrooms to make it convenient for fans to drop their recyclables off as they are moving about within the stadium.
Tips:
Place recycling bins for plastic bottles and aluminum cans in all public areas.
Place recycling bins beside trash receptacles to make it easy for fans to recycle.
Education
Education and promotion are crucial to encourage public participation in recycling.
Tips:
Educate fans and visitors about what materials are recyclable and where the bins are located.
Advertise the location of recycling bins and the importance of using them through printed programs, over the loudspeaker, and on the big screen.
Success Stories
Baseball
Football
Recycling at Penn State's Beaver Stadium (PDF) (5 pp, 360K, about PDF)
Qualcomm Stadium's Recycling Program (PDF) (6 pp, 636K, about PDF)
The University of Washington's Go Purple, Be Gold and Green (PDF) (3 pp, 299K, about PDF) announces the athletic department's new recycling and waste diversion initiatives.
The Philadelphia Eagles promote recycling and other sustainable efforts and encourage their fans to adopt sustainable practices.
The Houston Texans new recycling initiative encourages fans, team members and employees to recycle. Recycling bins will be set up throughout the stadium, including the Texans' front office, locker room, weight room and cafeteria.
The St. Louis Rams announce program with Waste Management to launch Green Platform , ranging from offering recycling to fans to exploring alternative energy.
The New York Jets have partnered with Rock and Wrap it Up! , a national nonprofit organization whose mission is to feed all those who hunger using safely recovered edible leftover food from arenas where major concerts and sporting events occur.
The Arizona Cardinals Recycling Program (scroll down the A-Z guide to recycling) at the University of Phoenix Stadium provides bags for recycling to tailgaters, recycling bins on the Great Lawn and security checkpoint locations, as well as recycling bins inside the stadium.
Other
HP Pavilion at San Jose/Shark Tank: An Arena Recycling Success.
The Nets Shoot to be Green . The Nets are developing a comprehensive plan to reduce environmental impact and are targeting to become first NBA team to be carbon neutral.
Local and state governments can promote recycling at little league games. For example, the Arizona Department of Environmental Quality's Little League Recycling and Litter Control Project provides banners promoting recycling and bins for recyclables to Little League teams. They also will provide funding for placement and maintenance of the banners and containers for up to three fields.
Tools & Resources