Large-Scale Landscapes
Note: EPA no longer updates this information, but it may be useful as a reference or resource.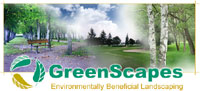 Roads and highways, golf courses and ski resorts, commercial buildings and industrial sites—the widespread use of economically and environmentally costly landscaping is everywhere. By simply changing these large-scale landscapes to "GreenScapes" and focusing on the "4 Rs"—reduce, reuse, recycle, and rebuy, you can help improve both your bottom line and the environment.
GreenScaping encompasses a set of landscaping practices that can improve the health and appearance of your large-scale landscape while protecting and preserving natural resources. Learn how to GreenScape by following some of our tips and suggested activities.
GreenScapes is a program that aims to combine government and industry into a powerful, unified influence over the reduction, reuse, and recycling of waste materials in large land use applications. These land use activities include four million miles of roadside landscaping, Brownfields land revitalization, and the beautification and maintenance of office complexes, golf courses, and parks. More than 100,000 businesses are involved in these land use activities.
GreenScapes:
Provides information about the cost savings that can be achieved from reducing material use and waste, resource conservation, and on the performance and durability of environmentally preferable products such as recycled-content and biobased products.
Educates land managers that environmentally beneficial landscaping efforts yield water and energy savings, conserves landfill space, and reduces greenhouse gas emissions.
Publicizes case studies, success stories, and technical assistance to help alleviate concerns regarding alternative practices and products.
Promotes market expansion and growth of recycled-content and biobased products.
Awards organizations that achieve environmental excellence in reduction, reuse, recycling, and rebuying for waste prevention and pollution prevention.
Prospective participants include landscape contractors; golf facilities; the highway and street construction industry; parks and recreation operations; schools; hospitals; state, city, and local governments; industry associations; …just to name a few.