You are here: EPA Home
Population Disparities in Asthma
Population Disparities in Asthma
Asthma disproportionately affects children, families with lower incomes and minorities. Racial and ethnic disparities in childhood asthma are extensive: African American and Puerto Rican children have high prevalence rates, and African American children have dramatically higher mortality rates. Puerto Ricans have the highest prevalence of asthma attacks. Research by EPA scientists leads to targeted improvements in public health and environmental outcomes.
Air Pollution and Asthma
Poor Air Quality - Indoors and Outdoors - Can Cause and Exacerbate Asthma
Explore EPA asthma research in each of these descriptive posters that explains initial research questions, scientific method, findings, impacts and outcomes.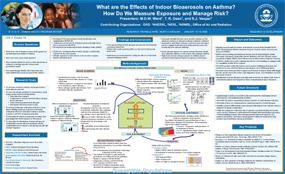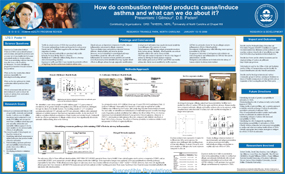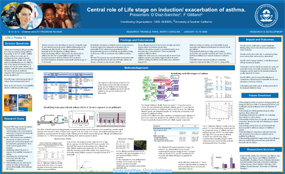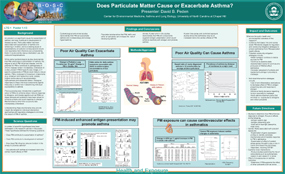 Cleaner Diesel Engines, Healthier Communities
Children and the elderly, especially those with asthma or other respiratory problems, are most sensitive to the health effects of diesel pollution. EPA's National Clean Diesel Campaign helps communities to reduce exposures to diesel exhaust and the amount of air pollution created by diesel school buses and other vehicles.
(Running time = 7:31)
Spanish version: Fondos disponibles para proyectos de diesel limpio
Quiz: Who's Got Asthma?
Are you at risk for asthma? Check your understanding of some environmental and social factors that may make an individual more susceptible to asthma. Don't worry if you don't know all the answers; this quiz is an easy and fun way to learn why asthma is a major public health concern.
Science Notebook:
Asthma Topics
---
Meet the Scientist
Martha Sue Carraway, medical officer and scientist at EPA's Human Studies Facility in Chapel Hill, North Carolina, discusses her investigations into the respiratory and cardiovascular effects of air pollution exposure in older adults with asthma. (Running time = 5:04) View Audio Transcript

View Audio Transcript
Native American Asthma Radio PSAs
Asthma affects almost 12 percent of people living in tribal communities - nearly twice the current national average.
View Audio Transcript
Children's Environmental Health Disparities: Black and African American Children and Asthma (PDF) (4 pp., 664K, about PDF)
Children's Environmental Health Disparities: Hispanic and Latino American Children and Asthma (PDF) (4 pp., 376K, about PDF)

EPA Asthma Research Strategy (PDF) [64 pp., 740 KB, about PDF files]
Age Healthier, Breathe Easier: Solutions You Can Use to Control or Reduce Environmental Triggers