Pacific Southwest, Region 9
Serving: Arizona, California, Hawaii, Nevada, Pacific Islands, 148 Tribes
Clean & Safe Water
Additional Resources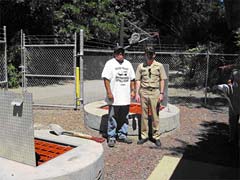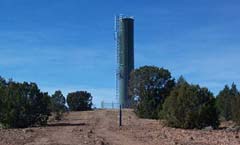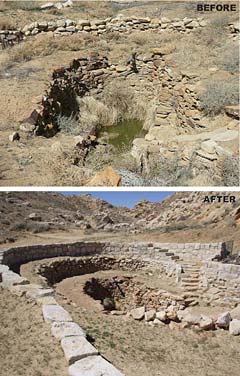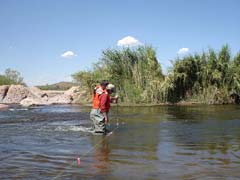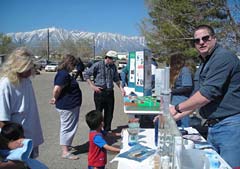 537 homes have received safer drinking water.
1,421 homes have better wastewater facilities.
72 tribes are eligible to receive funding to restore watersheds and nine tribes have received program authorization to set water quality standards for tribal waters.
EPA and tribes work together to achieve clean and safe water through construction of drinking water and wastewater projects, development of sustainable infrastructure, and water quality monitoring and watershed restoration projects.
Providing Access to Safe Drinking Water and Basic Sanitation
In 2008, the Clean Water Act Indian Set-Aside Program awarded $3.9 million for 26 wastewater projects that serve 1,421 homes. Several wastewater infrastructure projects were successfully completed, including construction of a community sewer system on the Round Valley Reservation in northern California. EPA funded part of a multi-phase project to provide a sewer system for 82 homes that had been served by individual septic systems.
In 2008, EPA's Drinking Water Tribal Set-Aside program provided $3.6 million for seven infrastructure projects that will address high priority public health needs for 537 homes. Several projects were completed in 2008, including a new drinking water well and storage tank which will prevent water outages at St. Michael's Indian School, which serves 670 Navajo students and staff. The project was built in partnership with the Navajo Tribal Utility Authority.
The national interagency drinking water access workgroup, with strong participation from Region 9 tribes, developed a draft Access Implementation Plan to reduce by 50% the number of homes lacking access to safe water by 2015. To achieve this international commitment, access workgroups formed to implement the highest priority short-term recommendations, which include investigating alternatives to piped water for the Navajo Nation, identifying under-utilized funds, and better leveraging existing resources.
Improving Water Quality
In 2008, 72 tribes in the Pacific Southwest were eligible to receive funds to reduce polluted runoff and restore waters under the Clean Water Act Section 319 Non-point Source (NPS) Pollution Control Program. The national program received a $1 million funding increase for a total of $8 million available to tribes nationwide. Region 9 received over $4 million through a base allocation and competitive process to support projects to reduce polluted runoff and restore watersheds.
The Hopi Tribe completed a successful spring restoration project using NPS funds. The Lomeva Spring was regularly clouded by runoff and sediment from adjacent roads and slopes. The tribe's sediment reduction project improved drainage in the area by using best management practices (BMPs), including the installation of rolling dips, culverts, and removal of an abandoned road.
This year, EPA approved Program Authorization and Water Quality Standards for the Hopi Tribe, and the Water Quality Standards for the Bishop Paiute Tribe of the Owens Valley and Pyramid Lake Paiute Tribe. The Water Quality Standards approved for these tribes will protect and maintain water quality throughout their lands. There are now nine tribes in the Pacific Southwest Region with authorization to implement Water Quality Standards and Certification Programs.
Documenting Environmental Results
In 2008, 97 tribes were eligible to develop and carry out water quality monitoring programs under the Clean Water Act Section 106 Water Pollution Control Program. EPA provided more than $8.4 million in grant funding to tribes to monitor, conduct studies and assessments of surface and ground water quality conditions and track water quality trends. In addition, nine tribes began to implement water quality monitoring strategies and seven tribes provided water quality data to EPA electronically.
The Salt River Pima Maricopa Indian Community has been documenting environmental results using Clean Water Act Section 106 funds since 2000 at the Verde and Salt Rivers within the community. The community assesses water quality conditions to ensure that the designated beneficial uses are supported, and locates and identifies stressors posing a threat to the environment and public health. In 2008, the community used monitoring results, including sedimentation and turbidity levels, to guide the implementation of best management practices (BMPs) to control polluted runoff contaminating these waters.
Protecting Underground Sources of Drinking Water
In 2008, the Tribal Source Water Assessment and Protection Program provided a total of more than $99,000 to four tribes. The funding is used to assess human health risks and develop BMPs to prevent or reduce contamination of underground drinking water sources.
The Washoe Tribe of Nevada and California hosted an Earth Day Celebration in April 2008 to increase tribal awareness of the need to protect drinking water sources.