Pacific Southwest, Region 9
Serving: Arizona, California, Hawaii, Nevada, Pacific Islands, 148 Tribes
Clean & Safe Water
Clean & Safe Water
Good Health Depends on Clean and Safe Water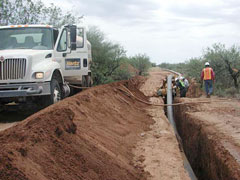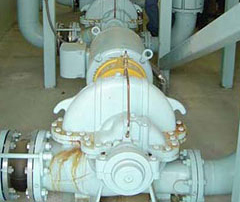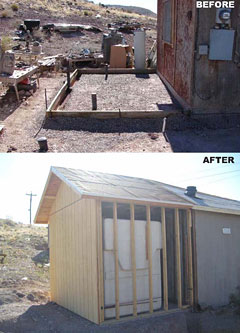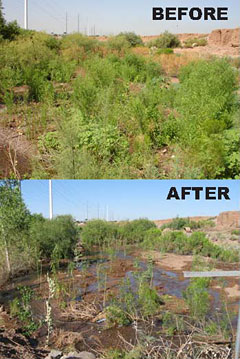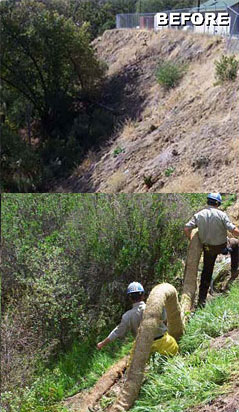 1,545 homes have received safer drinking water.
5,718 homes have better wastewater facilities.
8,114 homes along the U.S./Mexico border have upgraded water infrastructure since 1999.
68 tribes are eligible to receive funding to restore watersheds and nine tribes have received program authorization to set water quality standards for tribal waters.
EPA and tribes work together to achieve clean and safe water through construction of drinking water and wastewater projects, development of sustainable infrastructure, and water quality monitoring and watershed restoration projects.
Providing Access to Safe Drinking Water and Basic Sanitation
In 2007, the Clean Water Act Indian Set-Aside Program awarded $6.3 million for 42 wastewater projects that will serve about 5,718 homes. The Drinking Water Tribal Set-Aside Program awarded $3 million to fund five tribal drinking water projects that serve 924 homes. Several water infrastructure projects were completed during the year, including construction of a wastewater lagoon on the Hualapai Reservation. That lagoon serves 300 homes and replaces an old, undersized, and unlined lagoon that was at risk of overflowing into nearby Truxton Wash. Also, the Tohono O'odham Utility Authority and the Indian Health Service constructed the Baboquivari Intertie project which provides safe drinking water to several small communities that have high levels of arsenic and poor water quality.
In 2007, tribes implemented several innovative projects to achieve access to safe water, recognizing the importance of collaboration and partnership in Indian Country. The La Jolla Band of Luiseño Indians organized an On-Site Wastewater Management Collaborative to properly operate and maintain septic systems, improving water quality in the San Luis Rey watershed. The tribe constructed a wastewater facility to treat septic tank waste, drafted an on-site wastewater ordinance, and located and mapped all septic tanks on the reservation. Collaborative partners include EPA, neighboring tribes, the San Diego Foundation, Indian Health Service, Rural Community Assistance Corporation, and the Walking Shield Indian assistance organization.
Many tribal members who lack access to safe drinking water and basic sanitation live in traditional homes or temporary structures without indoor plumbing. In 2007, the Hualapai Tribe funded and successfully completed a project which extends water and wastewater lines to three homes. EPA funded proper closure of the outhouses.
The need for water infrastructure improvements in Indian Country gained attention this year with the development of a draft Access Implementation Plan. The goal of this plan is to achieve what the United States pledged at the World Sustainability Summit: to provide safe drinking water and basic sanitation by 2015 to at least half the homes that now lack these necessities. The draft Access Implementation Plan, developed by federal agencies and tribes, recommends solutions for achieving the access goal.
Watershed Protection and Restoration
In 2007, 97 tribes in the Pacific Southwest Region were eligible to develop and carry out water quality protection programs under the Clean Water Act Section 106 Water Pollution Control Program. EPA provided a total of $8.3 million in funding to tribes to support tribal water quality and monitoring activities. In addition, nine tribes began to implement water quality monitoring strategies, and three tribes provided water quality data to EPA electronically.
Sixty-eight tribes were eligible to receive funds to reduce polluted runoff and to restore watersheds under the Clean Water Act Section 319 Nonpoint Source Pollution (NPS) Control Program. Through a national base allocation and competitive process, EPA awarded 55 grants totaling $3.2 million to tribes in the Pacific Southwest.
Trees Grow More Than Two Feet in Three Months After Removal of Non-native Species
The Salt River Pima-Maricopa Indian Community implemented a NPS-funded wetlands restoration project in the Cottonwood Wetlands. The tribe's NPS program removed invasive tamarisk and revegetated the wetlands with native vegetation such as willow and cottonwood sprouts. Post-project monitoring showed the willow and cottonwood grew more than two feet in three months and water has shown an increase in clarity.
Stream Restoration Project is a Great Success
The Hopland Band of Pomo Indians carried out a successful stream restoration project. The tribe identified several sedimentation problems which impacted water quality in creeks. They obtained funding from the NPS program and the U.S. Fish and Wildlife Service's Tribal Wildlife Program for restoration activities. The tribe implemented restoration activities on four sites where major erosion of stream banks contributed significantly to stream sedimentation. The projects were an enormous success and have resulted in numerous benefits, including reduction in sediment loads, reduction in turbidity and nutrient loads, healthier aquatic vegetation, improved fish habitat, and improved water quality.
Water Quality Protection
EPA also approved two Treatment as a State (TAS) program authorizations for the water quality standards and certification programs for the Twenty- Nine Palms Band of Mission Indians and Pyramid Lake Paiute Tribe. Both tribes are in the process of completing their Water Quality Standards for waters within their reservations.
Funding to Help Tribes Protect Underground Sources of Drinking Water
In 2007, the Tribal Source Water and Assessment Program (SWAP) issued a total of more than $99,000 to four tribes. This funding will support activities such as four-step assessments used to evaluate pesticide use for human health risk. It will fund work to locate and ensure proper closure of abandoned wells. Tribes will use the funds to develop best management practices to prevent or reduce the contamination of underground sources of drinking water.
The Chemehuevi Indian Tribe's Environmental Department conducted a successful source water assessment of the public water system wells on their reservation. The results indicated their wellhead was in excellent condition, which greatly reduces the likelihood of drinking water contamination.