Pacific Southwest, Region 9
Serving: Arizona, California, Hawaii, Nevada, Pacific Islands, 148 Tribes
Tribal Results
Tribes in the Pacific Southwest have made great progress in building environmental capacity and creating an environmental presence in Indian Country. Of the 146 federally recognized tribes, 125 tribes and four inter-tribal consortia in the region currently receive U.S. EPA General Assistance Program (GAP) grants to continue building their capacity to develop environmental protection programs. Ninety tribes have codes or policies, an increase of five from 2007. Eighty-four tribes are monitoring the environment, up from 74 last year. Ten tribes have federal program authorizations, an increase of four over last year's total of six.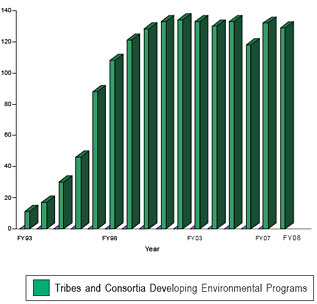 Environmental conditions on many reservations in the Pacific Southwest Region are challenging. More than one-third of reservation households are at or below the federal poverty level. Nineteen percent of homes lack complete plumbing. More than 1,300 open dumps can still be found on tribal lands. Over a third of the tribes in the region are located in areas that do not meet air quality standards.
EPA is working in partnership with tribes to face these challenges head-on. Together, we are achieving positive results! Working as partners, tribes and EPA have made significant progress in protecting tribal lands, waters, air and other resources.
2008 Environmental Achievement Award Winner
The Environmental Department of the La Jolla Band of Luiseno Indians is a leader in solid waste management, reducing illegal dumping and burning on the reservation by ensuring proper waste management. The Environmental Department has put its new solid waste transfer station into operation, removed over 4,000 worn-out, abandoned tires from the reservation, started a recycling program for tribal offices, and partnered with another local tribe to set up electronic waste recycling for the entire reservation.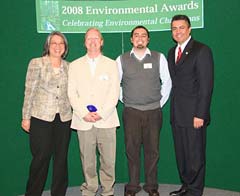 The La Jolla Reservation is located in the sensitive San Luis Rey Watershed. The shallow groundwater here serves as the sole drinking water source for tribal members. Historically, illegal dumping has posed a significant threat to the tribe's water resources. Illegal burning of waste threatened the tribe's air quality. Rigorous community outreach in conjunction with the new transfer station has resulted in a substantial reduction in illegal dumping and burning. Opening the transfer station has ensured proper waste management, and resulted in cleaner water and air for tribal members.
Source reduction and recycling also play an important role in the community's waste management system. Through environmentally preferable purchasing and a recycling program for their tribal offices, the La Jolla Tribe has minimized the recyclable material entering the waste stream and ultimately reduced the amount of waste that ends up in the landfill.