Pacific Southwest, Region 9
Serving: Arizona, California, Hawaii, Nevada, Pacific Islands, 148 Tribes
Tribal Results
Tribal Results
EPA's Pacific Southwest Region includes 146 Indian tribes and nearly 40% of the tribal land in the United States. Tribal lands are subject to federal and tribal environmental laws, but many tribes have lacked the capacity or funding to carry out environmental programs. In recent years, a change has been occurring. Tribes have forged productive partnerships with other agencies and neighboring communities. As of 2007, 121 tribes and four coalitions had active environmental protection programs, 85 tribes had environmental protection codes or policies in place and 8 tribes have federal program authorization.
Number of Tribes Developing Environmental Program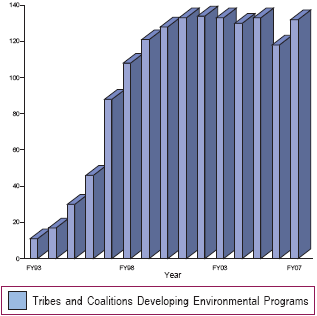 Environmental conditions on many reservations in the Pacific Southwest Region are challenging. More than one-third of reservation households are at or below the poverty level. Nineteen percent of homes lack complete plumbing. More than 1,200 open dumps are found on tribal lands. Over a third of the region's tribes are located in areas that do not meet air quality standards.
EPA is working in partnership with tribes to face these challenges head-on. Together, we are achieving positive results! Working as partners, the tribes and EPA have made significant progress in protecting tribal lands, waters, air and other resources.
Many tribes have formed inter-tribal partnerships to address environmental issues. The Yurok Tribe Environmental Program (YTEP) formed a consortium with five tribes in the Klamath Basin. The successes of this group are the result of a coordinated effort using EPA General Assistance Program (GAP) funds to level the playing field for tribes in a watershed that has many complex environmental issues. This consortium has developed a significant body of scientific study and rigorous analysis of the various state and federal processes and environmental factors that affect water quality in the Klamath Basin (e.g. FERC, TMDL, fish disease, toxic algae).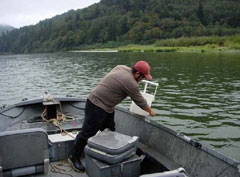 The YTEP, with support from the Tribal Water Quality Workgroup, has significantly increased the level of data collection and analysis in the past three years. The program has established the first and most extensive network of consistent real-time water quality monitoring stations in the Klamath Basin. This serves to inform a large group of stakeholders and the public of the effects of water management decisions made on the Klamath and Trinity Rivers.
Environmental Capacity Building