Pacific Southwest, Region 9
Serving: Arizona, California, Hawaii, Nevada, Pacific Islands, 148 Tribes
You are here: EPA Home
Protecting Tribal Lands
Protecting Tribal Lands
Protecting Tribal Lands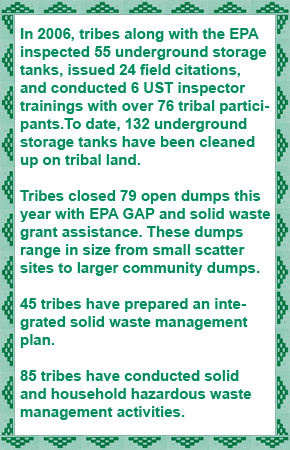 EPA works collaboratively with tribes in one of the most diverse areas of the country, from the Monument Valley at Navajo Nation to the Yurok Tribe at the mouth of the Klamath River. EPA works on a government-to-government basis with the federally recognized tribes of the Pacific Southwest to protect more than 27 million acres, approximately 10% of the region's land base.
Both ordinary trash and hazardous waste threaten tribal lands. For example, tribal lands across the Pacific Southwest host over 1,000 open dumps, 175 abandoned or uncontrolled leaking underground storage tanks, and six major abandoned mine sites. In 2006, several tribes closed dumps, cleaned up metal waste, disposed of household hazardous waste, dealt with abandoned vehicles and developed recycling programs.
Underground Storage Tanks
In 2006, EPA provided underground storage tank training to tribes through a cooperative agreement with the Intertribal Council of Arizona (ITCA).
The Gila River Indian Community and EPA began full scale operation of a soil treatment system at the Arizona Traders Trading Post leaking underground storage tank site in Sacaton, Arizona. The new treatment facility includes three wells that extract and treat hydrocarbon vapors from the soil. EPA estimates soil cleanup will be completed in three years and groundwater cleanup could take up to ten years.
The San Carlos Apache Tribe conducted a Leaking Underground Storage Tank (LUST) site cleanup. The cleanup crew included tribal members and contractors.
Closing Open Dumps
The Supai Village, located at the Havasupai Reservation on the Grand Canyon floor, is accessible only by helicopter, horse, mule, or on foot. Until now, the Havasupai Tribe had little choice but to dispose of waste at the community's open dump, where waste was burned to reduce volume, creating air pollution. After more than nine years of working together to find a sustainable solution, the Havasupai Tribal Council, tribal staff, EPA, Indian Health Service (IHS), and Bureau of Indian Affairs (BIA) developed and agreed upon a new hauling plan. The plan utilizes existing tribal mule or horse hauling enterprises, which are owned and operated by tribal members. Hauling began in summer 2006, and will result in proper management of approximately 196 tons of waste each year.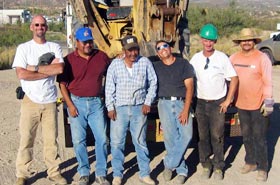 The Pyramid Lake Paiute Tribe in Nevada has made an aggressive attempt to clean up their reservation. Three communities on the Pyramid Lake Reservation had approximately 32 acres of open dumps. The Tribe closed these sites and developed a post-closure plan. The Tribe will use post-closure activities and their solid waste ordinances to prevent future illegal dumping. Because open areas are magnets for open dumping, the Tribe will use re-vegetation for range rehabilitation and dumping prevention.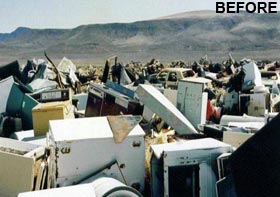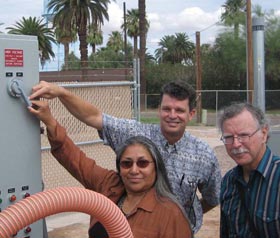 In southern California, the Torres Martinez Tribe and EPA brought over 25 state, local, tribal, and federal agencies together to form the Torres Martinez Solid Waste Collaborative, an innovative partnership to address widespread dumping on the Torres Martinez Reservation. In its first year, the collaborative closed the largest dump on the reservation, cleaned up four dump sites and reached an agreement on an interagency plan to clean up dumps and prevent access by installing berms and gates. A billboard was constructed at the Torres Martinez reservation and the Tribe partnered with Crime Stoppers to offer a reward for turning in violators.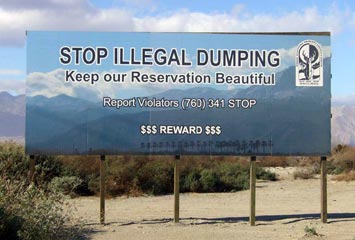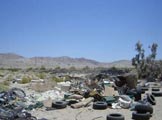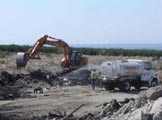 Tribal Waste Reduction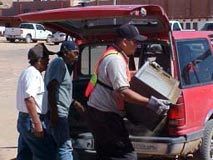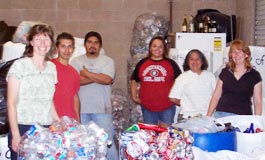 In March, 2006, the Hopland Band of Pomo Indians celebrated the grand opening of a new buy-back recycling center, paying CRV (California Refund Value) to community recyclers who bring in their glass, plastic and aluminum beverage containers. The name of the new Lalil Daqaw recycling center (see sign, below) is in the Hopland Pomo dialect and means "to give back" or "to return." In the first few months of the center's operation, the Tribe recycled 2,400 pounds of aluminum, 1,300 pounds of plastic, and 3,000 pounds of glass. The Hopland Tribal EPA staff has worked closely with the tribe's casino to establish a "Green Team". The goal of the Green Team is to implement a recycling program and reduce solid waste generated by the casino by up to 50%.
The Hopi Tribe Environmental Protection Program successfully completed two Household Hazardous Waste collection and Electronic Waste collection events. The events were open to all local community members, businesses, local agencies, schools, and local Navajo communities. The goal was to provide education to the residents and to help eliminate illegal dumping of chemical products and unwanted electronic items on Hopi lands.
Members of the Ak-Chin Indian Community conducted a "Clean-up Day" on the reservation. As a result, the Tribe recycled more than 100,000 pounds of scrap metal and appliances. The clean-up crew also incorporated education about the importance of proper solid waste disposal.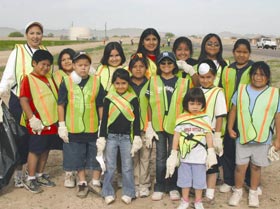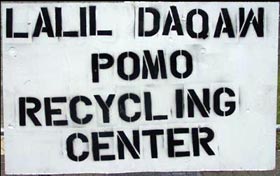 Cleaning up Superfund Sites
In past years, mining operations were scattered across the West. Many tribes have mines on their land. Several abandoned mines are currently listed as Superfund sites and are considered environmental threats mainly due to the pollution of surface and groundwater from acids and dissolved metals. In the past year, three tribes conducted removal actions at mine sites for mercury, copper, and uranium.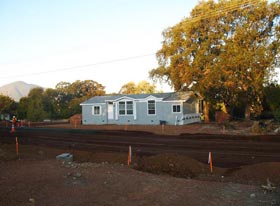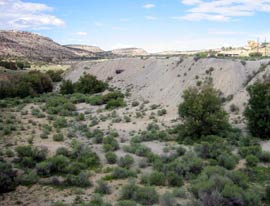 In California, the Elem Indian Colony has worked in collaboration with EPA regarding the Sulphur Bank Mercury Mine Superfund site, placed on the National Priorities List in August 1990. Since that time, EPA conducted numerous removal actions including stabilizing the Waste Rock Dam (at the mine), removing contaminated soil in the Elem Indian Colony, sealing nearby geothermal wells, and rerouting clean storm water around the mine to prevent contaminated water overflow.
In June 2006, EPA began another removal action at the Elem Indian Colony to permanently remove mercury and arsenic contaminated mine wastes from the residential area. Before initiating this removal, EPA consulted with the Tribe since this is a sensitive cultural resource area. EPA was at first assisted by a tribal cultural monitor and later by an archaeologist. As part of this removal action, EPA temporarily relocated 17 families (approximately 60 people).
While the families were temporarily relocated, EPA excavated mine waste from 16 residential lots and demolished five homes. EPA is nearing completion of the second phase of the residential area cleanup. This includes demolition of the entire paved roadway system in the residential area and excavation of underlying mine wastes. This phase also includes construction of a new water supply system. To complete the work, EPA will install five new modular homes to replace the homes that were demolished, reconstruct the paved roadway system, place clean topsoil and re-vegetate all of the residential lots. EPA is spending approximately $7.35 million on this removal action.
In Nevada, the Yerington Mine site is a 3,400 acre abandoned open-pit copper mine that was operated by Anaconda Copper from 1958 to 1978. This abandoned mine is located approximately 70 miles southeast of Reno and approximately 2-1/2 miles south of the Yerington Paiute Reservation. The site has acid mine drainage, along with groundwater and soil contaminated with heavy metals and radionuclides, raising concerns in the nearby community and the Yerington Paiute Tribe.
While the Yerington Paiute Tribe, EPA, the State of Nevada, and the Bureau of Land Management continue the site investigation, EPA has completed two emergency removal actions in the past year. The first action removed 120 Polychlorinated Biphenyl (PCB) transformers and capped approximately 100 acres of potential dust sources on the site. Total cost was approximately $850,000. The second project involved building a new 4-acre evaporation pond, relining a second fluid collection pond, and building an interceptor trench to capture acid mine drainage. This work cost $1.5 million.
In Arizona, EPA and the Navajo Nation are almost finished with a project to identify all known abandoned uranium mines across the Navajo Nation and establish a preliminary ranking based on risk. More than 500 of these mines have been mapped. The final report and database should be complete in July 2007. This will provide the Navajo Nation with a powerful tool to prioritize sites. To date, EPA has conducted removal actions at the Bluewater Uranium Mines as well as two radioactive hogans. Last year, the Navajo Nation requested EPA investigate and clean up the Northeast Church Rock Uranium Mine site, located about 16 miles northeast of Gallup, New Mexico. In September EPA, with the participation of Navajo Department of Justice, reached an agreement with the United Nuclear Corporation requiring the company to investigate soil contamination related to historic uranium mining and processing operations at the 125-acre site. Work on this is expected to begin soon.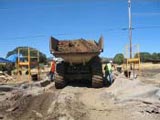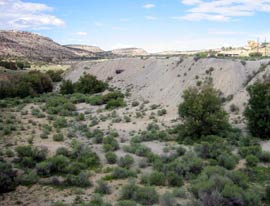 Revitalizing Brownfields
EPA provided Brownfields funding for several projects on tribal lands, totaling $1.35 million for assessment and cleanup. EPA's Brownfields Program is also providing financial assistance to Gila River Indian Community, Navajo Nation and Tohono O'odham Nation to establish and enhance their response programs and develop an inventory of Brownfields sites. Finally, EPA provides direct technical assistance through the targeted Brownfields Site Assessment program. As a result of EPA's assessment of the Environmental Concrete Concepts Inc. site on the Tohono O'odham Nation, the Tribe has determined that this site does not require cleanup and is available for commercial development.