Pacific Southwest, Region 9
Serving: Arizona, California, Hawaii, Nevada, Pacific Islands, 148 Tribes
You are here: EPA Home
Compliance and Stewardship
Compliance and Stewardship
Additional Resources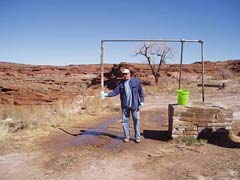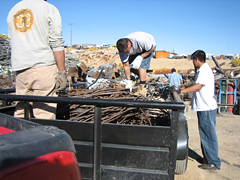 EPA's Indian Country National Enforcement and Compliance Assurance Priority was established in 2005 to improve compliance with federal environmental laws and build tribal enforcement and compliance capacity. The priority focuses national attention on three areas: compliance issues at drinking water systems; compliance issues at schools, including schools owned and operated by BIA; and improving solid waste compliance and investigating open dumps. It also continues to emphasize building tribal enforcement and compliance capacity.
Compliance Assistance to 100% of Public Water Systems
In 2008, EPA's Pacific Southwest Regional Office continued its focus on improving compliance in Indian Country in the three main focus areas. The Agency provided compliance assistance to 100% of known public water supply systems in Indian Country – 325 public water supply systems, including systems at schools and small communities. EPA also continued funding a circuit rider on the Navajo Nation to improve compliance rates at drinking water systems.
Addressing Solid Waste and Open Dumps
In 2008, EPA provided waste management compliance and technical assistance to 64 tribes. The Agency also conducted two investigations to gather evidence for possible enforcement actions to address specific incidents of illegal dumping.
Protecting Childrens' Health at Schools
To address hazardous waste non-compliance at schools, inspections were completed at 10 Bureau of Indian Affairs (BIA) schools and 11 non-BIA tribal schools in 2008. The schools also received compliance assistance. Notices of Violation were issued to the BIA for hazardous waste violations identified at three schools. EPA is working with other inspected schools to address non-compliance and deficiencies.
Strengthening Tribal Programs
EPA continued its efforts to support tribal capacity building in the following areas: ensuring that accurate information exists on EPA-regulated facilities in Indian country; increasing the number of tribal environmental professionals trained in enforcement and compliance assurance; and increasing the number of tribal inspectors authorized to conduct inspections on behalf of EPA.
EPA is close to completing an inventory of non-BIA high-priority schools in the Pacific Southwest. These include all non-BIA schools on tribal lands, plus all schools on non-tribal lands which have an enrollment of at least 50% Native American students.
EPA continued funding the Institute of Tribal Environmental Professionals (ITEP) at Northern Arizona University. ITEP provides training to tribal professionals to improve their ability to conduct compliance inspections under tribal law, in order to obtain authorization to conduct inspections under federal law.