Pacific Southwest, Region 9
Serving: Arizona, California, Hawaii, Nevada, Pacific Islands, 148 Tribes
You are here: EPA Home
Healthy Tribal Communities
Healthy Tribal Communities
Additional Resources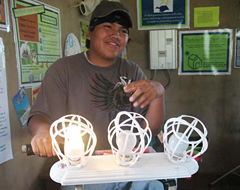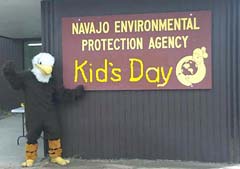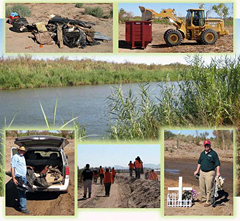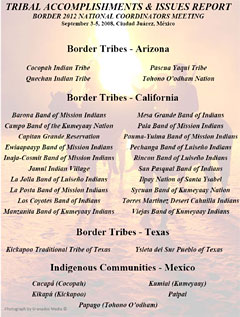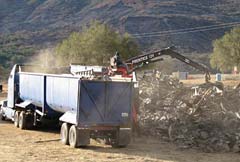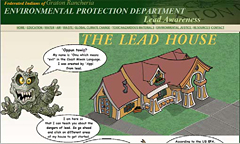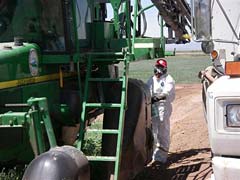 The goal of the General Assistance Program (GAP) is to assist tribes in developing the capability to plan and establish environmental programs and to develop and implement solid and hazardous waste programs in accordance with their individual needs. In addition, a key component of many tribes' environmental program is community outreach and education.
Environmental Education is a Core Piece of Many Tribes' Environmental Programs
The Wells Band of Nevada brought a group of tribal youth to San Francisco's EPA Region 9 office to learn about how the Agency and tribes work together to protect the environment. The students learned about how to identify pesticides, how to compost using red worms, and how EPA responds to emergencies.
The Kaibab Band of Paiute Indians' Summer Scholars program used a problem-based approach to learn about what they could do to positively affect the environment as well as save their school money. The student with the light bulbs (pictured below) was demonstrating energy use. In this photo, he is riding an exercise bike modified to produce electricity. He was trying to get all three lights to turn on and keep them on for as long as he could, which was about a minute.
The Navajo Nation EPA sponsored a Kid's Day event as part of their annual environmental conference. Over 500 elementary school students attended. The students learned about environmental preservation and attended presentations on watershed protection, radon gas, and protecting wildlife.
Border Region
Cocopah Indian Tribe and the State of Arizona
The Cocopah Tribe and the Arizona Department of Environmental Quality partnered to collect waste along the Arizona side of the Colorado River, where it borders Mexico. Volunteers collected 50 tons of waste left by people crossing the border, including clothing, car batteries and tires. The cleanup covered 60 acres of the Cocopah Tribe's reservation.
Every year the border liaisons for California, the Native domestic water infrastructure, including clogged septic American Environmental Protection Coalition fields and damaged leach lines. (NAEPC), Arizona, and the Tohono O'odham Nation convene a tribal caucus meeting for all tribes in the U.S.-Mexico border region. The goal is to bring together tribal nations in the U.S. and indigenous communities in Mexico to share information about the successes and issues that are affecting their communities. These issues and accomplishments are featured in a bilingual report distributed during the annual meeting of the Border 2012 National Coordinators.
Fall 2007 Southern California Fires
The devastating Poomacha Fire burned more than 49,000 acres of land in Indian Country. The fire affected the Barona, Inaja-Cosmit, Jamul, La Jolla, Mesa Grande, Pala Band, Pauma, Rincon, San Pasqual, and Santa Ysabel reservations. The heaviest damage took place at the La Jolla and Rincon Reservations, with 95% of La Jolla's land burned. Several evacuation centers were established by tribes to receive displaced tribal members from other tribes. The Yavapai Apache Tribe temporarily relocated about 200 Santa Ysabel Band Tribal members to its reservation in Arizona. Tribes in Southern California provided materials and equipment to the La Jolla Tribe for the repair of damaged domestic water infrastructure, including clogged septic fields and damaged leach lines.
Once the fires died down, tribal environmental staff and EPA conducted waste characterizations of the debris and assisted with appropriate disposal of materials, including household hazardous waste remaining after the fire. The La Jolla Tribal Environmental Department provided information to members on environmental hazards such as contaminated ash, and encouraged everyone to wear protective masks when returning home after the fires were out.
Working to Prevent Childhood Blood Lead Poisoning
Many tribes are working to eliminate childhood blood lead poisoning with grants from EPA. They are conducting activities such as outreach to community members to inform them of the dangers of lead-based paint and lead's health hazards; childhood blood lead screening; and evaluating lead hazards at tribal housing, Head Start, and childcare facilities. Over the past seven years, approximately 20 tribes in the Pacific Southwest have sponsored these activities, which are designed to achieve the national goal of eliminating childhood blood lead poisoning in the United States by 2010.
One example of a great outreach effort is this interactive Web site, pictured on page 4, that was developed by the Federated Indians of Graton Rancheria, near Santa Rosa, Calif. to educate both youth and adults about the dangers of lead.
Pesticides Program
Several tribes including the Gila River Indian Community, Salt River Pima-Maricopa Indian Community, Colorado River Indian Tribes and Navajo Nation, issued more enforcement letters and warnings to violators of tribal pesticide codes. As a result, pesticide applicators increased compliance with tribal requirements, tribes have better information about pesticide practices on Indian lands, and tribal communities are better protected from pesticide exposure. Tribal pesticide inspectors followed up with violators to ensure that violations have been corrected.
While conducting pesticide inspections, the Colorado River Indian Tribes' pesticide inspector learned that proper disposal of pesticide containers was a problem for farmers. The Tribes' Environmental Protection Office arranged for a pesticide recycler to remove over 16,000 pounds of empty pesticide containers, thus reducing the risk of exposure to pesticide residues, removing waste, and generating good will with the regulated community.
Under a national EPA initiative, Gila River Indian Community and the EPA Region 9 Pesticides Office conducted joint compliance inspections of 14 BIA schools on the reservation. The Gila River Pesticide Program worked with schools to improve compliance with tribal and federal pesticide laws.
Successful Action Against an Applicator in Indian Country – Based on a tip from Resighini Rancheria, the EPA Region 9 Pesticides Office and Water Division collaborated in taking a successful penalty action against an applicator who improperly applied two pesticides near a stream on the Resighini Rancheria. The Resighini Rancheria Environmental Protection Authority required the applicator to remediate the site and, with the Yurok Tribe, provided information and support to EPA during the investigation.