Pacific Southwest, Region 9
Serving: Arizona, California, Hawaii, Nevada, Pacific Islands, 148 Tribes
Clean Air
Clean Air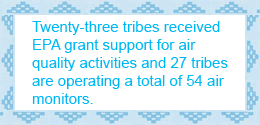 Overall Tribal Air Accomplishments
EPA awarded 23 tribal air grants, for a total of just over $3 million. Five tribes also conducted air assessments with additional funding in their General Assistance Program (GAP) grants and four tribes received radon grants. Twenty-seven tribes are currently monitoring for either particulate matter or ozone, three more tribes than last year. In Region 9, 66 tribes had air quality that did not meet national health standards, while 80 tribes had air quality that did attain federal health standards.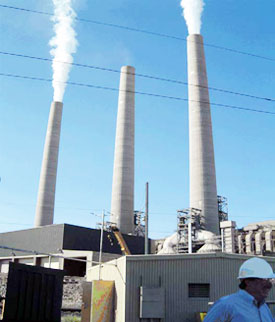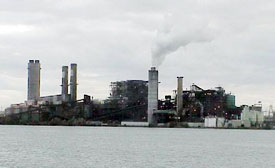 Particulate Matter National Ambient Air Quality Standards (NAAQS)
After much comment, especially from tribes, EPA decided to retain the 24-hour PM-10 standard and continue to enforce it in rural areas. The exemptions for agricultural and mining sources have been removed from the rule. In addition, EPA strengthened the 24-hour standard for fine particles.
Tribal Minor New Source Review (NSR) Rules Proposed
EPA proposed requirements for permitting new and modified sources of air pollution. These requirements are important because they close the "regulatory gap" that has existed for many years for tribes. They would require air emission permits for new or modified small industrial facilities, and large industrial facilities on tribal lands not meeting national clean air standards.
Navajo Nation
EPA delegated the major source permit program to the Navajo EPA for the two major power plants on the reservation. The permit fees for these power plants will now go to the Navajo EPA and will be used to support their permit program. EPA proposed two Federal Implementation Plans (FIPs), for the Four Corners Power Plant and the Navajo Generating Station. These would establish federally enforceable emission limits for several pollutants. Many regional stakeholders participated in the proposal. If the FIPs are finalized, a significant amount of sulfur dioxide emissions will be reduced. EPA proposed a Prevention of Significant Deterioration (PSD) permit for the Desert Rock-power plant on the Navajo Nation. EPA and Navajo EPA conducted substantial outreach to tribal members and the general public on this controversial project.
Tribal Accomplishments and Collaboration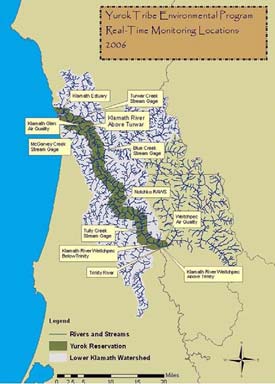 Many tribes work closely together, and share information. The Yurok Tribe Environmental program developed a Real-Time Environmental Monitoring Station, which is now available on the web

. The Bishop Tribe continued to work with other nearby tribes and the local air district to assess the impacts of the Owens Dry Lake, the largest source of particulate pollution (PM-10) in the nation. The Tribe also participated with several others in the Tribal Environmental Exchange Network, a system that makes air quality and meteorological data available in real time on the web, facilitating region-wide data analysis.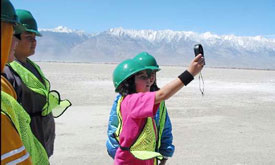 Pacific Southwest Tribes Located in Air Quality Non-Attainment Areas: