Johnston Atoll Chemical Agent Disposal System (JACADS)
Note: EPA no longer updates this information, but it may be useful as a reference or resource.
Johnston Atoll Chemical Agent Disposal System Quick Finder
Background and History
Johnston Atoll is one of the most isolated land masses on Earth. As the only shallow water and dry land area in millions of square miles of ocean, Johnston Atoll is an oasis for coral reef species and bird life. These include coral and coralline algae, about 300 species of fish, green sea turtles, and seabirds such as the great frigate bird, red-footed booby, and red-tailed tropic bird. More information on the birds of the atoll can be found is available from the U.S. Fish and Wildlife Service

.
The atoll has no native population. It is an unincorporated territory of the U.S., administered from Washington, D.C. by the U.S. Air Force and managed cooperatively by the Air Force, Army, and the U.S. Fish and Wildlife Service as a National Wildlife Refuge. Over the past half century, Johnston Atoll has served as a site for nuclear testing (prior to the 1963 Atmospheric Nuclear Test Ban Treaty) and storage of chemical weapons.
These weapons contained either nerve agent (GB or VX) or blister agent (HD, commonly known as mustard). Nerve agent is lethal in very small quantities. A single drop of the nerve agent VX, placed on the skin, can kill an adult.
In the 1960s, the U.S. military had a major chemical weapons stockpile on the island of Okinawa. In 1969, an accidental leak of the deadly nerve agent VX on Okinawa injured 23 U.S. servicemen and one civilian. As a result, the governments of Japan and Ryukyu (the island chain that includes Okinawa) asked the U.S. to remove all chemical weapons from Okinawa. In 1971, the U.S. military moved the entire stockpile to one-square-mile Johnston Island, the largest island of Johnston Atoll.
In 1990, the U.S. military removed its stocks of chemical weapons from a newly-reunified Germany, and shipped them to Johnston Island. A small stock of chemical artillery shells came from the Solomon Islands in 1991. All these munitions were stored in bunkers in the farthest downwind corner of Johnston Island. As the weapons continued to age in storage, there was an increasing likelihood that some of them would leak. The risk of leaks underscored the need to destroy the weapons as quickly and safely as possible.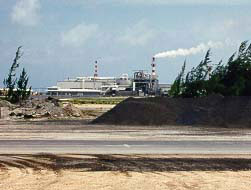 The purpose of the Johnston Atoll Chemical Agent Disposal System (JACADS) was to accomplish this task by dismantling each weapon and incinerating the deadly nerve and blister agents. JACADS had a specially-designed weapons disassembly system, four different incinerators, control and alarm systems, and associated pollution control equipment. The incinerators and disassembly units are contained inside an airtight building to prevent any vapors leaking out. The interior was ventilated through a large carbon filter system, which was an important safety feature for both workers and the environment. The Chemical and Biological Weapons Nonproliferation Project maintains a virtual tour

of the facility, including illustrations of the incineration process.
Between 1990 and 2000, the JACADS facility destroyed more than 72,300 rockets, 43,600 mortars, 5,600 bombs, 13,300 land mines and 277,800 projectiles which carried nerve agent or mustard. In addition, JACADS incinerated 200 bulk containers which each held about one ton of nerve or blister agent. The U.S. Army maintains a complete listing

of all munitions destroyed.
Images courtesy of the U.S. Army, the U.S. Fish and Wildlife Service,
and the U.S. Army Corps of Engineers