You are here: EPA Home
Sole Source Aquifer Program
Ground Water
National Links
You will need Adobe Reader to view some of the files on this page. See EPA's PDF page to learn more about PDF, and for a link to the free Adobe Reader.
Sole Source Aquifer
The EPA's Sole Source Aquifer (SSA) Program was established under Section 1424(e) of the Safe Drinking Water Act (SDWA.) Since 1977, it has been used by communities to help prevent contamination of groundwater from federally-funded projects. It has increased public awareness of the vulnerability of groundwater resources. The SSA program allows for EPA environmental review (PDF) (1pg, 34K) of any project which is financially assisted by federal grants or federal loan guarantees. These projects are evaluated to determine whether they have the potential to contaminate a sole source aquifer.
In Region 9, nine sole source aquifers have been designated: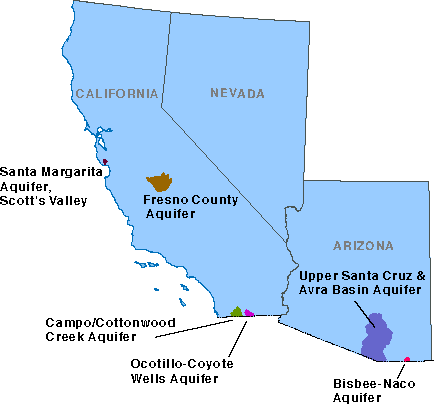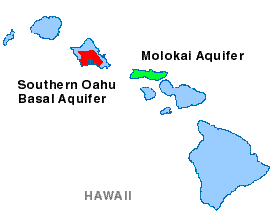 Maps
Click here for a national layer including all available coverage for Sole Source Aquifers (SSA) that can be used in Geographic Information Systems (GIS)
State
Sole Source Aquifer Name
Federal Reg. Cit
Publ. Date
Map
AZ
Upper Santa Cruz & Avra Basin Aquifer
49 FR 2948
01/24/84
KMZ
PDF

(1 pg, 1.3M)

AZ
Bisbee-Naco Aquifer
53 FR 38337
09/30/88
KMZ
PDF

(1 pg, 175K)

CA
Fresno County Aquifer
44 FR 52751
09/10/79
KMZ
PDF

(1 pg, 1.3M)

CA
Santa Margarita Aquifer, Scotts Valley
50 FR 2023
01/14/85
KMZ
PDF

(1 pg, 434K)

CA
Campo/Cottonwood Creek
58 FR 31024
05/28/93
KMZ
PDF

(1 pg, 321K)

CA
Ocotillo-Coyote Wells Aquifer
61 FR 47752
09/10/96
KMZ
PDF

(1 pg, 337K)

GU
Northern Guam Aquifer System
43 FR 17867
04/26/78
KMZ
PDF

(1 pg, 400K)

HI
Southern Oahu Basal Aquifer
52 FR 45496
11/30/87
KMZ
PDF

(1 pg, 716K)

HI
Molokai Aquifer
59 FR 23063
04/20/93
KMZ
PDF

(1 pg, 146K)
A map of all nationally designated SSAs is also available on the Source Water Protection Publications Database.
For more information, please contact the Ground Water Office at
415-972-3971 or visit the national EPA Sole Source Aquifer Program site.
Outreach Documents
Sole Source Aquifer Fact Sheet (PDF) (1pg, 34K)
For Project Planners: What to submit for EPA review of proposed projects (PDF) (1pg, 34K)
Contact Information
See the Sole Source Aquifer section of the Ground Water contacts page.