Underground Injection Control (UIC)
National Links
Class V Wells
Class V wells, commonly known as shallow injection wells, are among the greatest threats to groundwater quality. These wells are very prevalent and their typical design involves direct emplacement of fluids into the shallow subsurface. There are more than 30 varieties (PDF, 3 pp., 37 KB) of Class V wells including motor vehicle waste disposal wells and large-capacity cesspools (both banned in 1999), stormwater drainage wells, agricultural drainage wells, industrially-used septic systems, and aquifer recharge wells. EPA's inventory lists more than 30,000 Class V wells in Region 9, although we suspect this represents only a fraction of all the Class V wells.
Endangerment by Class V wells occurs when they are used in a manner that transmits contaminants into or above underground sources of drinking water. In many cases they are operated without monitoring or knowledge of their final disposal point. When these wells are used in areas where contaminants are present, they sometimes become a conduit, allowing contamination to reach the water table. The use of shallow injection wells for the disposal of hazardous waste is prohibited. For more information, see Classes of Injection Wells.
Other substances not regulated as hazardous, such as nitrate and sewage pathogens, nonetheless may endanger water quality and public health. EPA Region 9 is working on closing large capacity cesspools throughout Hawaii. More information on cesspools in Hawaii.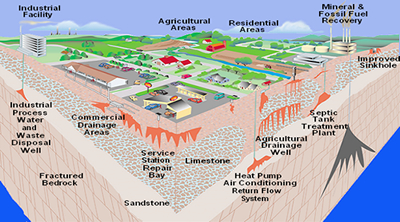 All states in Region 9, and some local programs have permit requirements for various types of Class V wells; each jurisdiction is different. Injection well owners and operators should check with their local and state governments to see what requirements apply, or contact EPA. All Class V injection well owners in California and on tribal land are required to submit inventory information to EPA Region 9. EPA Region 9 maintains a database of inventory information collected through inspections, referrals by other agencies, and submitted by owners and operators of Class V wells.
To submit inventory information for your injection well(s):
Inclusion on the EPA UIC inventory is not a substitute for compliance with all applicable local, tribal, and state land use and water quality laws. Specific types of injection are prohibited in some areas.
EPA Region 9 has developed specific information for some varieties of Class V injection wells based on public interest and environmental need. Below is a list of available outreach materials.
Outreach Materials
Evaluating Motor Vehicle Waste: A Self-Audit Checklist (PDF) (4 pp, 390K)
Industrial Floor Drains and Ground Water Quality (PDF) (4 pp., 393K)
Municipal Storm Water and Ground Water Discharge Regulations in California (PDF) (4 pp., 390K)
EPA Region 5 Site Characterization and Closure guidelines
You will need Adobe Reader to view some of the files on this page. See
EPA's PDF page
to learn more about PDF, and for a link to the free Adobe Reader.