Pacific Southwest, Region 9
Serving: Arizona, California, Hawaii, Nevada, Pacific Islands, Tribal Nations
You are here: EPA Home
EPA Tribal Stormwater Workshops
EPA Tribal Stormwater Workshops
Tribal Construction and Industrial Sites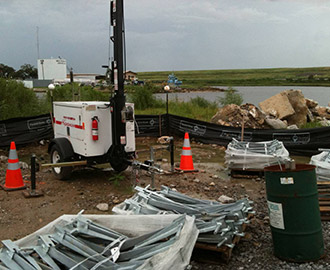 You will need Adobe Reader to view some of the files on this page. See EPA's PDF page to learn more about PDF, and for a link to the free Adobe Reader.
Browse these presentations from workshops hosted by our Region 9 EPA Stormwater enforcement team:
Learn Clean Water Act Stormwater compliance for:
EPA's Construction General Permit and Industrial concerns
Post-construction management
Low Impact Development
Botany
404 Wetlands Program
401 Certification Program
Non-Point Source
Tribal Speakers! - real world experience with construction storm water requirements.
Download the Stormwater Fact Sheet (PDF)

(2 pp, 56K)

.
Download the Clean Water Act Fact Sheet (PDF)

(1 pg, 119K)

.
Online Resources