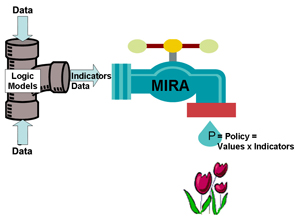 Related Mid-Atlantic Information
Data is used in decision-making. We take facts and information and apply our judgment to make decisions on how best to help the environment. We:
ensure the quality of data collected
connect programs to environmental results & then evaluate environmental results to prioritize our work
use the data in decision-making
connect data sets to gain additional insights
Here's how the process works.
EPA programs feed information, like monitoring data, into Logic Models.
Then we look at Indicators, which give us a sense of the impact on the environment.
Then we use the Multi-criteria Integrated Resource Assessment (MIRA) tool to decide what should be done, like requiring pollution controls.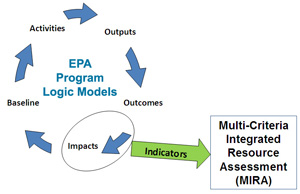 Both MIRA and Logic Models are part of EPA's overall process to connect programs to environmental results and then measure and evaluate those results to prioritize our work.
Our policies take into account our values -- what's most important to us and what we are trying to achieve. Our values may be different at different times and in different locations. For example, the amount of a pollutant allowed to be discharged into a stream may be based on whether that stream is using for swimming, for fishing, for boating, or for none of those uses. This concept as an equation is: Policy = Values x Indicators.