Public Involvement Network News
Note: EPA no longer updates this information, but it may be useful as a reference or resource.
---
Engaging Coastal North Carolinians on Sea Level Rise and Population Growth
By Lucy Roberts Henry, a watershed management coordinator with the Albemarle-Pamlico National Estuary Program in the N.C. Department of Environment and Natural Resources
Background
North Carolina's population is growing at an unprecedented rate. By 2050, the population is expected to increase by more than 50 percent. Many new residents are moving to North Carolina's beautiful, but delicate coastal and estuarine region, where retirement and vacation communities are sprouting up on land that was once farm and forest. North Carolina has already started to experience the effects of sea level rise. The Albemarle and Pamlico Sounds region has been identified as one of the top three most threatened areas from sea level rise in the United States. The combined impact of population growth and sea level rise has created a condition of ecological and social vulnerability that calls for holistic solutions that respond to social and ecological concerns.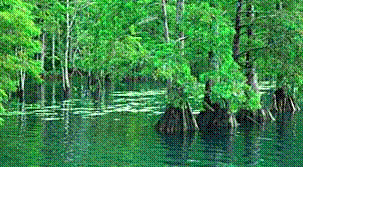 Natural resource managers have begun to develop strategies for ecological adaptation to sea level rise, such as preserving natural areas along the coast to buffer against rising seas, thereby allowing plants and animals to migrate slowly inland. Residents of the coastal plain face more immediate economic and social concerns. The Albemarle-Pamlico watershed has some of the poorest counties in the state and the loss of traditional industries such as fishing and farming, as well as a decline in manufacturing, are contributing to rising unemployment and changes in local culture. At the same time, the appeal of North Carolina's Outer Banks is drawing people to the shores of the sounds and rivers inland, which are being marketed as the "inner banks."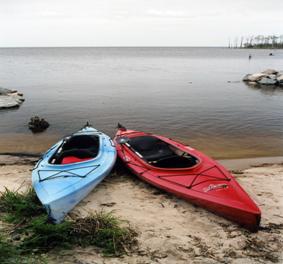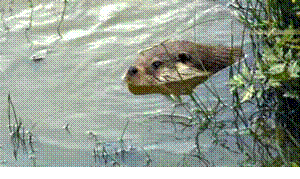 Despite the apparent disconnect between the issues of population growth and sea level rise, the threats they pose to communities are intertwined. Development is mostly occurring in high-risk areas, along the banks of the sounds and rivers, and eventually coastal communities will have to make difficult decisions about whether they want to put resources into protecting this infrastructure. In order to gain a better understanding of how residents perceive the threats from sea level rise and population growth, and what their priorities are in adapting to them, a series of public listening sessions was held during the summer of 2008. The desired outcome of these sessions was to have a written record of public opinions that could inform conservation and community development in the future.

The Albemarle-Pamlico National Estuary Program [APNEP] and the
Albemarle-Pamlico Conservation and Communities Collaborative [AP3C] hosted these listening sessions. Their approach was to share basic information about population growth and sea level rise, but more importantly to listen to community members' reactions and suggested strategies. The focus of the sessions was on listening and recording community members' opinions and priorities. The meetings took place in seven communities on the coastal plain of North Carolina, targeted for their vulnerability to sea level rise and their diverse populations and landscapes.
Goals of the Listening Sessions
In an attempt to focus the sessions on local issues and to avoid getting into a broad discussion about the causes and effects of climate change, we focused specifically on the issue of sea level rise. We had the following three specific goals:
To provide participants with basic information about sea level rise and population growth in the Albemarle-Pamlico region.
To give participants an opportunity to share their concerns about the potential impacts of sea level rise and population growth on their communities.
To generate potential solutions that could address impacts resulting from sea level rise and population growth.
We held seven listening sessions throughout the Albemarle-Pamlico region. The sites were selected in specific locations to encourage diverse participation and maximize the access, so regional residents would be able to attend at least one of the sessions.
The sessions were held in the following North Carolina locations: July 17 - Washington; July 21 - Engelhard; July 22 - Columbia; Aug. 4 - Elizabeth City; Aug. 5 - Edenton; Aug. 11 - New Bern; and Aug. 18 - Manteo.
We used a multi-pronged approach for recruiting people to attend the listening sessions. At each of the seven sites an outreach person:
mailed flyers to potential participants, then made follow-up telephone calls to them;
disseminated outreach flyers to local churches;
requested coverage by local media;
invited local elected leadership, schoolteachers and chamber representatives; and
coordinated meals and scheduled a venue for the meeting.
Although the outreach person was a volunteer, we did provide funding for postage and food. The person responsible for outreach targeted councils of government, the N.C. Rural Center, the N.C. Community Development Initiative and the N.C. Association of Community Development Corporations to encourage Community Development Corporations and their constituents to attend the focus groups.
AP3C partners and APNEP staff e-mailed announcements about the listening sessions to their networks and contacts. Before the listening sessions, several AP3C partners were interviewed for radio interviews and newspaper articles.
Setting the Agenda
Meetings were held from 5:30 p.m.-8:30 p.m. to accommodate residents whose work schedules would not allow them to attend daytime meetings. Because the meetings were held during dinner, food was served as an incentive for people to attend. The agenda was divided into five distinct parts to accomplish specific goals: Opening, Setting the Context, Implications, Solutions, and Next Steps.
In the Opening, we welcomed participants, introduced the conveners and participants to each other, and provided a little education about the Albemarle-Pamlico Conservation and Communities Collaborative and the Albemarle-Pamlico National Estuary Program.
We used facilitated open discussion to structure the remainder of the agenda because adults learn best when they actively participate in the process and when connections are established between new learning and relevant prior knowledge and experience. Summarized comments were recorded on flip charts and in more detailed written notes.
To Set the Context for our discussion, we asked the group to respond to the question: "What changes are you seeing and experiencing in your communities or your environment?" Starting from this context was important for later discussion about sea level rise and population growth, so that participants could draw on their own experiences and relate the issue to their communities and environment.
Next, we shared maps illustrating projected sea level rise and population growth. We displayed poster-sized maps showing these events at the scale of the entire region and provided participants with 8 ½-by-11-inch local maps of the area where the session was being held. At the final session, Sam Pearsall, then a scientist with The Nature Conservancy and now with Environmental Defense Fund, made a power point presentation on sea level rise and projected population growth. At the other sessions, we deliberately avoided overwhelming participants with information and used visuals with a brief explanation to stimulate discussion. The merits and trade-offs of these two different approaches is discussed in a later section.
Next, we discussed the Implications of what had been shared up to that point. In other words, given the actual changes people are experiencing in their communities and the projected sea level rise and population increases that are anticipated, we asked them to brainstorm what might be some of the impacts of a convergence of all of those factors.
We then asked for potential Solutions to the issues identified in the implications conversation. In the information packet, we provided a handout of some of the adaptation strategies being used by other communities in order to stimulate conversation as well as case studies of sea level rise adaptation. In the design, we anticipated that the responses would address a full range of issues and decided that we would offer some general suggestions if participants found the subject too overwhelming to come up with solutions. However, participants at all of the sessions did not hesitate with solutions, so the facilitators had little influence over the responses.
Finally, we ended each session by discussing Next Steps. Participants were reminded to complete the sign-in sheet indicating their contact information, and whether they wanted to be informed about future AP3C meetings and listening session findings. We felt it was important to give participants an opportunity to stay engaged and feel that their opinions were part of an ongoing process. We also conducted verbal and written evaluations (with the exception of our first session) in order to improve subsequent sessions.
Maps
During the listening sessions, participants' comments were recorded both on flip charts, as summarized statements, and in more detailed written notes that included direct quotes. Comments were grouped according to the three questions that were presented in the sessions: 1) "What changes are you seeing and experiencing in your communities and in your environment?" 2) "What do you think the impacts of these changes will be on your community, as they relate to sea level rise and population growth?" and 3) "What do you think are some of the solutions to these issues?" The transcript of the sessions was coded, using qualitative analysis, first according to location, then according to major themes, and then according to sub-themes. These coded results were then analyzed for major patterns, ideas, commonalities and contrasts.
Between 10 and 30 participants attended each session. The average number of participants was about 15. The participants represented diverse backgrounds. At most sessions, a handful of attendees were present from out of town, mostly from academic institutions or natural resource management organizations. There were usually at least one or two local residents with extensive knowledge of sea level rise. The target group, those with limited or no knowledge of sea level rise, usually represented an additional few people (unfortunately this group was underrepresented; causes and possible remedies will be discussed later). Participants also represented a diversity of ages, genders and racial backgrounds. Most sessions had at least one senior citizen and one African-American representative, fairly equal gender balance, and a wide range of ages, with a predominance of White professionals.
While the following results depict an informed understanding among participants of the impacts and implications of sea level rise and coastal population growth, this does not mean that communities are widely informed. At each session, at least two participants were well-informed on sea level rise and able to educate their peers on subjects such as saltwater inundation and stormwater runoff. This phenomenon, of cross-pollinating among participants, was a successful means of educating people about the issues. Instead of hearing the facts from an "outsider," they heard them from a community member and the topic gained legitimacy. If their neighbors witnessed this happening, they seemed more likely to believe it.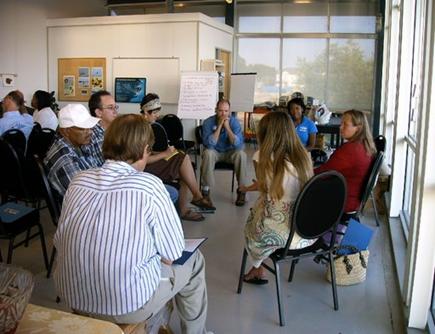 A breakout group discusses implications of sea level rise and population
growth at a session in Washington, North Carolina.
Another important point is that these results are meant to represent the diversity of opinions, rather than the prevalence of opinions. Participants were self-selecting and not a statistically significant population. Nevertheless, since outreach was done to diverse groups and attendance incorporated members of widely dispersed social groups, it can be concluded that their ideas represent the opinions of community members from a wide array of backgrounds, education, experience and knowledge.
Findings
Changes
One of the primary environmental changes that people are seeing is increasing erosion rates. They also noted changes in salinity and vegetation, species presence, and saltwater inundation onto farmlands and into aquifers.
Water quality concerns are high on the list for residents in the region, since water factors prominently in the culture and the local economy. Participants noted a change in the primary water pollution source – once due to farming – now seen to be a result of runoff from development.
Cultural change was also a big topic of discussion. The influx of retirees and wealthier residents to estuarine coast communities has changed them – for both positive and negative. There was a predominant feeling of lost traditions and way of life.
Development was seen as playing an increasingly prominent role in landscape change, environmental degradation, and local government decision-making.
The increase in retirees is not seen as an economic boon to the region; rather, residents perceive cultural changes and potential economic liability resulting from this influx.
Impacts
Even though participants talked about erosion as a change they are currently seeing, they did not focus on erosion as an expected impact of rising seas. Instead, they saw impact in terms of water quality — such as increased salinity and runoff — and water quantity — in terms of more flooding and bigger storm surges.
People are concerned with water-related impacts on tourism, fisheries and culture.
Many saw the loss of traditional, natural-resource based jobs such as farming and fishing, as related to development and a changing environment and expected that the loss of these jobs would be exacerbated by the current sea level rise and population growth trends.
Without government intervention, people don't expect that development will slow in conjunction with sea level rise. Instead, they see an increasing lack of understanding of risk inherent in coastal living in the attitudes of the people moving in.
There is tremendous fear that the increasing divide between wealthy coastal residents and economically depressed inland residents will foster inequality in the response to sea level rise. Participants expected that poor coastal communities will bear the burden of protecting and relocating wealthy residents living on the shoreline.
Many feared that short-term solutions would be the focus of adaptation, leading to public investment that would eventually be lost.
Solutions
While participants seemed to think that the responsibility for solutions and action falls to the state and federal government, they also see locally-driven planning as a solution and a necessity.
There was widespread belief that more people need to be part of the discussion, but many felt that people don't think that sea level rise going to happen in their lifetime. Therefore, any awareness raising must link the issue to individuals and communities in a way that does not create a sense of hopelessness or fear, but instead helps people understand how it applies to them. This can be done by framing it in terms of local economy, community planning and new opportunity.
Education was a dominant theme in the solutions discussion. People thought there was limited knowledge in the general public about the nature of sea level rise, so many of the suggestions for educating the general public focused on providing basic information out there to them about the what/when/how/why of sea level rise. In contrast, the education that was recommended for government was more about mobilizing them to take action, plan for, and manage the process of community adaptation to sea level rise.
People see more opportunity in nature-based solutions than in hardened shoreline solutions, which are perceived as a short-term fix.
Since the loss of natural resource-based jobs was a large concern in the discussion of changes and impacts, it's worth noting how it factored in the solutions discussion. Solutions such as oyster beds, wetlands and submerged aquatic vegetation were offered as a means of buffering shorelines, but their restoration would also bolster the fisheries industry. Participants also suggested working with coastal farmers to preserve large areas for transition to wetlands because it could have positive benefits for preserving farmland.
Recommendations
Despite a concerted effort to reach out to community members with little prior knowledge of sea level rise, attendance at the sessions was lower than the facilitation team desired. Some residents couldn't see why they should be concerned about the issue of sea level rise so they didn't feel compelled to attend. For that reason, training outreach volunteers how to communicate the issue's importance to coastal plain residents is necessary for future sessions. Furthermore, additional volunteers would have allowed for more direct access to communities and elected officials, who were missing from most sessions.
The facilitation team debated how much information we should include in the sessions about sea level rise. Since our target audience included people with limited or no knowledge of sea level rise, we felt that it was important to simply present the projected amount and location of sea level rise using maps, rather than spending significant time discussing the complexity of the issue. This would enable us to focus on issues and implications rather than details of sea level rise science.
Our audiences tended to be well-educated and informed, making the session more challenging in terms of balancing information needs of multiple groups. Many of the participants attended the session for more information. While we provided packets of information with in-depth information about projected sea level rise, climate change science, and resources for more information, we fell short in providing these individuals with the depth of information they desired. Nevertheless, those participants who came with no prior knowledge, benefited from the unexpected outcome of information sharing among participants. Those with substantial knowledge felt compelled, most likely from the deficit in information they perceived, to share what they understood about the issue. This proved extremely effective in some locations for providing just enough added information, articulated in a non-technical and non-lectured way. In fact, there were two locations where informed participants managed to convince "skeptics" who were attending with the purpose of refuting the information (only to find that they were not attending a lecture and the facilitators were there to listen), of the reality of sea level. The facilitation team observed how this unexpected outcome was a very powerful learning moment.
Conclusion
These listening sessions were only the beginning of what should be a comprehensive outreach campaign to develop solutions to the challenges of sea level rise and population growth. The modest level of participation in the sessions, despite concerted outreach effort, is evidence that inland residents don't think this issue affects them. However, upon hearing about the projections and beginning to contemplate the implications these changes will have on their communities, participants were transformed. This suggests that residents are responsive to the information. After the sessions, several people said they thought this issue only impacted people with homes on the water, but in thinking about the broader social and economic issues they realized that it would affect them in a direct way. This indicates a need for education and outreach to communities that are not yet engaged.
About the Sponsors
The Albemarle-Pamlico Conservation and Communities Collaborative, or AP3C, was established by conservation and community groups to develop approaches that integrate economic and ecological resilience for the lands, waters and communities of the Albemarle-Pamlico region. The AP3C recognizes the challenges presented by economic and social distress, climate change, population change, and increasing risks to public health. They implement collaborative, sustainable solutions for regional well-being.
The Albemarle-Pamlico National Estuary Program, or APNEP, is a cooperative effort sponsored by the N.C. Department of Environment and Natural Resources, the US Environmental Protection Agency and the Virginia Department of Conservation and Recreation. The mission of APNEP is to identify, restore and protect the significant resources of the Albemarle-Pamlico estuarine system.
Audubon North Carolina is the state office of the National Audubon Society representing 10,000 grassroots members and nine local chapters across the state. With a century of conservation history in North Carolina, Audubon strives to conserve and restore the habitats we share with all wildlife, focusing on the needs of birds. Audubon North Carolina achieves its mission through a blend of science-based research and conservation, education and outreach, and advocacy.
The Conservation Fund's Resourceful Communities Program was established in 1991, to help North Carolina's underserved communities create new economies that protect and restore, rather than extract, natural resources. Resourceful Communities provides a range of direct assistance to develop the leadership and organizational capacity necessary for sustainable community development. Because Resourceful Communities works closely with local partners, including nonprofit, private and public concerns, we help ensure local ownership of long-term economic, social and environmental change.
Environmental Defense Fund is a leading national nonprofit organization that represents more than 500,000 members. Since 1967, Environmental Defense Fund has linked science, economics, law and innovative private-sector partnerships to create breakthrough solutions to the most serious environmental problems.
The Nature Conservancy is a non-profit organization whose mission is to preserve the plants, animals and natural communities that represent the diversity of life on earth by protecting the lands and waters they need to survive.  The Nature Conservancy's office in North Carolina has protected almost 700,000 acres. Working with its partners, the Conservancy has helped to protected almost a half million acres of property in the Albemarle region - all of which is threatened by sea level rise.
The Natural Resources Leadership Institute is an instructional and community service program of the North Carolina Cooperative Extension Service at NC State University. The goal of the Natural Resources Leadership Institute is to improve management and policy decisions affecting North Carolina's communities and natural resources. NRLI works toward this goal by convening forums of stakeholders and decision makers, providing collaborative leadership training, and conducting research.
Cynthia Brown, MPA – has 26 years of experience in non-profit management and social justice activism. She is a part-time employee of The Conservation Fund and the founder and lead consultant of The Sojourner Group, whose mission is to increase peoples' ability to build their own organizations, establish effective alliances, and advocate for public policies that address their needs.
Sharon Campbell – is the president of SYNERGY Development and Training Group, an organization that believes holistic knowledge and resources build strong communities through collaborations that result in positive change and sustainable growth. She believes the most effective solutions for communities are within the people who have the greatest stake in the outcome.
Lucy Roberts Henry, MEM – is a watershed management coordinator with the Albemarle-Pamlico National Estuary Program in the N.C. Department of Environment and Natural Resources. She helps coordinate the implementation of APNEP's Comprehensive Conservation and Management Plan by working with APNEP's partners to advance natural resource protection through community-based initiatives in the Albemarle-Pamlico sounds watershed. Henry has more than five years of experience in international, non-profit program management and training in facilitation and environmental leadership.
Marilynn Marsh Robinson – is a program associate with Environmental Defense Fund in Raleigh and works with the Southeast Oceans team on fishery management and the Land, Water, Wildlife team on animal operations, clean water and community engagement. She is interested in seeing the conventional environmental movement engage and build relationships with affected communities in hopes of achieving environmental conservation and economic equity for everyone.