Area Designations for 1997 Ground-level Ozone Standards
You are here: EPA Home
State Recommendations and EPA Response
State Recommendations and EPA Response
EPA originally asked the states and tribes to recommend whether or not areas were in attainment in 2000. Many states and tribes complied, but because of
continuing litigation
, the Agency deferred designation action.
EPA asked the states and tribes to, by July 15, 2003, either reaffirm or revise their 2000 recommendations or submit new recommendations. EPA will make its final designations based upon these reaffirmed, revised, or new recommendations. State recommendations and EPA response letters are presented here. EPA will make final designations by April 15, 2004.
Tribal information for both 2000 and 2003 is available on the
Tribal Recommendations
page.
Correspondence from persons outside the agency is catalogued on the
outside correspondence
page.
---
The following map groups the states by their associated EPA regional office. Click on a region in the map or list below to view recommendations submitted to EPA by the states or tribes within that region.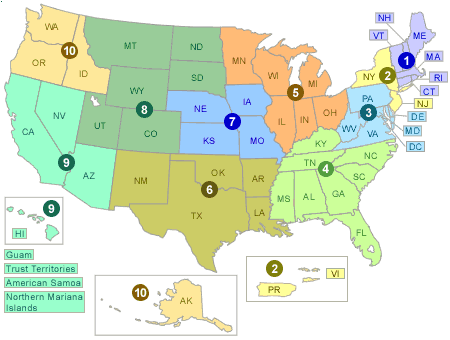 Region 1: Connecticut, Maine, Massachusetts, New Hampshire, Rhode Island, Vermont and Tribal Nations

Region 2: New Jersey, New York, Puerto Rico, US Virgin Islands and Tribal Nations

Region 3: Delaware, District of Columbia, Maryland, Pennsylvania, Virginia, and West Virginia

Region 4: Alabama, Florida, Georgia, Kentucky, Mississippi, North Carolina, South Carolina, Tennessee and Tribal Nations

Region 5: Illinois, Indiana, Michigan, Minnesota, Ohio, Wisconsin and Tribal Nations

Region 6: Louisiana, Arkansas, Oklahoma, New Mexico, Texas and Tribal Nations

Region 7: Iowa, Kansas, Missouri, Nebraska, and Tribal Nations

Region 8: Colorado, Montana, North Dakota, South Dakota, Utah, Wyoming and Tribal Nations

Region 9: Arizona, California, Hawaii, Nevada, the Pacific Islands, and Tribal Nations

Region 10: Alaska, Idaho, Oregon, Washington and Tribal Nations