Area Designations for 2008 Ground-level Ozone Standards
You are here: EPA Home
State Designations
State Final Designations, April 2012 and May 2012
EPA is implementing the 2008 ozone standards as required by the Clean Air Act. Meeting these standards will provide important public and environmental health benefits. EPA has worked closely with states and tribes to identify areas in the country that meet the standards and those that need to take steps to reduce ozone pollution.
EPAs final designations are based on air quality monitoring data, recommendations submitted by the states and tribes, and other technical information. EPA will work closely with states and tribes to implement the standards using a common sense approach that improves air quality, maximizes flexibilities and minimizes burden on state and local governments.
The following map groups the states by their associated EPA regional office. Click on a region in the map or list below to view EPA's final designations for states within that region. Tribal information is available on the Tribal Designations page.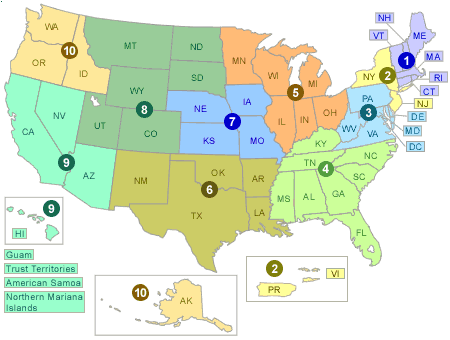 Region 1: Connecticut, Maine, Massachusetts, New Hampshire, Rhode Island, Vermont and Tribal Nations

Region 2: New Jersey, New York, Puerto Rico, US Virgin Islands and Tribal Nations

Region 3: Delaware, District of Columbia, Maryland, Pennsylvania, Virginia, and West Virginia

Region 4: Alabama, Florida, Georgia, Kentucky, Mississippi, North Carolina, South Carolina, Tennessee and Tribal Nations

Region 5: Illinois, Indiana, Michigan, Minnesota, Ohio, Wisconsin and Tribal Nations

Region 6: Louisiana, Arkansas, Oklahoma, New Mexico, Texas and Tribal Nations

Region 7: Iowa, Kansas, Missouri, Nebraska, and Tribal Nations

Region 8: Colorado, Montana, North Dakota, South Dakota, Utah, Wyoming and Tribal Nations

Region 9: Arizona, California, Hawaii, Nevada, the Pacific Islands, and Tribal Nations

Region 10: Alaska, Idaho, Oregon, Washington and Tribal Nations