Projects
Queen Lane
Project Overview
The Philadelphia Water Department installed Philadelphia's first stormwater bumpouts, or landscaped curb extensions, on Queen Lane in East Falls in 2011. Runoff from the street is diverted into the bumpouts, where it infiltrates into the soil instead of entering the city's storm sewers. In addition to managing stormwater, bumpouts can help to calm traffic and may also keep pedestrians safer by reducing the street crossing distance when they are located at crosswalks. In Philadelphia, each bumpout is planted with a mix of native grasses, perennials, and trees. The system of bumpouts along the 3100 and 3200 blocks of Queen Lane manages the first inch of stormwater runoff from an acre of drainage area, or between 800,000 and 900,000 gallons of runoff each year.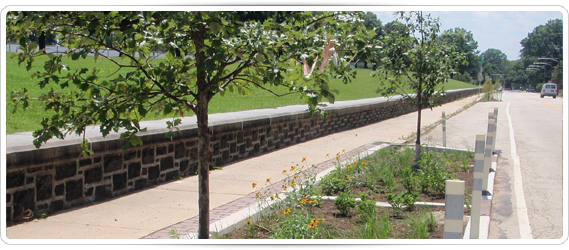 Contact Information

Philadelphia Water Department
Fax: +1 (215) 685-6043
Email: questions@phillywatersheds.org
Mail: Office of Watersheds
Philadelphia Water Department
1101 Market Street, 4th Floor
Philadelphia, PA 19107
Website: www.phillywatersheds.org

Environmental/Health/Social Benefits:
This project is intended to reduce stormwater runoff and associated combined sewer overflows while also improving safety for drivers and pedestrians. This project was funded by the Philadelphia Water Department.
800,000 to 900,000 gallons of stormwater runoff are mitigated annually