Projects
American Street
Project Overview
The American Street corridor is an historical industrial center in North Philadelphia. The district is being gradually redeveloped as a center for smaller fabrication and distribution-type businesses, but streetscape and infrastructure improvements are needed to attract new tenants and businesses. The overly wide street and lack of vegetation or safe pedestrian passageways make American Street a physical and psychological barrier for area workers and residents of the surrounding neighborhoods.
Philadelphia Water Department (PWD) has designated the entire corridor and surrounding neighborhood as a Stormwater Management Enhancement District. PWD will be working with a consultant team and the community to develop a comprehensive stormwater improvements plan to maximize the amount of runoff captured.
The community recognizes that these improvements could help create a more distinctive and identifiable district and also provide stormwater credit and trading opportunities for property owners. Because there is a mix of private and public land along the corridor, creative funding structures will be needed for implementation.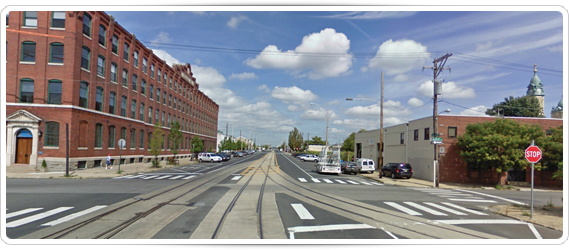 Contact Information

Philadelphia Water Department
Fax: +1 (215) 685-6043
Email: questions@phillywatersheds.org
Mail: Office of Watersheds
Philadelphia Water Department
1101 Market Street, 4th Floor
Philadelphia, PA 19107
Website: http://www.phillywatersheds.org

Environmental, Social, and Economic Benefits
This project is intended to mitigate stormwater runoff and to improve the aesthetics and safety of the district, which could potentially attract new businesses and create local job opportunities.
Runoff from 32 acres of impervious public land could be captured in green stormwater infrastructure along the corridor.