Projects
Improving Energy Efficiency of City-Owned Facilities
Project Overview
Through the Guaranteed Energy Savings Act or GESA, the City of Philadelphia engaged a qualified Energy Service Company (ESCO) to determine the feasibility of energy conservation measures to be implemented in the City's "Quadplex" buildings (City Hall, Municipal Services Building, One Parkway, and the Criminal Justice Center). These four buildings are among the City's largest energy users and were selected for their energy savings potential. The "Quadplex" GESA project includes nine standard energy conservation measures (ECMs) with capital projects throughout the four buildings. Most of the ECMs in the project take place in the mechanical spaces of the buildings, with the most substantial improvements to the heating and cooling control systems.
Within the public and office spaces, there will be upgrades to lighting by changing bulbs and fixtures to more efficient models and adding controls like occupancy sensors to spaces. The project will also have significant water conservation measures in all four buildings, which will replace or retrofit plumbing fixtures to low flow systems. This project addresses the main savings opportunities within the buildings and is 100 percent paid for through savings over the 15-year term. The results will be facilities that are easier to operate, more comfortable for tenants, and with fewer immediate capital needs.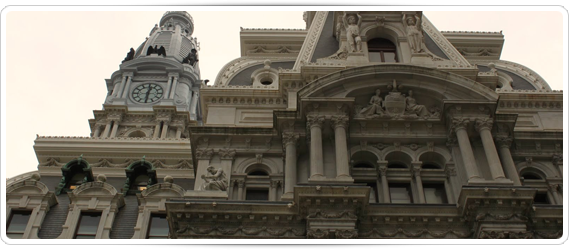 Contact Information

Mayor's Office of Sustainability
Phone: +1 (215) 686-3495
Email: mos@phila.gov 
Mail: 1515 Arch Street, 13th Floor
Philadelphia, PA 19102

Enviromental, Social, and Economic Benefits
This project is intended to conserve energy and water and to generate financial savings from reduced expenditure on these utilities.