Projects
Car Sharing Service
Project Overview
Philadelphia began using a private car sharing service to meet the transportation needs of municipal employees in 2003. The City was one of the first in the United States to adopt such a program and reduced the number of cars owned by the City of Philadelphia by 300 vehicles in the first year of the program. The Kennedy School of Government later recognized this program with an Innovation Award. In 2009, the City reduced its fleet by an additional 402 cars.
Each City-owned passenger vehicle is estimated to cost $5,000 to operate annually. As of 2010, approximately 500 employees of the City had enrolled in the car sharing program, which is administered by the Office of Fleet Management and is currently operated through a contract with Zipcar.
In addition, the City of Philadelphia and PhillyCarShare received funding to incorporate electric vehicles into PhillyCarShare's fleet. The cars will charge at a network of 10 chargers located strategically throughout Philadelphia.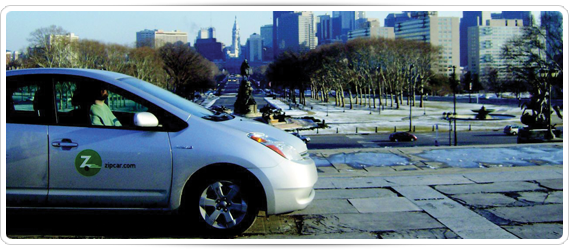 Contact Information

Mayor's Office of Sustainability
Phone: +1 (215) 686-3495
Email: mos@phila.gov 
Mail: 1515 Arch Street, 13th Floor
Philadelphia, PA 19102

Environmental, Social, and Economic Benefits
This project is intended to increase the efficiency with which Philadelphia's employees use the city vehicle fleet. It may also reduce emissions of carbon dioxide and other air pollutants. By including electric vehicles into the fleet of PhillyCarShare, another private car sharing service, this project may help accelerate adoption of electric vehicles in Pennsylvania.
Annual savings of $5,000 per vehicle reduction in city-owned car fleet
Sources of funding for this project include an Alternative Fuels Incentive Grant of $140,000 to fund installation of 20 electric vehicle charging stations.