Methodology and Interpretation
AGTSL3 - Percent total agricultural on steep slopes
The proportion of each 3 km grid cell reporting unit that has agriculture land cover on slopes greater then 3 percent was calculated by overlaying maps of percent slope and agricultural land cover, which included crops, pasture and orchards. The area of agriculture on steep slopes was then divided by the total land area of the grid cell boundary. The total agricultural land use on steep slopes can be a measure of increased soil erosion which could also cause sediment in streams and lakes. The potential soil erosion from agricultural lands is related to the steepness of slopes being cultivated, soil type and the farming methods used. Agriculture on slopes greater than 3% ranged from 0% to a little under 3% of total area in the grid cell boundary. The proportions are lower in remote mountainous areas since less agriculture can be found there, agriculture in this area tends to be located in the flatter river valleys. The values seen here in the mountain area are generally lower when compared to the central and eastern United States.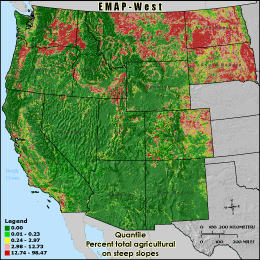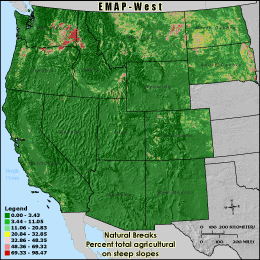 Quantile: Each class contains an approximately equal number (count) of features. A quantile classification is well-suited to linearly distributed data. Because features are grouped by the number within each class, the resulting map can be misleading, in that similar features can be separated into adjacent classes, or features with widely different values can be lumped into the same class. This distortion can be minimized by increasing the number of classes.
Natural Breaks: Classes are based on natural groupings of data values. Natural break points are identified by looking for groupings and patterns inherent in the data. The features are divided into classes whose boundaries are set where there are relatively large jumps in the distribution of data values.