DSW Decision Tool v2
Definition of Solid Waste Process Flowchart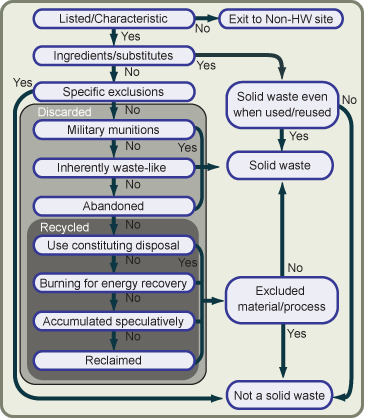 Note: The DSW Decision Tool has been updated to reflect the new Revisions to the Definition of Solid Waste Final Rule. Also, a new feature has been added that allows users to review and print the scenario-specific outcome of the DSW Decision Tool. More details about the changes to the DSW Decision Tool.
The Definition of Solid Waste Decision Tool v2 is an interactive decision support tool designed to follow a series of decisions that a typical user might make when determining whether a material meets the definition of solid waste for purposes of being a hazardous waste (see 40 CFR 261.1(b)). The decisions in the tool are organized to simplify this determination process and to allow the user to reach a conclusion as quickly as possible. Note: This tool does not follow the outline of the definition of solid waste regulations in the same order that appears in those regulations (see 40 CFR 261.2).
Instructions for using the tool:
Read the question and description for each step. If more information is needed to answer the question, use the resources listed under the description to access EPA training modules or review EPA interpretations and decisions on the topic in the Definition of Solid Waste Compendium.
Click on the appropriate link to move to the next step or to see whether your waste is a solid waste. Users also may navigate by clicking in the left column of the flow chart.

Note: Users should not scroll the page to follow the steps, as the order of the tool content (located below these instructions) does not facilitate this approach. Users should use links to navigate the tool.

Once you have obtained the DSW Decision Tool outcome for your material, you may print an outcome report for your records. Note: navigating using the flow chart will reset the recording function. Also, using your browser's Back button may disrupt the recording function.
Disclaimer: This DSW Decision Tool is a decision support tool provided by EPA for the convenience of the regulated community. It is not a regulation, nor can it be considered a substitute for the actual regulations, themselves, or for related laws and applicable court decisions. If a person uses this web site to make decisions regarding whether his material is a solid waste, he makes that decision at the risk of having incorrectly interpreted applicable laws, regulations and/or legal decisions. EPA does not intend this web site to be cited as precedent before a court or before EPA to support a person's decision whether to treat his material as a solid waste. EPA recommends you contact your authorized state agency or EPA regional office should you have any concerns or doubts about whether your material is subject to RCRA jurisdiction. No information entered by users is maintained by EPA, and the generation of outcomes by the DSW Decision Tool, along with additional information entered by the user, does not constitute a submission.